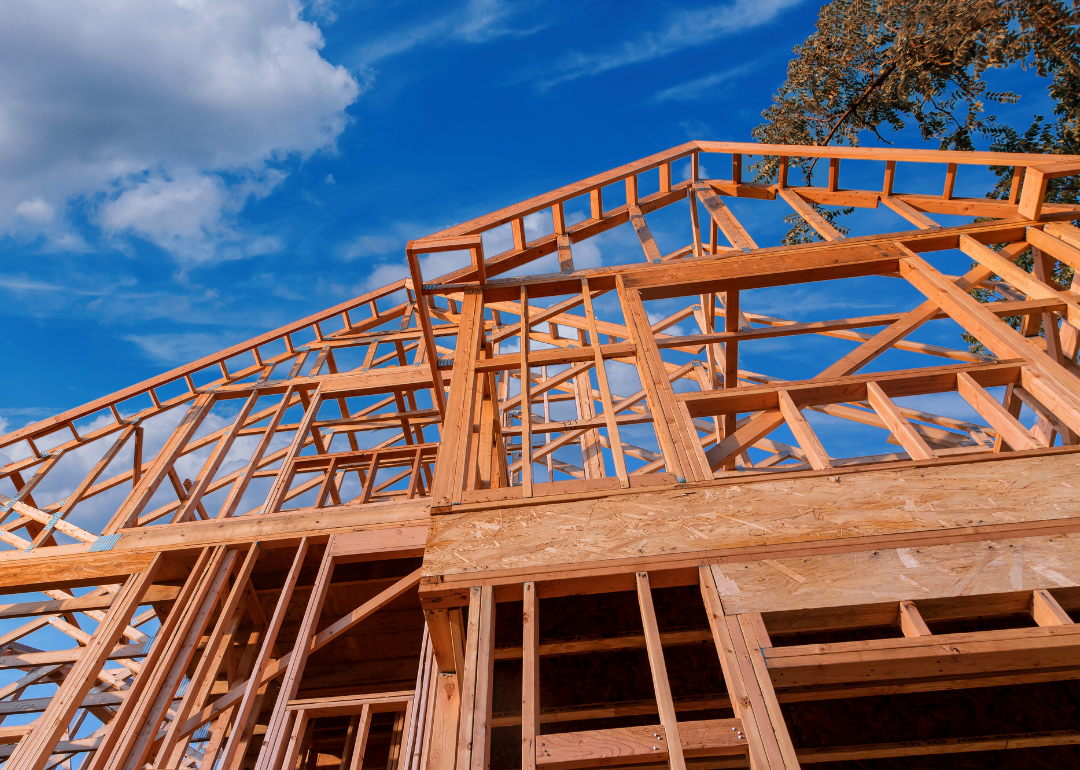 Cities with the fastest-growing home prices in Minnesota
Cities with the fastest-growing home prices in Minnesota
Stacker compiled a list of cities with the fastest growing home prices in Minnesota using data from Zillow. Cities are ranked by the dollar change in Zillow Home Values Index for all homes from the twelve months ending September 2022. The charts in this story were created automatically using Matplotlib. Data was available for 765 cities and towns in Minnesota. Home values in the top city on the list grew by $108,116 over the last 12 months.
Metros with the most cities in the top 50
#1. Minneapolis-St. Paul-Bloomington, MN-WI: 22
#2. Brainerd, MN: 11
#3. Duluth, MN-WI: 6
#4. St. Cloud, MN: 4
#5. Mankato, MN: 3
#6. Rochester, MN: 2
#7. Faribault-Northfield, MN: 1
#7. Red Wing, MN: 1
Read on to see which cities made the list.
You may also like: Best community colleges in Minnesota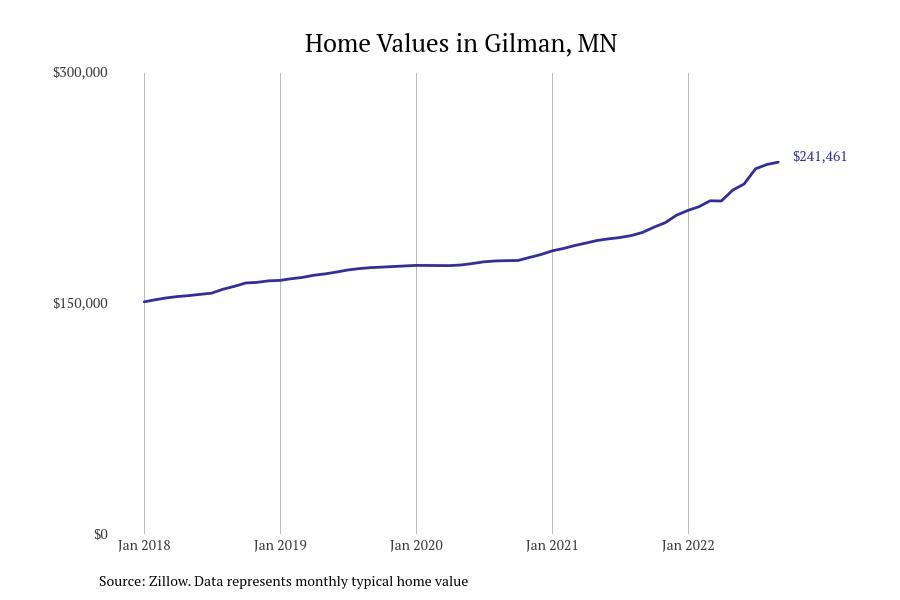 1 / 50
#50. Gilman
- Typical home value: $241,461
- 1-year price change: +$45,661 (+23.3%)
- 5-year price change: +$93,913 (+63.6%)
- Metro area: St. Cloud, MN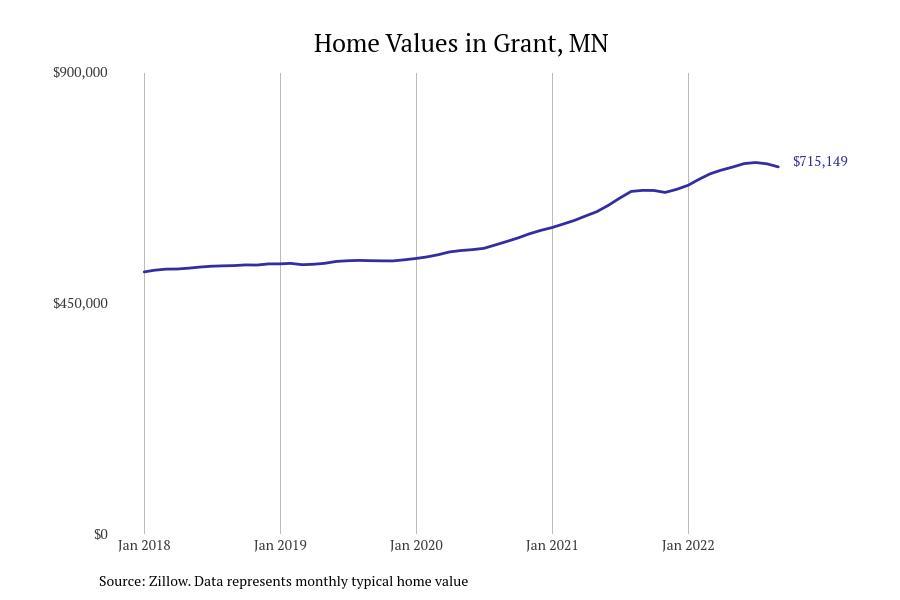 2 / 50
#49. Grant
- Typical home value: $715,149
- 1-year price change: +$45,753 (+6.8%)
- 5-year price change: +$224,385 (+45.7%)
- Metro area: Minneapolis-St. Paul-Bloomington, MN-WI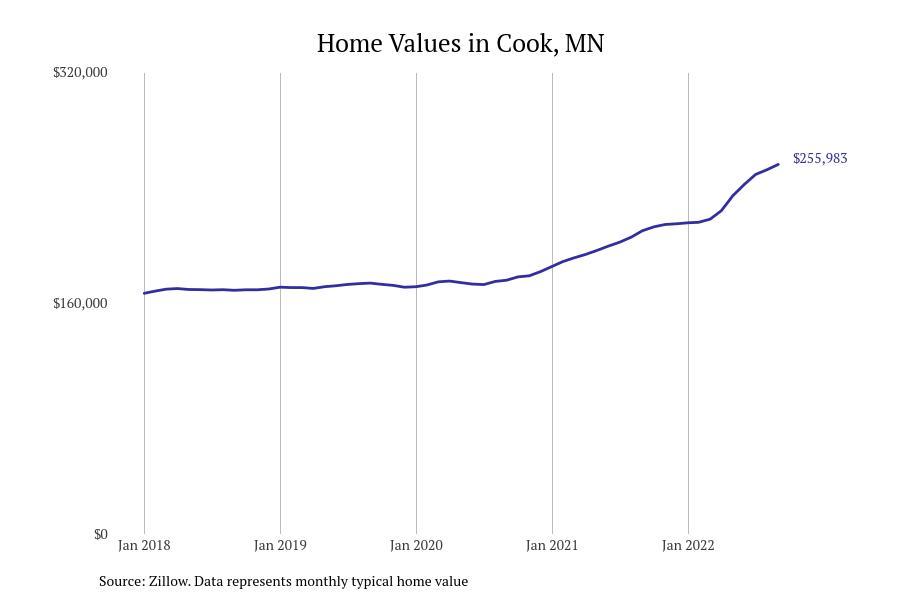 3 / 50
#48. Cook
- Typical home value: $255,983
- 1-year price change: +$45,937 (+21.9%)
- 5-year price change: +$91,916 (+56.0%)
- Metro area: Duluth, MN-WI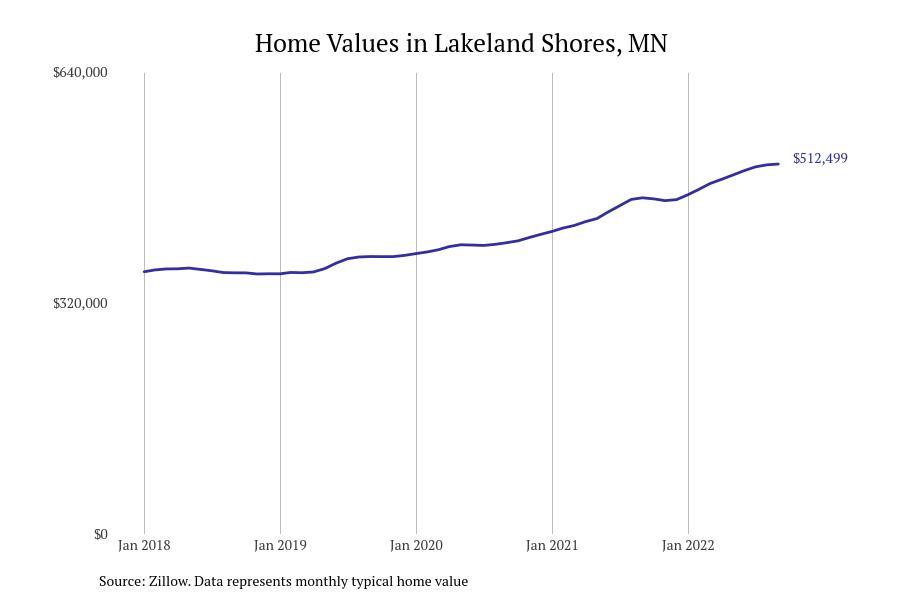 4 / 50
#47. Lakeland Shores
- Typical home value: $512,499
- 1-year price change: +$46,765 (+10.0%)
- 5-year price change: +$160,227 (+45.5%)
- Metro area: Minneapolis-St. Paul-Bloomington, MN-WI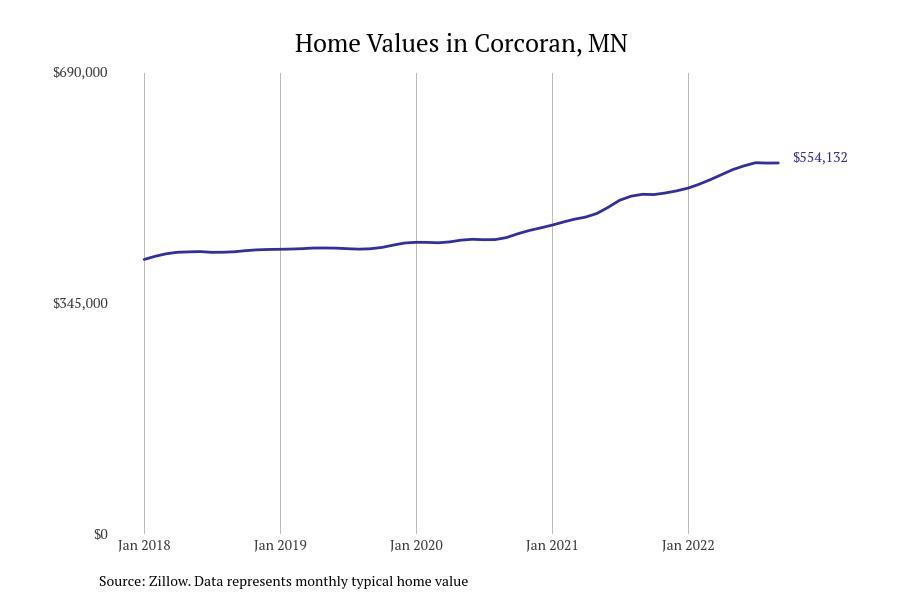 5 / 50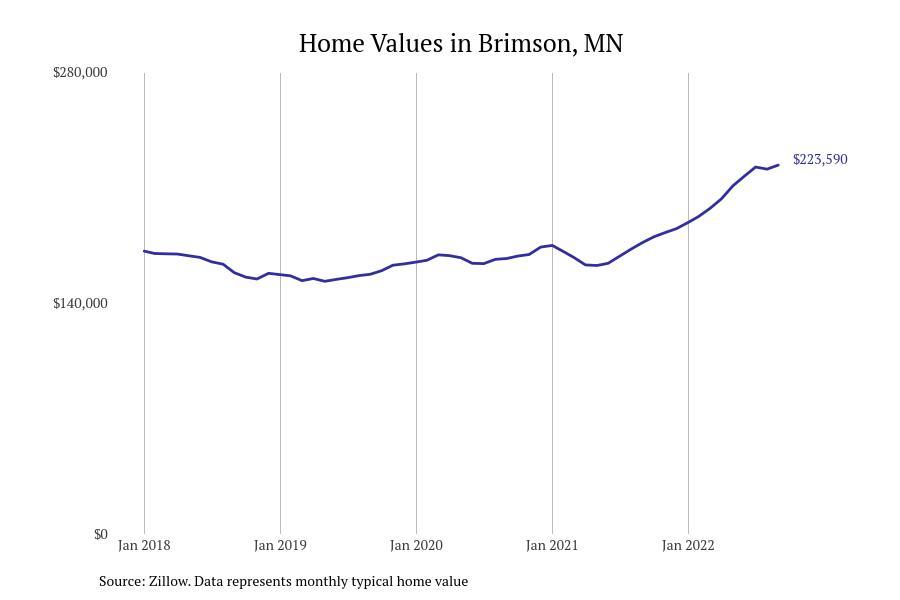 6 / 50
#45. Brimson
- Typical home value: $223,590
- 1-year price change: +$47,001 (+26.6%)
- 5-year price change: +$52,066 (+30.4%)
- Metro area: Duluth, MN-WI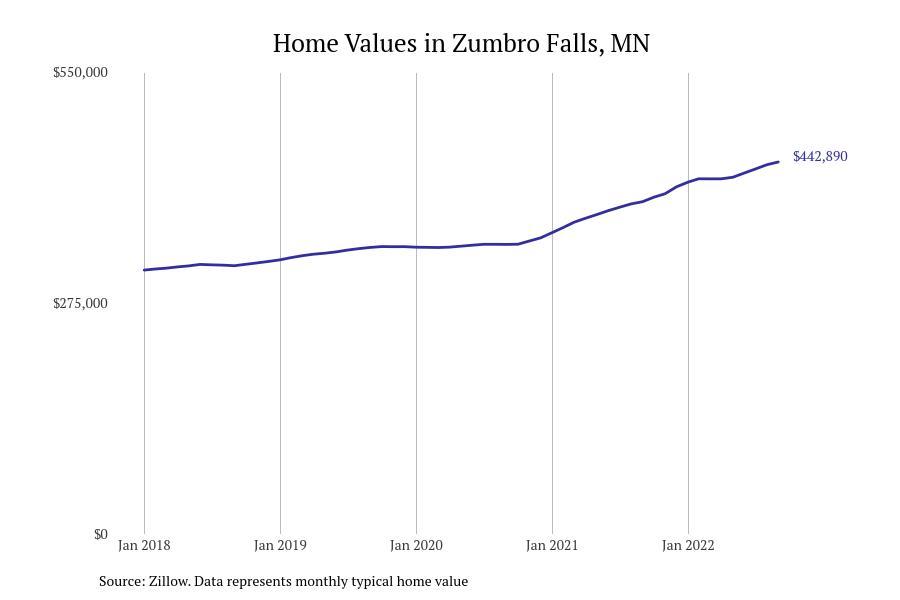 7 / 50
#44. Zumbro Falls
- Typical home value: $442,890
- 1-year price change: +$47,340 (+12.0%)
- 5-year price change: +$134,923 (+43.8%)
- Metro area: Rochester, MN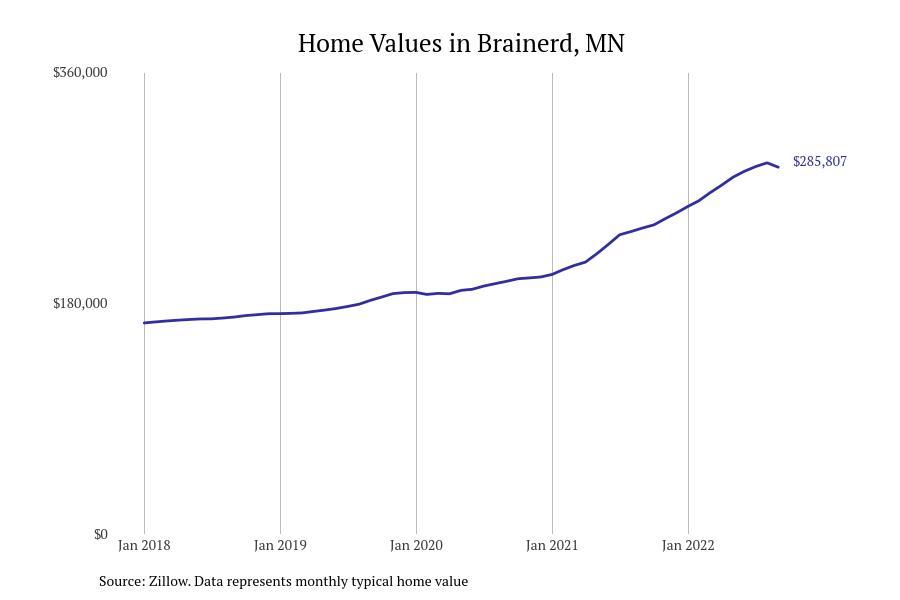 8 / 50
#43. Brainerd
- Typical home value: $285,807
- 1-year price change: +$47,413 (+19.9%)
- 5-year price change: +$124,861 (+77.6%)
- Metro area: Brainerd, MN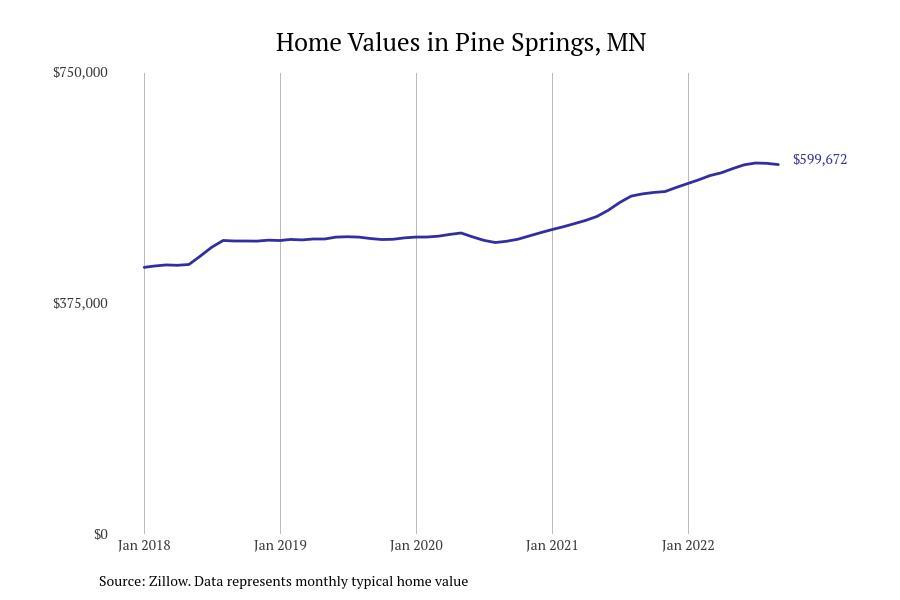 9 / 50
#42. Pine Springs
- Typical home value: $599,672
- 1-year price change: +$47,567 (+8.6%)
- 5-year price change: +$179,778 (+42.8%)
- Metro area: Minneapolis-St. Paul-Bloomington, MN-WI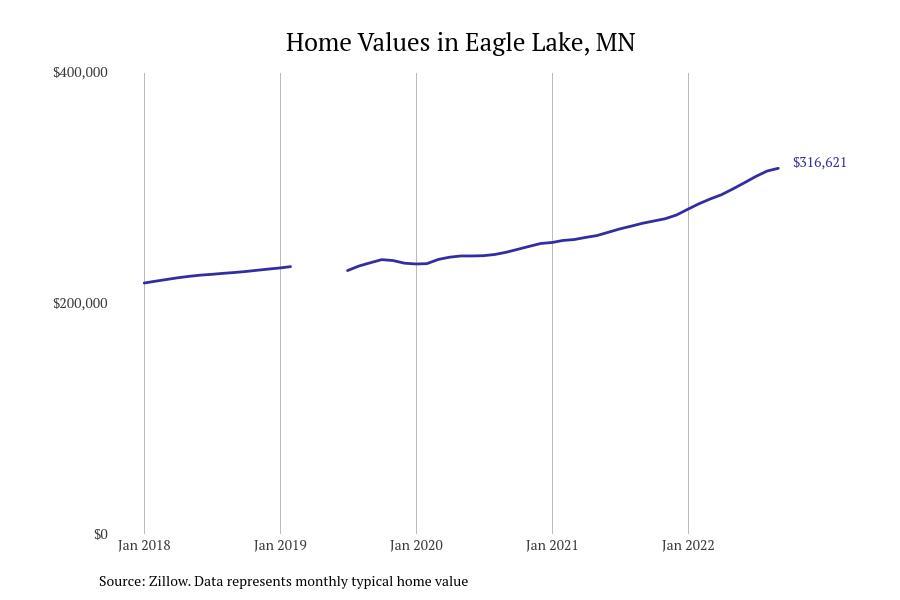 10 / 50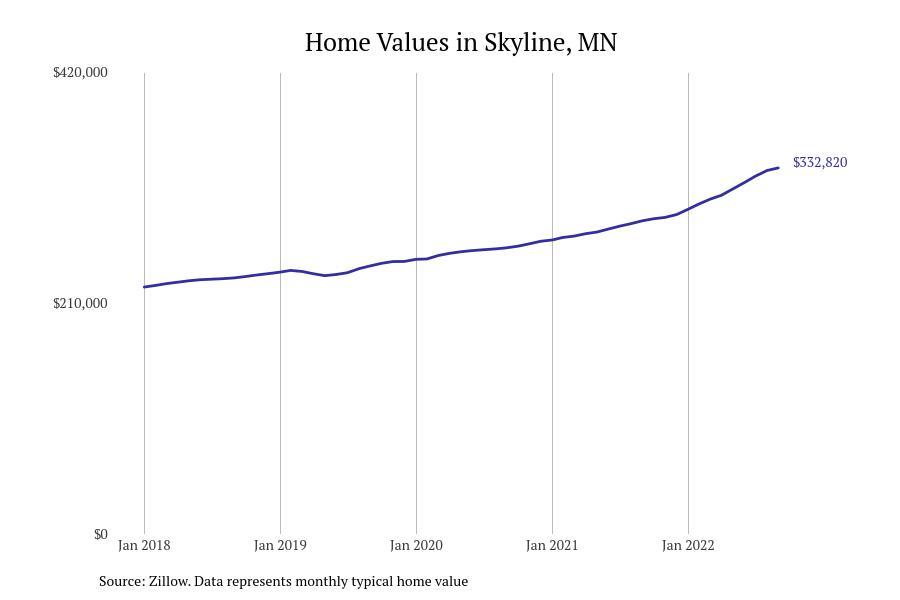 11 / 50
#40. Skyline
- Typical home value: $332,820
- 1-year price change: +$48,075 (+16.9%)
- 5-year price change: +$113,546 (+51.8%)
- Metro area: Mankato, MN
12 / 50
#39. Lake Elmo
- Typical home value: $626,297
- 1-year price change: +$48,970 (+8.5%)
- 5-year price change: +$178,388 (+39.8%)
- Metro area: Minneapolis-St. Paul-Bloomington, MN-WI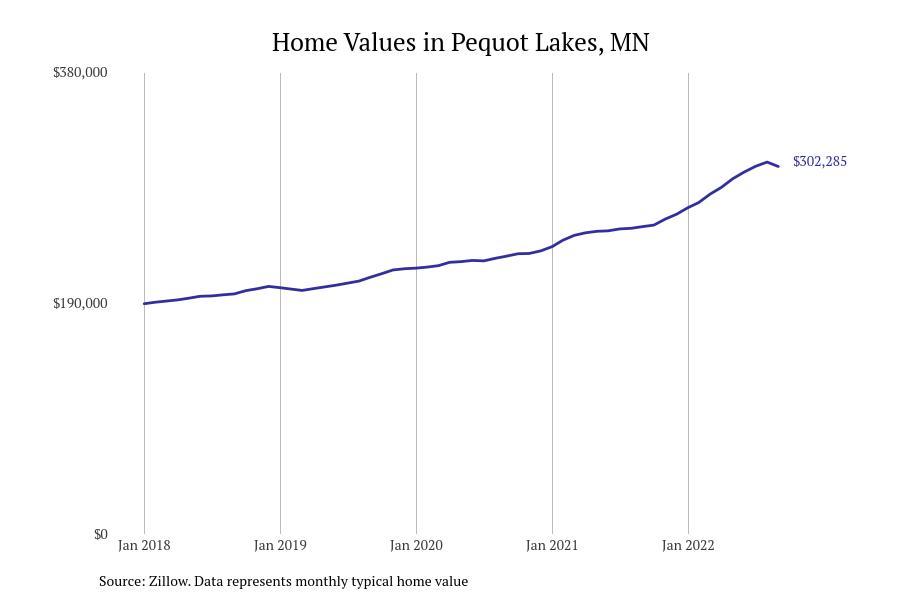 13 / 50
#38. Pequot Lakes
- Typical home value: $302,285
- 1-year price change: +$49,482 (+19.6%)
- 5-year price change: +$114,888 (+61.3%)
- Metro area: Brainerd, MN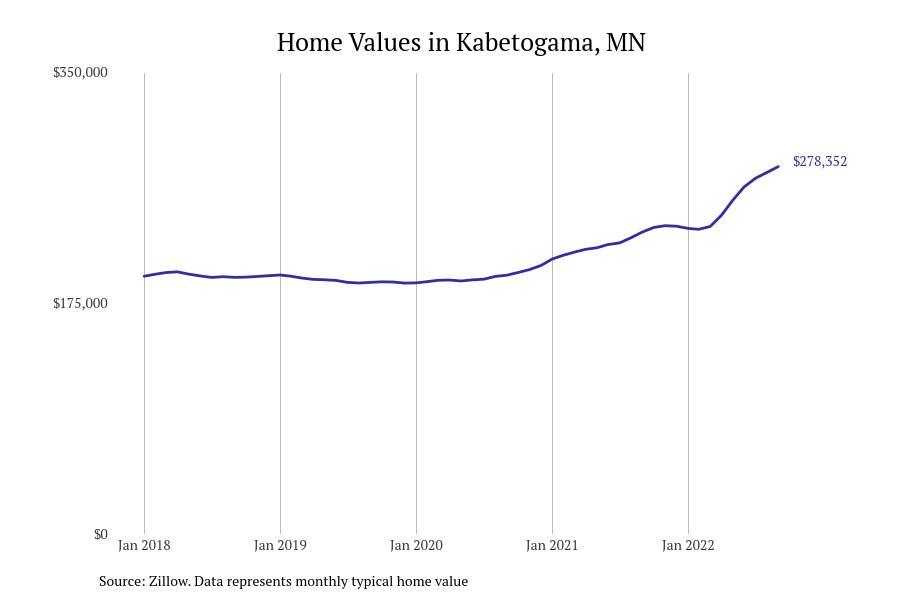 14 / 50
#37. Kabetogama
- Typical home value: $278,352
- 1-year price change: +$49,571 (+21.7%)
- 5-year price change: +$89,456 (+47.4%)
- Metro area: Duluth, MN-WI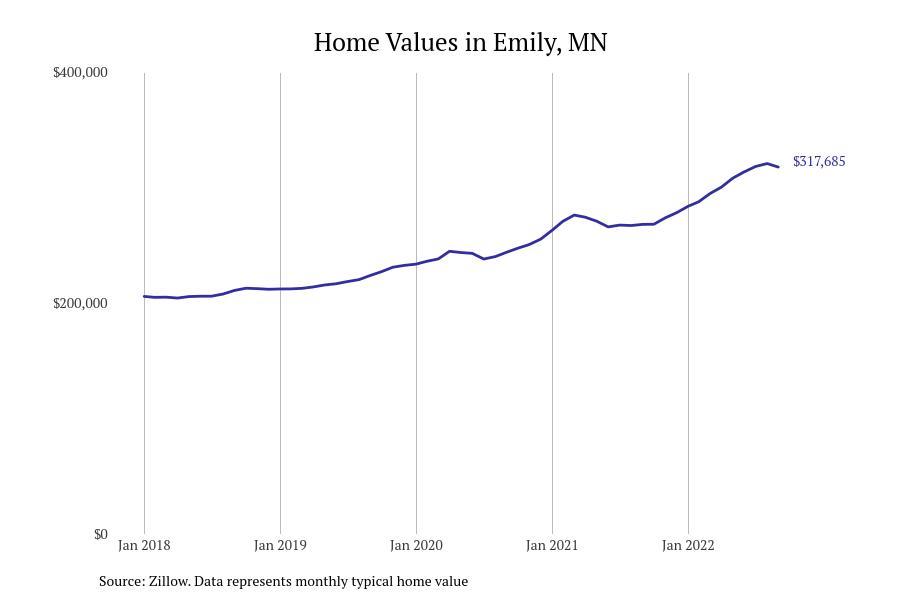 15 / 50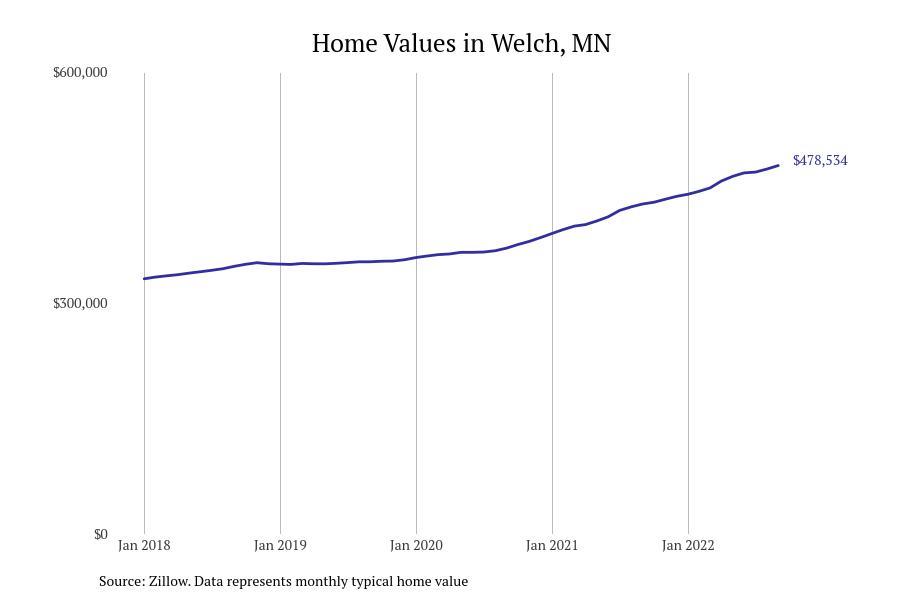 16 / 50
#35. Welch
- Typical home value: $478,534
- 1-year price change: +$49,999 (+11.7%)
- 5-year price change: +$159,264 (+49.9%)
- Metro area: Red Wing, MN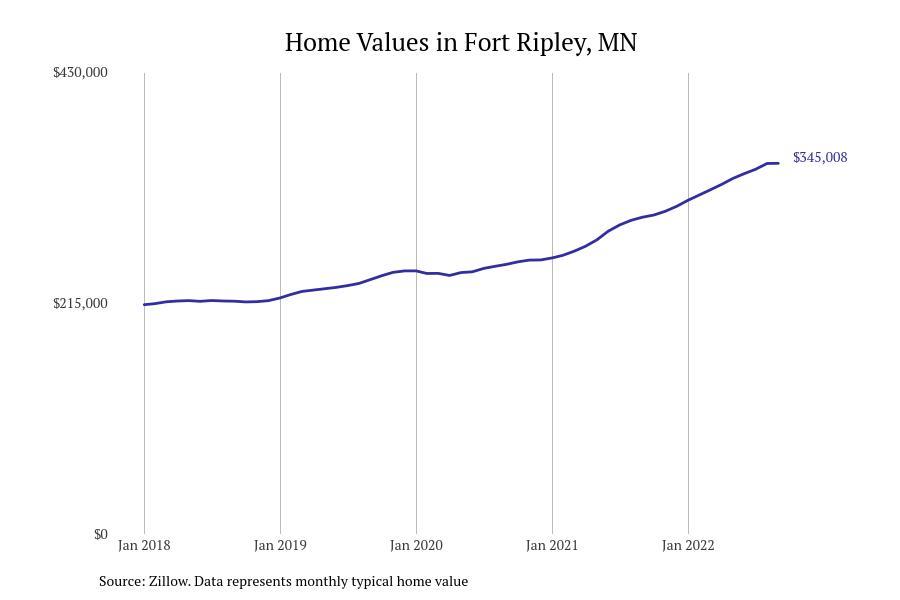 17 / 50
#34. Fort Ripley
- Typical home value: $345,008
- 1-year price change: +$50,169 (+17.0%)
- 5-year price change: +$132,416 (+62.3%)
- Metro area: Brainerd, MN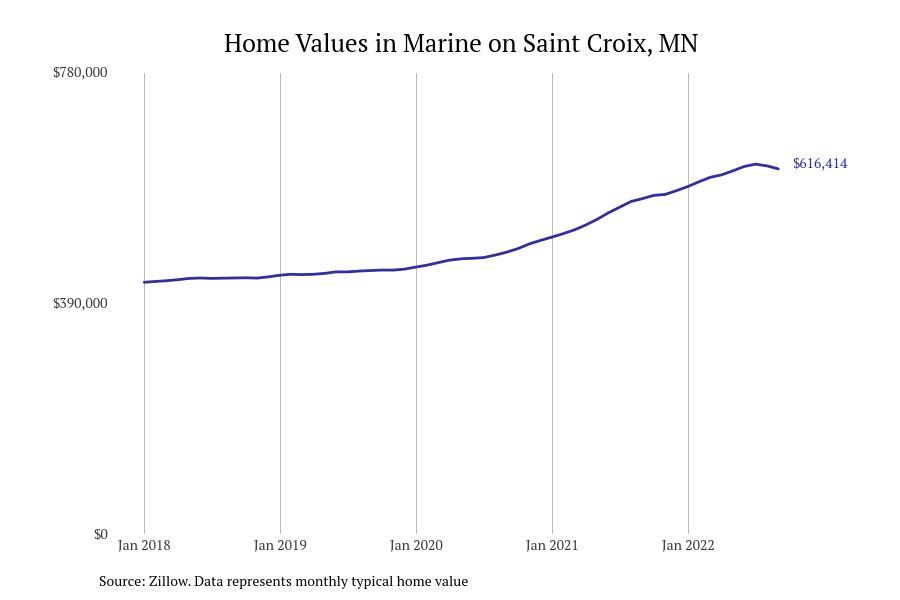 18 / 50
#33. Marine on Saint Croix
- Typical home value: $616,414
- 1-year price change: +$50,206 (+8.9%)
- 5-year price change: +$204,204 (+49.5%)
- Metro area: Minneapolis-St. Paul-Bloomington, MN-WI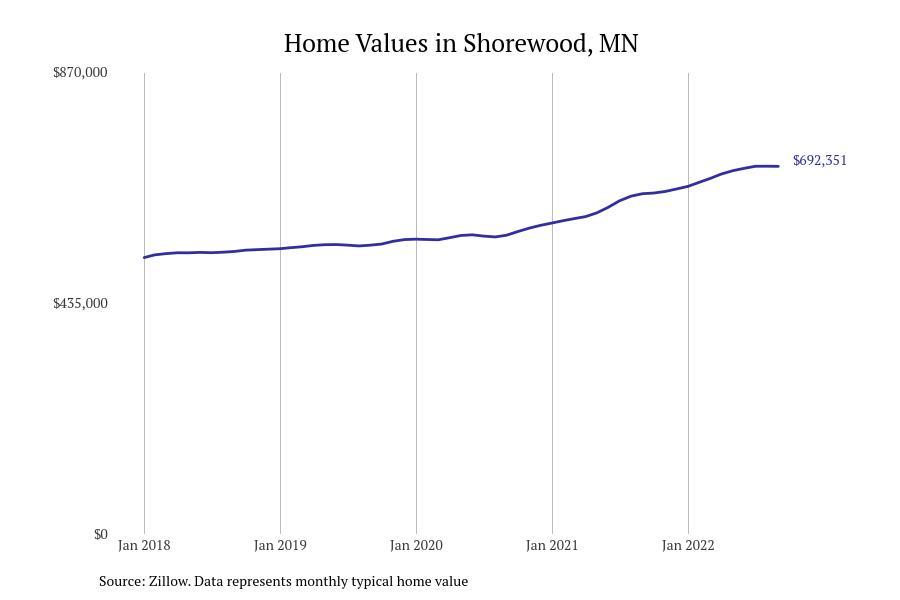 19 / 50
#32. Shorewood
- Typical home value: $692,351
- 1-year price change: +$51,552 (+8.0%)
- 5-year price change: +$182,883 (+35.9%)
- Metro area: Minneapolis-St. Paul-Bloomington, MN-WI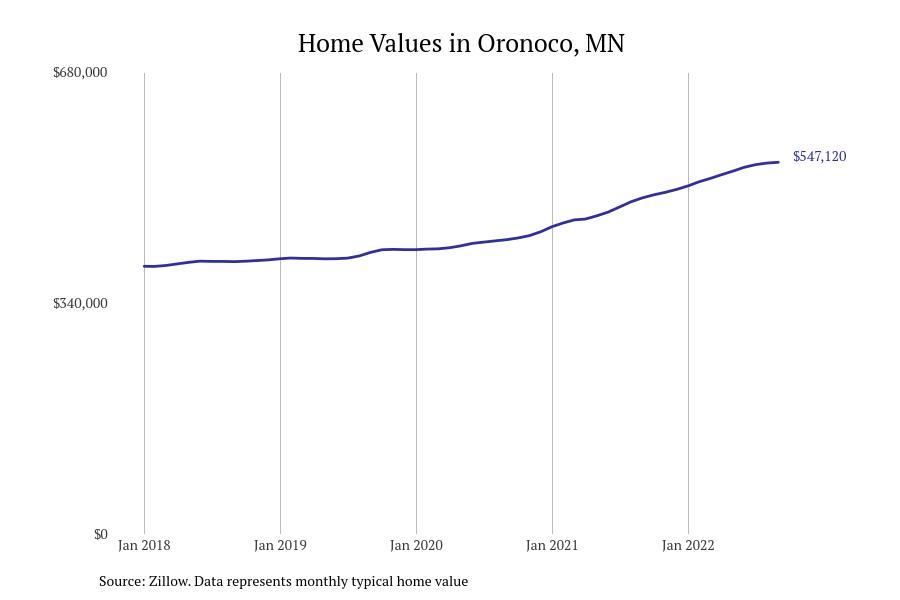 20 / 50
#31. Oronoco
- Typical home value: $547,120
- 1-year price change: +$52,389 (+10.6%)
- 5-year price change: +$164,678 (+43.1%)
- Metro area: Rochester, MN
You may also like: Best places to retire in Minnesota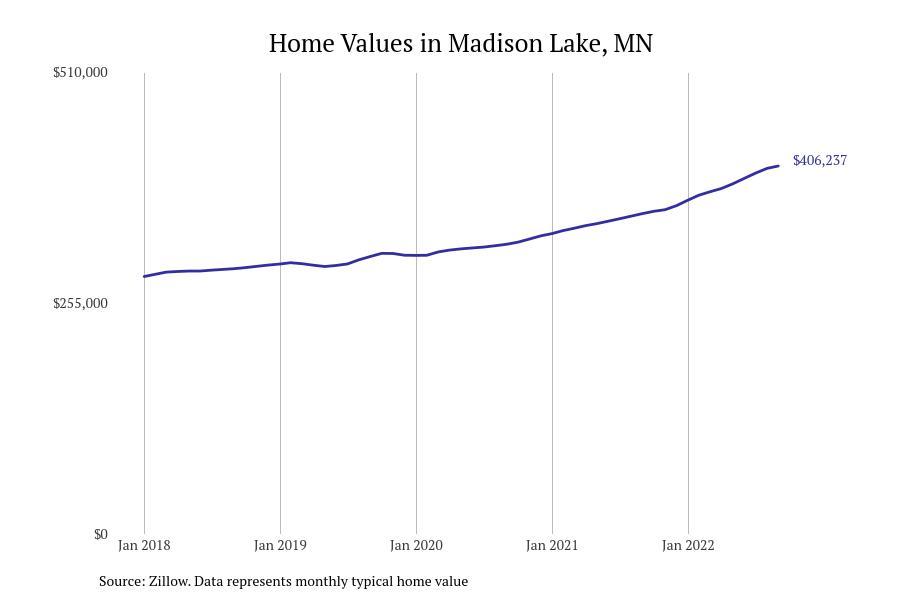 21 / 50
#30. Madison Lake
- Typical home value: $406,237
- 1-year price change: +$52,565 (+14.9%)
- 5-year price change: +$129,108 (+46.6%)
- Metro area: Mankato, MN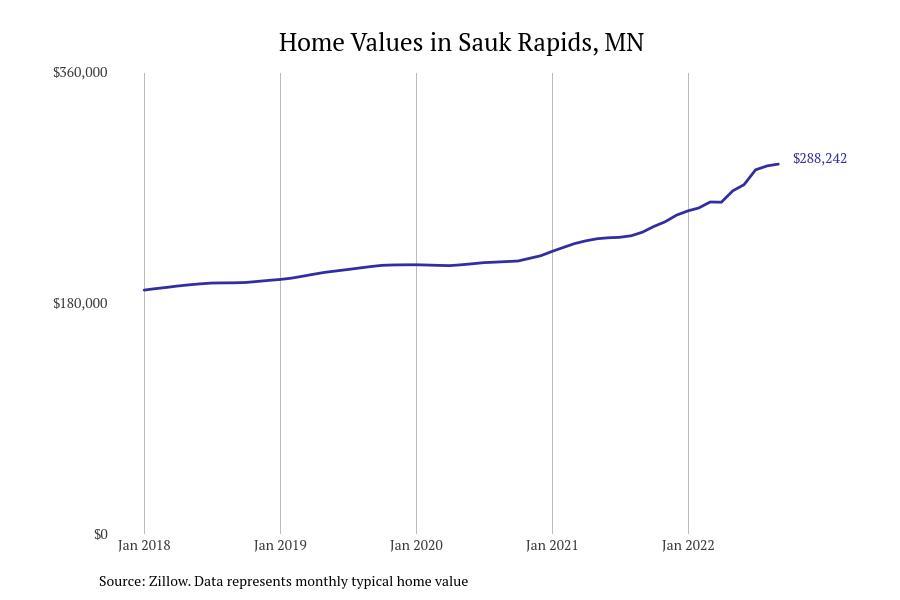 22 / 50
#29. Sauk Rapids
- Typical home value: $288,242
- 1-year price change: +$53,067 (+22.6%)
- 5-year price change: +$101,876 (+54.7%)
- Metro area: St. Cloud, MN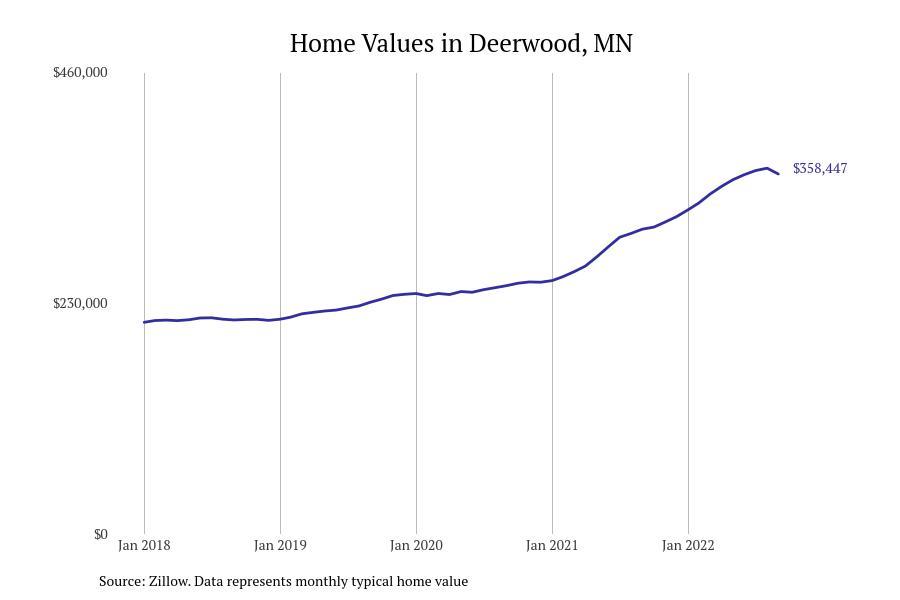 23 / 50
#28. Deerwood
- Typical home value: $358,447
- 1-year price change: +$54,929 (+18.1%)
- 5-year price change: +$155,960 (+77.0%)
- Metro area: Brainerd, MN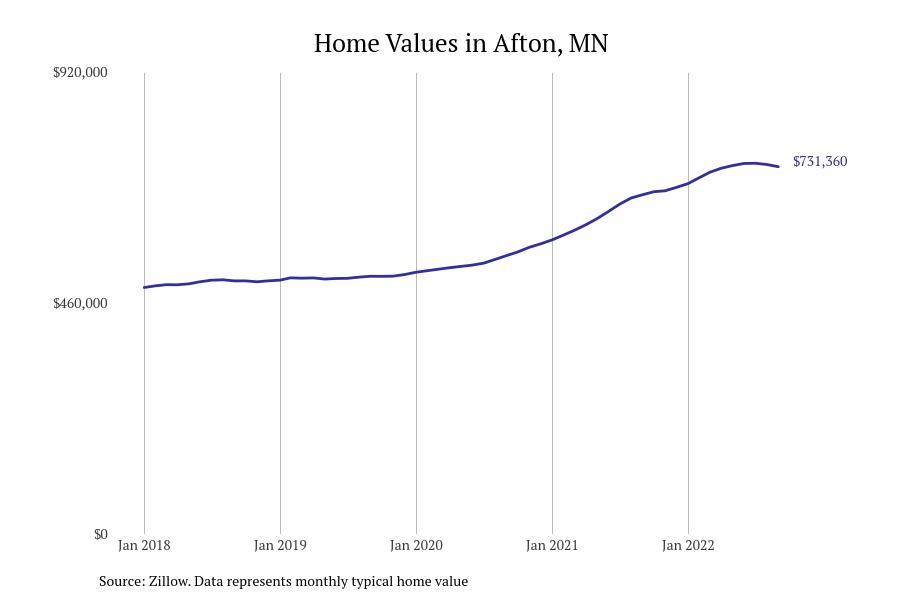 24 / 50
#27. Afton
- Typical home value: $731,360
- 1-year price change: +$55,856 (+8.3%)
- 5-year price change: +$257,551 (+54.4%)
- Metro area: Minneapolis-St. Paul-Bloomington, MN-WI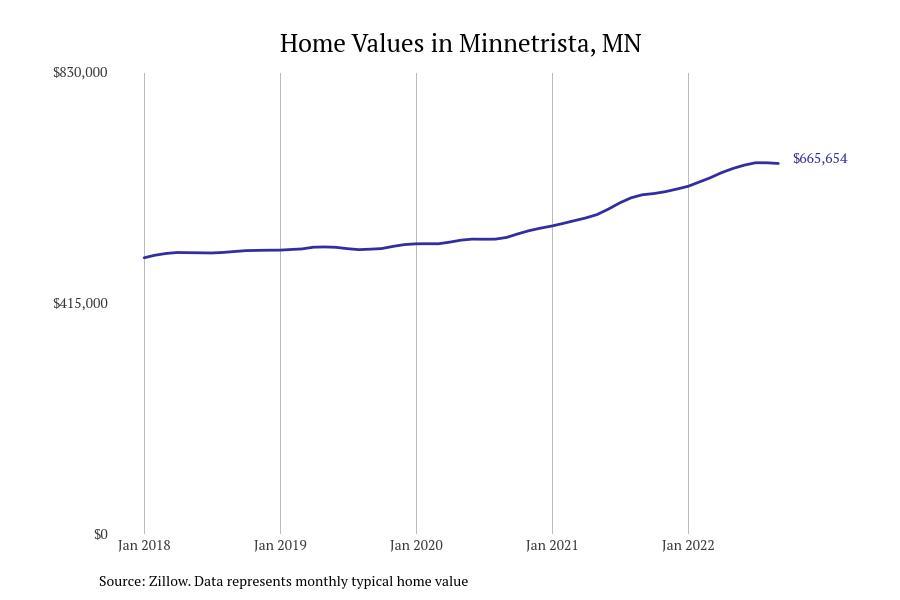 25 / 50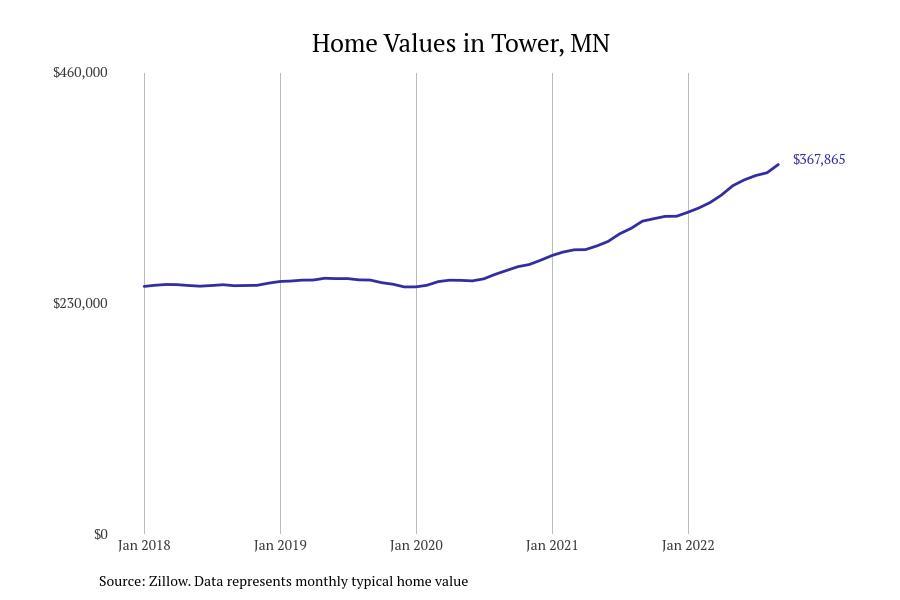 26 / 50
#25. Tower
- Typical home value: $367,865
- 1-year price change: +$56,404 (+18.1%)
- 5-year price change: +$125,286 (+51.6%)
- Metro area: Duluth, MN-WI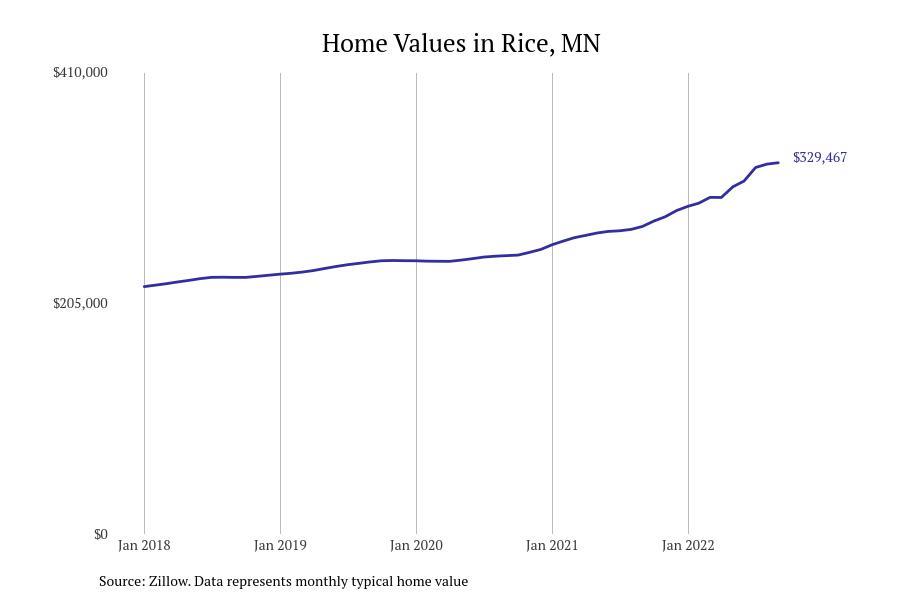 27 / 50
#24. Rice
- Typical home value: $329,467
- 1-year price change: +$56,553 (+20.7%)
- 5-year price change: +$113,594 (+52.6%)
- Metro area: St. Cloud, MN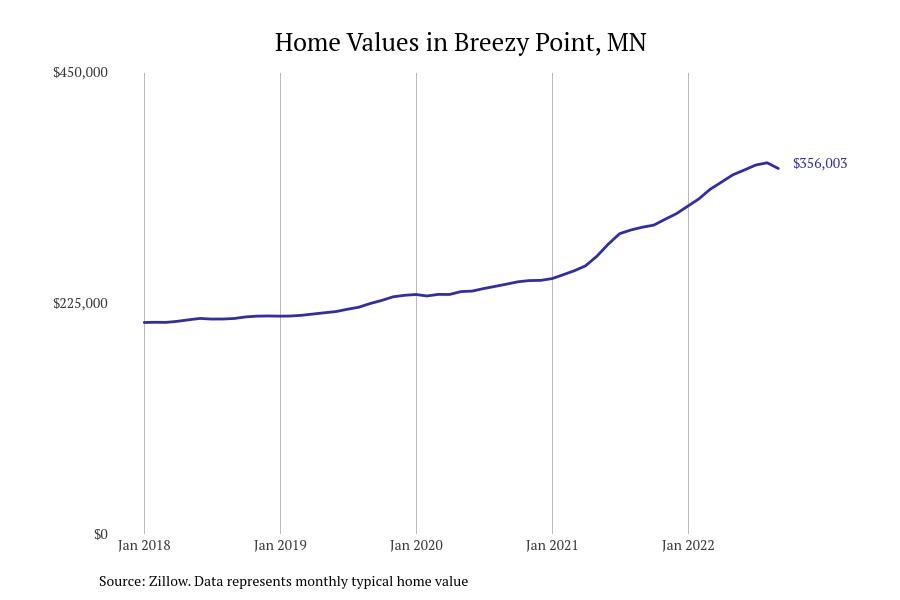 28 / 50
#23. Breezy Point
- Typical home value: $356,003
- 1-year price change: +$57,182 (+19.1%)
- 5-year price change: +$156,662 (+78.6%)
- Metro area: Brainerd, MN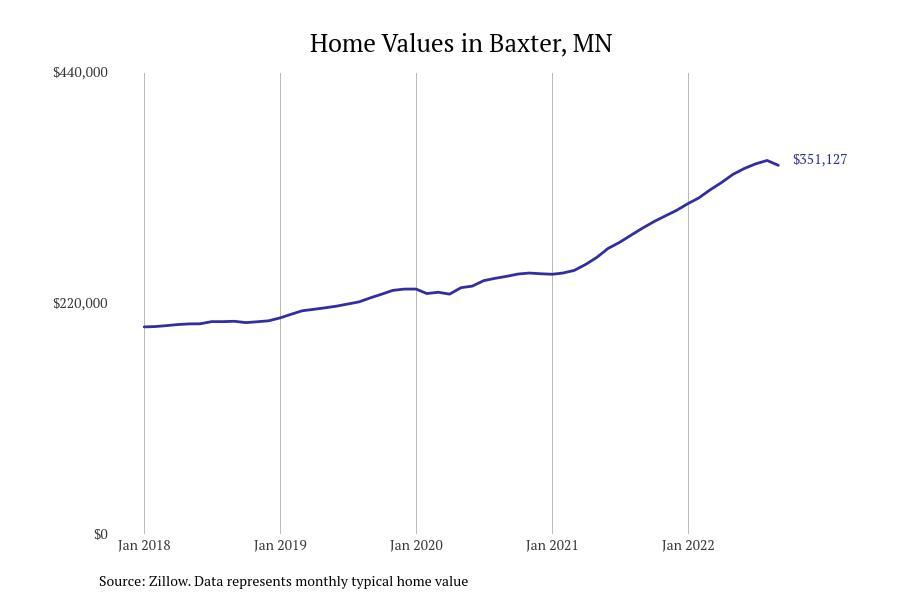 29 / 50
#22. Baxter
- Typical home value: $351,127
- 1-year price change: +$59,912 (+20.6%)
- 5-year price change: +$154,092 (+78.2%)
- Metro area: Brainerd, MN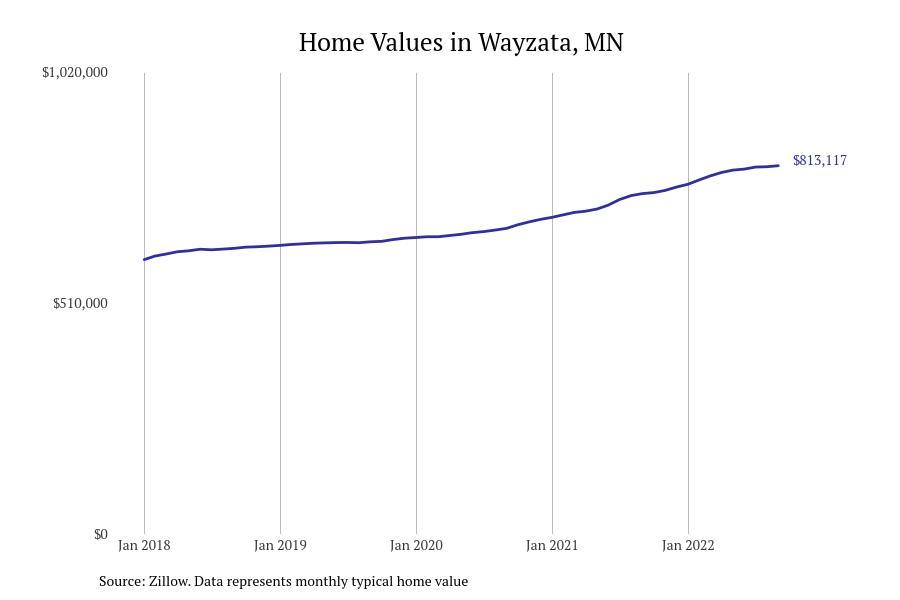 30 / 50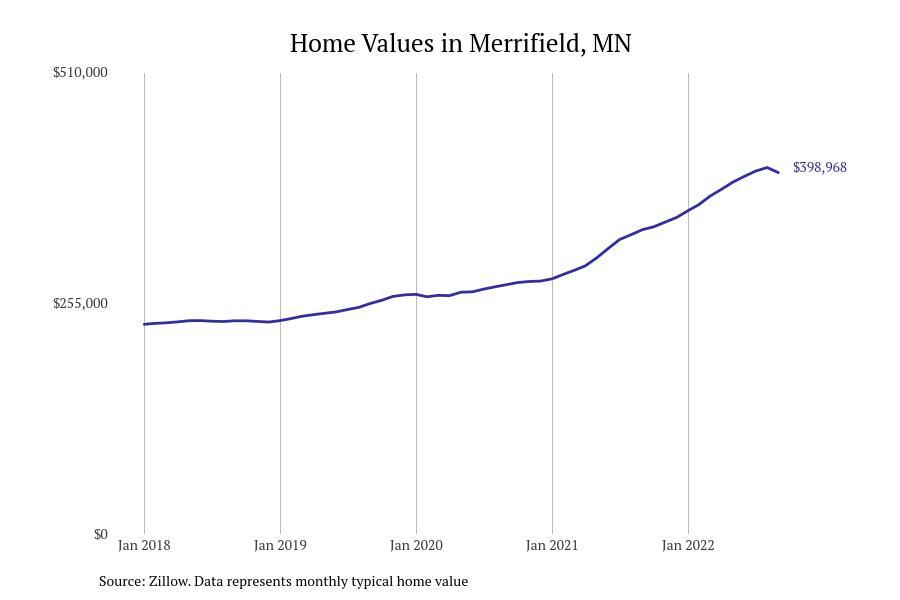 31 / 50
#20. Merrifield
- Typical home value: $398,968
- 1-year price change: +$63,014 (+18.8%)
- 5-year price change: +$172,213 (+75.9%)
- Metro area: Brainerd, MN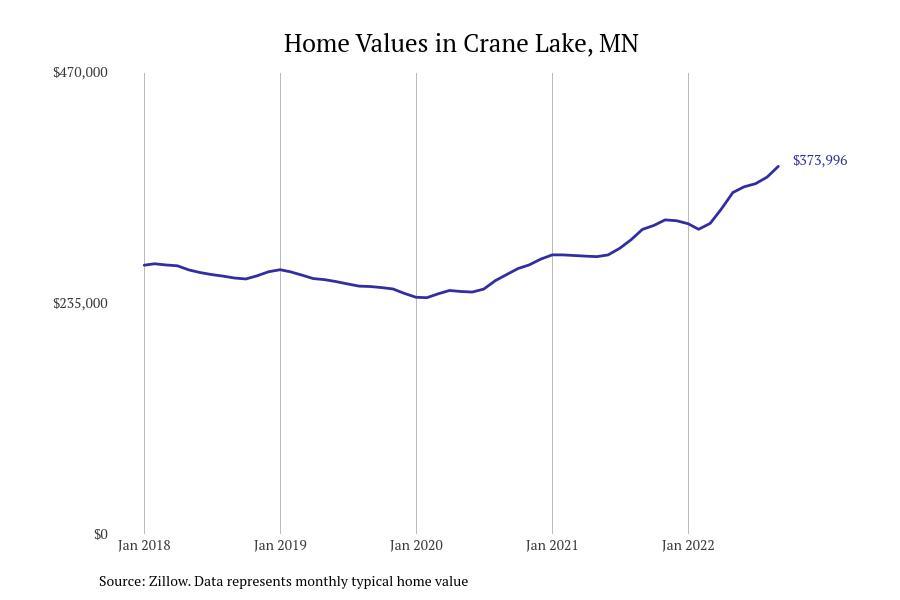 32 / 50
#19. Crane Lake
- Typical home value: $373,996
- 1-year price change: +$64,129 (+20.7%)
- 5-year price change: +$113,688 (+43.7%)
- Metro area: Duluth, MN-WI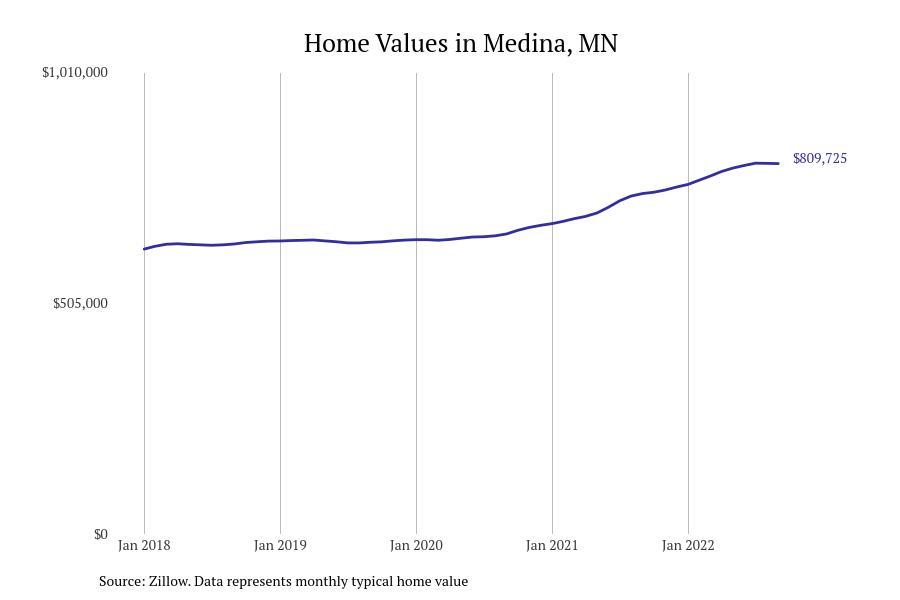 33 / 50
#18. Medina
- Typical home value: $809,725
- 1-year price change: +$65,513 (+8.8%)
- 5-year price change: +$194,417 (+31.6%)
- Metro area: Minneapolis-St. Paul-Bloomington, MN-WI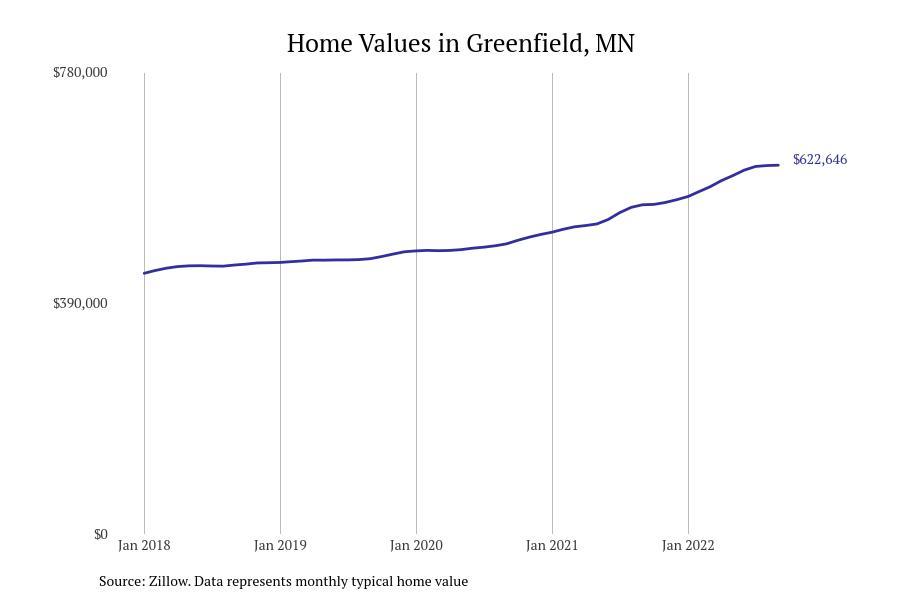 34 / 50
#17. Greenfield
- Typical home value: $622,646
- 1-year price change: +$66,817 (+12.0%)
- 5-year price change: +$186,365 (+42.7%)
- Metro area: Minneapolis-St. Paul-Bloomington, MN-WI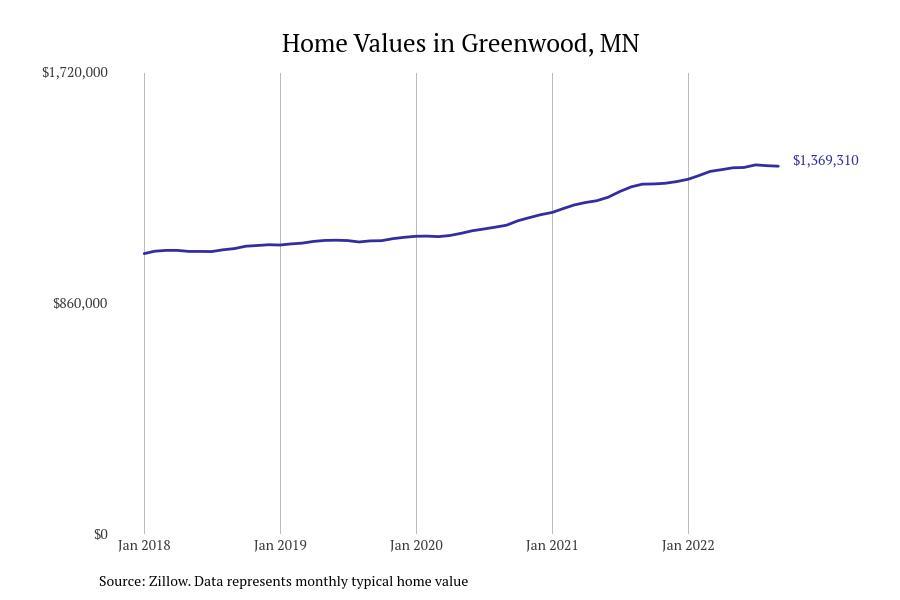 35 / 50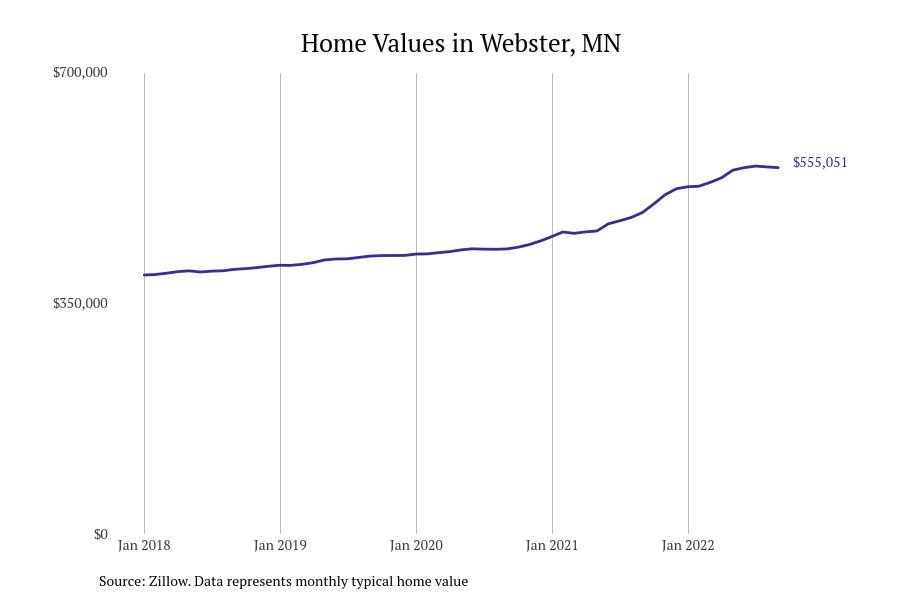 36 / 50
#15. Webster
- Typical home value: $555,051
- 1-year price change: +$68,033 (+14.0%)
- 5-year price change: +$165,758 (+42.6%)
- Metro area: Faribault-Northfield, MN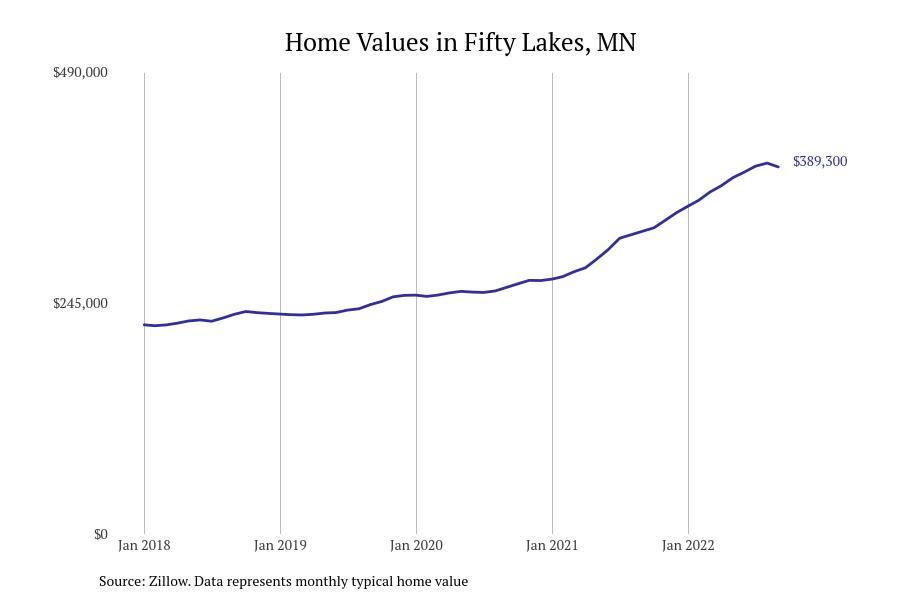 37 / 50
#14. Fifty Lakes
- Typical home value: $389,300
- 1-year price change: +$68,243 (+21.3%)
- 5-year price change: +$174,530 (+81.3%)
- Metro area: Brainerd, MN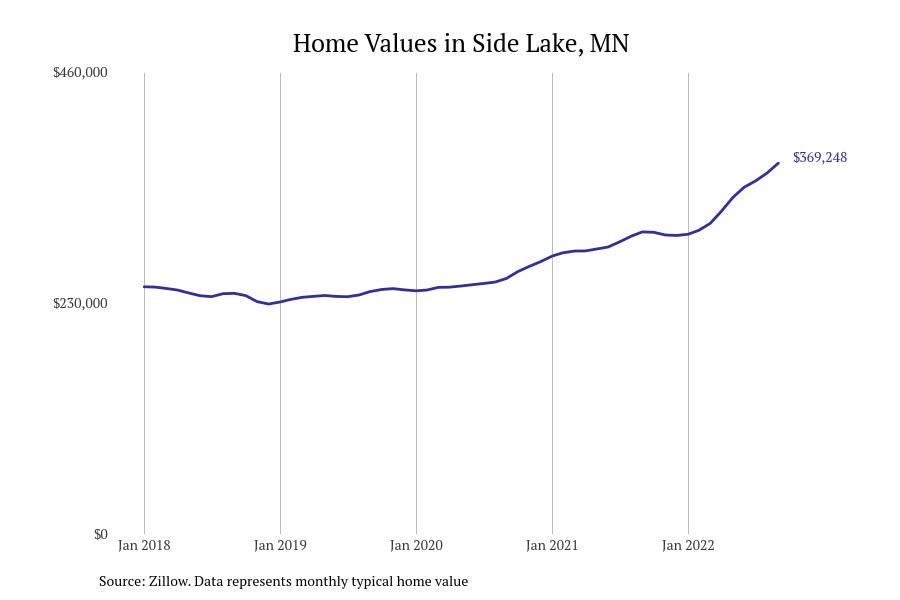 38 / 50
#13. Side Lake
- Typical home value: $369,248
- 1-year price change: +$68,438 (+22.8%)
- 5-year price change: +$118,468 (+47.2%)
- Metro area: Duluth, MN-WI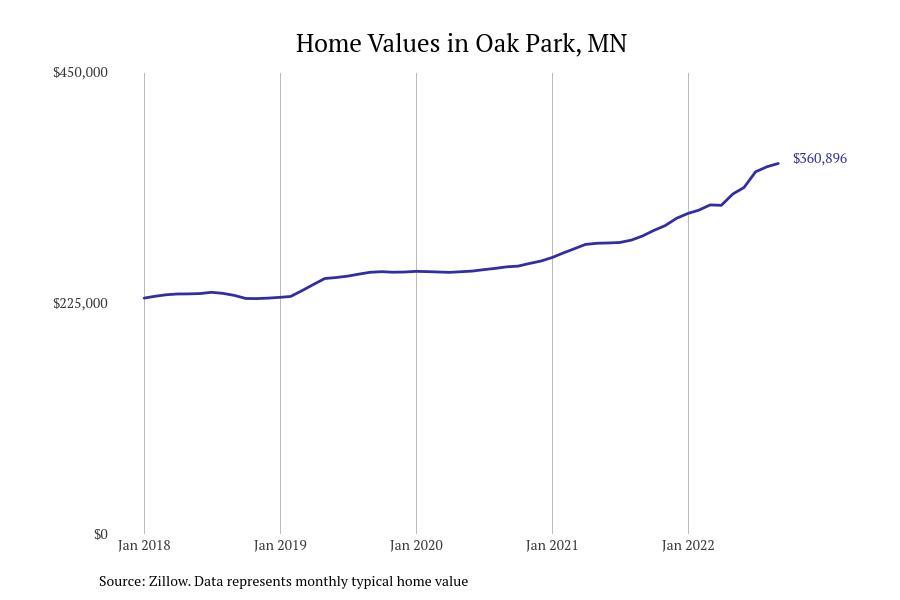 39 / 50
#12. Oak Park
- Typical home value: $360,896
- 1-year price change: +$70,702 (+24.4%)
- 5-year price change: +$136,502 (+60.8%)
- Metro area: St. Cloud, MN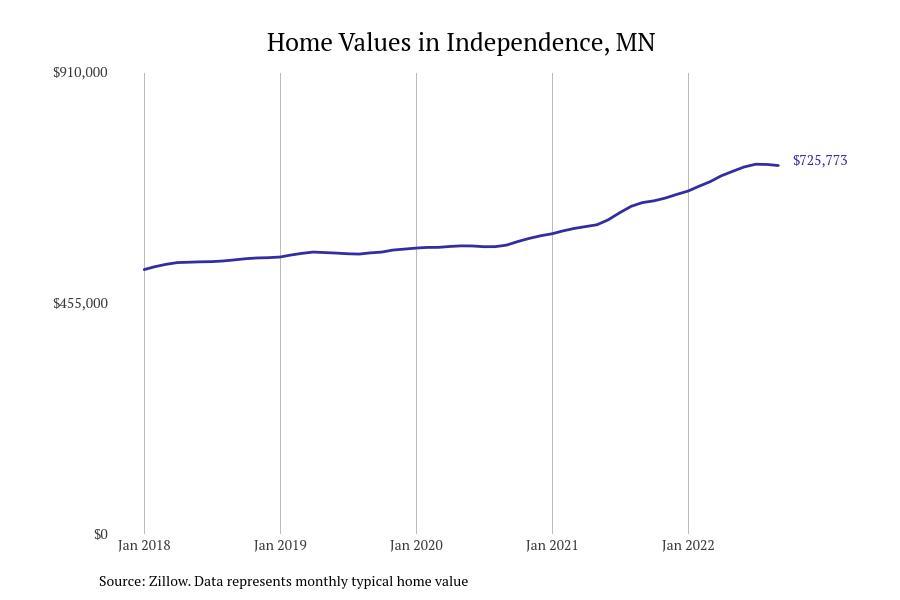 40 / 50
#11. Independence
- Typical home value: $725,773
- 1-year price change: +$72,994 (+11.2%)
- 5-year price change: +$207,450 (+40.0%)
- Metro area: Minneapolis-St. Paul-Bloomington, MN-WI
You may also like: Biggest sources of immigrants to Minnesota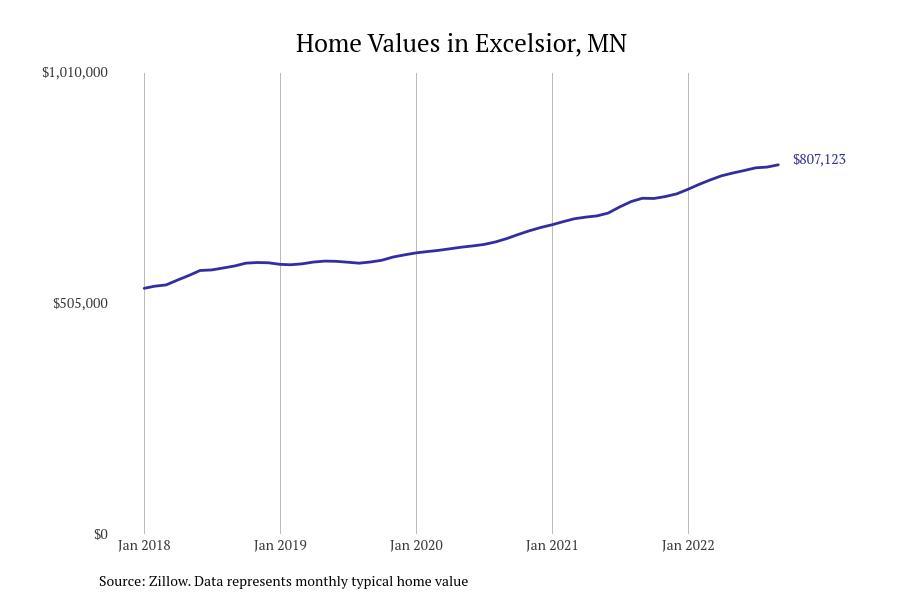 41 / 50
#10. Excelsior
- Typical home value: $807,123
- 1-year price change: +$73,143 (+10.0%)
- 5-year price change: +$284,675 (+54.5%)
- Metro area: Minneapolis-St. Paul-Bloomington, MN-WI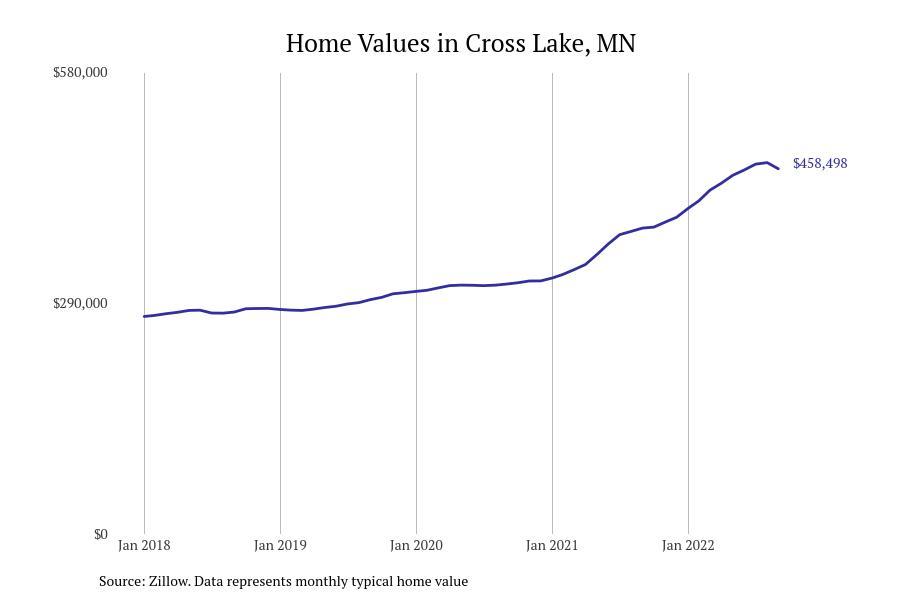 42 / 50
#9. Cross Lake
- Typical home value: $458,498
- 1-year price change: +$74,489 (+19.4%)
- 5-year price change: +$192,214 (+72.2%)
- Metro area: Brainerd, MN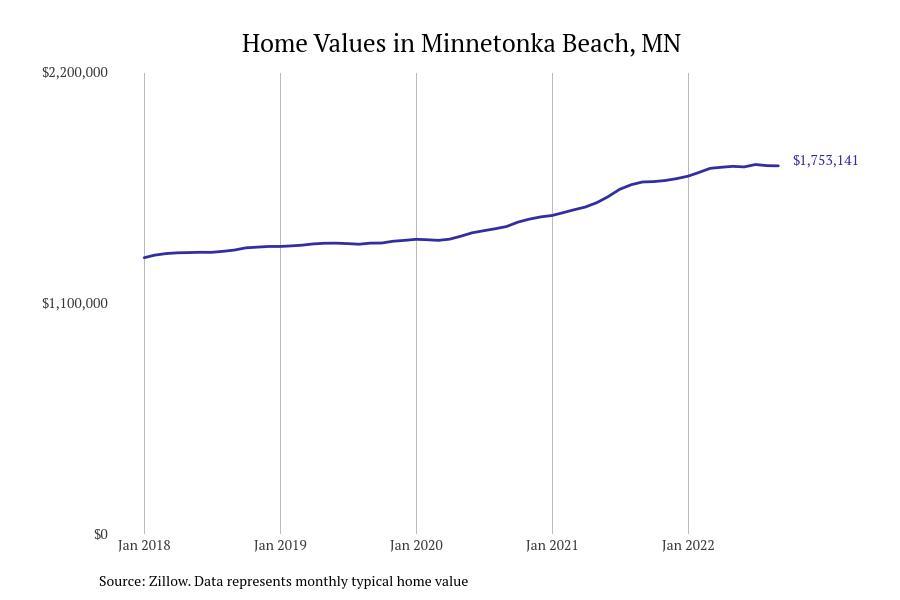 43 / 50
#8. Minnetonka Beach
- Typical home value: $1,753,141
- 1-year price change: +$76,964 (+4.6%)
- 5-year price change: +$475,194 (+37.2%)
- Metro area: Minneapolis-St. Paul-Bloomington, MN-WI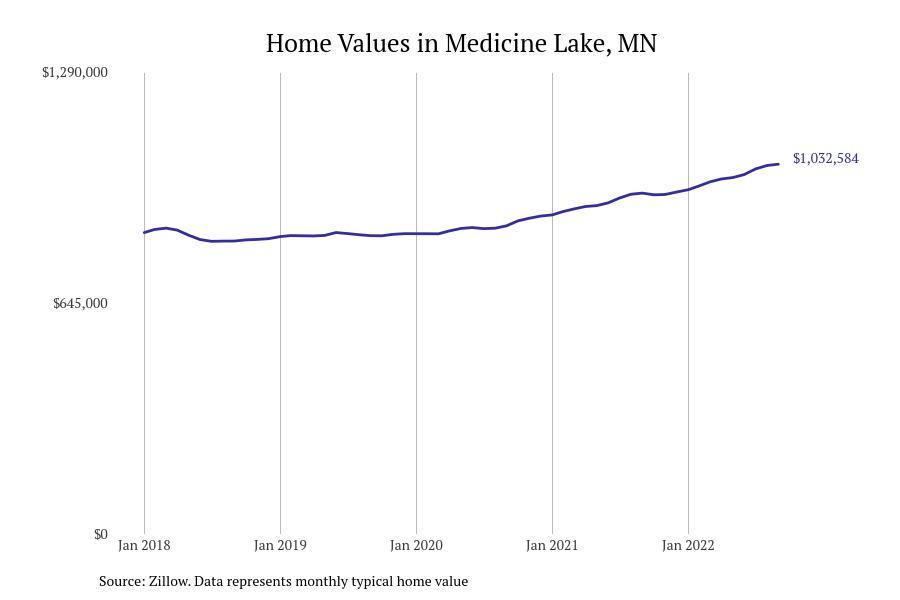 44 / 50
#7. Medicine Lake
- Typical home value: $1,032,584
- 1-year price change: +$80,779 (+8.5%)
- 5-year price change: +$226,129 (+28.0%)
- Metro area: Minneapolis-St. Paul-Bloomington, MN-WI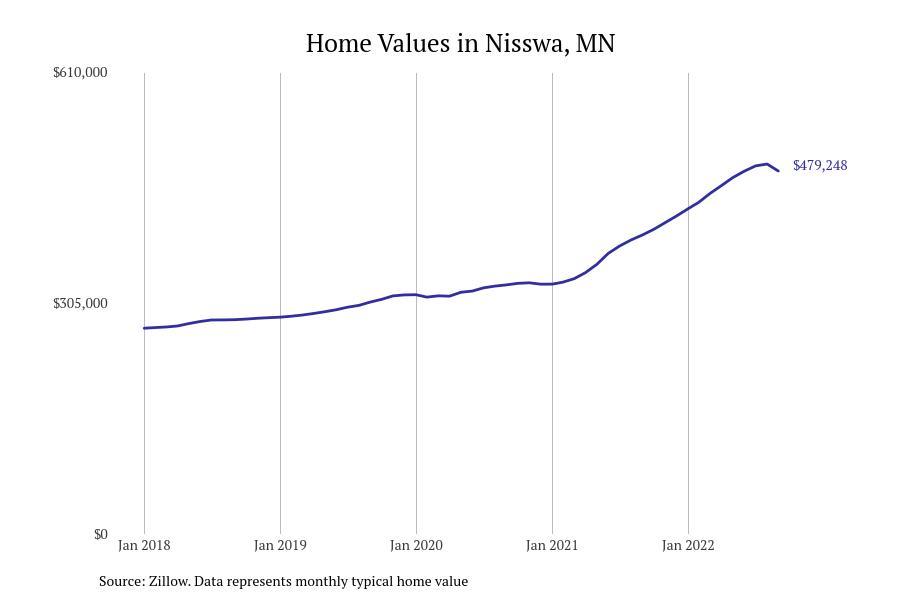 45 / 50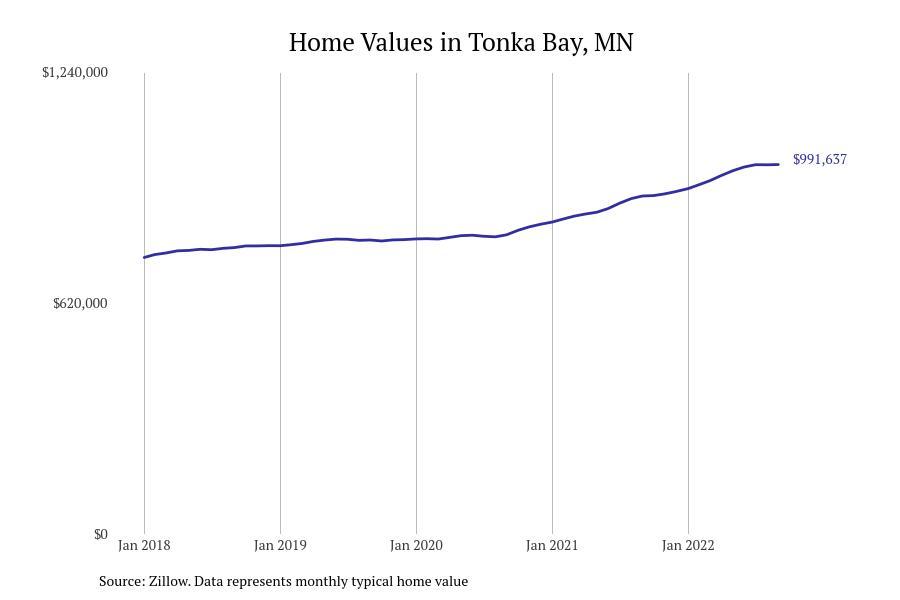 46 / 50
#5. Tonka Bay
- Typical home value: $991,637
- 1-year price change: +$84,494 (+9.3%)
- 5-year price change: +$269,735 (+37.4%)
- Metro area: Minneapolis-St. Paul-Bloomington, MN-WI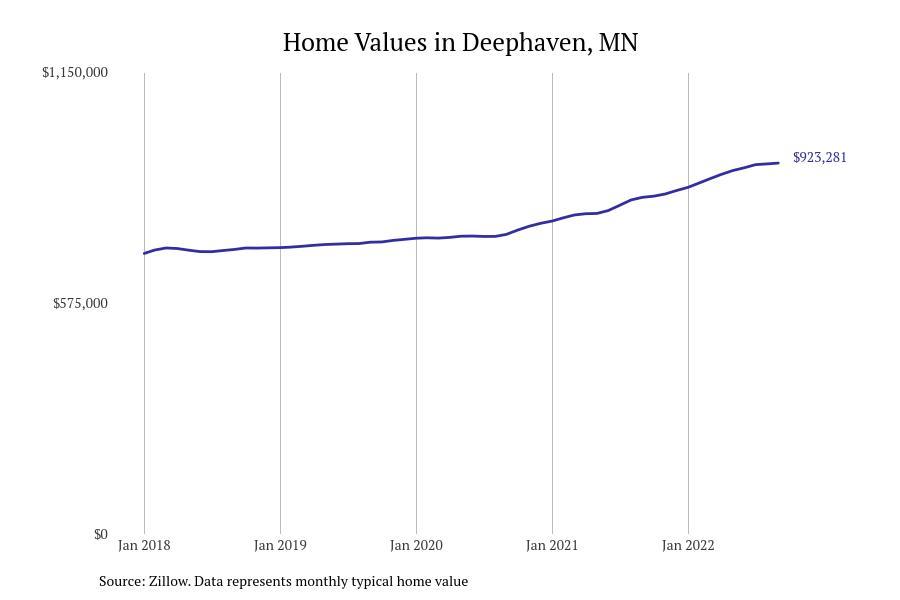 47 / 50
#4. Deephaven
- Typical home value: $923,281
- 1-year price change: +$85,277 (+10.2%)
- 5-year price change: +$244,094 (+35.9%)
- Metro area: Minneapolis-St. Paul-Bloomington, MN-WI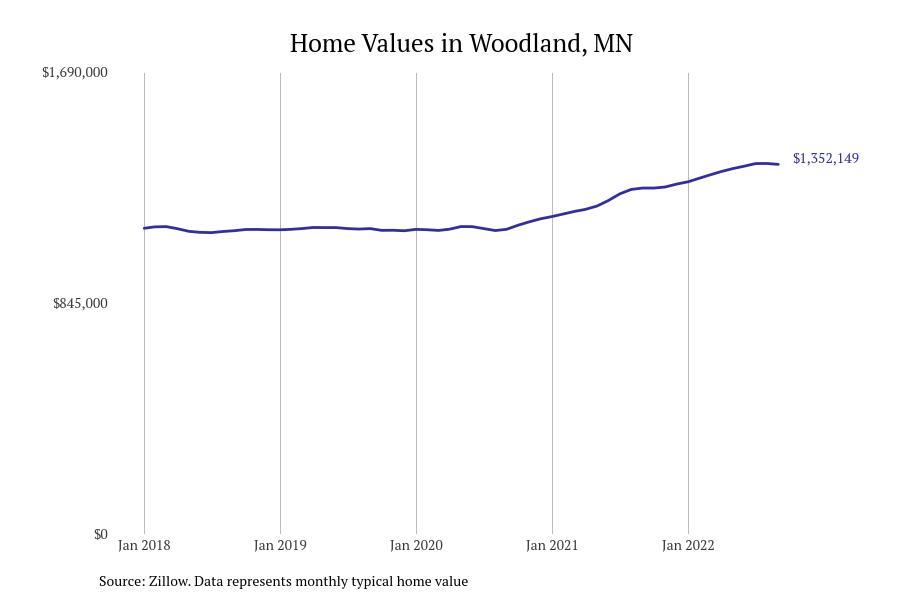 48 / 50
#3. Woodland
- Typical home value: $1,352,149
- 1-year price change: +$86,722 (+6.9%)
- 5-year price change: +$256,334 (+23.4%)
- Metro area: Minneapolis-St. Paul-Bloomington, MN-WI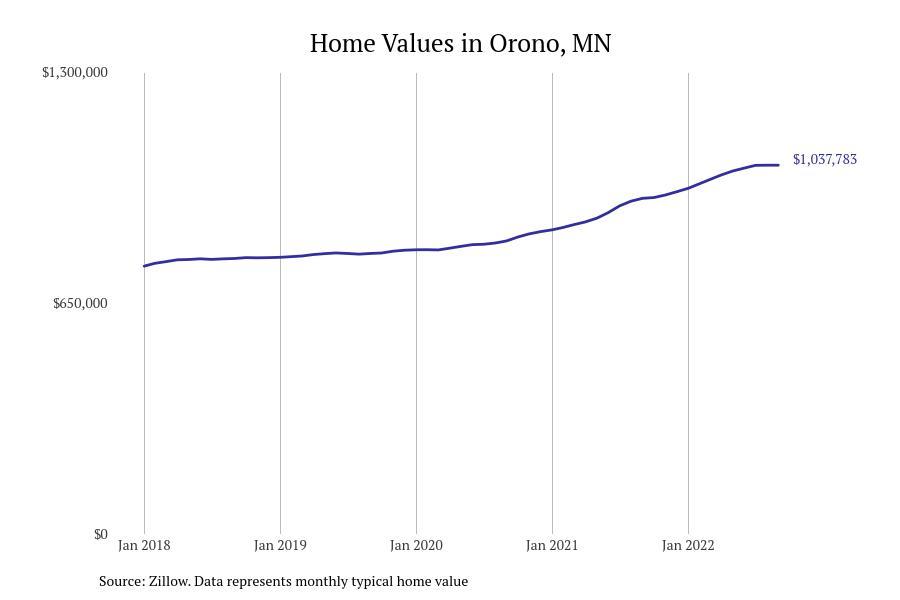 49 / 50
#2. Orono
- Typical home value: $1,037,783
- 1-year price change: +$93,298 (+9.9%)
- 5-year price change: +$297,210 (+40.1%)
- Metro area: Minneapolis-St. Paul-Bloomington, MN-WI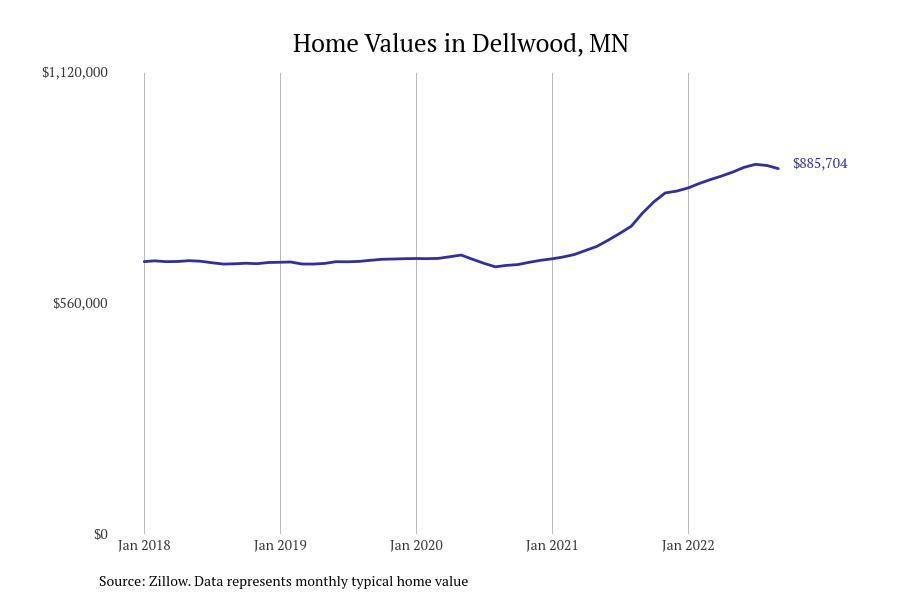 50 / 50
#1. Dellwood
- Typical home value: $885,704
- 1-year price change: +$108,116 (+13.9%)
- 5-year price change: +$253,929 (+40.2%)
- Metro area: Minneapolis-St. Paul-Bloomington, MN-WI
You may also like: Counties with the most renters in Minnesota