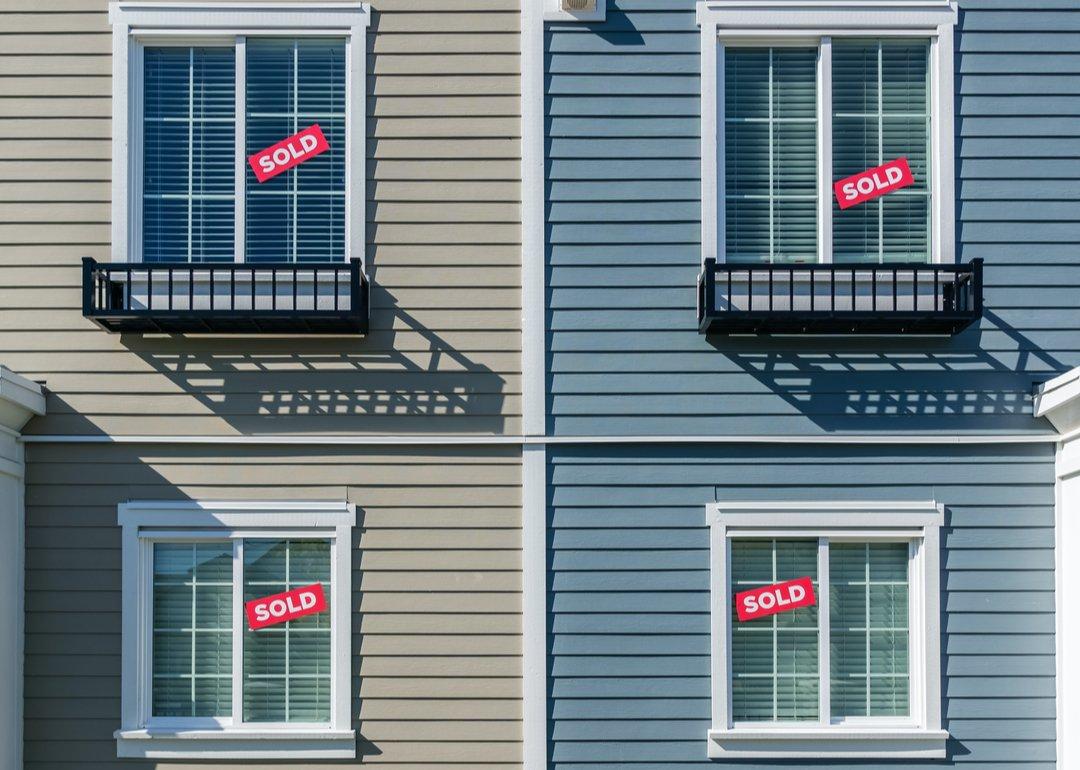 Cities with the most expensive homes in Minnesota
Volodymyr Kyrylyuk // Shutterstock
Cities with the most expensive homes in Minnesota
Stacker compiled a list of cities with the most expensive homes in Minnesota using data from Zillow. Cities are ranked by the Zillow Home Values Index for all homes as of June 2022. The charts in this story were created automatically using Matplotlib. The most expensive city on the list has a typical home value of $1,778,114 which is 430% higher than the state average of $335,407.
Metros with the most cities in the top 30 in Minnesota
#1. Minneapolis-St. Paul-Bloomington: 28
#2. Faribault-Northfield: 1
#2. Rochester: 1
Read on to see which cities made the list.
You may also like: Most popular girl names in the 60s in Minnesota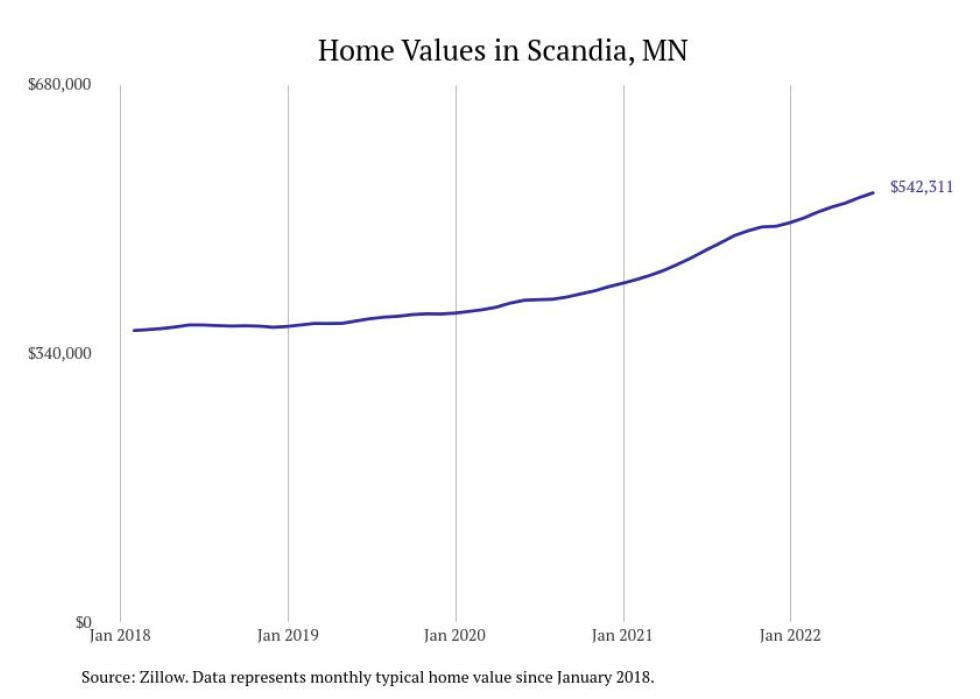 1 / 30
#30. Scandia
- Typical home value: $542,311
- 1-year price change: +15.4%
- 5-year price change: +50.3%
- Metro area: Minneapolis-St. Paul-Bloomington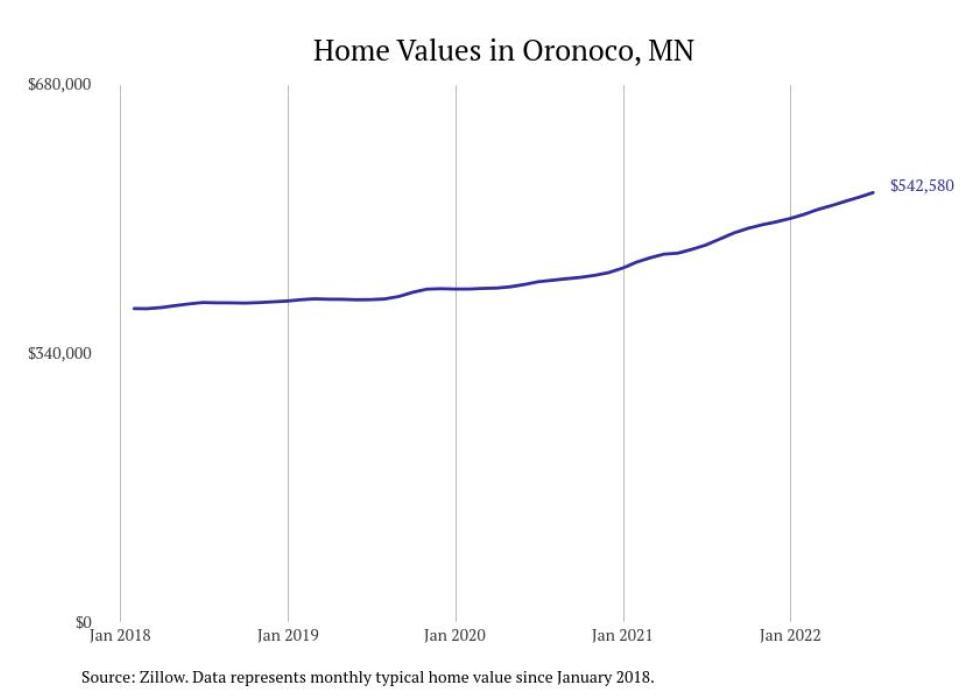 2 / 30
#29. Oronoco
- Typical home value: $542,580
- 1-year price change: +13.9%
- 5-year price change: +43.6%
- Metro area: Rochester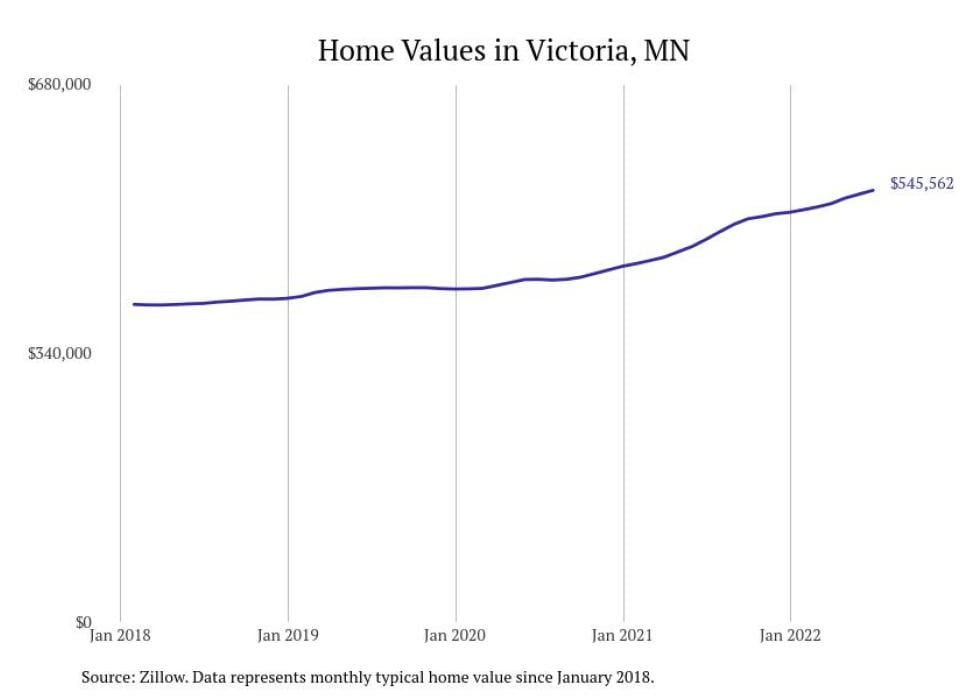 3 / 30
#28. Victoria
- Typical home value: $545,562
- 1-year price change: +12.9%
- 5-year price change: +39.2%
- Metro area: Minneapolis-St. Paul-Bloomington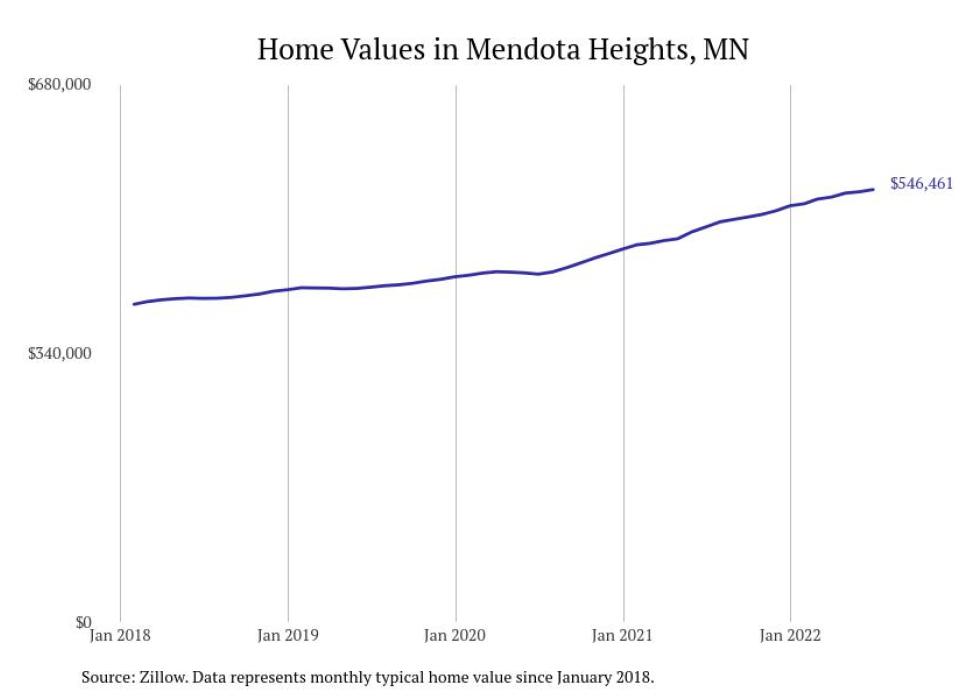 4 / 30
#27. Mendota Heights
- Typical home value: $546,461
- 1-year price change: +9.5%
- 5-year price change: +40.0%
- Metro area: Minneapolis-St. Paul-Bloomington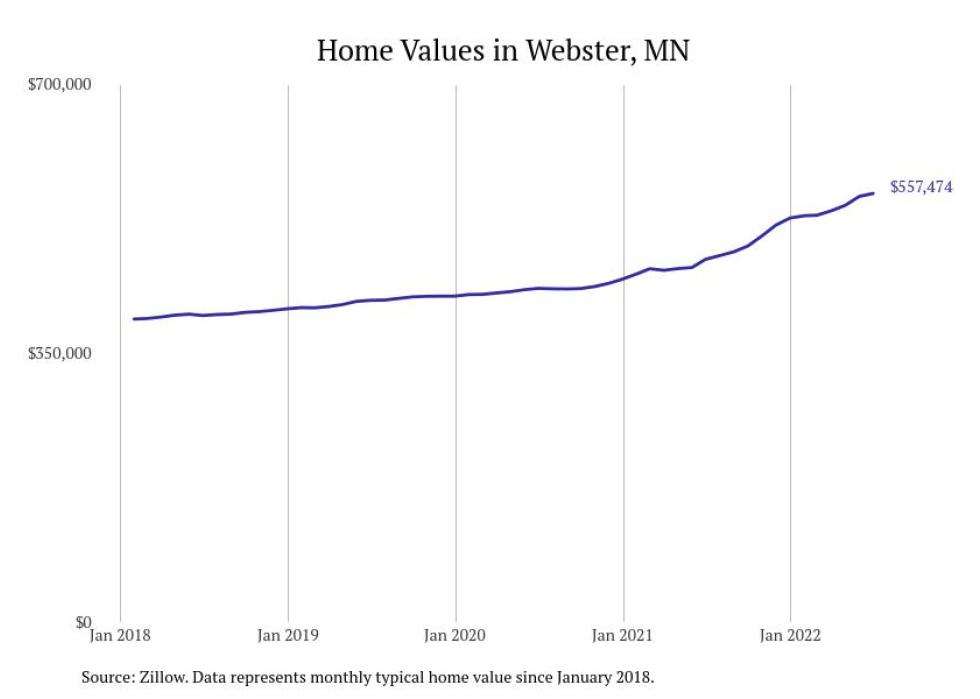 5 / 30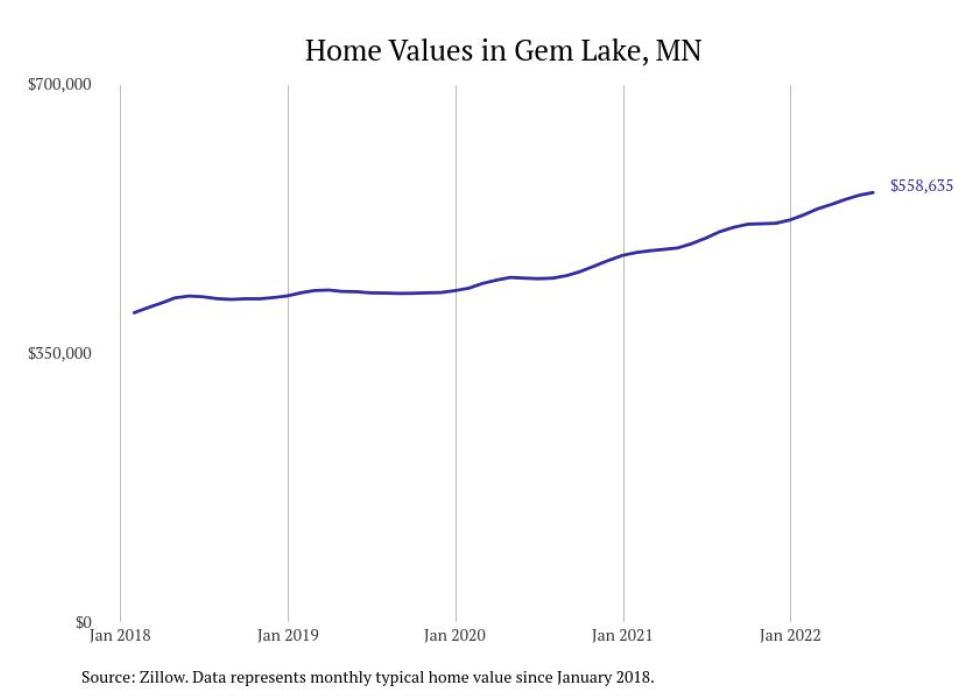 6 / 30
#25. Gem Lake
- Typical home value: $558,635
- 1-year price change: +11.9%
- 5-year price change: +42.2%
- Metro area: Minneapolis-St. Paul-Bloomington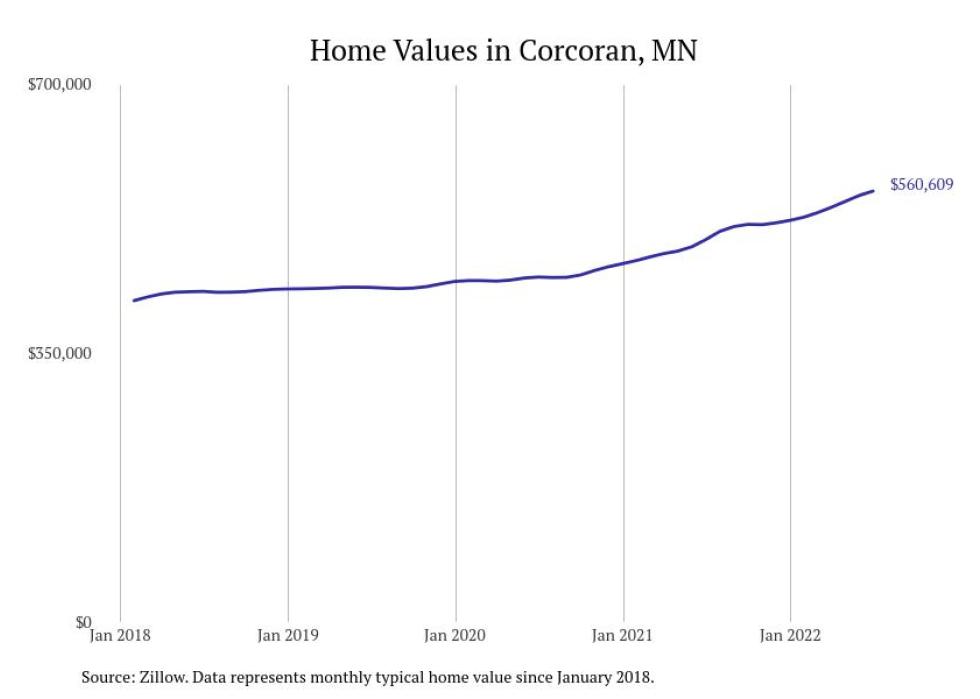 7 / 30
#24. Corcoran
- Typical home value: $560,609
- 1-year price change: +12.7%
- 5-year price change: +37.4%
- Metro area: Minneapolis-St. Paul-Bloomington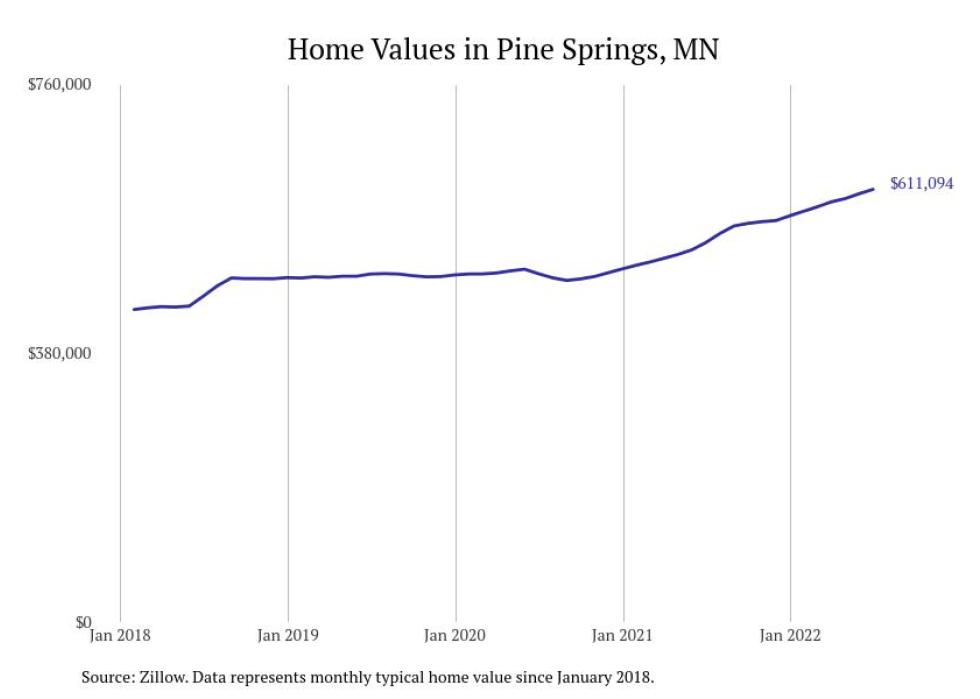 8 / 30
#23. Pine Springs
- Typical home value: $611,094
- 1-year price change: +14.1%
- 5-year price change: +39.3%
- Metro area: Minneapolis-St. Paul-Bloomington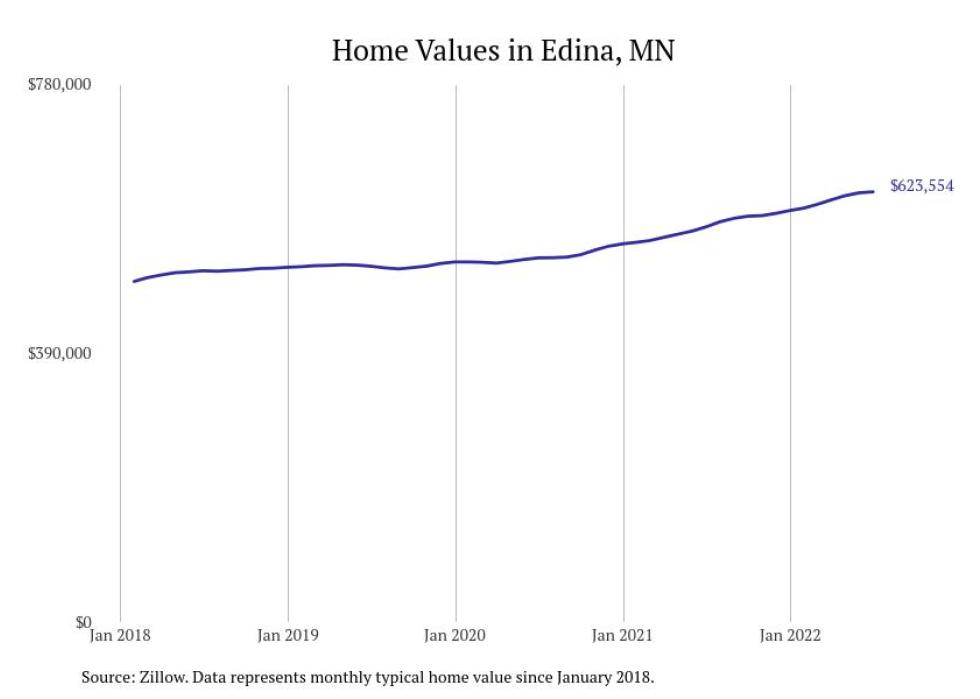 9 / 30
#22. Edina
- Typical home value: $623,554
- 1-year price change: +8.9%
- 5-year price change: +30.3%
- Metro area: Minneapolis-St. Paul-Bloomington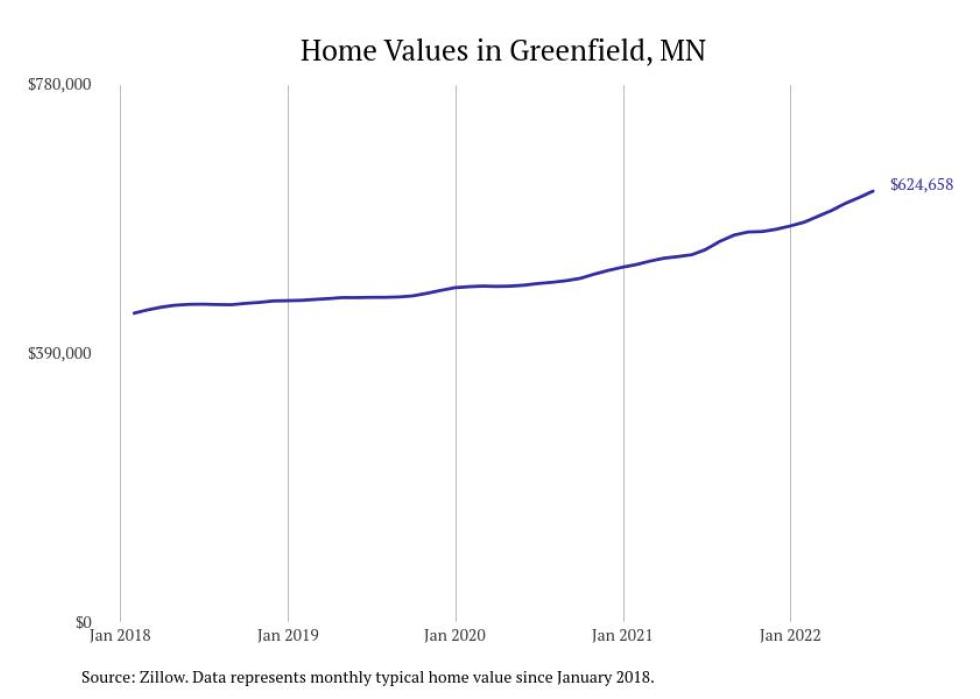 10 / 30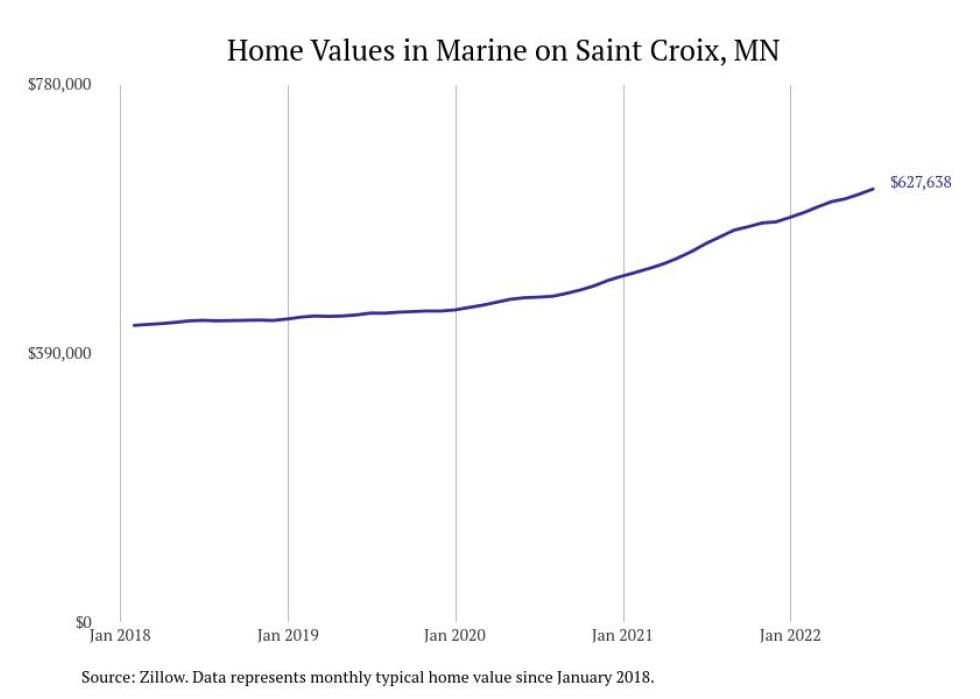 11 / 30
#20. Marine on Saint Croix
- Typical home value: $627,638
- 1-year price change: +14.5%
- 5-year price change: +49.1%
- Metro area: Minneapolis-St. Paul-Bloomington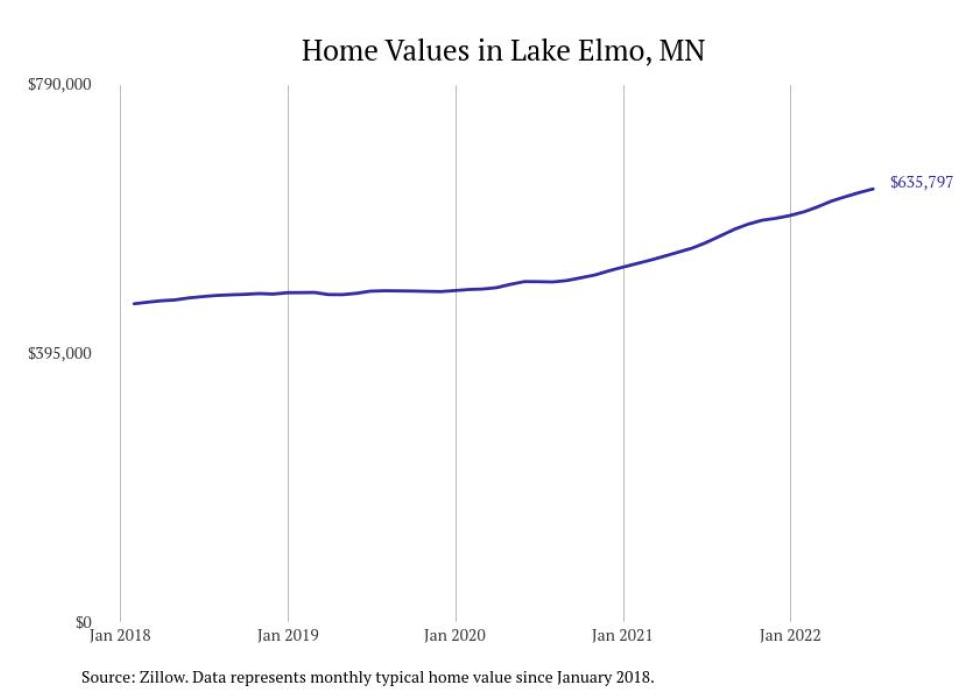 12 / 30
#19. Lake Elmo
- Typical home value: $635,797
- 1-year price change: +14.2%
- 5-year price change: +39.2%
- Metro area: Minneapolis-St. Paul-Bloomington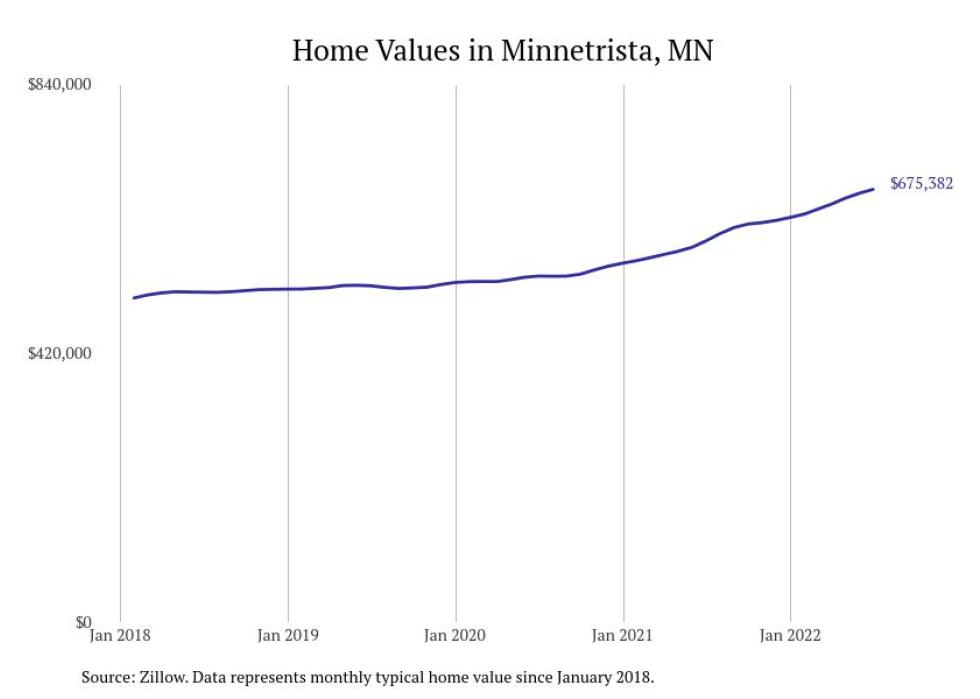 13 / 30
#18. Minnetrista
- Typical home value: $675,382
- 1-year price change: +13.6%
- 5-year price change: +37.2%
- Metro area: Minneapolis-St. Paul-Bloomington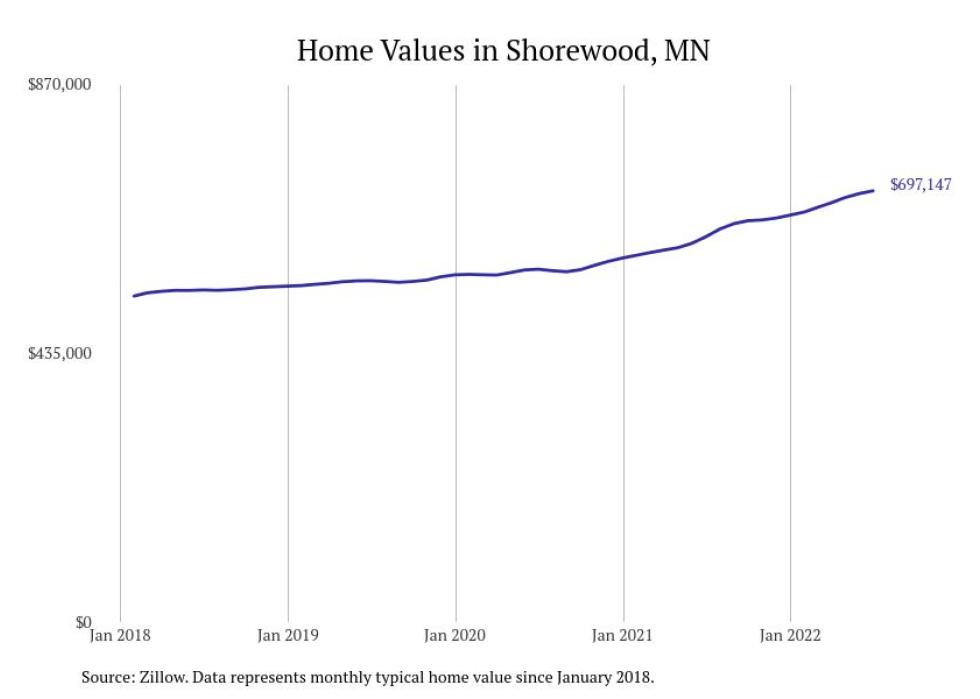 14 / 30
#17. Shorewood
- Typical home value: $697,147
- 1-year price change: +11.9%
- 5-year price change: +35.9%
- Metro area: Minneapolis-St. Paul-Bloomington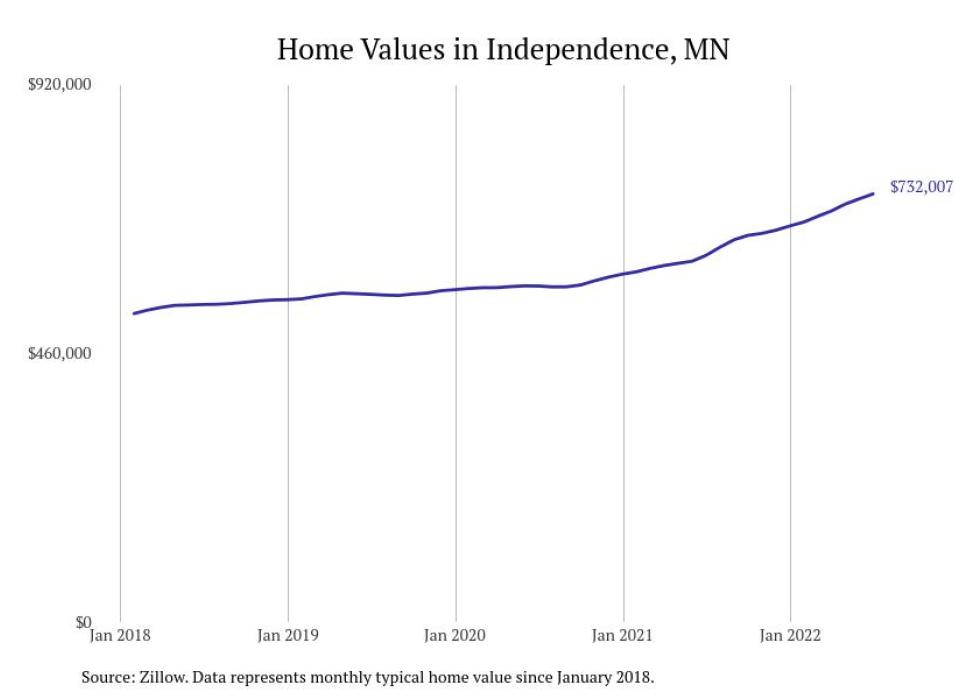 15 / 30
#16. Independence
- Typical home value: $732,007
- 1-year price change: +16.8%
- 5-year price change: +40.7%
- Metro area: Minneapolis-St. Paul-Bloomington
You may also like: Recipes from Minnesota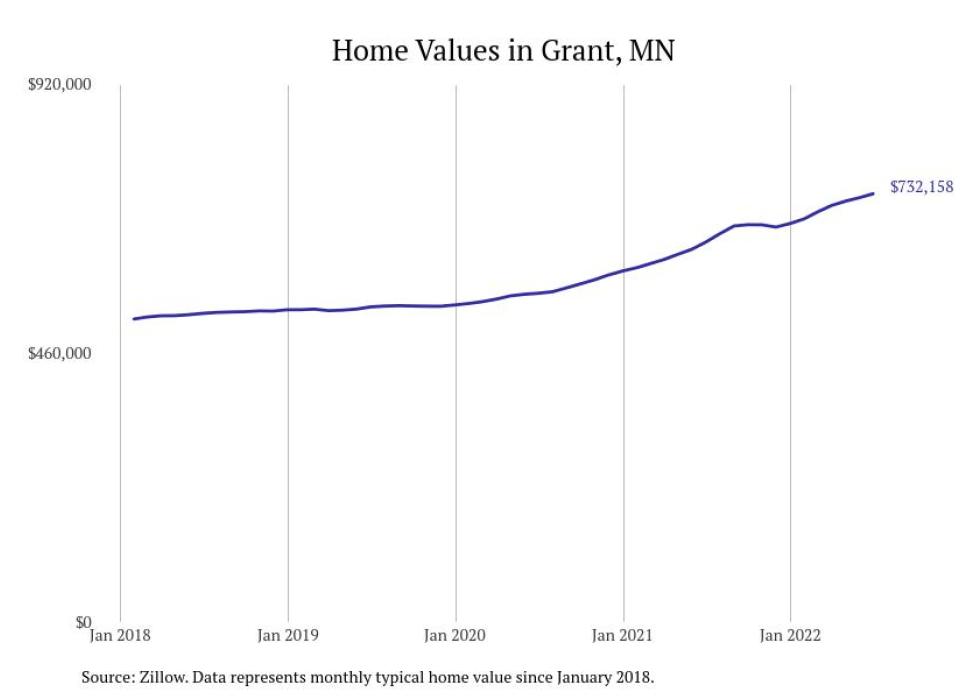 16 / 30
#15. Grant
- Typical home value: $732,158
- 1-year price change: +12.7%
- 5-year price change: +47.0%
- Metro area: Minneapolis-St. Paul-Bloomington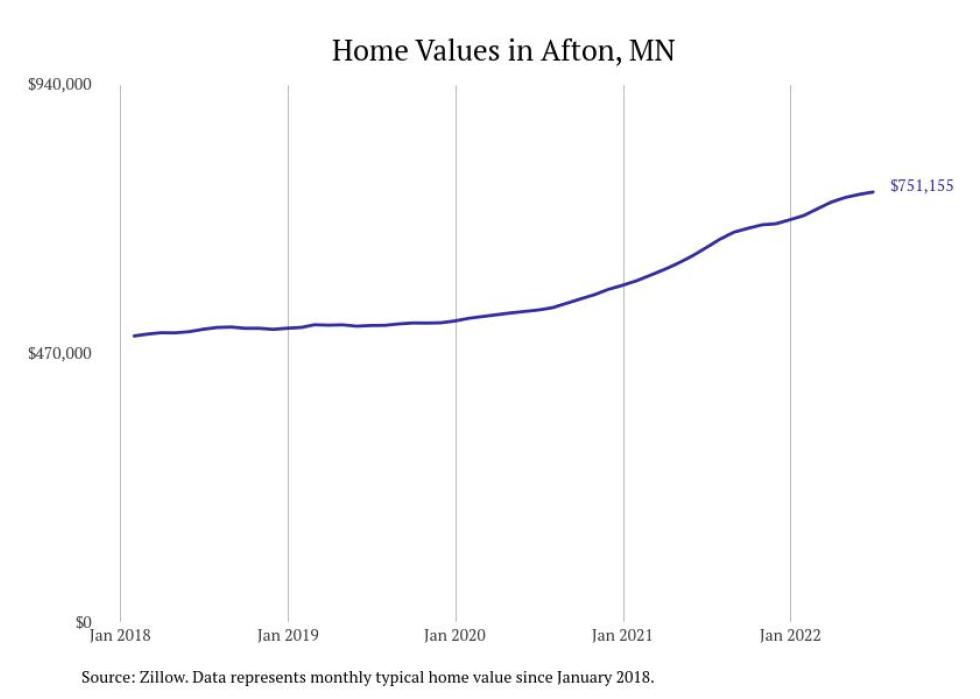 17 / 30
#14. Afton
- Typical home value: $751,155
- 1-year price change: +15.0%
- 5-year price change: +54.4%
- Metro area: Minneapolis-St. Paul-Bloomington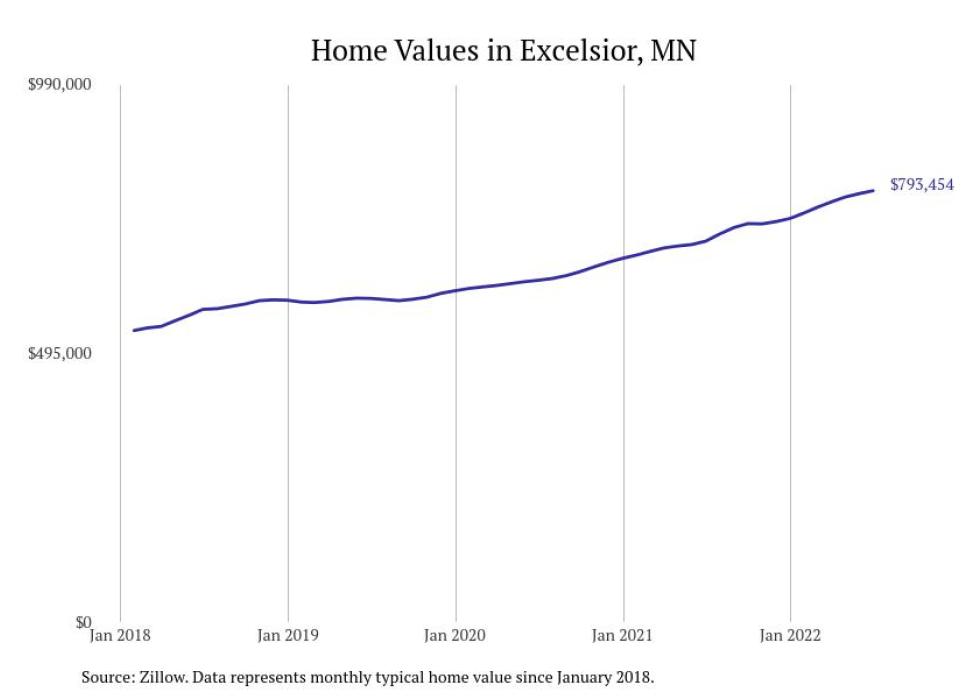 18 / 30
#13. Excelsior
- Typical home value: $793,454
- 1-year price change: +13.3%
- 5-year price change: +53.7%
- Metro area: Minneapolis-St. Paul-Bloomington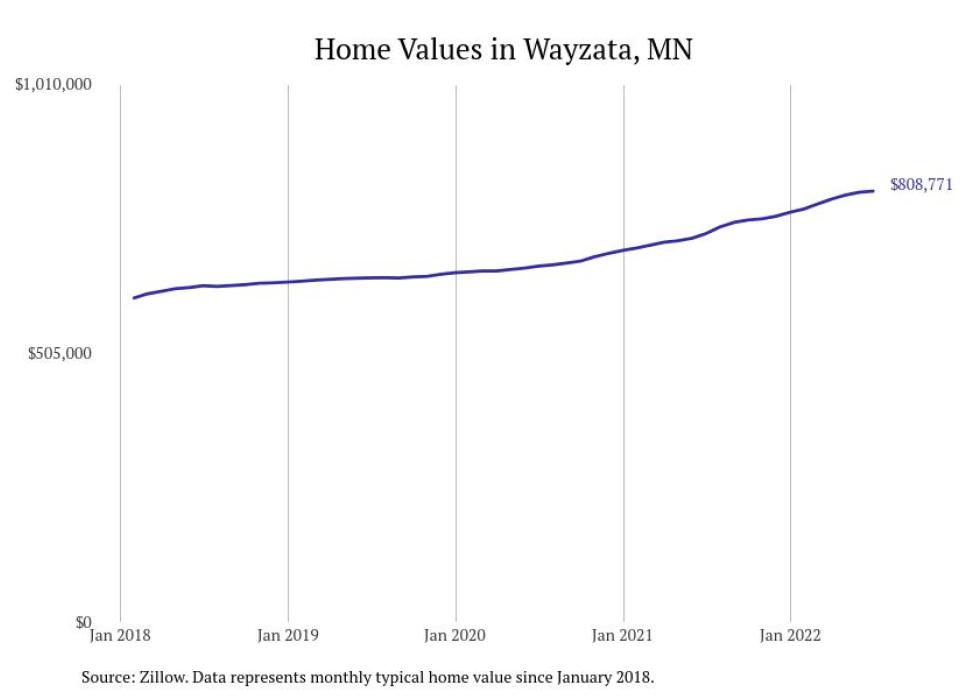 19 / 30
#12. Wayzata
- Typical home value: $808,771
- 1-year price change: +11.0%
- 5-year price change: +37.8%
- Metro area: Minneapolis-St. Paul-Bloomington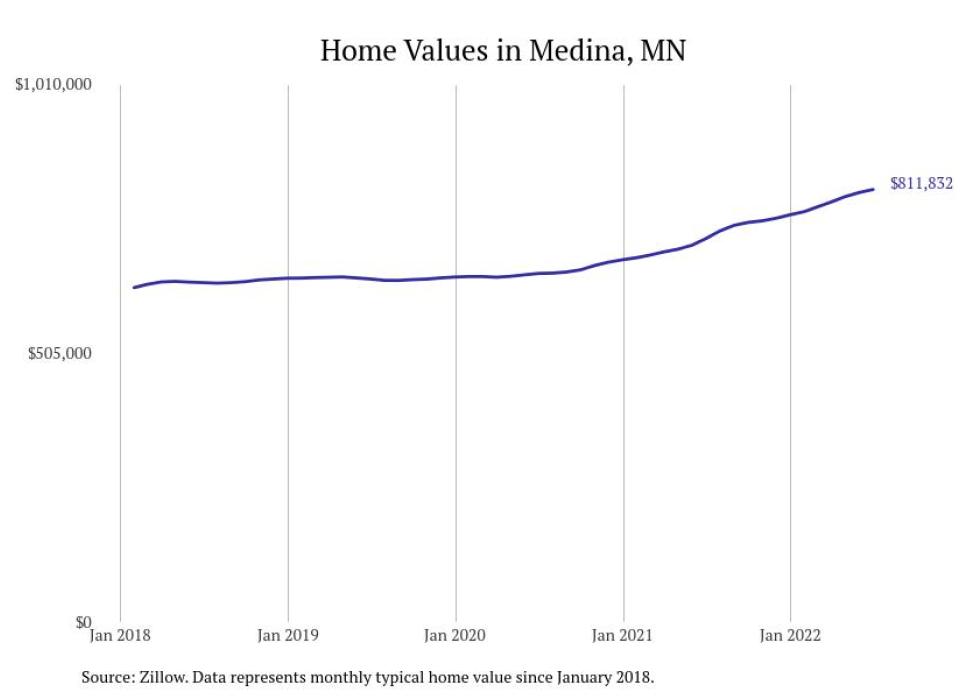 20 / 30
#11. Medina
- Typical home value: $811,832
- 1-year price change: +12.8%
- 5-year price change: +31.4%
- Metro area: Minneapolis-St. Paul-Bloomington
You may also like: Fastest growing cities in Minnesota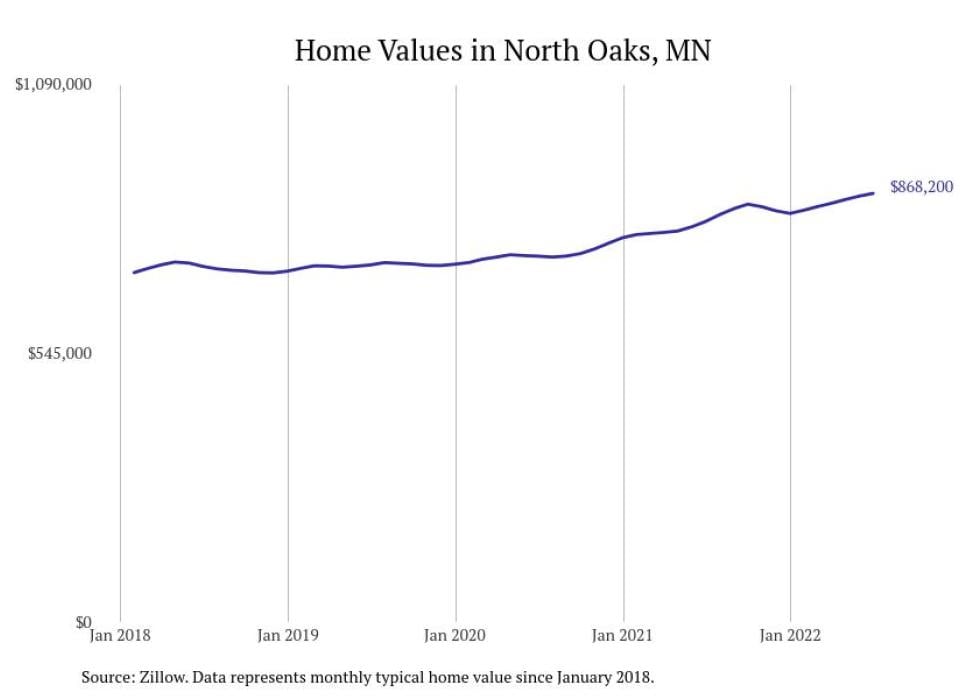 21 / 30
#10. North Oaks
- Typical home value: $868,200
- 1-year price change: +7.0%
- 5-year price change: +24.5%
- Metro area: Minneapolis-St. Paul-Bloomington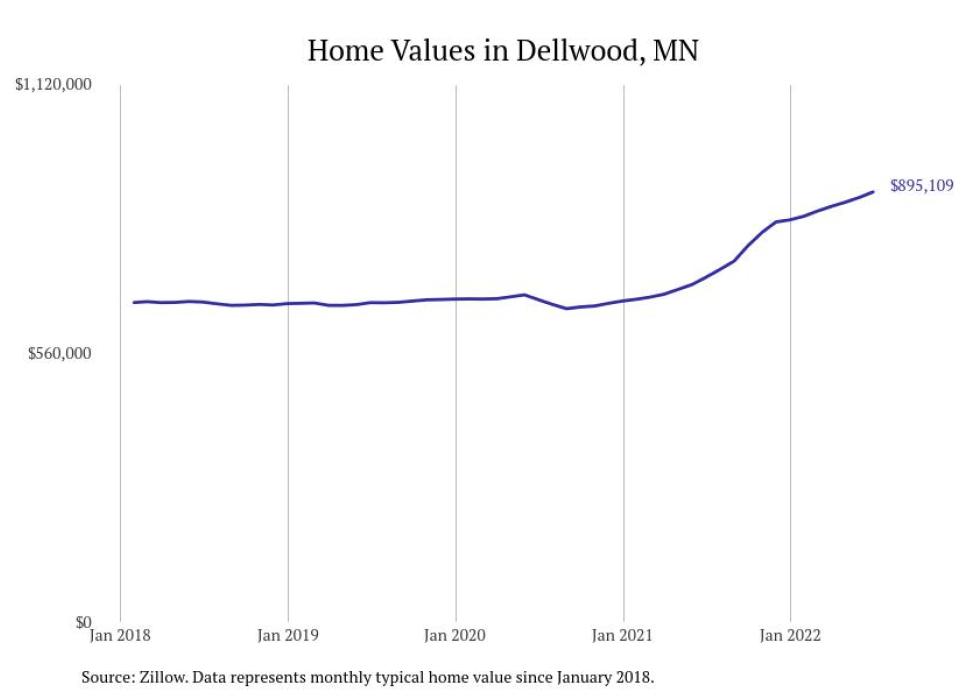 22 / 30
#9. Dellwood
- Typical home value: $895,109
- 1-year price change: +24.8%
- 5-year price change: +41.1%
- Metro area: Minneapolis-St. Paul-Bloomington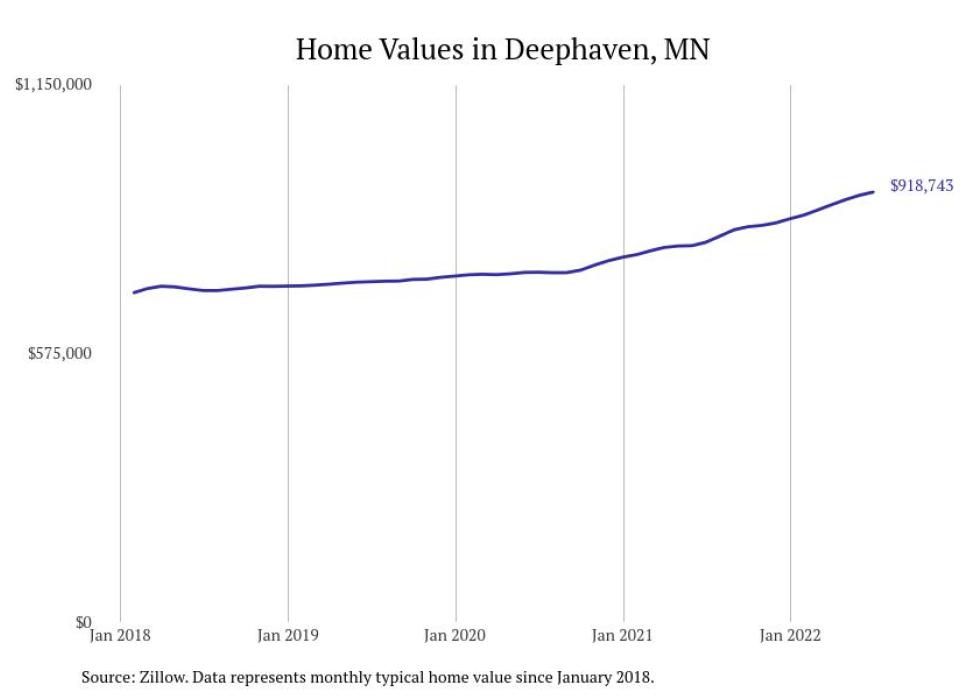 23 / 30
#8. Deephaven
- Typical home value: $918,743
- 1-year price change: +13.2%
- 5-year price change: +35.6%
- Metro area: Minneapolis-St. Paul-Bloomington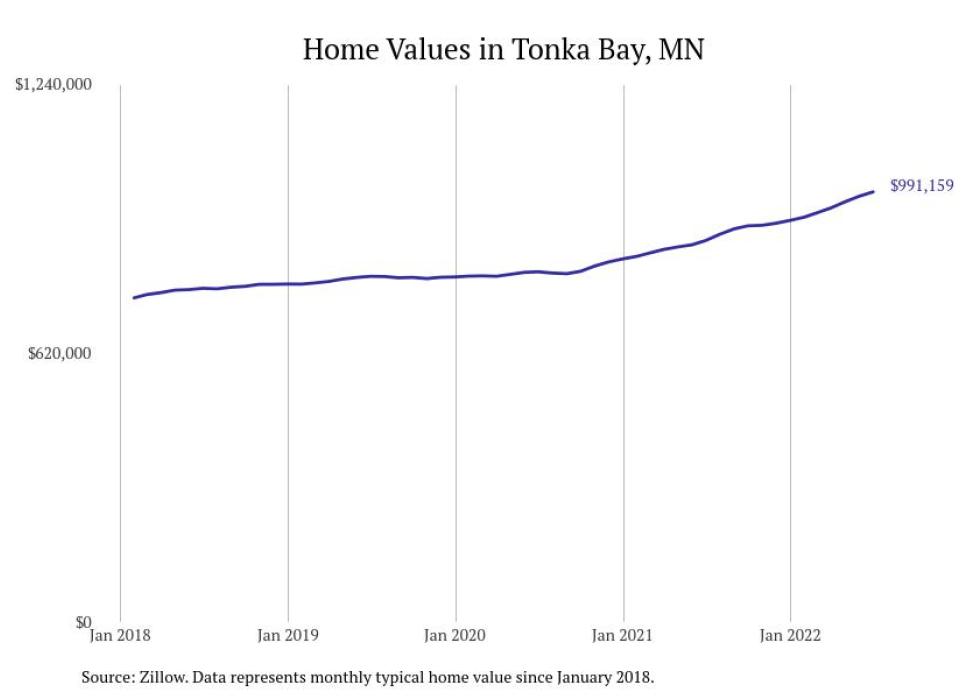 24 / 30
#7. Tonka Bay
- Typical home value: $991,159
- 1-year price change: +12.7%
- 5-year price change: +36.9%
- Metro area: Minneapolis-St. Paul-Bloomington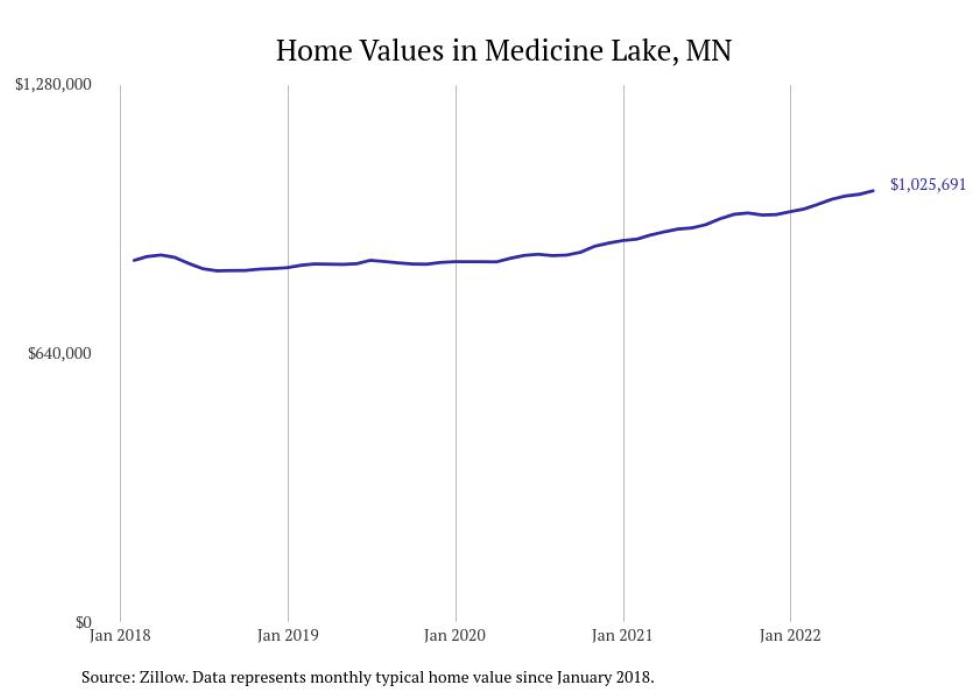 25 / 30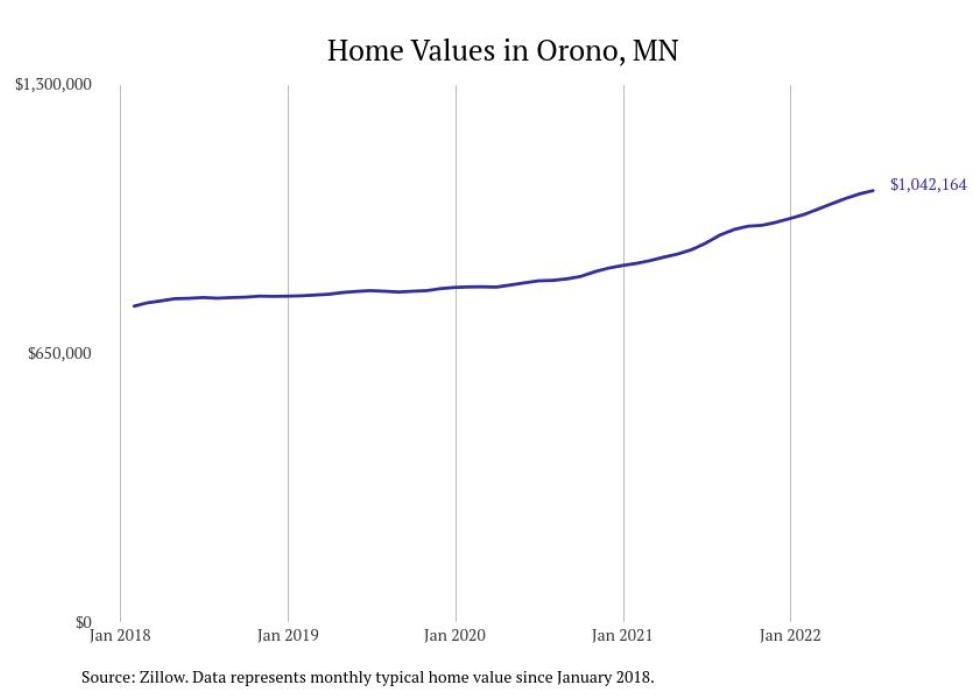 26 / 30
#5. Orono
- Typical home value: $1,042,164
- 1-year price change: +13.9%
- 5-year price change: +40.2%
- Metro area: Minneapolis-St. Paul-Bloomington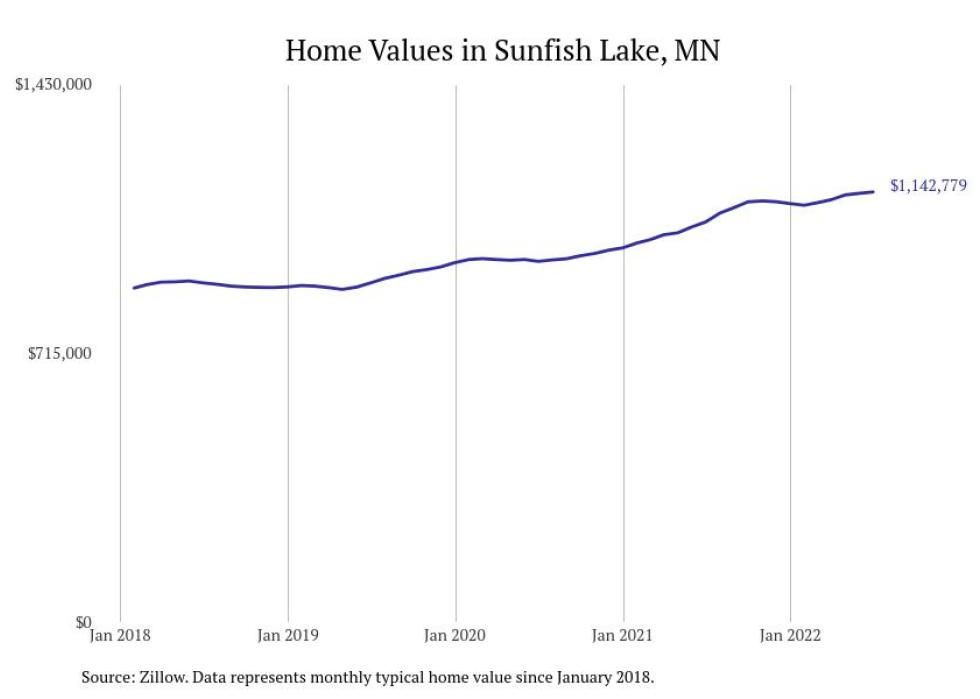 27 / 30
#4. Sunfish Lake
- Typical home value: $1,142,779
- 1-year price change: +7.5%
- 5-year price change: +31.9%
- Metro area: Minneapolis-St. Paul-Bloomington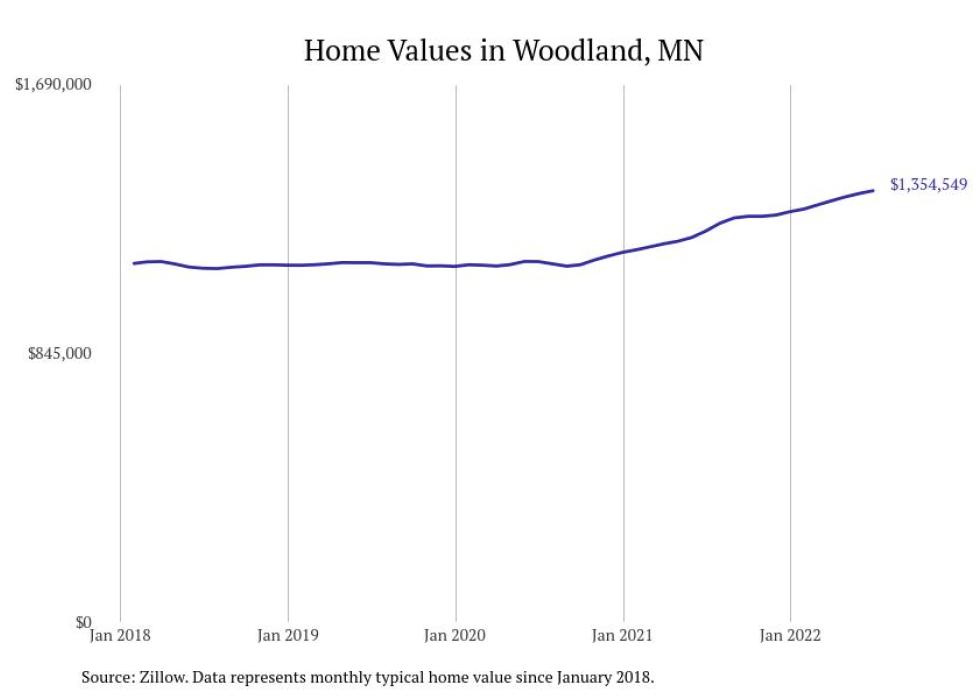 28 / 30
#3. Woodland
- Typical home value: $1,354,549
- 1-year price change: +10.3%
- 5-year price change: +23.6%
- Metro area: Minneapolis-St. Paul-Bloomington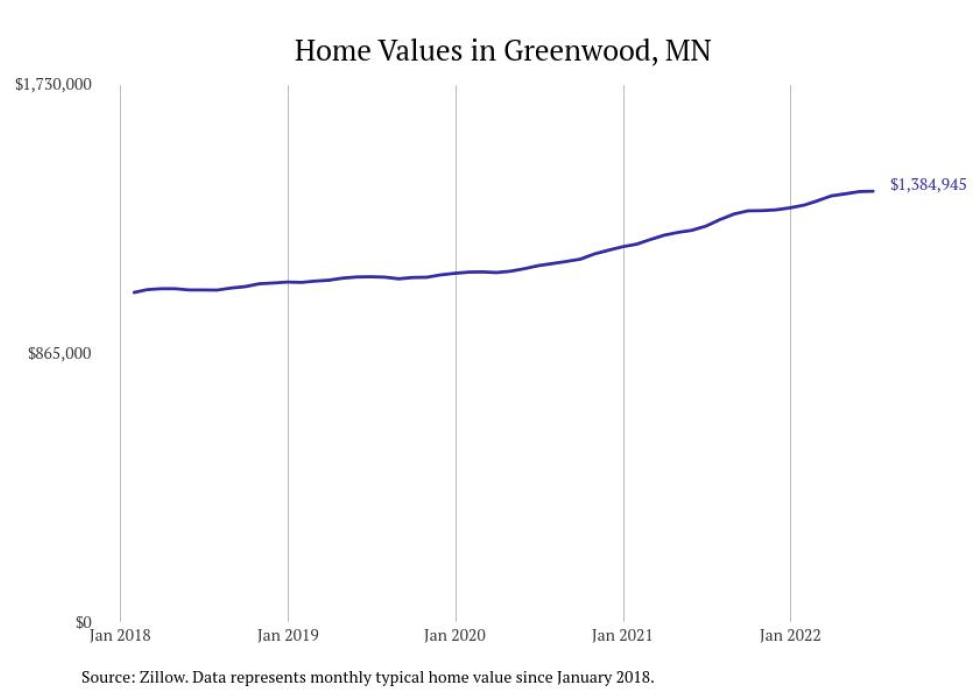 29 / 30
#2. Greenwood
- Typical home value: $1,384,945
- 1-year price change: +8.8%
- 5-year price change: +36.3%
- Metro area: Minneapolis-St. Paul-Bloomington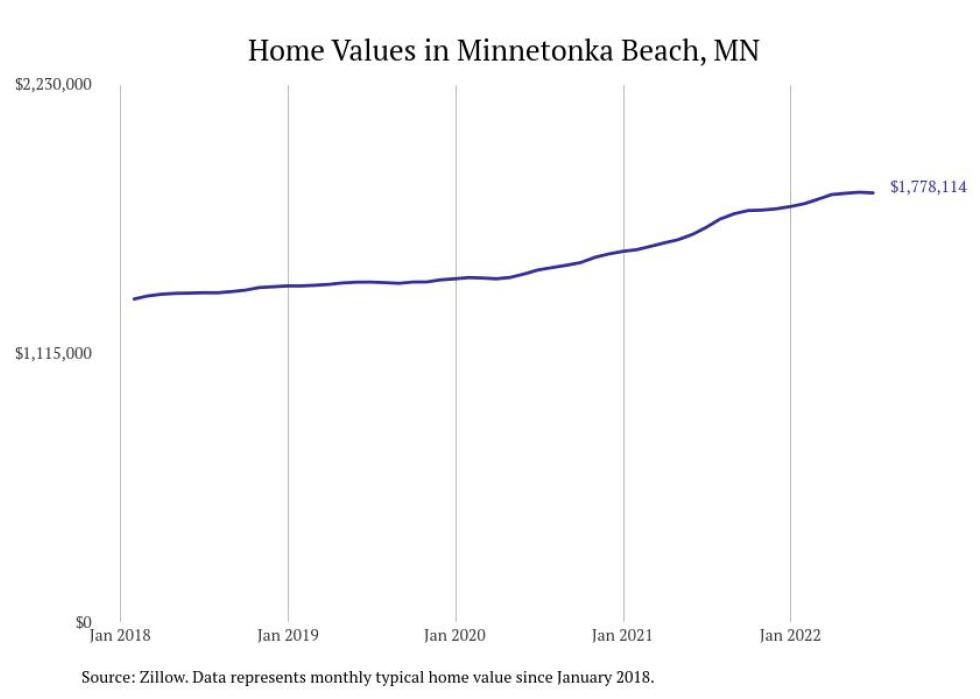 30 / 30