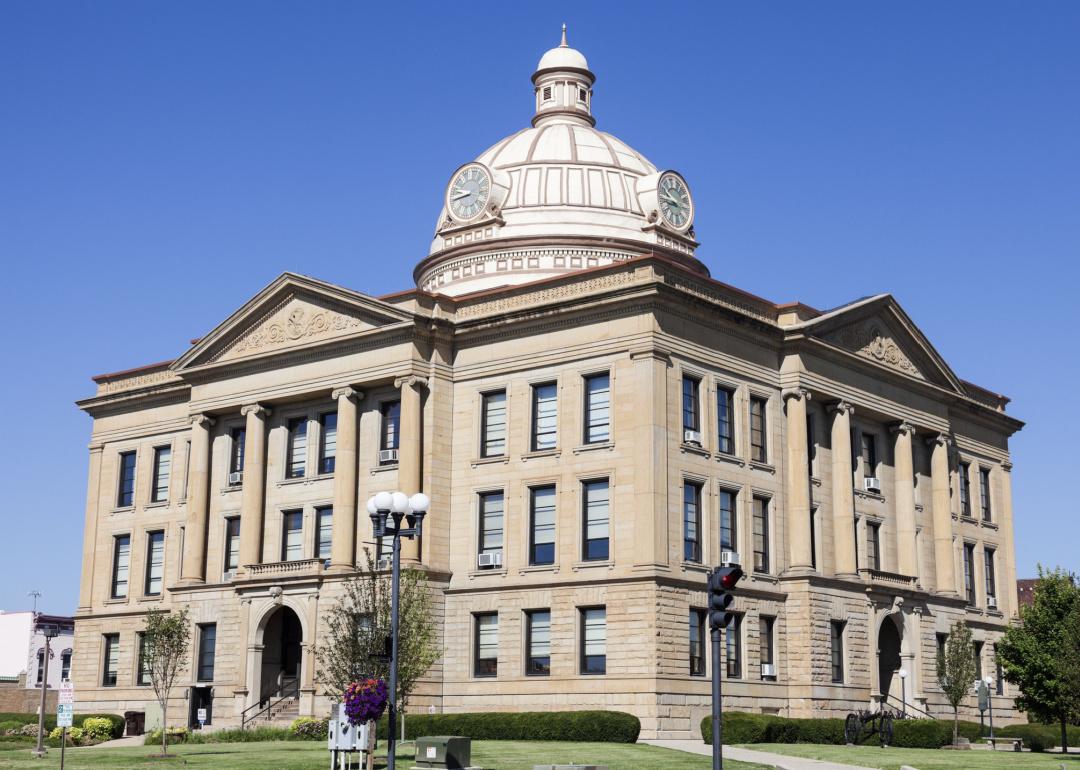 Fastest-growing counties in Mississippi
Henryk Sadura // Shutterstock
Fastest-growing counties in Mississippi
Why do people move from one county or region to another? The usual suspects are jobs, family, significant others, and overall cost of living, but there are other elements at play. For those with children, moving within close proximity of a highly rated school district is a key contributing factor. For younger adults just starting out, living someplace with a vibrant social scene might be a top priority. And for those whose careers have wound down after a lifetime of work, finding retirement-friendly communities is the goal—communities deemed to be safe, offer accessibility to medical resources and leisure activities in equal measure, and be affordable for those on a limited income.
This is, of course, by no means an exhaustive list. People's reasons for choosing to live where they do are as diverse as people themselves.
As far as why certain counties across the U.S. have experienced growth, relocation is not the sole, or even primary, reason why. While more than 1,800 counties saw population gains in 2021, approximately 73% of all U.S. counties saw what the U.S. Census Bureau characterizes as a natural decrease. This was a significant jump from 2020, when 55.5% of countries experienced such a decrease. According to the Bureau, natural decrease is the simple result of "when there are more deaths than births in a population over a given time period." In 2021, the conflation of fewer births with an aging population that was also absorbing a higher-than-usual mortality rate due to the ongoing COVID-19 pandemic led to this "increased decrease."
Nonetheless, as stated 1,800 counties nationwide have grown larger over the last year, and a sizable percentage of them are in Mississippi. Stacker compiled a list of the fastest-growing counties in Mississippi using data from the U.S. Census Bureau. Counties are ranked by the highest population growth from 2010 to 2020, based on the U.S. Decennial Census.
#50. Clarke County
- 2010 to 2020 population change: -1,117
--- #2,564 among all counties nationwide
- 2010 to 2020 percent population change: -6.7%
--- #50 among counties in Mississippi, #2,575 among all counties nationwide
- 2020 population: 15,615
--- #56 largest county in Mississippi, #2,055 largest county nationwide
#49. Sharkey County
- 2010 to 2020 population change: -1,116
--- #2,562 among all counties nationwide
- 2010 to 2020 percent population change: -22.7%
--- #81 among counties in Mississippi, #3,126 among all counties nationwide
- 2020 population: 3,800
--- #81 largest county in Mississippi, #2,900 largest county nationwide
#48. Montgomery County
- 2010 to 2020 population change: -1,103
--- #2,559 among all counties nationwide
- 2010 to 2020 percent population change: -10.1%
--- #66 among counties in Mississippi, #2,871 among all counties nationwide
- 2020 population: 9,822
--- #70 largest county in Mississippi, #2,425 largest county nationwide
#47. Benton County
- 2010 to 2020 population change: -1,083
--- #2,548 among all counties nationwide
- 2010 to 2020 percent population change: -12.4%
--- #74 among counties in Mississippi, #2,975 among all counties nationwide
- 2020 population: 7,646
--- #78 largest county in Mississippi, #2,605 largest county nationwide
#46. Copiah County
- 2010 to 2020 population change: -1,081
--- #2,546 among all counties nationwide
- 2010 to 2020 percent population change: -3.7%
--- #34 among counties in Mississippi, #2,109 among all counties nationwide
- 2020 population: 28,368
--- #29 largest county in Mississippi, #1,477 largest county nationwide
#45. Tunica County
- 2010 to 2020 population change: -996
--- #2,500 among all counties nationwide
- 2010 to 2020 percent population change: -9.2%
--- #60 among counties in Mississippi, #2,811 among all counties nationwide
- 2020 population: 9,782
--- #71 largest county in Mississippi, #2,430 largest county nationwide
#44. Wayne County
- 2010 to 2020 population change: -968
--- #2,479 among all counties nationwide
- 2010 to 2020 percent population change: -4.7%
--- #38 among counties in Mississippi, #2,271 among all counties nationwide
- 2020 population: 19,779
--- #46 largest county in Mississippi, #1,828 largest county nationwide
#43. Lawrence County
- 2010 to 2020 population change: -913
--- #2,446 among all counties nationwide
- 2010 to 2020 percent population change: -7.1%
--- #51 among counties in Mississippi, #2,625 among all counties nationwide
- 2020 population: 12,016
--- #64 largest county in Mississippi, #2,280 largest county nationwide
#42. Lowndes County
- 2010 to 2020 population change: -900
--- #2,441 among all counties nationwide
- 2010 to 2020 percent population change: -1.5%
--- #24 among counties in Mississippi, #1,745 among all counties nationwide
- 2020 population: 58,879
--- #12 largest county in Mississippi, #885 largest county nationwide
#41. Greene County
- 2010 to 2020 population change: -870
--- #2,418 among all counties nationwide
- 2010 to 2020 percent population change: -6.0%
--- #47 among counties in Mississippi, #2,471 among all counties nationwide
- 2020 population: 13,530
--- #59 largest county in Mississippi, #2,184 largest county nationwide
#40. Tate County
- 2010 to 2020 population change: -822
--- #2,398 among all counties nationwide
- 2010 to 2020 percent population change: -2.8%
--- #30 among counties in Mississippi, #1,975 among all counties nationwide
- 2020 population: 28,064
--- #31 largest county in Mississippi, #1,494 largest county nationwide
#39. Tishomingo County
- 2010 to 2020 population change: -743
--- #2,354 among all counties nationwide
- 2010 to 2020 percent population change: -3.8%
--- #35 among counties in Mississippi, #2,130 among all counties nationwide
- 2020 population: 18,850
--- #47 largest county in Mississippi, #1,879 largest county nationwide
#38. Perry County
- 2010 to 2020 population change: -739
--- #2,353 among all counties nationwide
- 2010 to 2020 percent population change: -6.0%
--- #46 among counties in Mississippi, #2,470 among all counties nationwide
- 2020 population: 11,511
--- #65 largest county in Mississippi, #2,316 largest county nationwide
#37. Jasper County
- 2010 to 2020 population change: -695
--- #2,327 among all counties nationwide
- 2010 to 2020 percent population change: -4.1%
--- #36 among counties in Mississippi, #2,178 among all counties nationwide
- 2020 population: 16,367
--- #55 largest county in Mississippi, #2,012 largest county nationwide
#36. Carroll County
- 2010 to 2020 population change: -599
--- #2,243 among all counties nationwide
- 2010 to 2020 percent population change: -5.7%
--- #44 among counties in Mississippi, #2,424 among all counties nationwide
- 2020 population: 9,998
--- #68 largest county in Mississippi, #2,411 largest county nationwide
#35. Neshoba County
- 2010 to 2020 population change: -589
--- #2,236 among all counties nationwide
- 2010 to 2020 percent population change: -2.0%
--- #29 among counties in Mississippi, #1,847 among all counties nationwide
- 2020 population: 29,087
--- #28 largest county in Mississippi, #1,453 largest county nationwide
#34. Jones County
- 2010 to 2020 population change: -515
--- #2,160 among all counties nationwide
- 2010 to 2020 percent population change: -0.8%
--- #20 among counties in Mississippi, #1,607 among all counties nationwide
- 2020 population: 67,246
--- #10 largest county in Mississippi, #797 largest county nationwide
#33. Claiborne County
- 2010 to 2020 population change: -469
--- #2,112 among all counties nationwide
- 2010 to 2020 percent population change: -4.9%
--- #41 among counties in Mississippi, #2,308 among all counties nationwide
- 2020 population: 9,135
--- #72 largest county in Mississippi, #2,480 largest county nationwide
#32. Jefferson County
- 2010 to 2020 population change: -466
--- #2,108 among all counties nationwide
- 2010 to 2020 percent population change: -6.0%
--- #45 among counties in Mississippi, #2,468 among all counties nationwide
- 2020 population: 7,260
--- #79 largest county in Mississippi, #2,640 largest county nationwide
#31. Franklin County
- 2010 to 2020 population change: -443
--- #2,094 among all counties nationwide
- 2010 to 2020 percent population change: -5.5%
--- #42 among counties in Mississippi, #2,396 among all counties nationwide
- 2020 population: 7,675
--- #77 largest county in Mississippi, #2,601 largest county nationwide
#30. Newton County
- 2010 to 2020 population change: -429
--- #2,084 among all counties nationwide
- 2010 to 2020 percent population change: -2.0%
--- #28 among counties in Mississippi, #1,843 among all counties nationwide
- 2020 population: 21,291
--- #44 largest county in Mississippi, #1,750 largest county nationwide
#29. Tippah County
- 2010 to 2020 population change: -417
--- #2,062 among all counties nationwide
- 2010 to 2020 percent population change: -1.9%
--- #27 among counties in Mississippi, #1,818 among all counties nationwide
- 2020 population: 21,815
--- #41 largest county in Mississippi, #1,722 largest county nationwide
#28. Amite County
- 2010 to 2020 population change: -411
--- #2,054 among all counties nationwide
- 2010 to 2020 percent population change: -3.1%
--- #31 among counties in Mississippi, #2,016 among all counties nationwide
- 2020 population: 12,720
--- #61 largest county in Mississippi, #2,227 largest county nationwide
#27. Webster County
- 2010 to 2020 population change: -327
--- #1,953 among all counties nationwide
- 2010 to 2020 percent population change: -3.2%
--- #32 among counties in Mississippi, #2,030 among all counties nationwide
- 2020 population: 9,926
--- #69 largest county in Mississippi, #2,415 largest county nationwide
#26. Choctaw County
- 2010 to 2020 population change: -301
--- #1,921 among all counties nationwide
- 2010 to 2020 percent population change: -3.5%
--- #33 among counties in Mississippi, #2,079 among all counties nationwide
- 2020 population: 8,246
--- #75 largest county in Mississippi, #2,561 largest county nationwide
#25. Chickasaw County
- 2010 to 2020 population change: -286
--- #1,892 among all counties nationwide
- 2010 to 2020 percent population change: -1.6%
--- #26 among counties in Mississippi, #1,775 among all counties nationwide
- 2020 population: 17,106
--- #53 largest county in Mississippi, #1,963 largest county nationwide
#24. Grenada County
- 2010 to 2020 population change: -277
--- #1,876 among all counties nationwide
- 2010 to 2020 percent population change: -1.3%
--- #23 among counties in Mississippi, #1,700 among all counties nationwide
- 2020 population: 21,629
--- #42 largest county in Mississippi, #1,728 largest county nationwide
#23. Scott County
- 2010 to 2020 population change: -274
--- #1,872 among all counties nationwide
- 2010 to 2020 percent population change: -1.0%
--- #21 among counties in Mississippi, #1,651 among all counties nationwide
- 2020 population: 27,990
--- #32 largest county in Mississippi, #1,497 largest county nationwide
#22. Prentiss County
- 2010 to 2020 population change: -268
--- #1,862 among all counties nationwide
- 2010 to 2020 percent population change: -1.1%
--- #22 among counties in Mississippi, #1,659 among all counties nationwide
- 2020 population: 25,008
--- #37 largest county in Mississippi, #1,601 largest county nationwide
#21. Yalobusha County
- 2010 to 2020 population change: -197
--- #1,769 among all counties nationwide
- 2010 to 2020 percent population change: -1.6%
--- #25 among counties in Mississippi, #1,755 among all counties nationwide
- 2020 population: 12,481
--- #63 largest county in Mississippi, #2,241 largest county nationwide
#20. Pike County
- 2010 to 2020 population change: -80
--- #1,597 among all counties nationwide
- 2010 to 2020 percent population change: -0.2%
--- #19 among counties in Mississippi, #1,528 among all counties nationwide
- 2020 population: 40,324
--- #19 largest county in Mississippi, #1,180 largest county nationwide
#19. Issaquena County
- 2010 to 2020 population change: -68
--- #1,584 among all counties nationwide
- 2010 to 2020 percent population change: -4.8%
--- #40 among counties in Mississippi, #2,299 among all counties nationwide
- 2020 population: 1,338
--- #82 largest county in Mississippi, #3,090 largest county nationwide
#18. Lincoln County
- 2010 to 2020 population change: +38
--- #1,444 among all counties nationwide
- 2010 to 2020 percent population change: +0.1%
--- #18 among counties in Mississippi, #1,470 among all counties nationwide
- 2020 population: 34,907
--- #20 largest county in Mississippi, #1,302 largest county nationwide
#17. Pearl River County
- 2010 to 2020 population change: +311
--- #1,252 among all counties nationwide
- 2010 to 2020 percent population change: +0.6%
--- #16 among counties in Mississippi, #1,402 among all counties nationwide
- 2020 population: 56,145
--- #13 largest county in Mississippi, #919 largest county nationwide
#16. Lee County
- 2010 to 2020 population change: +433
--- #1,186 among all counties nationwide
- 2010 to 2020 percent population change: +0.5%
--- #17 among counties in Mississippi, #1,410 among all counties nationwide
- 2020 population: 83,343
--- #7 largest county in Mississippi, #690 largest county nationwide
#15. Itawamba County
- 2010 to 2020 population change: +462
--- #1,163 among all counties nationwide
- 2010 to 2020 percent population change: +2.0%
--- #15 among counties in Mississippi, #1,186 among all counties nationwide
- 2020 population: 23,863
--- #40 largest county in Mississippi, #1,643 largest county nationwide
#14. Stone County
- 2010 to 2020 population change: +547
--- #1,134 among all counties nationwide
- 2010 to 2020 percent population change: +3.1%
--- #12 among counties in Mississippi, #1,045 among all counties nationwide
- 2020 population: 18,333
--- #50 largest county in Mississippi, #1,905 largest county nationwide
#13. Union County
- 2010 to 2020 population change: +643
--- #1,106 among all counties nationwide
- 2010 to 2020 percent population change: +2.4%
--- #14 among counties in Mississippi, #1,133 among all counties nationwide
- 2020 population: 27,777
--- #33 largest county in Mississippi, #1,506 largest county nationwide
#12. Pontotoc County
- 2010 to 2020 population change: +1,227
--- #955 among all counties nationwide
- 2010 to 2020 percent population change: +4.1%
--- #11 among counties in Mississippi, #917 among all counties nationwide
- 2020 population: 31,184
--- #25 largest county in Mississippi, #1,394 largest county nationwide
#11. George County
- 2010 to 2020 population change: +1,772
--- #851 among all counties nationwide
- 2010 to 2020 percent population change: +7.8%
--- #8 among counties in Mississippi, #576 among all counties nationwide
- 2020 population: 24,350
--- #39 largest county in Mississippi, #1,633 largest county nationwide
#10. Hancock County
- 2010 to 2020 population change: +2,124
--- #801 among all counties nationwide
- 2010 to 2020 percent population change: +4.8%
--- #9 among counties in Mississippi, #844 among all counties nationwide
- 2020 population: 46,053
--- #16 largest county in Mississippi, #1,054 largest county nationwide
#9. Forrest County
- 2010 to 2020 population change: +3,224
--- #687 among all counties nationwide
- 2010 to 2020 percent population change: +4.3%
--- #10 among counties in Mississippi, #895 among all counties nationwide
- 2020 population: 78,158
--- #8 largest county in Mississippi, #724 largest county nationwide
#8. Jackson County
- 2010 to 2020 population change: +3,584
--- #658 among all counties nationwide
- 2010 to 2020 percent population change: +2.6%
--- #13 among counties in Mississippi, #1,108 among all counties nationwide
- 2020 population: 143,252
--- #5 largest county in Mississippi, #462 largest county nationwide
#7. Oktibbeha County
- 2010 to 2020 population change: +4,117
--- #618 among all counties nationwide
- 2010 to 2020 percent population change: +8.6%
--- #7 among counties in Mississippi, #508 among all counties nationwide
- 2020 population: 51,788
--- #15 largest county in Mississippi, #970 largest county nationwide
#6. Lafayette County
- 2010 to 2020 population change: +8,462
--- #470 among all counties nationwide
- 2010 to 2020 percent population change: +17.9%
--- #1 among counties in Mississippi, #152 among all counties nationwide
- 2020 population: 55,813
--- #14 largest county in Mississippi, #921 largest county nationwide
#5. Lamar County
- 2010 to 2020 population change: +8,564
--- #463 among all counties nationwide
- 2010 to 2020 percent population change: +15.4%
--- #2 among counties in Mississippi, #212 among all counties nationwide
- 2020 population: 64,222
--- #11 largest county in Mississippi, #839 largest county nationwide
#4. Madison County
- 2010 to 2020 population change: +13,942
--- #359 among all counties nationwide
- 2010 to 2020 percent population change: +14.6%
--- #4 among counties in Mississippi, #236 among all counties nationwide
- 2020 population: 109,145
--- #6 largest county in Mississippi, #562 largest county nationwide
#3. Rankin County
- 2010 to 2020 population change: +15,414
--- #342 among all counties nationwide
- 2010 to 2020 percent population change: +10.9%
--- #6 among counties in Mississippi, #377 among all counties nationwide
- 2020 population: 157,031
--- #4 largest county in Mississippi, #430 largest county nationwide
#2. Harrison County
- 2010 to 2020 population change: +21,516
--- #274 among all counties nationwide
- 2010 to 2020 percent population change: +11.5%
--- #5 among counties in Mississippi, #345 among all counties nationwide
- 2020 population: 208,621
--- #2 largest county in Mississippi, #327 largest county nationwide
#1. DeSoto County
- 2010 to 2020 population change: +24,062
--- #255 among all counties nationwide
- 2010 to 2020 percent population change: +14.9%
--- #3 among counties in Mississippi, #231 among all counties nationwide
- 2020 population: 185,314
--- #3 largest county in Mississippi, #361 largest county nationwide