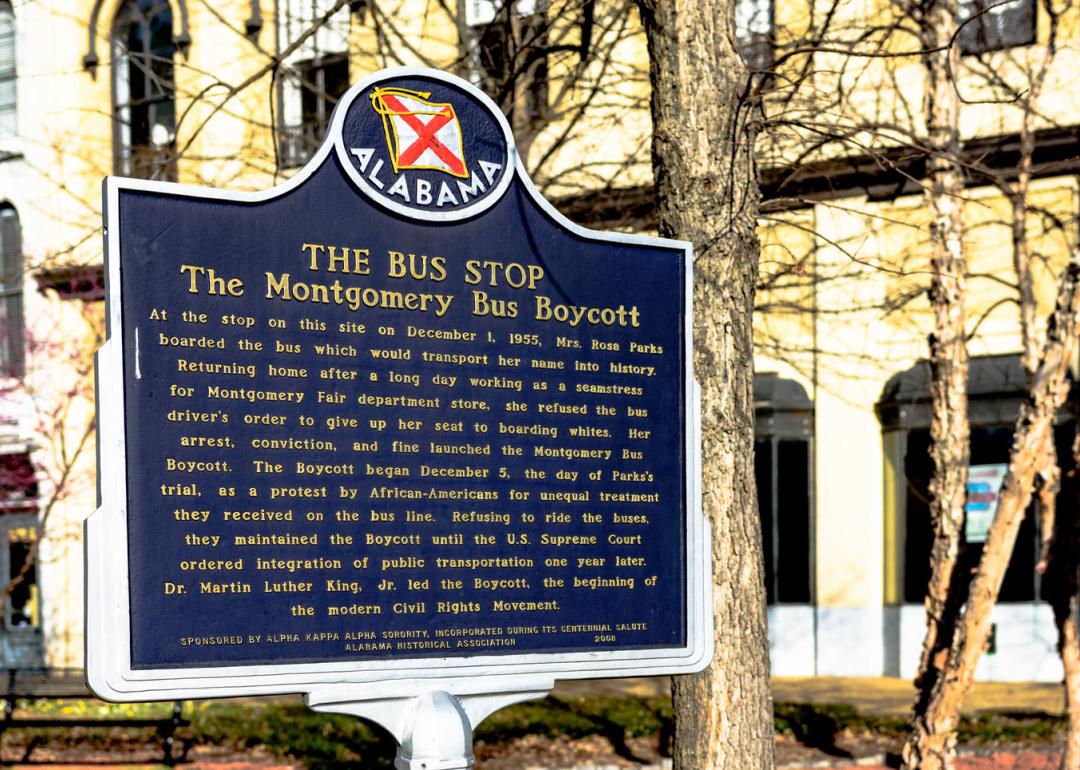 Explore historic sites commemorating Black history in Missouri
Explore historic sites commemorating Black history in Missouri
The legacies of influential Black Americans have not always been acknowledged, so it's not uncommon that modern-day residents may overlook the historic sites of their own cities.
While some historical Black figures in the U.S. are more well-known than others, there are in fact thousands of people dating back generations to 17th-century slavery who left traces of their visions and impacts all across the country. Whether prominent figures such as Robert Abbott, who founded one of the largest African American newspapers in the country, or more under-the-radar originators such as Obrey Wendell Hamlet, who cultivated unique vacation experiences in the Rocky Mountains, one thing's for certain: There is far more uncharted Black history in this country than charted.
Stacker identified historic sites commemorating Black history across 47 states, using the National Register of Historic Places. North Dakota, Vermont, Hawaii, and Wyoming did not have Black historic sites listed on the registry. While some states, especially in the South, are home to many sites central to the civil rights movement, Stacker listed the total sites in every state and the names of three historic sites where available. You can visit the full registry of 232 historic sites and explore the Civil Rights Trail to learn about additional locations across the U.S.
Read on to explore and learn about the historic sites celebrating Black history in your state, or read the national story here.
Missouri by the numbers
- Sites commemorating Black history: 86 (8 with state significance, 6 with national significance)
- John W. Boone House (Columbia)
- Mutual Musicians' Foundation Building (Kansas City)
- Chuck Berry House (St. Louis)
The Mutual Musicians' Foundation Building, built in 1904, is a significant cultural asset for Kansas City and the jazz genre of music. In 1917, a group of African American musicians joined together to create the Musicians' Protective Union, Local No. 627, which would allow them the opportunity to turn their musical passion into full-time careers and secure improved working conditions and contracts. The union was successful and formed the Mutual Musicians Foundation to oversee the building.
Continue reading to see which sites commemorate Black history in other states in your area.
Arkansas
- Sites commemorating Black history: 67 (15 with state significance, 4 with national significance)
- Centennial Baptist Church (Helena)
- Green House (Little Rock)
- Lake Nixon (Little Rock)
Dr. Elias Camp Morris, born into slavery in 1855, became a leading figure in Arkansas' Black community. Morris was the pastor of Centennial Baptist Church in the city of Helena, which served as the headquarters of the National Baptist Convention where Morris was president. He also played a crucial role in the Arkansas Republican Party.
Illinois
- Sites commemorating Black history: 18 (1 with state significance, 8 with national significance)
- Lovejoy, Owen, Homestead (Princeton)
- Robert S. Abbott House (Chicago)
- Oscar Stanton De Priest House (Chicago)
Built in 1838 in Princeton, Illinois, the Owen Lovejoy Homesstead was the home of the congressman, attorney, and abolitionist Owen Lovejoy. The home was a former station of the Underground Railroad and consists of a secret compartment that hid enslaved people who escaped.