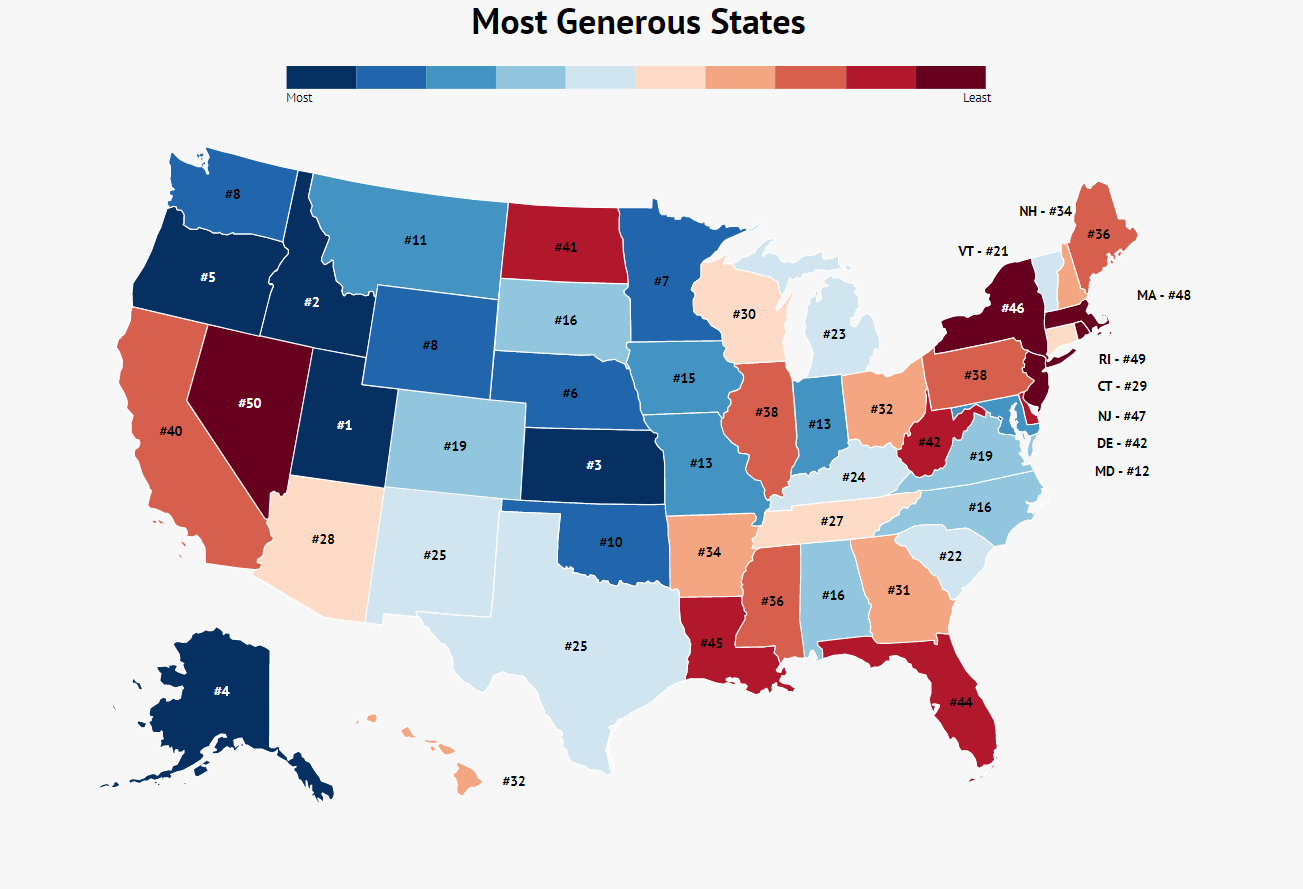 Stacker Studio
The most generous states
The most generous states
Americans gave approximately $449.64 billion to charities in 2019, according to Giving USA's 2020 report. That number comes from donations from individuals, bequests, foundations, and corporations, but individual giving is by far the largest source of donations, responsible for $309.66 billion of the total.
While the effects of the COVID-19 pandemic were expected to reduce the volume and amount of 2020 charitable donations, it's possible the opposite happened. While we're still waiting for the whole picture of charitable giving to emerge from 2020, available data suggest that, unlike in other economic downturns, Americans responded to the COVID-19 crisis by giving at similar or higher rates than in previous years. Additionally, a 2009 study found that poor people, who on average donate more per capita than those with higher incomes, are actually still more generous with donations even during economic downturns. Of course, the scope and scale of the COVID-19 economy are dire—but there's every possibility that as unemployment and economic precarity increase, so too will charitable donations. Americans, especially poor Americans, are very generous. 
A significant amount of Americans also volunteer. Like charitable donations, volunteering is on the rise: 77.34 million adults (30.3%) volunteered through an organization, with millions more engaging in more informal volunteering through supporting family and friends (43.1%) and doing favors for their neighbors (51.4%), according to the 2018 Volunteering in America Report. In the year of the study, Americans volunteered almost 6.9 billion hours, equal to $167 billion in economic value. Parents volunteer at a high rate, with working mothers volunteering more time than any other demographic, at a rate of 46.7%. And Gen Xers had the highest volunteer rate at 36.4%, while the baby boomer generation volunteered the most hours (2.2 billion).
To determine which states are the most generous, Zippia examined these two hallmarks of generosity: giving money and giving time. To determine each state's monetary generosity, Zippia used Chronicle of Philanthropy data of percent of income donated to charity. The metric of time is broken into two data points: the percent of state residents who volunteer, and the average hours spent volunteering every year. Each of those metrics comes from data from The National Service. 
Each metric is included in the ranking. Midwest and Western states dominate the top 10 most generous states. Despite its official nickname as "the volunteer state," Tennessee is not in the top 10 states to volunteer. The moniker actually comes from the high number of Tennesseans who volunteered to fight in the War of 1812.
Read on to find out if your state is one of the most generous states in the U.S.
This story originally appeared on and was produced and distributed in partnership with Stacker Studio.