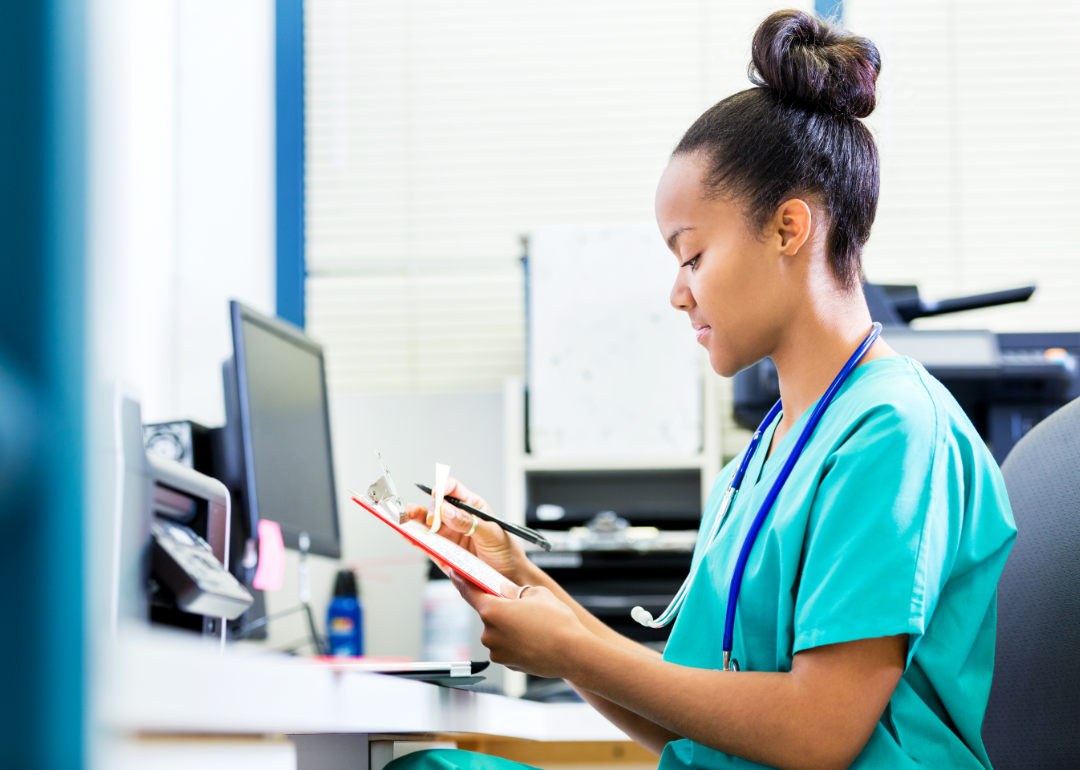 Stacker Connect
These are the fastest growing nursing jobs—and where they're most in demand
These are the fastest growing nursing jobs—and where they're most in demand
The year 2022 ended with several highly publicized mass layoffs by Fortune 500 companies. Combined with fears of continuing inflation and a possible recession, this has resulted in an uncertain economic climate that has been impacting a wide range of industries and professions. The rising job insecurity has many employees looking for new career options in 2023. 
But there is one sector going strong that has led projections for significant job growth: nursing. According to data from U.S. Bureau of Labor Statistics, there will be about 203,200 job openings annually for registered nurses this decade. The employment of specialist nurses (nurse anesthetists, nurse midwives, and nurse practitioners) is estimated to grow by a staggering 40% from 2021 to 2031.  
Study.com investigated U.S. Bureau of Labour Statistics' data to see how nursing jobs are growing in the U.S.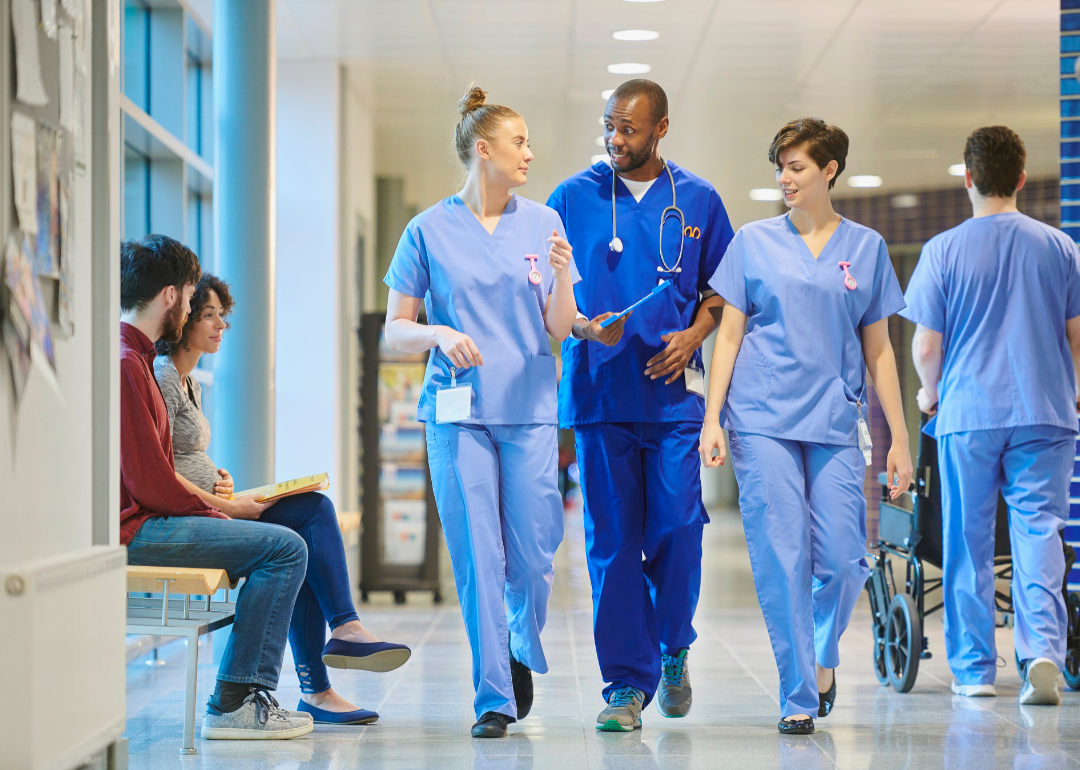 1 / 5
Why Is the Demand for Nurses Growing?
The growing demand for nurses can be attributed to several different factors. There is currently a shortage of nurses, and many hospitals and clinics are looking to fill critical vacancies with new workers. The nursing shortage is a serious issue in the U.S. healthcare system because nurses' jobs are so crucial to quality patient care. Nurses perform necessary—and often life-saving— work from changing bandages and assisting in operating rooms to administering medication and explaining treatment options.  
 The American Association of Colleges of Nursing put together a fact sheet on the current nursing crisis, attributing it to the country's aging population, increased rate of retirement among nurses, growing health care needs, and nursing school faculty shortages. 
Another reason why nursing is in such high demand is that many nurses are retiring. According to data from the 2020 National Nursing Workforce Survey, more than one in five nurses will likely retire in the next five years. That major wave of retirement will leave a vacuum that must be filled if the healthcare system is going to continue to function well. 
Nurses leaving the profession
In addition to nurses retiring, there is the issue of nurses leaving the profession even when they are still early in their career. Nurse burnout, exacerbated by the COVID-19 pandemic, is extremely common, impacting 60% of acute care nurses, according to a study by the American Nurses Foundation.   
Increased Healthcare Needs  
In recent decades, advances in the field of medicine have increased longevity, enabling people to live longer. That is great news for many Americans, whose life expectancy is currently 79.1 for women and 73.2 for men. The current problem in the United States is that population growth is slowing. That means that a higher portion of the population is getting older, and the aging population comes with increased healthcare needs.
Many illnesses disproportionately impact elderly people, not to mention specific end-of-life health care necessities. The COVID-19 pandemic also introduced new and acute health care needs for the U.S. population, and while the intensity of those needs has abated, there are still many people experiencing long-term symptoms.    
Shortage of Nurse Educators 
All nurses need to complete post-secondary training. For registered nurses (RNs), that means either an Associate Degree in Nursing (ADN) or a Bachelor of Science in Nursing (BSN). Most of the instructors who teach in these programs start out as nurses themselves before making the switch to become educators. Currently, there are not enough faculty members at nursing schools to accept all qualified applicants, making it more challenging for aspiring nurses to join the field. Budgetary constraints have also put a strain on schools trying to train the next generation of health care professionals.
2 / 5
How Nursing Jobs Grow in Each State
There are several reasons why the demand for specialist nurses like nurse midwives and nurse anesthetists is increasing at such a rapid rate. One of those reasons is that in addition to a nursing shortage, there is a shortage of trained physicians in the United States. In some cases, specialist nurses fill critical gaps in the health care system that have traditionally been filled by doctors. When nurses fill those positions, they do not typically take on the entire role of a doctor, but they do perform crucial tasks.  
Changes in the health care landscape have resulted in a greater push for preventative health care. When specialist nurses can help patients understand and access preventative health care, patients are less likely to need emergency medical assistance because they're continually managing their condition before it worsens. That means that visits to emergency room doctors and nurses may be avoided. It is becoming more common for health insurance plans to cover preventative medicine, shifting the balance of labor in the medical system. 
People are also accessing health care more than in previous decades. The Affordable Care Act, passed in 2010, extended health care coverage to millions of people who had previously been uninsured. When people can seek affordable medical care, they will be more likely to get the preventative and acute care that they need. More people accessing medical care means better health for those individuals, but it can also mean more strain on the system. The demand for specialized nurses—and nurses in general—reflects that strain. 
According to the United States Bureau of Labor Statistics (BLS), the demand for registered nurses is expected to increase by 6% between 2021 and 2031. During that time, there will be an estimated 195,400 new job openings for registered nurses. 
Demand is relatively high in all states, but  South Dakota, North Dakota, and West Virginia lead the country with the greatest shortages on a per capita basis.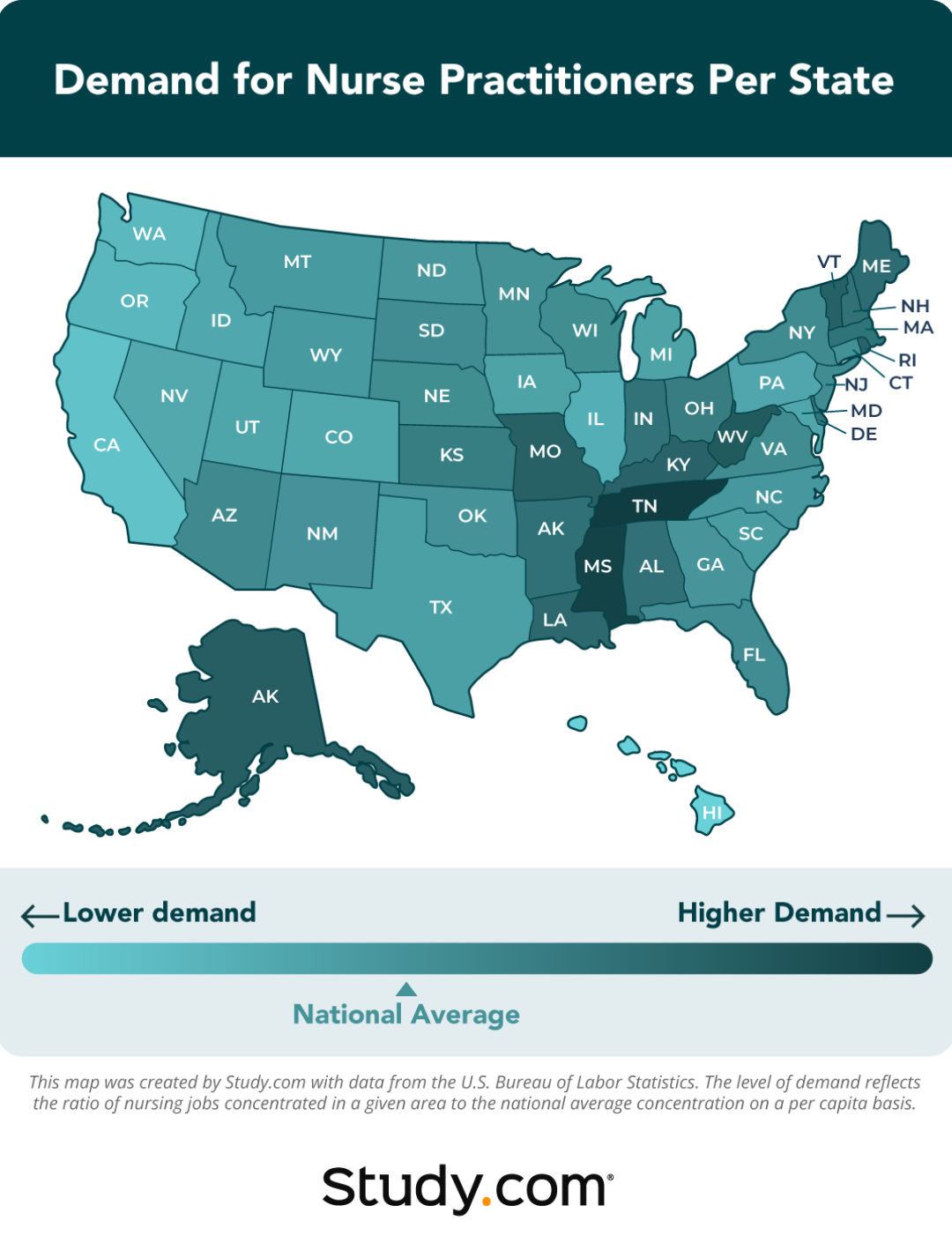 3 / 5
Nurse Practitioner
Nurse practitioners do not specialize in a single health care area, instead providing care for a wide range of patients. They are licensed to prescribe certain treatments, diagnose conditions, and manage care without the supervision of a doctor.  The demand for their labor speaks to the importance of nurses in all healthcare environments. Nurse practitioners draw a high salary. Their annual median wage is $120,680.
For nurse practitioners, states like Tennessee, Mississippi, and Alaska all have extremely high unmet demand. However, with so many new jobs opening, these statistics could change fast, and nurse practitioners will be able to find work in any state.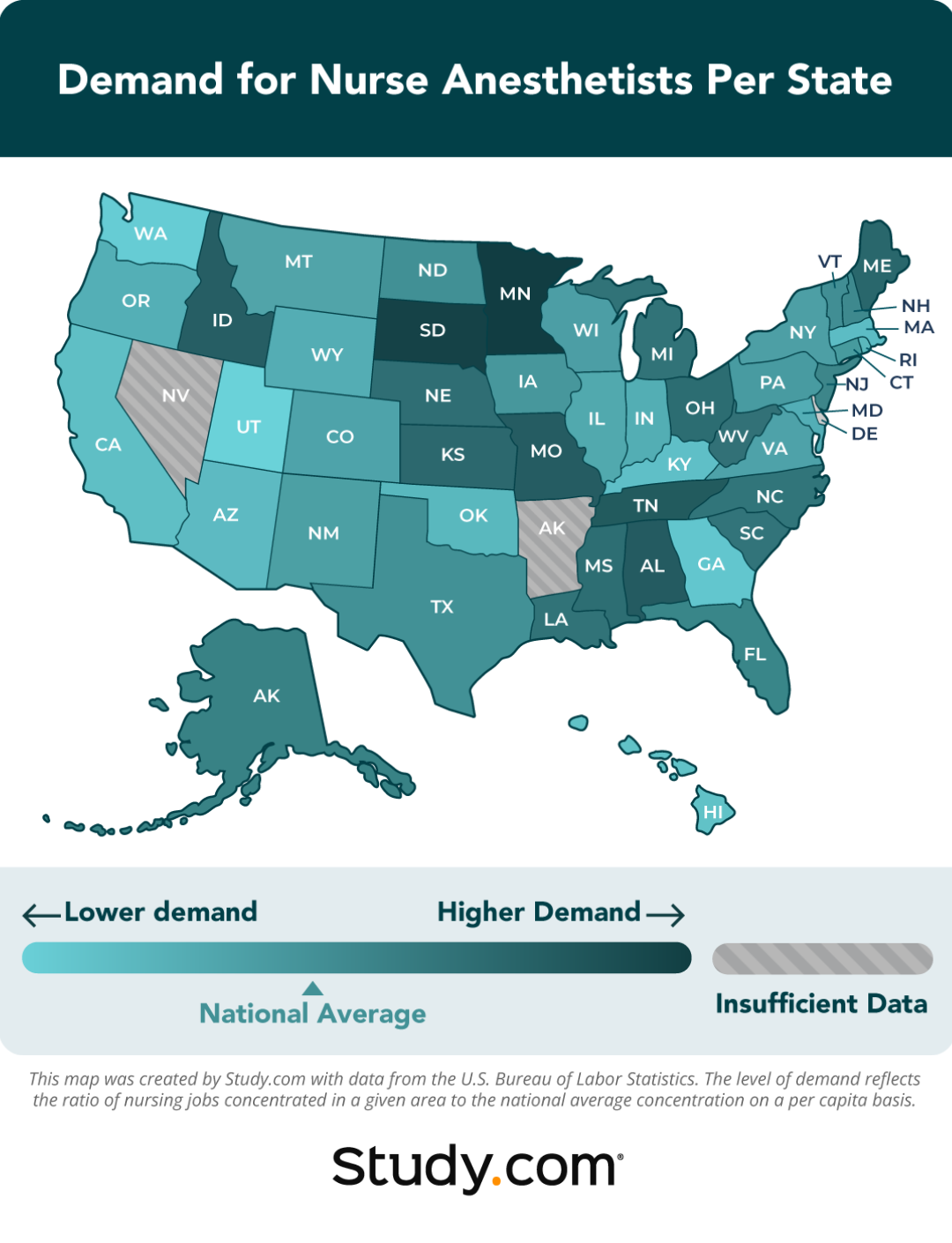 4 / 5
Nurse Anesthetists
Nurse anesthetists work alongside anesthesiologists to monitor patients who receive general or local drugs to reduce pain or to induce unconsciousness. Because of the risks associated with anesthesia and the advanced level of training required for this specialization, nurse anesthetists are in high demand and typically receive high salaries. 
Demand for nurse anesthetists is very acute in some states. Minnesota, South Dakota, Idaho, Missouri, Tennessee, and Alabama currently have a particularly high demand for these specialists on a per capita basis. In some other states, demand may be below average on a per capita basis, but that does not mean that job openings do not exist.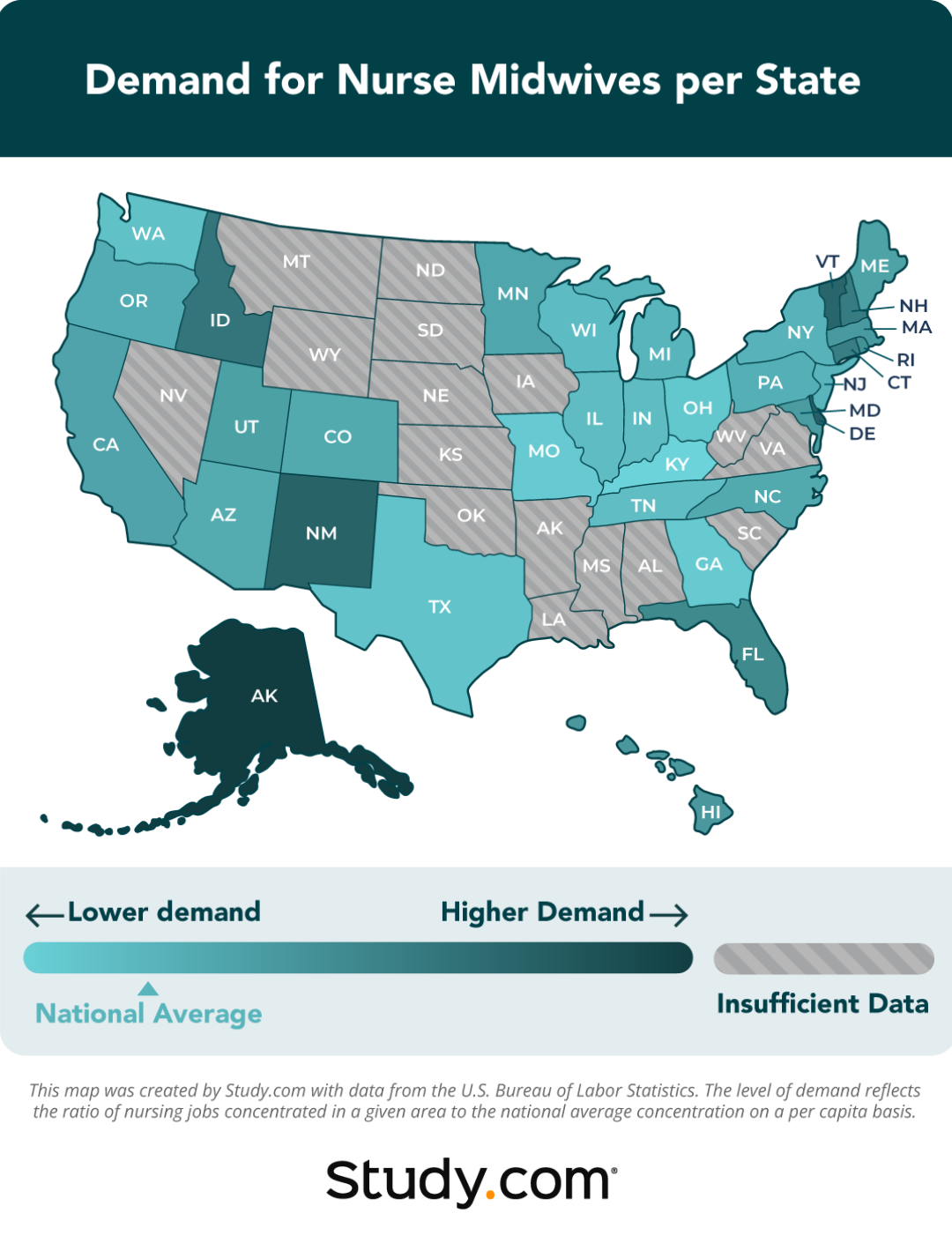 5 / 5
Nurse Midwives
Nurse midwives specialize in working with expectant parents before, during, and after childbirth. Again, this is a profession that is in high demand because it requires specialized training.  
Alaska has by far the greatest demand for nurse midwives, but Idaho, New Mexico, Delaware, and Vermont are also high on the list on a per capita basis. Nurse midwives are crucial for ensuring that babies and their parents remain safe and cared for throughout the birth process. 
This story was produced by Study.com and reviewed and distributed by Stacker Media.