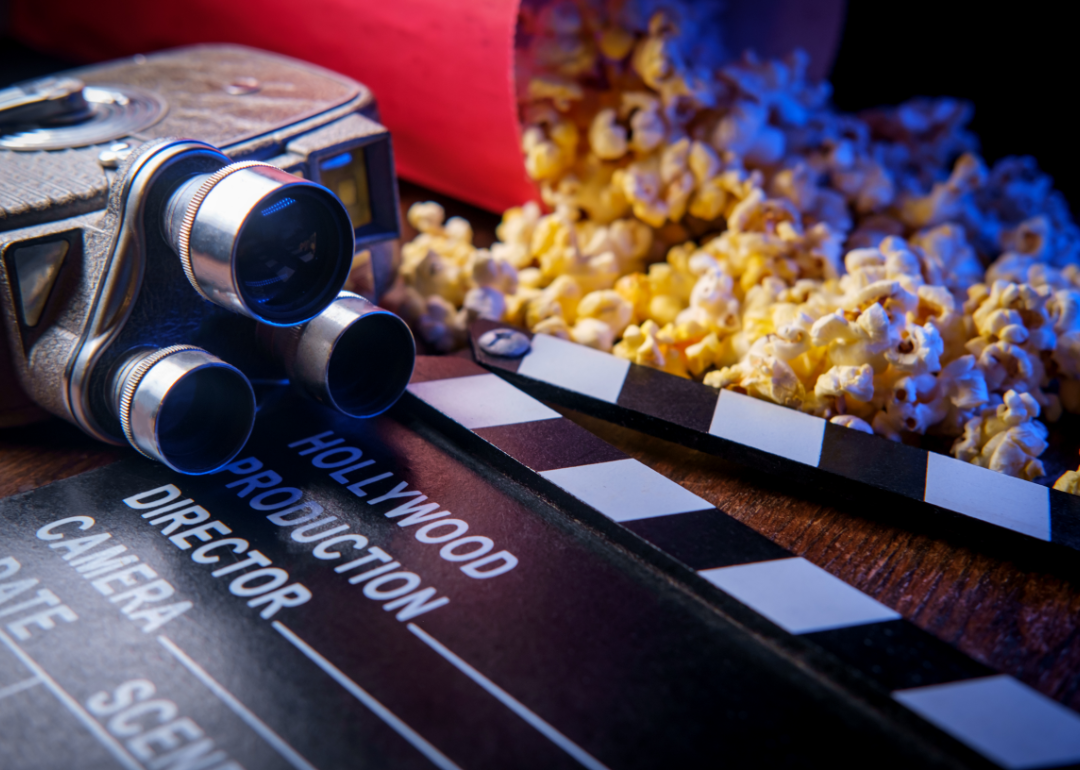 Stacker Studio
20 iconic nurses from film history
20 iconic nurses from film history
Nursing is without a doubt an essential position within the medical field, but nurses are also iconic throughout the cinematic landscape. From caring for zombified women in the early film "I Walked With a Zombie" to terrorizing psychiatric patients in "One Flew Over the Cuckoo's Nest" to treating magical wounds throughout "Harry Potter," nurses exist across genres and the entire moral spectrum.
NursingEducation.org surveyed popular films featuring nurses to identify the most iconic nurses in film history. While some fulfill the archetype of real-life nurses, others are cruel caregivers in horror films, caretakers with magical skills, or characters posing as nurses to fulfill their own ulterior motives. Characters listed appear across decades of films, from the 1932 autobiographical drama "A Farewell to Arms" to 2011's "Harry Potter and the Deathly Hallows: Part 2." Many renowned and famous actors have portrayed nurses, from Audrey Hepburn to Kathy Bates.
So hang up your scrubs and grab some popcorn, and read on to find out which films to check out next when you're looking for some captivating cinematic nurses.
1932: 'A Farewell to Arms'—Catherine Barkley
In this famous first adaptation of Ernest Hemingway's classic, semi-autobiographical novel of the same name, British nurse Catherine Barkley (played by Helen Hayes), and American ambulance driver Frederic, who is an Italian Army officer (played by Gary Cooper), fall in love while working at a hospital in Italy. Against the backdrop of World War I, their love story is as romantic as it is tragic. Barkley is one of the rosier cinematic depictions of nurses on this list, emulating the trope of the selfless, noble nurse.
1943: 'I Walked With a Zombie'—Betsy Connell
"I Walked With a Zombie" is one of the most notable early zombie movies, following young Canadian nurse Betsy, played by Frances Dee, who takes a job caring for a plantation owner's ailing wife on a remote Carribean island. She is suspected of having some sort of mental illness. However, Betsy soon realizes the other woman has become zombified due to local voodoo. Turner Classic Movies has since dubbed it "one of the most poetic films in the horror genre."
1954: 'Rear Window'—Stella
"Rear Window" is widely considered one of the greatest films in history, and the Alfred Hitchcock film wouldn't be what it is without Thelma Ritter's charming, no-nonsense performance as a nurse named Stella. James Stewart portrays a photographer in the film. Stella is hired by his insurance company to care for him after he breaks his leg. While being cared for by her, things take a turn when Jeff grows suspicious that one of his neighbors killed his wife. Originally just there to perform basic tasks, Stella finds herself engrossed in the mystery.
1959: 'The Nun's Story'—Gabrielle Van Der Mal
In "The Nun's Story," beloved movie star Audrey Hepburn plays a fictionalized version of real-life nun Marie-Louise Habets, now called Gabrielle "Gaby" Van Der Mal. Gaby rebels against her wealthy Belgian surgeon father, played by Dean Jagger, by joining a convent of nursing sisters in the 1920s. She fulfills her dream of working in the Belgian Congo, but her faith is shaken when her father is killed by Nazis while her order insists on remaining politically neutral.
1966: 'Persona'—Nurse Alma
Writer and director Ingmar Bergman's magnum opus centers on two women: an actress named Elizabet, played by Liv Ullmann, who suddenly goes mute, and her nurse, Alma, played by Bibi Andersson. A doctor assigns Alma to care for Elizabet, and the two women spend a summer on a remote island. While on the island, their psyches begin to merge in strange ways. This deeply psychological film is one of the most iconic explorations of identity and symbolic imagery in movie history.
1970: 'M.A.S.H.'—Margaret 'Hot Lips' Houlihan
Many audiences best remember Maj. Margaret "Hot Lips" Houlihan from the long-running "M.A.S.H." television series, in which she was portrayed by Loretta Swit. However, the iconic nurse first appeared in Robert Altman's 1970 film of the same name, in which she was played by Sally Kellerman. Working as the head nurse at a U.S. Mobile Army Surgical Hospital unit during the Korean War, her character starts off as a no-nonsense, by-the-book authority figure. Later on, Swit brought even more hilarious nuance to the television character.
1975: 'One Flew Over the Cuckoo's Nest'—Nurse Ratched
Since "One Flew Over the Cuckoo's Nest" premiered in 1975, Nurse Ratched, played by Louise Fletcher, has become one of the most iconic villains in film history. While she doesn't yell at her patients in the mental institution where the film takes place, she does everything from lobotomize her patients to convince them to kill themselves, all for her own purposes. Fletcher won an Academy Award for her performance, and Nurse Ratched placed #5 on the American Film Institute's list of the 100 Greatest Heroes and Villains. In 2020, Sarah Paulson played the character in the prequel series "Ratched."
1977: 'High Anxiety'—Nurse Diesel
"High Anxiety" serves as a satire of suspenseful Alfred Hitchcock movies like "Vertigo" and "The Birds." It largely takes place at a psychiatric hospital, where film director Mel Brooks portrays Dr. Richard Thorndyke. His authority over the place comes into question when the eccentric Nurse Diesel, played by Cloris Leachman, accuses him of murder. However, the witchcraft-obsessed Diesel has ulterior motives of her own.
1979: 'Star Trek: The Motion Picture'—Christine Chapel
The "Star Trek" franchise presents a positive view of the future in which humans, androids, and aliens work together to foster harmony across space. In the original series, and the two films it spawned, the ship's nurse tends to USS Enterprise's inhabitants through thick and thin. Nurse Christine Chapel is played by Majel Barrett-Roddenberry, an actress who married "Star Trek" creator Gene Roddenberry and became knows as the "first lady of 'Star Trek'"
1981: 'An American Werewolf in London'—Nurse Alex Price
In this comedic horror film, nurse Alex Price, played by Jenny Agutter, meets American traveler David Kessler, played by David Naughton, after he lands in a London hospital and becomes convinced he's turning into a werewolf. It's out of her realm of expertise, but she continues caring for him at her apartment. They even become a couple, so it's quite the supernatural nursing experience.
1990: 'Misery'—Annie Wilkes
When it comes to terrifying nurses, "Misery" main character Annie Wilkes, played by Kathy Bates, is right up there with Nurse Ratched. In this adaptation of Stephen King's novel of the same name, maternity nurse Annie finds her favorite author Paul Sheldon (James Caan) in the aftermath of a car accident and begins caring for him in her home. But when she reads his next manuscript and figures out he's planning on killing her favorite character, she begins torturing him in hopes of getting the outcome she wants. Annie may not perform typical nursing duties all the time, but the story is an effective allegory for fans who feel entitled to pressuring the creators of their favorite media. Bates won a Best Actress Oscar for the performance.
1996: 'The English Patient'—Hana
"The English Patient" is one of the most critically celebrated nursing films on this list: It won a total of nine Academy Awards. Taking place in Italy during the final days of World War II, the film tells the story of young nurse Hana, played by Juliette Binoche, who cares for a badly burned, mysterious British man, played by Ralph Fiennes. Naturally, they soon develop a romantic relationship.
2000: 'Meet the Parents'—Greg Focker
Portrayals of nurses are often limited to women, but that's not the case in the comedy "Meet the Parents." In the comedy, Ben Stiller plays an awkward nurse named Greg Focker, whose attempts to win over his ex-CIA future father-in-law are complicated when the family makes numerous jokes about him being a male nurse. While the humor is outdated, it reflects the gendered expectations many people still have about the nursing profession.
2000: 'Nurse Betty'—Betty Sizemore
In "Nurse Betty," the film's titular Midwestern housewife, played by Renée Zellweger, is traumatized by her husband's violent death and has a nervous breakdown. She soon becomes obsessed with the man who plays a doctor on her favorite soap opera, and falsely poses as a nurse in Los Angeles in hopes of getting close to him. Zellweger won a Golden Globe for her performance, and the movie shows how stereotypical depictions of the medical field can impact viewers.
2001: 'Wit'—Susie Monahan
In this film adaptation of Margaret Edson's Pulitzer Prize-winning play of the same name, Audra McDonald plays a nurse named Susie Monahan. Her character is tasked with caring for renowned British scholar Vivian, played by Emma Thompson, who is fighting ovarian cancer, and over the course of the film, they develop a close bond. Susie advocates for decency over scientific experimentation when it comes to Vivian's treatment, showing the huge impact of positive nurse-patient relationships.
2002: The 'Harry Potter' films—Madam Pomfrey
In a school where students contend with everything from werewolves to dragons to vomiting slugs, it's remarkable that the healer of the Hogwarts, nurse Madam Pomfrey, played by Gemma Jones, was able to do as much as she did. With gentle irritability, she treats Harry and his friends' injuries with a number of spells and magical treatments real-life nurses would love to have at their disposal. In a memorable scene from her first appearance in "Harry Potter and the Chamber of Secrets," she regrows all the bones in Harry's arm with a potion called Skele-Gro. She also appeared in "Harry Potter and the Half-Blood Prince" and "Harry Potter and the Deathly Hallows, Part 2."
2002: 'Catch Me If You Can'—Brenda Strong
Four years before Amy Adams shot to mainstream stardom through her first Oscar nomination for "Junebug," she played a sweet, naive nurse named Brenda Strong in the Steven Spielberg crime caper "Catch Me If You Can." She and con-man Frank, played by Leonardo DiCaprio, aren't a great romantic match, but still fall in love while he's impersonating a doctor at her hospital. Brenda may not be the most competent nurse, but she serves as a foil for the hardened, calculated Frank, and a notable early role for Adams.
2002: 'Talk to Her'—Benigno Martin
In "Talk to Her," lonely nurse Benigno Martin, played by Javier Cámara, becomes obsessed with young dancer Alicia, played by Leonor Watling, and conveniently becomes her caretaker after a car accident puts her into a coma. While there, he befriends writer Marco, played by Darío Grandinetti, who also pines after a woman in a coma, and they bond over their shared obsessions. The winner of the 2003 Academy Award for best original screenplay, "Talk to Her" provides a nuanced take on moral issues facing nurses.
2003: 'Kill Bill'—Elle Driver
In a stark departure from her role in the Tom Hanks mermaid rom-com "Splash," Daryl Hannah plays the brutal Elle Driver in both volumes of "Kill Bill." Part of the Deadly Viper Assassination Squad, she dons a nurse costume in an attempt to kill main character Beatrix, played by Uma Thurman, while she's comatose. The character is also known for her iconic eye patch.
2005: 'Fragile'—Amy Nicholls
Nurses are often the villains in horror films, but that's not the case in the Spanish-British movie "Fragile." In the film, a young nurse named Amy Nicholls, played by Calista Flockhart, is sent to care for children in a decaying hospital ward. However, things become much more sinister when Amy begins to suspect the children are afflicted by some sort of haunted spirit within the hospital.
This story was produced and distributed in partnership with Stacker Studio.
This story originally appeared on and was produced and distributed in partnership with Stacker Studio.