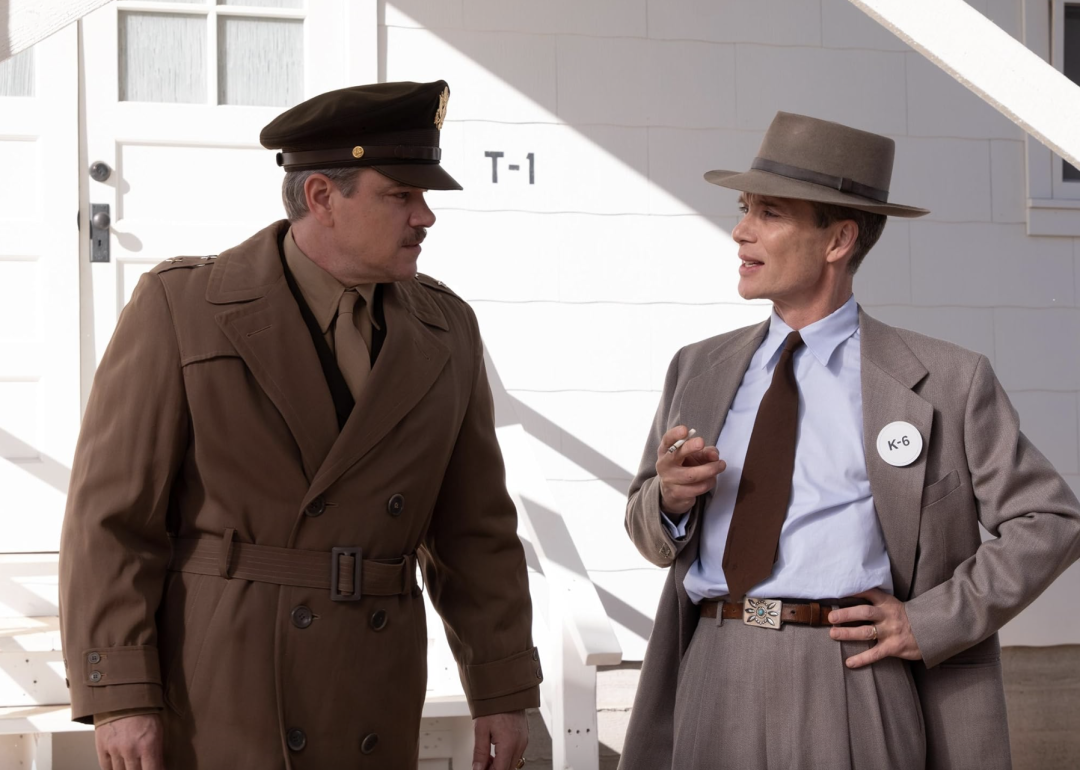 50 best WWII movies of all time
50 best WWII movies of all time
On Sept. 1, 1939, Germany invaded Poland, forcing the second world war in 25 years. The massive and lengthy war resulted in an estimated 75 million deaths before it came to an end on Sept. 2, 1945, with the surrender of the Japanese.
In the years since, there have been hundreds, if not thousands, of books written and movies made about World War II. These projects cover the war from every angle—that of Allied and Axis soldiers, civilians, resistance fighters, prisoners of war, Jews, and other persecuted peoples; the list could go on. It would be impossible to read all of these books or watch all of these movies, so Stacker rounded up the 50 best WWII movies of all time.
To create this list, Stacker compiled IMDb and Metacritic data on all WWII films. To qualify, the film's genre had to be listed as "war" on at least one of the major databases, it had to have a registered Metascore (i.e., four or more reviews by critics), and at least 750 votes on IMDb. The films were then ranked by their IMDb user ratings as of September 2023, and ties were broken by the number of votes.
Of course, there are no hard and fast lines that define a WWII film outside of involving the war. At Stacker, we recognize that leaning into more open interpretations of what fits into a certain genre like WWII movies is the best practice for getting a pool of films that represent all possible expressions of a particular genre (e.g., "Casablanca" may not take place in the trenches, but being chased by Nazis in war-time Morocco qualifies as a WWII film in our book).
From hard-hitting films like "Saving Private Ryan" and "Schindler's List" to more easily digestible offerings like "Their Finest," read on for the best movies that are about World War II or are set during the war.
#50. Their Finest (2016)
- Director: Lone Scherfig
- IMDb user rating: 6.8
- Metascore: 76
- Runtime: 117 minutes
One of the few comedy films on this list, "Their Finest" is a WWII love story adapted from Lissa Evans' novel, "Their Finest Hour and a Half." It follows Catrin Cole, a British scriptwriter in charge of creating a propaganda film that will boost the morale of her fellow citizens as The Blitz begins in earnest. The movie focuses heavily on the revolution of sexual politics and women's roles brought on by wartime, a move that feels authentic as the film was written, directed, produced, composed, and more by a talented team of women.
#49. Safe Conduct (2002)
- Director: Bertrand Tavernier
- IMDb user rating: 6.9
- Metascore: 82
- Runtime: 170 minutes
During the Nazi occupation in France, the French film industry managed to release over 200 pictures, all varying levels of greatness but not a single one anti-Semitic. "Safe Conduct," which relies heavily on the memories of real-life French director Jean Devaivre, examines exactly how this was possible. The movie also ruminates on the role of art during wartime and whether or not it's something a country should be pouring its resources into.
#48. Hell Is for Heroes (1962)
- Director: Don Siegel
- IMDb user rating: 6.9
- Metascore: 76
- Runtime: 90 minutes
In "Hell is for Heroes," a small, 12-man unit finds themselves responsible for defending a piece of the front—that would typically take an entire infantry company to hold—until backup can arrive some 48 hours later. The desperate mission is compounded by the fact that there is some heavy conflict between members of the small group (namely Harry Guardino and Steve McQueen's characters). The 1962 film helped to redefine the combat film genre as one of the first to feature an antihero rather than a rule-abiding, good ol' American boy.
#47. Level Five (1997)
- Director: Chris Marker
- IMDb user rating: 7.0
- Metascore: 87
- Runtime: 106 minutes
An original mix of science fiction and WWII drama, "Level Five" tells the story of a video game developer as she attempts to create a strategy game based on the Battle of Okinawa. A deeply philosophical film, it examines our collective memories, how technology can challenge power structures and the loss of individuality. It's unlike any other movie about WWII in the way that it approaches its subject matter and uses the future as a conduit to the past.
#46. Anonyma - Eine Frau in Berlin (2008)
- Director: Max Färberböck
- IMDb user rating: 7.0
- Metascore: 74
- Runtime: 131 minutes
Better known to U.S. audiences as "A Woman in Berlin," this brutal German film focuses on a journalist in the eponymous city who is raped by Soviet soldiers in the final weeks of World War II. She fights for protection by seducing an army major and eventually gets it not just for herself, but for the women in her apartment building who also suffered the same fate. The fact that the movie is based on an anonymously published memoir from the 1950s (posthumously revealed to be Marta Hillers) makes it all the more chilling.
#45. Days of Glory (2006)
- Director: Rachid Bouchareb
- IMDb user rating: 7.0
- Metascore: 82
- Runtime: 120 minutes
"Days of Glory" does something few other movies on this list can: It finds a new, urgent story to tell in a battlefield of well-trodden tropes. The movie follows soldiers from French colonies in Northern Africa who are fighting for their home nation while simultaneously facing discrimination from their brothers in arms. In real life, France froze the pensions of these soldiers after the decolonization of Africa in the '60s, and it wasn't until the release of "Days of Glory" that they were fully restored by President Jacques Chirac.
#44. Katyn (2007)
- Director: Andrzej Wajda
- IMDb user rating: 7.0
- Metascore: 81
- Runtime: 121 minutes
Andrzej Wajda directed this deeply personal movie about the 1940 Katyn forest massacre, which saw some 22,000 Polish prisoners, including his father, killed by Soviet soldiers. A powerful piece of art, the film is a great tribute to those who lost their lives as well as a harsh look at Poland's own complicity in covering up the crime for years. As a result, the film faced some controversy in its home country and was permanently banned in China for its anti-communist tones.
#43. Overlord (1975)
- Director: Stuart Cooper
- IMDb user rating: 7.1
- Metascore: 88
- Runtime: 83 minutes
"Overlord" follows a young British soldier as he reckons with his surely impending death and his own role within the war machine. The black-and-white film is mixed with real footage of battle scenes and bombings (which make up about 25% of the movie), helping the movie move the war from the realm of a major historical event to something deeply personal and individual. The film is often seen as a hidden gem that slipped through the cracks, lost among grander and more vibrant war stories.
#42. Lore (2012)
- Director: Cate Shortland
- IMDb user rating: 7.1
- Metascore: 76
- Runtime: 109 minutes
Many WWII movies are based on novels, including "Lore" which is based on Rachel Seiffert's highly acclaimed "The Dark Room." The movie follows a Nazi family as they flee across Germany to safety, their once-strong faith in the regime unraveling every step of the way. Despite its heavy subject matter, "Lore" has a fairytale-like feel thanks to its poetic cinematography and rural setting.
#41. The Big Red One (1980)
- Director: Samuel Fuller
- IMDb user rating: 7.1
- Metascore: 77
- Runtime: 113 minutes
Based on writer and director Sam Fuller's own combat memories, "The Big Red One" follows five tough veterans in the 1st Infantry Division as they fight their way from North Africa to Sicily to Omaha Beach. Fuller's original version of the movie was 270 minutes, but the theatrical release was cut to a much trimmer (and more watchable) 113 minutes. In 2004, several years after Fuller's death, a reconstruction of the film brought it up to 158 minutes, making this the perfect WWII film to fill a long, empty afternoon.
#40. Flags of Our Fathers (2006)
- Director: Clint Eastwood
- IMDb user rating: 7.1
- Metascore: 79
- Runtime: 135 minutes
The Battle of Iwo Jima resulted in 29 medals of honor for the brave soldiers who reclaimed the island from the Japanese Imperial Army. Clint Eastwood's movie "Flags of Our Fathers" recreates the hell of that battle and explores the true story behind Joe Rosenthal's iconic photograph "Raising the Flag on Iwo Jima." The film is incredibly graphic—squeamish viewers beware—but still earned near-unanimous positive reviews upon its release in 2006.
#39. Flame & Citron (2008)
- Director: Ole Christian Madsen
- IMDb user rating: 7.2
- Metascore: 74
- Runtime: 130 minutes
Many films on this list pride themselves on historical accuracy, but "Flame & Citron" does not hide its artistic liberties. The historical drama is a fictionalized telling of two real Danish resistance movement fighters—Bent Faurschou-Hviid (nicknamed Flammen) and Jørgen Haagen Schmith (nicknamed Citronen)—during the Nazi occupation of Denmark. The pair had fascinated director Ole Christian Madsen since he was young and he spent eight years researching them in order to write the movie, along with Lars K. Andersen.
#38. Blind Spot: Hitler's Secretary (2002)
- Directors: André Heller, Othmar Schmiderer
- IMDb user rating: 7.3
- Metascore: 79
- Runtime: 90 minutes
"Blind Spot: Hitler's Secretary" is a hard, unflinching look at the facts. The documentary features unprecedented interviews with Traudl Junge, Hitler's personal secretary from 1942 through the end of the war. While many of us would be quick to say that we'd never fall in line with a tyrannical regime like Hitler's, this documentary will shake that belief to its core, demonstrating just how easy it is for an individual's conscience to be swayed.
#37. Seraphine (2008)
- Director: Martin Provost
- IMDb user rating: 7.4
- Metascore: 84
- Runtime: 125 minutes
Covering the life of French painter Seraphine Louis from her discovery by German art critic and dealer Wilhelm Uhde on the eve of WWI through her descent into madness and death during the height of WWII, the French picture "Seraphine" is a moving film about art's true role in the human experience. While the Great Wars play only a tangential role in the movie, the overwhelming feeling of anxiety they cast on entire generations of people is felt deeply.
#36. A Hidden Life (2019)
- Director: Terrence Malick
- IMDb user rating: 7.4
- Metascore: 78
- Runtime: 174 minutes
"A Hidden Life" tells the story of Franz Jägerstätter, a conscientious objector who refused to take up arms for the German army, holding fast to his strong Catholic beliefs until the bitter end. The film was inspired by the real-life story of Austrian Catholic priest Franz Reinisch who refused to swear his allegiance to Hitler. The film is slow-paced and requires contemplation from the viewer, but it has also been described as the crowning jewel of filmmaker Terrence Mailck's career.
#35. Son of Saul (2015)
- Director: László Nemes
- IMDb user rating: 7.4
- Metascore: 91
- Runtime: 107 minutes
"Son of Saul" follows a Hungarian Jewish man for a day and a half when he is ordered to clean out the gas chambers. The Guardian's Peter Bradshaw described watching the movie as experiencing evil and hell, even as much of the action is pushed outside of the frame, implied and talked about rather than seen. As hard as it is to watch, this movie does what few others are capable of doing: accurately portraying the horrors of life during the holocaust without painting over or glorifying any of the worst parts.
#34. The English Patient (1996)
- Director: Anthony Minghella
- IMDb user rating: 7.4
- Metascore: 87
- Runtime: 162 minutes
Winning the Oscar for Best Picture at the Academy Awards, "The English Patient" is an epic romance and war drama told almost entirely through a series of flashbacks. Based on the 1992 novel by Michael Ondaatje of the same name, the story follows a burn victim, his nurse, and a small group of others staying in an Italian monastery as they attempt to help the man remember his true identity. The movie garnered almost universal critical praise upon its release in 1996 and brought in $231 million worldwide (well over its $27 million budget).
#33. Darkest Hour (2017)
- Director: Joe Wright
- IMDb user rating: 7.4
- Metascore: 75
- Runtime: 125 minutes
Some aspects of WWII, like Britain's decision to stand against Hitler, may seem like foregone conclusions. But the country's entry into what was sure to be a long and expensive war was deliberated over by some of the U.K.'s greatest minds. "Darkest Hour," which stars Gary Oldman as Prime Minister Winston Churchill, focuses on Great Britain's deliberation in the spring of 1940 over whether they should enter the war or call a truce with Hitler and his army. The drama's adherence to many of the historical facts makes this film stand out.
#32. The Counterfeiters (2007)
- Director: Stefan Ruzowitzky
- IMDb user rating: 7.5
- Metascore: 78
- Runtime: 99 minutes
This film is a fictionalized telling of the Nazi's Operation Bernhard—a counterfeiting scheme that sought to destabilize America and the U.K. by flooding their economies with forged notes. The film, which won the Best Foreign Language Film Oscar in 2008, raises some truly difficult questions about the lengths one would go in order to survive under the Nazi regime. Does the salvation of your own life, or the lives of others, justify aiding the enemy?
#31. Children of Hiroshima (1952)
- Director: Kaneto Shindô
- IMDb user rating: 7.6
- Metascore: 86
- Runtime: 97 minutes
Equal parts fiction and documentary, "Children of Hiroshima" follows Takako Ishikawa, a young schoolteacher who returns to her hometown of Hiroshima four years after the bombing only to be faced with the sorrow and destruction that still clouds the city.
Commissioned by the Japan Teachers Union, the film is based on a compilation of real-life testimonies that were put together by a university professor named Arata Osada. A deeply moving film, "Children of Hiroshima" does provide glimpses of hope for an audience that still carries fresh memories of the war.
#30. Europa Europa (1990)
- Director: Agnieszka Holland
- IMDb user rating: 7.6
- Metascore: 75
- Runtime: 112 minutes
The 1990 film, "Europa Europa," is based on the real-life tale of Solomon Perel, a German Jewish man who passes himself off as Aryan and ends up enrolled in Hitler's Youth. Based on Perel's autobiography, "I Was Hitler Youth Salomon," the film won a Golden Globe for Best Foreign Language Film and received several other accolades for both Marco Hofschneider's performance and its larger-than-life story.
#29. Sophie Scholl: The Final Days (2005)
- Director: Marc Rothemund
- IMDb user rating: 7.6
- Metascore: 76
- Runtime: 120 minutes
In 1943, the Nazis executed Sophie Scholl, a university student and activist who distributed pamphlets on her campus protesting the war (the charge levied against her: high treason). This 2005 movie, which was nominated for the Best Foreign Language Film Oscar, tells her story. Drawing on the police records that detail their interrogations of Sophie, screenwriter Fred Breinersdorfer was able to craft this realistic and moving account of the last six days of her life which is sure to motivate viewers to take a stand against injustice themselves.
#28. From Here to Eternity (1953)
- Director: Fred Zinnemann
- IMDb user rating: 7.6
- Metascore: 85
- Runtime: 118 minutes
Nominated for 13 Academy Awards and bringing home eight of them, "From Here to Eternity" is one of the best-decorated WWII movies of all time. The 1953 classic follows three soldiers stationed in Hawaii during the lead-up to Pearl Harbor and is based on the novel by James Jones. Starring Hollywood greats like Frank Sinatra, Burt Lancaster, Montgomery Clift, Donna Reed, and Deborah Kerr, the movie was added to the National Film Registry in 2002.
#27. The Thin Red Line (1998)
- Director: Terrence Malick
- IMDb user rating: 7.6
- Metascore: 78
- Runtime: 170 minutes
After a 20-year absence from Hollywood, Terrence Malick returned to direct "The Thin Red Line," based on a novel of the same name, in 1998. While on its surface the film tells a fictionalized version of a Guadalcanal Campaign battle, its much deeper focus is on our inherent need to kill, and how that destruction seems to be at odds with our very nature. The star-studded flick, featuring the likes of Adrien Brody, John Cusack, George Clooney, and Woody Harrelson, has long been considered one of the best WWII movies of all time.
#26. Into the Arms of Strangers: Stories of the Kindertransport (2000)
- Director: Mark Jonathan Harris
- IMDb user rating: 7.7
- Metascore: 79
- Runtime: 122 minutes
So many of the stories surrounding WWII focus on the horrors and evil of the war. "Into the Arms of Strangers: Stories of the Kindertransport," on the other hand, highlights the kindness, generosity, and bravery of humans even in the face of some of the worst tragedies the world has ever seen.
In the late 1930s, the Kindertransport brought 10,000 Jewish children to safety in the U.K. where they were fostered by local families, many of them never reunited with their birth families. This Warner Bros. documentary utilizes never-before-seen footage and the words of these children, foster families, and rescuers to create a truly inspiring film that's sure to touch you to your core.
#25. Paragraph 175 (2000)
- Directors: Rob Epstein, Jeffrey Friedman
- IMDb user rating: 7.7
- Metascore: 85
- Runtime: 81 minutes
In the German penal code, Paragraph 175 made someone's sexual orientation a crime, and from 1933 to 1945, an estimated 100,000 men were arrested under it. Of the 10,000-15,000 sent to camps, only 4,000 were believed to have survived; when this documentary was made in 2000, only eight of them remained alive. These survivors tell the truth about the hideous barbarity of the law, recalling the torture they endured and the concentration camps they were interred in throughout this film.
#24. The Longest Day (1962)
- Directors: Ken Annakin, Andrew Marton, Gerd Oswald, Bernhard Wicki, Darryl F. Zanuck
- IMDb user rating: 7.7
- Metascore: 75
- Runtime: 178 minutes
Costing $10 million to produce, "The Longest Day" had the highest budget for a black-and-white movie at the time of its release in 1962. The three-hour epic was producer Darryl F. Zanuck's dream project, and it attempts to tell the story of D-Day from the point of view of everyone involved or impacted by the event. A number of very famous faces appear in the film, including John Wayne, Robert Mitchum, Henry Fonda, Sean Connery, and Richard Burton, which surely contributed to the film's $50 million box office pull.
#23. The Wind Rises (2013)
- Director: Hayao Miyazaki
- IMDb user rating: 7.7
- Metascore: 83
- Runtime: 126 minutes
An anime-style film, "The Wind Rises," was the final project of Hayao Miyazaki. It's a fictionalized biopic of Jiro Horikoshi, who designed the Mitsubishi A6M Zero fighter plane, which played a major role in Japan's brutal imperialist campaign and was used in events like Pearl Harbor.
Upon its release in 2013, the movie faced intense scrutiny thanks to its sympathetic portrayal of a man whose invention caused the deaths and torture of so many souls. Critics like the Village Voice's Inkoo Kang blasted the movie as "morally repugnant"; Kang went so far as to say the movie was "wholly symptomatic of Japan's" postwar attitude toward its history, which is an acknowledgment of the terribleness of war and a willful refusal to acknowledge its country's role in that terribleness."
#22. Land of Mine (2015)
- Director: Martin Zandvliet
- IMDb user rating: 7.8
- Metascore: 75
- Runtime: 100 minutes
A Danish-German film, "Land of Mine," tells the story of the German prisoners of war who were ordered to clear more than 2 million active landmines out of Denmark after their surrender. Under the Geneva Conventions, the removal of the landmines in this manner was actually a war crime, resulting in the death or injury of thousands of young men. The film has received praise for humanizing these servicemen, who are typically villainized by history.
#21. Letters from Iwo Jima (2006)
- Director: Clint Eastwood
- IMDb user rating: 7.8
- Metascore: 89
- Runtime: 141 minutes
The companion film to "Flags of Our Fathers," "Letters from Iwo Jima" portrays the Battle of Iwo Jima from the perspective of the Japanese soldiers. Shot back-to-back, the two films mirror each other in a lot of ways, but the sympathy the latter extends to the doomed Japanese—and the sensitivity with which it delves into their mindset—really sets "Letters" apart.
#20. Atonement (2007)
- Director: Joe Wright
- IMDb user rating: 7.8
- Metascore: 85
- Runtime: 123 minutes
Based on Ian McEwan's famous novel of the same name, "Atonement" is a photogenic, romantic drama set during WWII. Early in the film, Saoirse Ronan's character tells a lie, the effects of which the audience gets to see play out over the following 60 years, ruining three young lives forever. Upon its release in 2007, acclaimed film critic Roger Ebert called the devastating movie one of the best of the year, and the Academy seemed to agree, nominating it for six different awards at that year's Oscars.
#19. Dunkirk (2017)
- Director: Christopher Nolan
- IMDb user rating: 7.8
- Metascore: 94
- Runtime: 106 minutes
Christopher Nolan's war film, "Dunkirk," depicts Operation Dynamo, or the evacuation of Allied troops from the beaches of Dunkirk from three perspectives: land, air, and sea. These three narrative segments tie together to create a story that's as much about suffering and survival as it is about battle. Shot in large format film, and with minimalist dialogue, "Dunkirk" has a sober feel to it, and its ending serves as a stark reminder that the battle against fascism is still being fought today.
#18. The Hill (1965)
- Director: Sidney Lumet
- IMDb user rating: 7.9
- Metascore: 81
- Runtime: 123 minutes
Set in a British disciplinary camp in North Africa, "The Hill" is an intense, black-and-white drama that follows the tyrannical punishments inflicted on the rogue soldiers. At its core, the movie examines true bravery and what it really means to be noble. A young Sean Connery stars as Joe Roberts, an imprisoned Squadron Sergeant Major with a heart of gold.
#17. Patton (1970)
- Director: Franklin J. Schaffner
- IMDb user rating: 7.9
- Metascore: 86
- Runtime: 172 minutes
A biopic of one of WWII's most well-known generals, George S. Patton, the film follows the military leader's career from 1942 until his death in 1945. Scripted by Francis Ford Coppola, the movie gives equal due to Patton's strengths and weaknesses and finest moments and biggest mistakes. While not every moment of the film is historically accurate, it didn't stop audiences from flocking to see it, and the movie ended up bringing in more than $61 million at the box office.
#16. Night Will Fall (2014)
- Director: André Singer
- IMDb user rating: 8.0
- Metascore: 85
- Runtime: 75 minutes
In 1945, the British government began a project that was intended to record for history the realities of life inside the newly liberated Nazi concentration camps. That film, titled "German Concentration Camps Factual Survey" was worked on by the likes of Alfred Hitchcock, before being abruptly halted and left to rot in the archives for more than 60 years.
"Night Will Fall" is a documentary that tells the story of that first movie—how it was made and what happened to it—incorporating 12 harrowing minutes of the original, which had its first theatrical run in North America in 2017.
#15. Stalag 17 (1953)
- Director: Billy Wilder
- IMDb user rating: 8.0
- Metascore: 84
- Runtime: 120 minutes
A comedy-drama, "Stalag 17" follows a group of American Air Force sergeants being held in a prisoner of war camp, who are trying to root out which one among them is a German spy. The film, directed by Billy Wilder, was based on a Broadway play of the same name, written by two men who had actually been interred in the camp.
The movie's combination of seriousness (two would-be escapees are machine-gunned down in the opening scene) and gross humor helped it stand out among a flood of similar movies and won William Holden an Academy Award in 1953.
#14. The Fog of War: Eleven Lessons from the Life of Robert S. McNamara (2003)
- Director: Errol Morris
- IMDb user rating: 8.1
- Metascore: 87
- Runtime: 107 minutes
Compiled from some 20 hours of interviews with former Secretary of Defense Robert S. McNamara, this 2003 documentary dives into the reality of modern warfare. Using McNamara's life as a guide, from his involvement in WWII through the decisions he made during the first half of the Vietnam War, the film seeks to understand what we can make of wars past and how we can learn from those decisions when it comes to wars of the future. The movie won the Academy Award for Best Documentary Feature in 2004.
#13. Army of Shadows (1969)
- Director: Jean-Pierre Melville
- IMDb user rating: 8.1
- Metascore: 99
- Runtime: 145 minutes
"Army of Shadows" gives viewers a look at that seldom-portrayed part of the human spirit where hope and fatalism coincide. The movie follows a group of French resistance fighters as they move invisibly under the noses of the Nazis that have come to occupy their town, killing informers and working to pass along information that might free their country from this iron grip.
When it was originally released in France, the movie was panned by critics and denounced by the public who saw it as glorifying Charles de Gaulle. Rarely seen at the time, it is now considered Jean-Pierre Melville's greatest work.
#12. The Best Years of Our Lives (1946)
- Director: William Wyler
- IMDb user rating: 8.1
- Metascore: 93
- Runtime: 170 minutes
In opposition to most other WWII movies, most of the action in "The Best Years of Our Lives" happens off the battlefield. The 1946 film follows three veterans as they come home and attempt to return to normal life. Unflinchingly honest about the difficult transition both for the veterans and their loved ones, the movie delves into a subject that was fully ignored by Hollywood at the time, and it was richly rewarded—"The Best Years of Our Lives" took home eight Academy Awards.
#11. The Bridge on the River Kwai (1957)
- Director: David Lean
- IMDb user rating: 8.1
- Metascore: 87
- Runtime: 161 minutes
Another Academy Award winner, "The Bridge on the River Kwai" follows two prisoners of war as they attempt to build and destroy a bridge for the Japanese army in Burma. It's loosely based on real-life events, most notably the fact that Allied prisoners were forced to build the Burma railway for the Japanese. While they're depicted as the villains in the movie, the Japanese government actually collaborated with Hollywood on the picture, after being persuaded that its core message was about the horrors and folly of war.
#10. To Be or Not to Be (1942)
- Director: Ernst Lubitsch
- IMDb user rating: 8.2
- Metascore: 86
- Runtime: 99 minutes
"To Be or Not to Be" is a dark comedy film about a group of Polish actors in Warsaw who put on the performance of their lives pretending to be Nazis in order to throw their plans off course. Released only three months after the bombing of Pearl Harbor, the film was bold in its portrayal of Nazis and the buffoonery implicit in their ideology. This shocking and timely movie was Carole Lombard's last role, released one month after her death in an airplane crash.
#9. The Great Escape (1963)
- Director: John Sturges
- IMDb user rating: 8.2
- Metascore: 86
- Runtime: 172 minutes
Based on the mass escape of British prisoners from the German war camp Stalag Luft III in March 1944, "The Great Escape" follows two dozen of these men as they sneak through Nazi-occupied territory back to safety. While the real-life event wasn't quite as glamorous as the Hollywood version (in which Steve McQueen drives a motorcycle through heavy gunfire in a desperate attempt to save his own life), the movie maintains the elements of suspense and patriotism that are true to the original incident.
#8. Downfall (2004)
- Director: Oliver Hirschbiegel
- IMDb user rating: 8.2
- Metascore: 82
- Runtime: 156 minutes
All of the major action in "Downfall" comes from a bunker some 30 feet below Berlin for the final days of Adolf Hitler. The movie follows the downfall of the Third Reich, as well as the mental decline of its insane leader. Thanks to its physical setting and the unhinged headspace of the main characters, the film feels claustrophobic and gives viewers a handle on the sickness that infects all of those who identified as Nazis.
#7. Das Boot (1981)
- Director: Wolfgang Petersen
- IMDb user rating: 8.4
- Metascore: 86
- Runtime: 149 minutes
The U-boat, which is arguably the biggest character in Wolfgang Petersen's drama "Das Boot," measures 10 feet by 150 feet, making it cramped quarters for its crew at best and claustrophobic at worst. The film follows the U-boat's mission to attack an Allied envoy, ending in a climactic scene where a burning tanker, assumed empty of men, is torpedoed and the realities of war are faced head-on.
Numerous remakes of the epic have been released over the years, including one by Hulu in 2019 that received far less praise than the original.
#6. Casablanca (1942)
- Director: Michael Curtiz
- IMDb user rating: 8.5
- Metascore: 100
- Runtime: 102 minutes
Whether you're a WWII aficionado or not, chances are good that you've seen "Casablanca." The classic movie, starring Ingrid Bergman and Humphrey Bogart, tells the tale of an American expatriate who must choose between his love for a woman and his duty to help her and her husband escape Casablanca in order to continue the fight against the Germans. Watch this film for some of its classic lines including the often-misquoted, "Louis, I think this is the beginning of a beautiful friendship."
#5. The Pianist (2002)
- Director: Roman Polanski
- IMDb user rating: 8.5
- Metascore: 85
- Runtime: 150 minutes
Critically acclaimed, "The Pianist," a story about a Polish Jewish man who survived the Holocaust, won its fair share of awards, including the Palme d'Or and several Oscars, after its release in 2002. Directed by Roman Polanski, the film is based on a memoir of Władysław Szpilman, who is portrayed by Adrien Brody. In 2016, the classical pianist and composer's family won a defamation lawsuit against claims that he had been in collaboration with the Nazis, acting as a police officer in the Jewish ghetto of Warsaw.
#4. Oppenheimer (2023)
- Director: Christopher Nolan
- IMDb user rating: 8.6
- Metascore: 88
- Runtime: 180 minutes
It's probably no surprise that the only film from the 2020s to land on the list of the best WWII movies of all time is the 2023 smash hit "Oppenheimer." The biographical thriller focuses on the titular father of the atomic bomb, J. Robert Oppenheimer, and comes from the Oscar-nominated director behind "Dunkirk," Christopher Nolan. The scarily true-to-history telling of the 1942 Manhattan Project became the highest-grossing WWII movie of all time and has been lauded by critics internationally.
#3. Saving Private Ryan (1998)
- Director: Steven Spielberg
- IMDb user rating: 8.6
- Metascore: 91
- Runtime: 169 minutes
For the first few weeks after the release of "Saving Private Ryan," the Department of Veterans Affairs increased staffing on their counseling hotline due to the number of servicemen whose PTSD had been triggered by the realistic film. Director Steven Speilberg knew that he had made a hard-to-watch movie, but, due to that very fact, was also unsure whether or not anyone would actually watch it.
In the end, everyone did—the film made nearly $500 million at the box office and took home a host of accolades during that year's awards season.
#2. Shoah (1985)
- Director: Claude Lanzmann
- IMDb user rating: 8.7
- Metascore: 99
- Runtime: 566 minutes
Clocking in at over nine hours long, "Shoah," a French documentary about the Holocaust, leaves very few stones unturned and sources uncovered when it comes to remembering one of the worst chapters of human history. That being said, the mega-documentary, which Claude Lanzmann saw as necessary to make, isn't all depressing—in fact, the overall impression of the film is one that passionately affirms life.
Critic Roger Ebert praised the film, saying that it puts the viewer inside an event that the vast majority of us have only ever experienced from the outside.
#1. Schindler's List (1993)
- Director: Steven Spielberg
- IMDb user rating: 9.0
- Metascore: 95
- Runtime: 195 minutes
A grueling tale, this Spielberg masterpiece follows a German Nazi, Oskar Schindler, as he saves 1,200 Jewish people from being transported to concentration camps and certain death. Over three hours long, and shot entirely in black and white (with the exception of one narratively pivotal moment), "Schindler's List" is incredibly hard to stomach, and incredibly important for that exact reason.
The film changed the way the Holocaust was portrayed in Hollywood and inspired a series of narrative features including the likes of "The Boy in the Striped Pajamas" and "Life is Beautiful."
Data reporting by Luke Hicks. Additional writing by Jaimie Etkin. Story editing by Cynthia Rebolledo. Copy editing by Robert Wickwire.