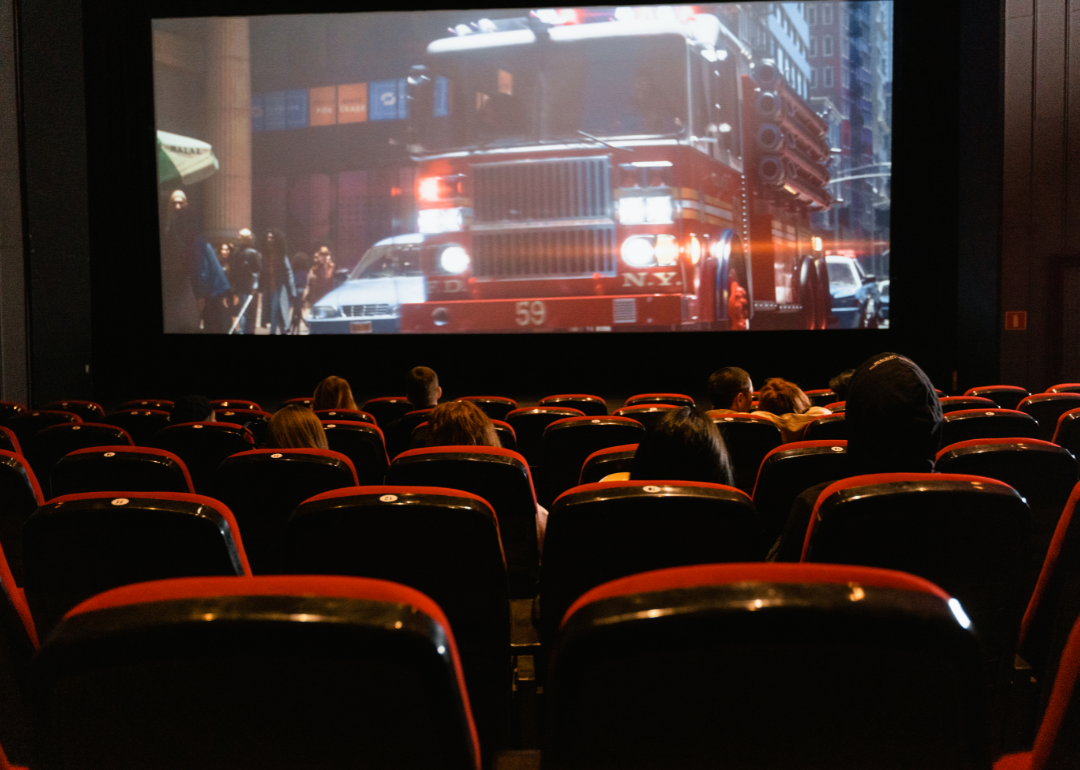 50 classic movies from 1970
50 classic movies from 1970
The New Hollywood film era was just getting rolling in 1970.
It was a period when films shifted from studio-controlled genre projects to much more experimental, innovative, cynical, and revisionist works that allowed directors creative control. New Hollywood films—or the American New Wave—started in the late 1960s and lasted through the 1970s. The movies were still commercial, but they were also heavily influenced by European cinema, especially Italian neorealism and the French New Wave, as well as by auteur stylists such as Akira Kurosawa. New Hollywood directors had a sensibility influenced by world cinemas that allowed revisions of staid American film conventions into new artistic forms.
Stacker compiled a list of classic movies released in 1970 using data from IMDb, featuring the 50 most significant films released that year.
In 1970, movies were obsessed with subtext, subversion, and critiques of authority. Films often commented on the Vietnam War through stories set during World War II or the Korean War. You'll find a strong anti-establishment bent with male heroes who are disaffected, vigilante, and anti-heroic. Films on our list cover multiple genres from art films to musicals to broad comedies to documentaries. We've included the most popular films of the year: "Patton" won the Best Picture Oscar and "Love Story" was the highest-grossing domestic film. Our list also features films of note released across the world.
These films reflect the culture of their time. In the United States, it was the age of counterculture, the Vietnam War, and the civil rights movement. Films explored these issues, predominantly through the experiences of white men. There are two films on our list by women directors; one is a co-director. Several actors appeared in more than one film on our list including Charlton Heston, Alan Arkin, John Wayne, Richard Harris, and Mick Jagger—who has a dramatic film role and appears in a documentary.
Get ready for a list filled with surrealist art cinema, avant-garde films, and historical epics, as well as commercial hits. You'll also find dark themes and a radical edge. The most popular genres are the revisionist Western and the war movie. What films do you remember from 1970? How do they compare with the movies of today?
A Man Called Horse
- Director: Elliot Silverstein
- IMDb user rating: 6.9
- Metascore: 46
- Runtime: 114 min
Like "Dances With Wolves" two decades later, many American Westerns with non-villainous portrayals of Native Americans do so with a plot in which a white man infiltrates the tribe or was raised in it—as with Paul Newman in "Hombre" in 1967, Dustin Hoffman in "Little Big Man" in 1970, and Robert Redford in "Jeremiah Johnson" in 1972. In "A Man Called Horse," Richard Harris plays a British aristocrat captured by the Sioux nation. He survives when tribe members see worth in him. He takes part in their traditional and brutal initiations and eventually becomes their leader. This popular film generated two sequels.
Airport
- Directors: George Seaton, Henry Hathaway
- IMDb user rating: 6.6
- Metascore: 42
- Runtime: 137 min
"Airport" marked the inauguration of the 1970s disaster film cycle which eventually inspired the spoof "Airplane!" in 1980. The "Airport" formula included an ensemble cast led by Burt Lancaster and gripping situations in which one harrowing event gets compounded by another—in this case, a bomb on a plane and a blizzard. "Airport" was a giant box office success and nominated for 10 Academy Awards, including Best Picture.
Beneath the Planet of the Apes
- Director: Ted Post
- IMDb user rating: 6.1
- Metascore: 46
- Runtime: 95 min
The shock ending of 1968's "Planet of the Apes" called out for a sequel (or four), yielding five films in the original franchise before the more recent reboots. This second film picks up after astronaut George Taylor (Charlton Heston) cries out "God damn you all to hell!" when he discovers the ape planet is actually Earth. The sequel takes place in a "forbidden" underworld where mutants worship a bomb in what used to be New York's subway system.
Beyond the Valley of the Dolls
- Director: Russ Meyer
- IMDb user rating: 6.2
- Metascore: 60
- Runtime: 109 min
Film critic Roger Ebert was tasked with writing the screenplay for the sequel to 1967's "Valley of the Dolls," the soapy hit about popping pills. Rather than a straight follow-up, "Beyond the Valley of the Dolls" was a biting parody of the first film filled with exploitative sex and over-the-top violence intended as a scathing, but simultaneously shallow, undirected send-up of Hollywood conventions.
Brewster McCloud
- Director: Robert Altman
- IMDb user rating: 7
- Metascore: data not available
- Runtime: 105 min
Robert Altman's "Brewster McCloud" was released after his acclaimed "MASH" during the same year. The films have drastically different subjects—field doctors in a war zone in the first film, and a young man determined to build wings and fly like a bird in the second. But both films possess early signatures in Altman's cinematic style. "Brewster McCloud" depicts a starkly original, fantastical tale that takes place in contemporary Houston where a series of murders have occurred and the victims are covered in bird droppings.
Catch-22
- Director: Mike Nichols
- IMDb user rating: 7.2
- Metascore: 70
- Runtime: 122 min
Mike Nichols' third film after the acclaimed "Who's Afraid of Virginia Woolf?" and the era-defining "The Graduate," adapts Joseph Heller's novel about the irrationality of war and continues the theme in black comedy style. Alan Arkin plays Yossarian alongside an ensemble cast that includes Art Garfunkel, Anthony Perkins, Charles Grodin, Martin Sheen, and John Voight.
Chisum
- Director: Andrew V. McLaglen
- IMDb user rating: 6.9
- Metascore: data not available
- Runtime: 111 min
This Western features Billy the Kid and Pat Garrett, but the main event involves Chisum (another real-life figure) in a movie that veers from historical record. The gritty titular cowboy played by John Wayne gets pulled into the crossfire when the nefarious villain tries to steal his cattle, land, and horses. "Chisum" is a sprawling Western that returns to familiar themes of Wayne Westerns where he plays a hardy man, good to the core, forced to deal with corrupt men because someone has to set things right.
Claire's Knee
- Director: Éric Rohmer
- IMDb user rating: 7.7
- Metascore: data not available
- Runtime: 105 min
A fixture of the French film journal "Cahiers du Cinéma," and a noted director of the French New Wave, Éric Rohmer's often-acclaimed films were known for their intimate, observant portraits of modern relationships. In "Claire's Knee," Rohmer captures the wit and romance of gazing with desire in the story about a man obsessed with a woman's knee. Critics found it delightful and charming.
Cold Sweat
- Director: Terence Young
- IMDb user rating: 5.8
- Metascore: data not available
- Runtime: 94 min
"Cold Sweat" is similar to "Death Wish," the Charles Bronson mainstay on vigilante justice that came out in 1974. "Cold Sweat" takes place on the French Riviera where Bronson stars as a family man trying to leave his dark past behind with Liv Ullmann as his wife. Soon, his former, bitter prison mates turn up and kidnap his wife and daughter for revenge and criminal mayhem which he must avenge.
Colossus: The Forbin Project
- Director: Joseph Sargent
- IMDb user rating: 7.1
- Metascore: data not available
- Runtime: 100 min
Firmly in the genre of "2001: A Space Odyssey," and later "Westworld" and "War Games," "Colossus: The Forbin Project" explores the dangers of advanced technology. A god-like American supercomputer interacts with a similar Soviet supercomputer, and the two join forces to rule the world. The resulting "Colossus" far outwits humans, reconfigures protocol, and becomes an all-knowing panopticon with disastrous results for all.
Cromwell
- Director: Ken Hughes
- IMDb user rating: 6.9
- Metascore: data not available
- Runtime: 139 min
This epic historical film examines Oliver Cromwell's role in England's 1640s Civil War over parliamentary versus monarchical rule. "Cromwell" was criticized for getting many of the historical facts wrong as it dramatizes and forces into narrative story structure events of sprawling scope. Richard Harris plays Cromwell, with Alec Guinness as King Charles. The film was noted for its elaborate costumes and period detail.
Deep End
- Director: Jerzy Skolimowski
- IMDb user rating: 7.2
- Metascore: data not available
- Runtime: 88 min
Jerzy Skolimowski's artsy coming-of-age story follows a teenage boy who gets a job working at a pool and bathhouse which opens up his obsessive, conflicted sexual desire. He falls for an older woman, a co-worker who's openly objectified both in the film's visual language and at the plot level. Bathhouse work includes prostitution and the pool, both empty and filled, becomes a setting for sexual shame, violence, and unleashed desire.
El Topo
- Director: Alejandro Jodorowsky
- IMDb user rating: 7.5
- Metascore: data not available
- Runtime: 125 min
Alejandro Jodorowsky's intentionally psychedelic phantasm of a Western was mostly seen in arthouses in New York and Los Angeles during midnight cult screenings where lines stretched around the block. The hyper-violent style aims to offend, then reconfigure, religious sensibilities as it explores the horseback journey of a cowboy-style drifter and his son.
Five Easy Pieces
- Director: Bob Rafelson
- IMDb user rating: 7.5
- Metascore: 85
- Runtime: 98 min
A seminal work of the New Hollywood cinema that took shape in the late 1960s and '70s, Bob Rafelson's story follows an apathetic man, Bobby (Jack Nicholson in his first major role), who can't connect with his pregnant girlfriend or his family, and finds scant options in the surrounding world. In an iconic restaurant scene, Bobby's troubles are emblematized by his frustration with the "no substitutions" policy when he has to ask the waitress to "hold the chicken" in his chicken salad sandwich order so he can get toast. His sense of profound disappointment erupts as he flings drinks and silverware off the table.
Gimme Shelter
- Directors: Albert Maysles, David Maysles, Charlotte Zwerin
- IMDb user rating: 7.9
- Metascore: 80
- Runtime: 91 min
Two rock documentaries with starkly different subjects and themes came out in 1970, each set on different coasts at huge music festivals. The massive hit "Woodstock" was an optimistic opus on the peaceniks and their love for music in New York. In contrast, "Gimme Shelter" looks at The Rolling Stones' performance at Altamont Speedway in California. The cameras present captured on film the killing of a black teenager, Meredith Hunter, stabbed in the back by a Hell's Angel, Alan Passaro, who was hired for security. Concert footage was used at Passaro's murder trial in which he was acquitted on ground's of self-defense.
Hercules in New York
- Director: Arthur Allan Seidelman
- IMDb user rating: 3.3
- Metascore: 23
- Runtime: 91 min
In Arnold Schwarzenegger's first film role he plays the son of Zeus who visits Earth out of curiosity, eventually landing in Manhattan. The fish-out-of-water-tale is ridiculous and chock-full of bloopers while showing off the famous bodybuilder's physique and fighting skills. The low-budget spectacle was first screened with Schwarzenegger's voice dubbed, but later releases restored the actor's signature accent.
Hi, Mom!
- Director: Brian De Palma
- IMDb user rating: 6.2
- Metascore: data not available
- Runtime: 87 min
This rollicking, acerbic satire was a sequel to Brian DePalma's and Robert DeNiro's earlier collaboration, 1968's "Greetings," which critiqued the Vietnam War draft. In "Hi, Mom!" DeNiro offers a fully formed satirical performance as a man with a camera (there's not much plot) who ends up in a performance of "Be Black, Baby" staged by a black acting troupe. This sequence, in which black performers offer an interactive theater experience to a white audience on what it's like to be black in America, is thrillingly progressive. The white audience's response to the "horror of being black"—that it's interesting—seems in line with still-current attitudes.
Investigation of a Citizen Above Suspicion
- Director: Elio Petri
- IMDb user rating: 8.1
- Metascore: 89
- Runtime: 115 min
Elio Petri's stylish thriller won the 1971 Academy Award for Best Foreign Language Film—it was given out by Ricardo Montalban and Jeanne Moreau, but the auteur wasn't there to accept. The film delves into the investigation of a murder that's infiltrated and controlled by the actual murderer. The film examines themes around the corruption of authority in a social milieu without consequence for certain citizens.
Julius Caesar
- Director: Stuart Burge
- IMDb user rating: 6.1
- Metascore: data not available
- Runtime: 117 min
Acting powerhouses John Gielgud, Charlton Heston, Richard Chamberlain, and Jason Robards team up for a by-the-book adaptation of Shakespeare's play. In his 1971 review, Roger Ebert panned the effort, taking particular jabs at Robards' delivery, writing, "each word has the same emphasis as the last, and they march out of the screen at us without regard for phrases, sentences, or emotional content". The film proceeds at a wooden, talky pace that's briefly interrupted about halfway through by a grandiose, excessive assassination.
Kelly's Heroes
- Director: Brian G. Hutton
- IMDb user rating: 7.6
- Metascore: 50
- Runtime: 144 min
This genre hybrid pairs World War II battles with a heist action plot. Clint Eastwood, Telly Savalas, Donald Sutherland, and Don Rickles make up the ensemble cast of wisecracking soldiers who interrupt combat to rob a bank behind enemy lines. Comedy elements and rebellion lend the film an anti-Vietnam message that comes across as tepid amidst outlaw adventures.
Le Boucher
- Director: Claude Chabrol
- IMDb user rating: 7.5
- Metascore: data not available
- Runtime: 93 min
Claude Chabrol wrote for the French film magazine "Cahiers du Cinéma" that produced serious reflections on American films, developed auteur theory, and eventually influenced French New Wave style. Chabrol, who had a long career, was a part of that movement toward radically oppositional films that resisted traditional film conventions. Chabrol was heavily influenced by Hitchcock's aesthetic. "Le Boucher" is an artsy look at a serial killer in a small town, and the tension builds to an unexpected twist.
Le Cercle Rouge
- Director: Jean-Pierre Melville
- IMDb user rating: 8
- Metascore: 91
- Runtime: 140 min
Jean-Pierre Melville's noir-inspired style influenced French New Wave directors (he had a small role in Jean-Luc Godard's "Breathless"). Melville's known for infusing crime thrillers like "Le Cercle Rouge" with both realistic shooting locations and a strong sense of gangster cool aesthetics, present in such details as trench coats, fedoras, cigarettes, and long stretches of silence coupled with a lax pace unusual when depicting heist action.
Little Big Man
- Director: Arthur Penn
- IMDb user rating: 7.6
- Metascore: 63
- Runtime: 139 min
"Little Big Man" is another of the era's revisionist Westerns (it's also broadly comic) that critiques U.S. colonial expansion and portrays Native Americans as human rather than savage. This take occurs through the story of Jack Crabb (Dustin Hoffman) a 121-year-old white man who details his countless adventures across a century of history, including being raised by the Cheyenne tribe and having run-ins with mythic Western figures Wild Bill Hickok and General Custer.
Love Story
- Director: Arthur Hiller
- IMDb user rating: 6.9
- Metascore: 84
- Runtime: 100 min
This enormously sappy tearjerker became a runaway box office hit with major nominations during awards season. Ryan O'Neal and Ali MacGraw play college coeds who first annoy one another before falling into stupendous love just in time for a fatal disease to ruin it all. The movie's oft-repeated (and deceptively illogical) line, "Love means never having to say you're sorry," became a cultural touchstone around idealized romance.
MASH
- Director: Robert Altman
- IMDb user rating: 7.5
- Metascore: 80
- Runtime: 116 min
This innovative, subversive war comedy had lasting cultural influence throughout the 1970s, spawning the hugely popular long-running sitcom with the same premise which ran from 1972 to 1983. "MASH" won the Cannes Film Festival Palme D'or, the Best Picture Golden Globe (Musical or Comedy), and was nominated for five Academy Awards, launching director Robert Altman as a major voice in the Hollywood New Wave.
On a Clear Day You Can See Forever
- Director: Vincente Minnelli
- IMDb user rating: 6.4
- Metascore: data not available
- Runtime: 129 min
This vibrant, cheerful musical stars Barbra Streisand in a follow-up to late-1960s successes "Funny Girl" and "Hello Dolly." Streisand won the 1969 Best Actress Oscar for "Funny Girl" and in 1970 "Hello Dolly" had seven Academy Award nominations. This musical features stylized, opulent sets and costumes, but failed to capture the greatness of the prior musicals.
Patton
- Director: Franklin J. Schaffner
- IMDb user rating: 7.9
- Metascore: 91
- Runtime: 172 min
"Patton" famously opens with a long shot of the illustrious general swallowed by a looming backdrop of the U.S. flag before the camera zooms to tight close-ups of the man's military uniform and regalia. A young Francis Ford Coppola co-wrote the screenplay. "Patton" swept the 1971 Academy Awards with 10 nominations and seven wins, including Best Picture and Best Actor for George C. Scott who famously refused the award after complaining publicly about the nomination and voting process.
Performance
- Directors: Donald Cammell, Nicolas Roeg
- IMDb user rating: 6.9
- Metascore: data not available
- Runtime: 105 min
Mick Jagger plays a rock star embroiled with criminals in the first of cult director Nicolas Roeg's strange exercises in cinematic delirium. Scenes of both sex and violence brim with disconcerting use of color, sound, and composition. Roeg was co-director and would direct another rock star, David Bowie, in 1976's surrealist alien rhapsody "The Man Who Fell to Earth".
Rio Lobo
- Director: Howard Hawks
- IMDb user rating: 6.8
- Metascore: 55
- Runtime: 114 min
John Wayne's career as the emblematic Hollywood cowboy was winding down in the early 1970s, with his final film, "The Shootist," coming in 1976. In "Rio Lobo," he pairs again with director Howard Hawks for what was considered a less spectacular retread of prior Western masterpieces "Rio Bravo" and "El Dorado." This was also one of Hawks' final films after a decades-long career of Hollywood classics, including "Scarface," "His Girl Friday," "The Big Sleep," and "Gentlemen Prefer Blondes."
Ryan's Daughter
- Director: David Lean
- IMDb user rating: 7.4
- Metascore: data not available
- Runtime: 206 min
"Ryan's Daughter" was the critical low point of director David Lean's otherwise celebrated career, which included in years prior such acclaimed epics as "Doctor Zhivago," "Lawrence of Arabia," and "The Bridge on the River Kwai." "Ryan's Daughter" is a retelling of the novel "Madame Bovary" set in World War I-era Ireland and starring Robert Mitchum as the duped husband and Sarah Miles as the slut-shamed adulteress whose affair gets colored as a betrayal of both home and country.
Scrooge
- Director: Ronald Neame
- IMDb user rating: 7.5
- Metascore: 58
- Runtime: 113 min
This popular musical adaptation of Charles Dickens' "A Christmas Carol" is one of countless films recounting the story of the iconic holiday grump who loosens his heart and purse strings after visits from ghosts. Albert Finney starred as the titular miser and his performance endures as one of the best Scrooges ever. He won the Best Actor Golden Globe in a Musical or Comedy. Finney performs the song "I Hate People" as he strolls through meticulously recreated Victorian London streets and set pieces.
Soldier Blue
- Director: Ralph Nelson
- IMDb user rating: 6.9
- Metascore: data not available
- Runtime: 112 min
"Soldier Blue" is considered one of the most violent films of all time. The most extreme violent scenes were cut after the film received an 'X' rating. It's a revisionist Western based on true events in which the American cavalry commits atrocities on Cheyenne women and children. The film purportedly makes overt commentary on American offenses during the Vietnam War, specifically the My Lai Massacre which may account for its unpopularity with U.S. audiences.
The Aristocats
- Director: Wolfgang Reitherman
- IMDb user rating: 7.1
- Metascore: 66
- Runtime: 78 min
This Disney animated film recycles the "Lady and the Tramp" plotline pairing an "alley cat" with a feline socialite, and the two embark on song-filled adventures. Eva Gabor voices the dialogue for the sophisticated cat duchess, and Phil Harris is the scruffy tomcat. The film isn't a notable entry from Disney's classic era.
The Ballad of Cable Hogue
- Director: Sam Peckinpah
- IMDb user rating: 7.2
- Metascore: data not available
- Runtime: 121 min
This comedic Western struck audiences as a surprise from a director known for hyper violence. In this Western, part of the New Hollywood bent toward revision, Jason Robards plays a lone cowboy left to die who prevails and starts a frontier life with a retired prostitute. An automobile shows up, marking his demise, and symbolically, the end of the Wild West.
The Bird with the Crystal Plumage
- Director: Dario Argento
- IMDb user rating: 7.2
- Metascore: data not available
- Runtime: 96 min
"The Bird with the Crystal Plumage" was Italian director Dario Argento's debut film, and it features what became his characteristic horror style. This thriller about a murder uses slick, flashy color and compositions that are both arty and overwrought. The film has a glamorous macabre aesthetic and pulpy plotline.
The Conformist
- Director: Bernardo Bertolucci
- IMDb user rating: 8
- Metascore: 100
- Runtime: 113 min
Considered a masterpiece of visual style, Bernardo Bertolucci's lavish and expressionistic aesthetic enhances its theme about how a man can be seduced by the desire to conform. Set during the fascist Mussolini era, a man succumbs to orders by the secret police to betray and kill his former professor, and the film explores how someone can be compelled to do so.
The Molly Maguires
- Director: Martin Ritt
- IMDb user rating: 6.9
- Metascore: 62
- Runtime: 124 min
Sean Connery and Richard Harris star in this bleak drama about workers standing up to corporate greed. Harris plays a company mole sent to spy on unionizing workers. Connery is a labor organizer in this languorous drama, much of which is set in a dark coal mine. The theme goes along with the period's counterculture bent, but audiences stayed away.
The Out of Towners
- Director: Arthur Hiller
- IMDb user rating: 7.1
- Metascore: 72
- Runtime: 101 min
Neil Simon wrote this comedy about a homespun Ohio couple who head to the Big Apple for the husband's job interview and endure all manner of comedic indignity as the fish out of water. Jack Lemmon plays the exasperated patriarch with his quick-talking humor, while Sandy Dennis is his timorous wife who longs to head back to the calm of the Midwest.
The Private Life of Sherlock Holmes
- Director: Billy Wilder
- IMDb user rating: 7.1
- Metascore: data not available
- Runtime: 125 min
The streetscapes and parlor rooms that make up Victorian England are remarkably detailed in Billy Wilder's straightforward tale of a Sherlock Holmes mystery. The enigma involves 12 "midgets" missing from a circus and the film displays retrograde social attitudes as it celebrates the white male genius of Holmes as an unimpeachable authority on all topics.
The Twelve Chairs
- Director: Mel Brooks
- IMDb user rating: 6.5
- Metascore: data not available
- Runtime: 94 min
In his 1970 review, Roger Ebert asserted that Mel Brooks' farce "uses comedy not just for laughs but as a tool for examining the human condition." The broad comedy with plenty of absurdist slapstick follows an unscrupulous priest (Dom DeLuise) as he tries to steal an inheritance sewn into one of 12 chairs scattered across the land.
The Wild Child
- Director: François Truffaut
- IMDb user rating: 7.5
- Metascore: 94
- Runtime: 83 min
French auteur François Truffaut plays an upper-class doctor who rescues a Tarzan-like child from the wild and offers him a civilized life. The film was based on a true case and returns to Truffaut's familiar themes of the irrepressible spirit of young boys forced to conform (as in his earlier "The 400 Blows"), and the film's black-and-white cinematography aligns with the sometimes somber, yet poetic, tone.
There Was a Crooked Man...
- Director: Joseph L. Mankiewicz
- IMDb user rating: 7
- Metascore: data not available
- Runtime: 126 min
This prison-in-the-Old-West action film stars Henry Fonda as a righteous warden looking to bring order to a violent, isolated Arizona slammer. He enlists a convicted robber (Kirk Douglas) as a partner on the inside. The word "crooked" in the title refers to corruption, and themes revolve around double-crosses and ruthless dishonor after prison riots and escapes. Making matters more dangerous, the loot everyone's after rests in a pit of reliably viperous rattlesnakes.
They Call Me Trinity
- Director: Enzo Barboni
- IMDb user rating: 7.5
- Metascore: data not available
- Runtime: 113 min
Italian comedy duo Terence Hill and Bud Spencer play brothers, drifter bandit cowboys, who embed in a Mormon settlement after the brother named Trinity plans to marry two sisters he's fallen in love with in this super spoof of the spaghetti Western genre. The final shootout is rife with slapstick antics, and the film spawned a sequel and spinoffs.
Tora! Tora! Tora!
This big budget retelling of the bombing of Pearl Harbor was a box office disappointment in the United States, but reportedly a huge hit in Japan. The movie meticulously recreates the preparation by the Japanese military and then the actual attack. The film was nominated for several technical Academy Awards, but reviewers found it dry and boring rather than rousing. 
Tristana
- Director: Luis Buñuel
- IMDb user rating: 7.5
- Metascore: 93
- Runtime: 99 min
Director Luis Buñuel directed some of the most significant films in cinema history, including "Un Chien Andalou" in 1929, a collaboration with Salvador Dali that introduced surrealism in cinema, and "The Exterminating Angel" in 1967, a blistering critique of the Spanish upper class. In "Tristana," Buñuel's bizarre, masochistic bent is on display in surreal images of decapitation and amputation in a story starring Catherine Deneuve and Franco Nero.
Two Mules for Sister Sara
- Director: Don Siegel
- IMDb user rating: 7
- Metascore: 62
- Runtime: 116 min
Shirley MacLaine plays the nun Sara (who may not be what she seems) as she schemes to help Mexican rebels against the French intervention of the 1860s. Sara pairs up with a lone cowboy (Clint Eastwood) who saves her from a harrowing assault in the opening sequence, and romantic tension builds amid the warring factions.
Valerie and Her Week of Wonders
- Director: Jaromil Jires
- IMDb user rating: 7.2
- Metascore: data not available
- Runtime: 77 min
Jaromil Jires' surrealist coming-of-age rhapsody filled with folklore, lush visual compositions, and vampires, is considered a film of the Czechoslovak New Wave. It follows a 13-year-old girl's experiences in a realistic forest and village settings that are also dreamlike. The film has a fairy tale vibe infused with horror and humor as it explores her awakening in scenes that often feel exploitative since the actress, Jaroslava Schallerová, is clearly underage.
Wanda
- Director: Barbara Loden
- IMDb user rating: 7.1
- Metascore: data not available
- Runtime: 102 min
Barbara Loden's first and only film, in which she also starred, has been revived as a feminist masterpiece of the New Hollywood though it was little seen when it premiered in 1970, despite winning an award at the Venice International Film Festival. The film style of "Wanda" engages in a starkly beautiful neorealistic aesthetic as it follows a woman who's left her husband and children to drift into bars, random lovers, and crime.
Woodstock
- Director: Michael Wadleigh
- IMDb user rating: 8.2
- Metascore: data not available
- Runtime: 184 min
The Woodstock music festival attracted 500,000 "kids," hippies of the counterculture, who flocked to a farm in rural New York to hear the major rock artists of the day. The film is read as representative of the anti-establishment, flower-power mood of a generation. The hit documentary (three hours long) cemented the event in the cultural consciousness and tied the generation to its own soundtrack, showing rock and folk music at the time as the key to the American soul.
Zabriskie Point
- Director: Michelangelo Antonioni
- IMDb user rating: 7
- Metascore: data not available
- Runtime: 113 min
"What's going to make white people revolutionary?" asks a white woman in an early scene in Italian auteur Michelangelo Antonioni's follow-up to his acclaimed "Blowup" from 1966. The film starts with a group of students discussing strategies for protesting, shot in neorealist form. But by the film's end, the style shifts to abstract dream-like explosions (with a Pink Floyd score) set against awe-inspiring Death Valley locations. The film was lambasted by critics at the time of its release as a ridiculous misfire about American counterculture.