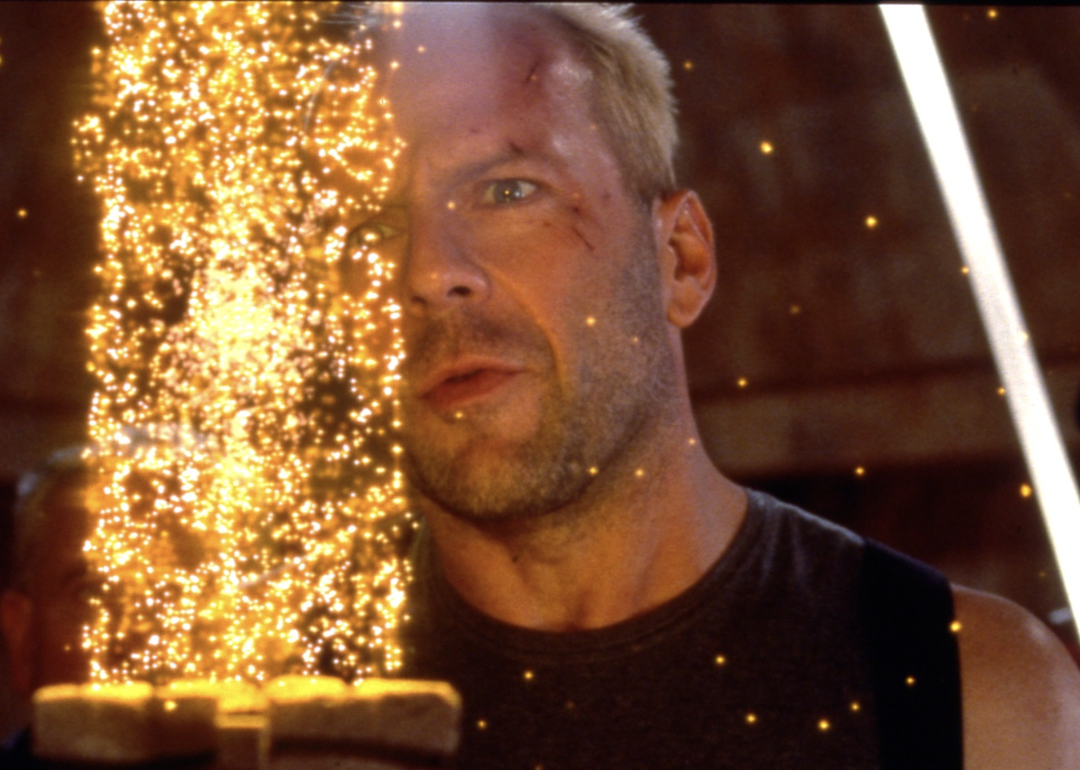 Sony Pictures Entertainment
Best '90s sci-fi movies
People tend to think the movies that they grew up watching represented the golden era of cinema. Those who came of age in the 1950s feel like they don't make thrillers like "Rear Window" and "Vertigo" these days, and children of the 1960s stand by the spaghetti Westerns of their time. Anyone who grew up in the 1970s probably believes science-fiction movies peaked in that decade, when director George Lucas combined elements of the genre with fantasy to make the legendary "Star Wars: Episode IV - A New Hope," kicking off one of the greatest movie trilogies ever. But 1990s kids probably have a thing or two to say about that.
The last decade of the 20th century produced some of the most groundbreaking sci-fi effects in cinematic history—in fact, some film historians say special effects peaked in the 1990s when computer-generated imagery (better known as CGI) was laid over real backgrounds, a la the early "Jurassic Park" movies, allowing viewers to connect with the fictional world portrayed on screen. In the 1990s, viewers were on the edge of their seats as they were sucked into sci-fi worlds via a mix of special effects and real-life scenery, like the iconic bullet slow-mo moment in "The Matrix," the liquid-metal Arnold Schwarzenegger in "Terminator 2: Judgment Day," or the skeleton airport scanner in "Total Recall."
As CGI has advanced, entire worlds are being created on computers and via green screen, without grounding them in reality. In an article for "Variety," critic Brian Lowry wrote of the CGI in 2015's "Avengers: Age of Ultron," "The ability to mount enormous battles featuring multiple super-powered characters … has become its own trap. And while the results can be visually ­astounding, the movies regularly feel as lifeless and mechanized as the technology responsible for bringing those visions to fruition."
To look back on those glory days of sci-fi effects, Stacker compiled a list of the best '90s sci-fi movies based on our own Stacker score, a weighted index split evenly between IMDb user rating and Metascore. To qualify, the film had to have sci-fi as one of its genres on IMDb, have a Metascore, and have at least 5,000 IMDb user votes. Data was collected in November 2022 and ties were broken by votes.
From "Mars Attacks!" to "The Matrix" and "Face/Off" to "The Fifth Element," see how your favorite '90s sci-fi flick stacks up.
#50. Mars Attacks! (1996)
- Director: Tim Burton
- Stacker score: 73.4
- IMDb user rating: 6.4
- Metascore: 52
- Runtime: 106 minutes
#49. Event Horizon (1997)
- Director: Paul W.S. Anderson
- Stacker score: 73.7
- IMDb user rating: 6.6
- Metascore: 35
- Runtime: 96 minutes
#48. Alien³ (1992)
- Director: David Fincher
- Stacker score: 74.1
- IMDb user rating: 6.4
- Metascore: 59
- Runtime: 114 minutes
#47. Star Wars: Episode I - The Phantom Menace (1999)
- Director: George Lucas
- Stacker score: 74.3
- IMDb user rating: 6.5
- Metascore: 51
- Runtime: 136 minutes
#46. Star Trek: Insurrection (1998)
- Director: Jonathan Frakes
- Stacker score: 74.7
- IMDb user rating: 6.4
- Metascore: 64
- Runtime: 103 minutes
#45. Demolition Man (1993)
- Director: Marco Brambilla
- Stacker score: 74.7
- IMDb user rating: 6.7
- Metascore: 34
- Runtime: 115 minutes
#44. Darkman (1990)
- Director: Sam Raimi
- Stacker score: 74.8
- IMDb user rating: 6.4
- Metascore: 65
- Runtime: 96 minutes
#43. Flatliners (1990)
- Director: Joel Schumacher
- Stacker score: 74.8
- IMDb user rating: 6.5
- Metascore: 55
- Runtime: 115 minutes
#42. Space Jam (1996)
- Director: Joe Pytka
- Stacker score: 75.2
- IMDb user rating: 6.5
- Metascore: 59
- Runtime: 88 minutes
#41. The Lost World: Jurassic Park (1997)
- Director: Steven Spielberg
- Stacker score: 75.2
- IMDb user rating: 6.5
- Metascore: 59
- Runtime: 129 minutes
#40. The Rocketeer (1991)
- Director: Joe Johnston
- Stacker score: 75.4
- IMDb user rating: 6.5
- Metascore: 61
- Runtime: 108 minutes
#39. The Faculty (1998)
- Director: Robert Rodriguez
- Stacker score: 75.4
- IMDb user rating: 6.5
- Metascore: 61
- Runtime: 104 minutes
#38. Armageddon (1998)
- Director: Michael Bay
- Stacker score: 75.5
- IMDb user rating: 6.7
- Metascore: 42
- Runtime: 151 minutes
#37. Star Trek: Generations (1994)
- Director: David Carson
- Stacker score: 75.8
- IMDb user rating: 6.6
- Metascore: 55
- Runtime: 118 minutes
#36. Blast from the Past (1999)
- Director: Hugh Wilson
- Stacker score: 76.1
- IMDb user rating: 6.7
- Metascore: 48
- Runtime: 112 minutes
#35. Teenage Mutant Ninja Turtles (1990)
- Director: Steve Barron
- Stacker score: 76.5
- IMDb user rating: 6.7
- Metascore: 51
- Runtime: 93 minutes
#34. Kafka (1991)
- Director: Steven Soderbergh
- Stacker score: 77.0
- IMDb user rating: 6.8
- Metascore: 46
- Runtime: 98 minutes
#33. Bicentennial Man (1999)
- Director: Chris Columbus
- Stacker score: 77.6
- IMDb user rating: 6.9
- Metascore: 42
- Runtime: 132 minutes
#32. The Thirteenth Floor (1999)
- Director: Josef Rusnak
- Stacker score: 78.0
- IMDb user rating: 7.0
- Metascore: 36
- Runtime: 100 minutes
#31. Stargate (1994)
- Director: Roland Emmerich
- Stacker score: 78.7
- IMDb user rating: 7.0
- Metascore: 42
- Runtime: 116 minutes
#30. Until the End of the World (1991)
- Director: Wim Wenders
- Stacker score: 78.8
- IMDb user rating: 6.8
- Metascore: 63
- Runtime: 158 minutes
#29. eXistenZ (1999)
- Director: David Cronenberg
- Stacker score: 79.3
- IMDb user rating: 6.8
- Metascore: 68
- Runtime: 97 minutes
#28. Blade (1998)
- Director: Stephen Norrington
- Stacker score: 80.3
- IMDb user rating: 7.1
- Metascore: 47
- Runtime: 120 minutes
#27. Independence Day (1996)
- Director: Roland Emmerich
- Stacker score: 80.5
- IMDb user rating: 7.0
- Metascore: 59
- Runtime: 145 minutes
#26. The X Files (1998)
- Director: Rob Bowman
- Stacker score: 80.6
- IMDb user rating: 7.0
- Metascore: 60
- Runtime: 121 minutes
#25. Strange Days (1995)
- Director: Kathryn Bigelow
- Stacker score: 82.3
- IMDb user rating: 7.1
- Metascore: 66
- Runtime: 145 minutes
#24. Cube (1997)
- Director: Vincenzo Natali
- Stacker score: 82.8
- IMDb user rating: 7.2
- Metascore: 61
- Runtime: 90 minutes
#23. Starship Troopers (1997)
- Director: Paul Verhoeven
- Stacker score: 82.8
- IMDb user rating: 7.3
- Metascore: 51
- Runtime: 129 minutes
#22. Mystery Science Theater 3000: The Movie (1996)
- Director: Jim Mallon
- Stacker score: 83.2
- IMDb user rating: 7.2
- Metascore: 65
- Runtime: 73 minutes
#21. Star Trek VI: The Undiscovered Country (1991)
- Director: Nicholas Meyer
- Stacker score: 83.2
- IMDb user rating: 7.2
- Metascore: 65
- Runtime: 110 minutes
#20. Back to the Future Part III (1990)
- Director: Robert Zemeckis
- Stacker score: 84.3
- IMDb user rating: 7.4
- Metascore: 55
- Runtime: 118 minutes
#19. Jin-Roh: The Wolf Brigade (1999)
- Director: Hiroyuki Okiura
- Stacker score: 84.7
- IMDb user rating: 7.4
- Metascore: 59
- Runtime: 102 minutes
#18. Men in Black (1997)
- Director: Barry Sonnenfeld
- Stacker score: 84.9
- IMDb user rating: 7.3
- Metascore: 71
- Runtime: 98 minutes
#17. Pi (1998)
- Director: Darren Aronofsky
- Stacker score: 85.0
- IMDb user rating: 7.3
- Metascore: 72
- Runtime: 84 minutes
#16. Total Recall (1990)
- Director: Paul Verhoeven
- Stacker score: 85.6
- IMDb user rating: 7.5
- Metascore: 57
- Runtime: 113 minutes
#15. Galaxy Quest (1999)
- Director: Dean Parisot
- Stacker score: 85.9
- IMDb user rating: 7.4
- Metascore: 70
- Runtime: 102 minutes
#14. Contact (1997)
- Director: Robert Zemeckis
- Stacker score: 86.1
- IMDb user rating: 7.5
- Metascore: 62
- Runtime: 150 minutes
#13. Face/Off (1997)
- Director: John Woo
- Stacker score: 86.1
- IMDb user rating: 7.3
- Metascore: 82
- Runtime: 138 minutes
#12. The Fifth Element (1997)
- Director: Luc Besson
- Stacker score: 86.1
- IMDb user rating: 7.6
- Metascore: 52
- Runtime: 126 minutes
#11. The City of Lost Children (1995)
- Director: Marc Caro
- Stacker score: 87.3
- IMDb user rating: 7.5
- Metascore: 73
- Runtime: 112 minutes
#10. Dark City (1998)
- Director: Alex Proyas
- Stacker score: 87.6
- IMDb user rating: 7.6
- Metascore: 66
- Runtime: 100 minutes
#9. Star Trek: First Contact (1996)
- Director: Jonathan Frakes
- Stacker score: 88.1
- IMDb user rating: 7.6
- Metascore: 71
- Runtime: 111 minutes
#8. Gattaca (1997)
- Director: Andrew Niccol
- Stacker score: 89.5
- IMDb user rating: 7.8
- Metascore: 64
- Runtime: 106 minutes
#7. Batman: Mask of the Phantasm (1993)
- Director: Kevin Altieri
- Stacker score: 89.6
- IMDb user rating: 7.8
- Metascore: 65
- Runtime: 76 minutes
#6. Ghost in the Shell (1995)
- Director: Mamoru Oshii
- Stacker score: 91.8
- IMDb user rating: 7.9
- Metascore: 76
- Runtime: 83 minutes
#5. 12 Monkeys (1995)
- Director: Terry Gilliam
- Stacker score: 92.7
- IMDb user rating: 8.0
- Metascore: 74
- Runtime: 129 minutes
#4. Jurassic Park (1993)
- Director: Steven Spielberg
- Stacker score: 94.2
- IMDb user rating: 8.2
- Metascore: 68
- Runtime: 127 minutes
#3. The Iron Giant (1999)
- Director: Brad Bird
- Stacker score: 94.9
- IMDb user rating: 8.1
- Metascore: 85
- Runtime: 86 minutes
#2. Terminator 2: Judgment Day (1991)
- Director: James Cameron
- Stacker score: 99.2
- IMDb user rating: 8.6
- Metascore: 75
- Runtime: 137 minutes
#1. The Matrix (1999)
- Director: Lana Wachowski
- Stacker score: 100.0
- IMDb user rating: 8.7
- Metascore: 73
- Runtime: 136 minutes