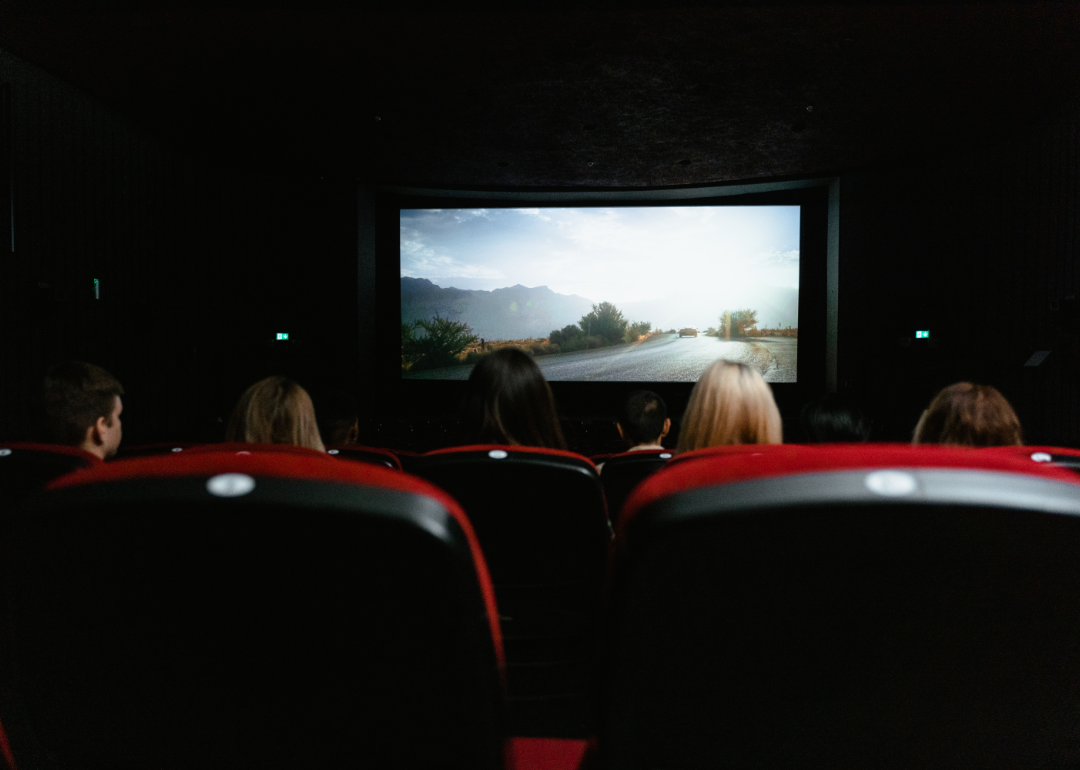 Best Halloween movies
Halloween might be right around the corner, but per tradition, most Americans have already begun celebrating. Far more than a single night of costumes and candy, Halloween is basically a month-long event, which brings forth an endless bevy of spooky lawn decorations, haunted attractions, and, naturally, scary movie marathons. Still, it's worth noting that the majority of scary movies don't tie October's foremost festivity into the premise, while a slew of other movies feature Halloween as a plot point, but don't necessarily fall under the horror genre.
Of course, no list of Halloween-themed films or scary movies alike is complete without mention of John Carpenter's 1978 classic, aptly titled "Halloween." The film series featuring Michael Myers, a serial killer tearing through a small Midwestern town, brought slasher films to cultural relevance in the 1980s. Though the subgenre has fallen out of favor in the 21st century, the newest installment, starring original scream queen Jamie Lee Curtis as Laurie Strode, might just bring it back in time for next Halloween. It takes place in a universe where all the previous sequels and reboots never happened at all, which is probably for the best given the lackluster reviews of most of the previous installments. If early reactions are anything to go by, the new sequel might very well be on this list next year.
Until then, the first one will have to suffice, alongside with the rest of this list, which consists of Halloween movies in the most literal sense. To compile the list, Stacker went to IMDb and looked for movies where Halloween plays a central role in the plot. Only English-language feature films with at least 5,000 user votes were considered eligible, and in the case of a rating tie, the film with more user votes ranked higher on the list. Some of the films are scary; others are not, but all of them feature the spookiest day of the year. Counting down from 17, here are the best Halloween movies.
ALSO: Halloween by the numbers
#17. Flatliners
Year released: 1990
IMDb rating: 6.6
IMDb votes: 72,680
Genre: Drama, Horror, Sci-Fi
In this psychological thriller from 1990, five medical school students undergo near-death experiences and soon find themselves being haunted by demons from their own respective pasts. Directed by Joel Schumacher, the film stars Julia Roberts, Kiefer Sutherland, and Kevin Bacon. One of its most harrowing scenes takes place on Halloween night, when Dr. Rachel Mannus (Roberts) decides to flatline, almost to the point of being gone for good. In 2017, a subpar remake was released to little fanfare.
#16. Monster House
Year released: 2006
IMDb rating: 6.6
IMDb votes: 85,386
Genre: Animation, Adventure, Comedy
"Rick and Morty" co-creator Dan Harmon co-wrote the screenplay for this 3D computer-animated adventure comedy, about three teenagers who come up against a living, breathing haunted house. As one might expect, the ultimate showdown between the teens and the house goes down on Halloween night. Featured in the film are the voices of Maggie Gyllenhaal, Kevin James, and Steve Buscemi.
#15. Lady in White
Year released: 1988
IMDb rating: 6.7
IMDb votes: 5,422
Genre: Fantasy, Horror, Mystery
An overlooked horror film, "The Lady in White" primarily takes place in 1962, and stars Lukas Haas as a young boy named Frankie Scarlatti. On Halloween night, Frankie gets trapped in a classroom closet, where he witnesses the ghostly reenactment of a murder from years ago. Irrevocably haunted by what he saw, Frankie soon finds himself being stalked by the killer, who might be someone he knows.
#14. May
Year released: 2002
IMDb rating: 6.7
IMDb votes: 29,986
Genre: Drama, Horror
Angela Bettis plays the title character in this independent horror flick from 2002, about a young woman who struggles to connect with other human beings. Instead, she seeks solace in a strange doll. After the doll gets broken, May decides to replace it using real human body parts, and thus embarks on a vicious Halloween killing spree. Made on a shoestring budget, the film endures as a modern-day cult classic. Anna Faris co-stars.
#12. Ginger Snaps
Year released: 2000
IMDb rating: 6.8
IMDb votes: 36,938
Genre: Drama, Fantasy, Horror
Exploring themes of teenage puberty through a rather twisted lens, this 2000 horror movie centers on two death-obsessed sisters, both of whom are outcasts in their suburban town. After the older sister gets bitten by a werewolf, her body begins to radically transform, as do her desires. Soon enough, the siblings are in a race against time, trying to cure the older sister of her uncontrollable disease before the next full moon, which happens to fall on Halloween night.
#11. Trick 'r Treat
Year released: 2007
IMDb rating: 6.8
IMDb votes: 71,288
Genre: Comedy, Horror, Thriller
Interweaving five grisly (albeit semi-comedic) stories together on a single Halloween night, this heralded cult classic makes for quintessential October viewing. Accordingly, it features a mischievous prank gone awry, a serial killing principal, and a supernatural trick-or-treater. Released straight-to-DVD in 2009, the movie unexpectedly spawned a mini-franchise, which included a graphic novel, a coffee table book, a comic book, merchandise, and a sequel. Former "X-Men 2" castmates Anna Paquin and Brian Cox star.
#10. Hocus Pocus
Year released: 1993
IMDb rating: 6.8
IMDb votes: 73,501
Genre: Comedy, Family, Fantasy
What began as a bedtime story that writer David Kirschner invented for his kids eventually became this cult Disney movie from 1993. It stars Bette Midler, Sarah Jessica Parker, and Kathy Najimy as three 17th-century witches, who are brought back to life in modern times. With precious little time on their hands, the witches must feast on children's souls before Halloween is over, lest they disintegrate at sunrise. The movie underperformed upon its initial release, but has since become an October staple thanks to regular airings on Disney Channel and Freeform. Thora Birch co-stars.
#9. The Addams Family
Year released: 1991
IMDb rating: 6.9
IMDb votes: 110,189
Genre: Comedy, Fantasy
The short-lived but iconic TV series soared onto the big screen with this 1991 adaptation, starring Anjelica Huston, Raul Julia, Christopher Lloyd, and Christina Ricci in respective lead roles. Chronicling the exploits of the truly eccentric Addams family, the movie was a box office smash, as well as a veritable pop culture phenom. As one might imagine, Halloween is a big deal in this kooky household, so it's no surprise that the celebration plays a central role toward the end of the film.
#8. Affliction
Year released: 1997
IMDb rating: 7
IMDb votes: 13,321
Genre: Drama, Mystery, Thriller
Just because a movie incorporates Halloween, that doesn't mean viewers should automatically expect an endless string of spooky thrills. So goes this gripping drama from 1997, about an alcoholic cop (Nick Nolte) who grapples with his deteriorating mental state while investigating a small town murder. One of the movie's most telling exchanges—involving the main character and his estranged daughter—occurs on Halloween night. That said, "Affliction" is not a Halloween film in any real sense, even if it is kind of terrifying in its own way. Sissy Spacek co-stars.
#7. ParaNorman
Year released: 2012
IMDb rating: 7
IMDb votes: 83,869
Genre: Animation, Adventure, Comedy
From 3D stop-motion animation studio Laika came 2012's "ParaNorman," in which a young boy squares off against ghosts, witches, zombies, and clueless adults, all while trying to spare his town from an evil curse. Not only does the film pay tribute to a slew of classic horror flicks, but it even features a snippet of John Carpenter's original "Halloween" theme music. As with all Laika Studios productions, making the film was a downright painstaking endeavor, and over 31,000 individual facial parts were 3D-printed for the process. Lending their voices to the film are Anna Kendrick, Leslie Mann, Casey Affleck, Christopher Mintz-Plasse, and Jeff Garlin.
#6. The Little Girl Who Lives Down the Lane
Year released: 1976
IMDb rating: 7.1
IMDb votes: 11,006
Genre: Drama, Horror, Mystery
This 1976 mystery drama stars Jodie Foster as Rynn Jacobs, a young girl who lives alone and leads a secret double life. As various townspeople try to figure out what Rynn is up to, their own casual prejudices are exposed, resulting in a somewhat unflattering depiction of small-town America. The narrative kicks off on Halloween night, with Rynn celebrating her 13th birthday in solitude. Although the movie opened to mixed reviews (and some controversy surrounding a nude scene), it has since gone on to achieve cult status among critics and audiences alike. Martin Sheen co-stars. 
#5. The Crow
Year released: 1994
IMDb rating: 7.6
IMDb votes: 151,191
Genre: Action, Drama, Fantasy
This 1994 cult hit takes place in Detroit on the night before Halloween, better known as Devil's Night, when all the evildoers come out to play. It's on this particular night that Eric Draven (Brandon Lee) and his fiancée are murdered by ruthless thugs. One year later, on the same night, Eric returns from the grave in pursuit of revenge. His journey goes down against a relentlessly dark backdrop of dimly lit set pieces and propulsive industrial music.
#4. Halloween
Year released: 1978
IMDb rating: 7.8
IMDb votes: 187,288
Genre: Horror, Thriller
If there's one Halloween movie to rule them all, it's this one from 1978, in which serial killer Michael Myers terrorizes the inhabitants of Haddonfield, Illinois. As one might expect, most of the action takes place on Halloween night, hence the name. Far more than a surprise hit, John Carpenter's iconic slasher flick sparked a variety of genre trends, many of which continue to this day. That's not to mention the endless string of sequels and reboots or the 2018 follow-up currently in theaters. Modern horror begins here.
#3. E.T. the Extra-Terrestrial
Year released: 1982
IMDb rating: 7.9
IMDb votes: 324,139
Genre: Family, Sci-Fi
Steven Spielberg's family classic doesn't necessarily make for essential October viewing, but on the other hand, there's no wrong month to revisit this timeless film. It centers on the symbiotic relationship between a young boy and his alien friend, the latter of whom must return home before perishing here on Earth. One of the film's most memorable sequences occurs during Halloween, when E.T. dresses up as a ghost in order to walk through the neighborhood undetected. 
#2. The Nightmare Before Christmas
Year released: 1993
IMDb rating: 8
IMDb votes: 257,280
Genre: Animation, Family, Fantasy
Delivering holiday fun for all ages, "The Nightmare Before Christmas" remains a masterpiece of stop-motion animation, even decades after its initial release. Based on a story and characters created by Tim Burton, the movie opens in Halloweentown, where grotesque thrills are so commonplace that local leader Jack Skellington has grown tired of them. As a result, he ventures into Christmastown, where he discovers a wondrous new world of perpetual holiday cheer. Hoping to bring some of the magic back home, Skellington kidnaps Santa Claus, thereby kicking off a string of disastrous events.  
#1. Donnie Darko
Year released: 2001
IMDb rating: 8.1
IMDb votes: 676,425
Genre: Drama, Sci-Fi, Thriller
This quintessential cult hit stars Jake Gyllenhaal as the title character, a teenage boy who experiences a range of metaphysical phenomenon after narrowly escaping death. As young Donnie grapples with an ominous rabbit man and slithering liquid spears, a clock ticks down to the end of the world. The action culminates on Halloween night, when Donnie confronts his inevitable fate. Maggie Gyllenhaal and Patrick Swayze co-star.