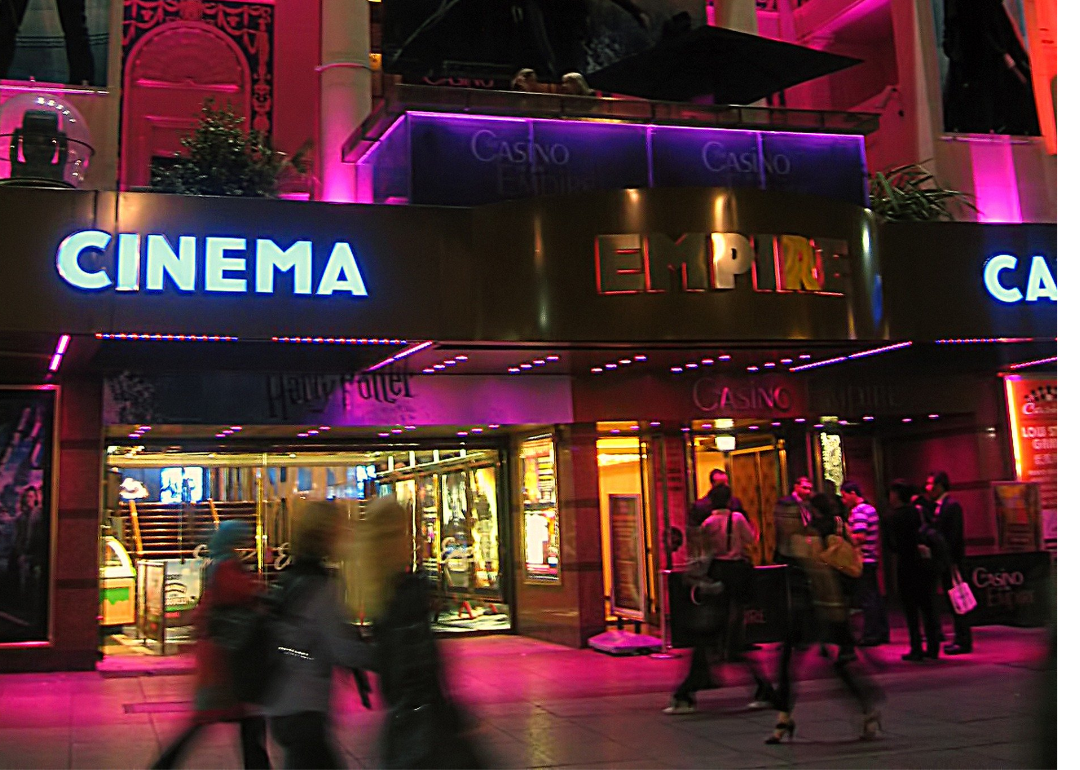 Best horror movies of 2019
Best horror movies of 2019
2019 was a banner year for horror fans. Reboots like "Pet Sematary" and "Child's Play" put a fresh spin on old favorites. New series installments like "Annabelle Comes Home" added even more heft to already impressive franchises. While its ticket sales were dwarfed by the likes of "Joker" and "Avengers: Endgame," "It Chapter 2" delivered box office gold. From supernatural thrillers and tales of predatory satanic cults to fun monster movies and the outrageously campy, there was something for everyone in 2019—assuming that everyone loves a good scare.
In order to identify the 30 best horror movies of the year, Stacker compiled IMDb data from November 2019 on all the year's horror films and ranked them according to their user ratings, which run on a scale from one to 10. Ties went to the movie with the most votes. In order to make the list, all films had to be listed as "horror" on at least two major databases, including, but not limited to IMDb, Metacritic, Wikipedia, Letterboxd, and Rotten Tomatoes. Films were required to have been released in the U.S. theatrically or on streaming services between Jan. 1, 2019, and Dec. 31, 2019, and they were also required to have a minimum of 2,000 votes on IMDb. Bollywood productions were not considered.
At Stacker, we recognize that genre is meant to help describe and communicate the tone and style of a film, not to serve as a limiting factor on what films can and cannot be. There are no hard and fast lines that define horror, and we think leaning into more open interpretations of what fits into certain genres is best practice for getting a pool of films that represent all possible expressions of a particular genre. Every film on the list has been considered according to the cinematic history and development of horror.
#30. Velvet Buzzsaw
- Director: Dan Gilroy
- IMDb user rating: 5.7
- Votes: 45,372
- Metascore: 61
- Runtime: 113 min
No one could ever accuse "Velvet Buzzsaw" of being formulaic. The genre-bending satire/horror/thriller/comedy does a skillful job of lampooning the strange and pretentious culture of the high-end art world while maintaining an eerie sense of impending doom throughout. Jake Gyllenhaal turns in a quirky and intensely passionate performance, as does the man whose persona defines those adjectives, none other than John Malkovich.
#29. Eli
- Director: Ciaran Foy
- IMDb user rating: 5.8
- Votes: 17,056
- Metascore: data not available
- Runtime: 98 min
Even some of the movie's most vocal detractors lauded "Eli" for its willingness to take bold risks, but chutzpah is not this disturbing tale's only saving grace. The trapped-in-a-torturous-asylum theme eventually gives way to cult ritual horror, all of which is complemented by several late-movie swerves that—unlike so many otherwise promising horror movies—carry you all the way to the closing credits.
#28. Pet Sematary
- Directors: Kevin Kölsch, Dennis Widmyer
- IMDb user rating: 5.8
- Votes: 61,778
- Metascore: 57
- Runtime: 101 min
The 2019 "Pet Sematary" reboot could have lived and died and lived again in the shadow of the 1989 original, but John Lithgow did well with the impossible task of filling the enormous shoes of Fred Gwynne's Jud Crandall—and Jason Clarke shines as Dr. Creed. The movie does justice to its source material, which happens to be the seminal work of Stephen King, the undisputed horror master of his generation.
You may also like: Best movies that came from books
#27. The Addams Family
- Directors: Greg Tiernan, Conrad Vernon
- IMDb user rating: 5.9
- Votes: 6,904
- Metascore: 46
- Runtime: 86 min
Another 2019 reboot that honors a classic is "The Addams Family," an animated addition to the long-enduring franchise. While it probably skews a bit too kid-friendly for old-school fans, it's got the kookiness to serve as a tip of the cap to the original while introducing a new generation of fans to Gomez (Oscar Isaac), Wednesday (Chloe Grace Moretz), Uncle Fester (Nick Kroll), and the rest.
#26. The Prodigy
- Director: Nicholas McCarthy
- IMDb user rating: 5.9
- Votes: 16,673
- Metascore: 45
- Runtime: 92 min
"The Prodigy" injected a welcome dose of fun into the normally drab first quarter of the year, provided your idea of fun is a demon-child thriller driven by better-than-average adolescent acting. It was disturbing enough to satisfy fans of the bad-seed genre, but intriguing enough to break the mold and not come off as feeling too familiar.
#25. Child's Play
- Director: Lars Klevberg
- IMDb user rating: 5.9
- Votes: 28,515
- Metascore: 48
- Runtime: 90 min
It could be said that '80s camp horror peaked in 1988 when the world first met Chucky, and if you're going to revisit "Child's Play," it had better be good—and the 2019 remake was certainly that. Heaping doses of over-the-top violence hold true to the theme of the original, but this time, your new best friend is updated for the digital age as Chucky infiltrates a connected home system.
#24. Annabelle Comes Home
- Director: Gary Dauberman
- IMDb user rating: 5.9
- Votes: 40,149
- Metascore: 53
- Runtime: 106 min
Fans of the "Conjuring" series won't be disappointed by "Annabelle Comes Home," but the demon-doll-from-hell flick can also serve as a solid standalone film to those not in the know. A tense psychological thriller, "Annabelle Comes Home" earns a rightful place in what is arguably the greatest mainstream horror franchise of the 21st century.
#23. The Russian Bride
- Director: Michael S. Ojeda
- IMDb user rating: 6.0
- Votes: 2,490
- Metascore: data not available
- Runtime: 101 min
"The Russian Bride" is a female revenge thriller and cautionary tale that doesn't disappoint. Disturbing and anxiety-provoking, it brings next-level gore, a must-see ending, and a protagonist audiences want to root for in the form of a woman forced to save herself and her daughter after auctioning off her love to the wrong billionaire.
#22. The 16th Episode
- Director: Jerome Cohen-Olivar
- IMDb user rating: 6.1
- Votes: 3,226
- Metascore: data not available
- Runtime: 93 min
"The 16th Episode" is built from the familiar boilerplate horror theme of travelers stumbling unwittingly into their own demise, and it also retreads the now well-worn found-footage format. In doing so, however, it spices things up with a twist for the digital age—internet stars reap the consequences of their obsessive quest for more viewers. So, it's kind of like a social statement on the pitfalls of an over-connected society—only with satanic cult ritual sacrifice and a lot of blood.
#21. Clickbait
- Directors: Sophia Cacciola, Michael J. Epstein
- IMDb user rating: 6.1
- Votes: 3,724
- Metascore: data not available
- Runtime: 80 min
Running close to even with "The 16th Episode" is "Clickbait," which also takes a literal and figurative stab at horror based on the narcissism of internet fame culture. The film's directors, however, made their statement through satire—and they had the good sense to know that at 80 minutes, even movies that are only decent can punch above their weight.
#20. Scary Stories to Tell in the Dark
- Director: André Øvredal
- IMDb user rating: 6.2
- Votes: 33,207
- Metascore: 61
- Runtime: 108 min
"Scary Stories to Tell in the Dark" serves as a great set of horror training wheels for younger fans seeking an entry-level glimpse into the genre. Originalists will always insist that Alvin Schwartz's books are better, and maybe they are, but that apples-to-oranges argument does not detract from the fact that the movie is a fun, creepy homage to its best-selling source material.
#19. Crawl
- Director: Alexandre Aja
- IMDb user rating: 6.2
- Votes: 36,930
- Metascore: 60
- Runtime: 87 min
One of the most exciting monster movies in recent memory, "Crawl" delivers a one-two punch of post-hurricane rising-water anxiety coupled with "Oh, great, now the rising water is filled with man-eating alligators" stress. The greatest crocodilian creature feature since "Lake Placid," "Crawl" doesn't pretend to be something it isn't—just lots of snapping jaws and ghastly semi-submerged reptilian deaths.
#18. Happy Death Day 2U
- Director: Christopher Landon
- IMDb user rating: 6.2
- Votes: 40,623
- Metascore: 57
- Runtime: 100 min
All of the key players from the original return for another dose of ridiculousness in "Happy Death Day 2U." The murderous baby-masked sequel does justice to the first and even works hard to outdo it with outsized violence and cartoonish over-acting. FilmWeek's Amy Nicholson summed it up neatly when she wrote: "This film is basically just ridiculous nonsense. I had a ton of fun."
#17. Brightburn
- Director: David Yarovesky
- IMDb user rating: 6.2
- Votes: 53,084
- Metascore: 44
- Runtime: 90 min
For moviegoers who are wondering what it would be like if Superman were a villain, all questions will be answered in "Brightburn." It sprouts a new branch from the superhero genre tree, introduces a fascinating new origin tale, and Elizabeth Banks delivers genuine star power.
#16. Knife+Heart
- Director: Yann Gonzalez
- IMDb user rating: 6.3
- Votes: 2,380
- Metascore: 69
- Runtime: 102 min
Artsy and trashy all at once, "Knife+Heart" gave word-nerd movie critics everywhere the chance to toss around the term "giallo," which anyone with Google was then able to learn is an Italian psychological/thriller/crime subgenre. Intense and hypersexual, "Knife+Heart" recreates the world of 1970s Euro pornography—and then drenches it in blood.
#15. Little Monsters
- Director: Abe Forsythe
- IMDb user rating: 6.3
- Votes: 4,631
- Metascore: 59
- Runtime: 93 min
Just when it seemed that the zom-com well had run dry, "Little Monsters" roared into 2019 as proof that there's still room for another zombie comedy—particularly one with this much brains. Lupita Nyong'o shines as usual, and Abe Forsythe works hard to provide some separation between his movie and "Zombieland," "Shaun of the Dead," and the rest.
#14. Haunt
- Directors: Scott Beck, Bryan Woods
- IMDb user rating: 6.3
- Votes: 7,554
- Metascore: 69
- Runtime: 92 min
"Haunt" takes place in a familiar setting: a haunted house that the movie's characters can't leave and wish they'd never entered. It's fairly predictable in that the characters die in the order the audience would expect, but when they die, they die hard and ugly throughout.
#13. Escape Room
- Director: Adam Robitel
- IMDb user rating: 6.3
- Votes: 60,330
- Metascore: 48
- Runtime: 99 min
Just like "Haunt," "Escape Room" follows the misadventures of a group of people lured into a structure that's designed to kill them under the promise of a break from the drudgery of daily life. More psychological thriller than horror flick, "Escape Room" blends major scares with big, soaring production design.
#12. In Fabric
- Director: Peter Strickland
- IMDb user rating: 6.4
- Votes: 3,744
- Metascore: 87
- Runtime: 118 min
Here, too, hypercerebral movie critics couldn't help themselves from using the word "giallo" to describe "In Fabric," which is essentially a movie about a haunted dress. It's much more than that, though, with critics lauding it as an original, creepy, and memorable affair that is sure to thrill fans of Peter Strickland, while also garnering the director some new ones.
#11. The Golden Glove
- Director: Fatih Akin
- IMDb user rating: 6.7
- Votes: 4,181
- Metascore: 38
- Runtime: 115 min
"The Golden Glove" is Fatih Akin's take on real-life ghoul Fritz Honka, a German serial killer who stalked Hamburg's red-light district in the 1970s. While deep dives into the depraved minds of mass murderers are nothing new, Jonas Dassler's portrayal of Honka turned critics' heads, as did Akin's artistry in making the film.
#10. I Am Mother
- Director: Grant Sputore
- IMDb user rating: 6.8
- Votes: 53,150
- Metascore: 64
- Runtime: 113 min
"Your mom" jokes are definitely not a good idea in the company of the maternalistic robot tasked with rebuilding the world after humans go extinct in "I Am Mother." Danish-Northern Irish newcomer Clara Rugaard holds her own alongside veteran Hilary Swank in this big, visually impressive, post-apocalyptic Netflix original thriller. In the words of Times (U.K.) critic Kevin Maher, "It's great fun. And it looks nice too."
#9. It Chapter Two
- Director: Andy Muschietti
- IMDb user rating: 6.8
- Votes: 115,431
- Metascore: 58
- Runtime: 169 min
Pennywise is back in the doomed Maine town of Derry for "It Chapter Two," which follows the now-adult Losers Club as they return to their hometown to confront the clown-in-sewer curse that has long haunted it. The $91 million it took in on opening weekend was the second-biggest horror movie opening in history. The record is still held by its 2017 predecessor, "It."
#8. Us
- Director: Jordan Peele
- IMDb user rating: 6.9
- Votes: 160,983
- Metascore: 81
- Runtime: 116 min
2017's "Get Out" left neither critics nor audiences wondering if Jordan Peele's sophomore work "Us" would be worth the 116-minute expenditure—and their faith was handsomely rewarded. "Us" pits a hunted family against their evil doppelgangers in an ambitious, creative, funny, and fun film that brings out the already excellent best of Lupita Nyong'o and Elisabeth Moss.
#7. Clownado
- Director: Todd Sheets
- IMDb user rating: 7.1
- Votes: 2,196
- Metascore: data not available
- Runtime: 99 min
Sometimes, everything is spelled out right there in the title. Audiences seeking subtlety, nuance, and artistry in horror should probably avoid "Clownado." For those whose ears perk up when someone mentions murderous clowns deposited on Earth via evil tornados, their ship came in 2019.
#6. Ready or Not
- Directors: Matt Bettinelli-Olpin, Tyler Gillett
- IMDb user rating: 7.1
- Votes: 20,635
- Metascore: 64
- Runtime: 95 min
"Ready or Not" finds Samara Weaving trapped in a mansion in a deadly game of rich people stalking a naive newcomer with various weaponry. It's fun through and through, with raucous energy that endures from the opening credits to the oh-so-bloody end.
#5. Climax
- Director: Gaspar Noé
- IMDb user rating: 7.1
- Votes: 33,932
- Metascore: 67
- Runtime: 97 min
"Climax" is a barrage of sensory bombardment that is designed to recreate a psychedelic trip gone horribly wrong. The plot, after all, follows the downward spiral of a group of musicians who unwittingly chug sangria laced with acid. Awards Daily's Zhuo-Ning Su summed it up neatly in writing, "'Climax' doesn't exactly have a point to make, but as an exercise in visceral filmmaking, it passes with flying colors."
#4. Zombieland: Double Tap
- Director: Ruben Fleischer
- IMDb user rating: 7.2
- Votes: 30,742
- Metascore: 56
- Runtime: 99 min
Hard to believe as it may be, cult classic "Zombieland" was a decade old when the original cast—including Woody Harrelson, Emma Stone, Jesse Eisenberg, and Abigail Breslin—reunited for "Zombieland: Double Tap." Pure escapism, it doesn't measure up to the original—the rules of the apocalypse tutorial that continues to define the zom-com genre—but it doesn't have to. It's got the cast and the eccentricity to rise to top-five stature; just make sure you watch all the way through the closing credits.
#3. Midsommar
- Director: Ari Aster
- IMDb user rating: 7.2
- Votes: 80,172
- Metascore: 72
- Runtime: 147 min
When traveling overseas on a couple's vacation/last-ditch Hail Mary to save a dying relationship, never accompany weird villagers to an even weirder woodland ritual. This is the message of "Midsommar"—and, apparently, it's good advice. Heaping doses of sex, nudity, violence, drug use, and ritualistic violence are the order of the day in "Midsommar," which conceals its considerable length with credits-to-credits excitement, gore, and surprises.
#2. Doctor Sleep
- Director: Mike Flanagan
- IMDb user rating: 7.7
- Votes: 29,758
- Metascore: 60
- Runtime: 152 min
Although it's based on the evolution of redrum-boy Danny Torrance, "Doctor Sleep" does not try to be "The Shining"—it most certainly is, however, an excellent continuation of the Kubrick/King horror classic. In the words of KSTP-TV's Paul McGuire Grimes, "It balances those two books and the Kubrick movie really well to please movie fans and Stephen King fans."
#1. The Lighthouse
- Director: Robert Eggers
- IMDb user rating: 8.3
- Votes: 14,855
- Metascore: 83
- Runtime: 109 min
Black-and-white horror that captures the feel of the 19th-century New England landscape where it takes place, "The Lighthouse" earns its place at the top of this list. Willem Dafoe and Robert Pattinson lend their skills to this aesthetically beautiful and psychologically unsettling thriller, which, according to the Victoria Advocate's Joe Friar, by the end "the audience feels like it has ascended from some sort of cinema hell."