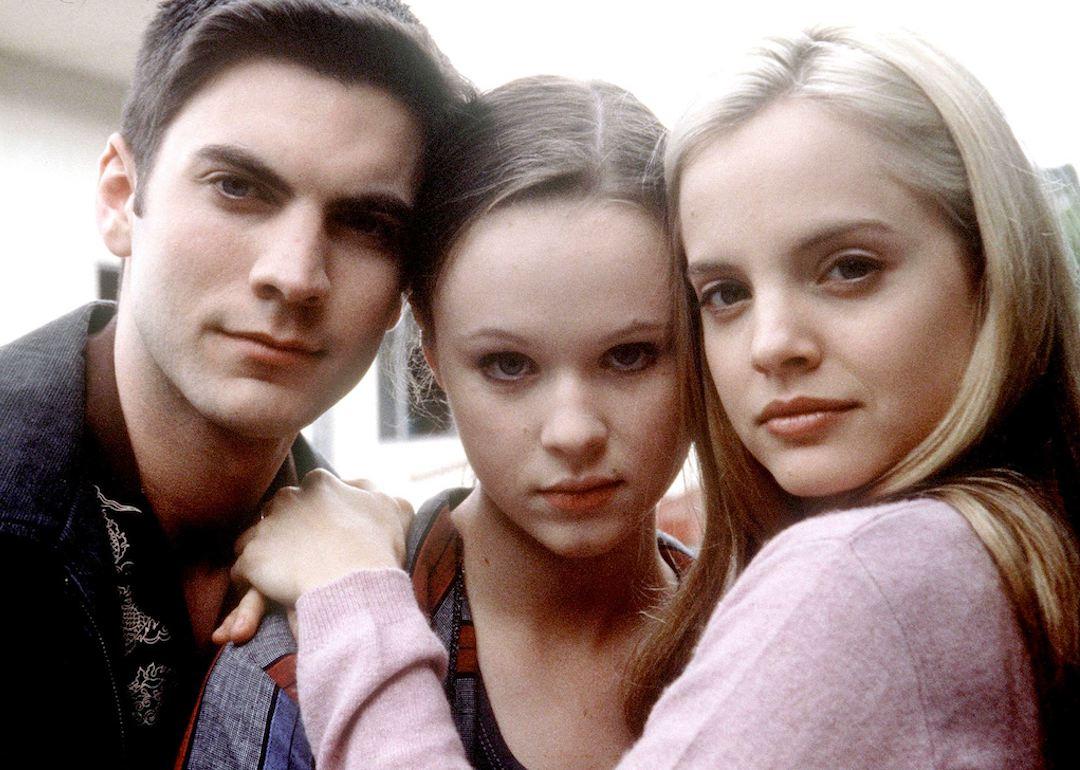 The movies leaving Netflix this month
Lorey Sebastian // Dreamworks via Getty Images
The movies leaving Netflix this month
As the temperatures drop, there's nothing quite like curling up on the couch and turning on Netflix, scrolling through the selection to find a holiday favorite or a buzzed-about movie you've been meaning to watch. But there's nothing more disappointing in that moment than finding out the film at the top of your watch list is no longer available to stream. 
There are a handful of reasons a movie leaves Netflix; the film's popularity may not justify the cost for Netflix to license it, or perhaps the rights are no longer available. To help you plan your December viewing schedule, Stacker compiled a list of all 33 movies leaving Netflix in December. That's more than the usual 20 or so, and this crop includes some real fan favorites: modern Christmas classics, Oscar darlings, beloved animated films, and iconic franchises.
"Love Actually" fans have until Dec. 31 to catch Hugh Grant's dance movies, Emma Thompson's heartbreaking performance, and a rendition of "All I Want for Christmas" that rivals Mariah Carey's before it disappears from Netflix. 
Meanwhile, all four movies in the "Jaws" franchise, the first four films in the "Mission: Impossible" series, both "Anchorman" comedies, and the two "Crank" films are leaving Netflix on New Year's Eve as well. 
On top of that mass franchise extermination, a bunch of Oscars Best Picture favorites are saying goodbye to Netflix, too. Some nominees (like "Lost in Translation" and "Saving Private Ryan") and a couple of winners ("American Beauty" and "Gladiator") will sign off before 2024 begins. 
As for family-friendly viewing, those looking for one more round of "Sing 2" and "Kung Fu Panda" only have until Dec. 21 and Dec. 31 to stream those animated films, respectively.  
Check out the full list of every movie leaving Netflix in December 2023.
Sing 2 (2021)
- Director: Garth Jennings
- Runtime: 109 minutes
- Genre: Kids
- Cast: Matthew McConaughey, Reese Witherspoon, and Scarlett Johansson
- Leaving Netflix on Dec. 21
Da Kath & Kim Code (2005)
- Director: Ted Emery
- Runtime: 81 minutes
- Genre: Comedies
- Cast: Jane Turner, Gina Riley, and Glenn Robbins
- Leaving Netflix on Dec. 27
Kath & Kimderella (2012)
- Director: Ted Emery
- Runtime: 85 minutes
- Genre: Comedies
- Cast: Jane Turner, Gina Riley, and Magda Szubanski
- Leaving Netflix on Dec. 27
Taylor Swift reputation Stadium Tour (2018)
- Director: Paul Dugdale
- Runtime: 125 minutes
- Genre: Music Non-Fiction
- Cast: Taylor Swift
- Leaving Netflix on Dec. 30
Us (2019)
- Director: Jordan Peele
- Runtime: 116 minutes
- Genre: Horror
- Cast: Lupita Nyong'o, Winston Duke, and Elisabeth Moss
- Leaving Netflix on Dec. 18
8 Mile (2002)
- Director: Curtis Hanson
- Runtime: 110 minutes
- Genre: Drama
- Cast: Eminem, Kim Basinger, and Mekhi Phifer
- Leaving Netflix on Dec. 31
American Beauty (1999)
- Director: Sam Mendes
- Runtime: 122 minutes
- Genre: Drama
- Cast: Kevin Spacey, Annette Bening, and Thora Birch
- Leaving Netflix on Dec. 31
Anchorman: The Legend of Ron Burgundy (2004)
- Director: Adam McKay
- Runtime: 95 minutes
- Genre: Comedies
- Cast: Will Ferrell, Christina Applegate, and Paul Rudd
- Leaving Netflix on Dec. 31
Anchorman 2: The Legend Continues (2013)
- Director: Adam McKay
- Runtime: 113 minutes
- Genre: Comedies
- Cast: Will Ferrell, Steve Carell, and Paul Rudd
- Leaving Netflix on Dec. 31
Casper (1995)
- Director: Brad Silberling
- Runtime: 100 minutes
- Genre: Kids
- Cast: Christina Ricci, Bill Pullman, and Cathy Moriarty
- Leaving Netflix on Dec. 31
Catch Me If You Can (2002)
- Director: Steven Spielberg
- Runtime: 141 minutes
- Genre: Drama
- Cast: Leonardo DiCaprio, Tom Hanks, and Christopher Walken
- Leaving Netflix on Dec. 31
Crank (2006)
- Director: Brian Taylor
- Runtime: 87 minutes
- Genre: Action
- Cast: Jason Statham, Amy Smart, and Jose Pablo Cantillo
- Leaving Netflix on Dec. 31
Crank 2: High Voltage (2009)
- Director: Mark Neveldine
- Runtime: 95 minutes
- Genre: Action
- Cast: Jason Statham, Amy Smart, and Clifton Collins Jr.
- Leaving Netflix on Dec. 31
Field of Dreams (1989)
- Director: Phil Alden Robinson
- Runtime: 105 minutes
- Genre: Drama
- Cast: Kevin Costner, Amy Madigan, and Gaby Hoffmann
- Leaving Netflix on Dec. 31
Friends with Benefits (2011)
- Director: Will Gluck
- Runtime: 109 minutes
- Genre: Comedies
- Cast: Justin Timberlake, Mila Kunis, and Patricia Clarkson
- Leaving Netflix on Dec. 31
Get Him to the Greek (2010)
- Director: Nicholas Stoller
- Runtime: 109 minutes
- Genre: Comedies
- Cast: Jonah Hill, Russell Brand, and Elisabeth Moss
- Leaving Netflix on Dec. 31
Gladiator (2000)
- Director: Ridley Scott
- Runtime: 155 minutes
- Genre: Action
- Cast: Russell Crowe, Joaquin Phoenix, and Connie Nielsen
- Leaving Netflix on Dec. 31
Jaws (1975)
- Director: Steven Spielberg
- Runtime: 124 minutes
- Genre: Thrillers
- Cast: Roy Scheider, Robert Shaw, and Richard Dreyfuss
- Leaving Netflix on Dec. 31
Jaws 2 (1978)
- Director: Jeannot Szwarc
- Runtime: 116 minutes
- Genre: Drama
- Cast: Roy Scheider, Lorraine Gary, and Murray Hamilton
- Leaving Netflix on Dec. 31
Jaws 3 (1983)
- Director: Joe Alves
- Runtime: 98 minutes
- Genre: Thrillers
- Cast: Dennis Quaid, Bess Armstrong, and Simon MacCorkindale
- Leaving Netflix on Dec. 31
Jaws: The Revenge (1987)
- Director: Joseph Sargent
- Runtime: 90 minutes
- Genre: Thrillers
- Cast: Lorraine Gary, Lance Guest, and Mario Van Peebles
- Leaving Netflix on Dec. 31
Kung Fu Panda (2008)
- Director: John Stevenson
- Runtime: 94 minutes
- Genre: Kids
- Cast: Jack Black, Dustin Hoffman, and Angelina Jolie
- Leaving Netflix on Dec. 31
Lost in Translation (2003)
- Director: Sofia Coppola
- Runtime: 101 minutes
- Genre: Drama
- Cast: Bill Murray, Scarlett Johansson, and Giovanni Ribisi
- Leaving Netflix on Dec. 31
Love Actually (2003)
- Director: Richard Curtis
- Runtime: 134 minutes
- Genre: Romance
- Cast: Hugh Grant, Colin Firth, and Emma Thompson
- Leaving Netflix on Dec. 31
Mission: Impossible (1996)
- Director: Brian De Palma
- Runtime: 110 minutes
- Genre: Action
- Cast: Tom Cruise, Jon Voight, and Emmanuelle Béart
- Leaving Netflix on Dec. 31
Mission: Impossible II (2000)
- Director: John Woo
- Runtime: 124 minutes
- Genre: Action
- Cast: Tom Cruise, Dougray Scott, and Thandiwe Newton
- Leaving Netflix on Dec. 31
Mission: Impossible III (2006)
- Director: J.J. Abrams
- Runtime: 126 minutes
- Genre: Action
- Cast: Tom Cruise, Philip Seymour Hoffman, and Ving Rhames
- Leaving Netflix on Dec. 31
Mission: Impossible - Ghost Protocol (2011)
- Director: Brad Bird
- Runtime: 132 minutes
- Genre: Action
- Cast: Tom Cruise, Jeremy Renner, and Simon Pegg
- Leaving Netflix on Dec. 31
Role Models (2008)
- Director: David Wain
- Runtime: 99 minutes
- Genre: Comedies
- Cast: Seann William Scott, Paul Rudd, and Christopher Mintz-Plasse
- Leaving Netflix on Dec. 31
Runaway Bride (1999)
- Director: Garry Marshall
- Runtime: 116 minutes
- Genre: Comedies
- Cast: Julia Roberts, Richard Gere, and Joan Cusack
- Leaving Netflix on Dec. 31
Saving Private Ryan (1998)
- Director: Steven Spielberg
- Runtime: 169 minutes
- Genre: Drama
- Cast: Tom Hanks, Tom Sizemore, and Edward Burns
- Leaving Netflix on Dec. 31
Scarface (1983)
- Director: Brian De Palma
- Runtime: 169 minutes
- Genre: Thrillers
- Cast: Al Pacino, Steven Bauer, and Michelle Pfeiffer
- Leaving Netflix on Dec. 31
The Wolf of Wall Street (2013)
- Director: Martin Scorsese
- Runtime: 179 minutes
- Genre: Comedies
- Cast: Leonardo DiCaprio, Jonah Hill, and Margot Robbie
- Leaving Netflix on Dec. 31