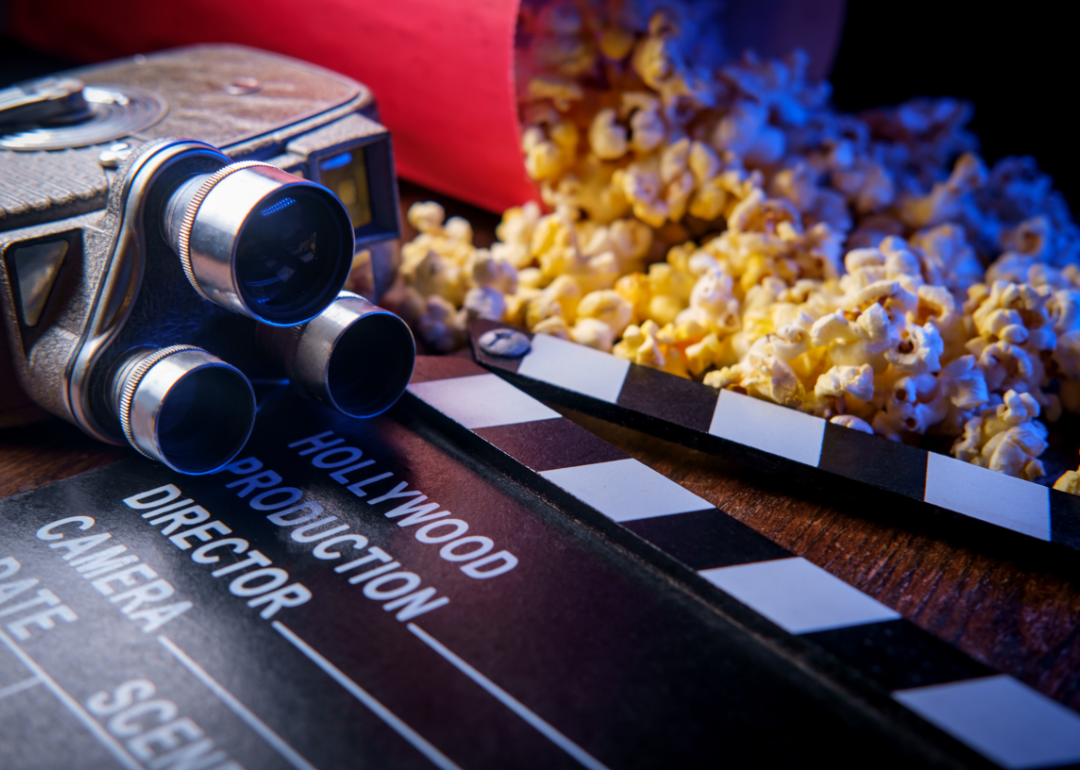 Ranking Adam Sandler movies from worst to first
Ranking Adam Sandler movies from worst to first
While Adam Sandler may not exactly be considered one of the greatest actors of his generation the everyman comedian has earned an even better title from generations of teenagers and lovers of sophomoric humor: hero. Whether it's arguing the merits of shampoo over conditioner in "Billy Madison" or finding love against all odds in "50 First Dates" Sandler thoroughly explores the human condition via gross-out jokes silly voices and his overall signature silliness. He hasn't won any Oscars but his shelves are packed with Kids' Choice Award blimps and MTV Movie & TV Awards Moonmen.
The Adam Sandler canon stretches over four decades and Stacker has ranked his major roles according to their IMDb audience scores. In the case of ties priority was given to the film with the highest number of votes. This list tracks Sandler's work from his early fish-out-of-water films to his dramatic turns of the 2000s up to his current run on Netflix. Read on to see where your favorite Sandler flick falls on the list.
RELATED: Definitive rankings of movies featuring Dwayne "The Rock" Johnson 
#39. Going Overboard
IMDb user rating: 1.9
Year: 1989
Director: Valerie Breiman

Before becoming the breakout star of early 1990s-era "Saturday Night Live" Adam Sandler acted in this low-budget comedy alongside Billy Bob Thornton and Billy Zane. In the movie Sandler stars as "Shecky Moskowitz" a fill-in cruise ship comedian who ends up—spoiler alert—saving Miss Australia from terrorists.
#38. Jack and Jill
IMDb user rating: 3.4
Year: 2011
Director: Dennis Dugan
One of the most ridiculed films of Sandler's career "Jack and Jill" is about spending Thanksgiving with your family. In this case the family is made up of Jack played by Sandler and his passive-aggressive twin sister Jill…also played by Sandler. The first line of the Time magazine review says it all: "More than 24 hours has passed since I watched the new Adam Sandler movie Jack and Jill and I am still dead inside."

 
#37. The Ridiculous 6
IMDb user rating: 4.8
Year: 2015
Director: Frank Coraci
Sandler tried his hand at the western genre in this 2015 direct-to-Netflix movie along with his frequent directing partner Frank Coraci. It didn't go over very well. Sandler plays an outlaw raised by Native Americans who discovers he has five half-brothers portrayed by Terry Crews Jorge Garcia Taylor Lautner Luke Wilson and of course Rob Schneider. The film was poorly received even before it wrapped production—with cast and crew members walking out on account of the script's overtly racist content—and was universally panned upon its release.
 
#36. Sandy Wexler
IMDb user rating: 5.1
Year: 2017
Director: Steven Brill
In one of his more recent movies Sandler once again leans on playing an oddball character. His titular character is a 90s-era low-level Hollywood manager who falls in love with a client played by Jennifer Hudson. There's a long list of major Hollywood celebrity cameos in the film from Henry Winkler to Chris Rock but that wasn't enough to save it in the eyes of critics or viewers.
#35. Eight Crazy Nights
IMDb user rating: 5.3
Year: 2002
Director: Seth Kearsley
This animated movie tied into Sandler's ultra-popular ode to Hanukkah from his "Saturday Night Live" days. It's about a man sentenced to community service who has to reform his old ways and become a better person. With the world awash in Christmas movies "Eight Crazy Nights" could have occupied an underrepresented niche. Instead it was panned for its gross-out humor overt product placement and an overall negative tone that critic Roger Ebert characterized as "angry and vulgar."
#34. Coneheads
IMDb user rating: 5.3
Year: 1993
Director: Steve Barron
While not the star of the movie Adam Sandler plays Carmine Weiner an East Coast gangster who sells the extra-terrestrial Beldar (Dan Aykroyd) a fake identity as Donald R. DeCicco. Despite its middling reviews "Coneheads" was one of the major SNL movie successes of the early 1990s in addition to both "Wayne's World" films.
#33. Little Nicky
IMDb user rating: 5.3
Year: 2000
Director: Steven Brill
In "Little Nicky" Adam Sandler plays the calmest of the devil's three sons tasked with stopping his brothers from destroying Earth. Patricia Arquette and Harvey Keitel round out the cast in yet another turn where Sandler plays an underdog who discovers the inner strength to succeed.
#32. Grown Ups 2
IMDb user rating: 5.4
Year: 2013
Director: Dennis Dugan
The first "Grown Ups" film which is later on this list proved a huge success for Sandler and his all-star comedic crew of Kevin James Chris Rock and David Spade. In this sequel Sandler's character Lenny moves back to town to be near his childhood friends setting off a series of crazy adventures that mimic the fun they had as kids.
#31. You Don't Mess with the Zohan
IMDb user rating: 5.5
Year: 2008
Director: Dennis Dugan
In "You Don't Mess with the Zohan" Sandler finally takes on the role he was born to play: an Israeli secret agent who fakes his death and poses as a hairdresser. The film grossed more $100 million dollars making it one of Sandler's most successful movies.
#30. That's My Boy
IMDb user rating: 5.6
Year: 2012
Director: Sean Anders
As Sandler got older he shifted away from playing the juvenile never-going-to-grow-up characters that made him a movie star towards more mature paternal roles. In "That's My Boy" he gets to play both—an immature former teen father who imposes his craziness on his soon-to-be-married son (Andy Samberg).

 
#29. Pixels
IMDb user rating: 5.6
Year: 2015
Director: Chris Columbus
"Home Alone" director Chris Columbus returned to kids' movies with "Pixels" the story of aliens attacking Earth in the form of video game characters. Adam Sandler stars as Sam Brenner a video game champion who helps to thwart the attack.
 
#28. The Do-Over
IMDb user rating: 5.7
Year: 2016
Director: Steven Brill
The second in Sandler's Netflix films "The Do-Over" turns him into an action star: a coroner who pretends to be an FBI agent and fakes his death along with co-star David Spade to escape their boring lives. They run into major trouble when they discover that the new identities they've assumed are criminals currently being pursued by other criminals.
 
#27. Bulletproof
IMDb user rating: 5.8
Year: 1996
Director: Ernest R. Dickerson
Sandler teams up with Damon Wayans in this action-comedy about an undercover cop (Wayans) guarding a criminal witness (Sandler) before a trial. The film scored an impressively low 8% critics' score on Rotten Tomatoes.

 
#26. The Cobbler
IMDb user rating: 5.8
Year: 2014
Director: Tom McCarthy

In a major departure from his earlier work Adam Sandler starred in "The Cobbler" helmed by Academy Award-winning writer and director Tom McCarthy. In the film Sandler plays a New York City shoe repairman who discovers a magical family heirloom that allows him to assume the lives of other people. The film premiered at the Toronto International Film Festival in 2014.
#25. Mr. Deeds
IMDb user rating: 5.8
Year: 2002
Director: Steven Brill

In one of the only remakes of his career Sandler played "Mr. Deeds" the character originally played by Gary Cooper in Frank Capra's 1936 classic. In this version Longfellow Deeds is a pizzeria owner who inherits a massive fortune from a long-lost great-uncle and takes over his media empire. Winona Ryder and Peter Gallagher co-star.
#24. I Now Pronounce You Chuck & Larry
IMDb user rating: 6
Year: 2007
Director: Dennis Dugan
Adam Sandler started working with director Dennis Dugan on 1996 comedy hit "Happy Gilmore" and the pair have collaborated on some of Sandler's biggest hits since. One of them is "I Now Pronounce You Chuck & Larry" a screwball comedy about two firefighters who pretend to be lovers in order to cash in on domestic partner benefits. USA Today panned it declaring "Unless you like your summer movies laced with a heavy dose of homophobia sexism and racism steer clear of this unfunny Adam Sandler movie."
 
#23. Grown Ups
IMDb user rating: 6
Year: 2010
Director: Dennis Dugan
Another Dennis Dugan collaboration "Grown Ups" managed to take in more than $160 million. The story of childhood friendships reignited as adults Sandler got to share the screen with his real-life pals Kevin James Chris Rock and David Spade. To add to the star power Salma Hayek joins the cast as Sandler's wife.
#22. Airheads
IMDb user rating: 6.1
Year: 1994
Director: Michael Lehmann

Fans of Adam Sandler's sleeveless arms will love "Airheads." Sandler plays the drummer in a heavy metal band that breaks into a radio station to play their record. Co-starring is Steve Buscemi and Brendan Fraser who both went on to become stars. 
#21. Bedtime Stories
IMDb user rating: 6.1
Year: 2008
Director: Adam Shankman

This family movie follows Sandler as hotel handyman Skeeter Bronson who tells bedtime stories to his niece and nephew that magically become true. Skeeter ends up falling in love with Keri Russell's character Jill.
#20. The Waterboy
IMDb user rating: 6.1
Year: 1998
Director: Frank Coraci
A favorite among early Sandler fans "The Waterboy" is the story of the outrageous Bobby Boucher (based loosely on Sandler's SNL "Canteen Boy" and "Cajun Man" characters) and Henry Winkler as his football coach. The story of a waterboy turned college football player has resonated all over pop culture with references in more different TV shows and movies than you might think.  
#19. Anger Management
IMDb user rating: 6.2
Year: 2003
Director: Peter Segal
Adam Sandler teamed up with a legendary co-star in 2003's "Anger Management." Jack Nicholson plays a therapist who pushes Sandler to the brink after his character is wrongly sentenced to anger management training.
#18. Funny People
IMDb user rating: 6.3
Year: 2009
Director: Judd Apatow
"Funny People" has Adam Sandler playing a popular goofy comedian (art imitating life) who's diagnosed with a life-threatening disease and forced to re-evaluate his life. Judd Apatow was at the helm of this film bringing along a typical Apatow cast including Seth Rogen and Leslie Mann.
#17. Spanglish
IMDb user rating: 6.4
Year: 2004
Director: James L. Brooks

Iconic director and "Simpsons" co-creator James L. Brooks directed this big-budget comedy about an insecure chef and his family who form a close bond with their Mexican housekeeper (Paz Vega). The box office results were less than ideal earning $42 million on an $80 million budget.
#16. Billy Madison
IMDb user rating: 6.4
Year: 1995
Director: Tamra Davis

Adam Sandler's first major hit as a movie star was the tale of a hotel magnate's son who goes back to repeat every grade—from elementary through high school—in order to secure his inheritance. If you've ever heard somebody say "Stop looking at me swan!" it's because they're a "Billy Madison" fan. Bradley Whitford stars as Eric the film's villain and Billy's chief rival in inheriting the Madison Hotel company.
#15. The Longest Yard
IMDb user rating: 6.4
Year: 2005
Director: Peter Segal

"The Waterboy" tends to get more love from die-hard Adam Sandler fans but this football movie shows Sandler in a completely different light. A remake of the 70s film Sandler steps into Burt Reynolds' original role in the story of a quarterback sentenced to prison and forced to play for the warden's football team. Reynolds returned for the new iteration—this time playing Sandler's character's mentor.
#14. Big Daddy
IMDb user rating: 6.4
Year: 1999
Director: Dennis Dugan

An immature man finds himself in a situation beyond his limited abilities yet emerges victorious. This synopsis applies to many early Adam Sandler films and in "Big Daddy" it's man-child Sandler playing father to an adorably feisty kid in order to impress his girlfriend and ultimately growing up in the process. "Big Daddy" was one of Sandler's biggest hits of his career making more than $163 million at the box office.
#13. Just Go with It
IMDb user rating: 6.4
Year: 2011
Director: Dennis Dugan
This false-identity movie has Sandler playing a dentist who convinces his assistant (Jennifer Aniston) to play the part of his soon-to-be-divorced wife to avoid a scrape with his much-younger girlfriend (Brooklyn Decker). It's already the seventh collaboration with director Dennis Dugan on this list (with still one more remaining).
#12. Click
IMDb user rating: 6.4
Year: 2006
Director: Frank Coraci
Frank Coraci is the other director who Adam Sandler works with the most often. In the fantastical family comedy "Click" Sandler plays an over-worked architect who happens upon a magic remote control that lets him fast-forward and rewind through parts of his life. Kate Beckinsale co-stars as Sandler's wife and Christopher Walken plays the mysterious man who bestows the remote upon Sandler's character.
 
#11. Hotel Transylvania 3: Summer Vacation
IMDb user rating: 6.5
Year: 2018
Director: Genndy Tartakovsky
The "Hotel Transylvania" saga continues with Adam Sandler as the running frontman—This time, the gang takes on a cruise ship for a not-so-normal summer vacation. Dracula tries a few new ways to connect with his daughter, Mavis (played by Selena Gomez), while also striking up a new romance.
#10. Blended
IMDb user rating: 6.5
Year: 2014
Director: Frank Coraci

Some of Adam Sandler's best work has been alongside with Barrymore and that's certainly the case in "Blended." Sandler and Barrymore play two divorced people who wind up at the same African resort with their respective children. Hijinks ensue and so does love.
#9. Men, Women & Children
IMDb user rating: 6.7
Year: 2014
Director: Jason Reitman
Another serious turn for Sandler Jason Reitman's "Men Women & Children" is an adaptation of Chad Kultgen's novel of the same name. The all-star cast (including Jennifer Garner Emma Thompson and J.K. Simmons) tells a story of internet addiction in the suburbs and the unfulfilled sex lives of both parents and their respective high school offspring.
 
#8. Hotel Transylvania 2
IMDb user rating: 6.7
Year: 2015
Director: Genndy Tartakovsky
This sequel to "Hotel Transylvania" has Sandler reprising his role as Count Dracula while he and his monster friends try to get his half-human half-vampire grandson to bring out his inner monster. Sandler's voice stars alongside frequent co-star Kevin James as well as Andy Samberg and Selena Gomez.
#7. The Wedding Singer
IMDb user rating: 6.8
Year: 1998
Director: Frank Coraci

The first film to pair Adam Sandler with Drew Barrymore was "The Wedding Singer" a rom-com about a lovelorn wedding singer who finds true love with a girl who works at a wedding venue. This is the highest-rated film of the Sandler/Coraci collaborations.
#6. 50 First Dates
IMDb user rating: 6.8
Year: 2004
Director: Peter Segal

The most successful Adam Sandler/Drew Barrymore film was "50 First Dates" which garnered more than $120 million in box office sales. The comedy sets Sandler in Hawaii as a commitment-averse man who finally finds a woman he wants to spend the rest of his life with only to discover she has chronic amnesia and forgets him entirely after every date they go on.
#5. The Meyerowitz Stories (New and Selected)
IMDb user rating: 7
Year: 2017
Director: Noah Baumbach

Serious Sandler strikes again in this Cannes favorite which tells the stories of failure-to-launch adult siblings living in the shadow of their successful artist father. Sandler stars alongside Ben Stiller Dustin Hoffman and Emma Thompson in this Netflix film that some thought would lead to Sandler's first Oscar nomination (it didn't).
#4. Happy Gilmore
IMDb user rating: 7
Year: 1996
Director: Dennis Dugan

One of the early Sandler classics Happy Gilmore is the story of a hockey player who finds success as a professional golfer. If you went to junior high or high school in the 1990s you've probably seen this movie at least twice. Sandler's love interest in the movie is a young Julie Bowen who went on to play a lead role on "Modern Family."
#3. Hotel Transylvania
IMDb user rating: 7.1
Year: 2012
Director: Genndy Tartakovsky

Adam Sandler stars as Count Dracula in this animated movie about a resort for monsters. The place gets thrown for a loop when a human boy enters the premises and falls in love with Dracula's teenage daughter. Sandler was both a lead voice actor and executive producer on the movie.
#2. Punch-Drunk Love
IMDb user rating: 7.3
Year: 2002
Director: Paul Thomas Anderson
Independent film-directing superstar P.T. Anderson ("Boogie Nights" "Magnolia" "There Will Be Blood") cast Sandler as the lead of this sordid drama which tells the story of a socially awkward entrepreneur caught up in an identity theft scheme while trying to woo a woman. "Punch-Drunk Love" is one of the most critically acclaimed movies of Sandler's career with an impressive 80% critics' score on Rotten Tomatoes.
#1. Reign Over Me
IMDb user rating: 7.5
Year: 2007
Director: Mike Binder

The highest-rated movie of Adam Sandler's career is about a man who can't get over the loss of his family in the September 11th attacks. The drama pairs Sandler with Don Cheadle as two men who both need friends as Sandler's character finally comes to terms with his grief. The film doesn't have any of the zaniness of Sandler's earlier work but instead shows his impressive range as a prolific actor.