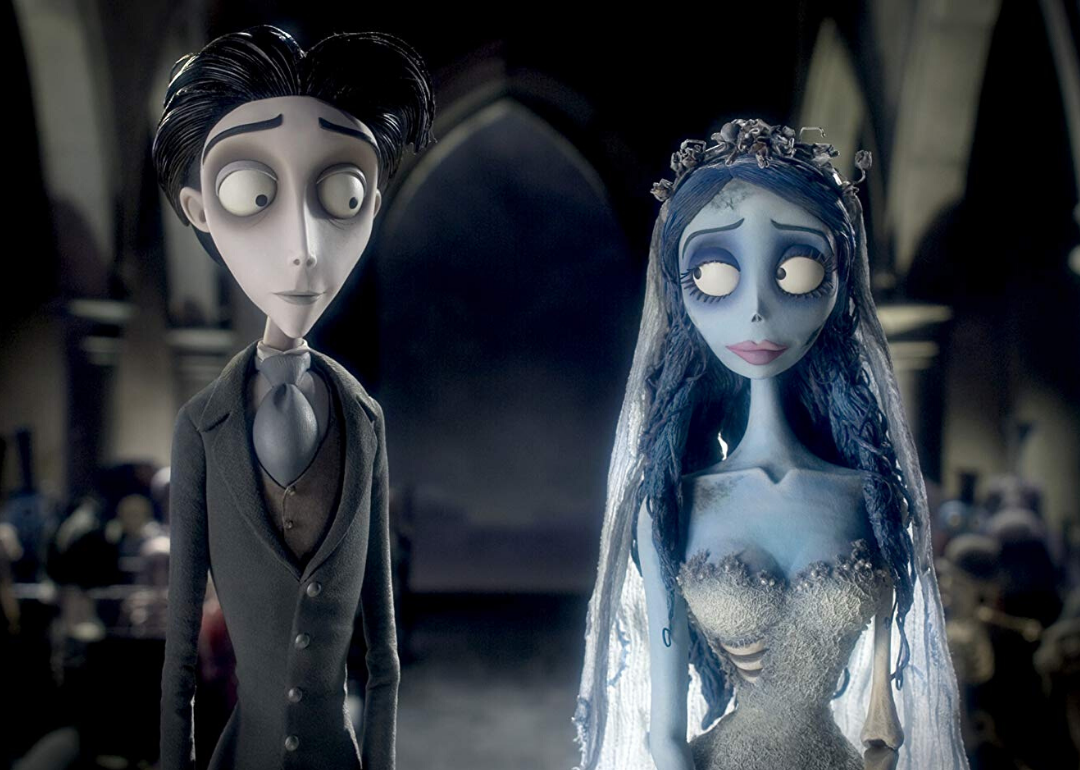 The strange and beautiful worlds of Tim Burton movies
The strange and beautiful worlds of Tim Burton movies
When audiences sit down to watch a Tim Burton movie, they are likely savvy to what sort of visual and story elements to expect. Dark color palettes, heavy makeup, fantasy worlds, strange magic, and an overall aura of eccentricity are prominent features in his works. Monsters and misfits are often the leads in his films, with actors Johnny Depp and Helena Bonham Carter, the latter being Burton's former partner, frequently appearing in his films.
Tim Burton has been making films since his childhood, mainly stop-motion fare, eventually studying animation at the California Institute of the Arts. From there, his short films like "Stalk of the Celery Monster" and "King and Octopus" led to his employment by the Walt Disney Company's animation division.
Burton's early work with Disney included "Vincent," a stop-motion short film featuring and paying homage to actor Vincent Price. It was his Disney short "Frankenweenie," a 30-minute long film starring Shelley Duvall, that garnered more attention from Hollywood. "Pee-wee Herman" star Paul Reubens chose Burton to direct the feature film "Pee-wee's Big Adventure," which not only kickstarted the rest of Burton's career, but that of Burton's frequent musical collaborator Danny Elfman.
Since then, many of Burton's films have been nominated or won Academy Awards for categories in craftsmanship and acting. Burton himself has been nominated for Best Animated Feature twice. As his career continues, Stacker looks back to 15 of the 19 films that Tim Burton has directed. Stacker's list only includes directed films, thus excluding films like "The Nightmare Before Christmas," which Burton only produced.
Click through Stacker's list to look back at Burton's classics, from the unique stories they told to the unforgettable images that have delighted fans of all ages.
You may also like: 111 monumental movies from film history and why you need to see them
Beetlejuice (1988)
Beetlejuice, Beetlejuice, Beetlejuice: say this mischievous poltergeist's name three times, and the Michael Keaton-played character appears to be of service to a ghost couple played by Alec Baldwin and Geena Davis, as they try to ward off the new inhabitants of their home. "Beetlejuice" is known as Burton's first original feature, and it supported the director's bankability in the eyes of Hollywood executives, with the film being a financial success and more than making up its low $15 million budget. Perhaps the most famous scene in the film involves the occupying family dancing under the influence of the ghosts, to the song "Day-o (Banana Boat Song)," which demonstrated the unconventional humor of Burton.
Batman (1989)
The box office and critical success of both "Pee-wee's Big Adventure" and "Beetlejuice" prompted Warner Bros. to hire Tim Burton for the studio's first "Batman" film. Burton cast Jack Nicholson as the Joker, and his "Beetlejuice" collaborator Michael Keaton as Bruce Wayne, the latter causing outcry due to the perception of Keaton as a comedic actor at the time. Burton and Keaton won fans over, with the film being a financial and critical hit, and the gothic and dark look of Gotham City won the film an Academy Award for Best Art Direction.
Edward Scissorhands (1990)
The first collaboration between Tim Burton and Johnny Depp was "Edward Scissorhands," a dark romantic fantasy loosely based on Burton's upbringing. Depp plays an artificial man, an unfinished experiment with scissor blades as hands, who is taken in by a family and falls in love with a girl, played by Winona Ryder. The inventor character was played by Vincent Price, who Burton wrote the role for; the role would be Price's final major film part.
Batman Returns (1992)
Tim Burton followed up his 1989 "Batman" film with a direct sequel, with Michael Keaton returning as Bruce Wayne; newcomers were Danny DeVito as the Penguin and Michelle Pfeiffer as Catwoman. "Batman Returns" was a significantly darker and more violent film, with Penguin considered as a particularly grotesque villain. Despite criticism from both viewers and studio executives about the dark and bleak tone, both Burton and Keaton reportedly prefer "Batman Returns" to the first film.
Ed Wood (1994)
Tim Burton and Johnny Depp's next collaboration was "Ed Wood," a comedic biographical film about the eponymous director, played by Depp. Shot in black-and-white, and costing more to produce than all of Wood's films put together, the film looked back to his making of infamous movies like "Glen or Glenda" and "Plan 9 From Outer Space," and Wood's working relationship with a past-his-prime Bela Lugosi, played by Martin Landau. Landau won an Oscar for his performance, and the film won an Oscar for best makeup for Landau's prosthetic makeup.
Mars Attacks! (1996)
Tim Burton's grand tribute to 1950s sci-fi and Ed Wood-directed schlock also featured one of his biggest ensemble cast, with returning collaborators including Jack Nicholson, Danny DeVito, and Sarah Jessica Parker, and newcomers including Martin Short, Michael J. Fox, Natalie Portman, and Pierce Brosnan, to name a few. The film made significant use of computer visual effects to bring the nefarious alien invaders to life. Featuring cheesy violence and over-the-top performances, the film received a mixed response at the time of its release but is still considered a cult classic.
Big Fish (2003)
Having lost his father sometime before shooting "Big Fish," Tim Burton felt a personal attachment to this story about the reconciliation between a son and his dying father. Based on the novel by Daniel Wallace, and adapted to screen by writer John August, the film depicts the tall tales of Edward Bloom, played by Albert Finney, and by Ewan McGregor in flashbacks. The film's sequences of flashbacks are shot like a gothic fantasy, making heavy use of elaborate costuming, makeup, and color grading to create a dreamlike feel to the visuals.
Charlie and the Chocolate Factory (2005)
The second film adaptation of the Roald Dahl children's book featured Johnny Depp as the eccentric candymaker Willy Wonka, while Depp's "Finding Neverland" costar Freddie Highmore took the role of Charlie Bucket. As the director, Tim Burton aimed for his adaptation to be a more faithful adaptation, with his screenwriter John August having never seen the 1971 film starring Gene Wilder. Danny Elfman once again collaborated with Burton, providing the singing voice for every Oompa Loompa, while actor Deep Roy portrayed every Oompa Loompa (through visual effects).
Corpse Bride (2005)
Tim Burton returned to stop-motion animation, with "Corpse Bride" being the first feature-length stop-motion film that he directed. Burton's usual collaborators, Johnny Depp and Helena Bonham Carter, voiced the two main characters: the former portraying a shy man running away from his arranged marriage, and the latter as the titular corpse bride. The puppets used for filming the movie were about 9.8 to 11 inches tall and were so precisely crafted that the animation and expressions were subtle to an unprecedented degree.
Sweeney Todd: The Demon Barber of Fleet Street (2007)
Based on Stephen Sondheim and Hugh Wheeler's Tony Award-winning musical, Tim Burton's adaptation has Johnny Depp as Sweeney Todd, a murderous barber seeking revenge on a judge (Alan Rickman) who falsely convicted him of a crime. Also starring in the film is Helena Bonham Carter, Sacha Baron Cohen, and Timothy Spall. Generally faithful to the source material, Tim Burton added his trademark gothic atmosphere to the story and featured a significant amount of blood to the film that wasn't present in the stage music.
Alice in Wonderland (2010)
Tim Burton returned to Disney with his 2010 film "Alice in Wonderland," a film that didn't quite remake the animated film from 1951. Instead, the film told a story of an older Alice, played by Mia Wasikowska. Also featured in the film were Johnny Depp as the Mad Hatter, Helena Bonham Carter as the Red Queen, and Alan Rickman as the voice of the Caterpillar. The film featured colorful and psychedelic visuals, and much of it was shot in front of a green screen, apparently giving Depp a headache on set.
Frankenweenie (2012)
Burton returned to the original project that made a name for himself in his early time with Disney, creating a feature-length stop-motion remake of his short film "Frankenweenie." The initial spark of the film was from the loss of his dog as a child, with the film's plot involving a child attempting to reanimate his deceased pet. The black-and-white movie reunited Burton with frequent collaborators Winona Ryder, Martin Short, Catherine O'Hara, and Martin Landau, and received a nomination for Best Animated Feature at the Academy Awards.
Big Eyes (2014)
Telling the real-life story of artist Margaret Keane, this Tim Burton biographical film had Amy Adams as Keane and Christoph Waltz as her husband Walter, who took credit for her paintings of figures with unusually big eyes. A smaller-scale film for Burton, one not featuring his usual acting collaborators, "Big Eyes" received praise from critics for its acting and social commentary, with both Adams and Waltz getting Golden Globe nominations.
Miss Peregrine's Home for Peculiar Children (2016)
Tim Burton adapted the 2011 book from Ransom Riggs, which follows a secret home for children with "peculiar abilities." The head of the house is Miss Alma Peregrine, who in the film is portrayed by Eva Green; this character possessed the ability to turn into a peregrine falcon and stop time. Burton reunited with his "Dark Shadows" and "Big Eyes" cinematographer Bruno Delbonnel, who added a distinct green and grainy stylistic look to all of his films.
Dumbo (2019)
The latest film from Tim Burton again had the director revisit an older classic from Disney, this time the animated feature "Dumbo." This live-action reimagining told an expanded story of the circus elephant with large ears, with Colin Farrell as the elephant's handler. "Batman Returns" costars Michael Keaton and Danny DeVito reunited, with Keaton as a ruthless amusement park owner and DeVito as an energetic ringmaster. Eva Green also stars, playing a trapeze artist. The film, featuring a CGI Dumbo that was more expressive than photorealistic, received mixed marks from critics, who said that the film had Burton's usual visual flair while also coming off as "workmanlike."