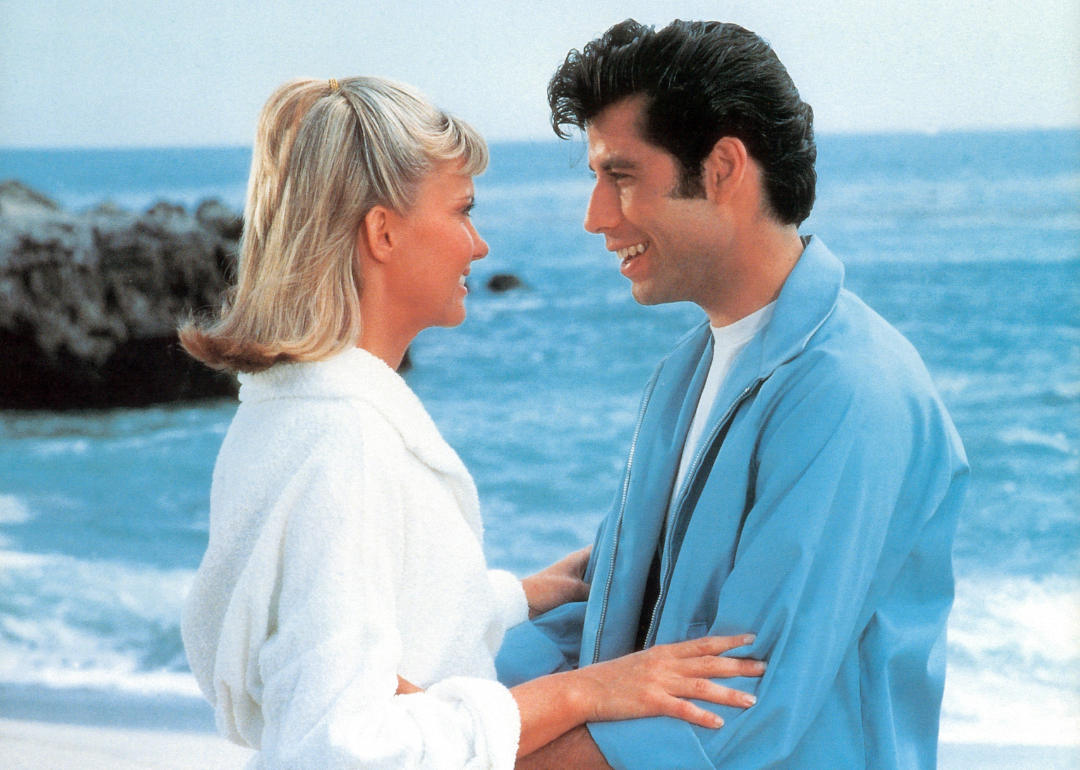 25 great movie soundtracks of the '60s and '70s
Archive Photos // Getty Images
25 great movie soundtracks of the '60s and '70s
Who can forget John Travolta's swagger as he strutted down a Brooklyn sidewalk to the Bee Gees' "Stayin' Alive"? Or Rocky Balboa's epic training run through 30.61 miles of Philadelphia streets, from his home to the art museum to Bill Conti's "Gonna Fly Now"? Even today, decades later, these songs inspire us to own the night or seize our time in the sun. Music brings magic to movies.
Whether it's existing songs or original pieces written specifically for the film, filmmakers use music on the big screen in many different ways. Some theme songs recur throughout movies—some characters even get a particular theme to embody their personality.
Key points in the plot, like the climax, also feature carefully selected songs that enhance the moment's mood. Think Patrick Swayze and Jennifer Grey dancing to Franke Previte's "(I've Had) the Time of My Life." That classic lift is still something we see recreated in weddings and rom-com movies.
These musical choices impact the viewing experience. The right songs can structurally ground viewers in the setting or move the story forward. Music can help build the right atmosphere—suspenseful, dramatic, or romantic—for the story. It can also reflect the characters' emotions onscreen and even create specific emotional responses in viewers.
Some movie soundtracks resonate more powerfully than others, permeating pop culture for decades. Stacker compiled a list of iconic movie soundtracks from the '60s and '70s, drawing on work from music and film historians, critics, news reports, and other sources. Keep reading to learn more about 25 films whose music defined an era, listed in order of release date.
Breakfast at Tiffany's (1961)
New York party girl Holly Golightly (Audrey Hepburn) falls for her handsome new neighbor in this 1958 Truman Capote novella adaptation. Just as the image of Hepburn wearing a sleek black dress, oversized sunglasses, and statement necklace is indelibly etched in cinematic history, so is the film's score.
With composer Henry Mancini at the helm, the "Breakfast at Tiffany's" soundtrack picked up five Grammys, including Best Soundtrack Album or Recording of Score from a Motion Picture and Record of the Year. "Moon River" took home both a Grammy for Song of the Year and an Oscar for Best Original Song—not bad for a tune nearly cut from the film due to concerns about run time!
Thankfully the song remained, and the scene featuring a dressed-down Hepburn singing this dreamy, contemplative melody while strumming a guitar on her fire escape became one of the movie's most memorable. The music remains beloved decades later, with an expanded 38-song soundtrack released in 2014.
West Side Story (1961)
"West Side Story" is a modern retelling of Shakespeare's tragic love story "Romeo and Juliet" that replaces the feuding Montague and Capulet families with rival street gangs, the Sharks and the Jets. The big screen adaptation of the 1957 Broadway musical had one of the most popular soundtracks of the '60s, staying at #1 on the Billboard chart for 54 weeks.
This success was partly due to the edgier rock sound of Leonard Bernstein's music paired with Stephen Sondheim's catchy lyrics. An essay from the Library of Congress details that the "music (especially in the numbers 'America' and 'The Rumble'), though orchestrated, was strong, pulsing and driving"—a feel that stood apart from other musicals of the day.
However, lead actors Natalie Wood (Maria) and Richard Beymer (Tony) did not sing their parts in the film. Instead, vocalists Marni Nixon and Jimmy Bryant lent their voices.
A Hard Day's Night (1964)
A comedic take playing off The Beatles' meteoric rise to fame, "A Hard Day's Night" follows the Fab Four through two chaotic days leading up to a television performance. It's no surprise the soundtrack became a smash hit, considering the band's popularity skyrocketed following their now iconic appearance on "The Ed Sullivan Show" that February.
What made the album even more special, however, was that—for the first time—every song was written by band members John Lennon and Paul McCartney. Lennon reportedly wrote the title song in just one night, and it took the band only nine takes to record the finished product. McCartney's catchy pop tune "Can't Buy Me Love" spent an impressive five weeks at #1 on the Billboard chart.
Mary Poppins (1964)
"Mary Poppins" proved Disney movies aren't just for kids. It was the year's highest-grossing movie domestically and picked up an impressive 13 Academy Award nominations (including five wins) along the way.
Julie Andrews stars as a delightfully cheerful nanny with a few magical tricks—and songs—up her sleeve to entertain her wards. The film's soundtrack, composed by brothers Richard M. Sherman and Robert B. Sherman, was so popular it won Oscars for Best Original Song ("Chim Chim Cher-ee") and Best Music Score.
Andrews' crisp voice and captivating charm make the cheerfully upbeat "A Spoonful of Sugar" and "Supercalifragilisticexpialidocious" as memorable as the award-winning duet about chimney sweeps she performed alongside Dick Van Dyke.
The Sound of Music (1965)
Just a year after "Mary Poppins," Julie Andrews returned to the big screen, headlining another classic film and soundtrack: "The Sound of Music." In this musical based (very loosely) on a real-life story, Andrews stars as Maria, governess for the seven von Trapp children, who then falls in love with their widowed father.
This film adaptation was preceded by the successful Broadway musical written and composed by the iconic duo Richard Rodgers and Oscar Hammerstein II. Most of these original songs were included in the movie, along with two new songs written by Rodgers alone after Hammerstein's death: "I Have Confidence" and "Something Good."
From the opening scene where Maria belts out the title song atop a mountain to a bed full of pajama-clad children listening raptly to her list of "favorite things," this soundtrack is full of folksy, sing-along-worthy songs that have permeated pop culture for over half a decade.
Alfie (1966)
One may not expect a comedy-drama about a philandering 1960s playboy to be the source of an amazing movie soundtrack, yet "Alfie" ticks this box. Michael Caine stars in the title role, a character remembered for constantly directing commentary to his audience throughout the film, although the soundtrack may be even more enduring.
In juxtaposition to the pop hits of contemporary bands like The Beatles at the time, composer Sonny Rollins leaned into what he knew best to score this film: the smooth riffs of jazz. The soundtrack also meshes well with the characters and tone of the story. According to Richard Brody, film critic for The New Yorker, "the jaunty, songful theme that opens the movie sets a mood that Caine catches breezily."
Penned by Burt Bacharach and Hal David, this tune generated the catchphrase "What's it all about, Alfie?" and earned an Oscar nomination for Best Original Song.
The Good, the Bad, and the Ugly (1966)
Of the estimated 500 films he scored, composer Ennio Morricone is best known for his collaborations with director Sergio Leone on spaghetti Westerns. Chief among these is "The Good, the Bad and the Ugly," whose soundtrack spent over a year on the Billboard charts.
Clint Eastwood stars as Blondie, a "good guy" bounty hunter who faces off against two others in one of cinema's most infamous standoffs. The pounding drums, trilling flute, and whining horns of the theme song are instantly recognizable, even to those who have never seen the movie. The soundtrack is so iconic that it earned a spot in the Grammy Hall of Fame in 2009.
The Graduate (1967)
In "The Graduate," Dustin Hoffman stars as a recent college grad who engages in an affair with an older woman and subsequently falls for her daughter. The film's soundtrack sold over 2 million copies and spent nine weeks at the top of the charts.
Dave Grusin and Paul Simon also took home the Grammy for Best Original Score Written for a Motion Picture or a Television Special in 1969. Interestingly, the song most often associated with this film, "Mrs. Robinson," is not actually on the soundtrack. Only a snippet was in the movie, and the full track appeared on Simon & Garfunkel's album "Bookends" the following year. However, the folk-rock duo's other hit, "The Sounds of Silence," can be heard throughout the film—most memorably in the opening credits.
2001: A Space Odyssey (1968)
"2001: A Space Odyssey" nearly had an entirely different soundtrack. Director Stanley Kubrick initially hired Alex North to compose an original score for this classic sci-fi thriller about a spacecraft whose AI turns against its passengers. While North worked to complete the score, Kubrick inserted pieces of classical music as placeholders for various scenes.
In the end, Kubrick decided his musical choices were best for the film, so he scrapped North's work. Today, it is impossible to imagine anything other than the climbing tones of Richard Strauss' "Also sprach Zarathustra" opening the film.
Easy Rider (1969)
Peter Fonda and Dennis Hopper not only starred in "Easy Rider," but they also wrote the screenplay (with Terry Southern), Hopper directed the film, and the pair chose to score the movie in an unusual manner.
Working on a tight budget, Fonda and Hopper elected to use contemporary rock tracks to complement the story rather than hiring a costly composer and orchestra to create an original score. Editor Donn Cambern praised the film for beginning the "whole conception of thinking that a song really needs to be placed for its narrative value, as well as its playability in a scene."
As the film's two hippies head out across the U.S. on their motorcycles, their journey is backed by The Byrds, The Band, Jimi Hendrix, and, most famously, Steppenwolf's "Born to Be Wild."
A Clockwork Orange (1971)
Kubrick strikes again, using classical music to create an unforgettably dark and harrowing cinematic experience with the BAFTA award-nominated soundtrack to his adaptation of Anthony Burgess' 1962 novel.
"A Clockwork Orange" is the futuristic story of violently deranged gang leader Alex (Malcolm McDowell), who is captured and experimented upon. One of Alex's key character traits is his love of Beethoven, whose music is infused throughout the film. This music is ultimately used against Alex as part of his conditioning, a form of experimentation akin to torture. Wendy Carlos also composed original electronic music for the soundtrack, further enhancing the film's bizarre atmosphere.
Shaft (1971)
Private detective John Shaft (Richard Roundtree) works to track down a criminal's kidnapped daughter in this classic Blaxploitation crime-thriller. "Shaft" transformed Isaac Hayes from R&B musician to an award-winning composer at 29.
In 1972, he became the first Black man to win a music-related Oscar (Best Music, Original Song) for "Theme from Shaft," a memorable tune that perfectly embodies the title character. That same year, he won the Grammy for Best Original Score Written for a Motion Picture or a Television Special.
Hayes' son, a musician and producer in his own right, praised his father's groundbreaking work, saying he "always wanted to incorporate flutes and strings, like Motown, and mixing the two was frowned upon by a lot of people on the Memphis music scene."
Cabaret (1972)
Liza Minnelli headlines as Sally Bowles in this big-screen adaptation of the 1966 Broadway show. Critic Garry Giddins described this film about a group of cabaret performers facing the rise of Nazi power in 1930s Germany as "a musical for people who don't particularly care for musicals."
"Cabaret" drew a wide range of fans and snagged an astonishing eight Oscars, including one for Best Music, Scoring Original Song Score and/or Adaptation. The film featured many of the songs originally composed by John Kander and Fred Ebb for the stage show; however, filmmakers dropped some of the songs because they preferred the numbers to be performed inside the Kit Kat Club rather than allowing characters to burst into song spontaneously.
Over a half-century later, "Cabaret" remains a cornerstone of pop culture, even showing up in an episode of the hit TV series "Schitt's Creek," which featured the well-known songs "Willkommen" and "Maybe This Time."
Super Fly (1972)
Priest (Ron O'Neal) is a cocaine dealer looking to make one more big score before retiring in "Super Fly." The film's Grammy-nominated soundtrack (Best Original Score Written for a Motion Picture or a Television Special) is an innovative blend of soul and funk written and performed by Curtis Mayfield.
His music was so popular that the album outsold the film. The title song, "Super Fly," with its swanky combination of horns and high hats, has since been sampled by popular artists like the Beastie Boys, Eminem, and The Notorious B.I.G.
American Graffiti (1973)
"American Graffiti" follows one eventful night in the lives of a group of California high school grads, set to the sound of over 40 mid-century pop hits. The soundtrack is a classic example of how music can shape the story onscreen.
Songs grounded the film in 1962 by mainly featuring 1950s tunes that would have been well-known at the time. This baseline is then highlighted with a few early '60s hits—like "Surfin' Safari" by The Beach Boys—to exemplify how the times were changing. Music throughout the film is also carefully cued to the action; for example, "Do You Wanna Dance" by Bobby Freeman kicks in right as two characters square off to drag race.
Mean Streets (1973)
Harvey Keitel stars as Charlie, a small-time mobster trying to protect his friend Johnny Boy (Robert De Niro) from the guys he owes money to, in Martin Scorsese's "Mean Streets." The movie's soundtrack includes hits from some of the biggest pop and rock acts of the '60s and '70s.
The film opens with a smattering of Charlie's home movie footage set to the upbeat cadence of "Be My Baby" by The Ronettes. In another scene, De Niro makes a smooth entrance into a dive bar, with a woman on each arm to the sound of The Rolling Stones' "Jumpin' Jack Flash." Perhaps most memorably, a violent pool hall fight scene is juxtaposed with the cheerful harmonies of The Marvelettes' "Please Mr. Postman."
The Rocky Horror Picture Show (1975)
This movie adaptation of Richard O'Brien's groundbreaking musical follows Brad (Barry Bostwick) and Janet (Susan Sarandon), an innocent young couple whose car breaks down as they seek shelter in the home of the enigmatic—and not so innocent—Dr. Frank-N-Furter (Tim Curry).
Although the movie's subject matter and many of its songs (think: "Touch-a, Touch-a, Touch-a, Touch Me" and "Sweet Transvestite") were controversial when the film was released, the music's staying power is undeniable. Audiences still line up to sing along word-for-word at screenings of this cult classic—especially those with interactive crowd participation. Songs like "Don't Dream It, Be It" continue to inspire viewers to be their authentic selves nearly half a century later.
Tommy (1975)
In a film where every single word of dialogue is sung, "Tommy" puts visuals to the dynamic storytelling of The Who's 1969 album. The story follows a young boy who is blind, deaf, and nonverbal through his journey to become a pinball-playing champion and cult leader.
The Who's Pete Townshend received a Grammy nomination (Best Music, Scoring Original Song Score and/or Adaptation) for his work on this rock opera, which Newsweek's Charles Michener called "the loudest, most assaultive movie musical ever made."
Appearances by other music legends—Eric Clapton as The Preacher, Elton John as The Pinball Wizard, and Tina Turner as the Acid Queen—also help make both the movie and its soundtrack truly unforgettable.
A Star is Born (1976)
Washed-up rock star John Norman Howard (Kris Kristofferson) falls for rising musician Esther Hoffman (Barbra Streisand) in "A Star is Born." Although this version may not be the most well-received of the four created to date, the music carries the film.
As The Hollywood Reporter's Jean Hoelscher put it in their review, "Streisand's fantastic singing voice shows to the best advantage her incredible talent." Streisand and Paul Williams picked up an Oscar for Best Original Song ["Evergreen (Love Theme from A Star is Born)"], and the music earned both Oscar and Grammy nominations for Best Original Score. A number of other composers also collaborated on this soundtrack, including Kenny Loggins, who wrote "I Believe in Love."
Rocky (1976)
"Rocky" is one of the greatest underdog stories ever told on film, telling the tale of Rocky Balboa, a boxer from Philadelphia who gets the once-in-a-lifetime chance to prove himself against the world's heavyweight champion.
Not only is the movie a piece of cinematic history, but the soundtrack is instantly recognizable worldwide. Take the theme song: You can likely hear the opening crescendo of horns blaring in your mind, lifting your spirits as you read this. "Gonna Fly Now," with music by Bill Conti and lyrics by Carol Connors and Ayn Robbins, was nominated for Best Original Song at the 1977 Academy Awards. Conti also received a Grammy nomination for Best Original Score in 1978.
Saturday Night Fever (1977)
Young Brooklynite Tony Manero (John Travolta) escapes his day-to-day struggles by dancing the night away in this disco-era drama. The "Saturday Night Fever" soundtrack catapulted The Bee Gees to fame with catchy songs like "How Deep is Your Love," "More Than a Woman," and "Night Fever."
The image of Travolta strutting down the street to the tune of "Stayin' Alive" in the movie's opening scene remains woven into the fabric of pop culture to this day. The soundtrack became the top-selling album of 1977 and earned The Bee Gees an American Music Award for Favorite Soul/R&B Album in 1979.
Star Wars (1977)
"Star Wars," the film that launched one of the greatest sci-fi franchises ever created, is the story of an intergalactic battle between the forces of good and evil. Composer John Williams, who has scored nine Star Wars films, received a well-deserved Academy Award (Best Original Score) for his work on this soundtrack.
The movie's theme is perhaps one of the most recognizable songs in film history. As the words "A long time ago in a galaxy far, far away…." fade from the screen, exultant horns resound, and the title "Star Wars" flashes in bold font. Luke Skywalker (Mark Hamill) and Princess Leia (Carrie Fisher) also have their own memorable themes on the soundtrack, and who can forget the jazzy riffs of "Cantina Band."
Grease (1978)
Bad boy greaser Danny Zuko (John Travolta) and the innocent Sandy Olsson (Olivia Newton-John) try to salvage an improbable summer romance in this movie adaptation of the 1971 stage show. The chemistry of this iconic duo made the film—and its soundtrack—an immediate hit.
"You're the One That I Want," a song written by John Farrar at the last minute for the film's final scene, sold a whopping 6 million copies as the album's second single. Travolta shines belting out the upbeat "Greased Lightnin'" atop an old car, and Newton-John captures hearts with her ballad "Hopelessly Devoted to You." Add in the power of supporting characters like Rizzo (Stockard Channing), crooning the contemplative "There Are Worse Things I Could Do," and there's not a single miss on the entire soundtrack.
Halloween (1978)
In this horror classic, Michael Myers (Tony Moran) escapes from the psychiatric facility where he was held for murdering his sister 15 years before. He then sets out to find his remaining sister, Laurie (Jamie Lee Curtis).
Writer-director John Carpenter composed the soundtrack critical to building the suspenseful atmosphere in "Halloween." The repetitive staccato notes of the film's main theme are instantly recognizable and instill fear. "The Exorcist" theme and Italian rock band Goblin inspired Carpenter's now iconic piece.
Apocalypse Now! (1979)
This Vietnam War epic follows Army officer Capt. Benjamin L. Willard (Martin Sheen), tasked with tracking down and killing the rogue Col. Walter E. Kurtz (Marlon Brando). Carmine Coppola and Francis Ford Coppola won Best Original Score for "Apocalypse Now!" at the 1980 Golden Globes.
The duo excelled at pairing recognizable songs with key scenes throughout the film for maximum effect. Memorable examples include a soldier waterskiing downriver to the tune of "Satisfaction" by The Rolling Stones and the scene of a village being decimated while "The Ride of the Valkyries" by Richard Wagner plays.
Story editing by Carren Jao. Copy editing by Kristen Wegrzyn. Photo selection by Abigail Renaud.