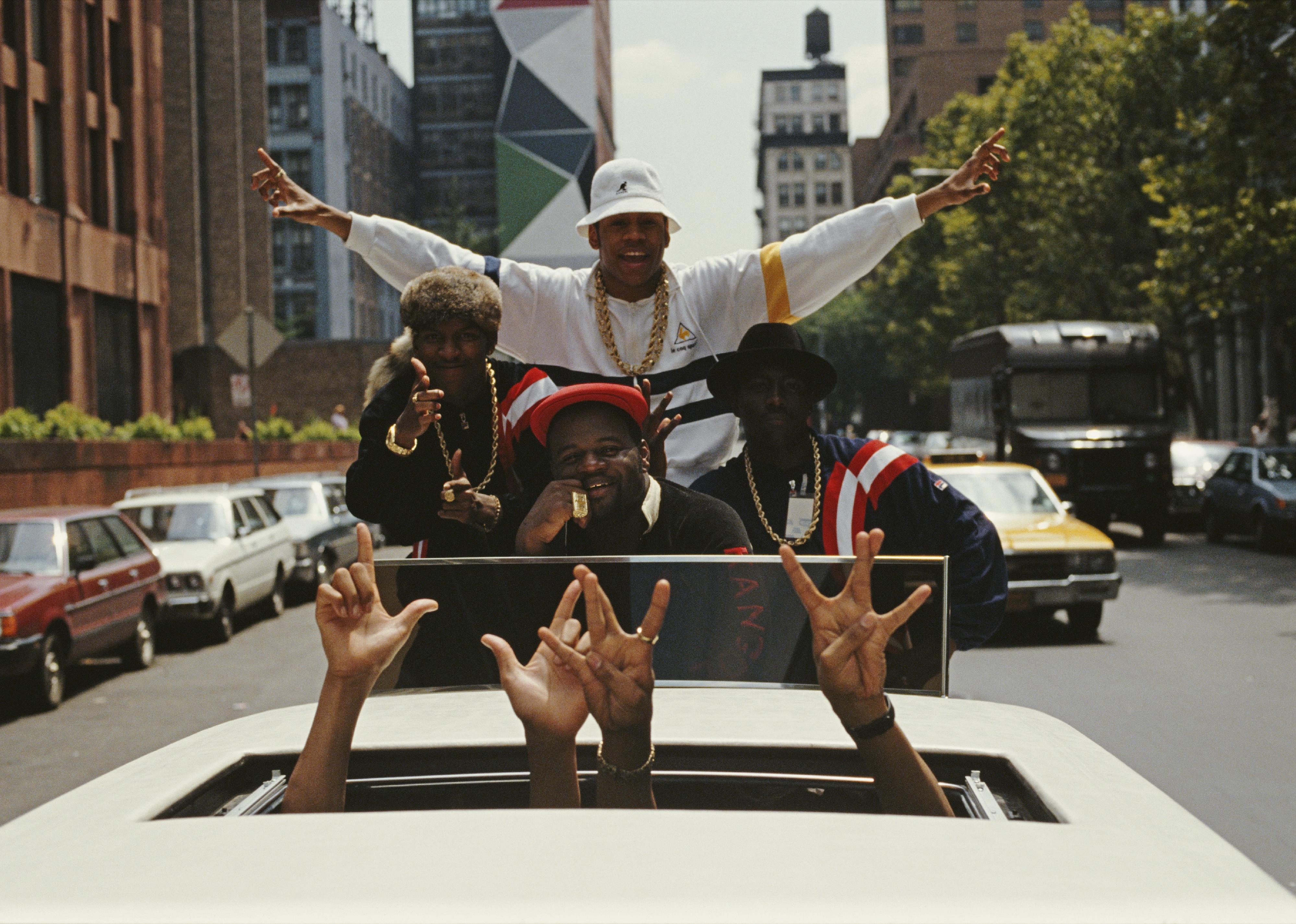 Michael Ochs Archives // Getty Images
History of hip-hop
It was 1979 when The Sugar Hill Gang released "Rapper's Delight," a song widely considered to be the first hip-hop track. But hip-hop's history stretches back much further than Wonder Mike uttering those famous first lyrics: "Now, what you hear is not a test, I'm rapping to the beat/And me, the groove, and my friends are gonna try to move your feet."
Early influencers of hip-hop included jazz musicians who employed vocal improvisation, or scat singing, in their songs. The first famous scat solo on a record came from Louis Armstrong ad-libbing on his 1926 recording of "Heebie Jeebies" when he dropped his trumpet melody sheet music during the recording. Earlier recordings of scat singing, from artists like Don Redman and Cliff Edwards, have also been found. Ella Fitzgerald was a master of scat singing, and rappers today still employ the practice on album tracks and use it as a mechanism for coming up with rhythms.
The Last Poets redefined spoken word in the '60s, followed by DJ Kool Herc tracing the outlines of hip-hop in 1973 with two turntables. Today, hip-hop music is recognized as one of America's most popular art forms, as teens with dyed hair can spawn a chart-topping hit as quickly as a flautist from Detroit. Hip-hop traversed the U.S. map, starting in New York City and spreading throughout the five boroughs before resonating in Los Angeles, Atlanta, the Midwest, Europe, Asia, and the rest of the world.
To celebrate the genre that told us parents just don't understand and extolled the pleasures of gin and juice, Stacker drew on historic records and various music publications. The following 50 slides make up a unique list of hip-hop moments, events, developments, and seminal albums and songs that span the rich history of the genre. By no means is this timeline exhaustive; a genre as diverse and prolific as hip-hop was shaped by thousands of artists, producers, DJs, writers, and other visionaries. Still, we've striven to encompass a wide range of performers across genres including rap, R&B, and reggaeton in chronicling the milestones and shifts in hip-hop history.
Do you remember the revolutionary political songs that inspired so many to "Fight the Power"? Or the Georgia rap group that presciently proclaimed in 1995 that Southern hip-hop would soon make its mark in the industry? What about the rapper and soul singer who educated the music industry about her talent by becoming the first hip-hop artist to win the Grammy for Album of the Year? Keep reading to learn about these moments and many more.