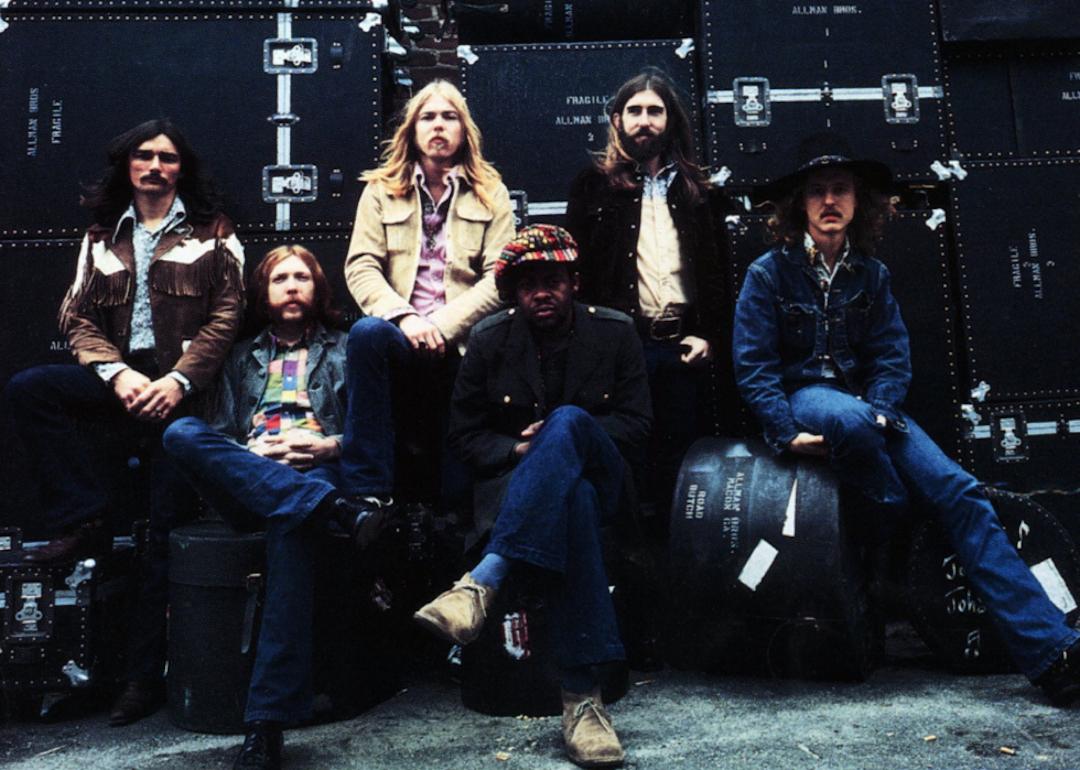 GAB Archive // Getty Images
History of rock 'n' roll
From baseball and television to air conditioning and Coca-Cola, the United States has offered the world no shortage of contributions. Few of those contributions, however, can hold a candle to the one American export that completes the vaunted triple crown of sex, drugs, and rock 'n' roll.
Born at the crossroads of gospel, country, jazz, and R&B, rock 'n' roll emerged in earnest in the boom years after World War II. While conservatives, traditionalists, religious fundamentalists, and squares of all stripes tried their hardest to force the rock 'n' roll genie back in its bottle, there was no turning back once the music met their children's ears.
Marilyn Manson once said, "Society has traditionally always tried to find scapegoats for its problems. Well here I am." If rock music were a person, it could have made the exact same statement about itself. From Elvis' hips to hippie hair to heavy metal headbanging, rock music has been blamed for every perceived societal decline that's taken place since the 1950s.
The problem is, it's just so cool. It's so cool, in fact, that the lucky few who ascend to the genre's highest level of celebrity earn the title that is more coveted than any other in American popular culture: rock star.
Rock stars fill stadiums, earn millions, command the attention of legions of adoring fans, and steer societal trends. Their music has changed society, launched protest movements, and defined entire eras. Whatever they eat, drink, wear, or do is immediately copied by the masses who immerse themselves in the mythology, tragedy, and unrelenting excesses synonymous with the movement.
Rock 'n' roll expanded over the years and decades to include spinoff subgenres like punk, heavy metal, industrial rock, alternative music, psychedelic, and grunge. Although it might seem like a vast ocean separates Little Richard from the Red Hot Chili Peppers, they both have one thing in common: They rock.
Using a variety of sources, Stacker created a loosely chronological list of 50 moments in history that defined rock 'n' roll. From its earliest conception to its current state, the journey has been loud, debaucherous, and frequently reviled. After seven or so decades, however, one thing is certain: Rock 'n' roll is here to stay.
You may also like: Lyrics to 50 famously misunderstood songs, explained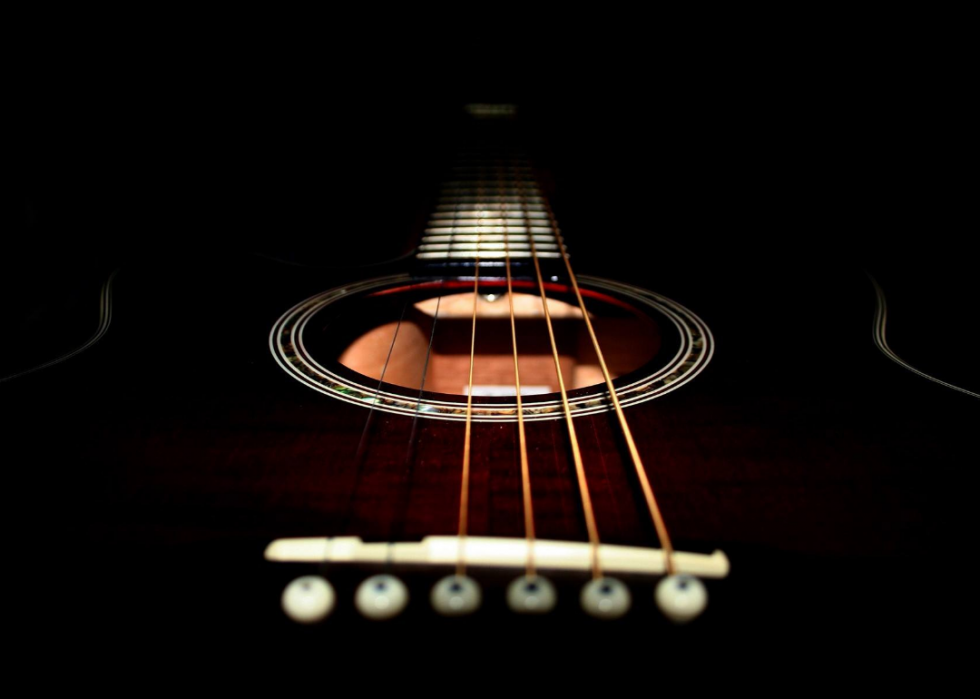 1 / 50
Trixie Smith coins a phrase
Influential African American blues singer, songwriter, and vaudeville entertainer Trixie Smith recorded music on so-called "race records," which allowed content that would never have been tolerated on mainstream white records. One example comes from lyrics she sang on a "Black Swan" record in 1922: "My daddy rocks me with a steady roll." Many historians credit the moment as the genesis of the term "rock 'n' roll."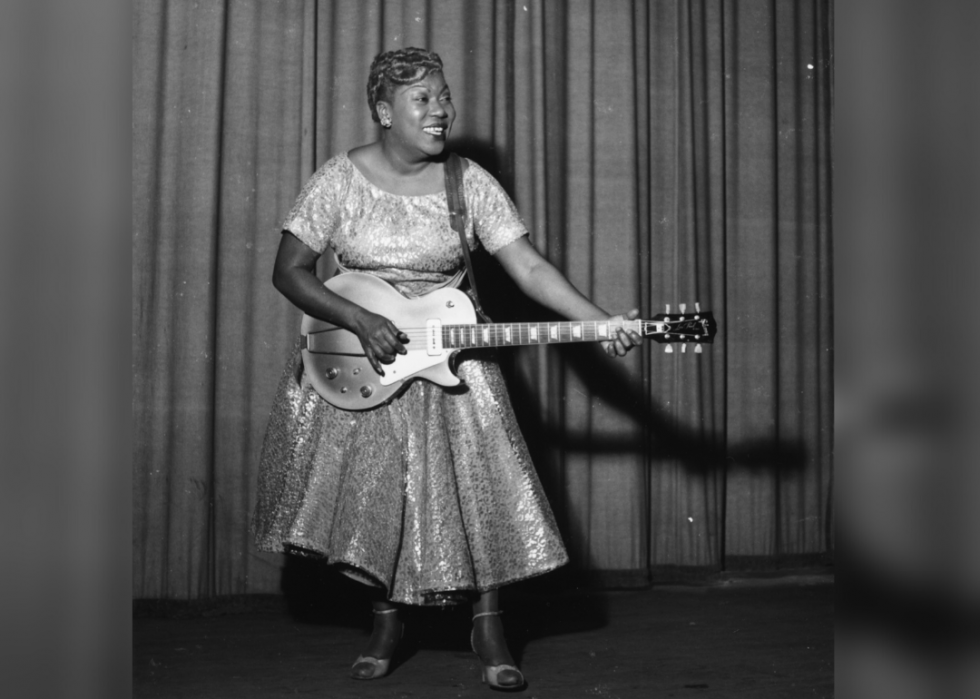 2 / 50
Chris Ware/Keystone Features // Getty Images
Sister Rosetta Tharpe reinvents the electric guitar
Rock 'n' roll was born—at least in part—from gospel music, and it's hard to imagine that any one artist was more responsible for building a bridge between the two genres than Sister Rosetta Tharpe. The first true gospel recording star, Tharpe rose to fame in the 1930s and '40s before pioneering the technique of heavy distortion on the electric guitar. Her music was the immediate predecessor to rock 'n' roll and served as an inspiration to every early rock star worth knowing, from Elvis Presley and Little Richard to Chuck Berry and Jerry Lee Lewis.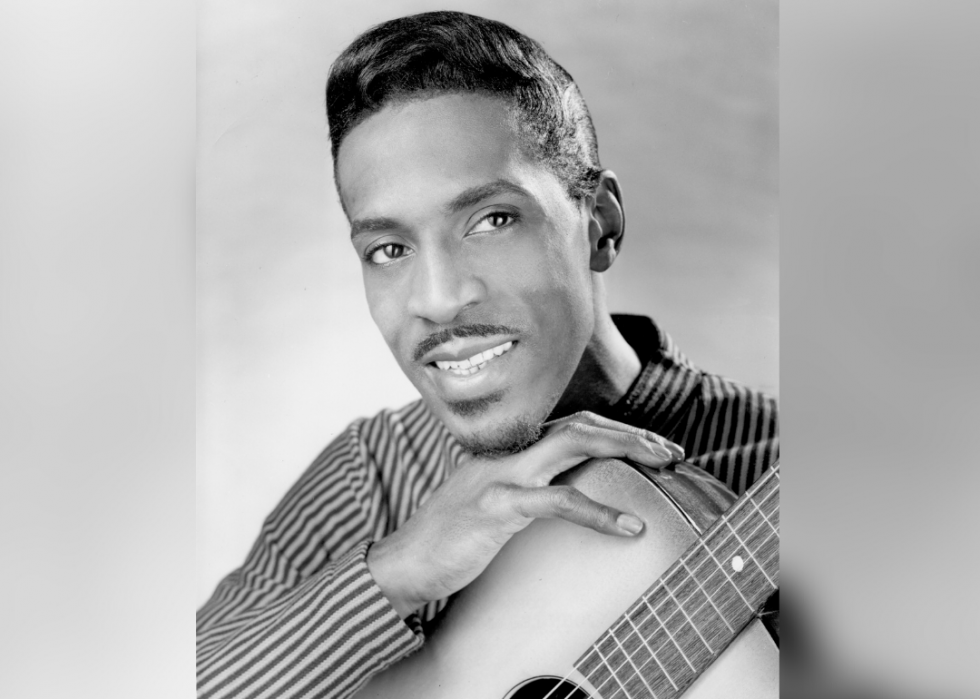 3 / 50
Michael Ochs Archives // Getty Images
Ike Turner records 'Rocket 88'
Although there is not a complete consensus, many music historians consider Ike Turner's "Rocket 88" to be history's first rock 'n' roll record. Recorded in Memphis in 1951 under the pseudonym Jackie Brenston and his Delta Cats, it remains one of the most influential recordings of all time.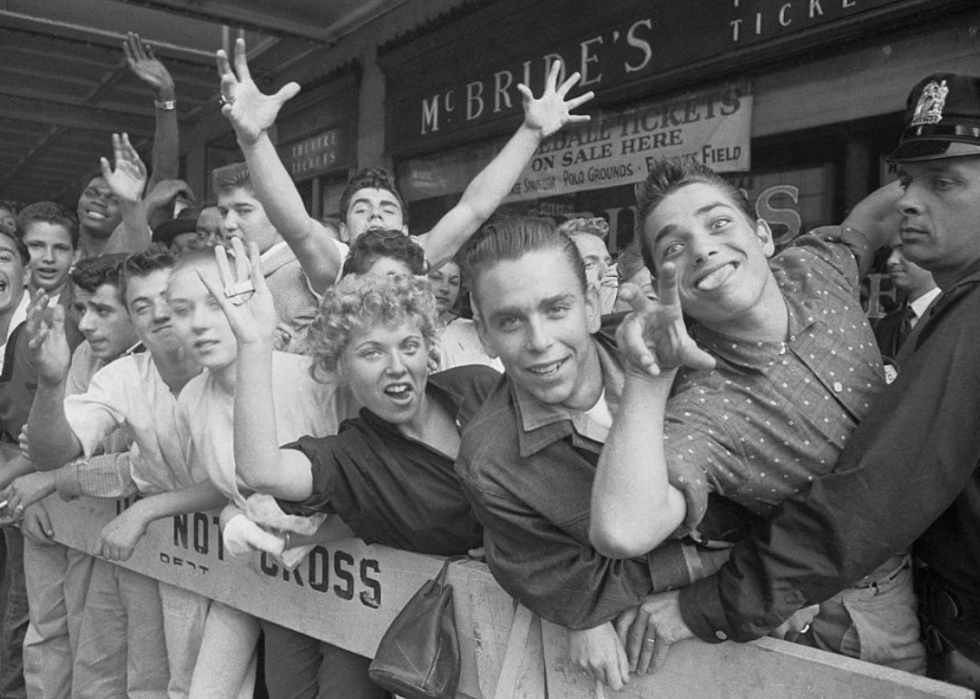 4 / 50
Alan Freed integrates audiences
Influential DJ Alan Freed broke cultural and musical barriers by introducing mainstream white audiences to R&B in a time when music was as segregated on the radio as it was in America's live entertainment venues, according to Time. Despite Trixie Smith's contributions three decades earlier, most historians credit Alan Freed with coining the term "rock 'n' roll" in 1951.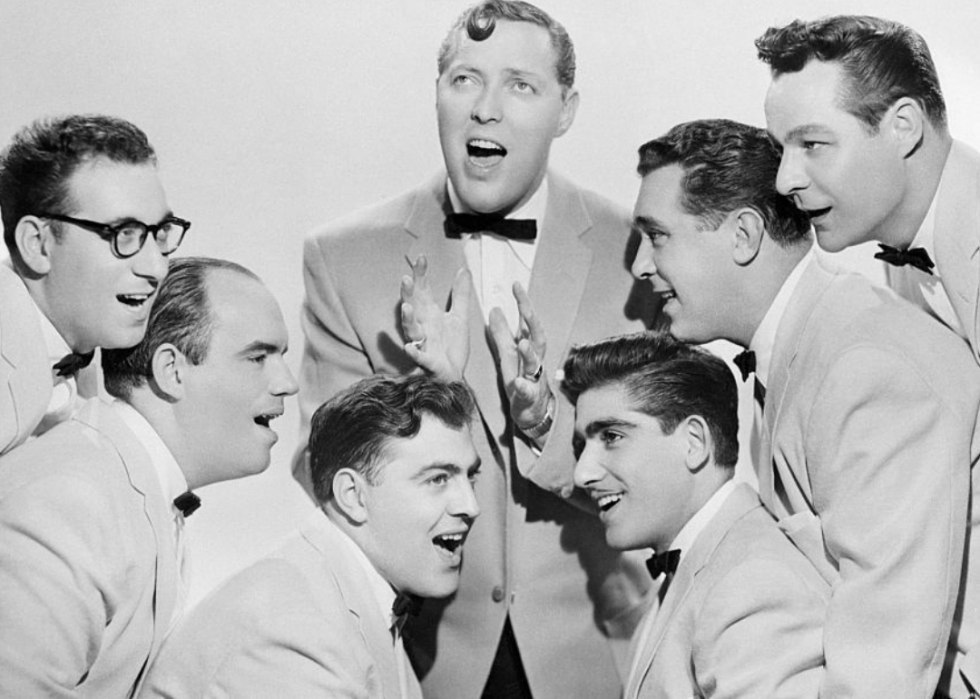 5 / 50
Rock hits the big time
Many argue that "Rocket 88" was an R&B record and therefore doesn't qualify as rock 'n' roll. People who take that perspective will almost always trace the rock 'n' roll movement's genesis to 1955, when "Rock Around the Clock" by Bill Haley and the Comets became the first rock 'n' roll song to top the Billboard charts.
You may also like: 30 musicians with legendarily long careers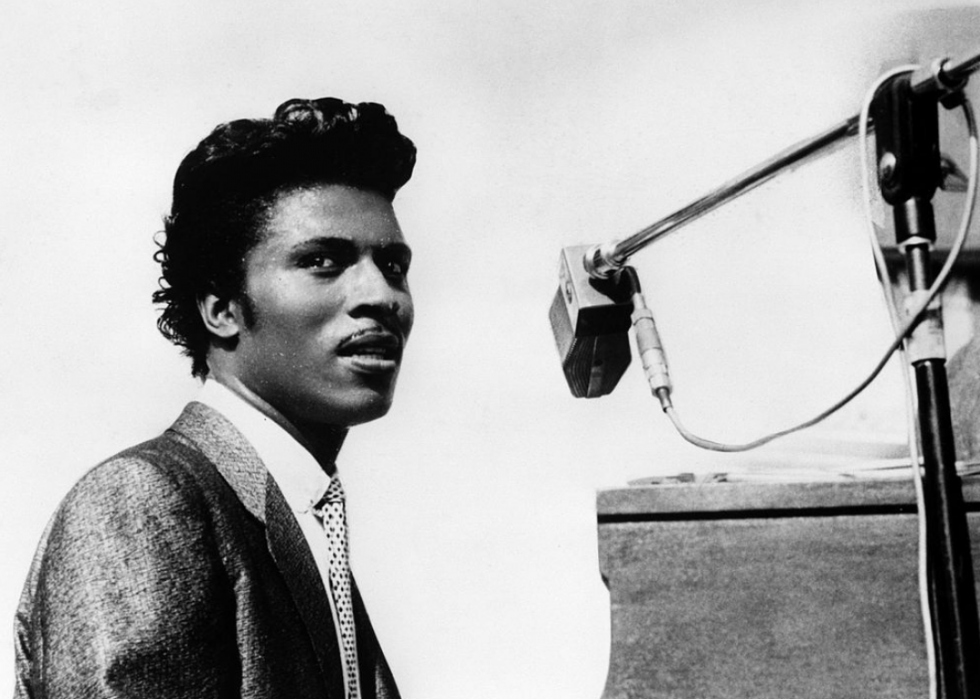 6 / 50
Little Richard wows
In 1955, 65 years after it was first heard, "Wop bop a loo bop a lop bom bom!" is still instantly recognizable as the refrain from "Tutti Frutti," Little Richard's first big hit. Loud, intense, bold, and bursting with rhythm, the song became a blueprint for rock 'n' roll music and defined the pioneering style of one of rock's greatest and most flamboyant showmen.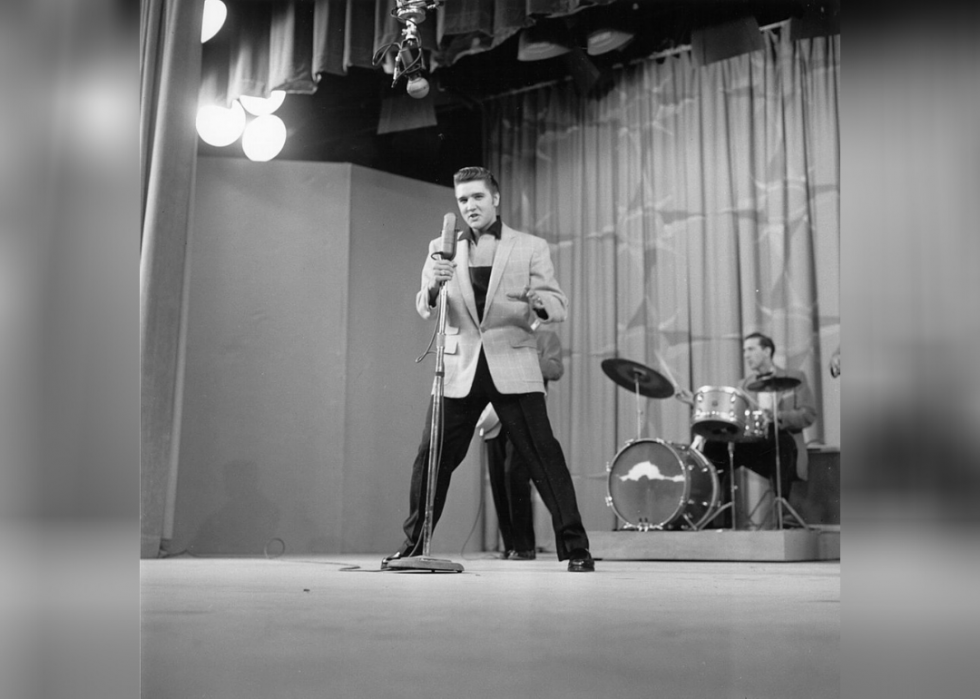 7 / 50
Michael Ochs Archives // Getty Images
The world meets the top half of Elvis
In 1956, Ed Sullivan was in a pickle—rock star Elvis Presley was too big to ignore, but his signature hip gyrations were far too scandalous for family TV. The compromise was that the King was booked to perform on the show, but was only filmed from the waist up. One of the biggest television events in history, 60 million viewers tuned in and two out of three Americans watching TV that night were watching the man who the next day would be the biggest star in the world.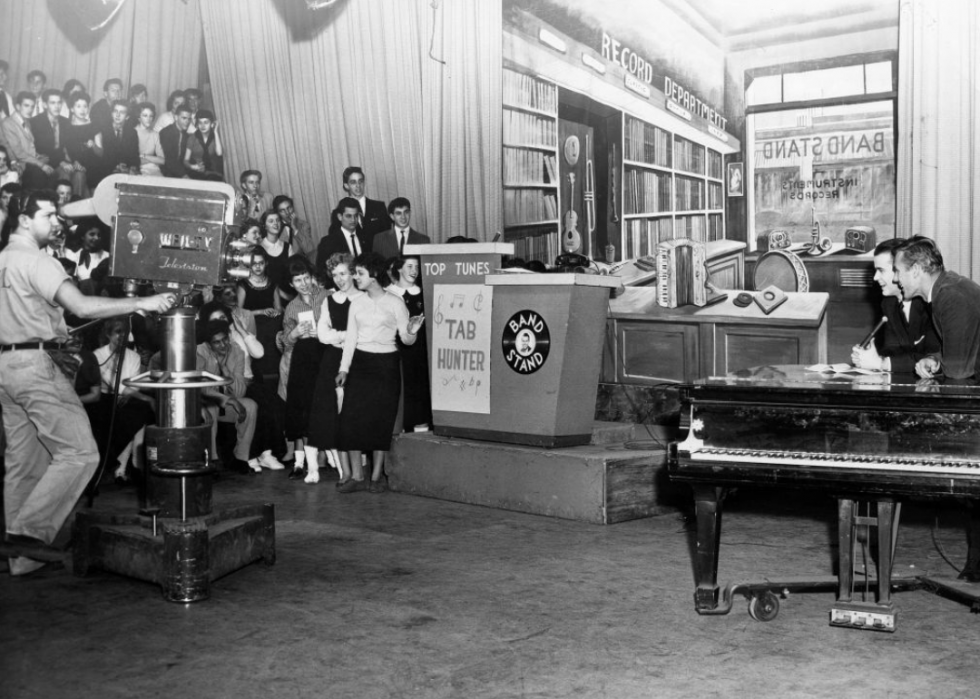 8 / 50
Michael Ochs Archives // Getty Images
D**k Clark takes over Bandstand
By 1956, Bob Horn was 40, overweight, unphotogenic, and out of touch with the legions of teens and pre-teens who flocked to his WFIL-TV show "Bandstand." His producers decided Horn was yesterday's news and replaced him with a young, dynamic, boy-faced, and squeaky-clean radio host named D**k Clark. The show would go on to become "American Bandstand" and Clark would evolve into "America's only national DJ," one of the most influential kingmakers and gatekeepers in the history of American entertainment.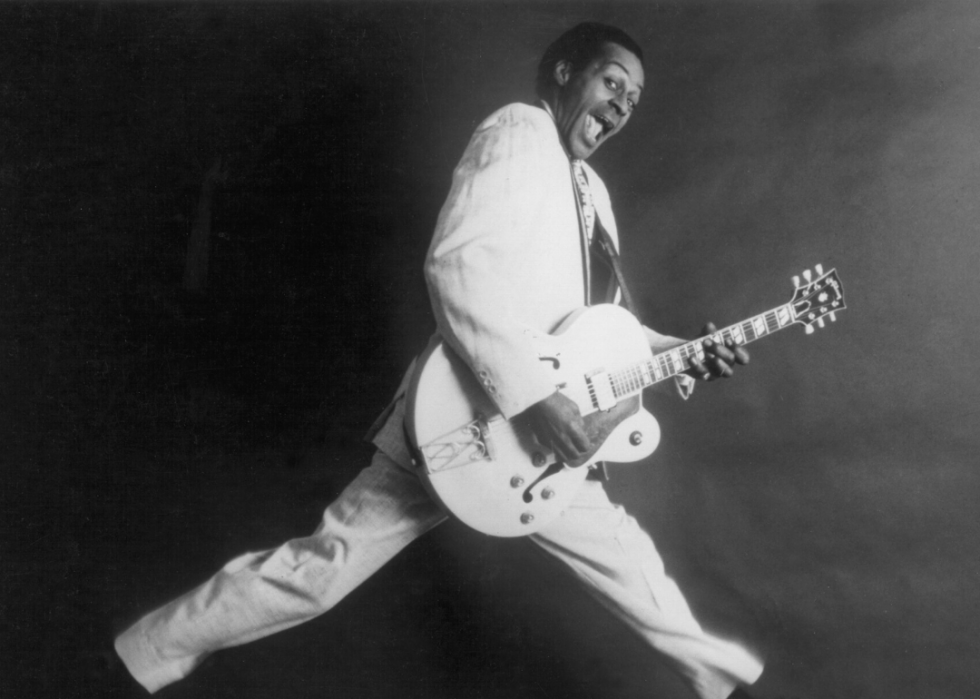 9 / 50
Michael Ochs Archives // Getty Images
Chuck Berry releases Johnny B. Goode
In 1958, Chuck Berry released what is probably the most famous rock 'n' roll song of all time. "Johnny B. Goode" remains one of the most popular, most highly acclaimed, and most-often covered songs ever written.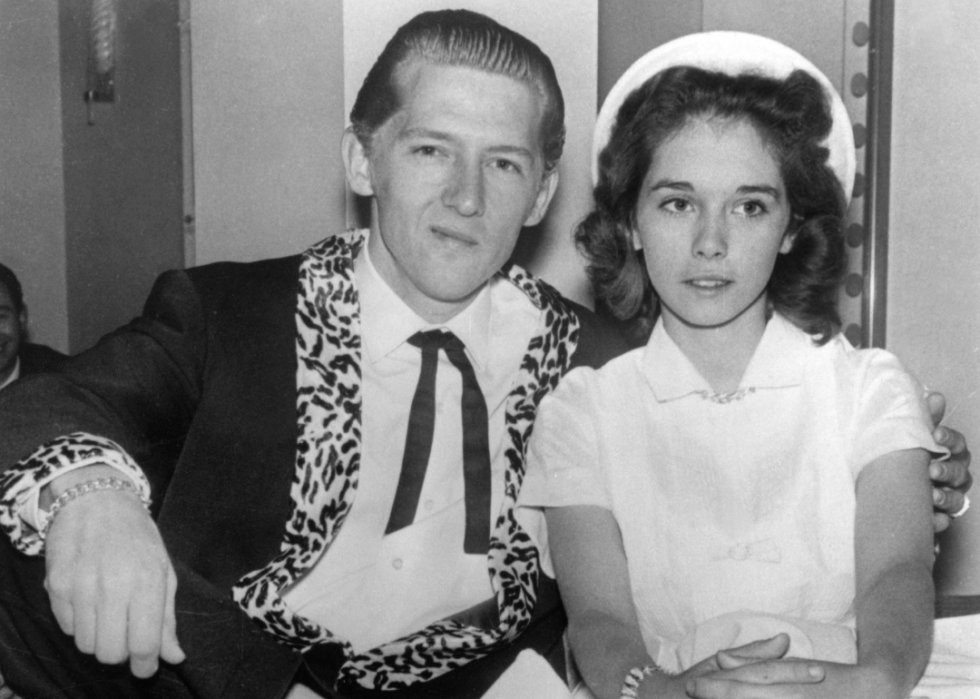 10 / 50
Keystone-France/Gamma-Keystone via Getty Images
Rock stars get their own set of rules
In 1958, the worst fears of Jerry Lee Lewis' sponsors, handlers, and studio bosses came true when he brought his child bride on tour. What his bosses knew was that she was a 13-year-old girl who also happened to be his second cousin and third wife—neither of his previous divorces were finalized before he got married again. The moment proved that the moral and sexual taboos that governed society didn't apply to those who hit the big time—when it came to debauchery, there was officially one set of rules for rock stars and another set of rules for everybody else.
You may also like: Controversial songs from the year you were born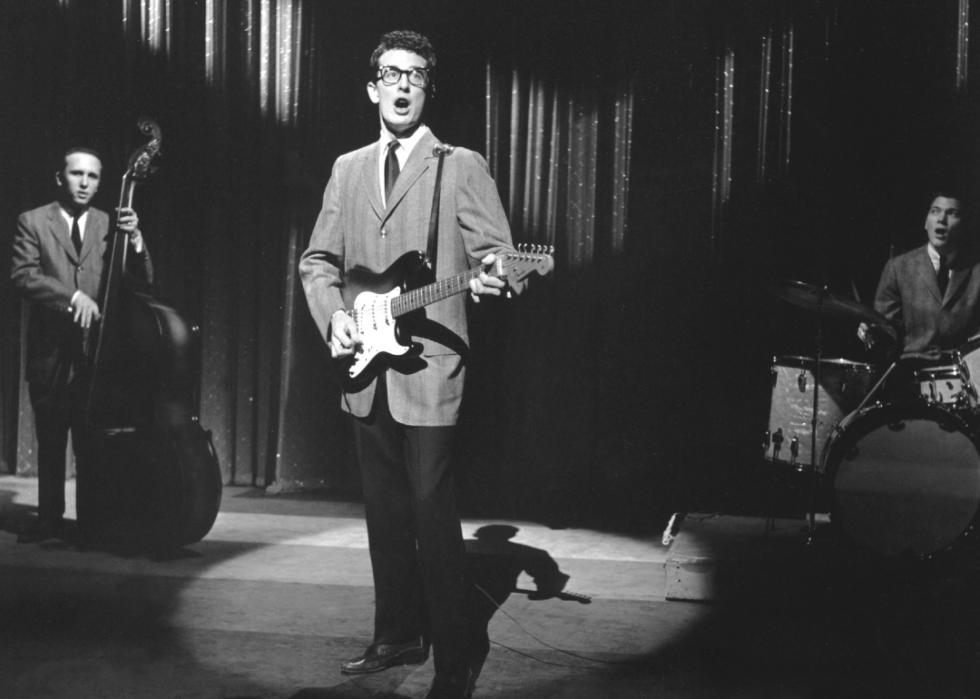 11 / 50
Michael Ochs Archives // Getty Images
The music dies
On Feb. 3, 1959, rock stars Buddy Holly, J.P. "The Big Bopper" Richardson, and Ritchie Valens were killed when their plane crashed in Iowa during a national tour. Valens was not supposed to be on the plane, but snagged a seat after winning a coin toss. The incident has been known as "the day the music died" since 1971 when the tragedy inspired Don McClean to write "American Pie."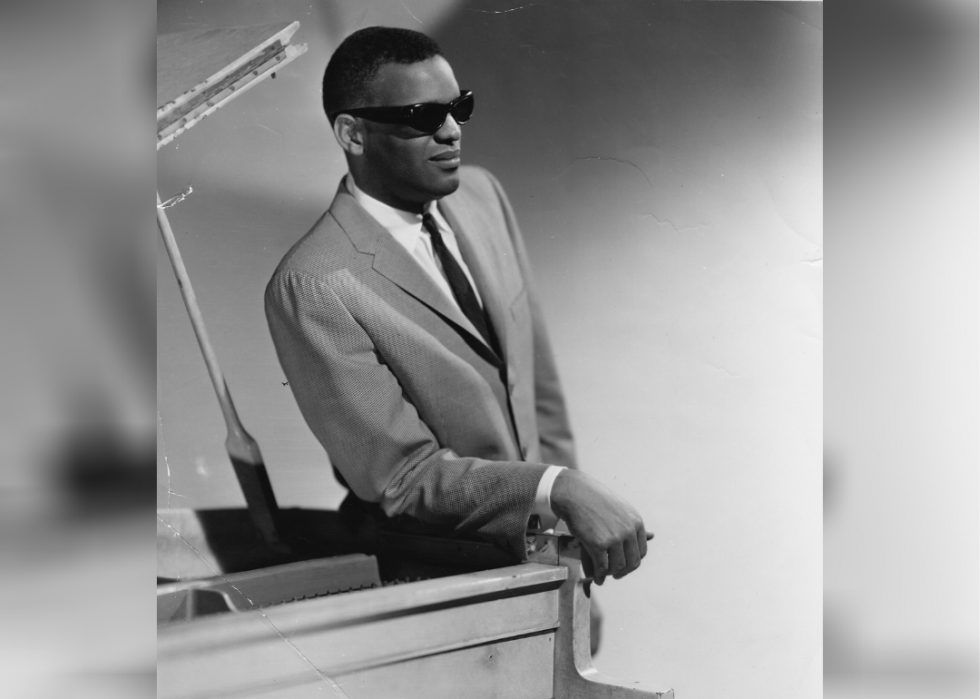 12 / 50
Gilles Petard // Getty Images
Ray Charles records 'What'd I Say?'
The influence of African American music like jazz, blues, and R&B is evident all over early rock 'n' roll, and in 1959, Ray Charles combined it all into one when he recorded "What'd I Say?" The artist's first gold record, it is widely considered to be the first soul song ever produced.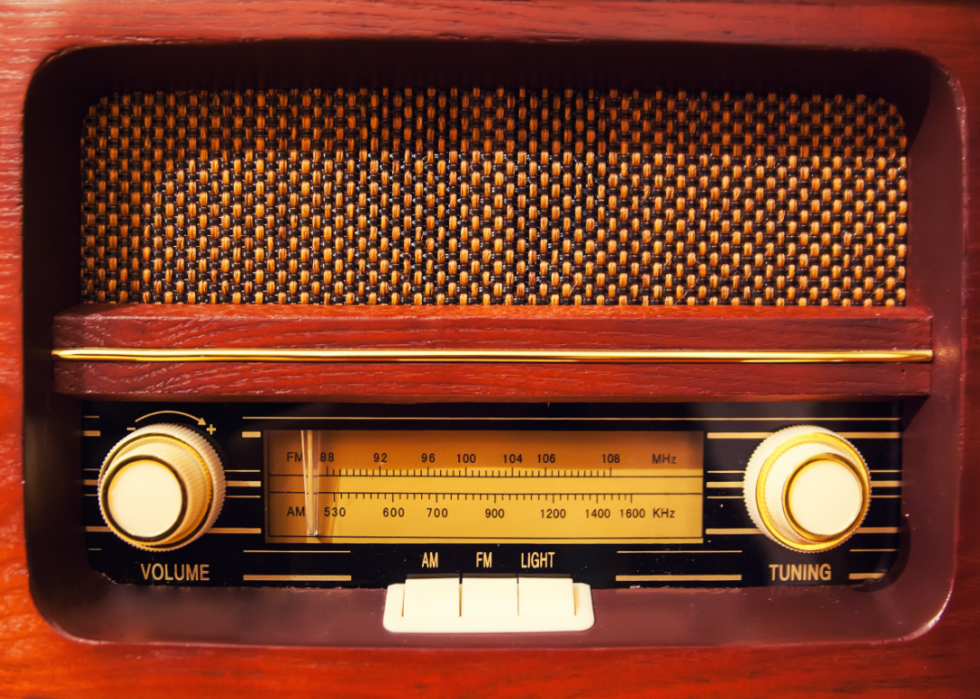 13 / 50
Radio rules the musical roost
Several game-changing events converged in the 1950s that caused a dramatic shift toward top-40 radio. The rise of television siphoned most dramatic programming from radio to TV, cheap 45 rpm records were introduced, teenagers became an economic force in the post-war boom economy, and, of course, rock 'n' roll emerged as a major cultural movement. In 1950, there were about 250 radio DJs, but by 1957, there were more than 5,000.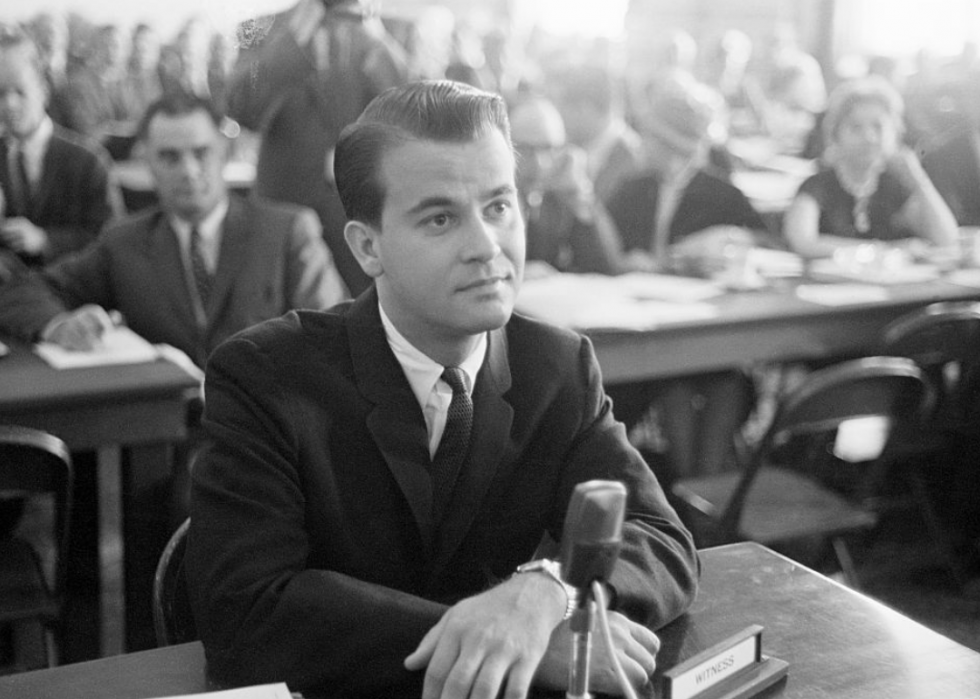 14 / 50
Payola scandals shake the music industry
The rise of top-40 radio launched the record industry into the stratosphere, and to keep the profits rolling in, a bribery scheme known as payola became standard—and soon became scandalous. Record labels bribed radio stations and DJs to play records without disclosing that they'd been paid to do so, and when the public caught wind, it caused an enormous outcry. A payola scandal ruined Alan Freed's career and almost toppled D**k Clark before Congress outlawed the practice in 1960.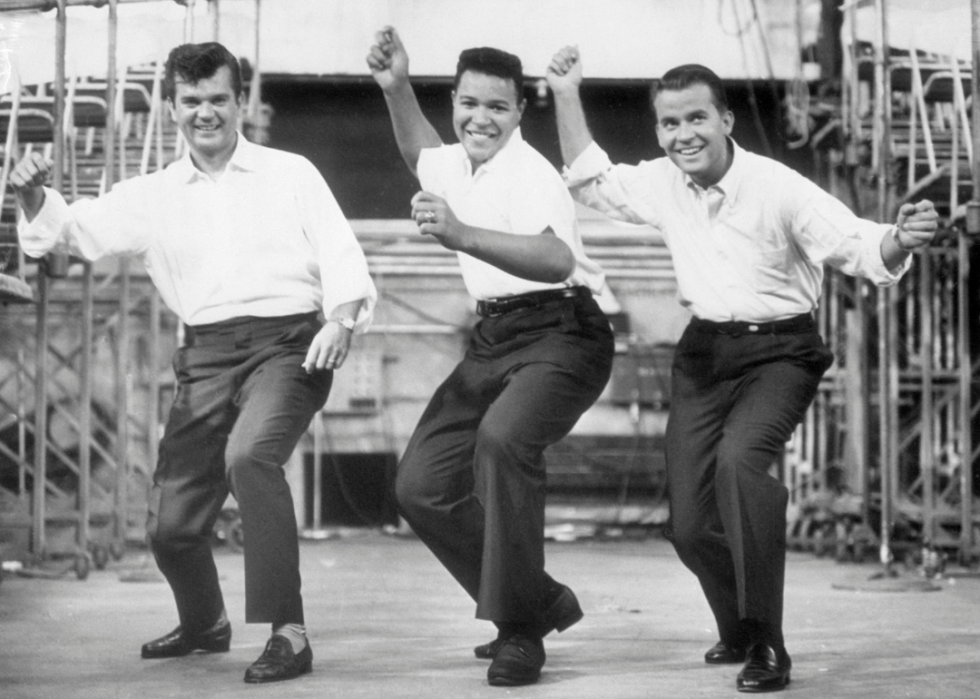 15 / 50
Chubby Checker does The Twist
Chubby Checker didn't write "The Twist," but it became his own when he performed the fun, easy-to-perform dance on "American Bandstand" in 1960. It became an instant hit and the rock 'n' roll genre was now epitomized by twisting teenagers.
You may also like: Top 100 country songs of all time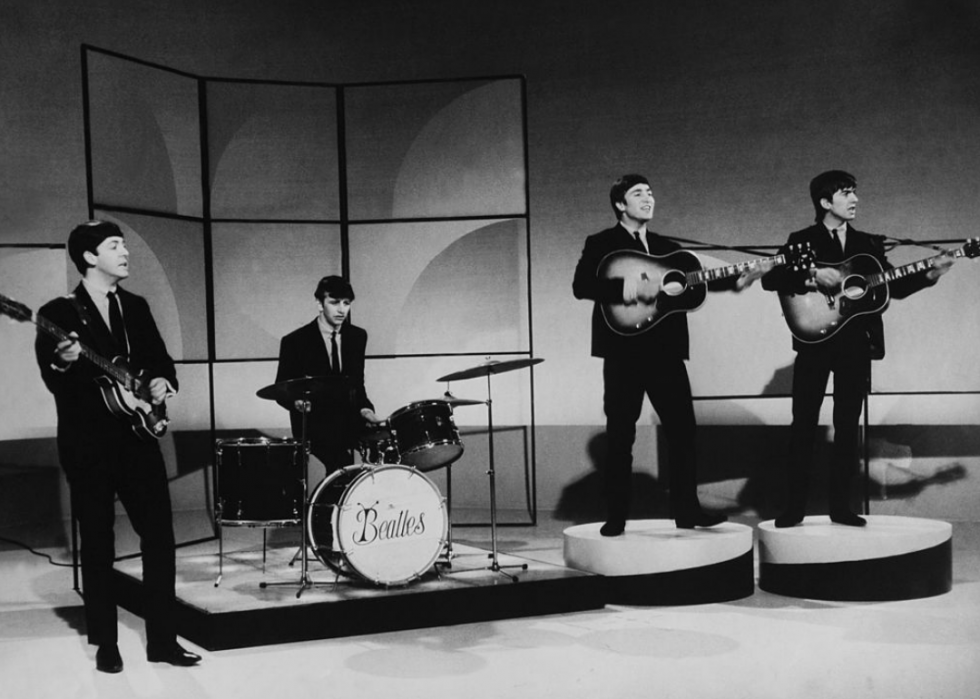 16 / 50
Keystone-France // Getty Images
The British invade
"I Want to Hold Your Hand" launched the Beatles into the American top 40 and when the band first appeared on "The Ed Sullivan Show" on Feb. 9, 1964, Beatlemania swept the world. They were followed by the likes of the Rolling Stones, the Who, the Kinks, the Animals, and many other British acts that would come to define rock 'n' roll in the genre's second decade of existence. The incoming flood of culture and talent from across the pond is known as the British Invasion.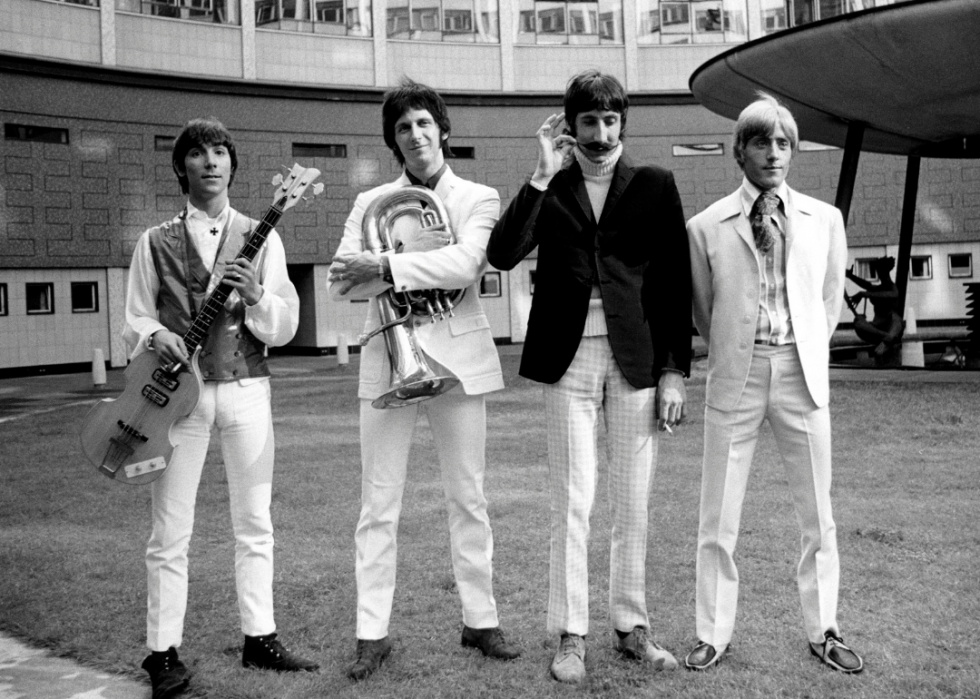 17 / 50
Ivan Keeman // Getty Images
Townshend destroys on stage
Kurt Cobain is famous for smashing his ax on stage, as are Jimi Hendrix, Trent Reznor, Paul Simonon, and the list goes on and on. Pete Townshend, however, did it first. In the ultimate symbolic act of rock 'n' roll rebellion, the Who frontman smashed his Rickenbacker guitar on stage in September 1964 at the Railway Tavern in Harrow and Wealdstone.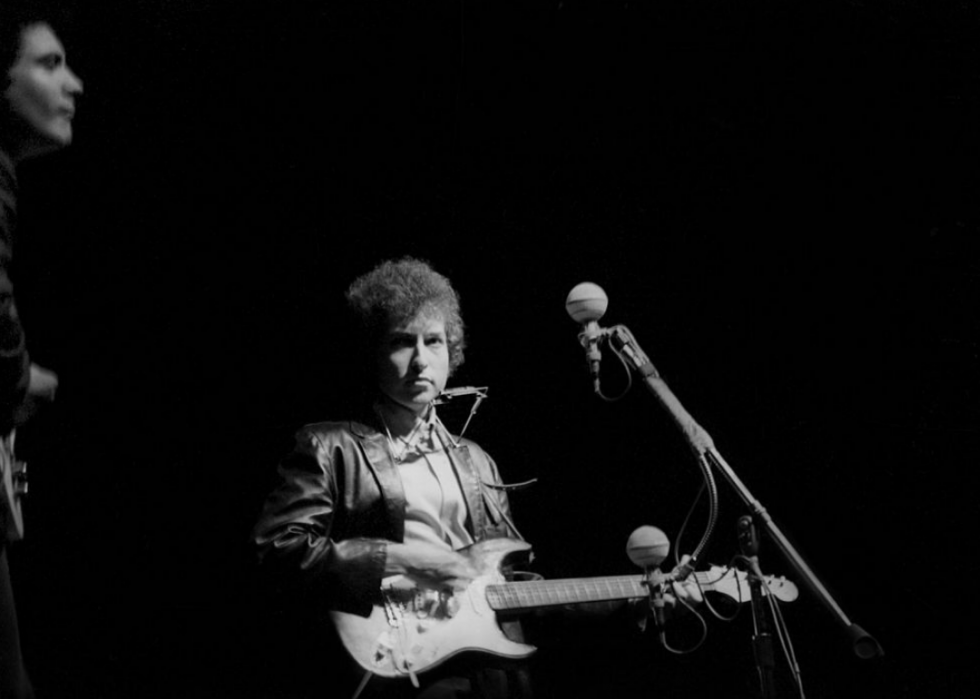 18 / 50
Michael Ochs Archives // Getty Images
Dylan goes electric
July 25, 1965 witnessed one of the all-time great rock 'n' roll coups d'etats. That night, at the Newport Folk Festival, Bob Dylan plugged in and played his first electric concert. By that point, Dylan was the undisputed leader of the folk revival movement and to this day, many early fans still consider it a betrayal.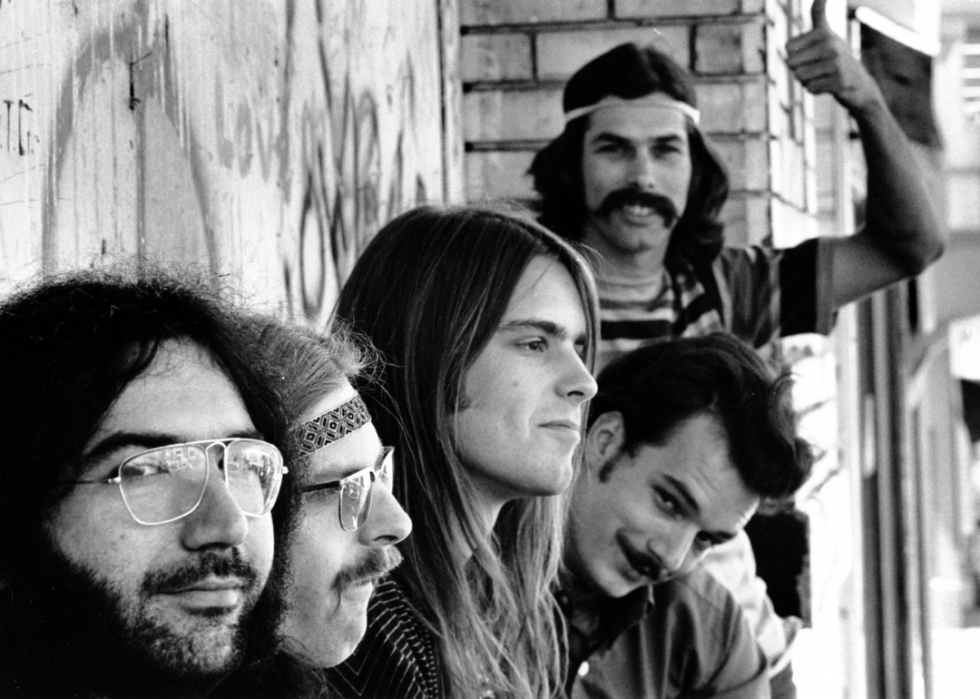 19 / 50
Donaldson Collection // Getty Images
Grateful Dead plays its first acid test
On Nov. 27, 1965, a San Francisco band called the Warlocks played one of counterculture guru Ken Kesey's early Merry Pranksters "acid tests." Revelers—including the talent—experimented with heaping doses of LSD in sense-bending live performances that spawned the hippie movement. The Warlocks became the Grateful Dead and the acid tests gave birth to psychedelic rock.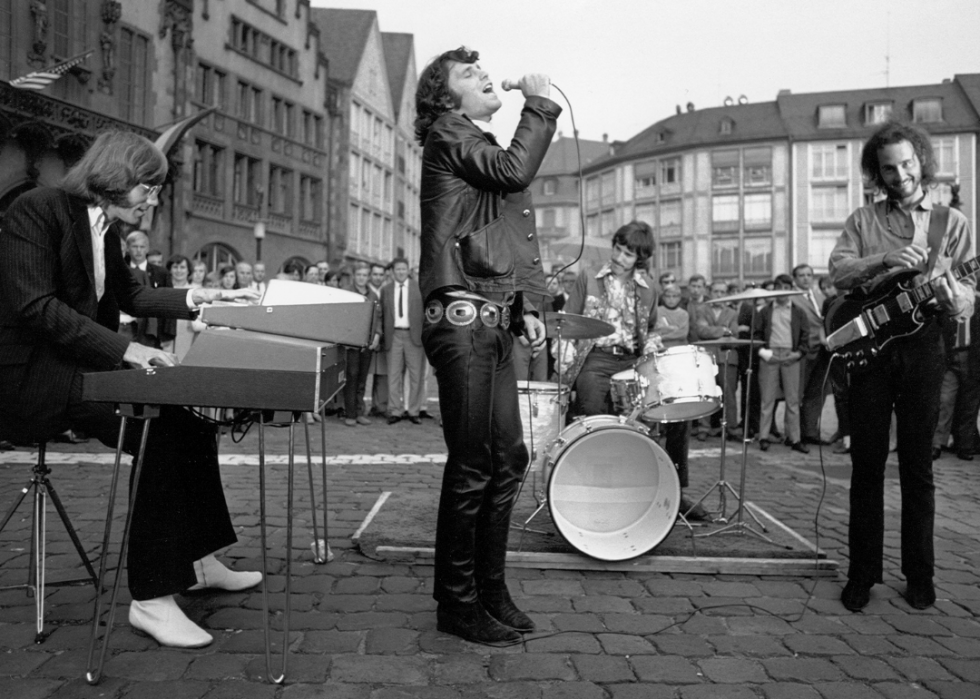 20 / 50
Michael Ochs Archives // Getty Images
Morrison breaks the rules
As Elvis Presley proved with his hips the decade before, rock stars long knew that there was no better place to break the rules than on television. Just before they were set to perform on "The Ed Sullivan Show" in 1967, producers informed the Doors that they would have to change the lyrics of "Light my Fire" to omit the phrase, "get much higher" for its allusion to drug use. Frontman Jim Morrison belted out the line anyway and Sullivan banned the group from his show, but the Doors—and rock in general—raised the bar for anti-establishment rebellion.
You may also like: 25 musicians who broke barriers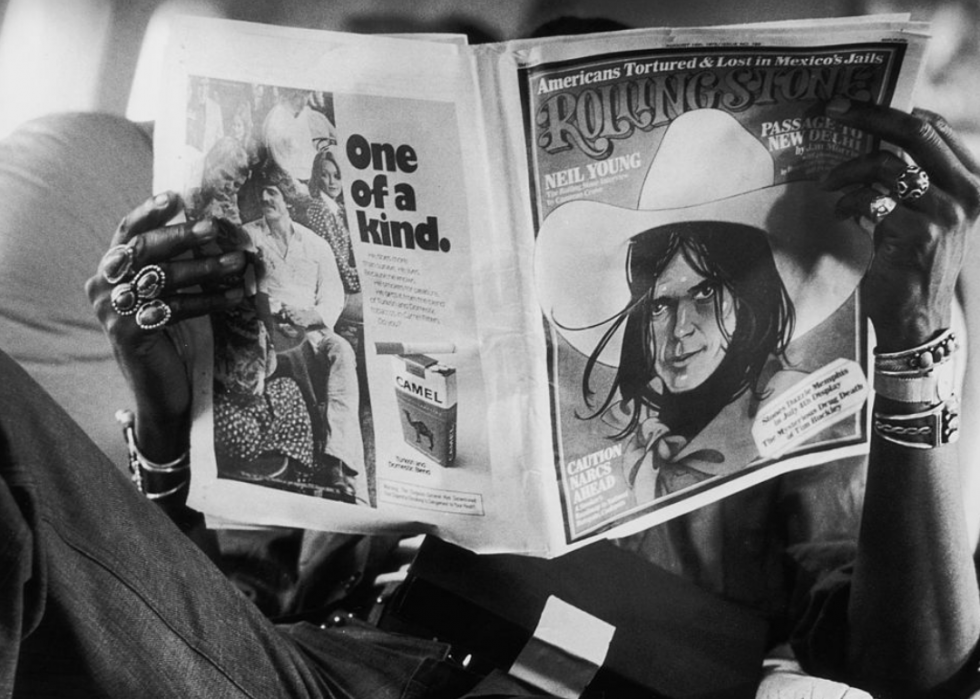 21 / 50
Christopher Simon Sykes // Getty Images
Rolling Stone chronicles a movement
Rock 'n' roll got its own publication of record when the debut issue of Rolling Stone hit the newsstands in 1967. The magazine and its publishers would wield a level of influence over rock music and popular culture that hadn't been concentrated so singularly since D**k Clark's early days with "American Bandstand." From that moment on, gracing the cover of Rolling Stone meant a musician had become a star.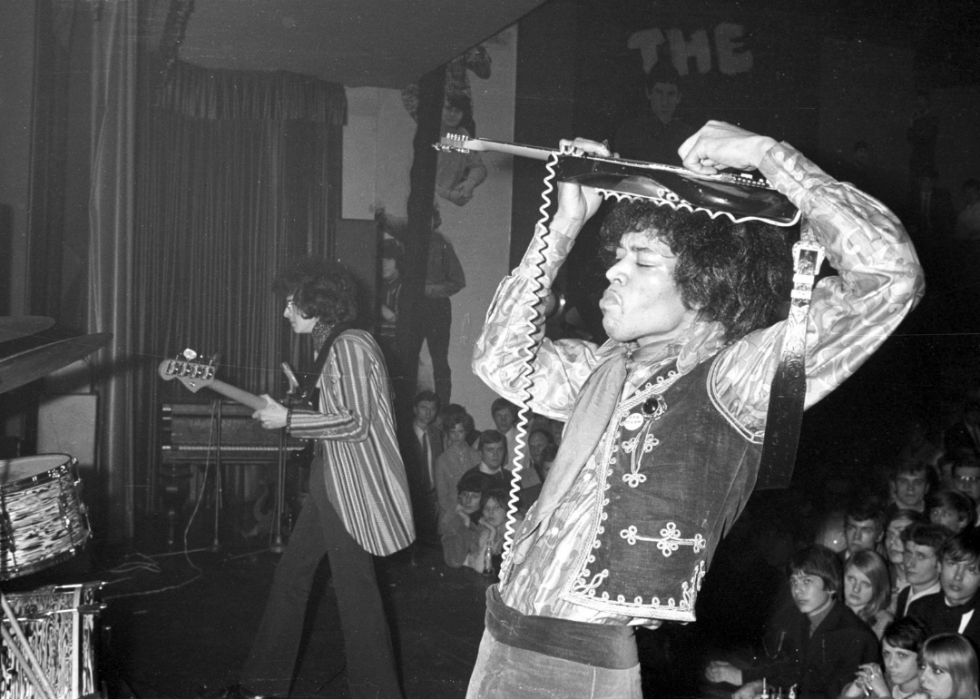 22 / 50
ullstein bild // Getty Images
The 27 Club emerges
In 1969, Brian Jones of the Rolling Stones died mysteriously in a swimming pool at 27 years old, an age that would become central to one of the most tragic and enduring chapters in rock 'n' roll mythology. The recently rediscovered 1930s Delta blues icon Robert Johnson, after all, had died at 27 after selling his soul to the devil in exchange for his talent at the Crossroads, as the legend goes. The "27 Club" would go on to induct legends like Jim Morrison, Janis Joplin, Jimi Hendrix, Alan "Blind Owl" Wilson, Ron "Pigpen" McKernan, and later, Kurt Cobain and Amy Weinhouse.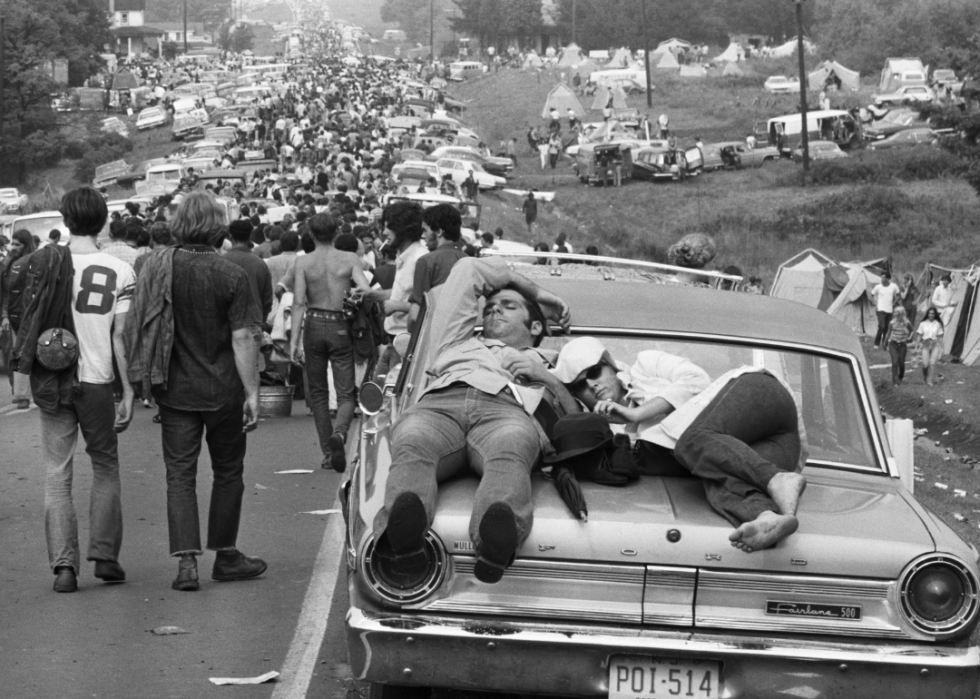 23 / 50
Woodstock unifies a movement
On Aug. 15, 1969, the '60s came to a close in the most fitting way possible when nearly half a million revelers descended on Bethel, New York, for the most epic music festival in history. Woodstock became a defining moment for rock 'n' roll and American music and culture in general. Those lucky enough to witness the muddy, but glorious, moment live were graced with acts like the Grateful Dead; Janis Joplin; Creedence Clearwater Revival; the Who; Jefferson Airplane; Joe Cocker; The Band; Crosby, Stills, Nash & Young; and, perhaps most famously, Jimi Hendrix.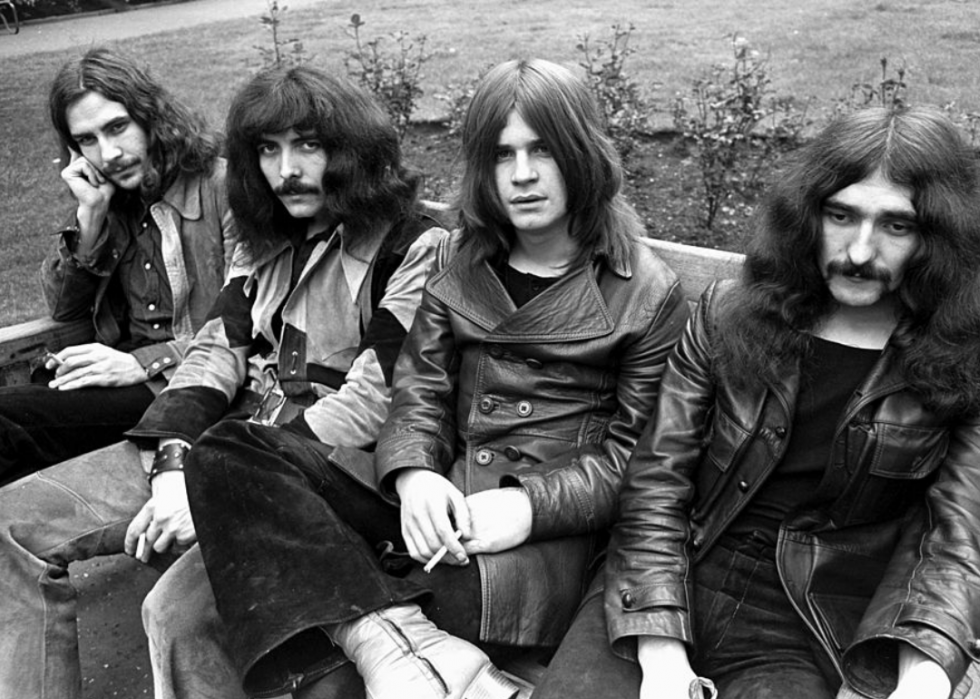 24 / 50
Chris Walter // Getty Images
Black Sabbath darkens the mood
If there were any questions as to whether or not 1970 truly spelled the end of the peace and love movement of the 1960s, the proof was in that year's self-titled debut album by Black Sabbath. Led by frontman Ozzy Ozbourne, the band's arrival signaled the ascent of a new, darker, and louder version of rock 'n' roll: heavy metal. Head-banging metal—and bands like Metallica that would come to define it—would go on to do what rock music had been doing since the '50s: enthrall rebellious kids and terrify their parents.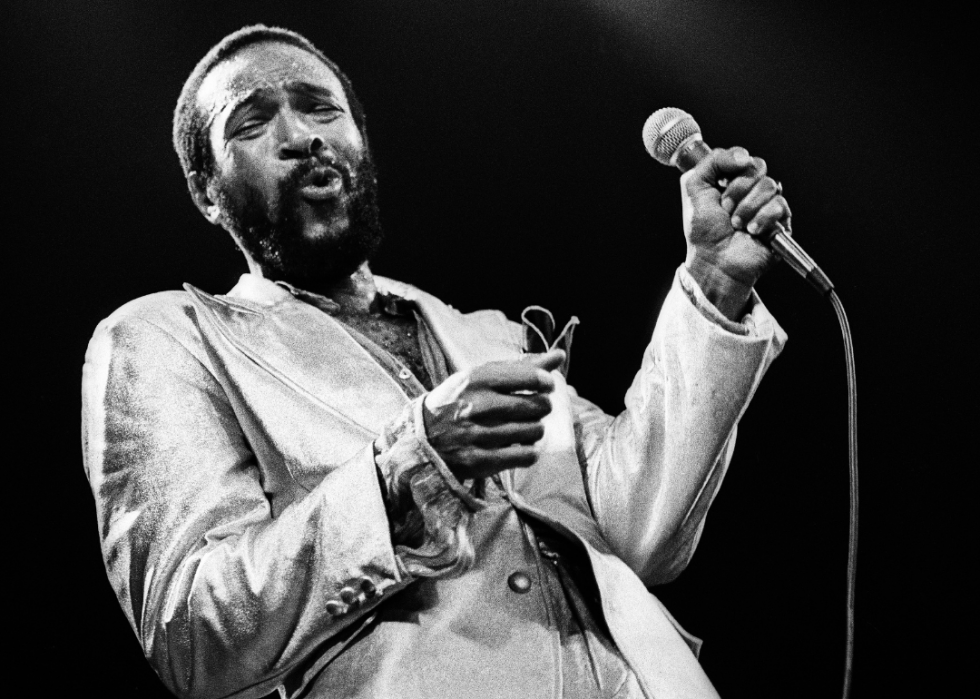 25 / 50
Rob Verhorst // Getty Images
Marvin Gaye makes a statement
The boss of Motown Records warned Marvin Gaye against releasing "What's Going On" for fear of alienating his crossover audience. In 1971, however, he did it anyway and the album went on to become Motown's biggest hit. Protest music had defined much of the '60s, but "What's Going On" addressed poverty, war, race, crime, policing, and socio-economic disparity from the African American perspective with a raw quality that forced America to confront its darker angels.
You may also like: 30 pop songs you may not know are covers
26 / 50
Michael Ochs Archives // Getty Images
Bowie glams up rock
In 1972, David Bowie introduced his extraterrestrial alter ego Ziggy Stardust, an androgynous bisexual rock star sent from outer space. It was the pinnacle of glam rock, which was characterized by outrageous costumes, makeup, and performance art. The subgenre would influence dramatic changes in heavy metal music and rock in general in the following decade.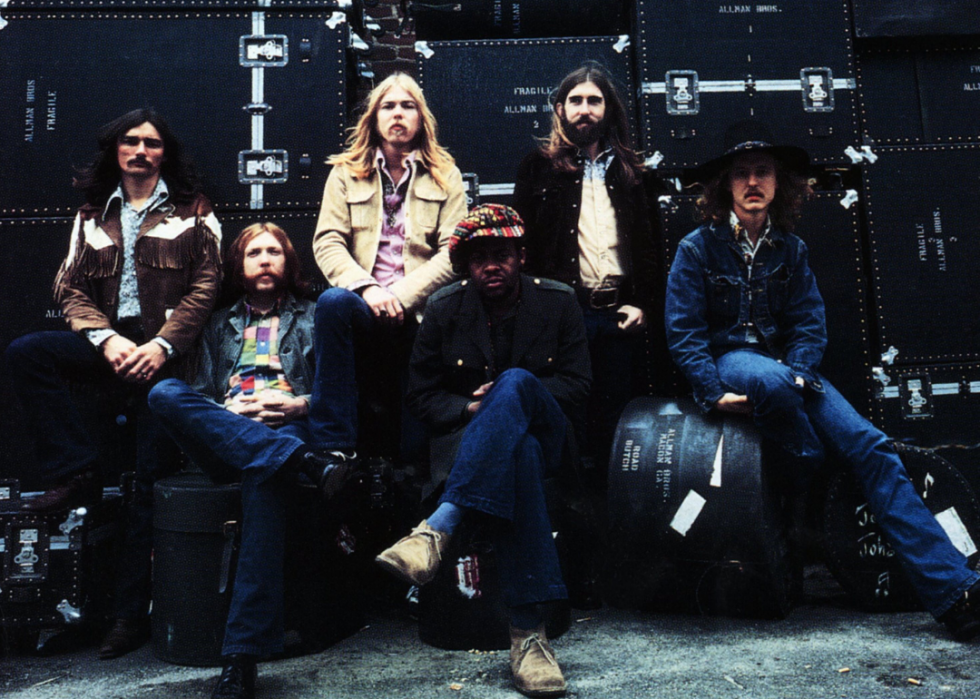 27 / 50
GAB Archive // Getty Images
The South rises
The Allman Brothers Band released "Brothers and Sister" in 1973, and for many, the album still represents the pinnacle of Southern rock—but the Allmans were hardly alone. Both before and after came bands like Creedence Clearwater Revival, Lynyrd Skynyrd, ZZ Top, the Marshall Tucker Band, Blackfoot, Molly Hatchet, Little Feat, the Charlie Daniels Band, and 38 Special. Grounded in blues, jazz, hard rock, and country music, the sound was defined by bold ballads, heavy electric, and outlaw aspirations.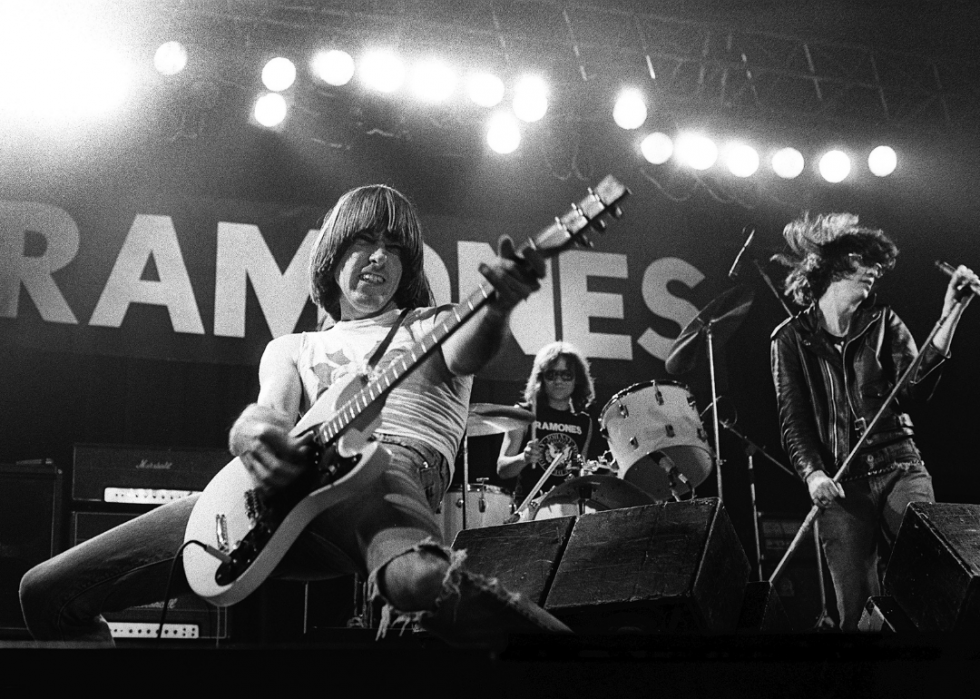 28 / 50
Howard Barlow // Getty Images
The Ramones play CBGB
On Aug. 16, 1974, the Ramones first took the stage at CBGB, a dive in Manhattan's East Village that had become the beating heart of the New York City rock scene. Dressed in motorcycle leather jackets, the Ramones came to define punk rock, a loud, brash, rebellious sound defined by short, intense songs with simple beats and few chords. Steeped in anti-establishment dogma, the punk movement spawned acts like the Sex Pistols, Black Flag, Bad Religion, Patti Smith, the Jim Carroll Band, the Misfits, the Clash, and the Dead Kennedys.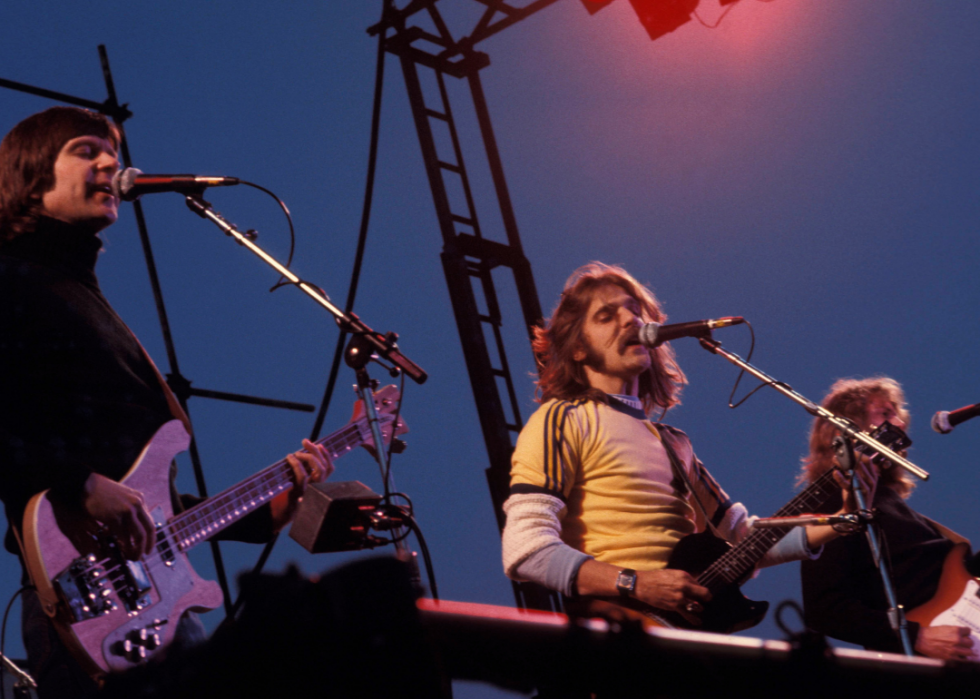 29 / 50
Gai Terrell/Redferns // Getty Images
Classic rock is king
In 1976, the Eagles released "Their Greatest Hits 1971-1975," which would go on to sell 38 million copies, go 38 times platinum-certified, and become the bestselling album of all time, passing even Michael Jackson's "Thriller." The band represents the embodiment of classic rock and their success is proof of the genre's incredible mass appeal—as anyone with an FM car stereo knows.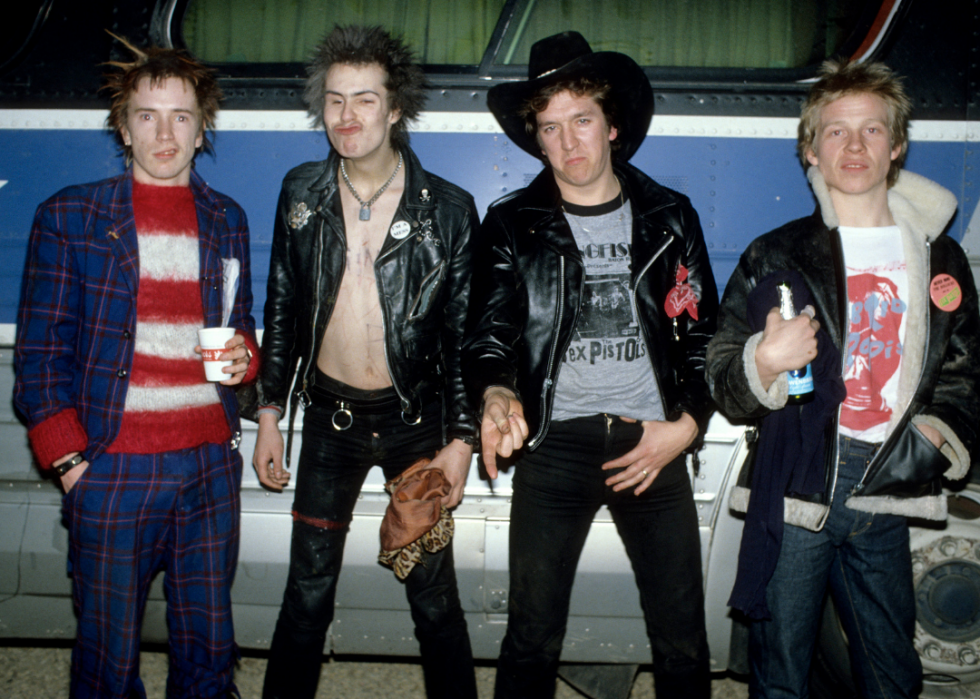 30 / 50
Richard E. Aaron // Getty Images
Punk rock ruffles royal feathers
Rock music's ability to antagonize people in high places was on full display on May 31, 1977, when the BBC banned "God Save the Queen" by the Sex Pistols—the #2 spot on the charts was simply blacked out. The band wrote the irreverent takedown of the British monarchy four days earlier and it was an instant success, but the BBC didn't want it to detract from Her Majesty's impending Silver Jubilee celebration. The move, of course, had the opposite effect—just as it did for Ed Sullivan with the Doors a decade earlier and Elvis a decade before that—and the #2 song went straight to #1.
You may also like: Best Bob Dylan albums of all time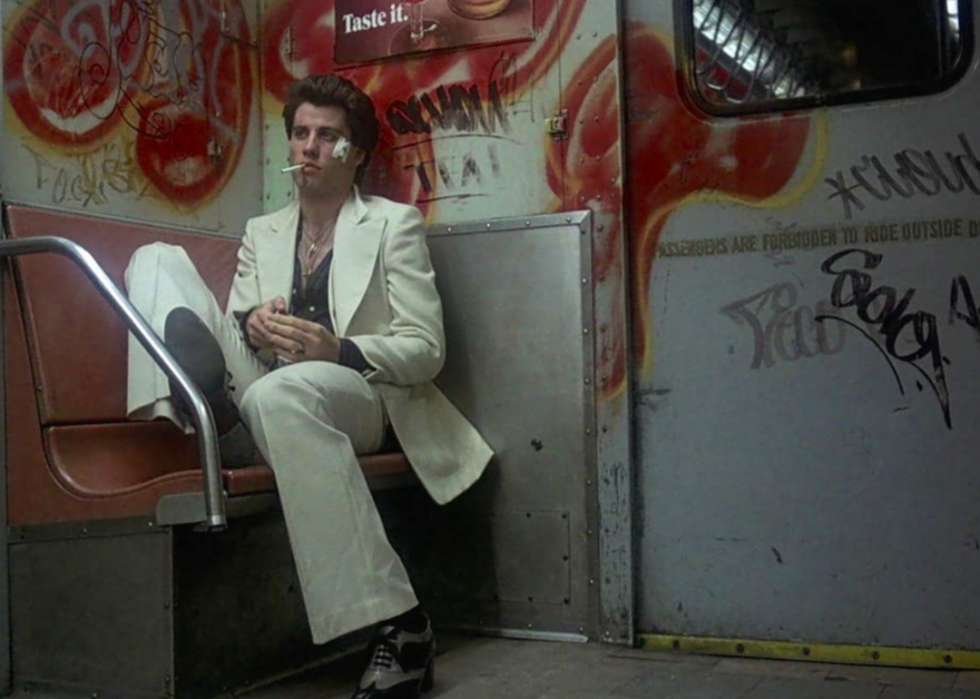 31 / 50
Saturday Night Fever defines an era
The disco era was loud, flamboyant, and brief—mercifully, by many standards. In 1977, "Saturday Night Fever" chronicled the highs and lows of the New York City disco movement and made John Travolta a star.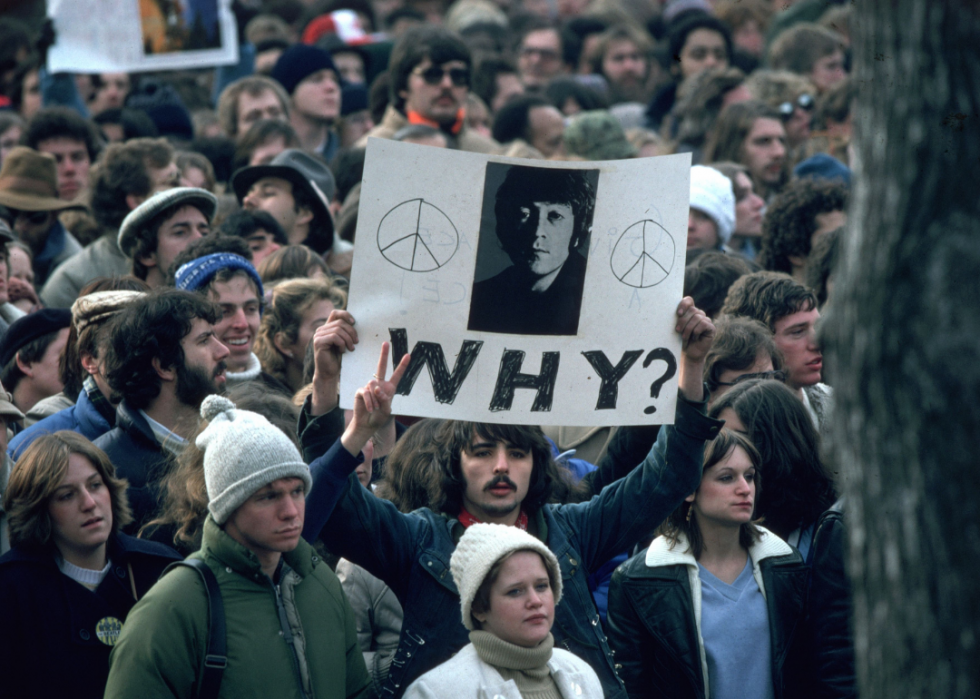 32 / 50
Hulton Archive // Getty Images
Lennon is murdered in New York City
On Dec. 8, 1980, a deranged man seeking fame named Mark David Chapman shot and killed John Lennon outside his home in New York City. One of the most important and influential figures in rock music history, Lennon's death triggered global shock and mourning as the page turned on an era.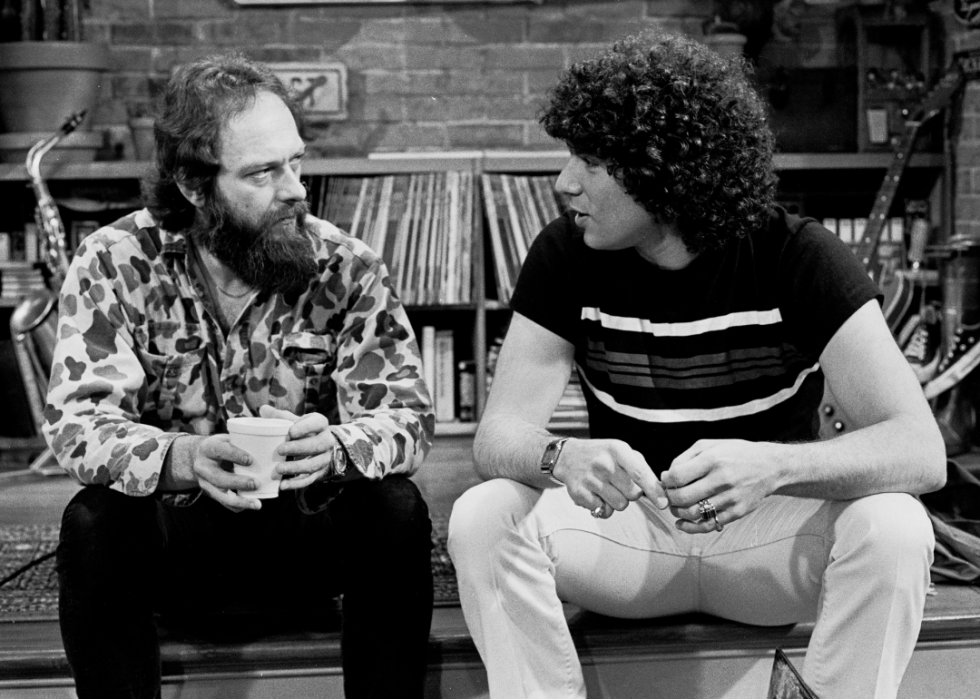 33 / 50
Gary Gershoff // Getty Images
I want my MTV
In the 1950s, television cornered the market on dramatic programming and made radio the realm of music—but three decades later, TV took music back. When MTV debuted at 12:01 a.m. on Aug. 1, 1981, the first video the 24-hour music video channel played was, fittingly, "Video Killed the Radio Star" by the Buggles. The first words ever spoken on MTV were: "Ladies and gentlemen, rock 'n' roll."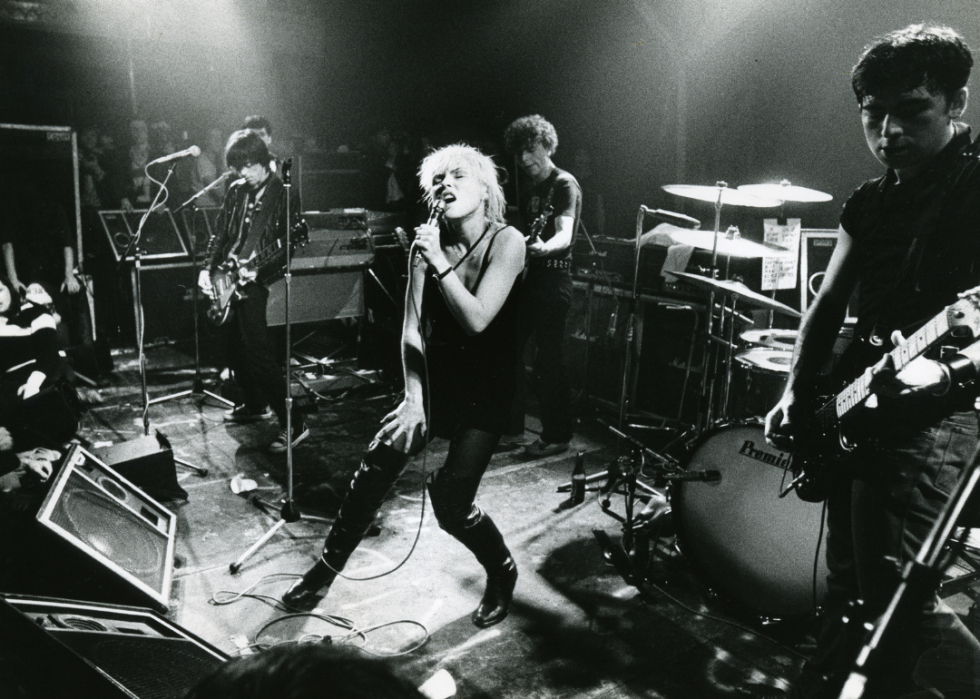 34 / 50
Gie Knaeps // Getty Images
Blondie forces a rap awakening
Also in 1981, Blondie made history with "Rapture." The band's fourth and final #1 hit, it stands out as being the first song with rap vocals to reach the top of the charts as well as the first video with rap vocals to be played on MTV.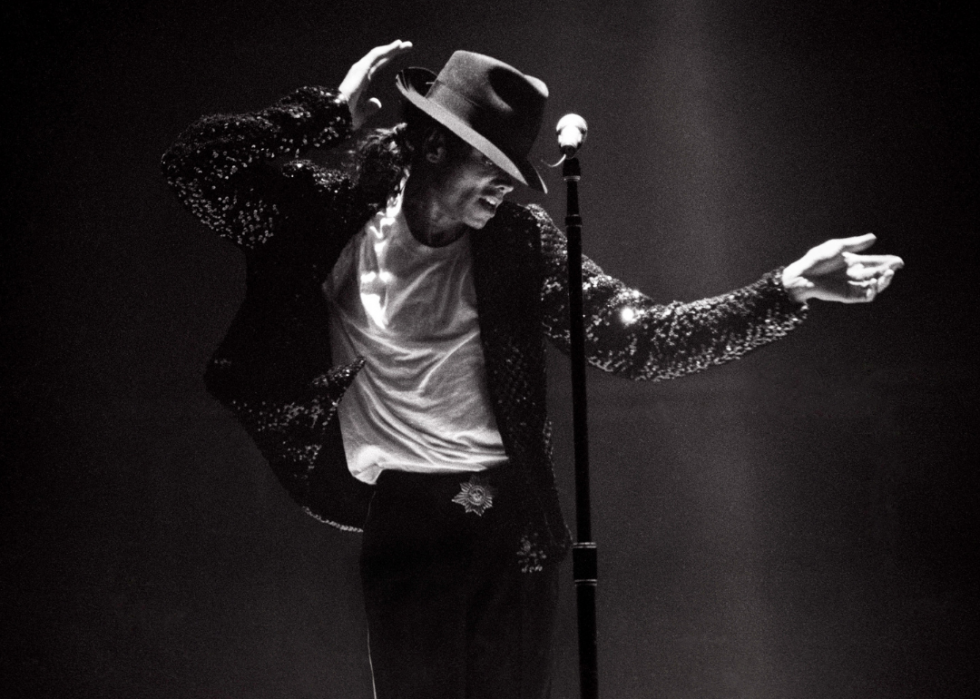 35 / 50
Michael Jackson brings the moon to earth
Michael Jackson went from pop star to global icon on May 16, 1983, when the "Motown 25" special debuted. On that day, the world was introduced to the most famous and instantly recognizable dance since Chubby Checker did The Twist in 1960. The world watched in awe as Michael Jackson introduced what would become his signature gliding dance move: the Moonwalk.
You may also like: Best-selling album from the year you graduated high school
36 / 50
Rick Diamond // Getty Images
The genre gets a hall of fame
Rolling Stone gave rock 'n' roll a publication, MTV gave it a television network, and in 1983, the genre got its own institution to honor the achievements of those who defined it. That year, giants of the industry came together to form the Rock & Roll Hall of Fame Foundation and began working on plans for a museum. Their vision would come to fruition a dozen years later.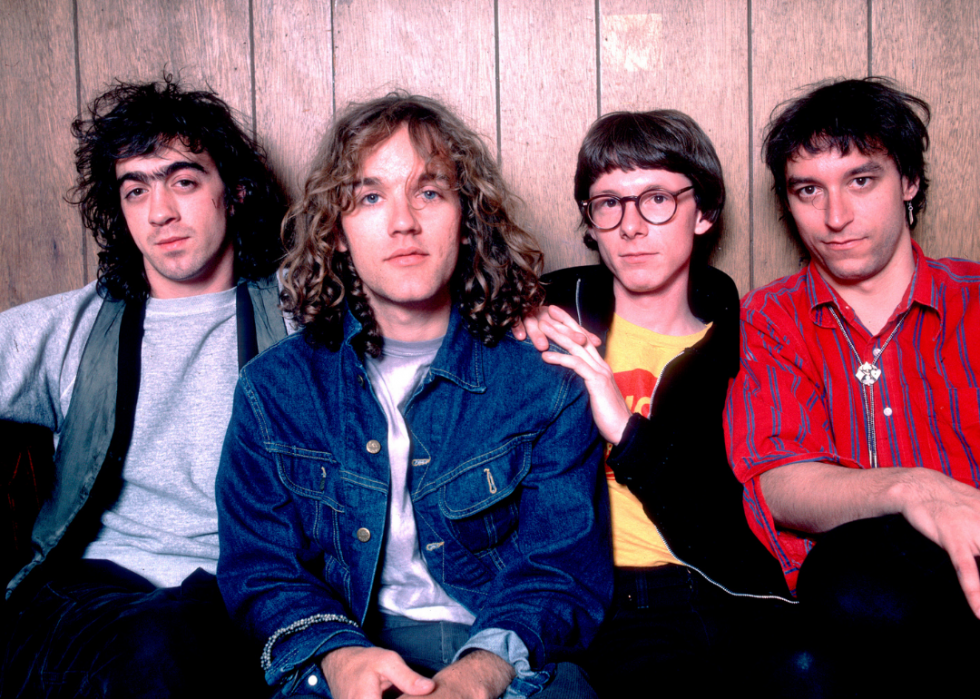 37 / 50
Paul Natkin // Getty Images
Rock fans get an alternative
The 1980s witnessed the rise of alternative rock, a new and hard-to-categorize type of rock delivered by bands with cult followings that brought pieces of punk, metal, glam, and many other subgenres with them. Many never achieved real commercial success, which in some cases was by design, but many others vaulted to rock stardom. Among the greatest were the Red Hot Chili Peppers, R.E.M., Green Day, the Smiths, the Cure, Alice in Chains, and the Pixies.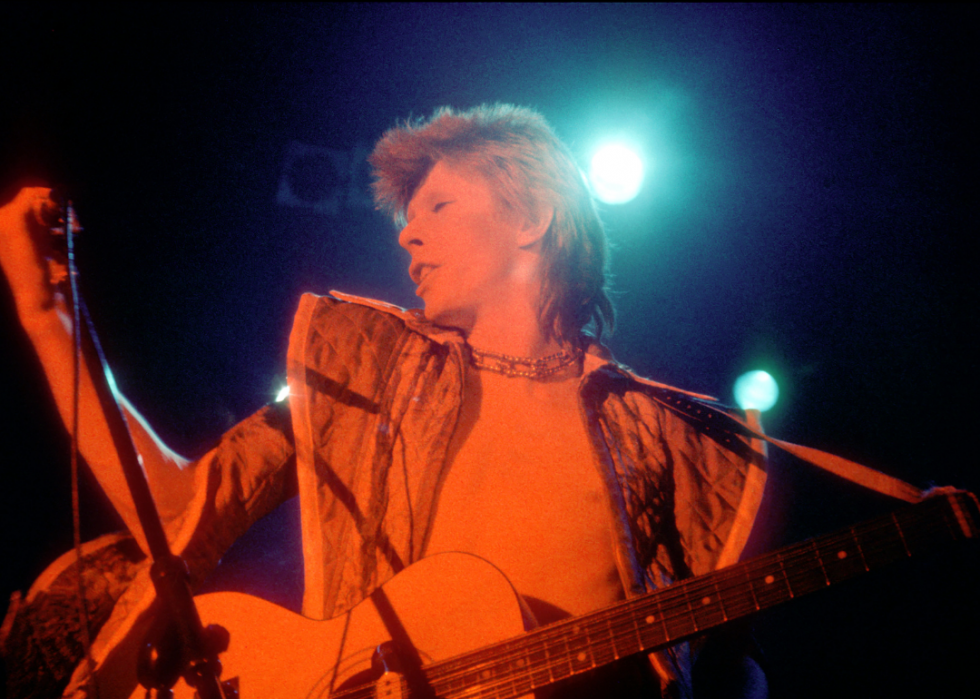 38 / 50
Michael Ochs Archives // Getty Images
Metal goes glam
The influence of the David Bowie/Ziggy Stardust glam rock era was evident with every video MTV played from a hair/glam metal band. Blending the dark, rebellious intensity of heavy metal with the pageantry, excessive makeup, costumes, and outrageous hair of glam, the genre flourished throughout the 1980s. Its defining acts include Quiet Riot, Mötley Crüe, Ratt, Bon Jovi, Great White, and Guns N' Roses.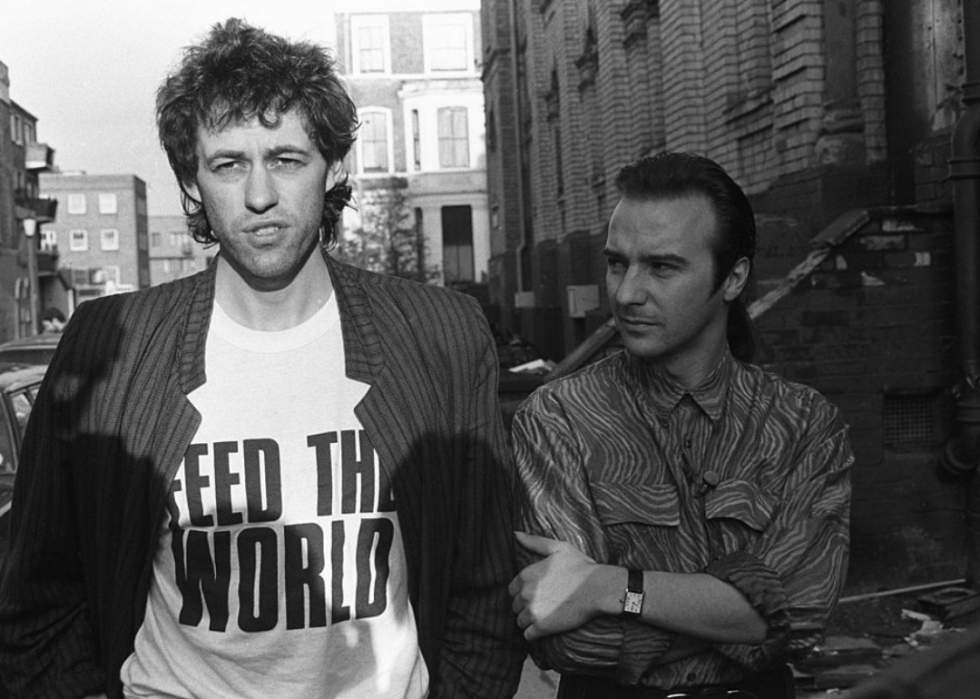 39 / 50
Larry Ellis // Getty Images
Band-Aid rocks for a cause
The charity supergroup concept began in 1984 when Irish singer/songwriter Bob Geldof and his collaborator Midge Ure came up with the idea for what would become Band-Aid after seeing heartbreaking images of Ethiopian famine victims on TV. The duo penned "Do They Know It's Christmas?" and enlisted the services of an all-star team of talent to record the track for famine relief. The who's-who of U.K. rock talent on the lineup included George Michael, Phil Collins, Bono, Sting, Paul McCartney, Paul Young, Boy George, and Simon Le Bon.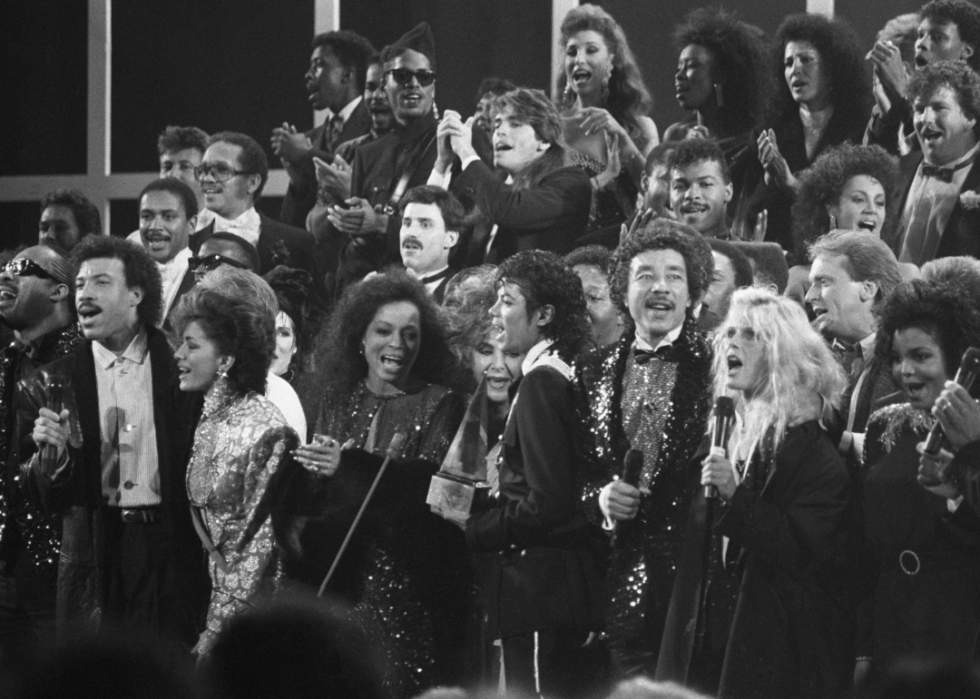 40 / 50
American rockers chip in for charity
The impact of Band-Aid did not go unnoticed in the United States, and in 1985, Harry Belafonte and Quincy Jones began assembling the charity supergroup that would become USA for Africa. The incredible crop of talent that came together to record "We Are the World" included Lionel Richie, Kenny Rogers, Hall & Oates, the Pointer Sisters, Stevie Wonder, Michael Jackson, Bob Dylan, Billy Joel, Huey Lewis, Cyndi Lauper, Bruce Springsteen, Smokey Robinson, Willie Nelson, Al Jarreau, Diana Ross, and Paul Simon.
You may also like: Songs that dominated Billboard charts the longest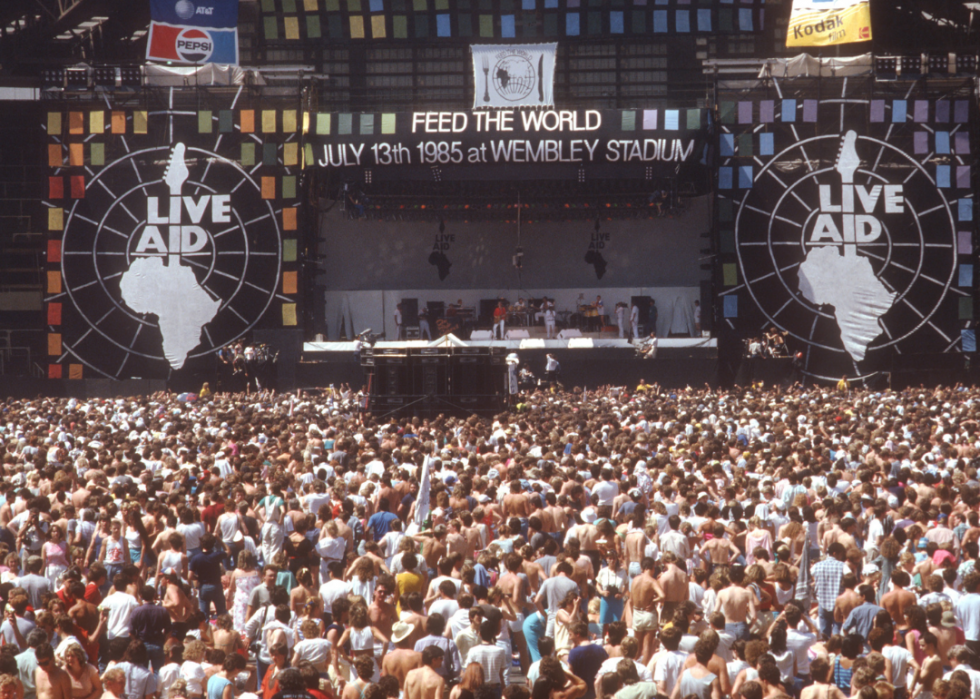 41 / 50
Michael Ochs Archives // Getty Images
Live-Aid is the ultimate concert
On July 13, 1985, the Band-Aid creators staged a live all-day music event to rival Woodstock in both the United States and the United Kingdom. Billed as the "The Global Jukebox," Live-Aid drew the top talent in the world, was watched by nearly 2 billion people worldwide, and raised more than $125 million for charity.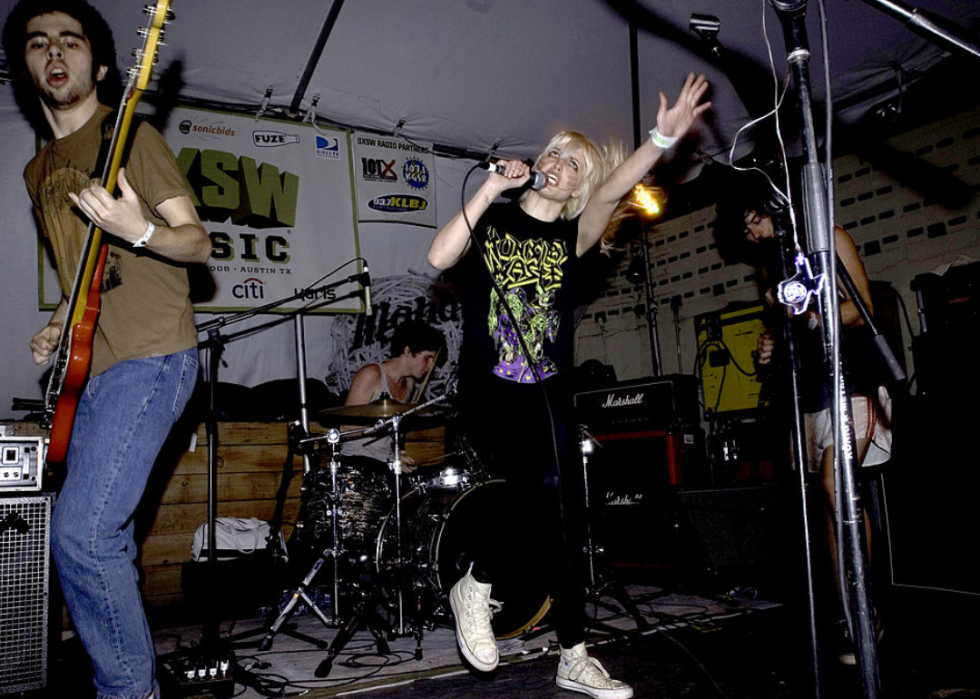 42 / 50
Paul Natkin // Getty Images
SXSW anchors the Austin music scene
The status of Austin, Texas, as one of the greatest music cities in the world didn't start in 1987, but the inaugural year of the South by Southwest (SXSW) was a milestone in the city's history—and that of rock 'n' roll in general. Started from humble beginnings on a shoestring budget, SXSW has grown into the biggest music festival in the world.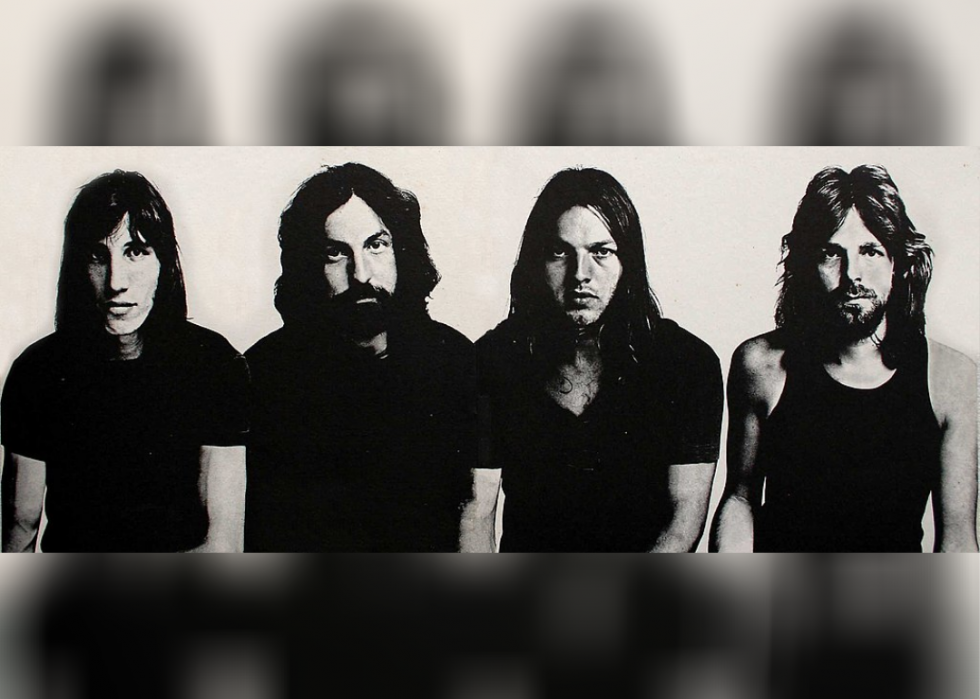 43 / 50
Capitol Records // Wikimedia Commons
Pink Floyd gives someone else a chance
In 1988, Pink Floyd's "Dark Side of the Moon" spent its 741st and final consecutive week on the Billboard Top 200 chart. First released in 1973, the groundbreaking album sold 45 million copies and broke the record for the longest run on the album chart after nearly a decade and a half at or near the top.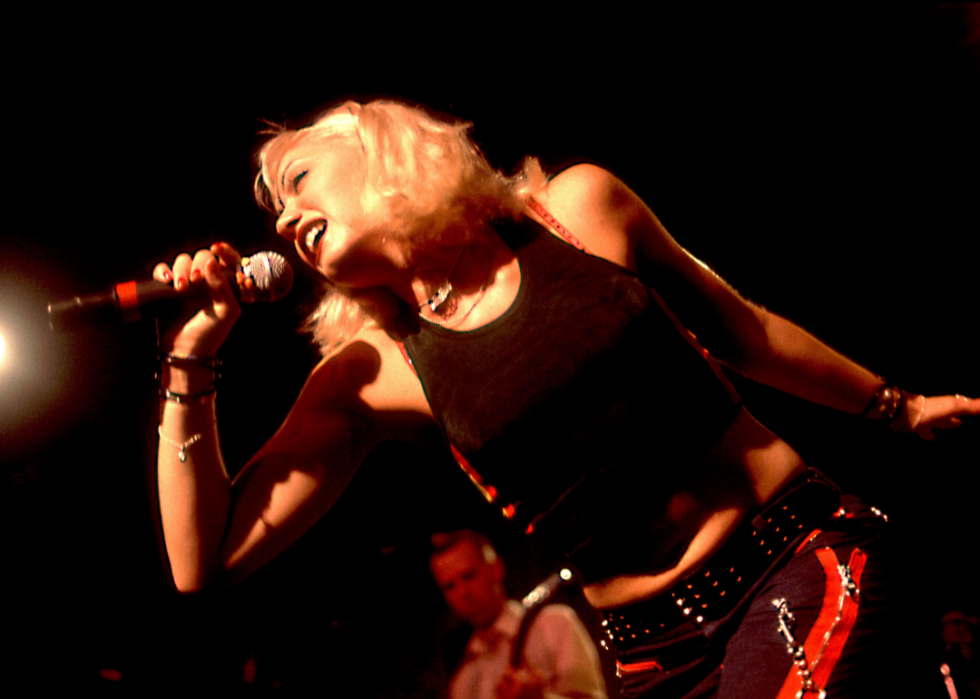 44 / 50
Paul Natkin // Getty Images
Women rock out
There was never a time when women weren't a driving force in rock 'n' roll, but the 1980s and 1990s witnessed the emergence of a crop of female rock talent that would be the envy of any decade. Among the iconic women rock stars to leave their marks on the era—many of whom were independently produced—were Pat Benatar, Joan Jett, Fiona Apple, Gwen Stefani, Cheryl Crow, Alanis Morrisette, Liz Phair, Jewel, Annie Lennox, Cyndi Lauper, Bjork, Dolores O'Riordan of the Cranberries, Tori Amos, Sarah McLachlan, and Alicia Keys.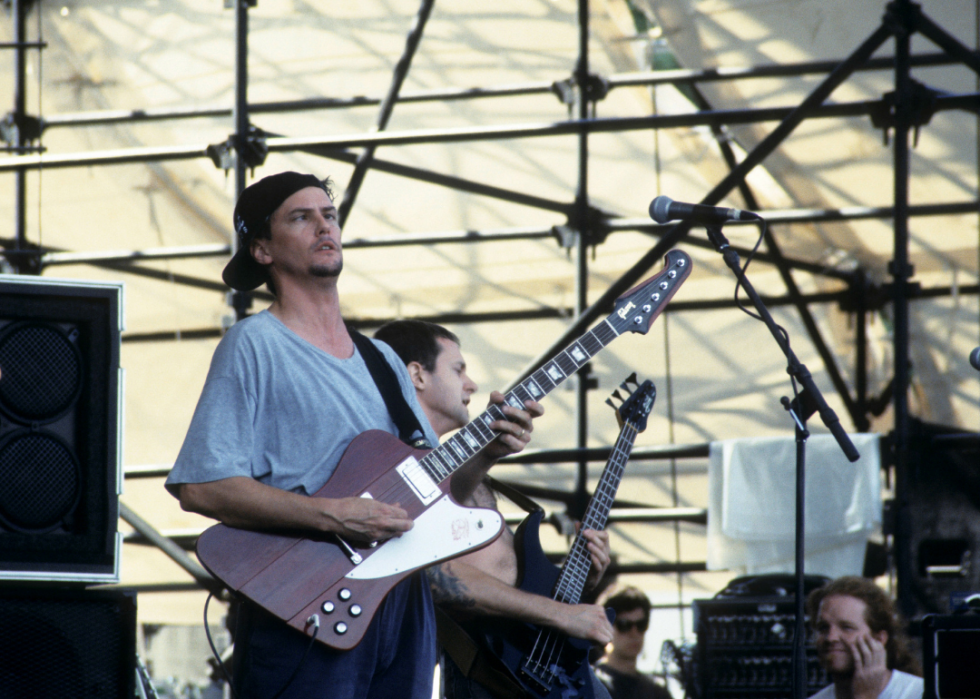 45 / 50
Steve Eichner // Getty Images
Lollapalooza reinvents the music festival
In 1991, Perry Farrell organized a music festival to serve as a farewell tour for his band, Jane's Addiction. What emerged was Lollapalooza, a music festival that functioned as an all-star concert tour that—like individual bands—traveled from city to city. It was the must-do event for rock fans throughout the decade before disbanding in 1997 and re-emerging in a different form in the 2000s.
You may also like: Most famous musician born the same year as you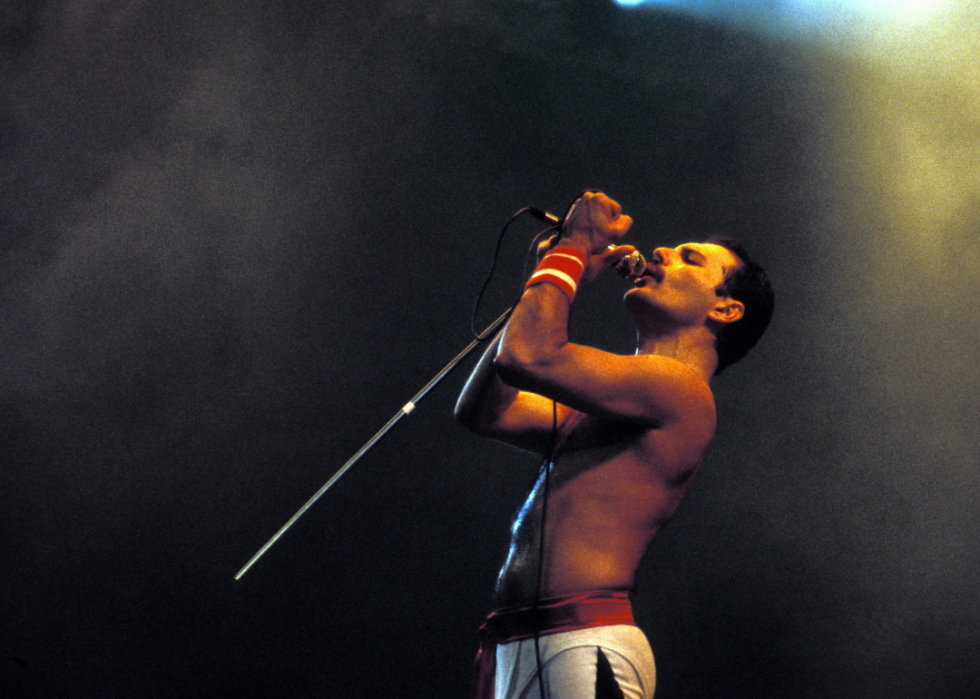 46 / 50
ullstein bild Dtl. // Getty Images
Freddie Mercury dies
On Nov. 24, 1991, the world lost one of the most dynamic figures in rock music history when Queen frontman Freddie Mercury died from complications of AIDS. His electric stage presence and incredible four-octave vocal range made him one of the most influential rock artists ever to take the stage.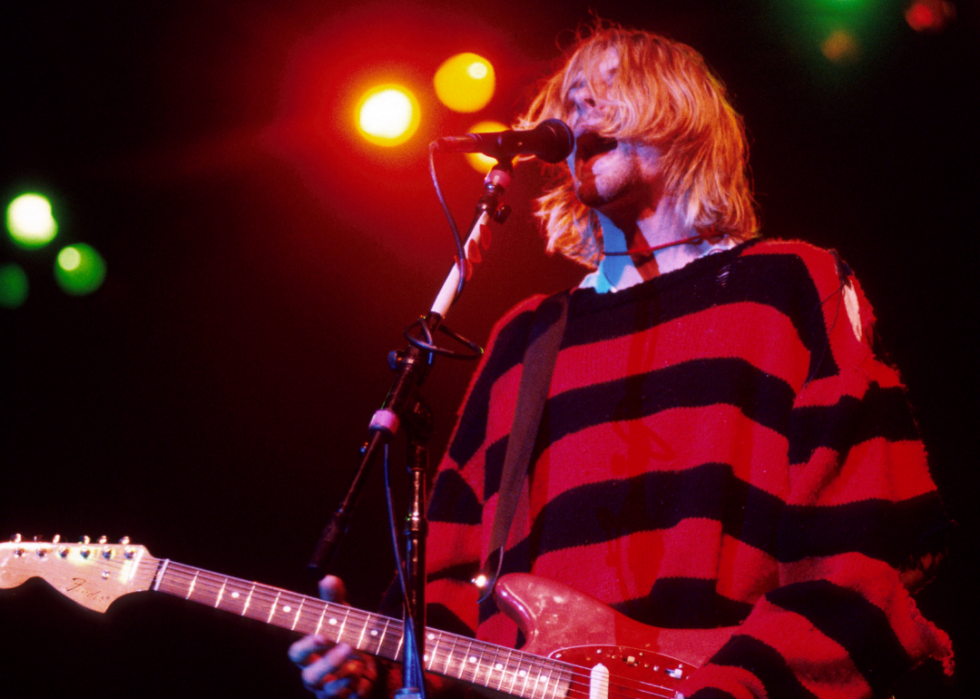 47 / 50
Nirvana puts a spotlight on Seattle
Pearl Jam was from Seattle, as were Alice in Chains and Soundgarden, but one alternative band stands out above all in putting the city on the music map. Seattle was to the '90s what San Francisco was to the '60s, and when Nirvana released "Nevermind" in 1992, it knocked Michael Jackson off the album charts. Flannel, scraggly long hair, and teen angst were the themes of the day as the grunge movement settled in for the decade.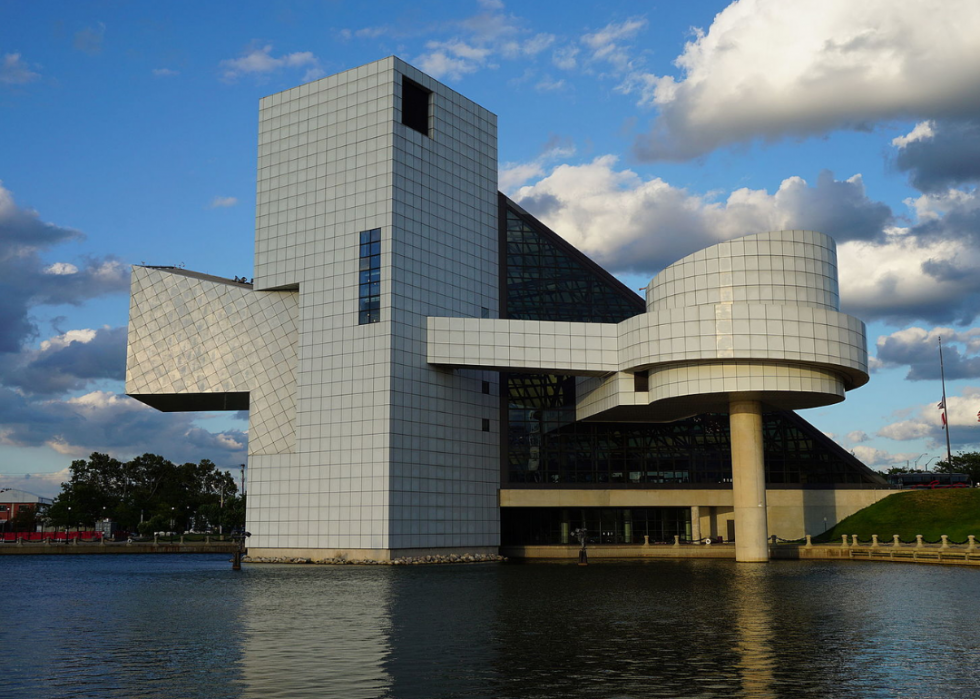 48 / 50
Michael Barera // Wikimedia Commons
Rock 'n' roll finally finds a home
In 1993, ground was finally broken on the long-awaited Rock & Roll Hall of Fame museum and hall in Cleveland. The moment was accompanied by a concert that drew legendary talent from rock 'n' roll years gone by, including Chuck Berry, Billy Joel, Pete Townshend, and Ruth Brown. Jerry Lee Lewis would perform there one year later when the facility was finished and the Rock & Roll Hall of Fame opened its doors to the public in 1995.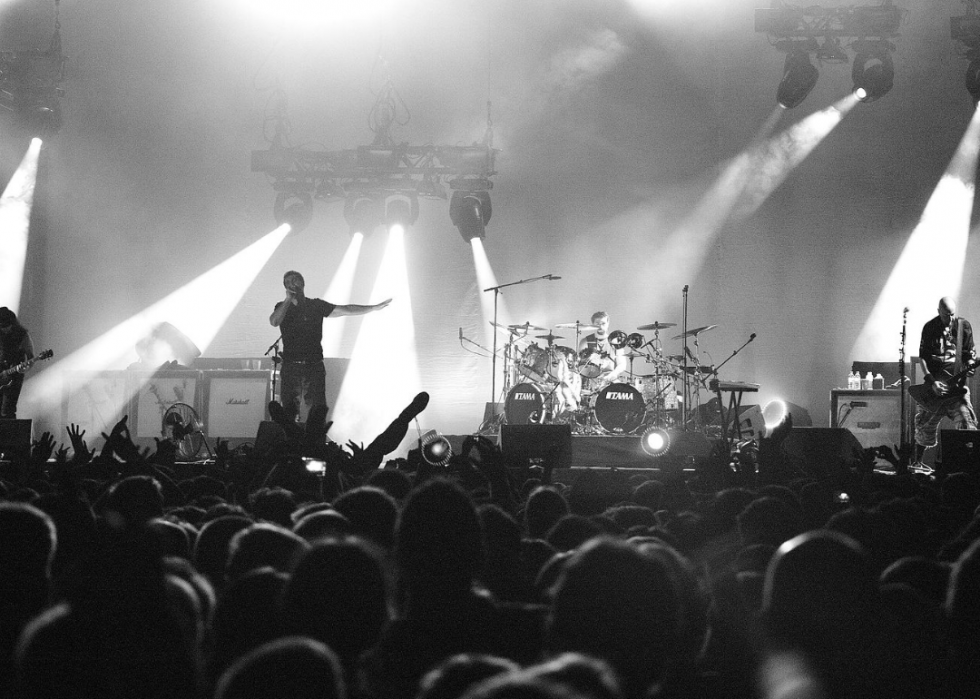 49 / 50
Nu metal closes out the decade
Rock music had suffered a steep slide on the Billboard charts by 1998, and nu metal—a genre that had been brewing since the 1980s—stepped in to fill the void. Combining hip-hop with industrial rock, grunge, metal, and punk, the genre peaked in mainstream popularity between 1998 and the early 2000s. It was defined by bands like System of a Down, Linkin Park, and, most notably, Korn.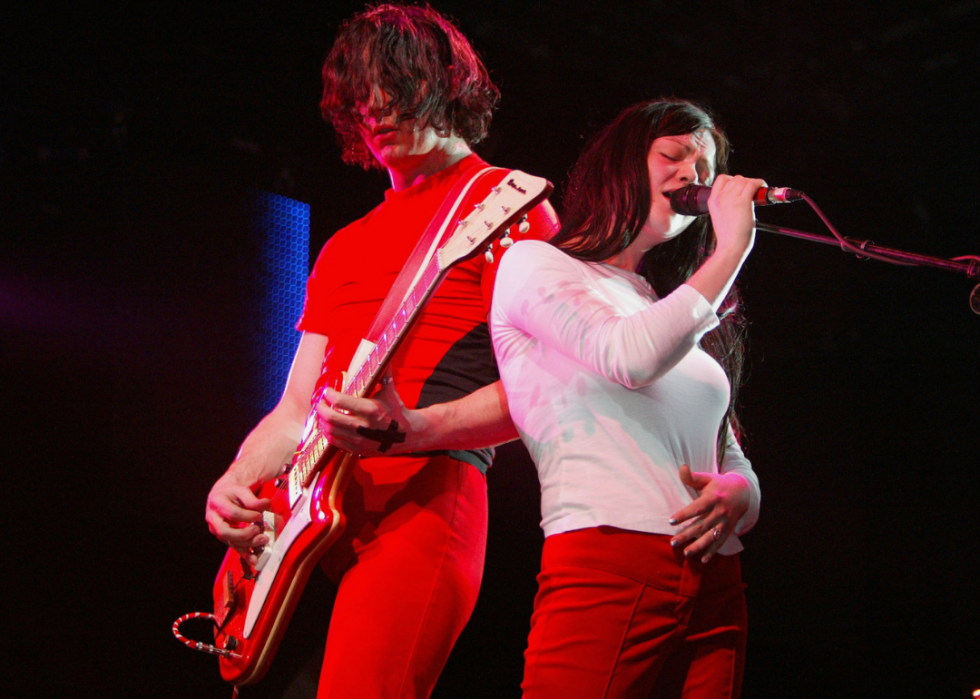 50 / 50
Jon Super // Getty Images
Flashbacks to punk ring in the new millennium
Around the time that nu metal began to wane, the post-punk revival movement was on the rise. Bands like the White Stripes, the Killers, and the Strokes defined the stripped-down, genre-blending sound that brought rock 'n' roll into the 21st century.
You may also like: Song of the summer the year you graduated high school