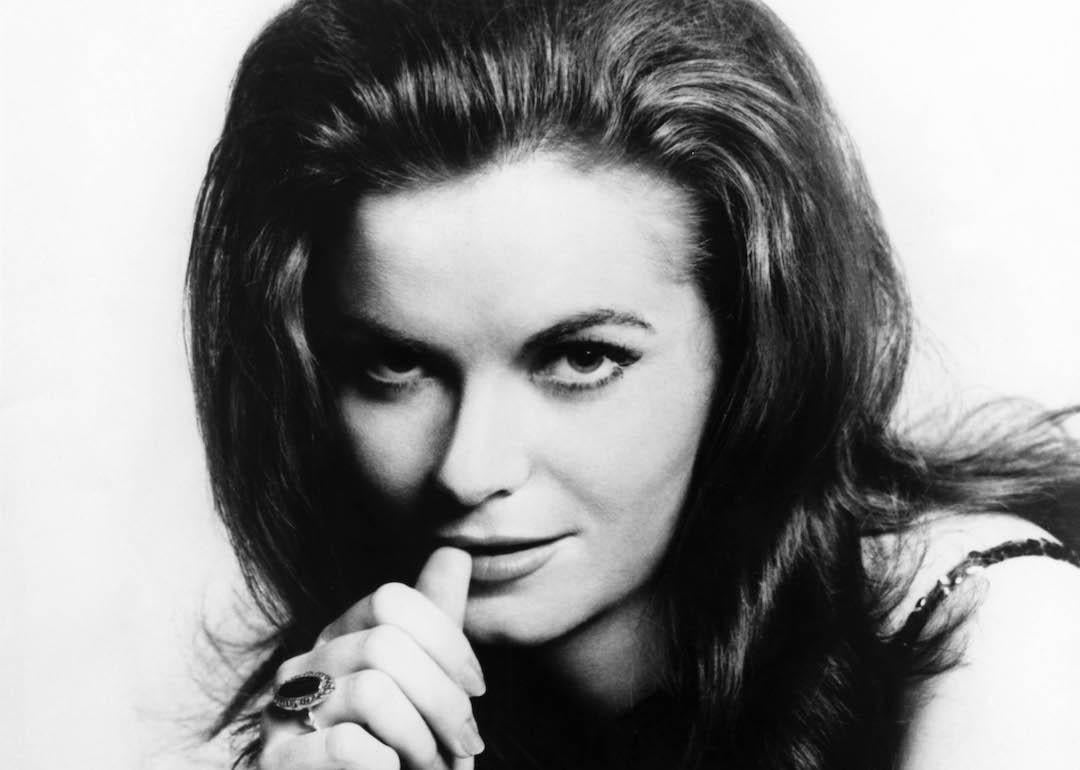 One hit wonders of the 1960s
One hit wonders of the 1960s
Stacker dug into the rich history of one-hit wonders (bands that had only one song reach #1 on the charts) and chose 25 you might know.
For the artists who wrote and performed these catchy one-hit wonders, brimming with danceable beats, merry melodies, and memorable lyrics, perhaps it was simply a matter of being in the right place at the right time. Maybe you grew up with them or listened to them with your parents or grandparents. After listening to them played throughout the decades on the radio and now on audio streaming services, many still wonder exactly why these artists never scored any other chart-topping hits in their careers.
These artists and the stories behind their hits are anything but ho-hum. There is the story of the singing nun who not only had a one-hit wonder but had a film made about her life, which was tragically cut short. Another artist wrote his hit while working at a cotton gin in California. Some were instrumental, some featured nonsensical phrases that weren't made up of real words, and the list includes one of the most negative songs ever recorded. All of them were pure music gold.
These artists may have only had one-hit wonders, but they were often rerecorded by other artists, found their way into movies, and inspired television shows. Keep reading to see if any of your favorites made the list.
You may also like: Most famous musician born the same year as you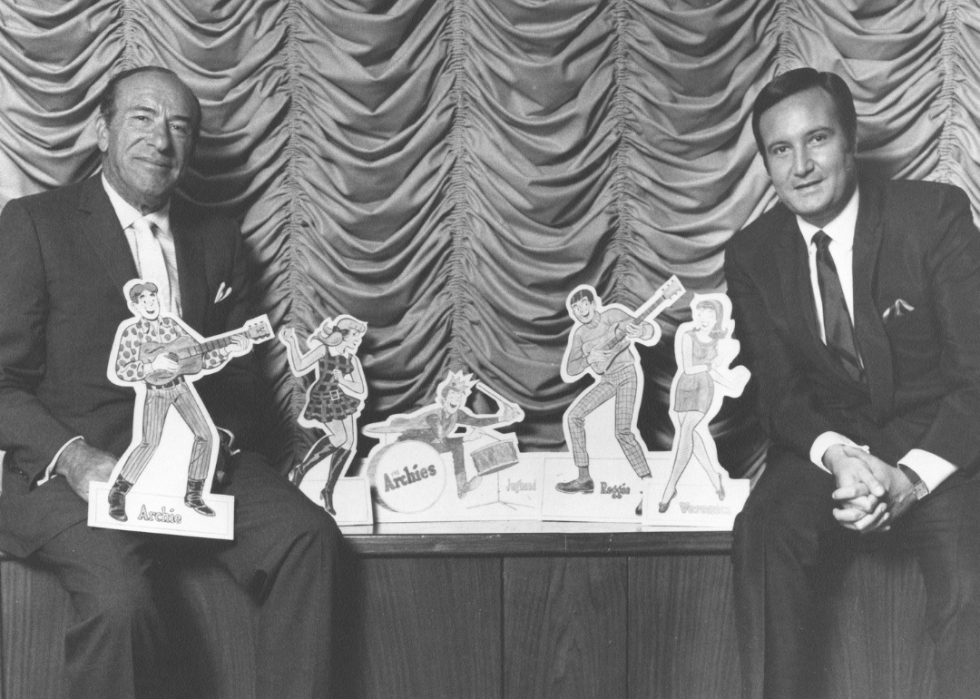 1 / 25
Michael Ochs Archives // Getty Images
The Archies: 'Sugar, Sugar'
In 1969, socially relevant songs that focused on a divided America were the rage—but somehow, the saccharine-sweet pop hit "Sugar, Sugar," managed to find its place on the Billboard chart and held its place on the Billboard Hot 100 for 22 weeks. The band, a fictitious one, was the cartoon-comic crew, the Archies, from the famed comic books, and performed by a talented crew of studio artists. Archie Andrews and his friends, Reggie, Jughead, Betty, and Veronica, had their own show, "The Archie Show," in 1968.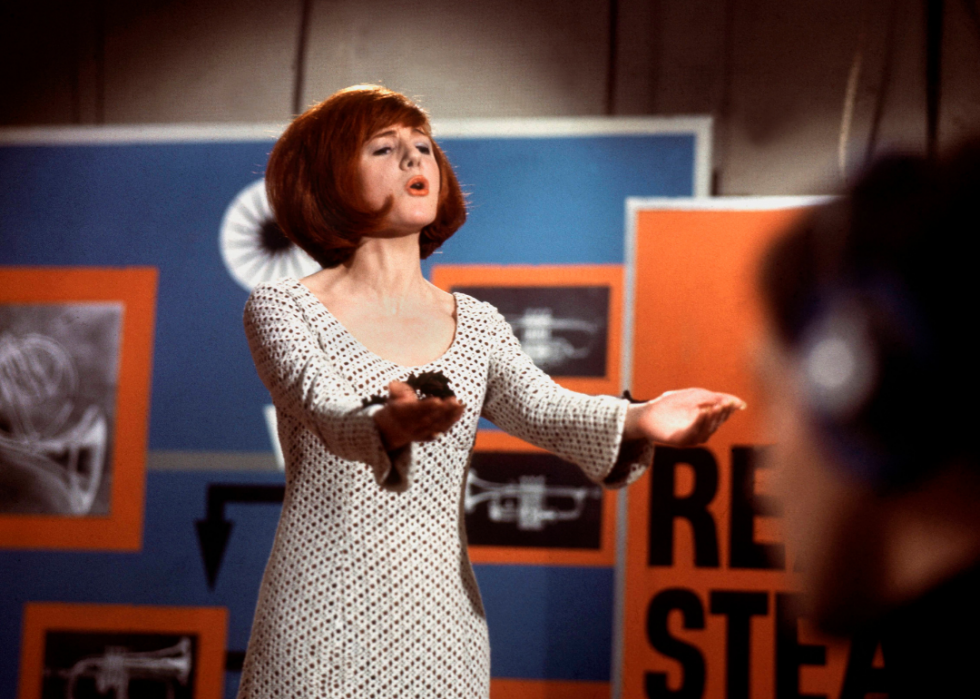 2 / 25
David Redfern/Redferns // Getty Images
Cilla Black: 'You're My World'
Priscilla Maria Veronica White, better known as Cilla Black, was a coat-check-girl-turned-singer who had a fan in then-Beatle and fellow Liverpool native John Lennon. While she only had one hit in the United States with "You're My World," this one-hit wonder marked her second UK song to hit #1. Black's cover of Dionne Warwick's "Anyone Who Had A Heart" topped the UK charts.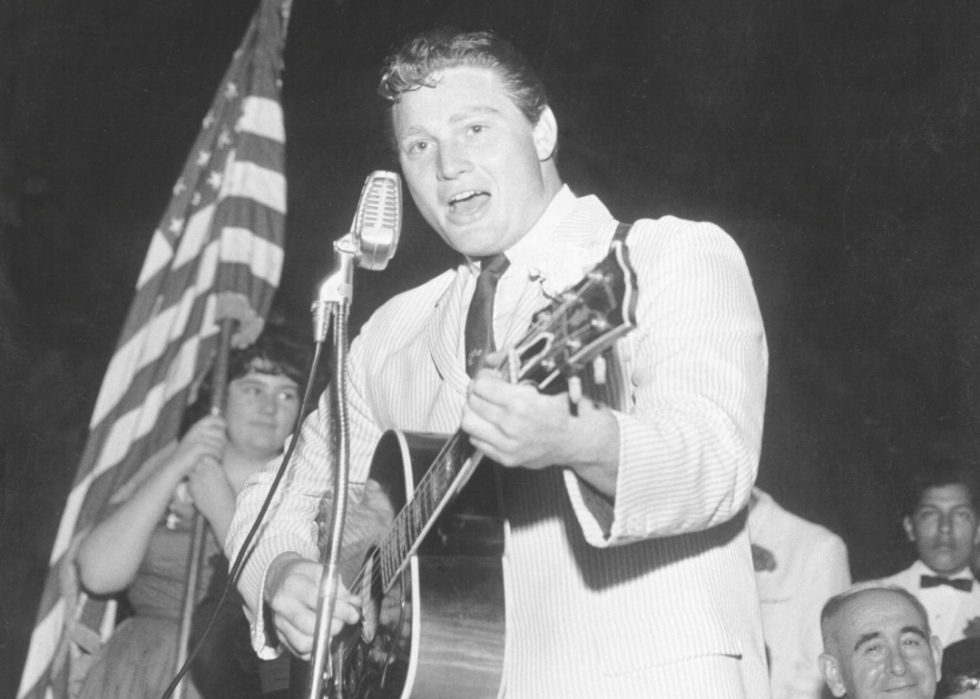 3 / 25
Michael Ochs Archives // Getty Images
Bruce Channel: 'Hey! Baby'
With its background harmonica and fun lyrics, "Hey! Baby," it was no wonder that the song appealed to audiences in 1961. Musician Delbert McClinton toured with singer Bruce Channel and even gave a young John Lennon, who was just starting out with the Beatles, some harmonica tips.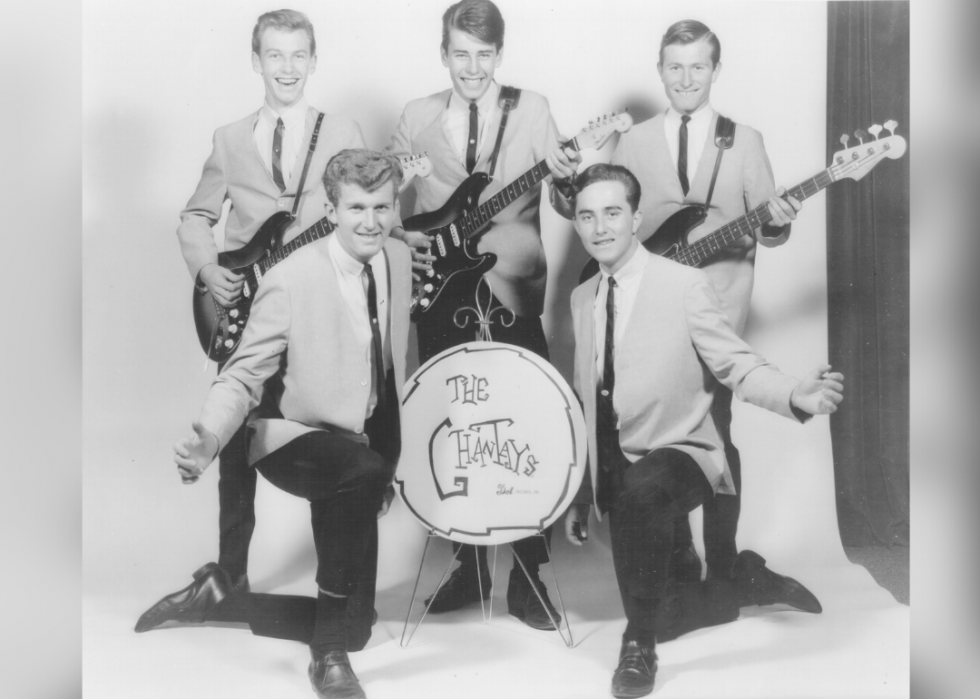 4 / 25
Michael Ochs Archives // Getty Images
The Chantays: 'Pipeline'
An instrumental one-hit wonder that is worth remembering, the Chantays were known as a surf rock band from Orange County, California. The five members came together at Santa Ana High School and managed to score a major hit with "Pipeline" in 1963. Two members, Bob Spickard and Brian Carman, wrote the song when seniors in high school.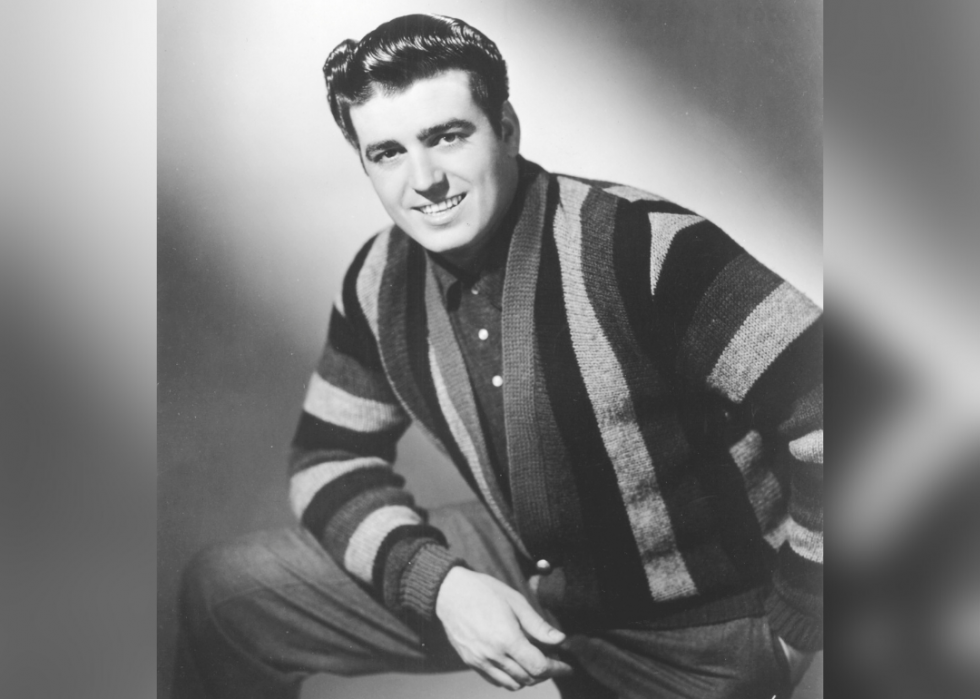 5 / 25
Michael Ochs Archives // Getty Images
Mark Dinning: 'Teen Angel'
Mark Dinning performed this 1960 song co-written by his sister Jean and her husband. The track hit the Billboard Hot 100 and stayed there for five weeks. While Mark Dinning never had another hit, the song found its way to the silver screen: "Teen Angel" can be heard in the 1973 George Lucas coming-of-age film, "American Graffiti."
You may also like: Top 100 country songs of all time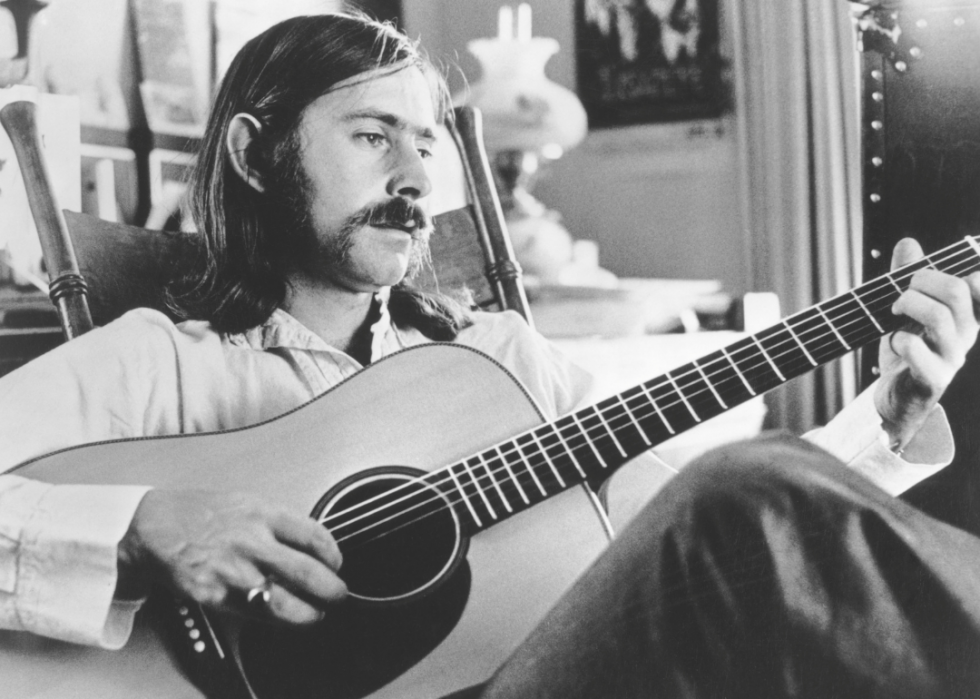 6 / 25
GAB Archive/Redferns // Getty Images
Norman Greenbaum: 'Spirit In The Sky'
This upbeat, chart-topping song from Malden, Massachusetts native Norman Greenbaum is featured in more than 30 feature films, including "Apollo 13" in a memorable scene where the astronauts broadcast back to Earth. "Spirit in the Sky" soared up the pop charts and sold more than 2 million copies.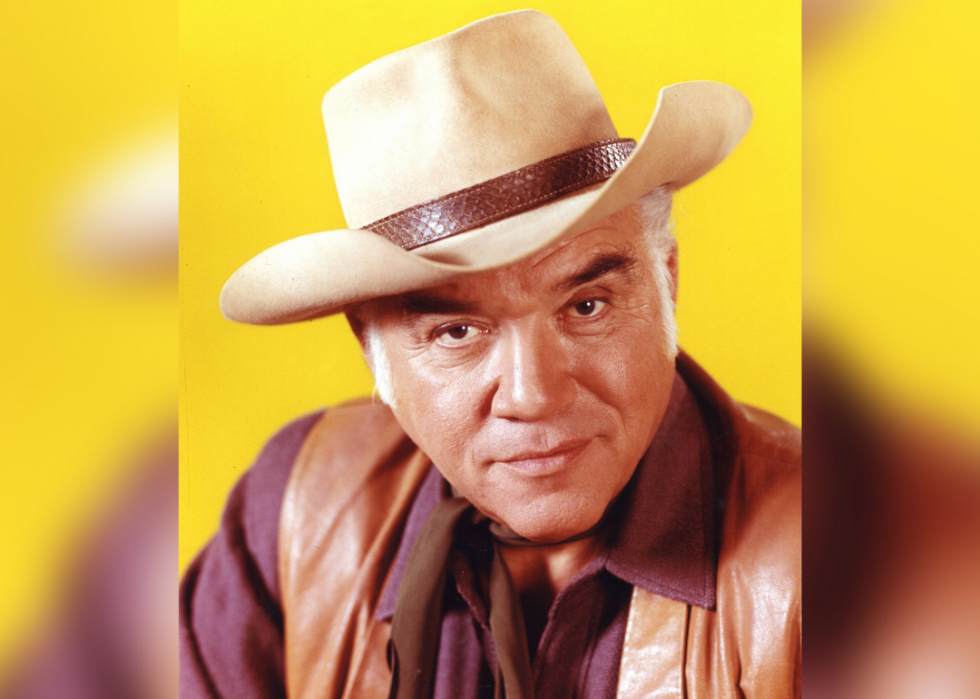 7 / 25
Silver Screen Collection // Getty Images
Lorne Greene: 'Ringo'
This hit single features Canadian actor Lorne Greene speaking throughout much of the song, which tells the wondrous tale of an infamous gunslinger named Ringo and his snafu with a lawman in the Old West. It topped the Billboard charts, much to the dismay of many music aficionados.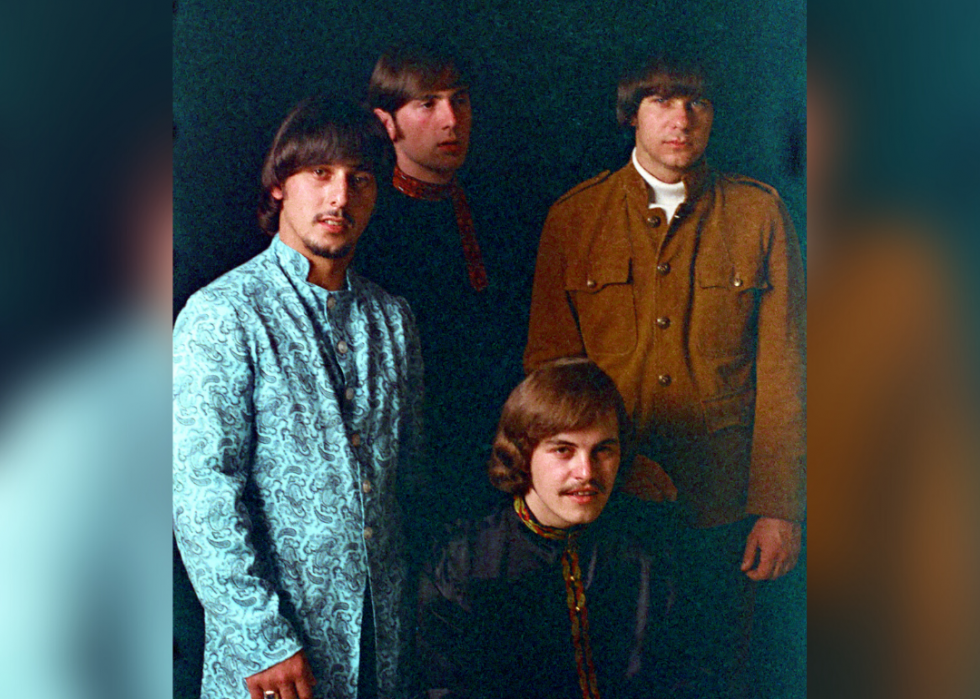 8 / 25
Michael Ochs Archives // Getty Images
The Human Beinz: "Nobody But Me'
Released in 1968, "Nobody But Me" was filled with the word "no." Music critic Dave Marsh, who called it the "Most Negative Song to Ever Hit the Top Forty," claimed "no" is uttered more than 100 times while the word "nobody" appears 46 times. The dances mentioned in the song include The Shingaling, The Skate, The Boogaloo, and The Philly. The Human Beinz was a band from Ohio whose members performed mostly in bars until they hit the big time with this track.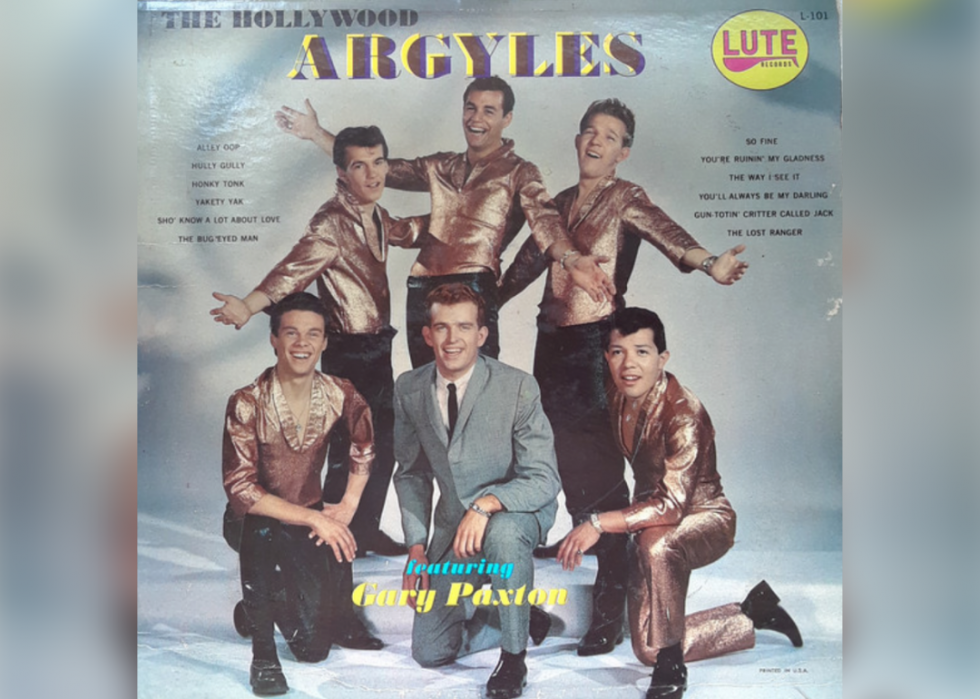 9 / 25
The Hollywood Argyles: 'Alley-oop'
Based on the syndicated comic strip cartoonist Vincent T. Hamlin created in 1932, this song tells the story of prehistoric caveman Alley Oop. The Hollywood Argyles lead singer Gary Paxton named the band after the recording studio's location on Argyle Street and Hollywood Boulevard. In an interview with the Tennessean, Dallas Frazier said of writing the song while working in a California cotton gin, "I knew I had something. I just knew it. You kind of know it, sometimes. I knew that Alley Oop had potential."
10 / 25
GAB Archive/Redferns // Getty Images
Iron Butterfly: 'In-A-Gadda-Da-Vida'
The unabridged version of the 1968 song is more than 17 minutes long and was one of the first "heavy metal" songs. An often-told story is that the song's true title was meant to be "In the Garden of Eden." Iron Butterfly's lead singer Doug Ingle wrote "In-A-Gadda-Da-Vida" and was the son of a church organist. The song contains both a drum and organ solo.
You may also like: Songs that dominated Billboard charts the longest
11 / 25
Michael Ochs Archives // Getty Images
Ernie K-Doe: 'Mother-in-Law'
In this 1961 song, Ernie K-Doe talks about the difficulties of life with a meddling mother-in-law, and it snagged the #1 spot on both the Billboard Hot 100 and the Billboard R&B chart. In 1994, K-Doe opened "The Mother-in-Law Lounge," in New Orleans. After his death in 2001, his wife Antoinette kept the music venue going. Though she died in 2009, the popular neighborhood club remains open to this day.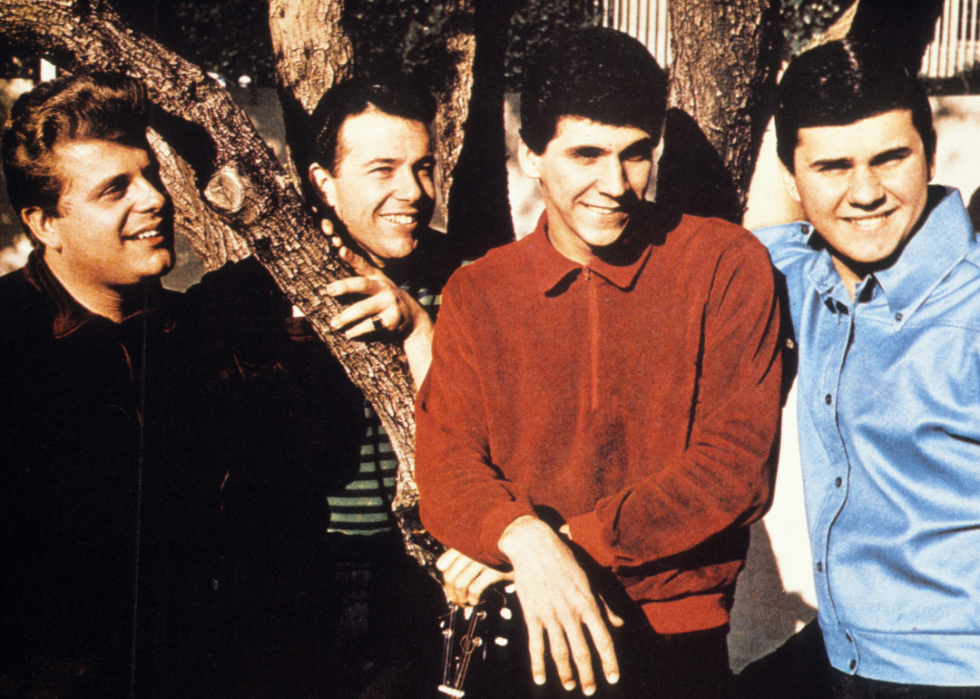 12 / 25
GAB Archive/Redferns // Getty Images
The Knickerbockers: 'Lies'
This 1965 song's upbeat sound and simple lyrics may have been the reason it became a hit. "Lies" was also popular with other artists as evidenced by the many who went on to record their own versions. Nancy Sinatra, Styx, and Linda Ronstadt all added their personal touch to the song that made the Knickerbockers famous, even if only for a fleeting moment.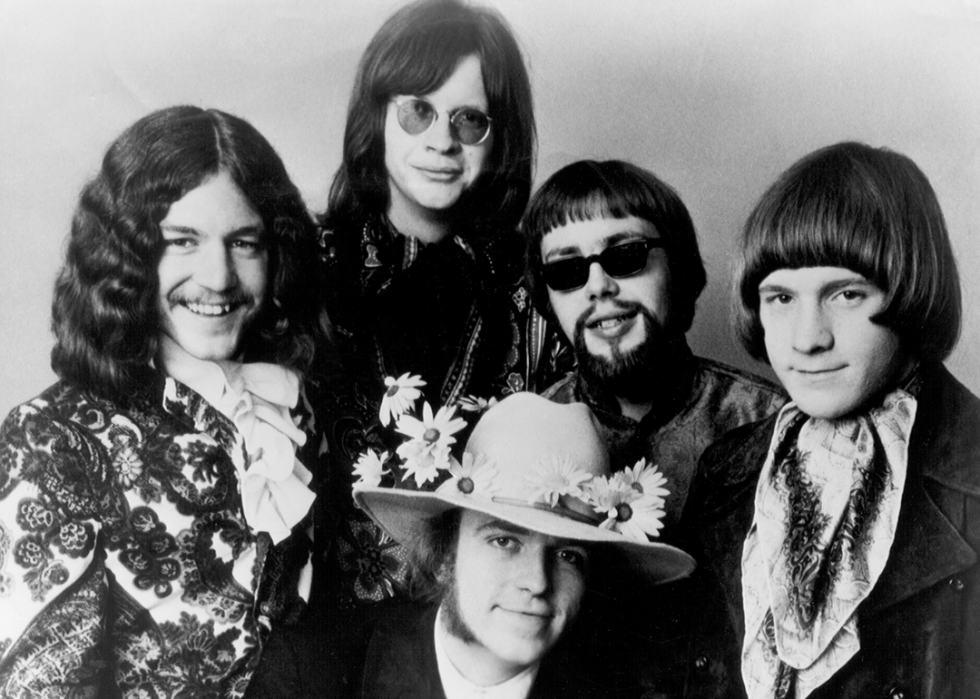 13 / 25
Michael Ochs Archives // Getty Images
The Lemon Pipers: 'Green Tambourine'
This psychedelic song featured lead singer Ivan Browne playing the title instrument, much to the delight of audiences. The pop band reached the top of the Billboard Hot 100 with this one-hit wonder in 1967. The Lemon Pipers went their separate ways in 1969.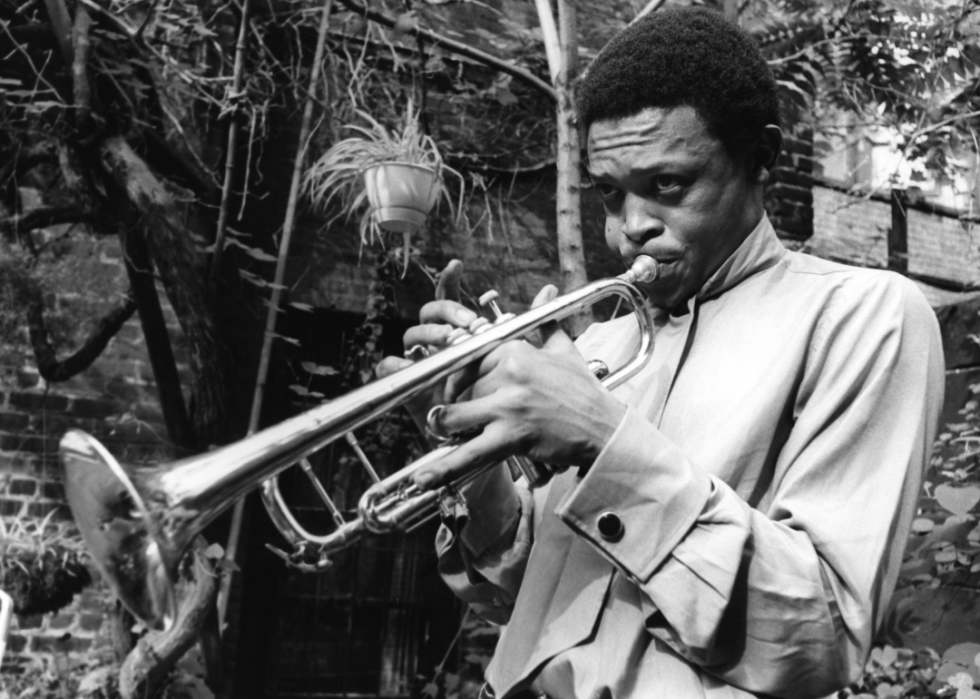 14 / 25
Don Paulsen/Michael Ochs Archives // Getty Images
Hugh Masekela: 'Grazing in the Grass'
The South African jazz trumpeter scored a hit in 1968 with this smooth instrumental song composed by Philemon Hou. In 1969, the band The Friends of Distinction reworked the song, adding lyrics, and turned it into another chart-topper.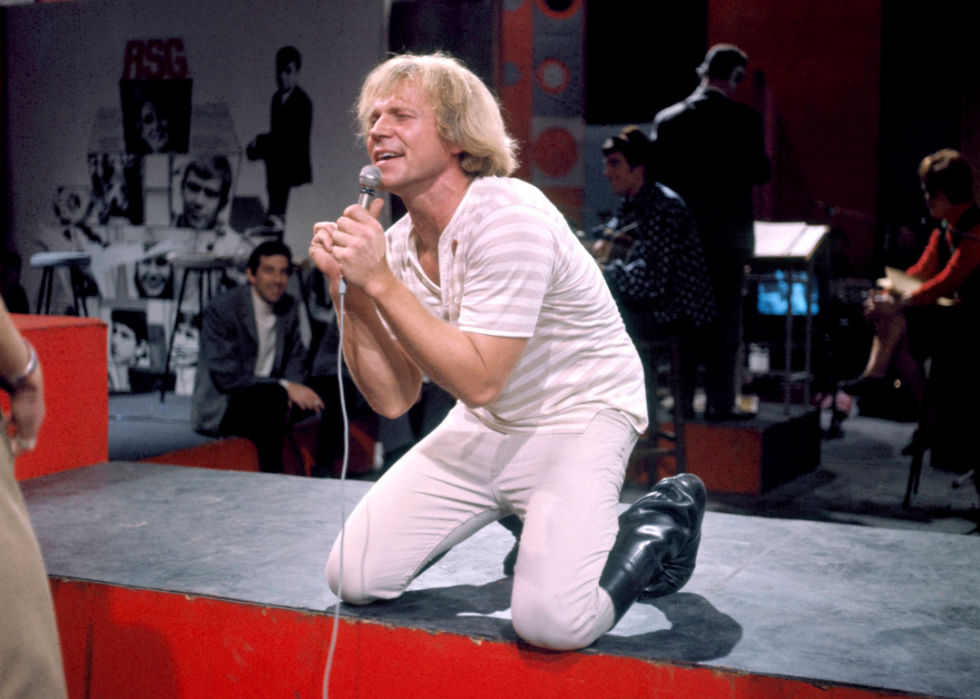 15 / 25
CA/Redferns // Getty Images
Barry McGuire: 'Eve of Destruction'
This protest song was performed by folk singer Barry McGuire and released in 1965. It was written by a 19-year-old named P.F. Sloan who would go on to write songs for major bands like the Turtles and Herman's Hermits. Several other artists have recorded "Eve of Destruction," including Bob Dylan.
You may also like: 30 pop songs you may not know are covers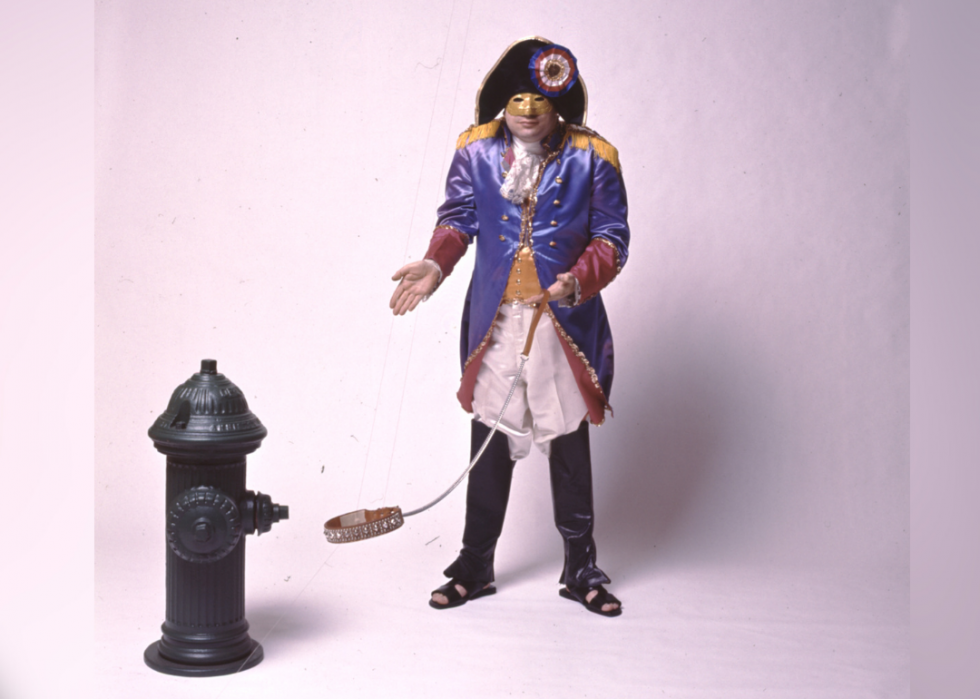 16 / 25
Michael Ochs Archives // Getty Images
Napoleon XIV: 'They're Coming to Take Me Away, Ha-Haaa!'
This novelty record was a nonsensical and fun hit by Napoleon XIV who was actually just one man using a pseudonym. Jerry Samuels came up with the song during his time at New York's Associated Recording Studios. The song featured a snare drum, a tambourine, and a siren that would go off as Samuels' voice rose to a fever pitch during the chorus.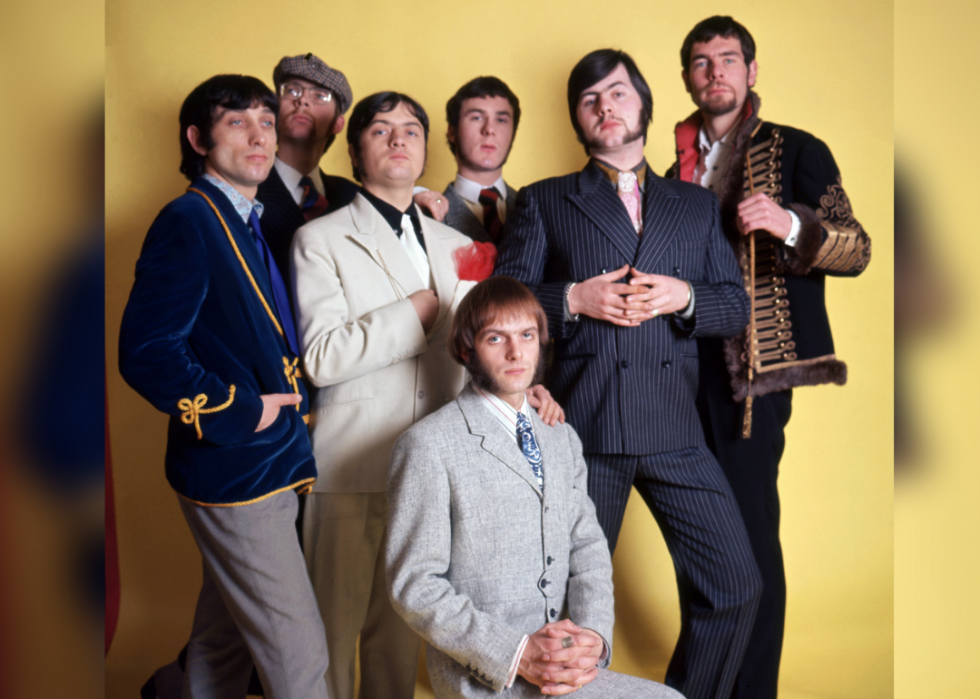 17 / 25
Jeff Hochberg // Getty Images
The New Vaudeville Band: 'Winchester Cathedral'
"Winchester Cathedral" hit #1 in the U.S. on the Billboard chart in 1966 and remained there for 13 weeks. Frontman of the New Vaudeville Band, Geoff Stephens, also had hits when he wrote 1960s songs "There's a Kind of Hush" and "The Crying Game."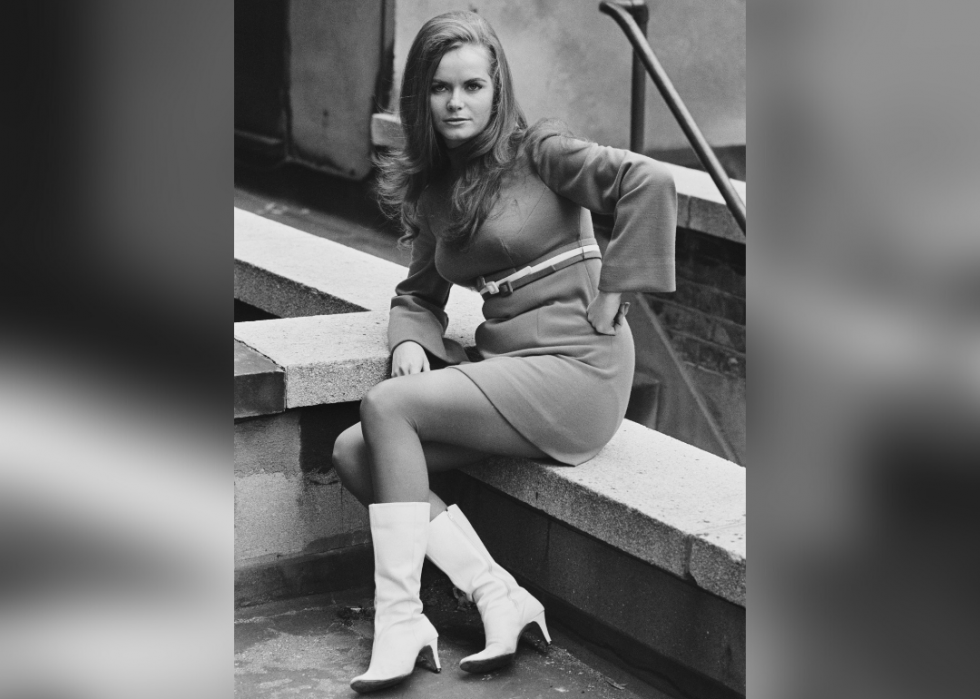 18 / 25
William Lovelace/Daily Express // Getty Images
Jeannie C. Riley: 'Harper Valley P.T.A.'
This 1968 country song, written by Tom T. Hall, inspired a movie eight years after the song's release as well as an early '80s sitcom. In the tune, the judgemental Harper Valley P.T.A. writes a letter to the mother of one of the students at Harper Valley Junior High asking her to stop wearing short skirts and to set a better example for her daughter. The 1978 movie marked the film debut of actor Woody Harrelson in an uncredited role.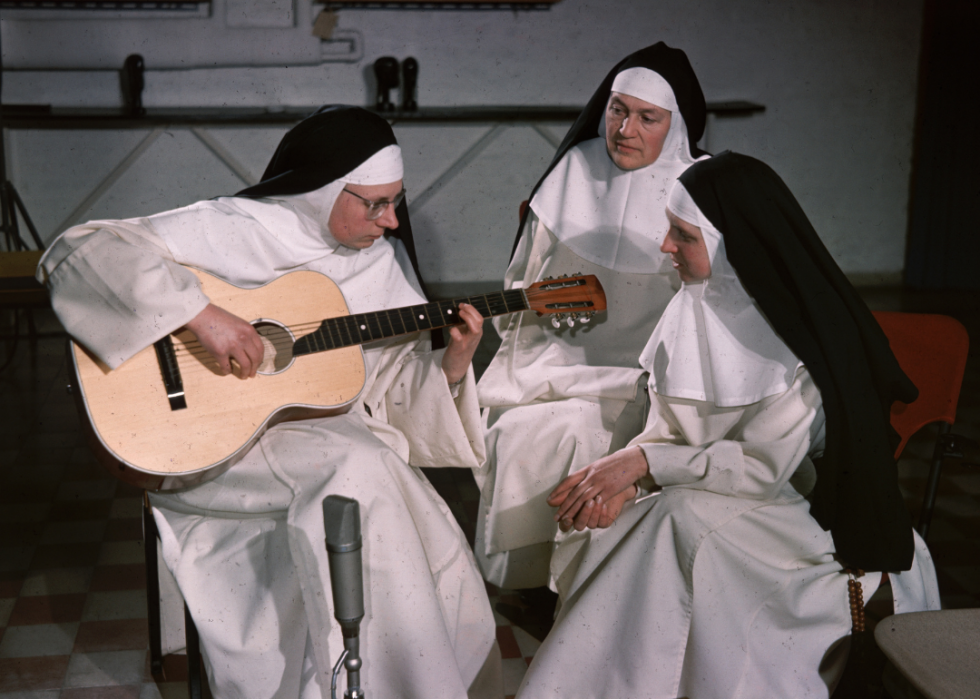 19 / 25
The Singing Nun: 'Dominique'
Sure, a French-language song sung by a nun that topped the charts sounds unbelievable, but in 1963 it happened. The nun, Jeannine Deckers, also known as Sister Luc Gabrielle, would be portrayed by Debbie Reynolds in the 1966 film about her life, "The Singing Nun." Deckers' 15 minutes of fame and associated drama boiled over with her unfortunate and tragic death in 1985.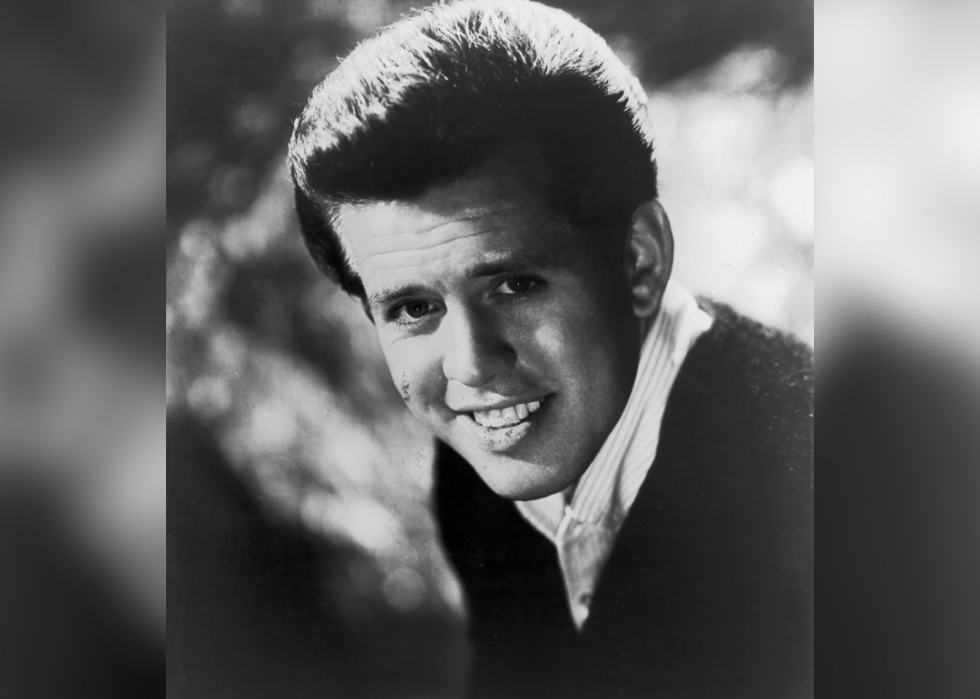 20 / 25
Michael Ochs Archives // Getty Images
Terry Stafford: 'Suspicion'
As an unknown singer from Amarillo, Texas, it was surprising that Terry Stafford hit the Billboard Top 100 chart, wedged between two Beatles hits. The song remained on the Billboard chart for almost four months. Stafford also sounded a lot like another chart-topping artist, Elvis Presley, who many fans originally believed sang "Suspicion."
You may also like: 30 of the top-grossing music tours of all time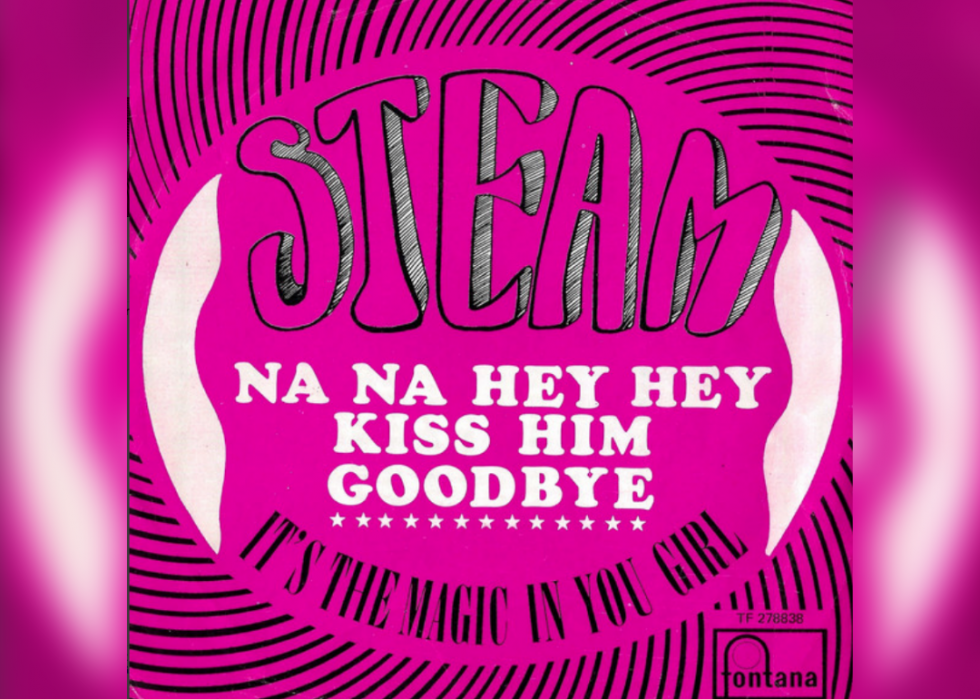 21 / 25
Steam: 'Na Na Hey Hey Kiss Him Goodbye'
Originally a fictitious studio-only band, when the song hit, producer and writer, Paul Leka had to put together a real band to go out on tour. While the song topped the charts, its biggest claim to fame came years later at a 1977 Chicago White Sox game. This event turned "Na Na Hey Hey Kiss Him Goodbye" from a one-hit wonder into a legendary sports song.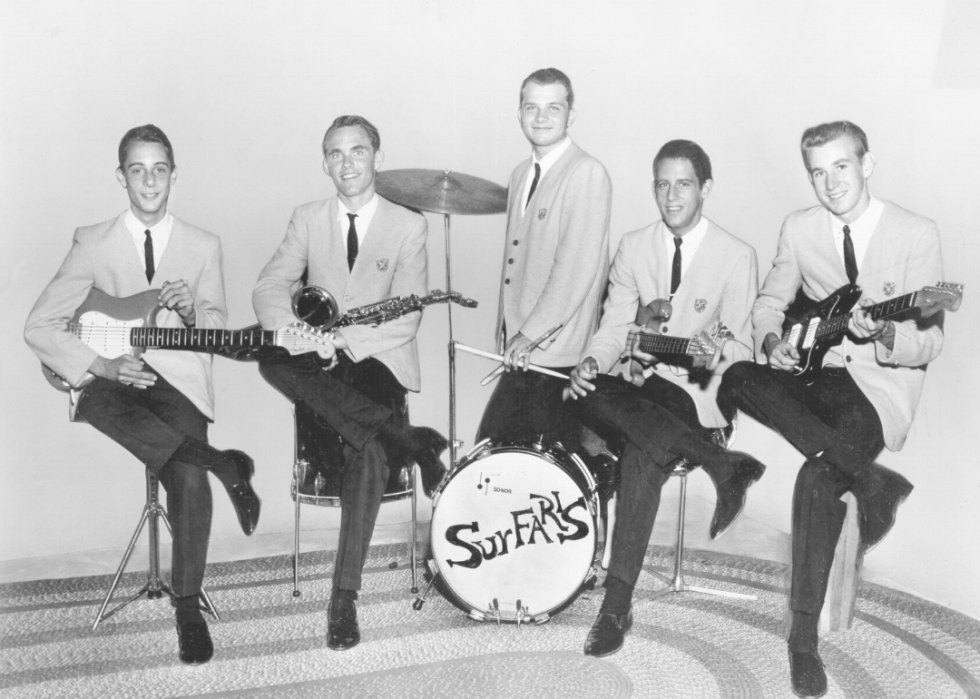 22 / 25
Michael Ochs Archives // Getty Images
The Surfaris: 'Wipe Out'
Instrumental surf band the Surfaris started out in 1962, while the release of the group's popular hit "Wipe Out" came only a year later in 1963. The song has also been used in several feature films including "Meet the Parents" and "Dirty Dancing." It was also performed at Woodstock in 1969 by the band Sha Na Na.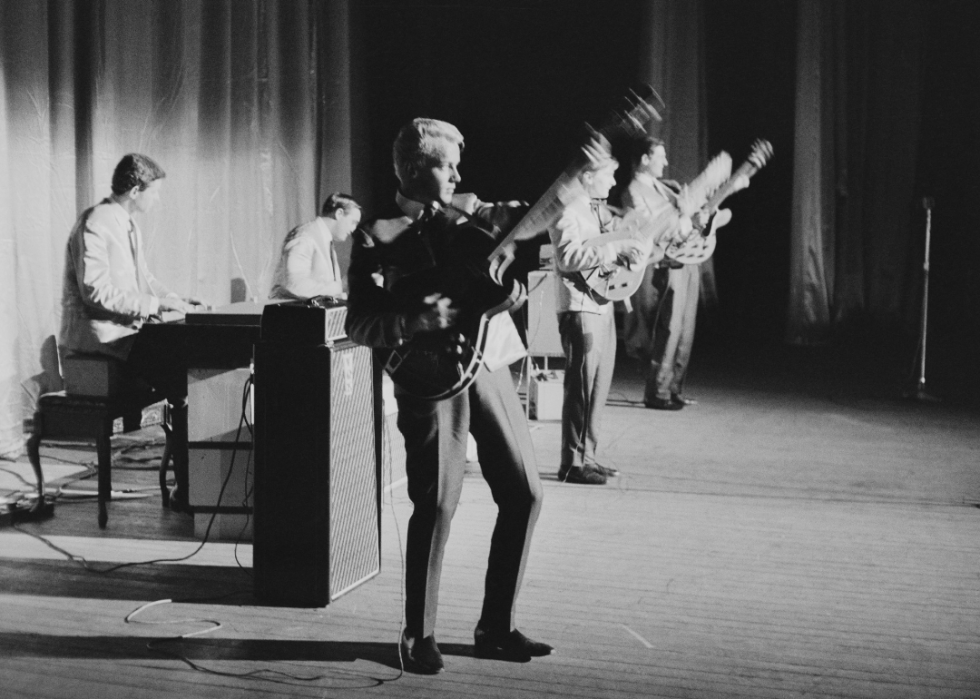 23 / 25
Potter/Daily Express/Hulton Archive // Getty Images
The Tornados: 'Telstar'
Fresh-faced, clean-cut British band, the Tornados, had a hit with this instrumental song produced by legendary producer Joe Meek. "Telstar" was named after an experimental communications satellite launched into space in 1962, which seemed fitting given the space-like quality to the song that would be lumped with other songs of the same ilk known as "space rock."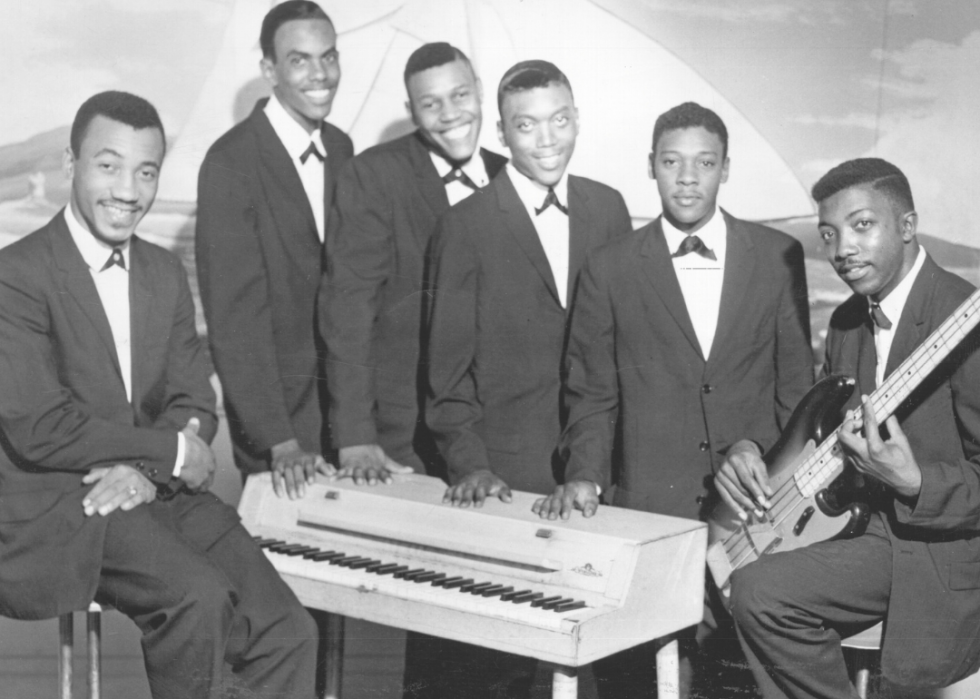 24 / 25
Michael Ochs Archives // Getty Images
Maurice Williams & The Zodiacs: 'Stay'
First released by Maurice Williams & The Zodiacs in 1960, bands The Hollies and The Four Seasons and musician Jackson Browne would go on to release their own versions. The song saw new life when the popular 1987 film "Dirty Dancing" added the Maurice Williams & The Zodiacs version to the soundtrack.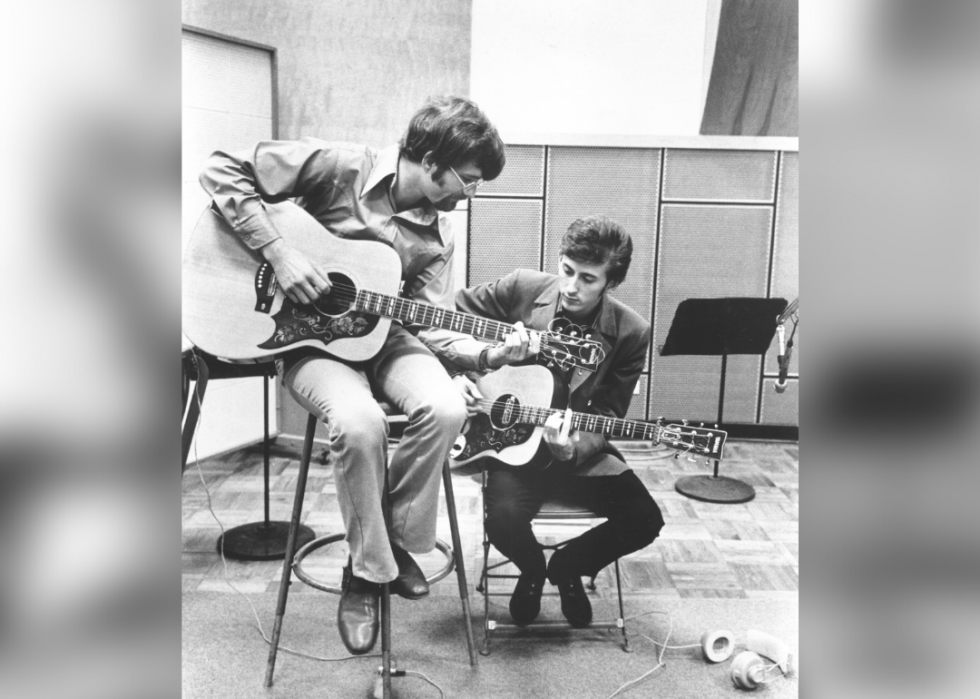 25 / 25
Michael Ochs Archives // Getty Images
Zager and Evans: 'In The Year 2525'
Zager and Evans was named for its two members, Denny Zager and Rick Evans. "In The Year 2525" made it to the #1 spot on the Billboard Hot 100, but Zager and Evans disbanded just two years after the song was released in 1969. Denny Zager went on to form a company called Zager Guitar, which he still runs; Rick Evans died in 2018.
You may also like: Most-Nominated artists who have never won a Grammy