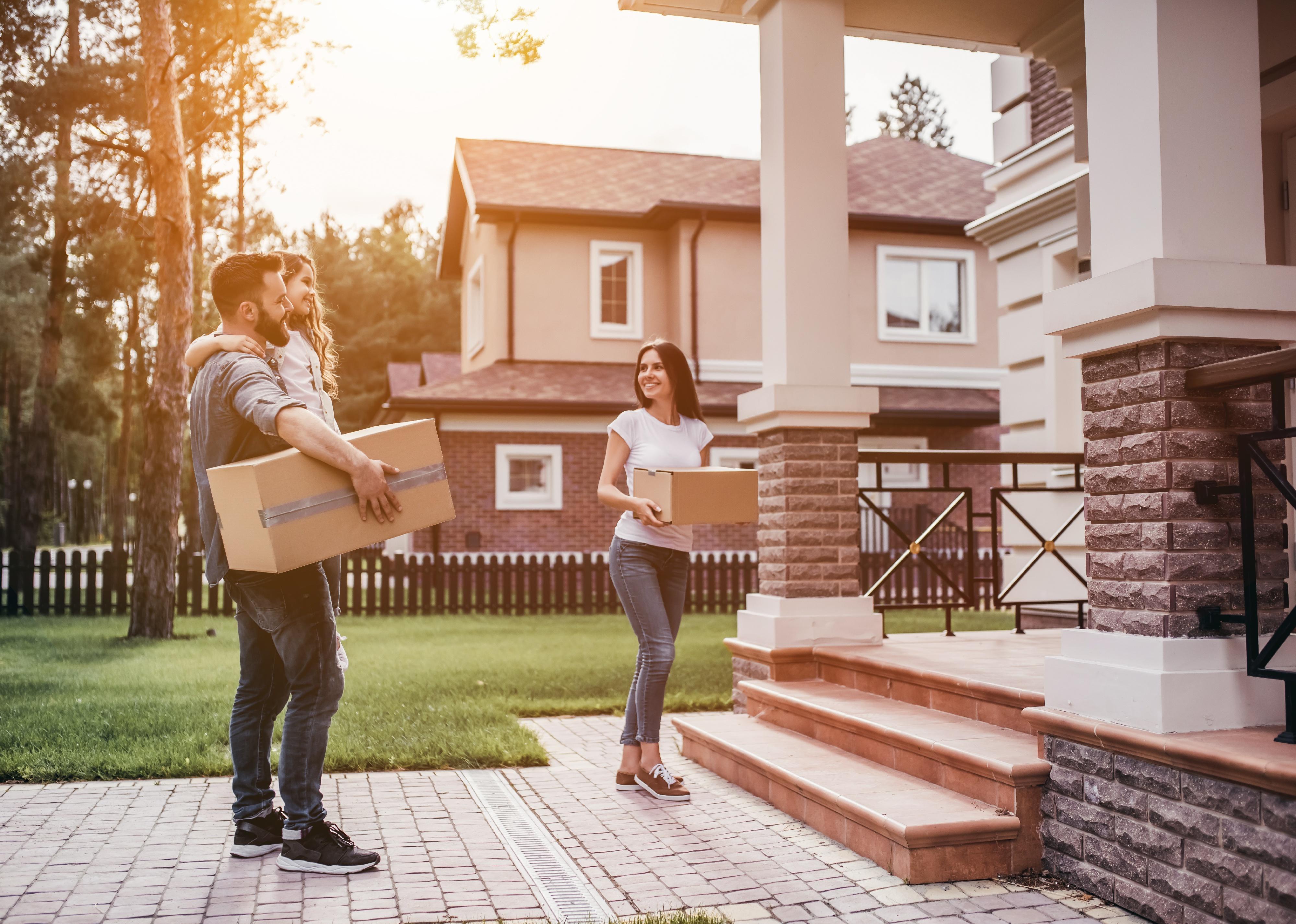 Cities with the most expensive homes in New Hampshire
4 PM production // Shutterstock
Cities with the most expensive homes in New Hampshire
Stacker compiled a list of cities with the most expensive homes in New Hampshire using data from Zillow. Cities are ranked by the Zillow Home Values Index for all homes as of July 2022. The charts in this story were created automatically using Matplotlib. The most expensive city on the list has a typical home value of $2,035,673 which is 366% higher than the state average of $436,623.
Metros with the most cities in the top 30 in New Hampshire
#1. Boston-Cambridge-Newton: 19
#2. Claremont-Lebanon: 4
#2. Manchester-Nashua: 4
#4. Concord: 1
#4. Laconia: 1
Read on to see which cities made the list.
You may also like: Zip codes with the most expensive homes in New Hampshire
You may also like: Cities with the fastest-growing home prices in New Hampshire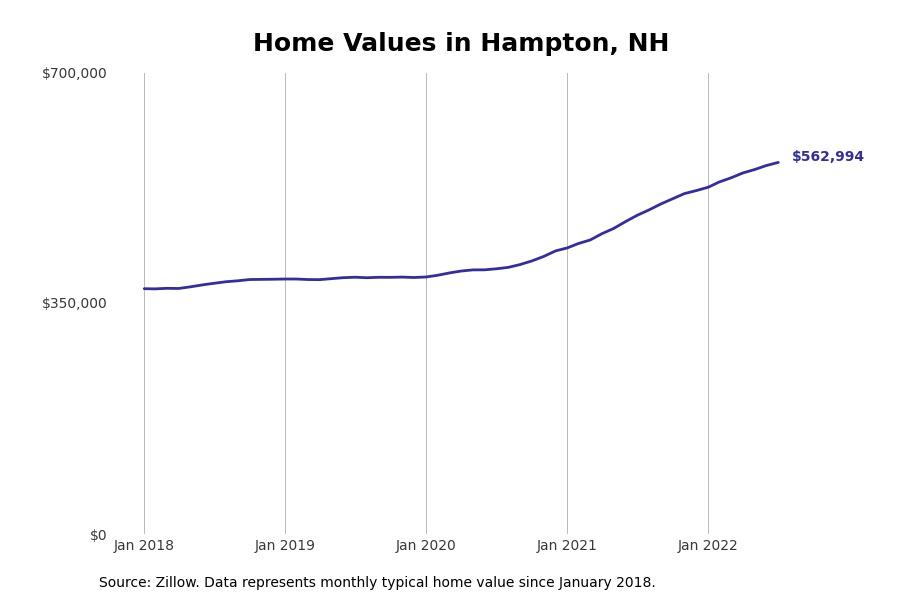 1 / 30
#30. Hampton
- Typical home value: $562,994
- 1-year price change: +16.6%
- 5-year price change: +57.6%
- Metro area: Boston-Cambridge-Newton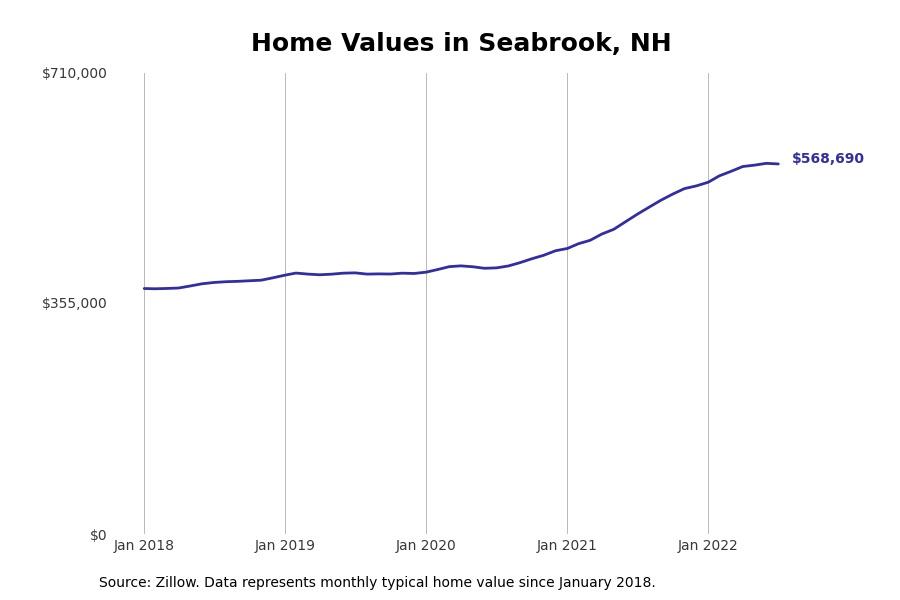 2 / 30
#29. Seabrook
- Typical home value: $568,690
- 1-year price change: +15.7%
- 5-year price change: +55.8%
- Metro area: Boston-Cambridge-Newton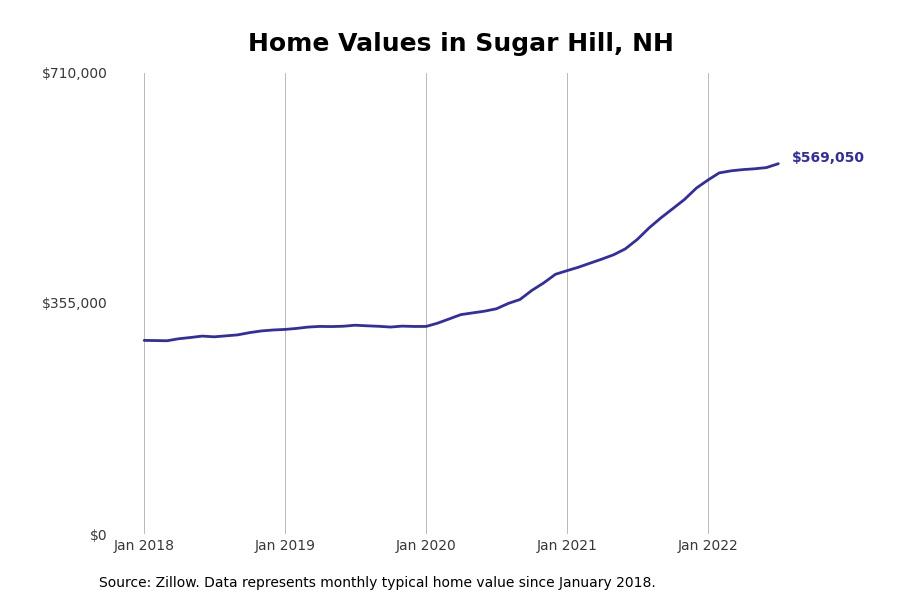 3 / 30
#28. Sugar Hill
- Typical home value: $569,050
- 1-year price change: +25.7%
- 5-year price change: +91.9%
- Metro area: Claremont-Lebanon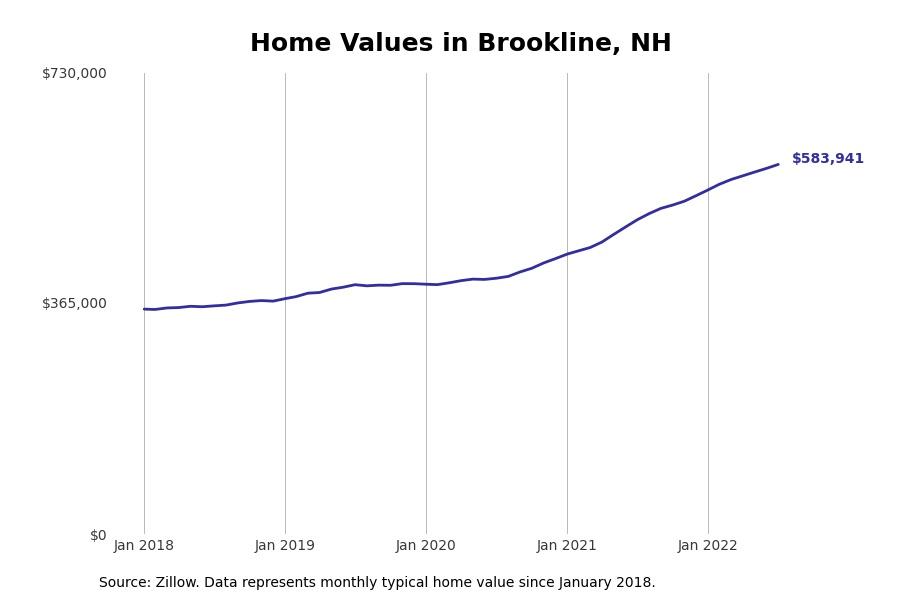 4 / 30
#27. Brookline
- Typical home value: $583,941
- 1-year price change: +17.6%
- 5-year price change: +72.3%
- Metro area: Manchester-Nashua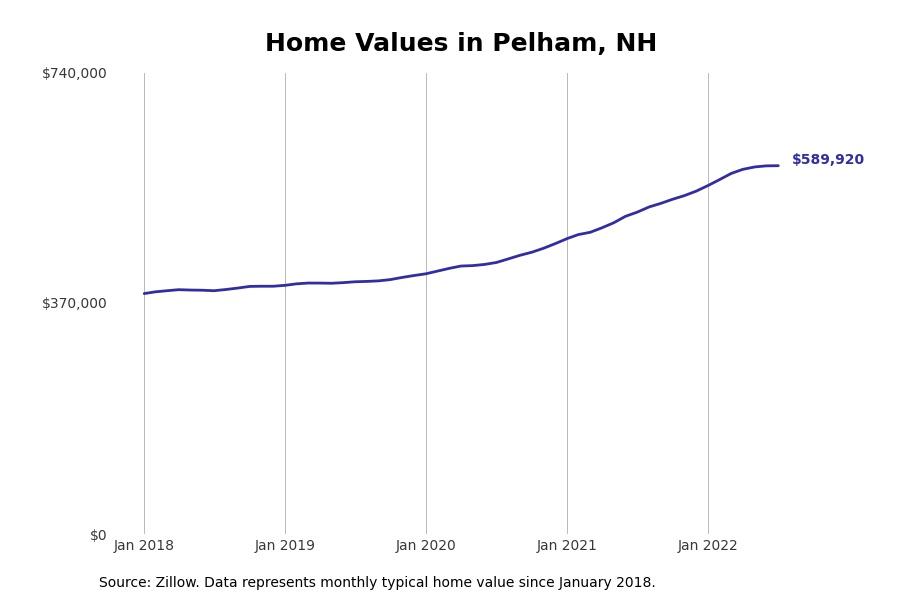 5 / 30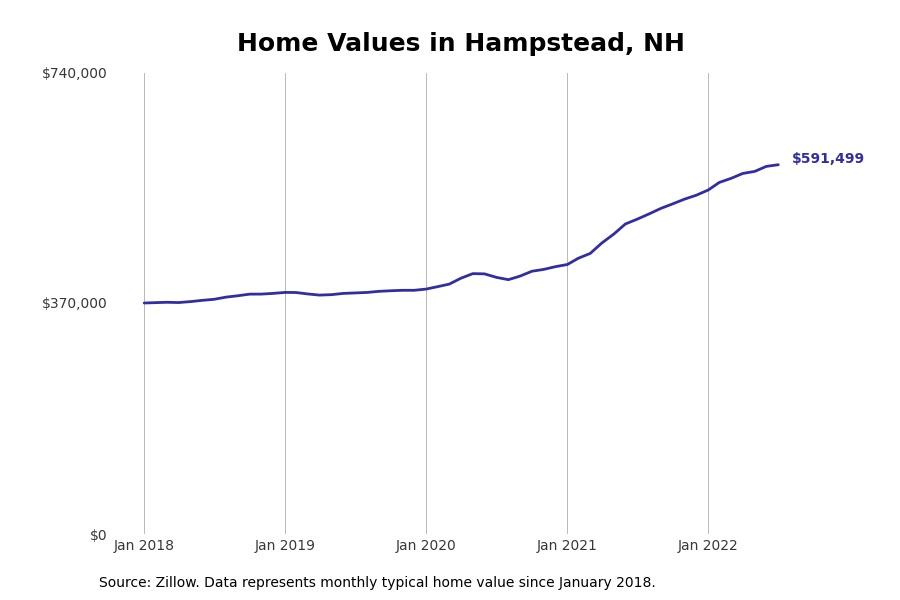 6 / 30
#25. Hampstead
- Typical home value: $591,499
- 1-year price change: +17.3%
- 5-year price change: +67.7%
- Metro area: Boston-Cambridge-Newton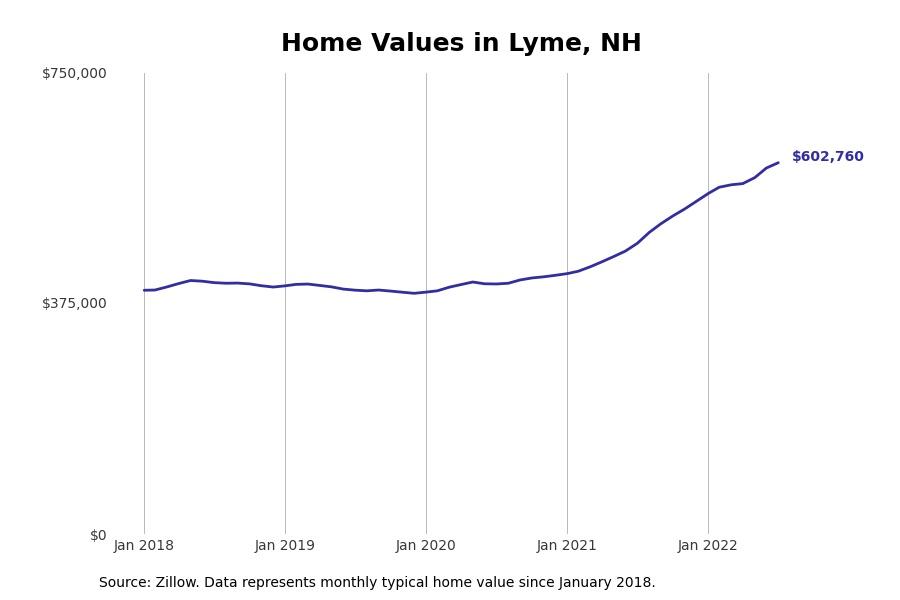 7 / 30
#24. Lyme
- Typical home value: $602,760
- 1-year price change: +27.7%
- 5-year price change: +53.5%
- Metro area: Claremont-Lebanon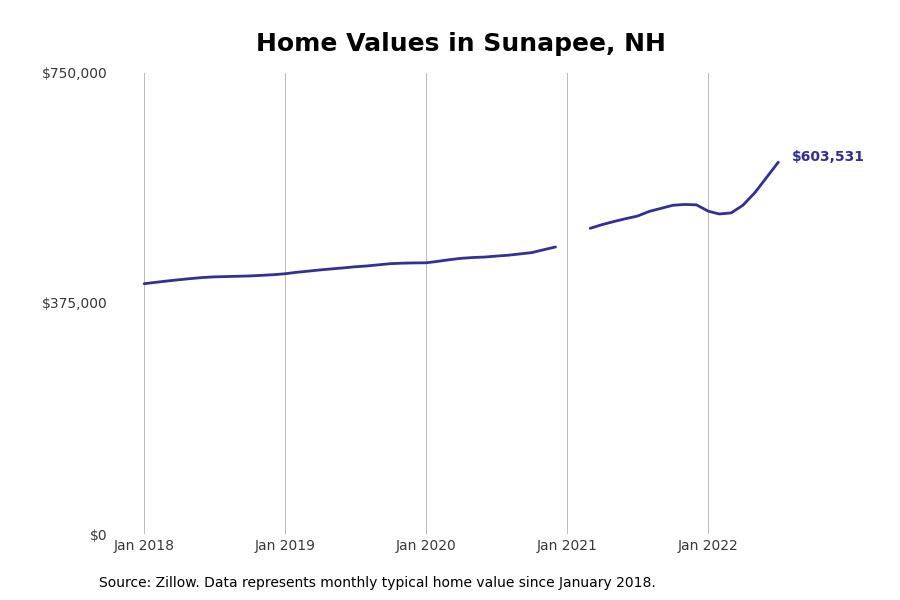 8 / 30
#23. Sunapee
- Typical home value: $603,531
- 1-year price change: +16.9%
- 5-year price change: +52.3%
- Metro area: Claremont-Lebanon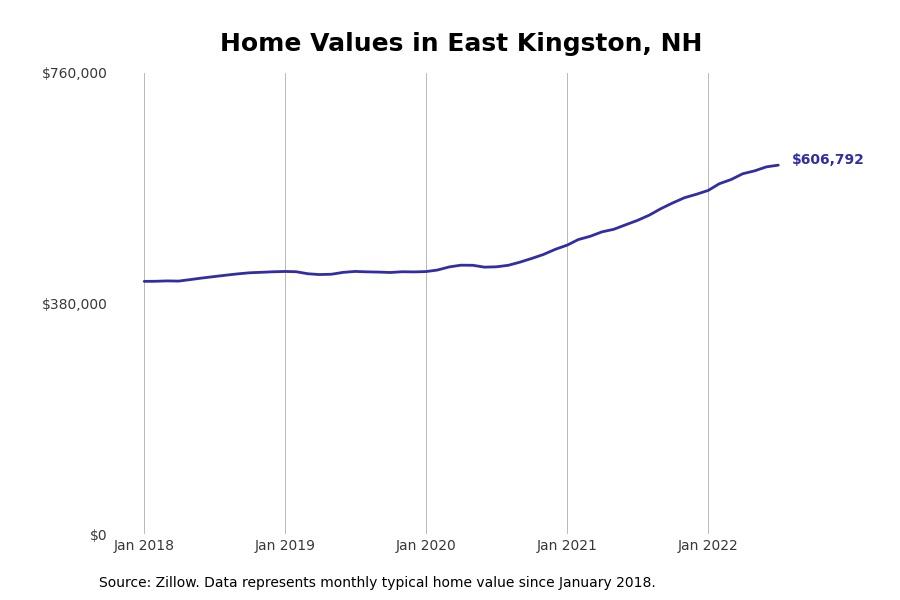 9 / 30
#22. East Kingston
- Typical home value: $606,792
- 1-year price change: +17.6%
- 5-year price change: +53.8%
- Metro area: Boston-Cambridge-Newton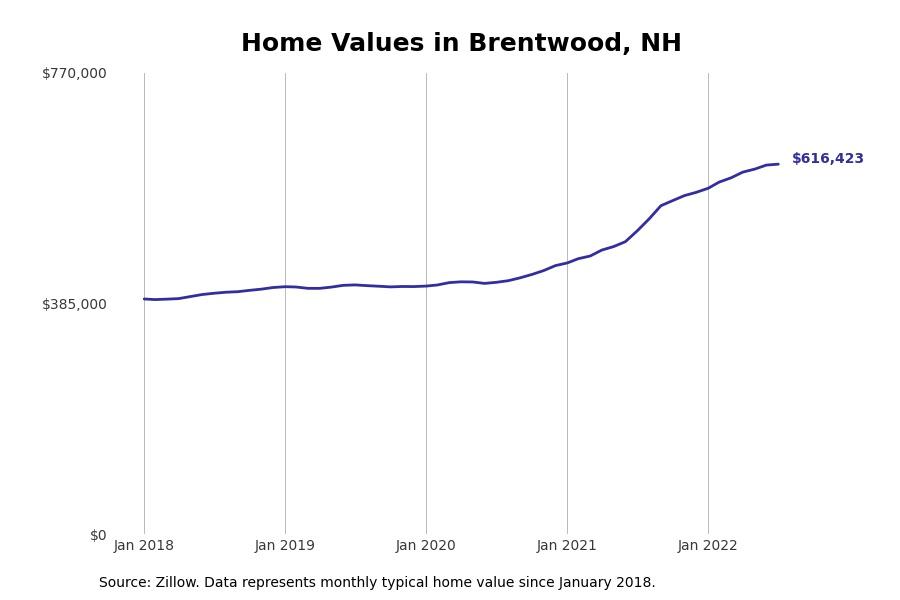 10 / 30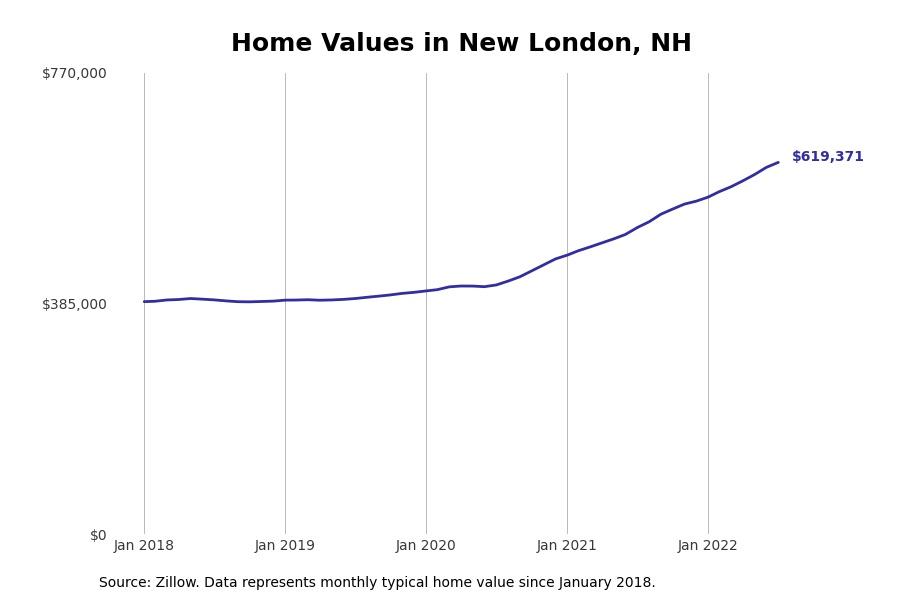 11 / 30
#20. New London
- Typical home value: $619,371
- 1-year price change: +21.3%
- 5-year price change: +66.2%
- Metro area: Concord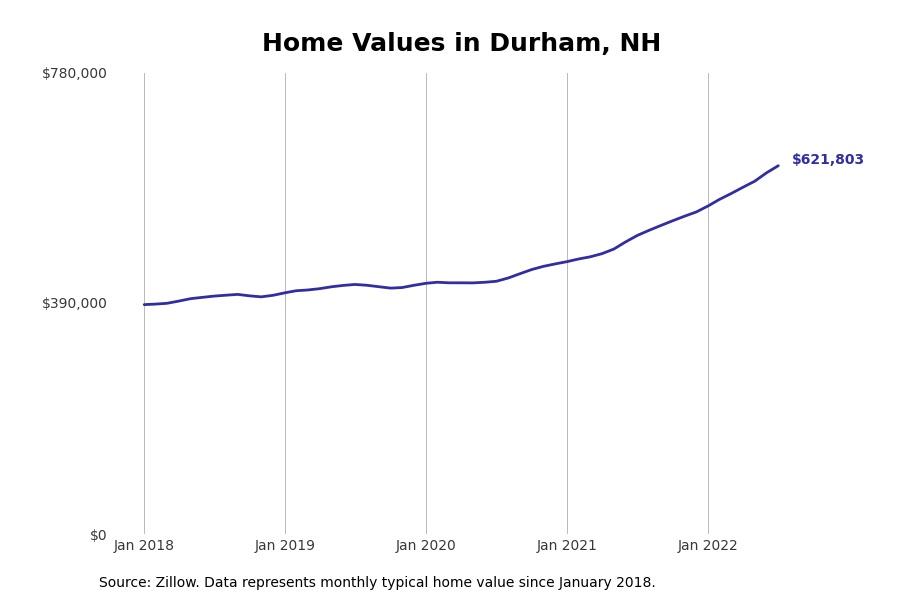 12 / 30
#19. Durham
- Typical home value: $621,803
- 1-year price change: +23.3%
- 5-year price change: +64.0%
- Metro area: Boston-Cambridge-Newton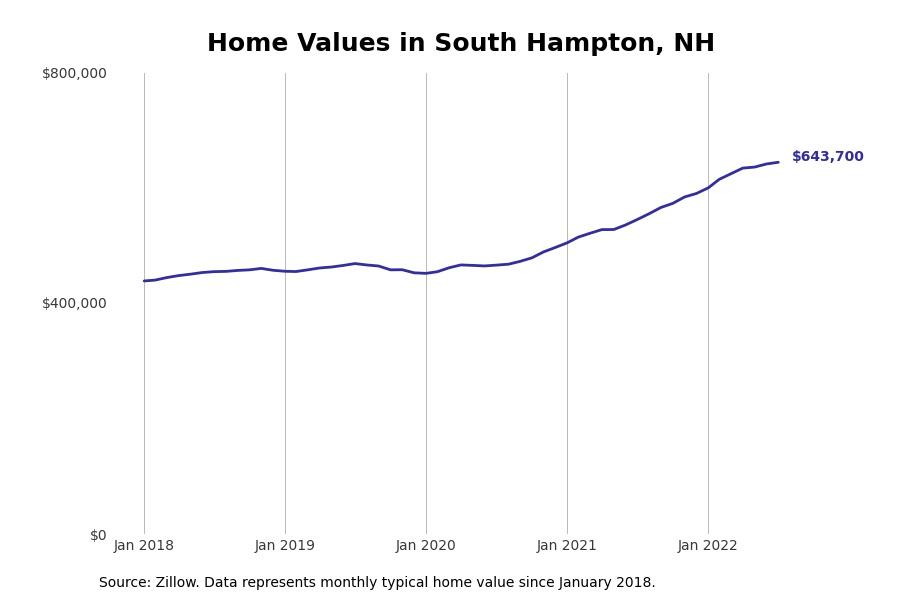 13 / 30
#18. South Hampton
- Typical home value: $643,700
- 1-year price change: +18.2%
- 5-year price change: +50.0%
- Metro area: Boston-Cambridge-Newton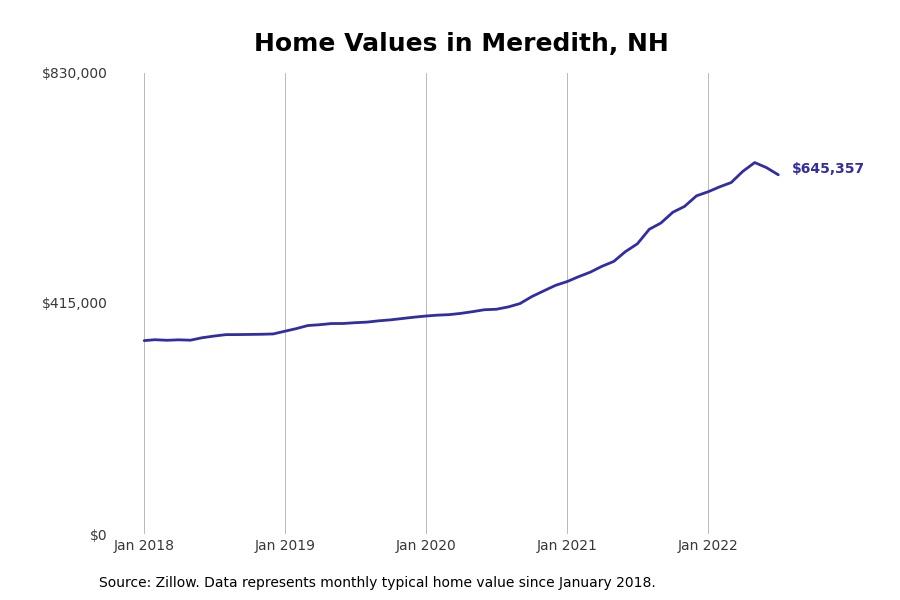 14 / 30
#17. Meredith
- Typical home value: $645,357
- 1-year price change: +23.8%
- 5-year price change: +94.1%
- Metro area: Laconia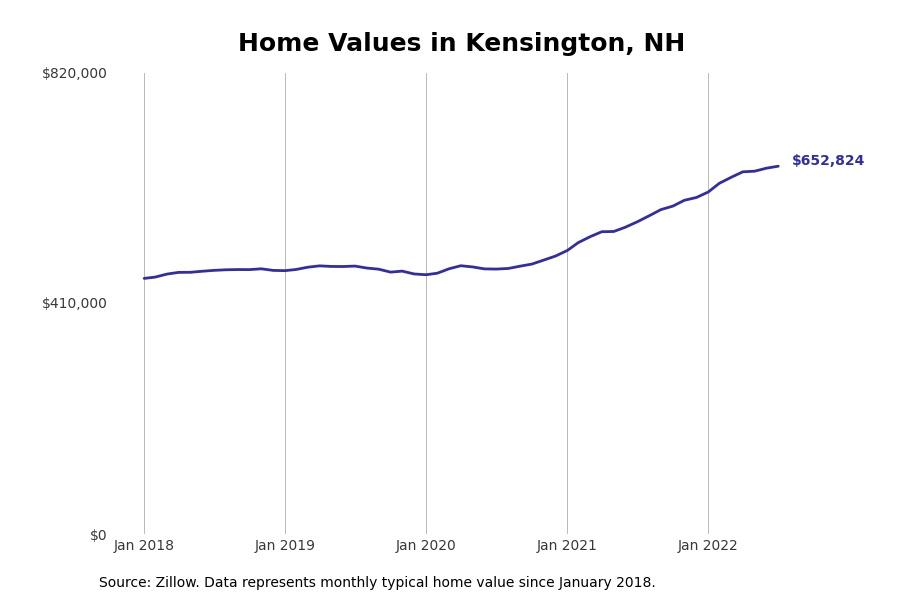 15 / 30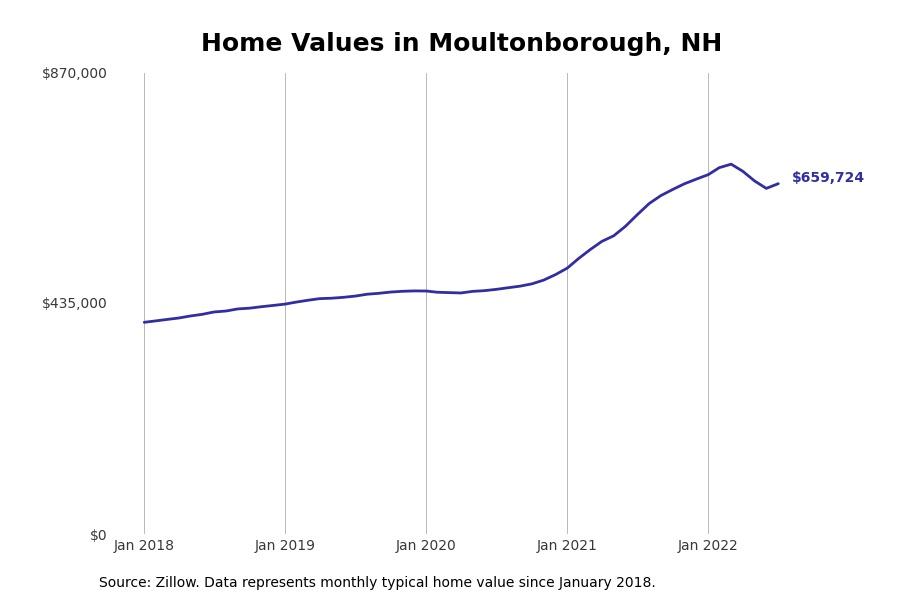 16 / 30
#15. Moultonborough
- Typical home value: $659,724
- 1-year price change: +9.7%
- 5-year price change: +71.5%
- Metro area: not in a metro area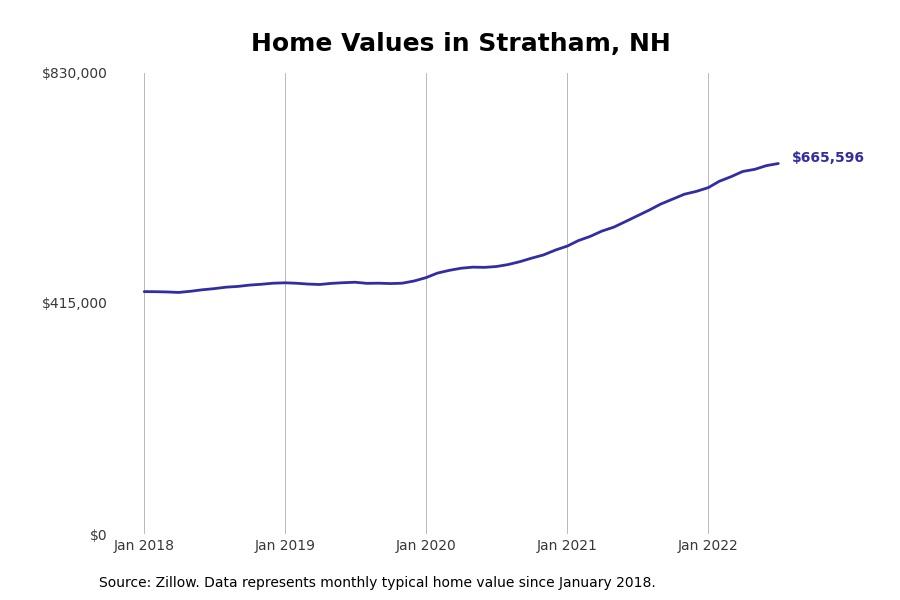 17 / 30
#14. Stratham
- Typical home value: $665,596
- 1-year price change: +16.4%
- 5-year price change: +60.1%
- Metro area: Boston-Cambridge-Newton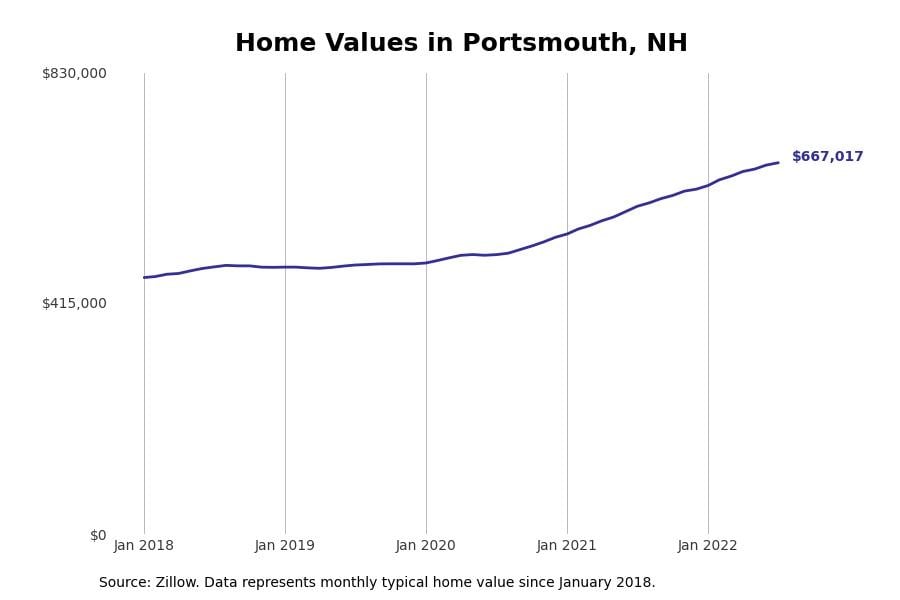 18 / 30
#13. Portsmouth
- Typical home value: $667,017
- 1-year price change: +13.3%
- 5-year price change: +52.9%
- Metro area: Boston-Cambridge-Newton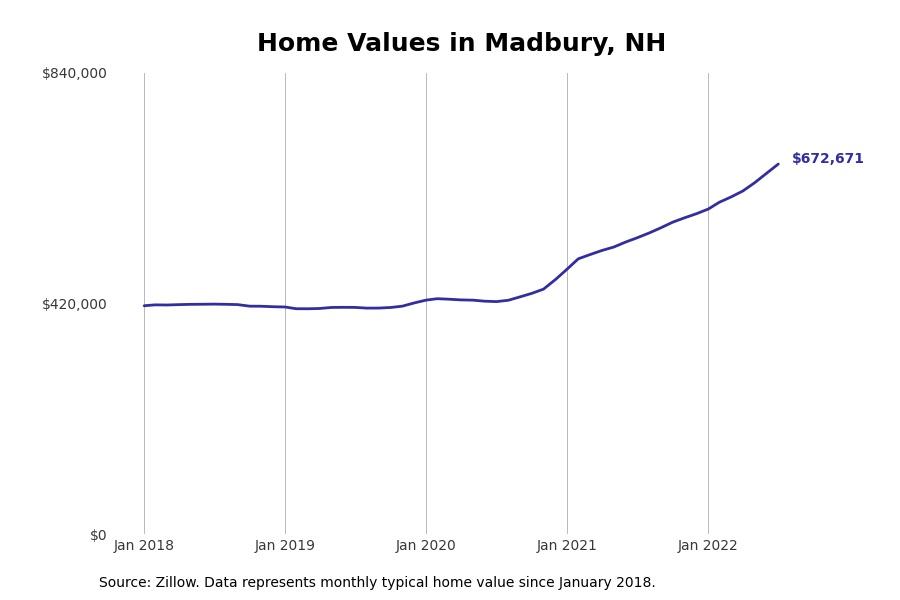 19 / 30
#12. Madbury
- Typical home value: $672,671
- 1-year price change: +24.9%
- 5-year price change: +62.9%
- Metro area: Boston-Cambridge-Newton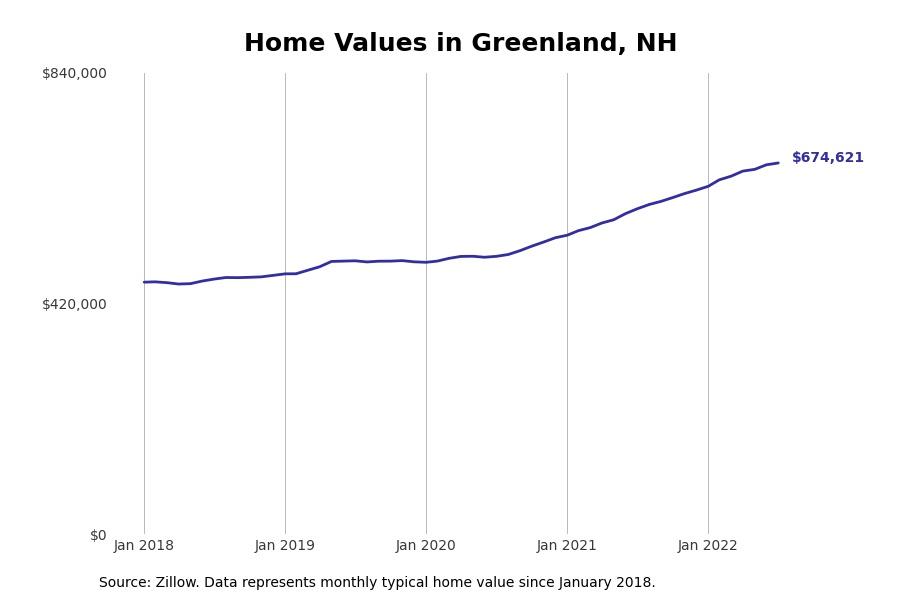 20 / 30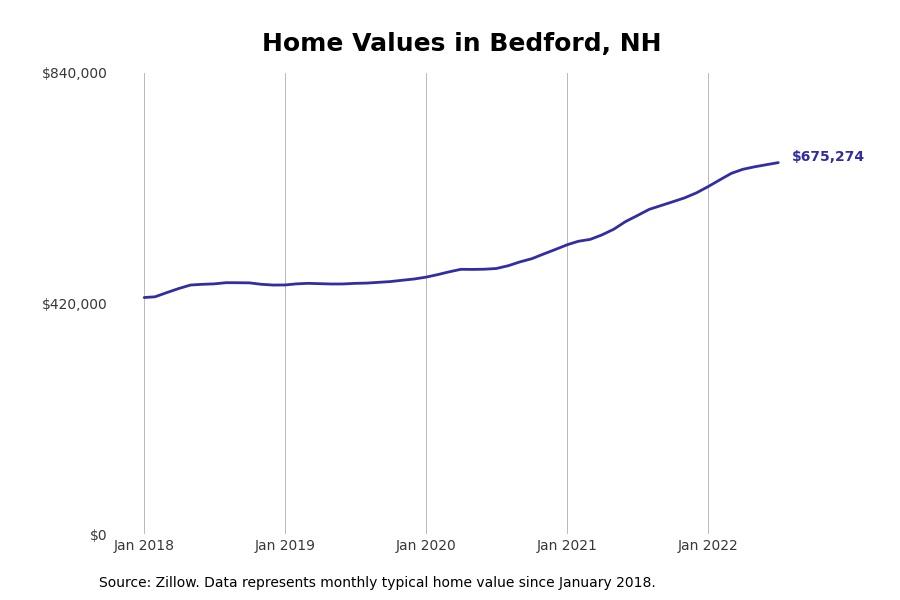 21 / 30
#10. Bedford
- Typical home value: $675,274
- 1-year price change: +16.6%
- 5-year price change: +63.6%
- Metro area: Manchester-Nashua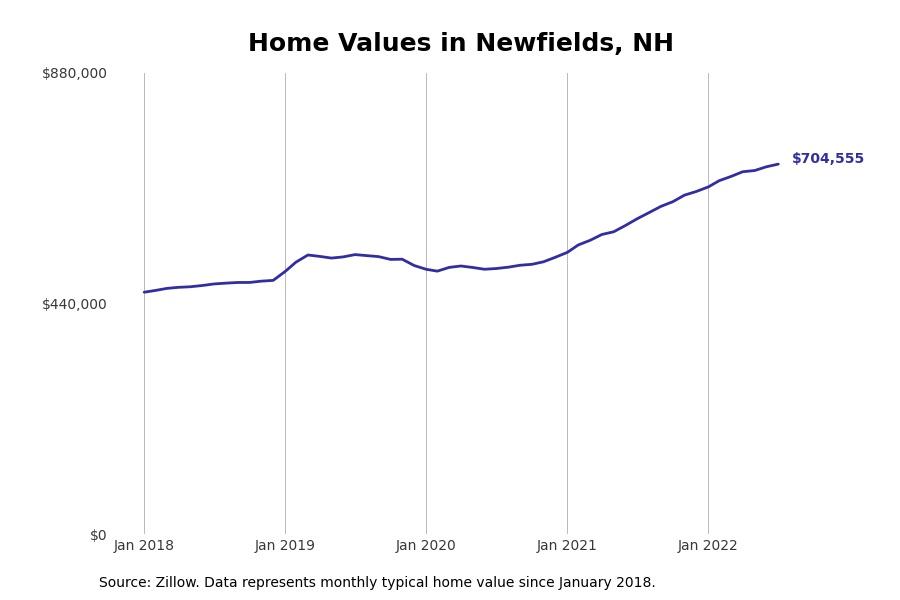 22 / 30
#9. Newfields
- Typical home value: $704,555
- 1-year price change: +17.3%
- 5-year price change: +57.4%
- Metro area: Boston-Cambridge-Newton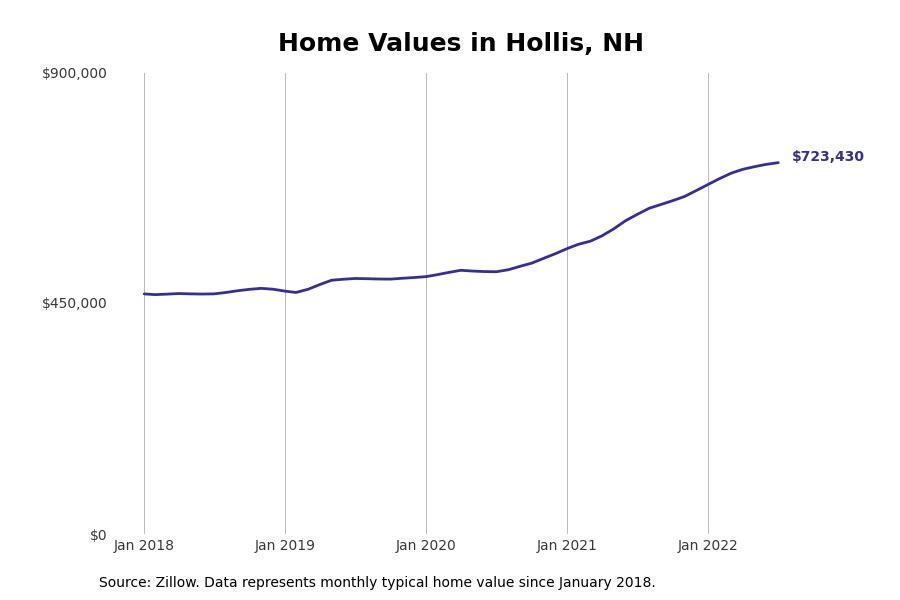 23 / 30
#8. Hollis
- Typical home value: $723,430
- 1-year price change: +16.2%
- 5-year price change: +59.7%
- Metro area: Manchester-Nashua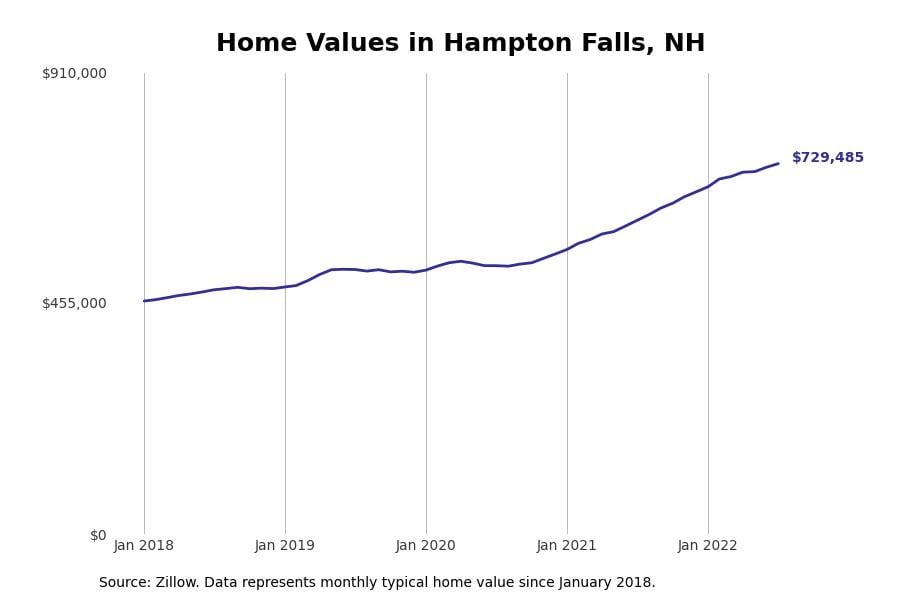 24 / 30
#7. Hampton Falls
- Typical home value: $729,485
- 1-year price change: +18.0%
- 5-year price change: +61.3%
- Metro area: Boston-Cambridge-Newton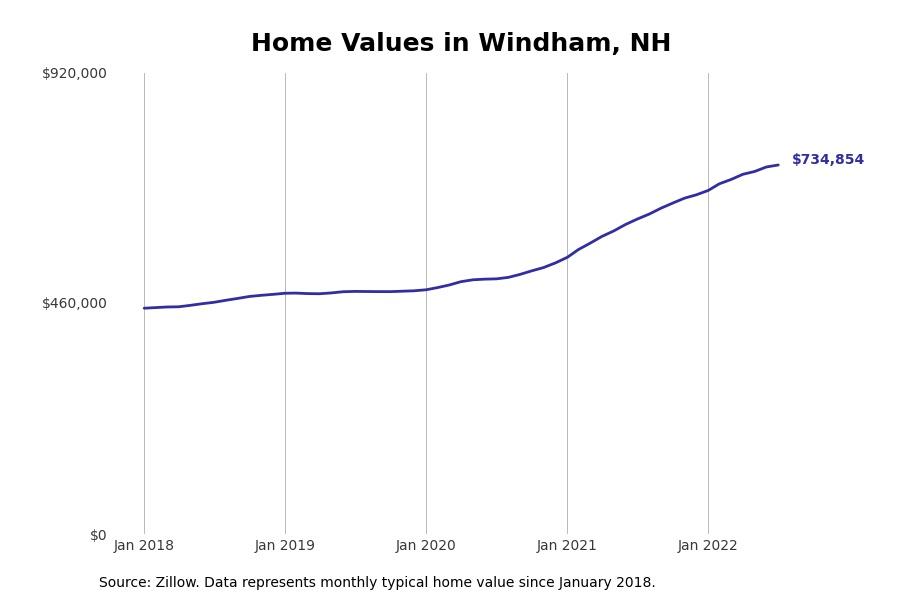 25 / 30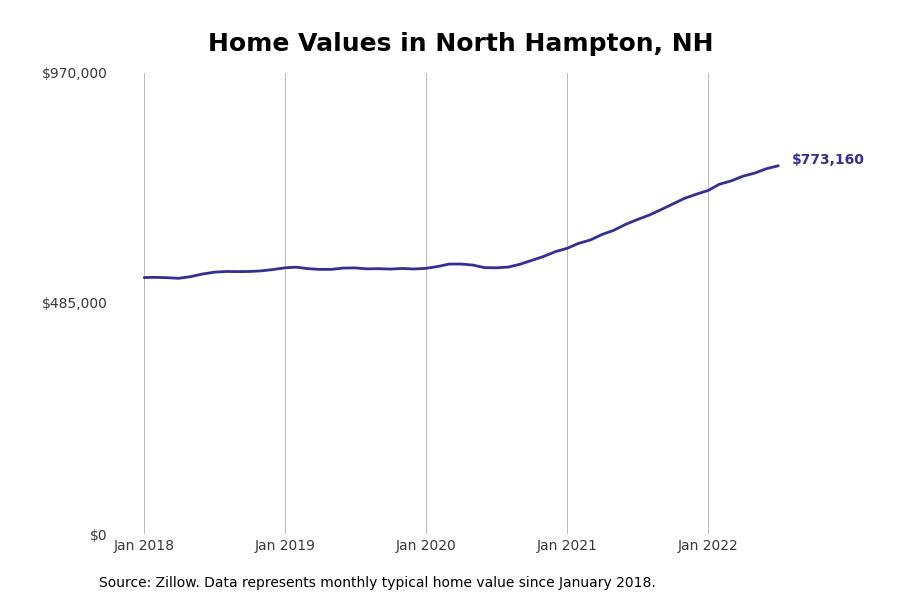 26 / 30
#5. North Hampton
- Typical home value: $773,160
- 1-year price change: +17.1%
- 5-year price change: +46.9%
- Metro area: Boston-Cambridge-Newton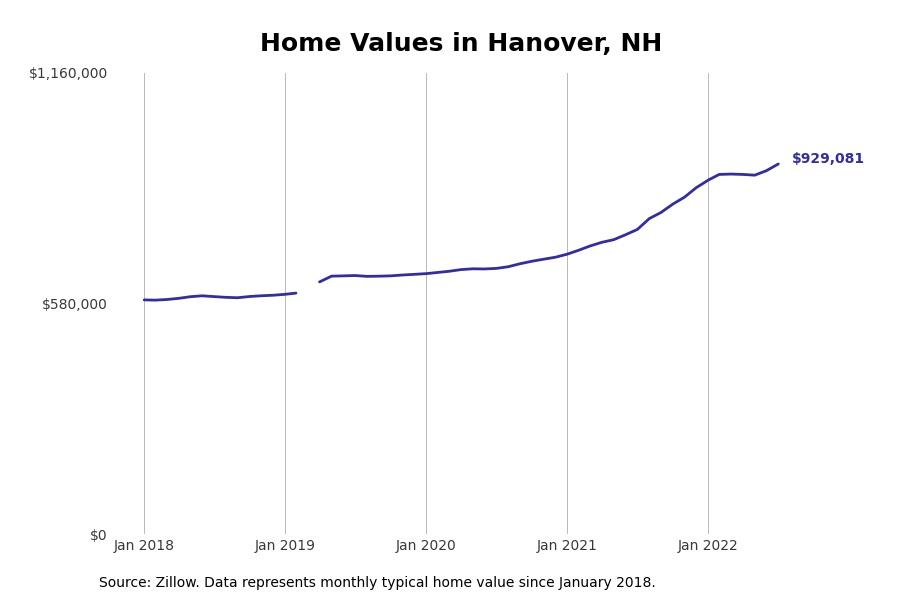 27 / 30
#4. Hanover
- Typical home value: $929,081
- 1-year price change: +21.5%
- 5-year price change: +61.0%
- Metro area: Claremont-Lebanon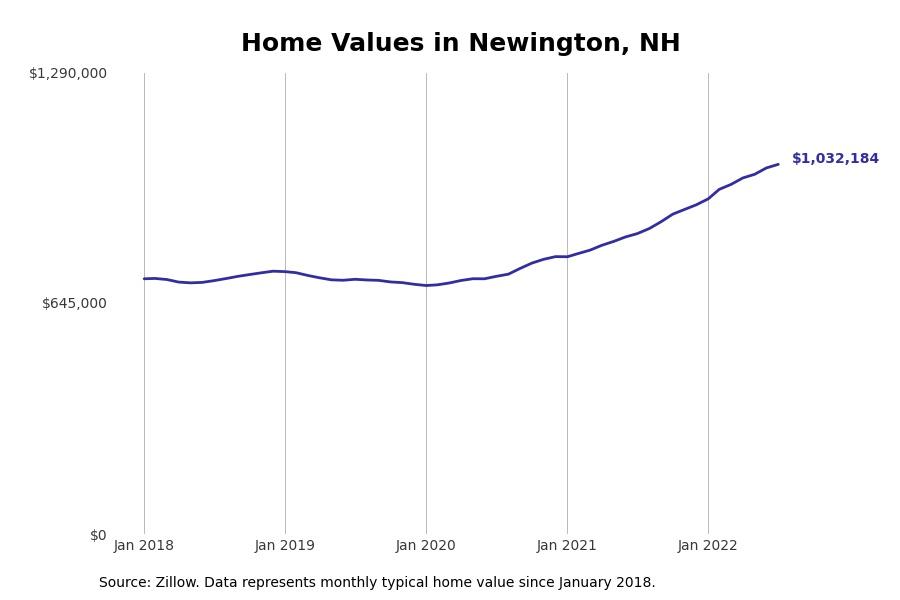 28 / 30
#3. Newington
- Typical home value: $1,032,184
- 1-year price change: +23.1%
- 5-year price change: +48.9%
- Metro area: Boston-Cambridge-Newton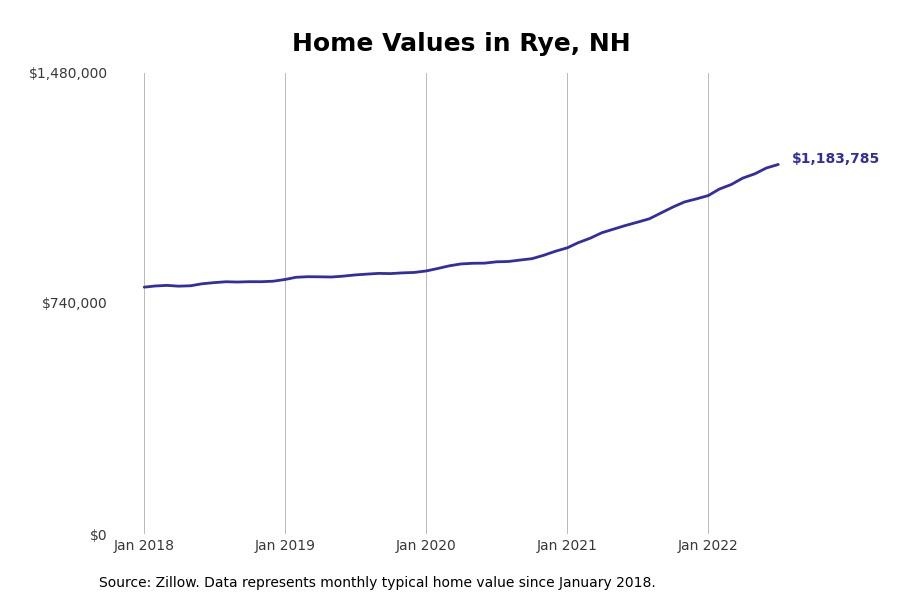 29 / 30
#2. Rye
- Typical home value: $1,183,785
- 1-year price change: +18.5%
- 5-year price change: +54.8%
- Metro area: Boston-Cambridge-Newton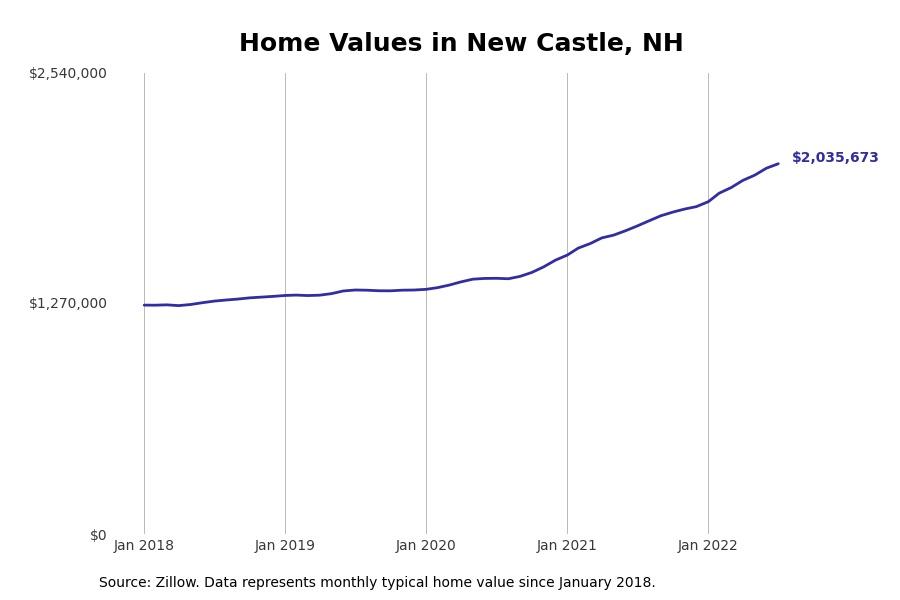 30 / 30