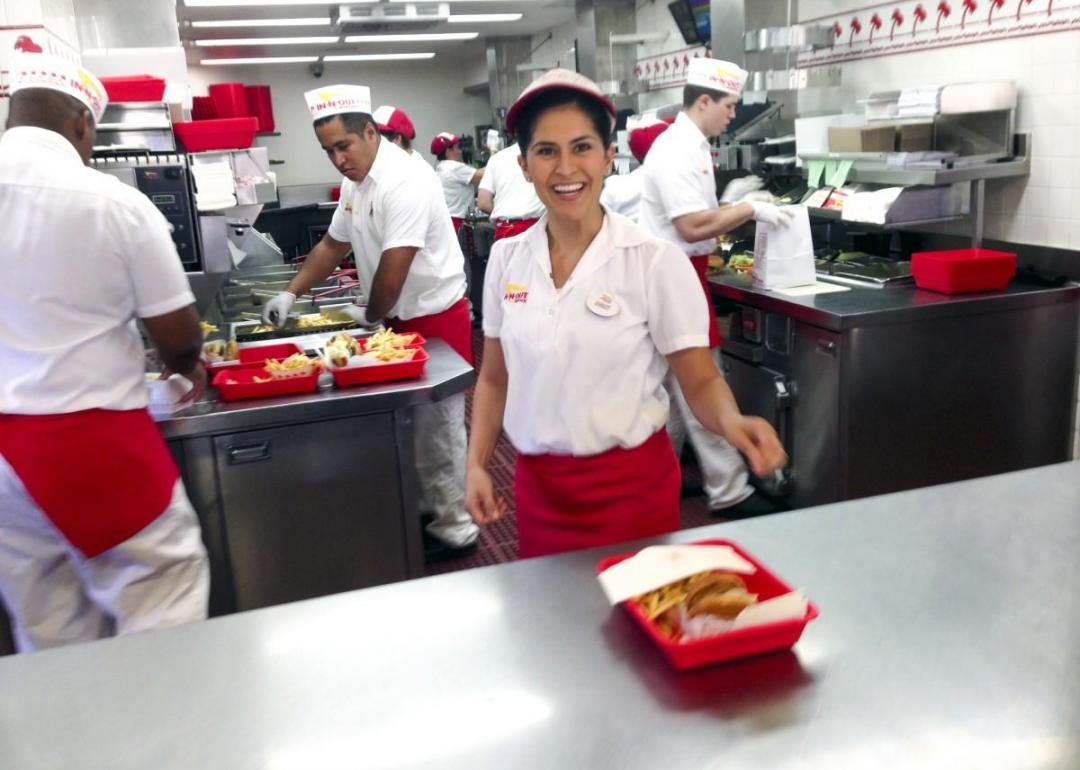 Most common jobs in Atlantic City
Most common jobs in Atlantic City
The 10 largest occupations in America employ 30.5 million workers, representing 21% of all workers. Keeping America's economy moving would be impossible without office workers, package handlers, food prep workers, and truck drivers. And what would the sick do without the millions of hospital workers, nurses, and home health aides?
Stacker compiled a list of the most common jobs in Atlantic City using data from the U.S. Bureau of Labor Statistics. Jobs are ranked by total employment as of May 2019. While much has changed during the coronavirus pandemic, the jobs featured here give a holistic view at the most popular industries in your area and how many jobs are supported.
Keep reading to see which jobs in Atlantic City are the most common.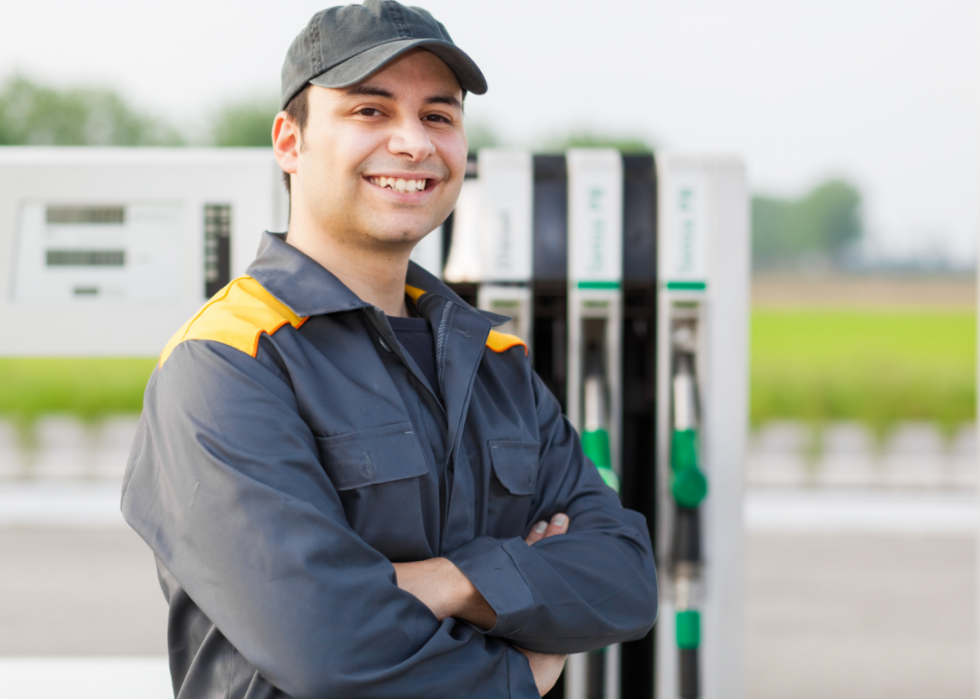 1 / 50
#49 (tie). Automotive and watercraft service attendants
Atlantic City-Hammonton, NJ
- Employment: 580
- Employment per 1,000: 4.372 (446% higher employment than U.S. average)
- Annual mean salary: $23,960

National
- Employment: 117,670 (#219 most common job in U.S.)
- Annual mean salary: $26,860
- Entry level education requirements: No formal educational credential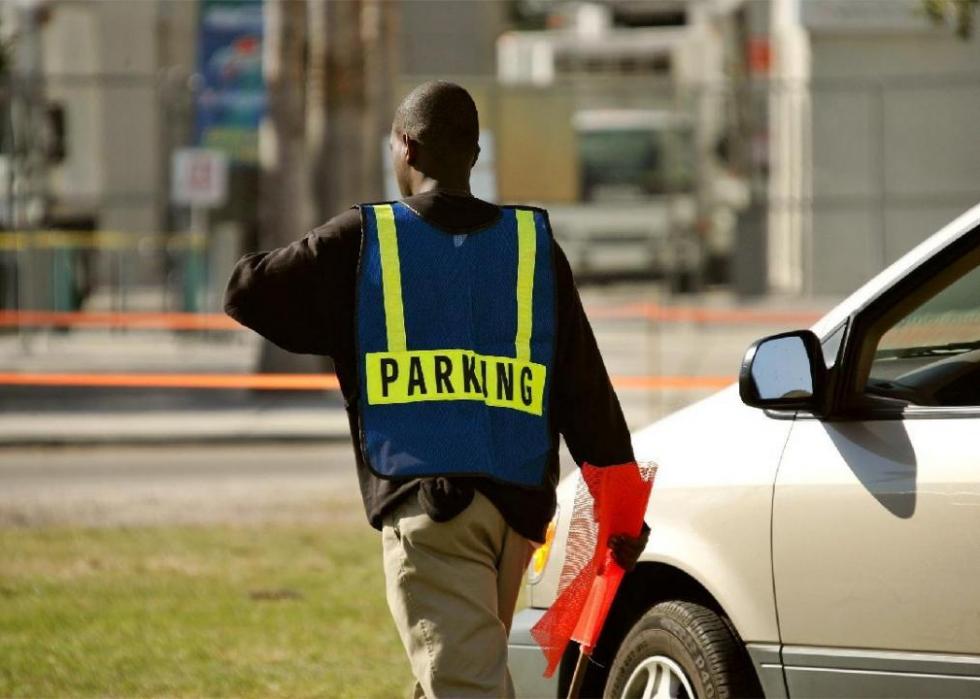 2 / 50
Martin Smith // Shutterstock
#49 (tie). Parking attendants
Atlantic City-Hammonton, NJ
- Employment: 580
- Employment per 1,000: 4.404 (339% higher employment than U.S. average)
- Annual mean salary: $23,650

National
- Employment: 147,390 (#177 most common job in U.S.)
- Annual mean salary: $26,450
- Entry level education requirements: No formal educational credential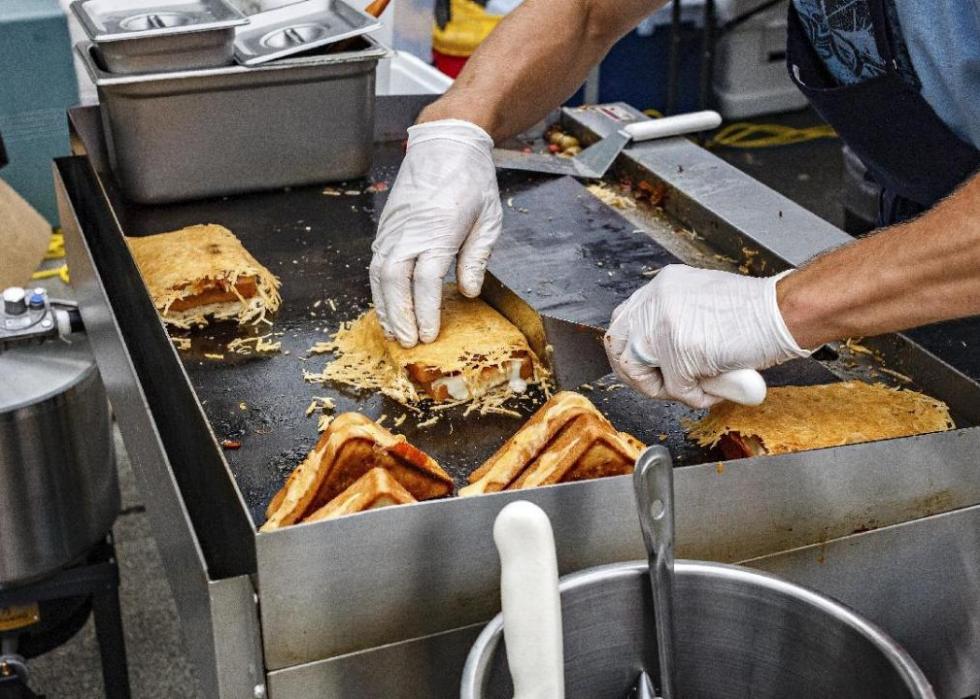 3 / 50
Jason Person // Shutterstock
#48. Cooks, short order
Atlantic City-Hammonton, NJ
- Employment: 600
- Employment per 1,000: 4.535 (336% higher employment than U.S. average)
- Annual mean salary: $27,920

National
- Employment: 152,670 (#171 most common job in U.S.)
- Annual mean salary: $26,240
- Entry level education requirements: No formal educational credential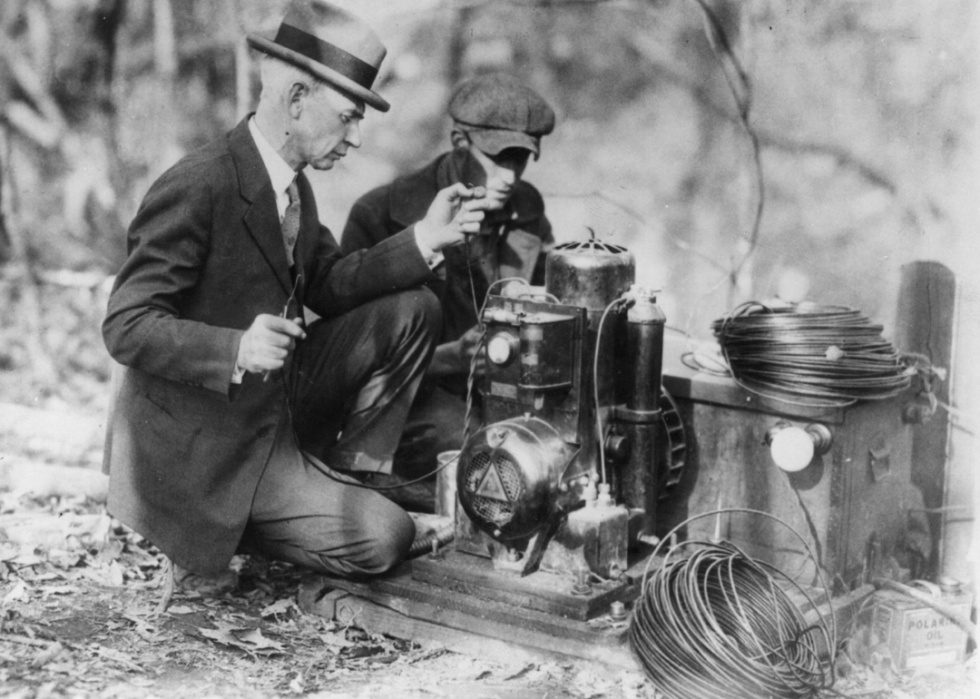 4 / 50
Hulton Archive // Getty Images
#46 (tie). Electricians
Atlantic City-Hammonton, NJ
- Employment: 700
- Employment per 1,000: 5.315 (13% higher employment than U.S. average)
- Annual mean salary: $64,910

National
- Employment: 688,620 (#41 most common job in U.S.)
- Annual mean salary: $60,370
- Entry level education requirements: High school diploma or equivalent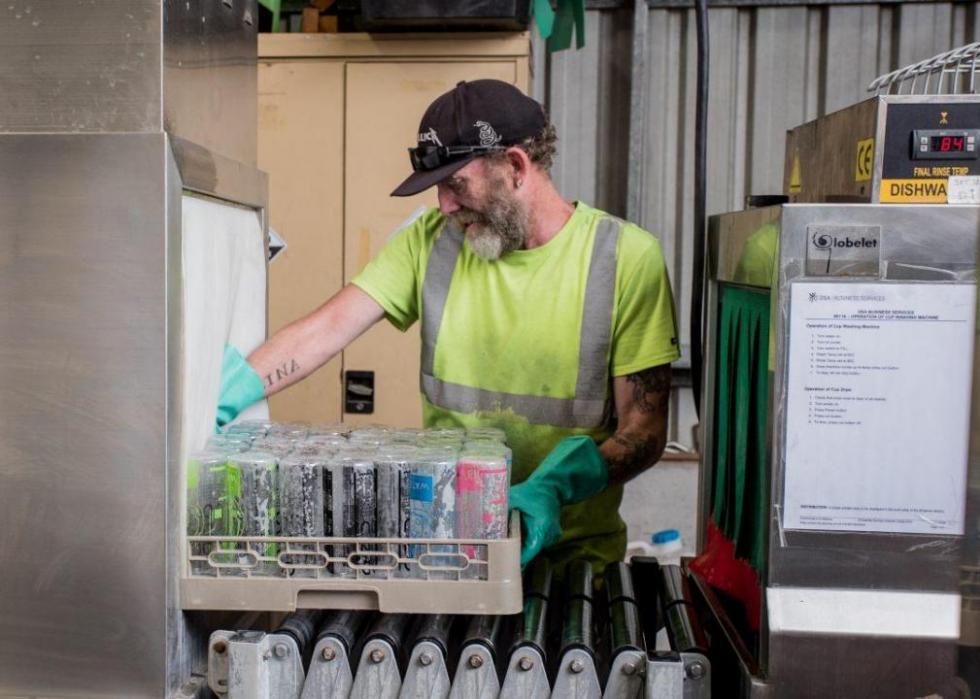 5 / 50
#46 (tie). Dishwashers
Atlantic City-Hammonton, NJ
- Employment: 700
- Employment per 1,000: 5.296 (51% higher employment than U.S. average)
- Annual mean salary: $23,240

National
- Employment: 514,330 (#62 most common job in U.S.)
- Annual mean salary: $24,410
- Entry level education requirements: No formal educational credential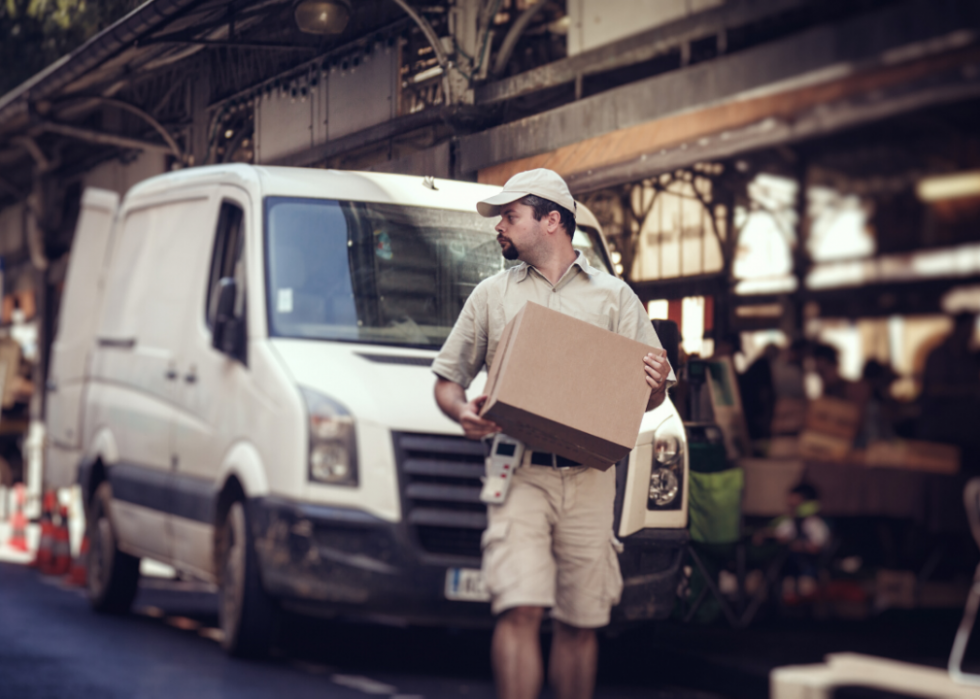 6 / 50
#44 (tie). Light truck drivers
Atlantic City-Hammonton, NJ
- Employment: 790
- Employment per 1,000: 5.982 (5% lower employment than U.S. average)
- Annual mean salary: $33,610

National
- Employment: 923,050 (#32 most common job in U.S.)
- Annual mean salary: $38,520
- Entry level education requirements: High school diploma or equivalent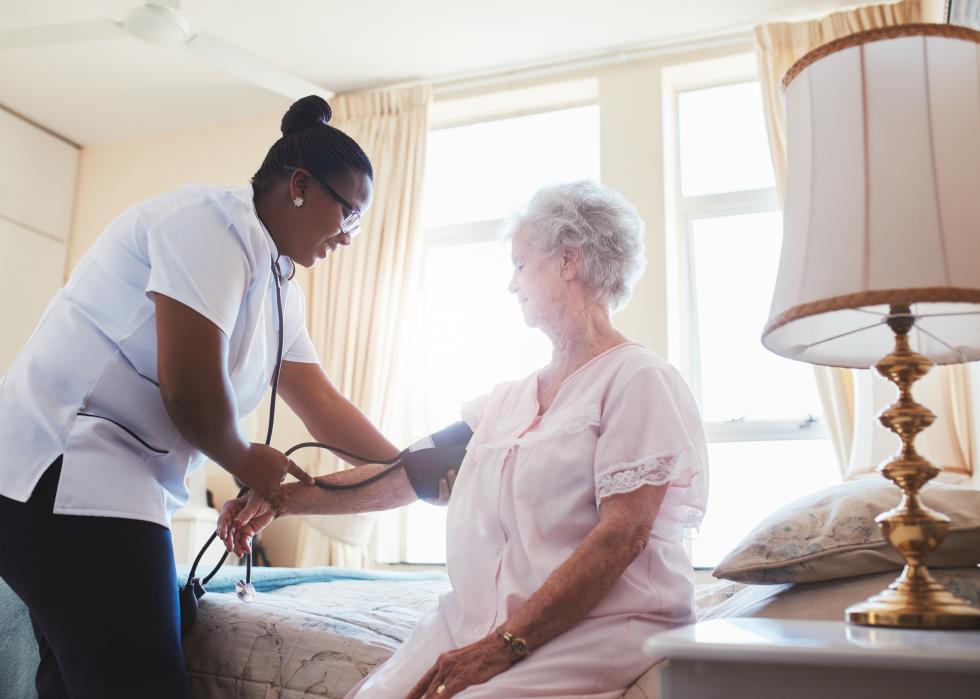 7 / 50
#44 (tie). Licensed practical and licensed vocational nurses
Atlantic City-Hammonton, NJ
- Employment: 790
- Employment per 1,000: 5.991 (26% higher employment than U.S. average)
- Annual mean salary: $51,490

National
- Employment: 697,510 (#40 most common job in U.S.)
- Annual mean salary: $48,500
- Entry level education requirements: Postsecondary nondegree award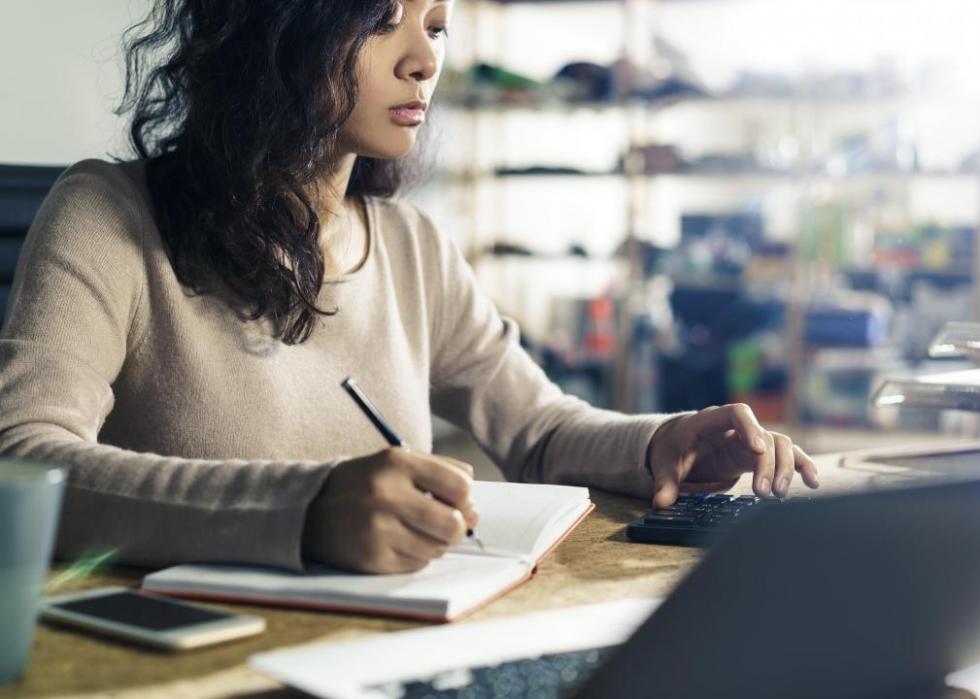 8 / 50
ImageFlow // Shutterstock
#43. Accountants and auditors
Atlantic City-Hammonton, NJ
- Employment: 810
- Employment per 1,000: 6.172 (29% lower employment than U.S. average)
- Annual mean salary: $74,290

National
- Employment: 1,280,700 (#23 most common job in U.S.)
- Annual mean salary: $79,520
- Entry level education requirements: Bachelor's degree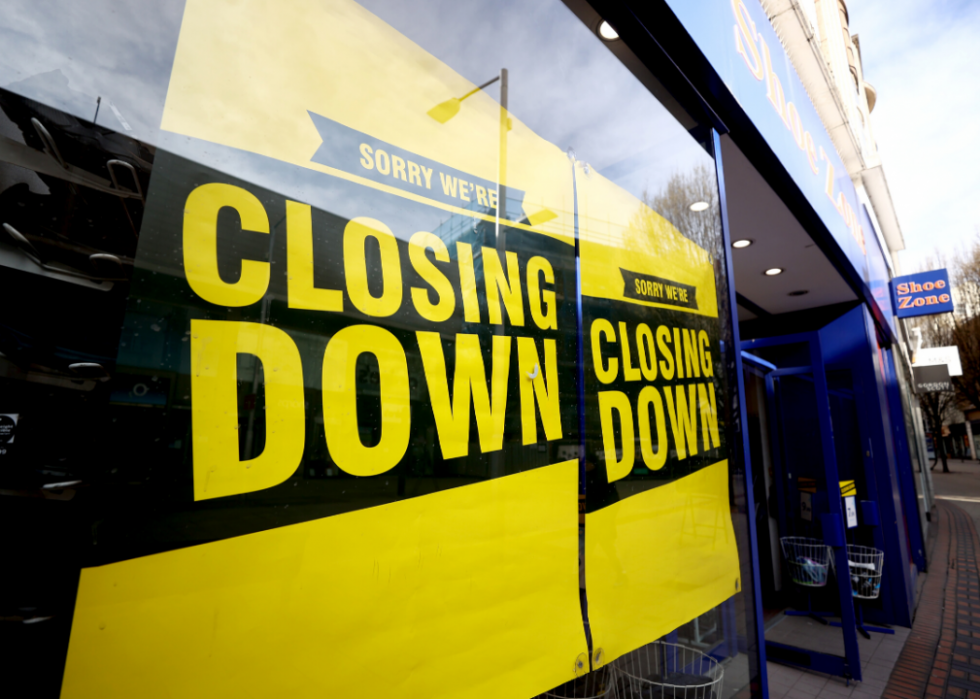 9 / 50
Tim Goode/PA Images // Getty Images
#41. Sales representatives of services, except advertising, insurance, financial services, and travel
Atlantic City-Hammonton, NJ
- Employment: 820
- Employment per 1,000: 6.179 (13% lower employment than U.S. average)
- Annual mean salary: $64,870

National
- Employment: 1,039,670 (#27 most common job in U.S.)
- Annual mean salary: $66,760
- Entry level education requirements: High school diploma or equivalent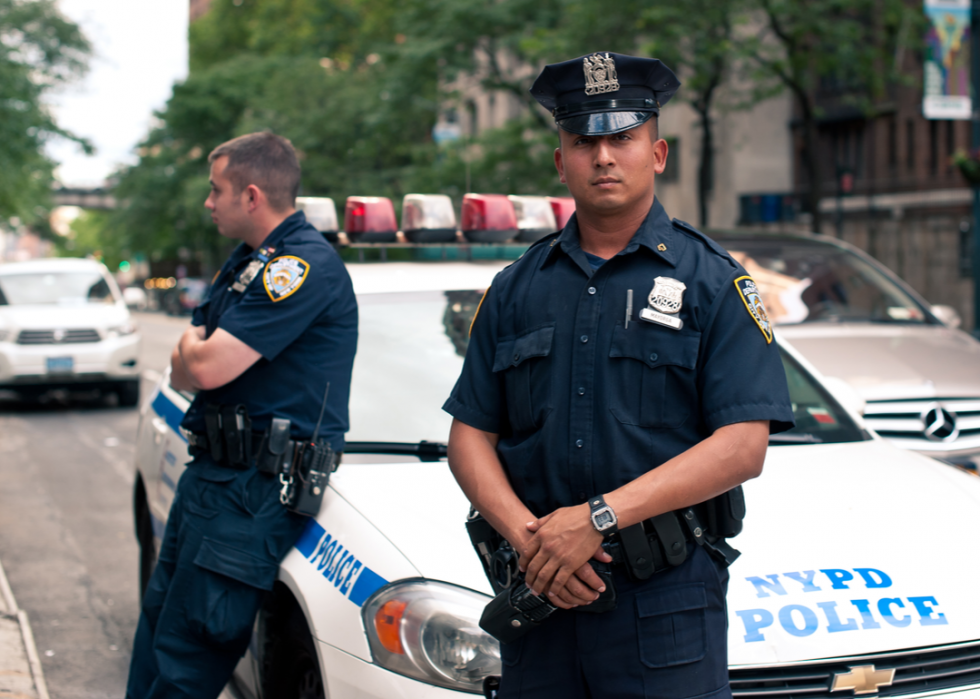 10 / 50
#41. Police and sheriff's patrol officers
Atlantic City-Hammonton, NJ
- Employment: 820
- Employment per 1,000: 6.181 (36% higher employment than U.S. average)
- Annual mean salary: $81,740

National
- Employment: 665,280 (#43 most common job in U.S.)
- Annual mean salary: $67,600
- Entry level education requirements: nan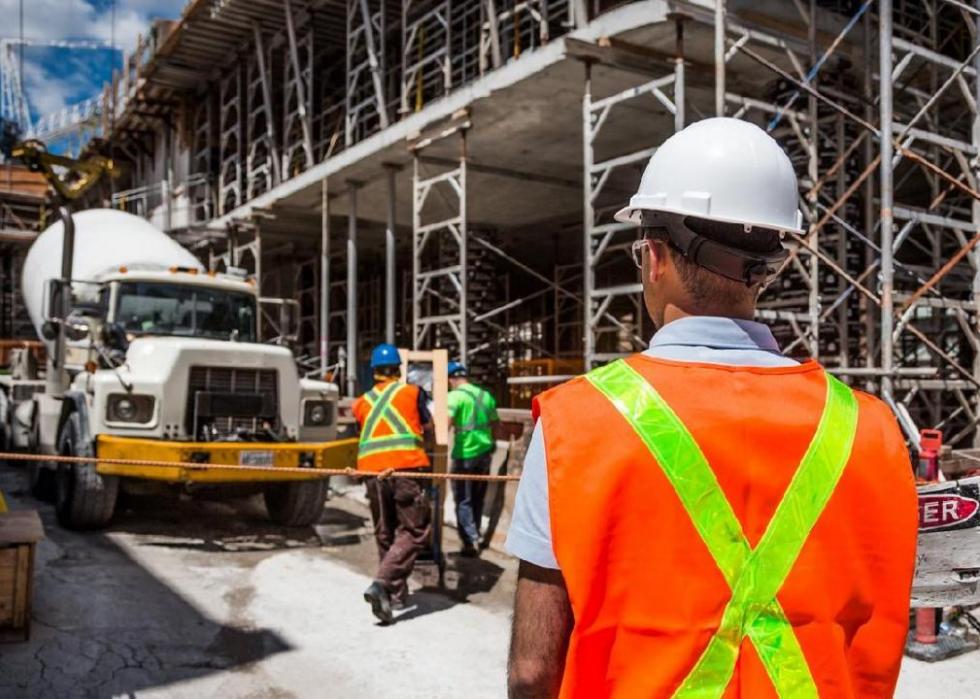 11 / 50
#41. Construction laborers
Atlantic City-Hammonton, NJ
- Employment: 820
- Employment per 1,000: 6.205 (11% lower employment than U.S. average)
- Annual mean salary: $64,240

National
- Employment: 1,020,350 (#29 most common job in U.S.)
- Annual mean salary: $41,730
- Entry level education requirements: No formal educational credential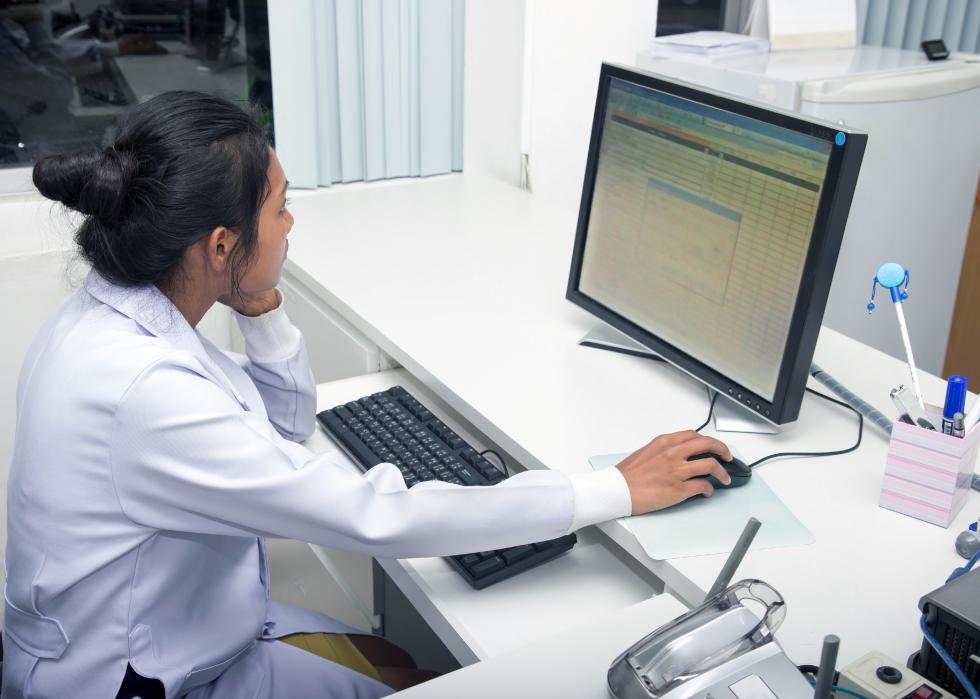 12 / 50
Milkovasa // Shutterstock
#38 (tie). Medical assistants
Atlantic City-Hammonton, NJ
- Employment: 830
- Employment per 1,000: 6.265 (29% higher employment than U.S. average)
- Annual mean salary: $34,810

National
- Employment: 712,430 (#36 most common job in U.S.)
- Annual mean salary: $35,720
- Entry level education requirements: Postsecondary nondegree award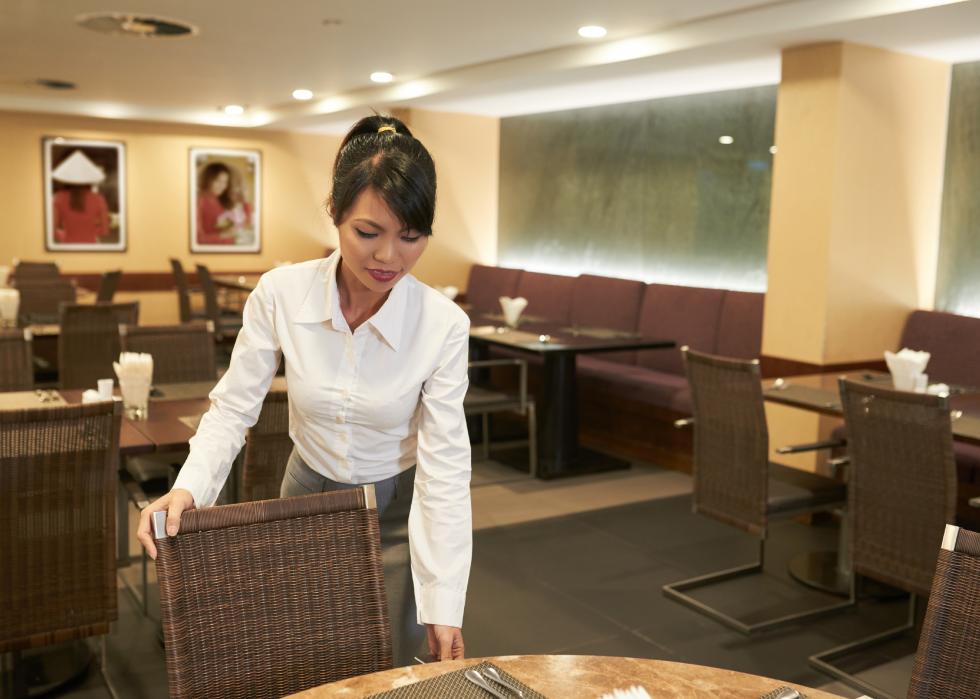 13 / 50
Dragon Images // Shutterstock
#38 (tie). Hosts and hostesses, restaurant, lounge, and coffee shop
Atlantic City-Hammonton, NJ
- Employment: 830
- Employment per 1,000: 6.259 (117% higher employment than U.S. average)
- Annual mean salary: $24,890

National
- Employment: 423,380 (#73 most common job in U.S.)
- Annual mean salary: $24,010
- Entry level education requirements: No formal educational credential
14 / 50
#37. Landscaping and groundskeeping workers
Atlantic City-Hammonton, NJ
- Employment: 840
- Employment per 1,000: 6.367 (2% higher employment than U.S. average)
- Annual mean salary: $32,880

National
- Employment: 912,660 (#33 most common job in U.S.)
- Annual mean salary: $32,360
- Entry level education requirements: No formal educational credential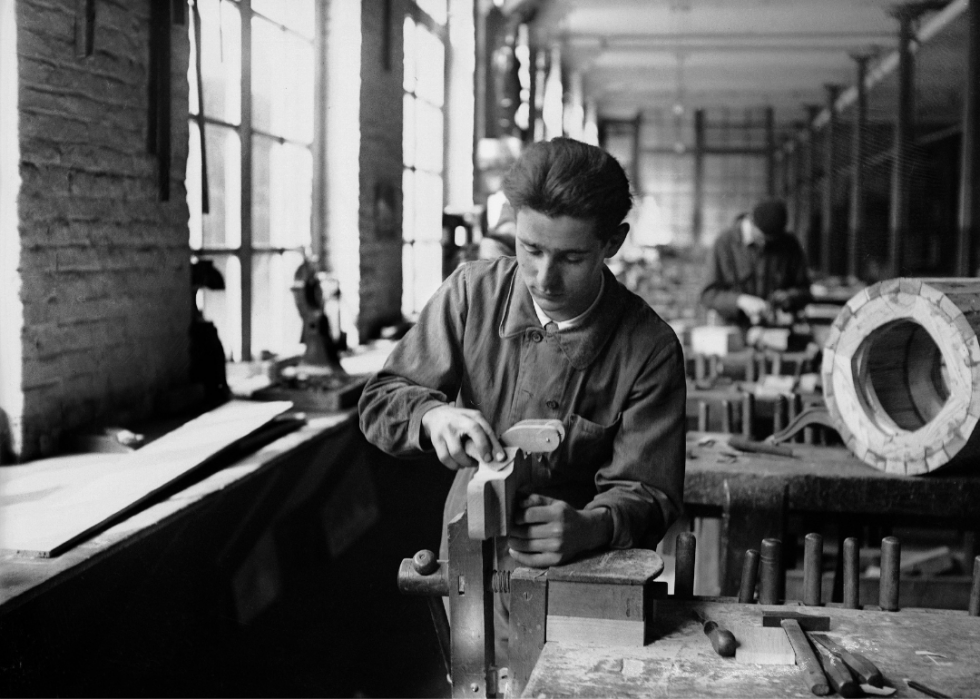 15 / 50
Keystone-France/Gamma-Keystone via Getty Images
#36. Carpenters
Atlantic City-Hammonton, NJ
- Employment: 870
- Employment per 1,000: 6.578 (32% higher employment than U.S. average)
- Annual mean salary: $74,280

National
- Employment: 734,170 (#35 most common job in U.S.)
- Annual mean salary: $52,850
- Entry level education requirements: High school diploma or equivalent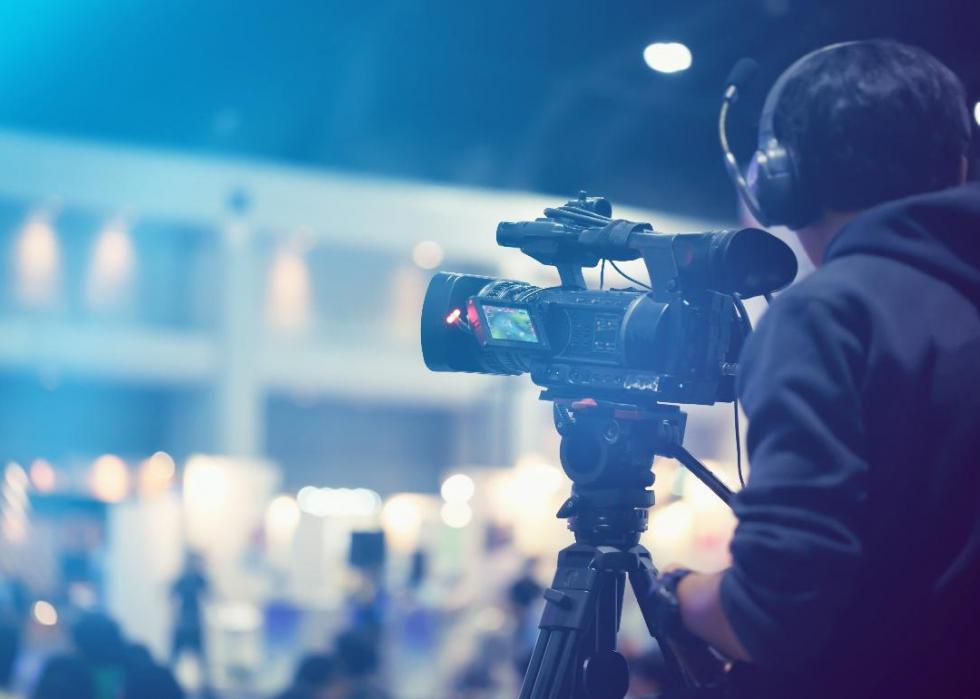 16 / 50
Socrates471 // Shutterstock
#35. Audio and video technicians
Atlantic City-Hammonton, NJ
- Employment: 880
- Employment per 1,000: 6.676 (1226% higher employment than U.S. average)
- Annual mean salary: $49,160

National
- Employment: 73,960 (#284 most common job in U.S.)
- Annual mean salary: $51,260
- Entry level education requirements: Postsecondary nondegree award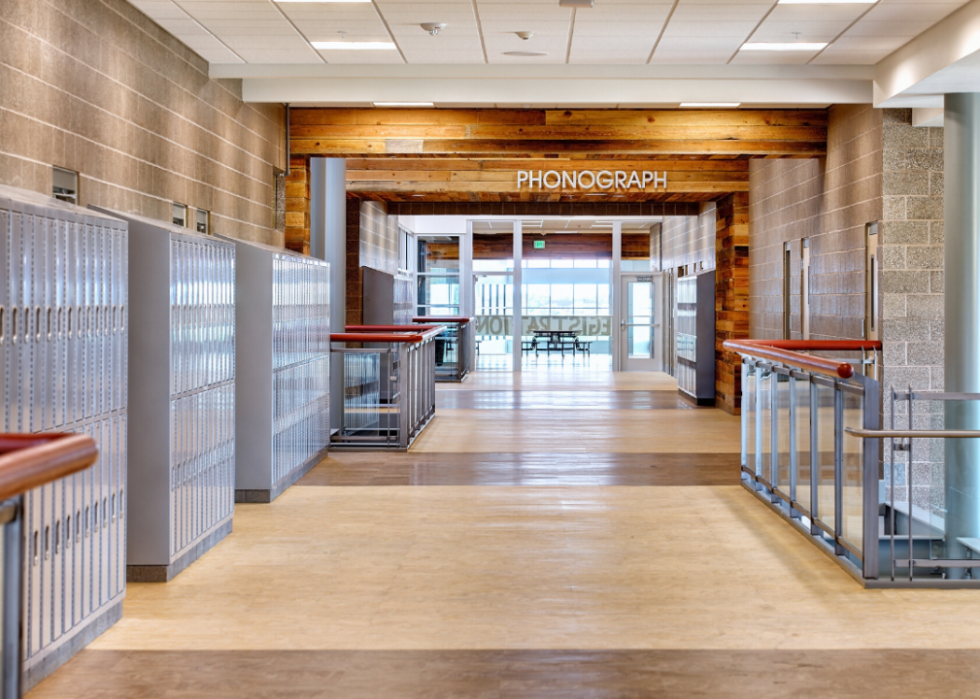 17 / 50
#33 (tie). Secondary school teachers, except special and career/technical education
Atlantic City-Hammonton, NJ
- Employment: 890
- Employment per 1,000: 6.764 (4% lower employment than U.S. average)
- Annual mean salary: $76,850

National
- Employment: 1,035,850 (#28 most common job in U.S.)
- Annual mean salary: $65,930
- Entry level education requirements: Bachelor's degree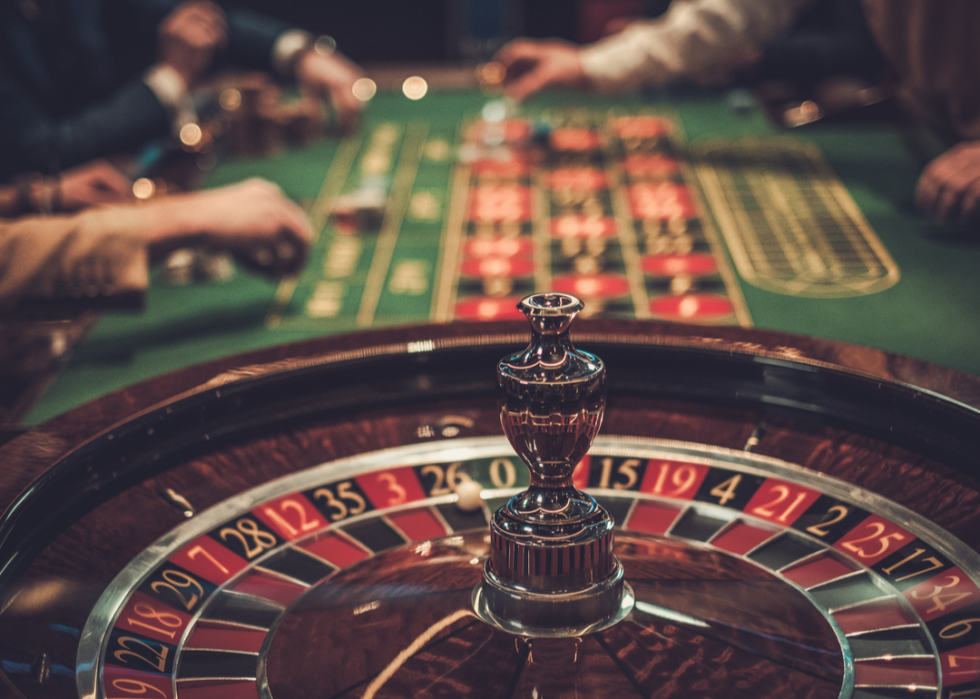 18 / 50
Nejron Photo // Shutterstock
#33 (tie). First-line supervisors of gambling services workers
Atlantic City-Hammonton, NJ
- Employment: 890
- Employment per 1,000: 6.717 (3254% higher employment than U.S. average)
- Annual mean salary: $58,450

National
- Employment: 29,420 (#435 most common job in U.S.)
- Annual mean salary: $51,850
- Entry level education requirements: High school diploma or equivalent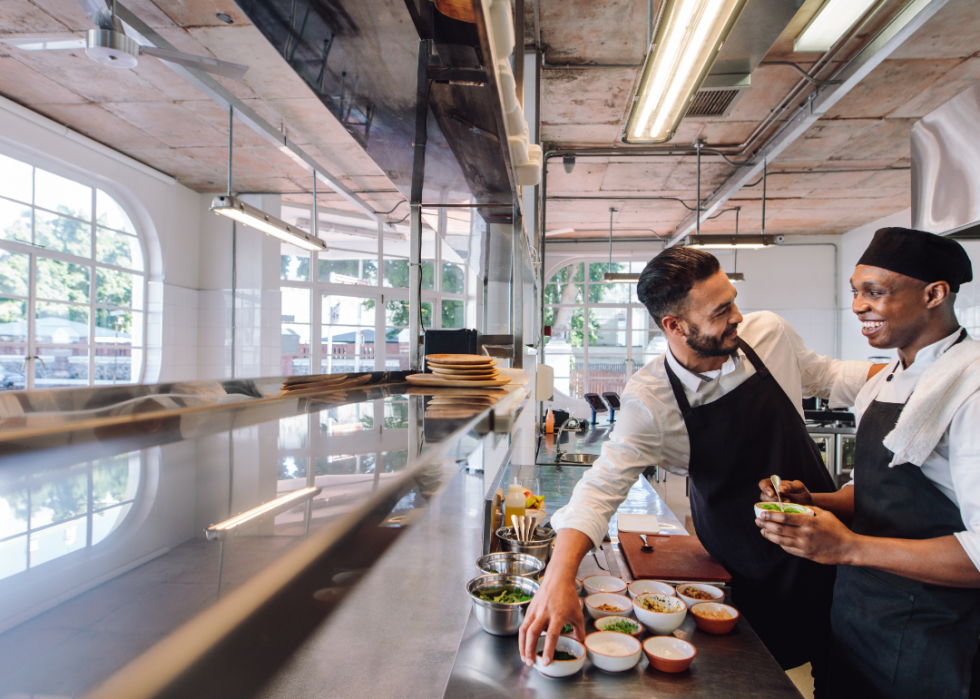 19 / 50
#32. Food preparation workers
Atlantic City-Hammonton, NJ
- Employment: 920
- Employment per 1,000: 6.992 (19% higher employment than U.S. average)
- Annual mean salary: $25,730

National
- Employment: 863,740 (#34 most common job in U.S.)
- Annual mean salary: $25,820
- Entry level education requirements: No formal educational credential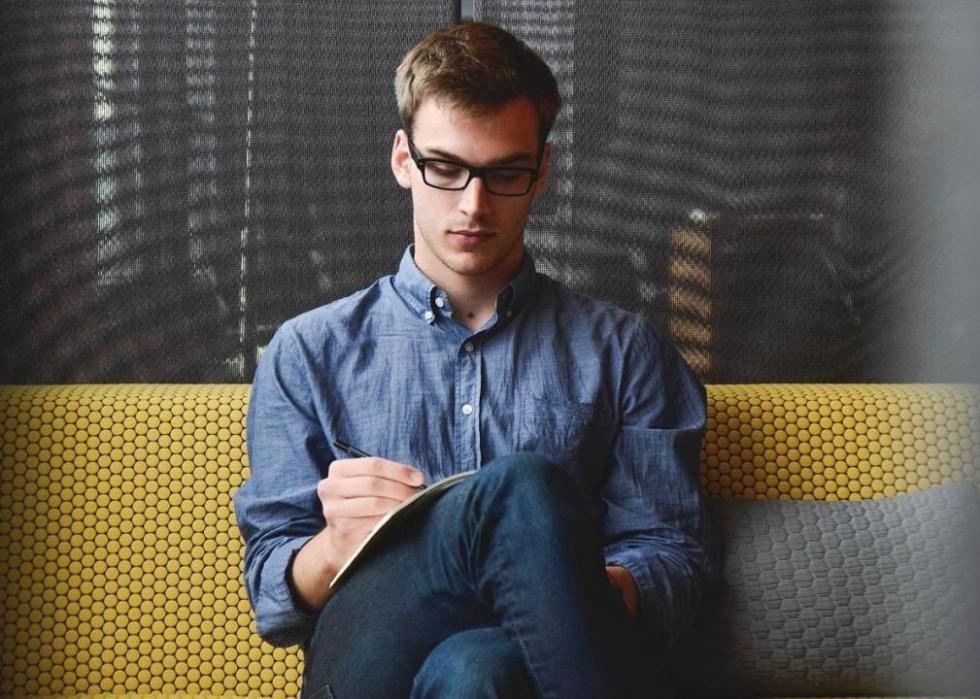 20 / 50
#31. General and operations managers
Atlantic City-Hammonton, NJ
- Employment: 930
- Employment per 1,000: 7.051 (57% lower employment than U.S. average)
- Annual mean salary: $145,120

National
- Employment: 2,400,280 (#9 most common job in U.S.)
- Annual mean salary: $123,030
- Entry level education requirements: Bachelor's degree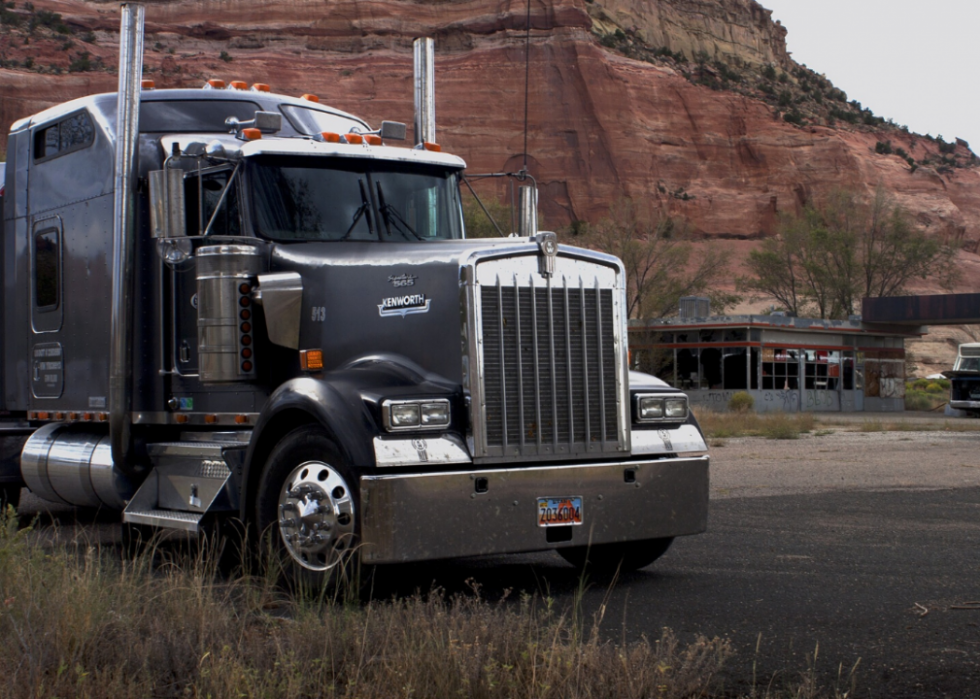 21 / 50
#30. Heavy and tractor-trailer truck drivers
Atlantic City-Hammonton, NJ
- Employment: 960
- Employment per 1,000: 7.312 (42% lower employment than U.S. average)
- Annual mean salary: $44,930

National
- Employment: 1,856,130 (#13 most common job in U.S.)
- Annual mean salary: $46,850
- Entry level education requirements: Postsecondary nondegree award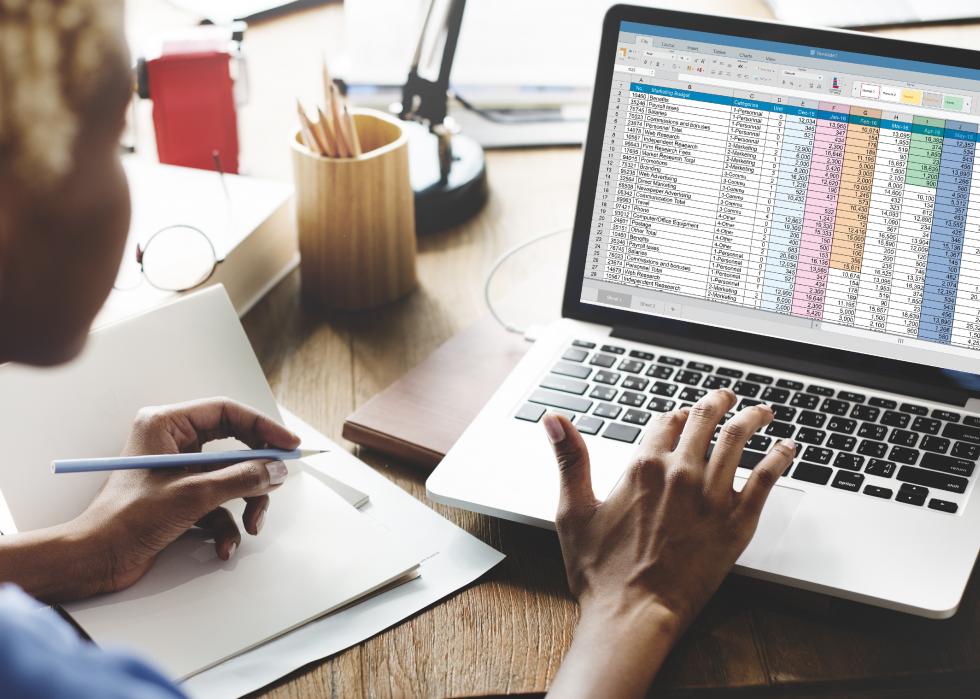 22 / 50
Rawpixel.com // Shutterstock
#29. Bookkeeping, accounting, and auditing clerks
Atlantic City-Hammonton, NJ
- Employment: 1,070
- Employment per 1,000: 8.088 (21% lower employment than U.S. average)
- Annual mean salary: $40,920

National
- Employment: 1,512,660 (#14 most common job in U.S.)
- Annual mean salary: $42,960
- Entry level education requirements: Some college, no degree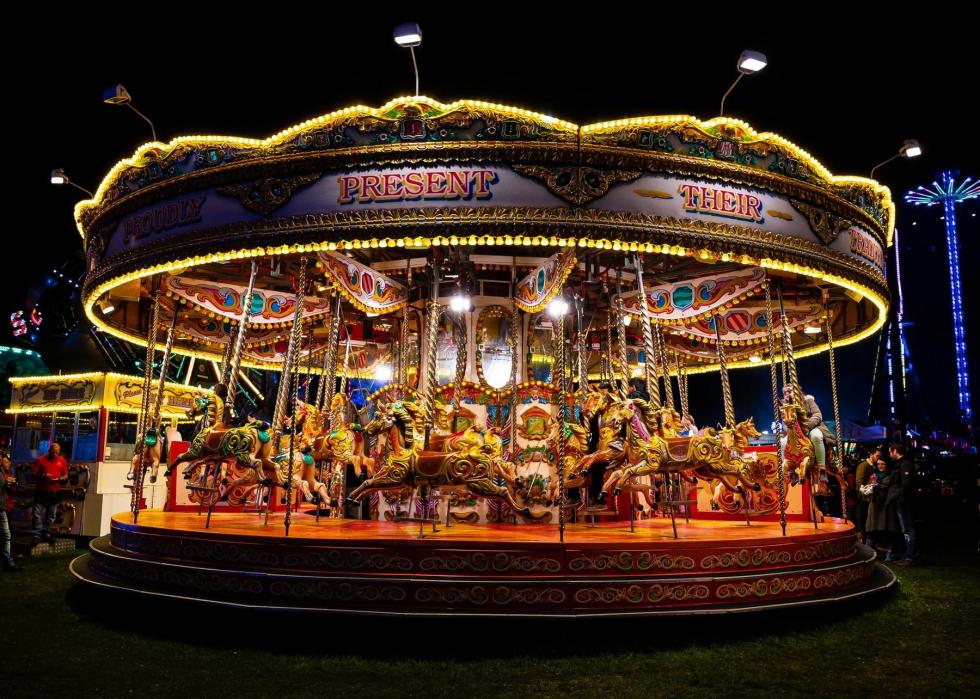 23 / 50
#28. Amusement and recreation attendants
Atlantic City-Hammonton, NJ
- Employment: 1,130
- Employment per 1,000: 8.533 (271% higher employment than U.S. average)
- Annual mean salary: $33,880

National
- Employment: 338,110 (#95 most common job in U.S.)
- Annual mean salary: $24,330
- Entry level education requirements: No formal educational credential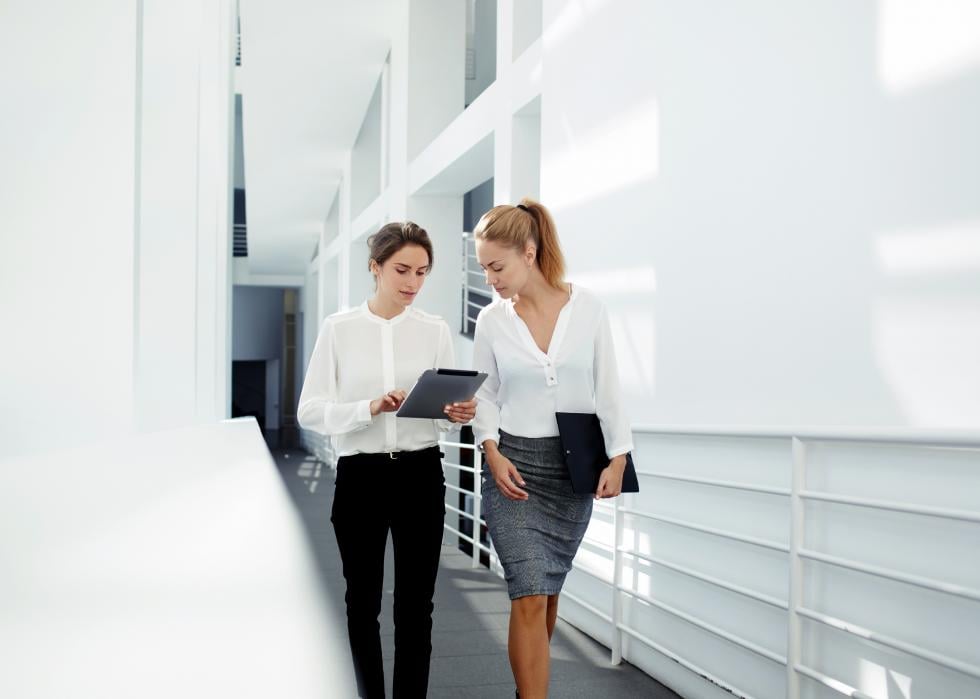 24 / 50
#26 (tie). First-line supervisors of office and administrative support workers
Atlantic City-Hammonton, NJ
- Employment: 1,190
- Employment per 1,000: 9.042 (11% lower employment than U.S. average)
- Annual mean salary: $54,980

National
- Employment: 1,487,870 (#15 most common job in U.S.)
- Annual mean salary: $60,130
- Entry level education requirements: High school diploma or equivalent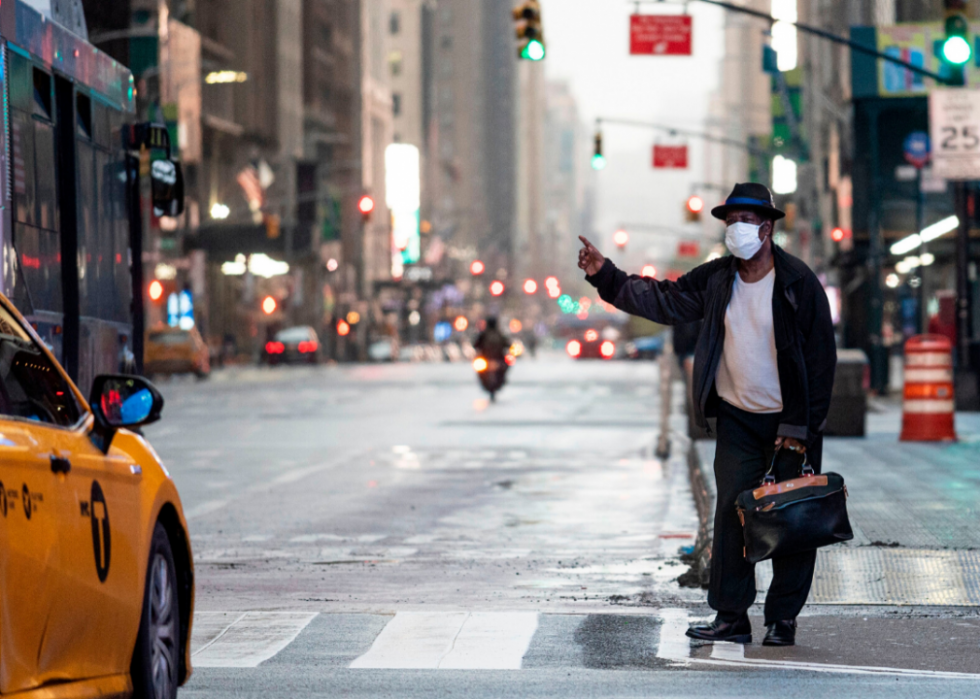 25 / 50
JOHANNES EISELE // Getty Images
#26 (tie). Passenger vehicle drivers, except bus drivers, transit and intercity
Atlantic City-Hammonton, NJ
- Employment: 1,190
- Employment per 1,000: 8.982 (88% higher employment than U.S. average)
- Annual mean salary: $31,230

National
- Employment: 700,030 (#39 most common job in U.S.)
- Annual mean salary: $33,210
- Entry level education requirements: No formal educational credential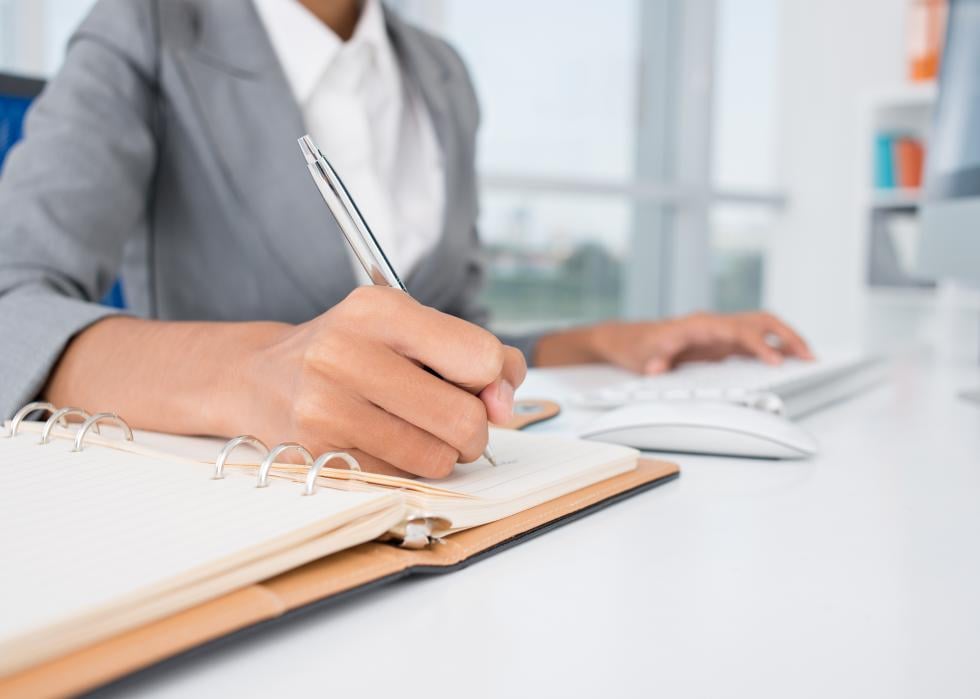 26 / 50
Dragon Images // Shutterstock
#25. Social and human service assistants
Atlantic City-Hammonton, NJ
- Employment: 1,220
- Employment per 1,000: 9.213 (235% higher employment than U.S. average)
- Annual mean salary: $35,200

National
- Employment: 404,450 (#80 most common job in U.S.)
- Annual mean salary: $37,050
- Entry level education requirements: High school diploma or equivalent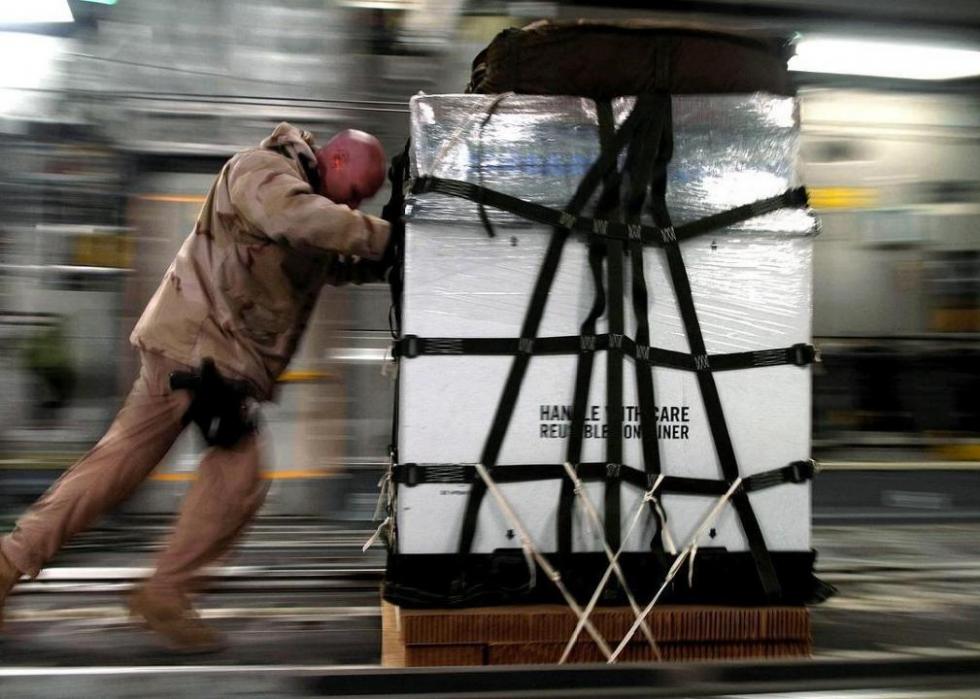 27 / 50
#24. Laborers and freight, stock, and material movers, hand
Atlantic City-Hammonton, NJ
- Employment: 1,250
- Employment per 1,000: 9.469 (53% lower employment than U.S. average)
- Annual mean salary: $33,860

National
- Employment: 2,953,170 (#6 most common job in U.S.)
- Annual mean salary: $32,130
- Entry level education requirements: No formal educational credential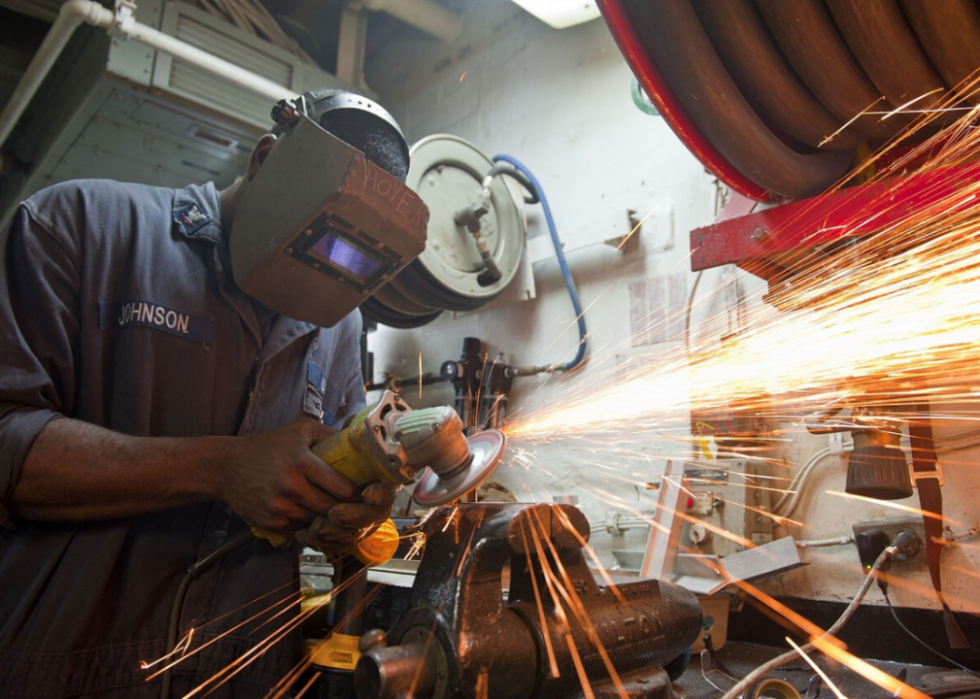 28 / 50
#23. Maintenance and repair workers, general
Atlantic City-Hammonton, NJ
- Employment: 1,280
- Employment per 1,000: 9.67 (0% higher employment than U.S. average)
- Annual mean salary: $45,730

National
- Employment: 1,418,990 (#18 most common job in U.S.)
- Annual mean salary: $41,960
- Entry level education requirements: High school diploma or equivalent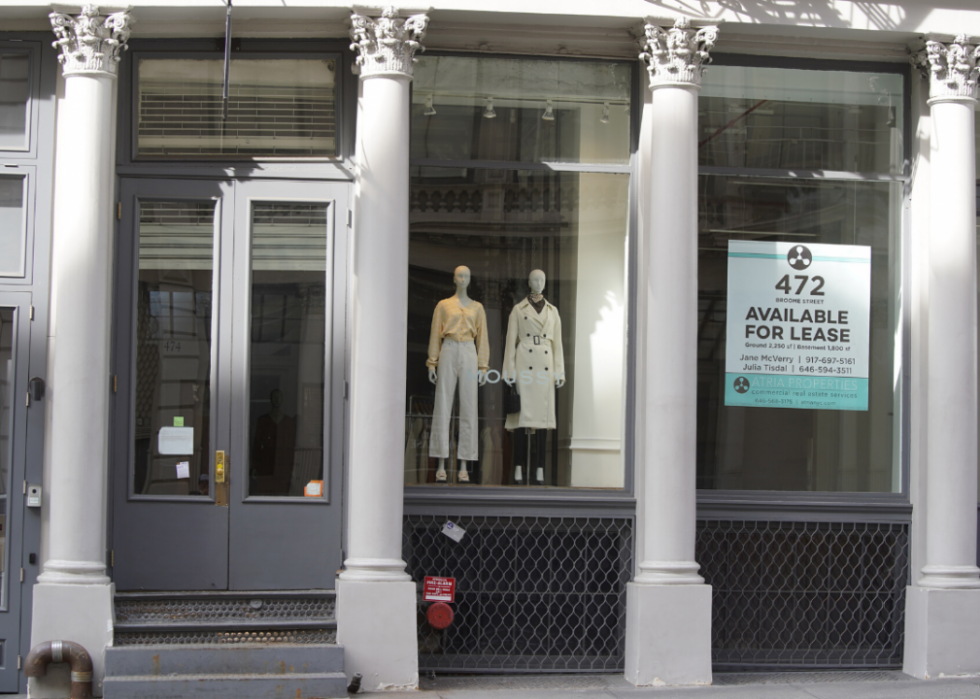 29 / 50
#22. First-line supervisors of retail sales workers
Atlantic City-Hammonton, NJ
- Employment: 1,290
- Employment per 1,000: 9.739 (22% higher employment than U.S. average)
- Annual mean salary: $48,190

National
- Employment: 1,171,900 (#24 most common job in U.S.)
- Annual mean salary: $45,830
- Entry level education requirements: High school diploma or equivalent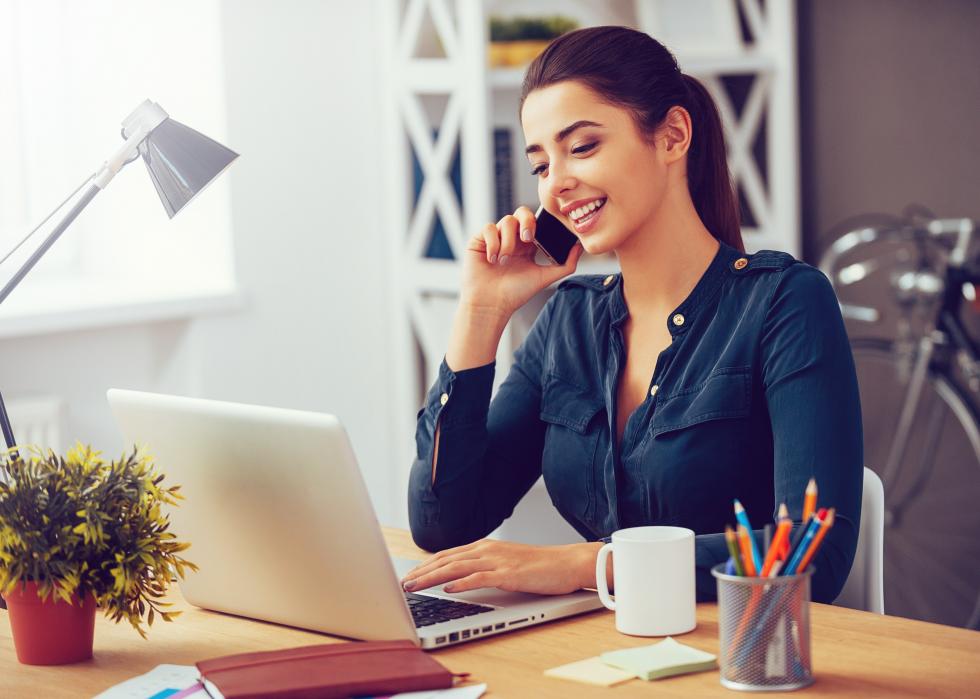 30 / 50
G-Stock Studio // Shutterstock
#21. Secretaries and administrative assistants, except legal, medical, and executive
Atlantic City-Hammonton, NJ
- Employment: 1,400
- Employment per 1,000: 10.647 (23% lower employment than U.S. average)
- Annual mean salary: $42,910

National
- Employment: 2,038,340 (#12 most common job in U.S.)
- Annual mean salary: $39,180
- Entry level education requirements: High school diploma or equivalent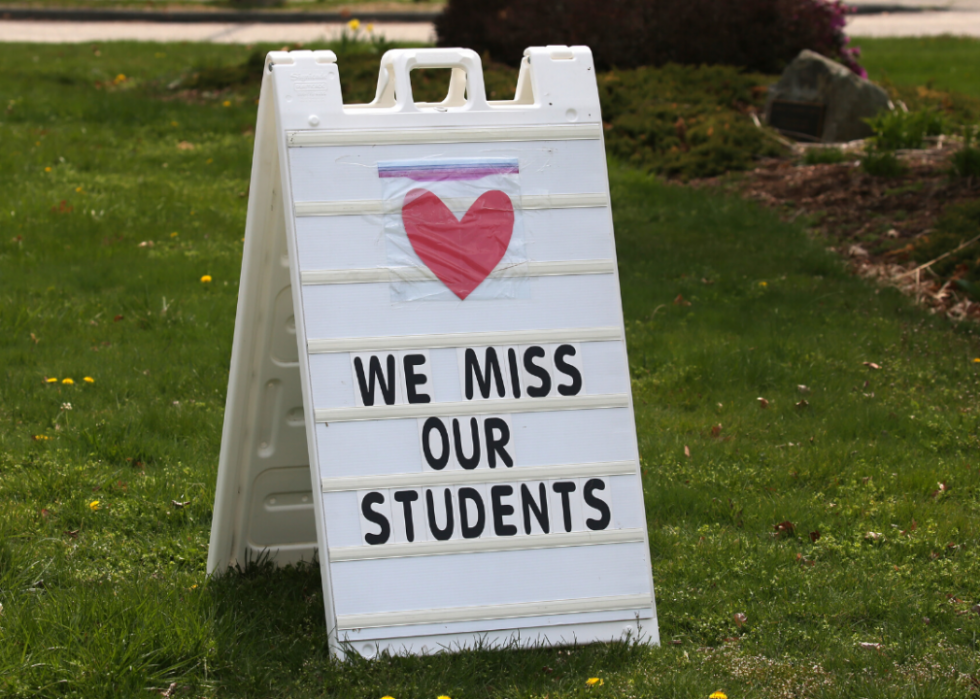 31 / 50
The Boston Globe // Getty Images
#20. Elementary school teachers, except special education
Atlantic City-Hammonton, NJ
- Employment: 1,440
- Employment per 1,000: 10.945 (12% higher employment than U.S. average)
- Annual mean salary: $75,240

National
- Employment: 1,430,480 (#16 most common job in U.S.)
- Annual mean salary: $63,930
- Entry level education requirements: Bachelor's degree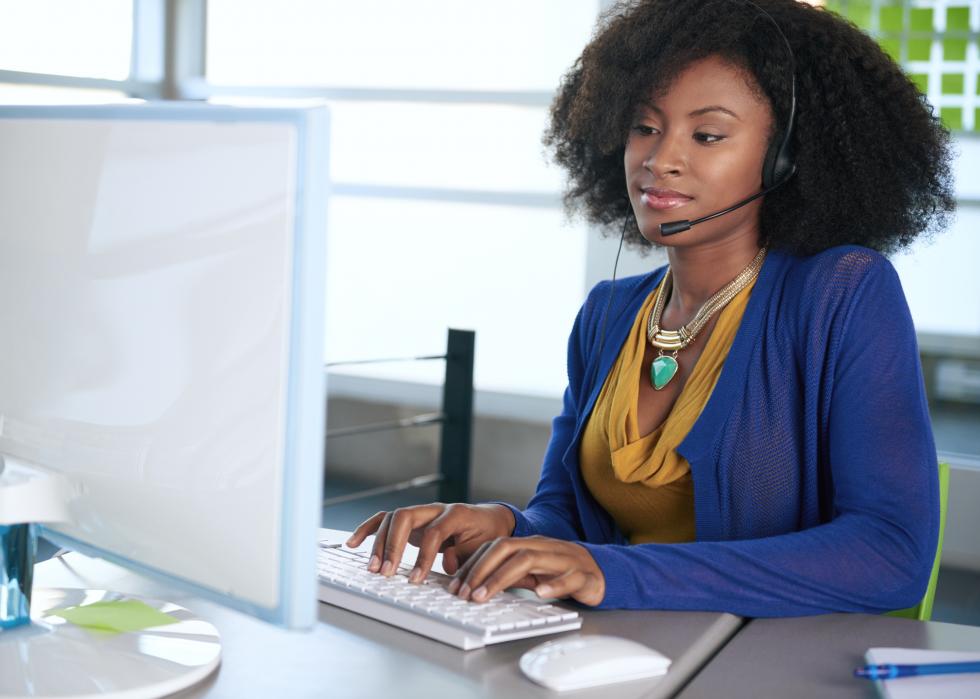 32 / 50
ESB Basic // Shutterstock
#19. Customer service representatives
Atlantic City-Hammonton, NJ
- Employment: 1,510
- Employment per 1,000: 11.42 (43% lower employment than U.S. average)
- Annual mean salary: $34,480

National
- Employment: 2,919,230 (#7 most common job in U.S.)
- Annual mean salary: $37,320
- Entry level education requirements: High school diploma or equivalent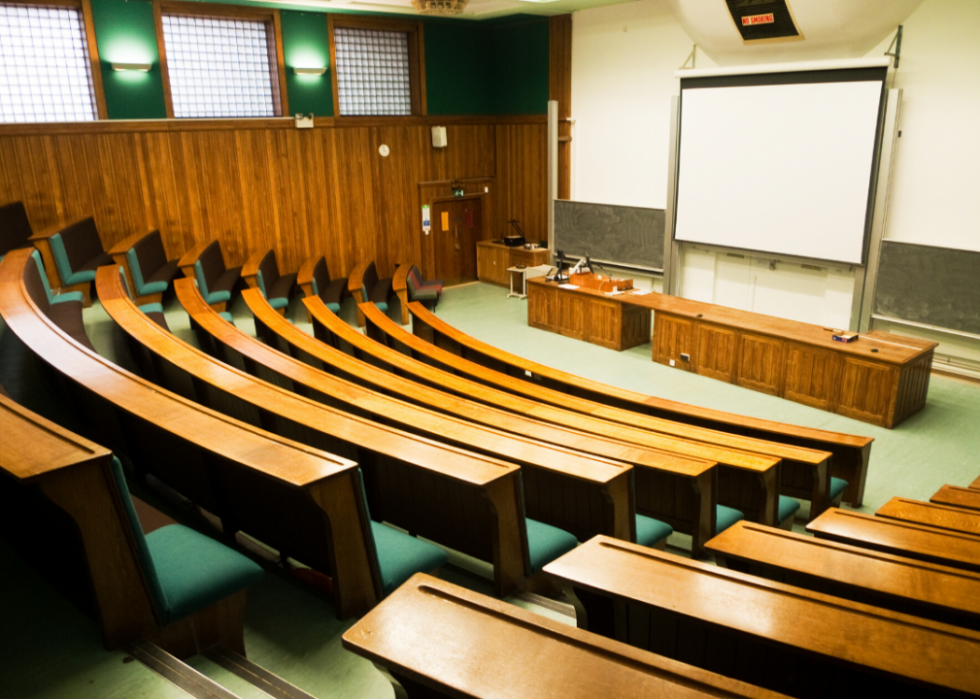 33 / 50
Paul.J.West // Shutterstock
#18. Teaching assistants, except postsecondary
Atlantic City-Hammonton, NJ
- Employment: 1,520
- Employment per 1,000: 11.547 (26% higher employment than U.S. average)
- Annual mean salary: $30,150

National
- Employment: 1,346,910 (#21 most common job in U.S.)
- Annual mean salary: $29,640
- Entry level education requirements: Some college, no degree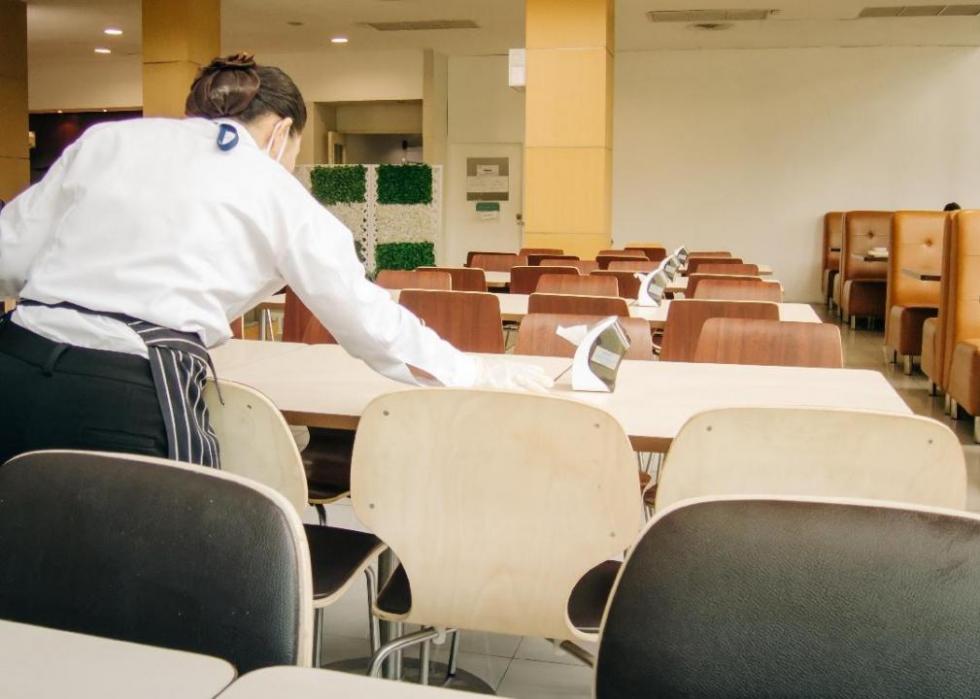 34 / 50
aboutsung // Shutterstock
#16 (tie). Dining room and cafeteria attendants and bartender helpers
Atlantic City-Hammonton, NJ
- Employment: 1,550
- Employment per 1,000: 11.738 (261% higher employment than U.S. average)
- Annual mean salary: $24,370

National
- Employment: 477,270 (#64 most common job in U.S.)
- Annual mean salary: $25,020
- Entry level education requirements: No formal educational credential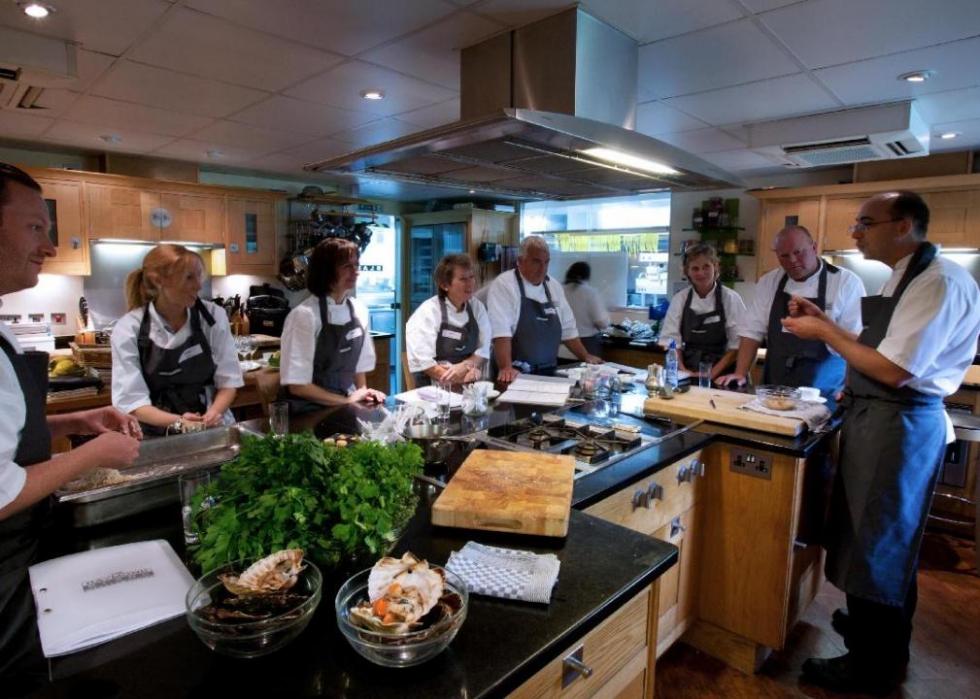 35 / 50
Jorge Royan // Wikimedia Commons
#16 (tie). Cooks, restaurant
Atlantic City-Hammonton, NJ
- Employment: 1,550
- Employment per 1,000: 11.77 (23% higher employment than U.S. average)
- Annual mean salary: $31,780

National
- Employment: 1,401,890 (#20 most common job in U.S.)
- Annual mean salary: $28,700
- Entry level education requirements: No formal educational credential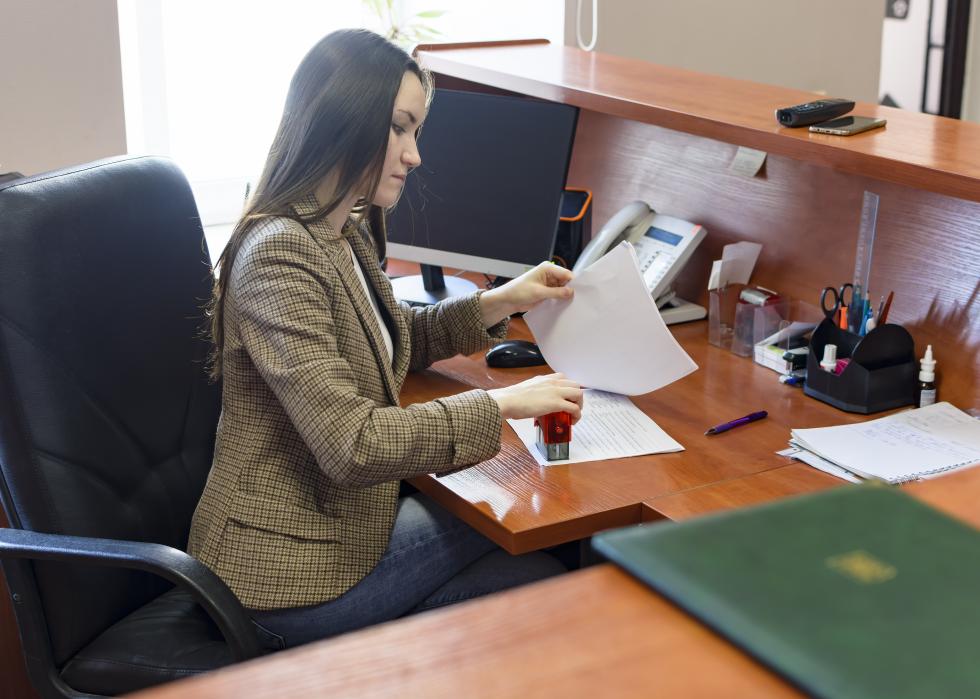 36 / 50
Ruslan Galiullin // Shutterstock
#15. Office clerks, general
Atlantic City-Hammonton, NJ
- Employment: 1,680
- Employment per 1,000: 12.697 (37% lower employment than U.S. average)
- Annual mean salary: $35,920

National
- Employment: 2,956,060 (#5 most common job in U.S.)
- Annual mean salary: $36,360
- Entry level education requirements: High school diploma or equivalent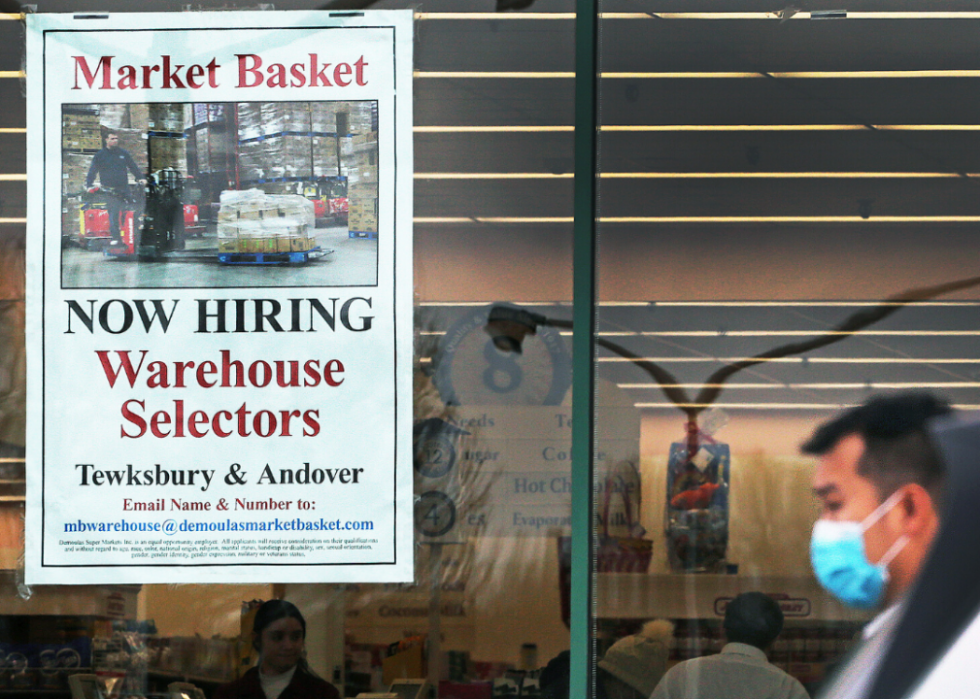 37 / 50
The Boston Globe // Getty Images
#14. Stockers and order fillers
Atlantic City-Hammonton, NJ
- Employment: 1,750
- Employment per 1,000: 13.248 (9% lower employment than U.S. average)
- Annual mean salary: $30,550

National
- Employment: 2,135,850 (#11 most common job in U.S.)
- Annual mean salary: $29,660
- Entry level education requirements: High school diploma or equivalent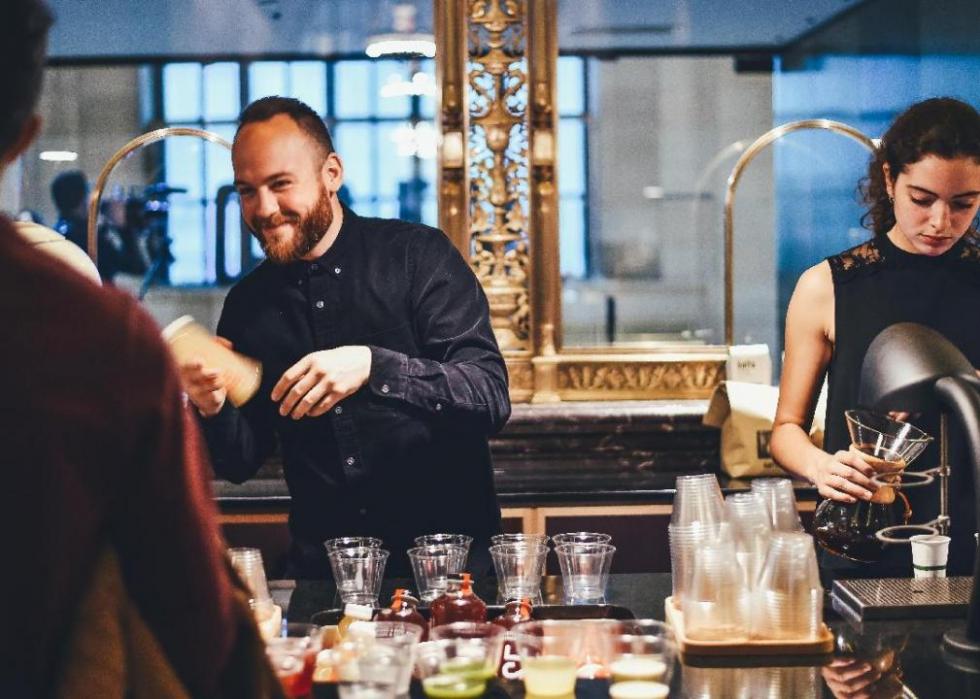 38 / 50
Crew // Wikimedia Commons
#13. Bartenders
Atlantic City-Hammonton, NJ
- Employment: 1,790
- Employment per 1,000: 13.573 (208% higher employment than U.S. average)
- Annual mean salary: $30,040

National
- Employment: 646,850 (#48 most common job in U.S.)
- Annual mean salary: $28,000
- Entry level education requirements: No formal educational credential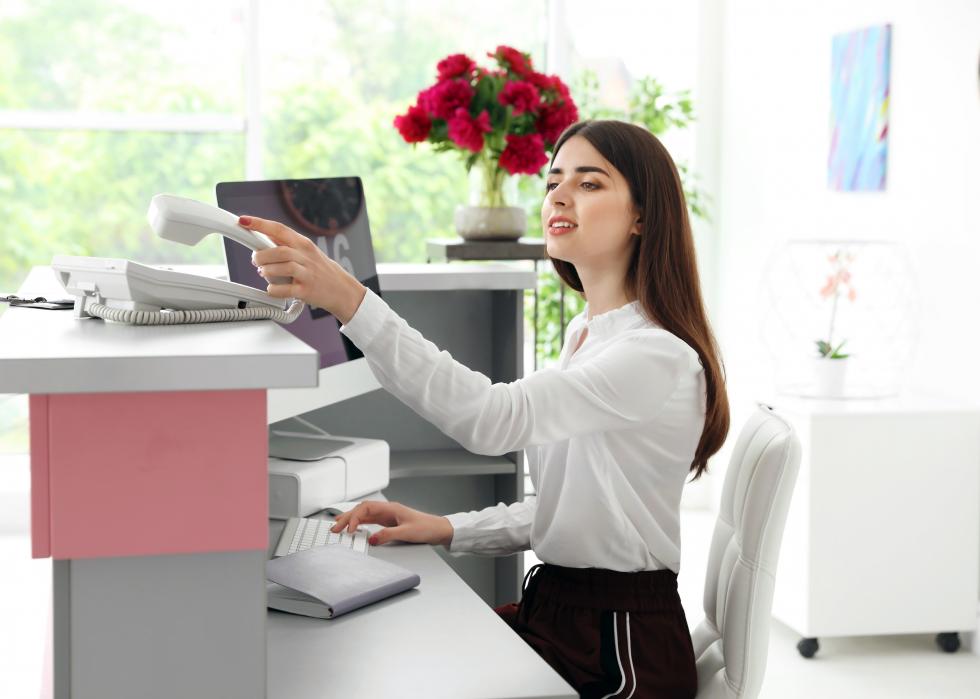 39 / 50
New Africa // Shutterstock
#12. Receptionists and information clerks
Atlantic City-Hammonton, NJ
- Employment: 1,890
- Employment per 1,000: 14.303 (99% higher employment than U.S. average)
- Annual mean salary: $32,190

National
- Employment: 1,057,370 (#26 most common job in U.S.)
- Annual mean salary: $31,250
- Entry level education requirements: High school diploma or equivalent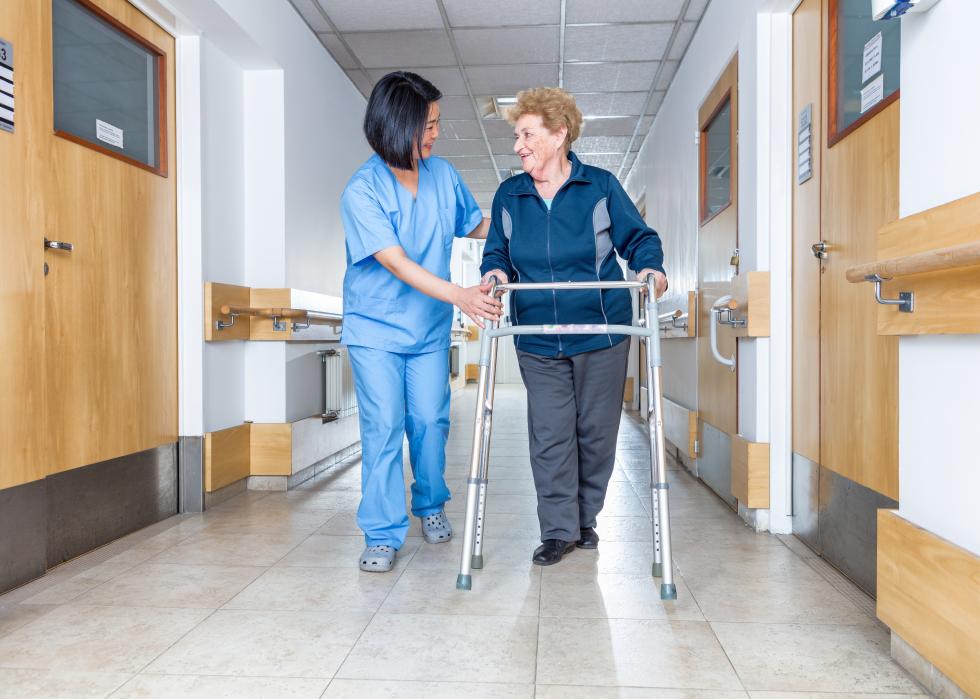 40 / 50
GagliardiPhotography // Shutterstock
#11. Nursing assistants
Atlantic City-Hammonton, NJ
- Employment: 2,000
- Employment per 1,000: 15.141 (57% higher employment than U.S. average)
- Annual mean salary: $29,620

National
- Employment: 1,419,920 (#17 most common job in U.S.)
- Annual mean salary: $30,720
- Entry level education requirements: Postsecondary nondegree award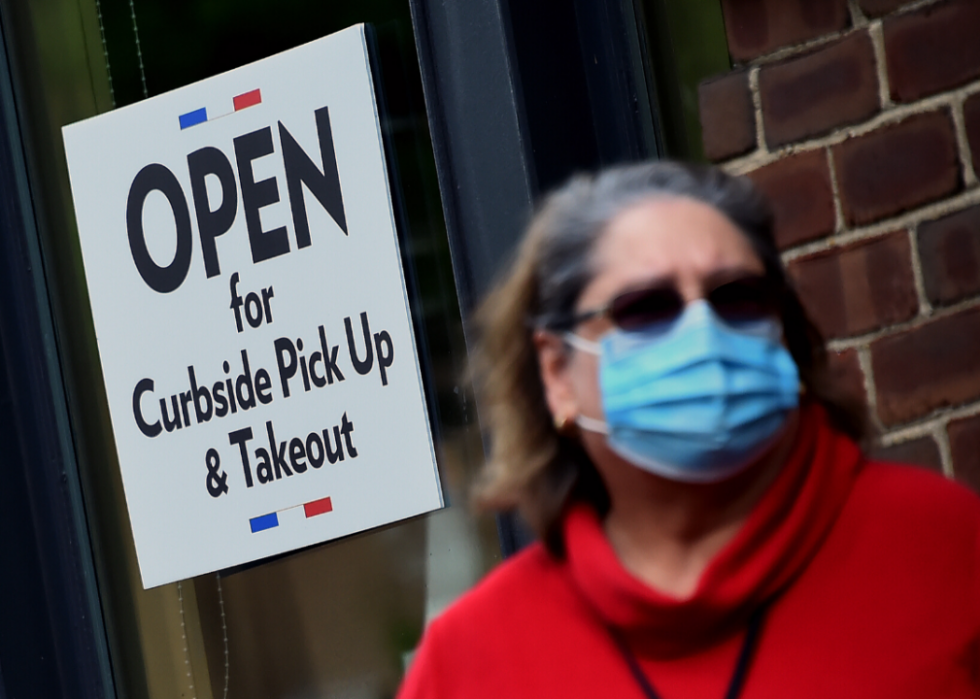 41 / 50
OLIVIER DOULIERY // Getty Images
#10. First-line supervisors of food preparation and serving workers
Atlantic City-Hammonton, NJ
- Employment: 2,010
- Employment per 1,000: 15.215 (121% higher employment than U.S. average)
- Annual mean salary: $39,050

National
- Employment: 1,011,100 (#30 most common job in U.S.)
- Annual mean salary: $36,960
- Entry level education requirements: High school diploma or equivalent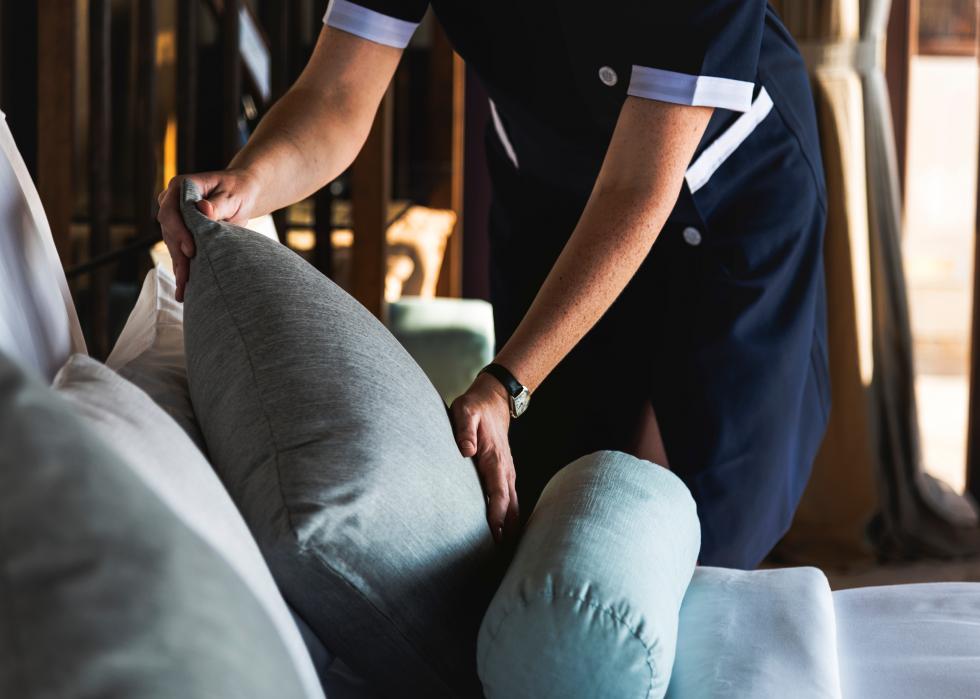 42 / 50
Rawpixel.com // Shutterstock
#9. Maids and housekeeping cleaners
Atlantic City-Hammonton, NJ
- Employment: 2,210
- Employment per 1,000: 16.777 (166% higher employment than U.S. average)
- Annual mean salary: $24,990

National
- Employment: 926,960 (#31 most common job in U.S.)
- Annual mean salary: $26,810
- Entry level education requirements: No formal educational credential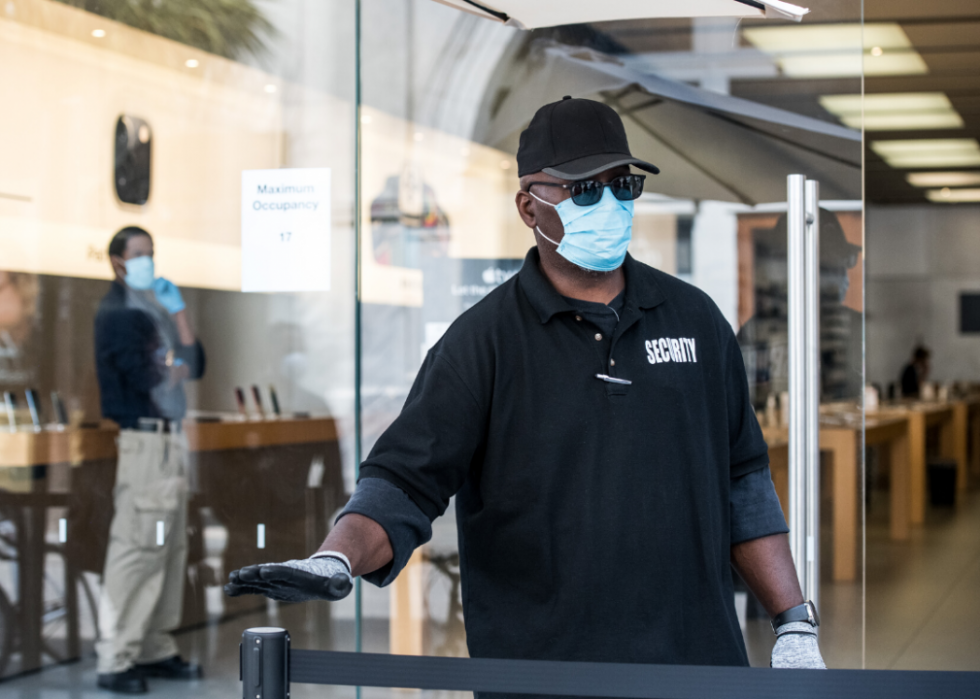 43 / 50
Sean Rayford // Getty Images
#8. Security guards
Atlantic City-Hammonton, NJ
- Employment: 2,340
- Employment per 1,000: 17.723 (131% higher employment than U.S. average)
- Annual mean salary: $31,070

National
- Employment: 1,126,370 (#25 most common job in U.S.)
- Annual mean salary: $33,030
- Entry level education requirements: High school diploma or equivalent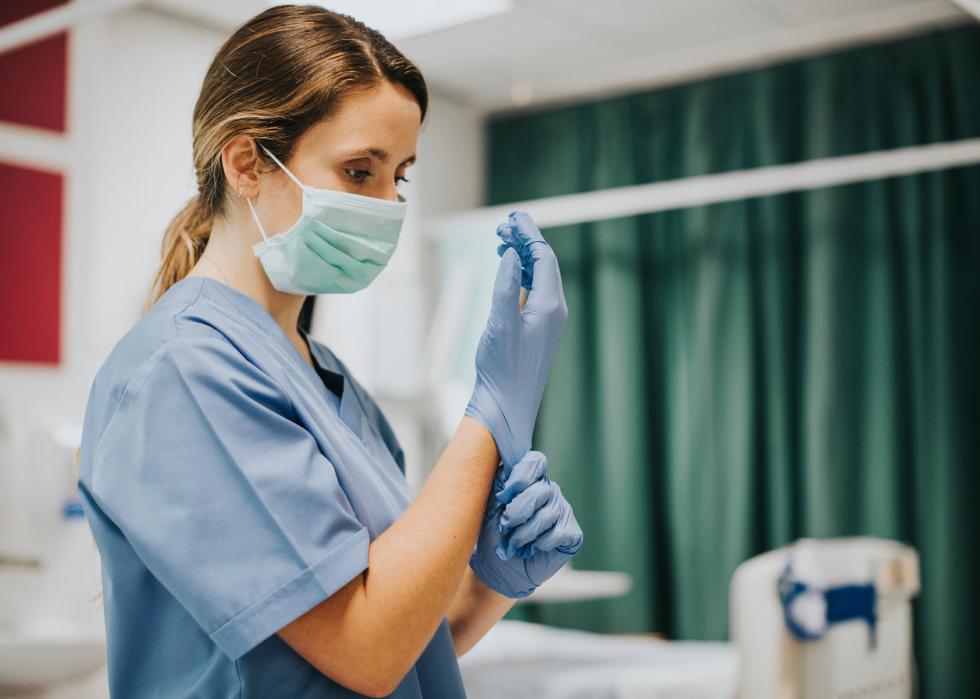 44 / 50
Rawpixel.com // Shutterstock
#7. Registered nurses
Atlantic City-Hammonton, NJ
- Employment: 3,260
- Employment per 1,000: 24.739 (22% higher employment than U.S. average)
- Annual mean salary: $82,460

National
- Employment: 2,982,280 (#4 most common job in U.S.)
- Annual mean salary: $77,460
- Entry level education requirements: Bachelor's degree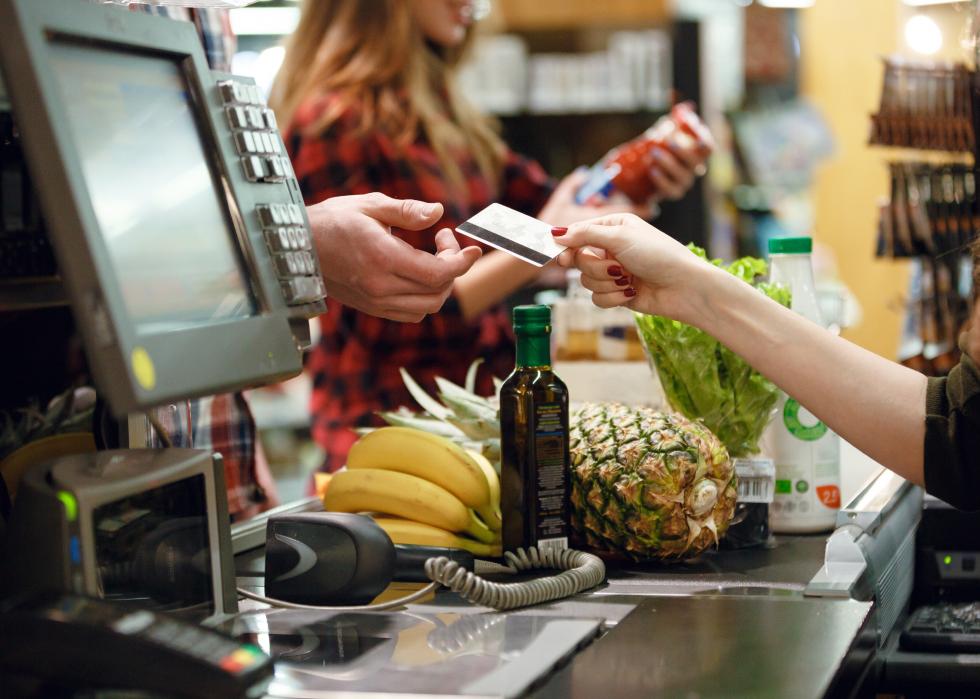 45 / 50
Dean Drobot // Shutterstock
#6. Cashiers
Atlantic City-Hammonton, NJ
- Employment: 3,410
- Employment per 1,000: 25.835 (6% higher employment than U.S. average)
- Annual mean salary: $25,430

National
- Employment: 3,596,630 (#3 most common job in U.S.)
- Annual mean salary: $24,370
- Entry level education requirements: No formal educational credential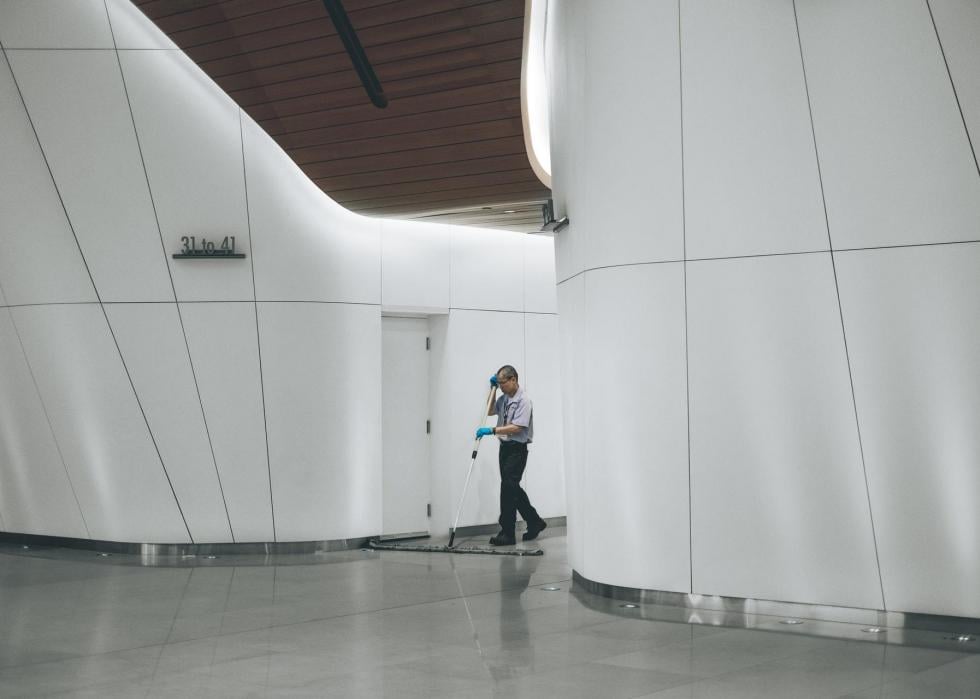 46 / 50
#5. Janitors and cleaners, except maids and housekeeping cleaners
Atlantic City-Hammonton, NJ
- Employment: 3,480
- Employment per 1,000: 26.338 (80% higher employment than U.S. average)
- Annual mean salary: $33,410

National
- Employment: 2,145,450 (#10 most common job in U.S.)
- Annual mean salary: $30,010
- Entry level education requirements: No formal educational credential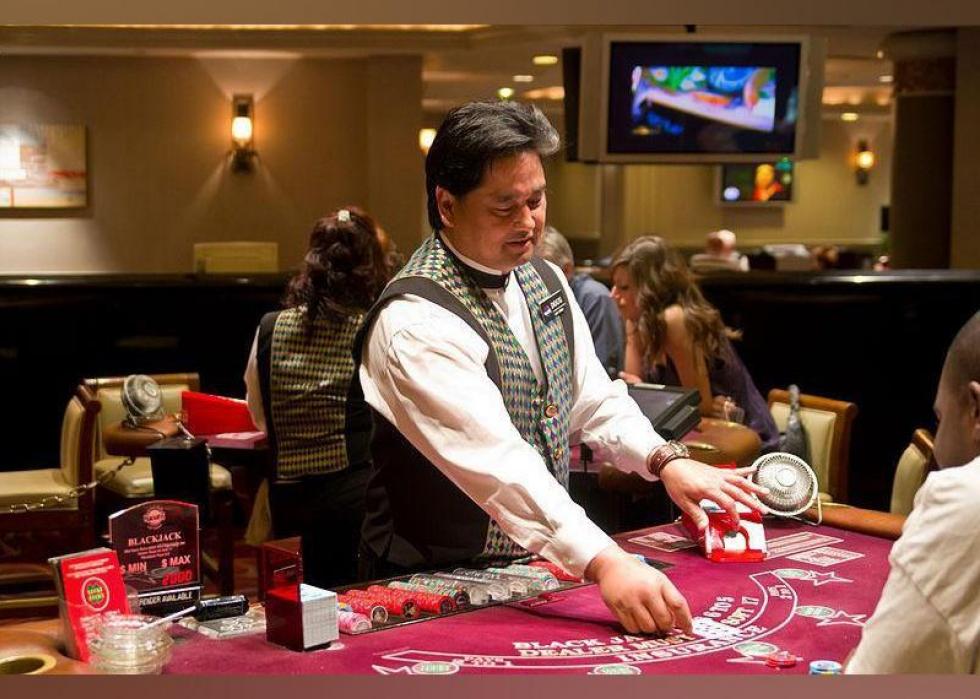 47 / 50
Antoine Taveneaux // Wikimedia Commons
#4. Gambling dealers
Atlantic City-Hammonton, NJ
- Employment: 4,350
- Employment per 1,000: 32.94 (4792% higher employment than U.S. average)
- Annual mean salary: $23,460

National
- Employment: 98,890 (#246 most common job in U.S.)
- Annual mean salary: $23,980
- Entry level education requirements: High school diploma or equivalent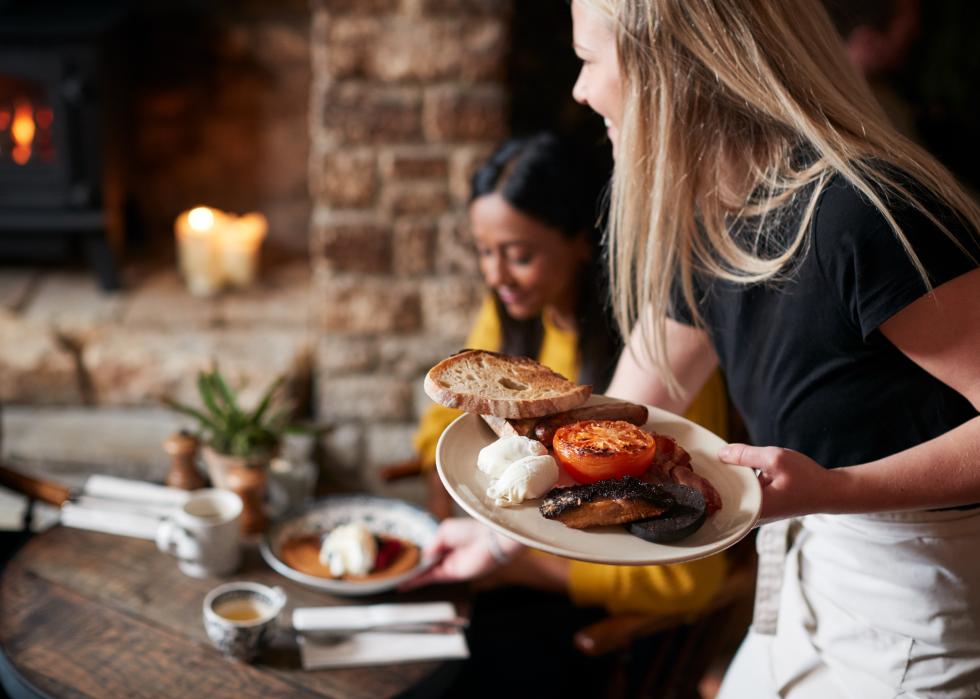 48 / 50
Monkey Business Images // Shutterstock
#3. Waiters and waitresses
Atlantic City-Hammonton, NJ
- Employment: 4,360
- Employment per 1,000: 33.076 (88% higher employment than U.S. average)
- Annual mean salary: $23,820

National
- Employment: 2,579,020 (#8 most common job in U.S.)
- Annual mean salary: $26,800
- Entry level education requirements: No formal educational credential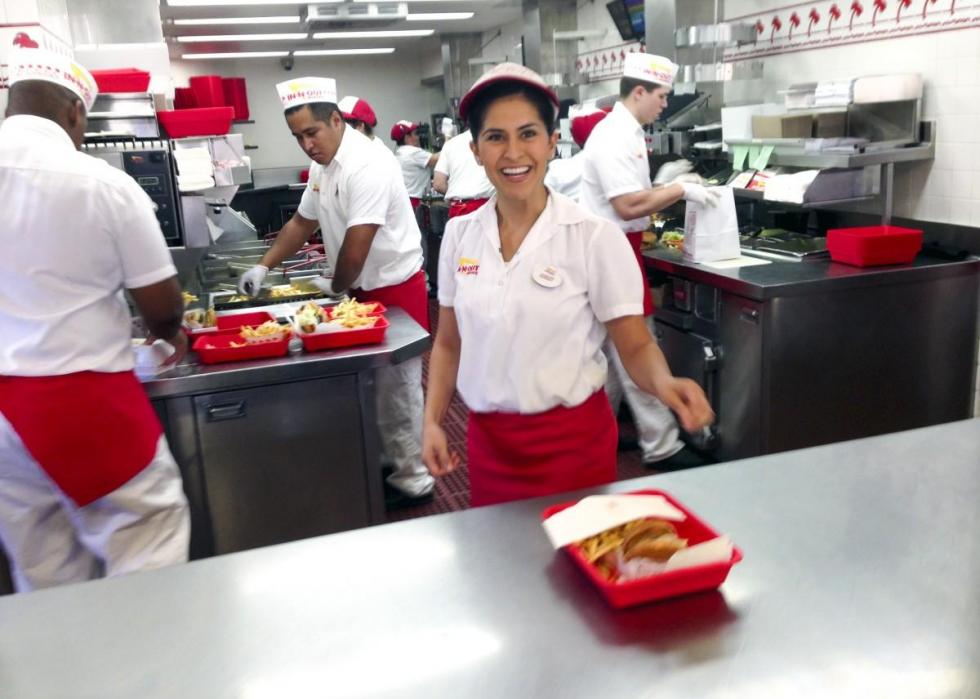 49 / 50
#2. Fast food and counter workers
Atlantic City-Hammonton, NJ
- Employment: 4,600
- Employment per 1,000: 34.855 (28% higher employment than U.S. average)
- Annual mean salary: $22,340

National
- Employment: 3,996,820 (#2 most common job in U.S.)
- Annual mean salary: $23,250
- Entry level education requirements: No formal educational credential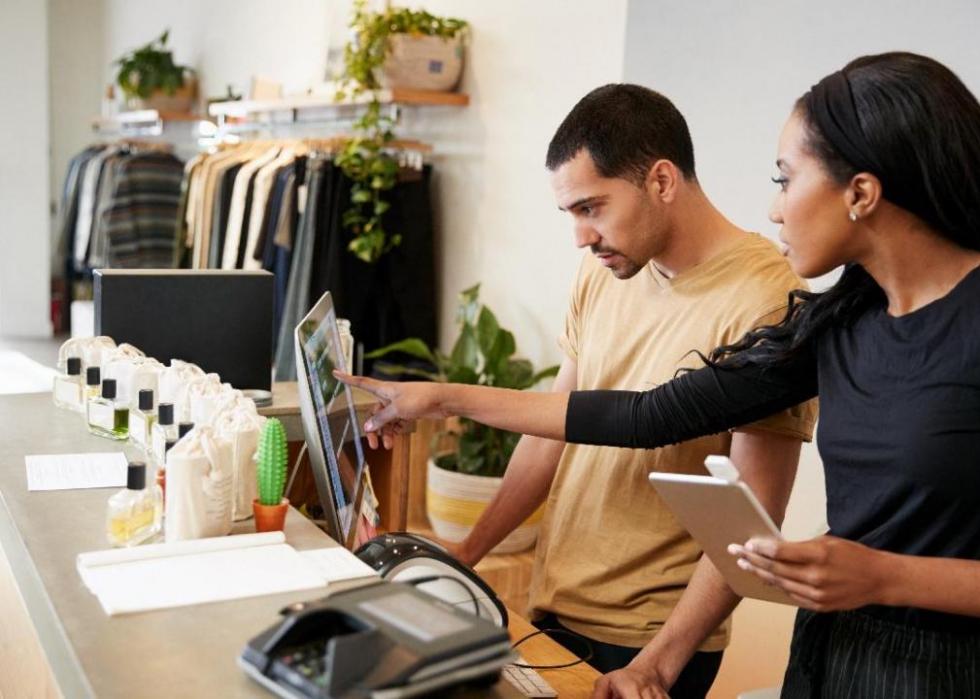 50 / 50
Monkey Business Images // Shutterstock
#1. Retail salespersons
Atlantic City-Hammonton, NJ
- Employment: 5,630
- Employment per 1,000: 42.664 (45% higher employment than U.S. average)
- Annual mean salary: $28,210

National
- Employment: 4,317,950 (#1 most common job in U.S.)
- Annual mean salary: $29,360
- Entry level education requirements: No formal educational credential