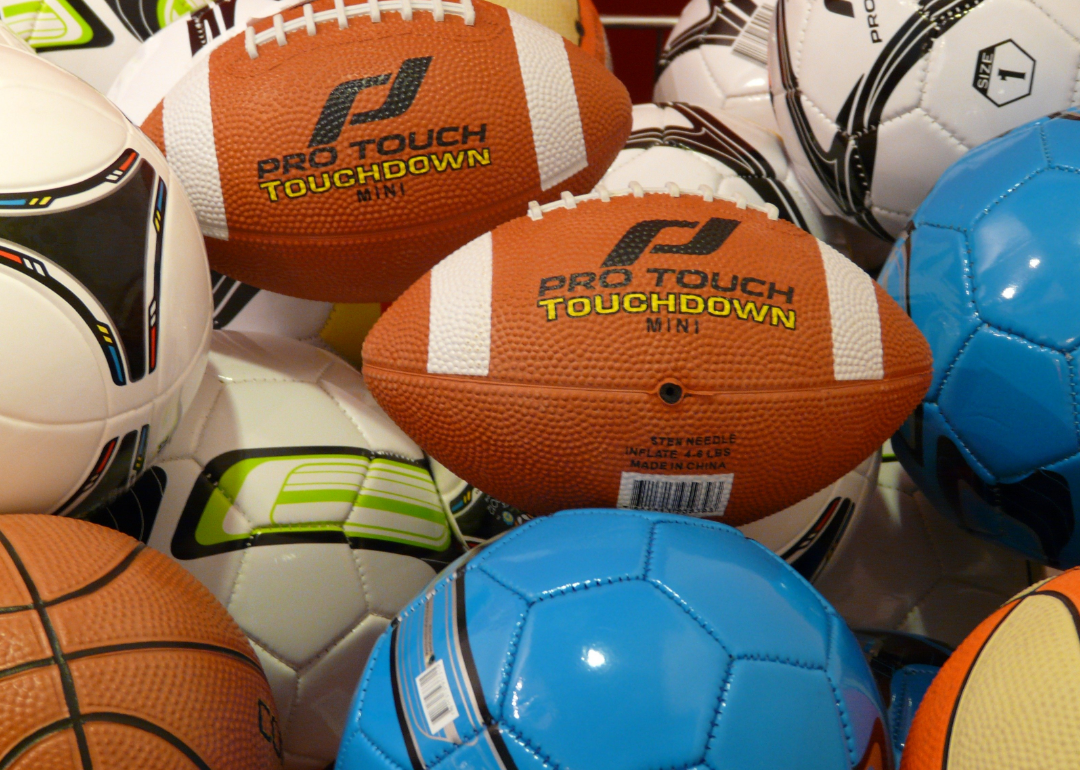 Best high schools for sports in New Jersey
Best high schools for sports in New Jersey
More than 7.6 million high school students played sports across the U.S. during the 2021-22 academic year, according to data from the National Federation of State High School Associations. Those athletes participated in a slew of sports: from football—the most popular sport for high school boys with 1 million players nationwide—to track and field, which is the most popular sport amongst high school girls in the U.S. with more than 488,000 athletes.
The dynamic landscape of high school sports has created competition not only between athletes but the institutions they represent. With more than 23,500 public and private secondary and high schools across the country, determining the best options for athletes is an arduous process.
High schools across the country are vying to be crowned the best institution for athletes in America and not only has the battle become personal but regional as well. States like California and Florida, which have high-profile high-school athletic programs, also want bragging rights.
Young athletes will continue to thrive as sports return to pre-pandemic participation levels and high schools put in the work to be considered one of the best institutions in America for sports.
Stacker compiled a list of the best high schools for sports in New Jersey using data from Niche. These rankings factor in parent and student surveys on sports, total high school enrollment, K-12 sports championships, number of sports, and athletic participation rates.
#25. River Dell Regional High School

- City: Oradell
- Type: Public
- Overall Niche grade: A
#24. Oak Knoll School of the Holy Child - Upper School

- City: Summit
- Type: Private, Catholic, All-Girls
- Overall Niche grade: A+
#23. Jackson Memorial High School

- City: Jackson
- Type: Public
- Overall Niche grade: A-
#22. Middletown High School South

- City: Middletown
- Type: Public
- Overall Niche grade: A-
#21. Manasquan High School

- City: Manasquan
- Type: Public
- Overall Niche grade: A
#20. Immaculate Heart Academy

- City: Township Of Washington
- Type: Private, Catholic, All-Girls
- Overall Niche grade: A
#19. Ridge High School

- City: Basking Ridge
- Type: Public
- Overall Niche grade: A+
#18. Summit Senior High School

- City: Summit
- Type: Public
- Overall Niche grade: A+
#17. Saint Peter's Prep

- City: Jersey City
- Type: Private, Catholic, All-Boys
- Overall Niche grade: A+
#16. Shawnee High School

- City: Medford
- Type: Public
- Overall Niche grade: A
#15. Northern Highlands Regional High School

- City: Allendale
- Type: Public
- Overall Niche grade: A+
#14. St. Augustine Preparatory School

- City: Richland
- Type: Private, Catholic, All-Boys
- Overall Niche grade: A
#13. Christian Brothers Academy

- City: Lincroft
- Type: Private, Catholic, All-Boys
- Overall Niche grade: A
#12. Ridgewood High School

- City: Ridgewood
- Type: Public
- Overall Niche grade: A+
#11. West Essex High School

- City: North Caldwell
- Type: Public
- Overall Niche grade: A
#10. Haddonfield Memorial High School

- City: Haddonfield
- Type: Public
- Overall Niche grade: A+
#9. Westfield Senior High School

- City: Westfield
- Type: Public
- Overall Niche grade: A+
#8. Seton Hall Preparatory School

- City: West Orange
- Type: Private, Catholic, All-Boys
- Overall Niche grade: A+
#7. Wayne Hills High School

- City: Wayne
- Type: Public
- Overall Niche grade: A
#6. Bergen Catholic High School

- City: Oradell
- Type: Private, Catholic, All-Boys
- Overall Niche grade: A+
#5. Cedar Creek High School

- City: Egg Harbor City
- Type: Public
- Overall Niche grade: A
#4. Don Bosco Preparatory High School

- City: Ramsey
- Type: Private, Catholic, All-Boys
- Overall Niche grade: A+
#3. Red Bank Catholic High School

- City: Red Bank
- Type: Private, Catholic
- Overall Niche grade: A
#2. Delbarton School

- City: Morristown
- Type: Private, Catholic, All-Boys
- Overall Niche grade: A+
#1. Ramapo High School

- City: Franklin Lakes
- Type: Public
- Overall Niche grade: A+