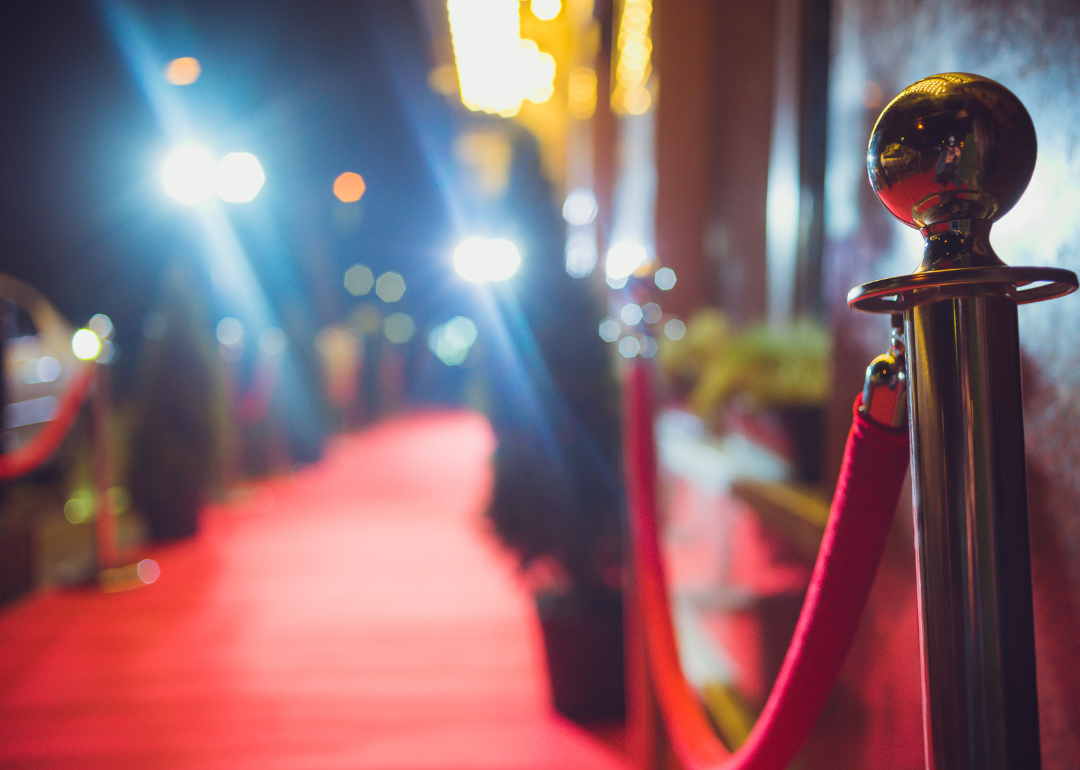 Famous actors from New Jersey
Famous actors from New Jersey
Admiring and envying the world's biggest stars is easy to do on Instagram. From A-list movie stars and major musicians to pro ball players and comedians who landed their own sitcoms, there's no shortage of evidence of just how good the good life is. They post pictures of themselves with other big shots on rooftop bars, at exclusive clubs, at backstage parties, and at restaurants where regular people can't get a reservation.
But the vast majority of these celebrities were born and raised outside of Hollywood, finding their way to the bright lights and big money of superstardom from obscure beginnings in regular small towns or cities across the country.
Stacker compiled a list of actors that were born in New Jersey from IMDb's most popular list. For each actor, we included a movie poster image from a film he is known for (all movie poster images from OMDb). Keep reading to see which favorite actors are from your home state.
You may also like: Famous actresses from New Jersey
Paul Rudd
- Born: Passaic, New Jersey (4/6/1969)
- Known for:
--- Scott Lang in "Ant-Man" (2015)
--- Scott Lang in "Ant-Man and the Wasp" (2018)
--- Peter Klaven in "I Love You, Man" (2009)
Kevin Spacey
- Born: South Orange, New Jersey (7/26/1959)
- Known for:
--- Verbal in "The Usual Suspects" (1995)
--- Jack Vincennes in "L.A. Confidential" (1997)
--- Lester Burnham in "American Beauty" (1999)
John Travolta
- Born: Englewood, New Jersey (2/18/1954)
- Known for:
--- Vincent Vega in "Pulp Fiction" (1994)
--- Chili Palmer in "Get Shorty" (1995)
--- Danny in "Grease" (1978)
Jack Nicholson
- Born: Neptune, New Jersey (4/22/1937)
- Known for:
--- J.J. Gittes in "Chinatown" (1974)
--- Costello in "The Departed" (2006)
--- Melvin Udall in "As Good as It Gets" (1997)
Richard Kind
- Born: Trenton, New Jersey (11/22/1956)
- Known for:
--- Bing Bong in "Inside Out" (2015)
--- Max Klein in "Argo" (2012)
--- Uncle Arthur in "A Serious Man" (2009)
You may also like: Highest-rated breweries in New Jersey
Jimmi Simpson
- Born: Hackettstown, New Jersey (11/21/1975)
- Known for:
--- Armstrong in "Date Night" 2010
Joe Pesci
- Born: Newark, New Jersey (2/9/1943)
- Known for:
--- Tommy DeVito in "Goodfellas" (1990)
--- Joey in "Raging Bull" (1980)
--- Russell Bufalino in "The Irishman" (2019)
Jason Alexander
- Born: Newark, New Jersey (9/23/1959)
- Known for:
--- George Costanza in "Seinfeld" (1989-1998)
--- Hugo in "The Hunchback of Notre Dame" (1996)
--- Philip Stuckey in "Pretty Woman" (1990)
Peter Dinklage
- Born: Morristown, New Jersey (6/11/1969)
- Known for:
--- Tyrion Lannister in "Game of Thrones" (2011-2019)
--- Finbar McBride in "The Station Agent" (2003)
--- Dr. Bolivar Trask in "X-Men: Days of Future Past" (2014)
Ezra Miller
- Born: Hoboken, New Jersey (9/30/1992)
- Known for:
--- Patrick in "The Perks of Being a Wallflower" (2012)
--- Kevin, Teenager in "We Need to Talk About Kevin" (2011)
--- The Flash in "Justice League" (2017)
You may also like: Most popular boy names in the 80s in New Jersey
Bobby Cannavale
- Born: Union City, New Jersey (5/3/1970)
- Known for:
--- Joe Oramas in "The Station Agent" (2003)
--- Paxton in "Ant-Man" (2015)
--- Chili in "Blue Jasmine" (2013)
Joe Pantoliano
- Born: Hoboken, New Jersey (9/12/1951)
- Known for:
--- Teddy in "Memento" (2000)
--- Cypher in "The Matrix" (1999)
--- Captain Howard in "Bad Boys" (1995)
Danny DeVito
- Born: Asbury Park, New Jersey (11/17/1944)
- Known for:
--- Mr. Wormwood in "Matilda" (1996)
--- Owen in "Throw Momma from the Train" (1987)
--- Gavin D'Amato in "The War of the Roses" (1989)
James Gandolfini
- Born: Westwood, New Jersey (9/18/1961)
- Died: 6/19/2013
- Known for:
--- Tony Soprano in "The Sopranos" (1999-2007)
--- Albert in "Enough Said" (2013)
--- Winston Baldry in "The Mexican" (2001)
Patrick Warburton
- Born: Paterson, New Jersey (11/14/1964)
- Known for:
--- Kronk in "The Emperor's New Groove" (2000)
--- Ken in "Bee Movie" (2007)
--- Hymie in "Get Smart" (2008)
Michael Douglas
- Born: New Brunswick, New Jersey (9/25/1944)
- Known for:
--- Liberace in "Behind The Candelabra" (2013)
--- Gordon Gekko in "Wall Street" (1987)
--- Dan Gallagher in "Fatal Attraction" (1987)
Ed Harris
- Born: Tenafly, New Jersey (11/28/1950)
- Known for:
--- Gene Kranz in "Apollo 13" (1995)
--- Virgil Cole in "Appaloosa" (2008)
--- Christof in "The Truman Show" (1998)
Dulé Hill
- Born: Orange, New Jersey (5/3/1975)
- Known for:
--- Burton Guster in "Psych" (2006-2014)
--- Charlie Young in "The West Wing" (1999-2006)
--- Alex Williams in "Suits" (2017-2019)
Alex Vincent
- Born: Newark, New Jersey (4/29/1981)
- Known for:
--- Andy Barclay in "Child's Play" (1988)
--- Andy Barclay in "Child's Play 2" (1990)
--- Andy Barclay in "Curse of Chucky" (2013)
You may also like: Best high schools in New Jersey
Gaten Matarazzo
- Born: New Jersey (9/8/2002)
- Known for:
--- Dustin Henderson in "Stranger Things" (2016-2022)
--- Bubba in "The Angry Birds Movie 2" (2019)
--- Gavroche in "Les Miserables: The Broadway Musical" (2014)
Frank Sinatra
- Born: Hoboken, New Jersey (12/12/1915)
- Died: 5/14/1998
- Known for:
--- Major Bennett Marco in "The Manchurian Candidate" (1962)
--- Angelo Maggio in "From Here to Eternity" (1953)
--- Frankie Machine in "The Man with the Golden Arm" (1955)
Kal Penn
- Born: Montclair, New Jersey (4/23/1977)
- Known for:
--- Kumar Patel in "Harold & Kumar Go to White Castle" (2004)
--- Kumar in "Harold & Kumar Escape from Guantanamo Bay" (2008)
--- Taj Mahal Badalandabad in "Van Wilder" (2002)
Paul Wesley
- Born: New Brunswick, New Jersey (7/23/1982)
- Known for:
--- Stefan Salvatore in "The Vampire Diaries" (2009-2017)
--- Trevor in "Peaceful Warrior" (2006)
--- Gideon in "Before I Disappear" (2014)
Zach Braff
- Born: South Orange, New Jersey (4/6/1975)
- Known for:
--- Andrew Largeman in "Garden State" (2004)
--- Dr. John 'J.D.' Dorian in "Scrubs" (2001-2010)
--- Aidan Bloom in "Wish I Was Here" (2014)
You may also like: Most popular girl names in the 60s in New Jersey
Roy Scheider
- Born: Orange, New Jersey (11/10/1932)
- Died: 2/10/2008
- Known for:
--- Brody in "Jaws" (1975)
--- Joe Gideon in "All That Jazz" (1979)
--- Det. Buddy Russo in "The French Connection" (1971)
Robert Sean Leonard
- Born: Westwood, New Jersey (2/28/1969)
- Known for:
--- Neil Perry in "Dead Poets Society" (1989)
--- Dr. James Wilson in "House" (2004-2012)
--- Peter Müller in "Swing Kids" (1993)
Michael Pitt
- Born: West Orange, New Jersey (4/10/1981)
- Known for:
--- Paul in "Funny Games" (2007)
--- Matthew in "The Dreamers" (2003)
--- Larry in "Seven Psychopaths" (2012)
Okieriete Onaodowan
- Born: Newark, New Jersey (8/16/1987)
- Known for:
--- Hercules Mulligan in "Hamilton" (2020)
--- Dean Miller in "Station 19" (2018-2021)
--- Dean Miller in "Grey's Anatomy" (2018-2021)
Nathan Lane
- Born: Jersey City, New Jersey (2/3/1956)
- Known for:
--- Max Bialystock in "The Producers" (2005)
--- Albert in "The Birdcage" (1996)
--- Timon in "The Lion King" (1994)
You may also like: Most popular baby names for girls in New Jersey
Willie Garson
- Born: Highland Park, New Jersey (2/20/1964)
- Died: 9/21/2021
- Known for:
--- Mozzie in "White Collar" (2009-2014)
--- Stanford Blatch in "Sex and the City" (2008)
--- Gerard Hirsch in "Hawaii Five-0" (2015-2020)
Taye Diggs
- Born: Newark, New Jersey (1/2/1971)
- Known for:
--- Bandleader in "Chicago" (2002)
--- Eddie in "House on Haunted Hill" (1999)
--- Benjamin Coffin III in "Rent" (2005)
Michael J. Pollard
- Born: Passaic, New Jersey (5/30/1939)
- Died: 11/20/2019
- Known for:
--- C.W. Moss in "Bonnie and Clyde" (1967)
--- Owen in "Tango & Cash" (1989)
--- Andy in "Roxanne" (1987)
Jason Biggs
- Born: Pompton Plains, New Jersey (5/12/1978)
- Known for:
--- Jim in "American Pie" (1999)
--- Jim Levenstein in "American Pie 2" (2001)
--- Jim in "American Reunion" (2012)
Brian Geraghty
- Born: Toms River, New Jersey (5/13/1975)
- Known for:
--- Specialist Owen Eldridge in "The Hurt Locker" (2008)
--- Jimmy in "Bobby" (2006)
--- Ken Evans in "Flight" (2012)
John DiMaggio
- Born: North Plainfield, New Jersey (9/4/1968)
- Known for:
--- Dan Williams in "Mythic Quest" (2020)
--- King Zøg in "Disenchantment" (2018-2021)
--- Angelo Dundee in "Historical Roasts" (2019)
Charlie Tahan
- Born: Glen Rock, New Jersey (6/11/1998)
- Known for:
--- Wyatt Langmore in "Ozark" (2017-2022)
--- Ethan in "I Am Legend" (2007)
--- Victor Frankenstein in "Frankenweenie" (2012)
Tate Donovan
- Born: Tenafly, New Jersey (9/25/1963)
- Known for:
--- Bob Anders in "Argo" (2012)
--- Hercules in "Hercules" (1997)
--- Russ Turner in "Shooter" (2007)
Jerry Lewis
- Born: Newark, New Jersey (3/16/1926)
- Died: 8/20/2017
- Known for:
--- Prof. Julius Kelp in "The Nutty Professor" (1963)
--- Jerry Langford in "The King of Comedy" (1982)
--- Leo Sweetie in "Arizona Dream" (1993)
You may also like: States sending the most people to New Jersey
Tom Guiry
- Born: Trenton, New Jersey (10/12/1981)
- Known for:
--- Scotty Smalls in "The Sandlot" (1993)
--- Brendan Harris in "Mystic River" (2003)
--- Yurek in "Black Hawk Down" (2001)
Marc Maron
- Born: New Jersey (9/27/1963)
- Known for:
--- Marc Maron in "Maron" (2013-2016)
--- Angry Promoter in "Almost Famous" (2000)
--- Sam Sylvia in "GLOW" (2017-2019)
Peter Onorati
- Born: Boonton, New Jersey (5/16/1953)
- Known for:
--- Florida Bookie in "Goodfellas" (1990)
--- Det. Vincent LaRusso in "Cop Rock" (1990)
--- Carlo Russo in "El Cortez" (2006)
Tom Pelphrey
- Born: Howell, New Jersey (7/28/1982)
- Known for:
--- Joe Mankiewicz in "Mank" (2020)
--- Ben Davis in "Ozark" (2020)
--- Kurt Bunker in "Banshee" (2015-2016)
Zach Woods
- Born: Trenton, New Jersey (9/25/1984)
- Known for:
--- Douglas in "The Other Guys" (2010)
--- Donald 'Jared' Dunn in "Silicon Valley" (2014-2019)
--- Writer in "David" (2020)
You may also like: Most valuable crops grown in New Jersey
Joseph Cross
- Born: New Brunswick, New Jersey (5/28/1986)
- Known for:
--- Augusten Burroughs in "Running with Scissors" (2006)
--- Dick Pabich in "Milk" (2008)
--- John Hay in "Lincoln" (2012)
Geoffrey Lewis
- Born: Plainfield, New Jersey (7/31/1935)
- Died: 4/7/2015
- Known for:
--- Roy Sullivan in "The Devil's Rejects" (2005)
--- Abner Mercer in "The Way of the Gun" (2000)
--- Frank Avery in "Double Impact" (1991)