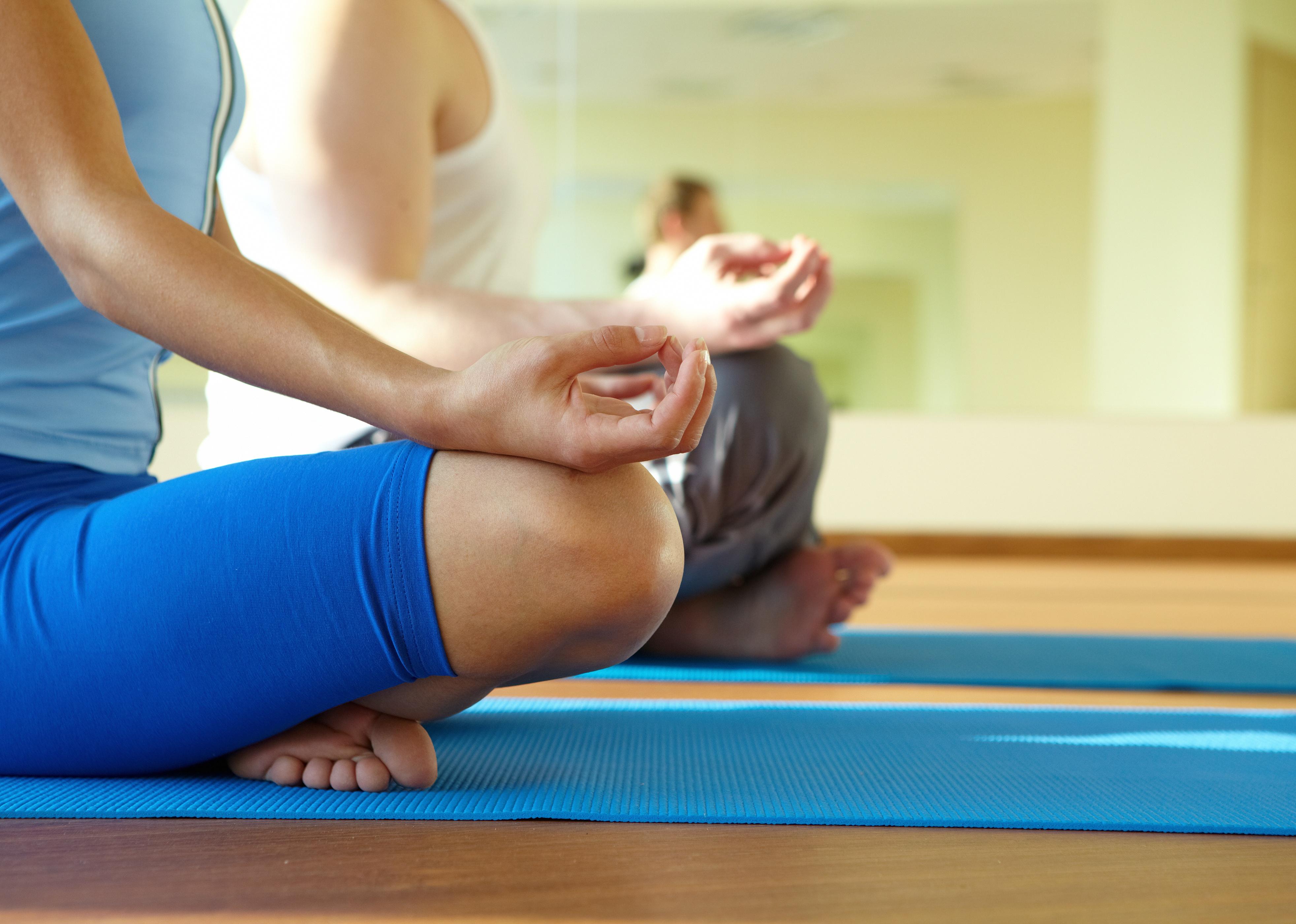 Stacker Studio
New Mexico has 1 of the 20 highest-rated yoga experiences in the country
Pressmaster // Shutterstock
New Mexico has 1 of the 20 highest-rated yoga experiences in the country
Derived from the Sanskrit root "yuj," yoga means to "yoke or unite." As a practice, yoga originated in ancient India and combines breath and thoughtful poses and movements to connect the body and mind. Yoga continues to grow in popularity with many new trends springing up, including broga, which is intended to make yoga more appealing to men by combining yoga and high intensity interval training. Goat yoga is exactly what it sounds like, while stand-up paddleboard (SUP) yoga in the water is a challenging variation that asks both novice and experienced yogis to focus on balance and core strength. Aerial yoga finds participants practicing poses in the air.
Many people enjoy yoga, not only because it can provide an intense or gentle workout, but also because yoga has many health benefits, including improving strength, balance, and flexibility. A Johns Hopkins review of several studies has shown that gentle yoga can help people struggling with arthritis by reducing swelling in joints and easing discomfort. Yoga also aids in stress and blood pressure reduction while helping with weight loss and maintenance. The ancient practice is also great for overall mental help and promotes increased relaxation and improved mood.
With all of yoga's benefits, it is no wonder that yoga retreats have also grown in popularity. Retreats have become a massive money-making component in the industry, and many travel and fitness sites, including Travel + Leisure, offer lists of the best yoga retreats around the world.
Before embarking on a vacation retreat, you may want to try out a class or two. Sunday Citizen compiled a list of the best yoga experiences across the country based on ratings and review data from Tripadvisor. Five-star activities were selected from the site and ranked by the total number of reviews. The complete list contains a variety of classes for every type of yogi.
#5 in the United States: Blue Lotus Day Spa & Yoga in Ruidoso
- Ruidoso, New Mexico
- Rating: 5/5
- Number of reviews: 292
The Blue Lotus Day Spa & Yoga offers a variety of yoga classes, including Mommy and Me, Core and Restore, Slow Flow, and Hatha and Lotus Flow. Chair yoga, a type of yoga that is more accessible for individuals with mobility issues, is also on the schedule. All levels are welcome in the 1,000-square-foot studio featuring windows overlooking the Rio Ruidoso River and eco-bamboo laminate floors. Other spa services, including facials and massages, can be relaxing accompaniments to yoga.
Continue reading to check out the top three highest-rated yoga experiences in the country.
Highest-rated yoga experiences in the country
#1 in the United States: The Art of Massage and Yoga Therapy
- Hilton Head, South Carolina
- Rating: 5/5
- Number of reviews: 592
The Art of Massage and Yoga Therapy offers Beach yoga, Thai yoga therapy, Restorative yoga, Paddleboard yoga, and Chair yoga. Thai yoga therapy is bodywork therapy that combines stretching techniques and acupressure to reduce tension. Outdoor fitness is also a priority. A day of outdoor fitness takes place on Pinckney Island, South Carolina, and includes a deep stretch yoga class. This special event also includes a vegan lunch.
#2 in the United States: Vortex Yoga Hiking in Sedona
- Sedona, Arizona
- Rating: 5/5
- Number of reviews: 430
Combining the beauty and wonder of hiking in Sedona, Arizona, with yoga, Vortex Yoga Hiking in Sedona came about in part due to Yogi Blair's experience taking a yoga hiking physical education class. The 60- to 90-minute tours split time between hiking and yoga, and participants can practice at all levels. Sedona has become known for its many options for budding and expert yogis.
#3 in the United States: The Salt Cave and Spa
- White Sulphur Springs, West Virginia
- Rating: 5/5
- Number of reviews: 368
Not only does the Salt Cave and Spa offer salt/halotherapy sessions and other spa treatments including facials and massages, it allows spa-goers to practice yoga in the salt cave. Salt is particularly beneficial to the respiratory system and helps to reduce inflammation and widen airway passages. There are 45-minute sessions of Vinyasa/Kundalini yoga that promote overall relaxation and wellness and are available on Sunday mornings.
This story originally appeared on Sunday Citizen and was produced and distributed in partnership with Stacker Studio.