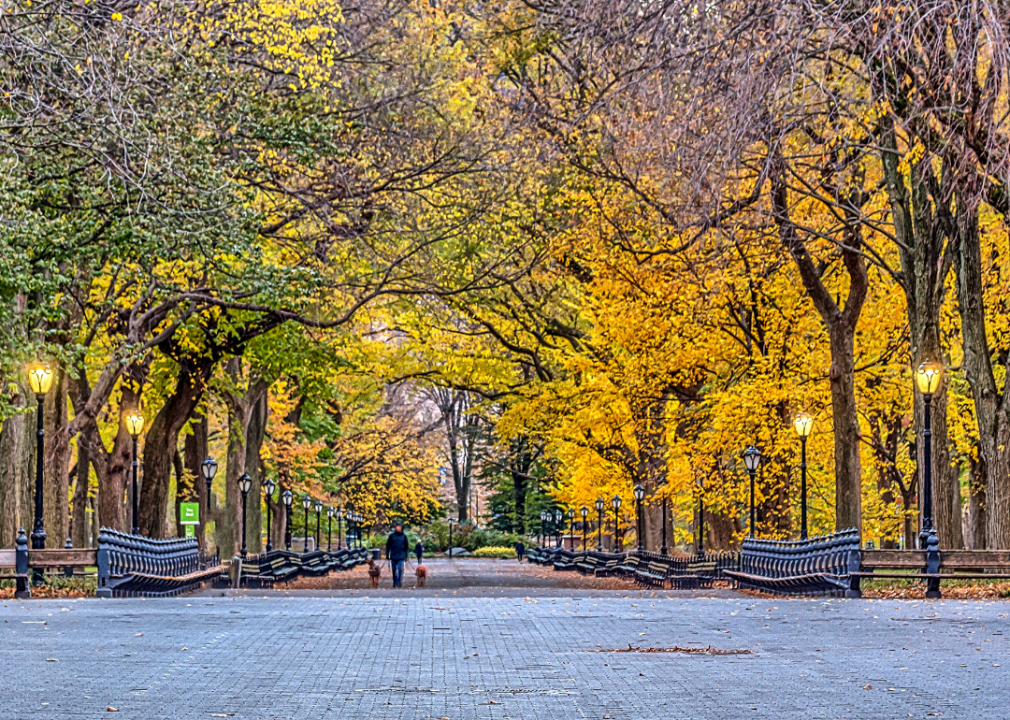 New York has 3 of the 50 cities with the most green space per capita
New York has 3 of the 50 cities with the most green space per capita
Green space is beneficial anywhere, but especially in concrete jungles like those found in many U.S. cities. The World Health Organization reports that green areas are essential to both the ecosystem and the mental health of citizens; though the color is fading quickly in urban areas that are cutting down trees and rapidly building on open space. There are, however, some cities across America that are fighting hard to keep green space within their borders.
Using data from the Organization for Economic Co-operation and Development, analyzed by the United Nations Office for the Coordination of Humanitarian Affairs, Stacker considered the 70 U.S. cities with the most green space per capita and then ranked the top 50 by the green space areas devoted to parks and urban regions.
Read on to see which cities in your state made the list, or see the national story here.
#36. New York
- Green space per capita: 7,087 sq. ft.
- Population: 8.4 million
While Central Park, the Big Apple's most famous green space, offers health benefits to millions of New Yorkers daily, so do many others, including Prospect Park, 585 acres of green space in the middle of Brooklyn. The Travel Channel reports that the nearby Brooklyn Bridge Park, which hosts sunset pilates and hip-hop aerobics on its 85 acres, and The High Line park, built on an old elevated freight line, was "inspired by the self-seeded landscape originally growing out of the rail tracks."
#24. Albany
- Green space per capita: 17,241 sq. ft.
- Population: 977,791
With an Open Space Institute office in town, Albany assists cities in preserving green space all across the U.S. while it touts more than 30 parks throughout its almost 22 square miles. Albany 2030, a comprehensive six-point vision plan, was initiated in 2012 and promises to keep the city green. So far, it has done just that, as Albany offers 17,241 square feet of green space per capita. Some of that green space can be found in John Boyd Thacher State Park, Howe Caverns, or Mountain Ridge, where you can fly through the trees on a zip line.
#14. Buffalo
- Green space per capita: 28,427 sq. ft.
- Population: 259,584
New York state's second-largest city made updates to its zoning laws in 2016 to help increase the city's green space even further, garnering national awards for its Green Code. Situated along Lake Erie, Buffalo's annual Garden Walk attracts thousands of visitors to see 435 of the most creative and enjoyable gardens found anywhere in the U.S. Delaware Park, the city's biggest at over 500 acres, was designed in 1876 and is listed on the National Register of Historic Places, and is home to the Buffalo Zoo.
Some cities have gotten creative in constructing green space within their boundaries. Houston, Nashville, and Des Moines, Iowa, are among the many cities putting large green spaces on public rooftops. Atlanta even has plans to cover some of its highways with parks.
The former commissioner of the New York City Department of Parks and Recreation Adrian Benepe promotes the 10-Minute Walk campaign, an initiative to have a park within a 10-minute walk in all U.S. cities by 2050. Now the senior vice president for the Trust for Public Land, Benepe points to how green space helps the ecosystem. "When I see a tree, I see the work of God because a tree is a remarkable machine," Benepe said. "It does extraordinary things in exchange for very little."
What's more, the health benefits of parks and green spaces in cities are numerous, according to The National Recreation and Park Association. Large parks promote active living, which can reduce the risk of diabetes and heart disease, while research shows even small parks can reduce stress and improve creativity and mental health.
To learn more about which cities made the top of the list, keep reading below.
Cities with the most green space per capita
#1. Minneapolis, MN: 105,843 sq. ft. per capita
#2. Kansas City, MO: 93,349 sq. ft. per capita
#3. Cincinnati, OH: 67,723 sq. ft. per capita
#4. Washington, DC: 63,138 sq. ft. per capita
#5. Nashville, TN: 57,699 sq. ft. per capita