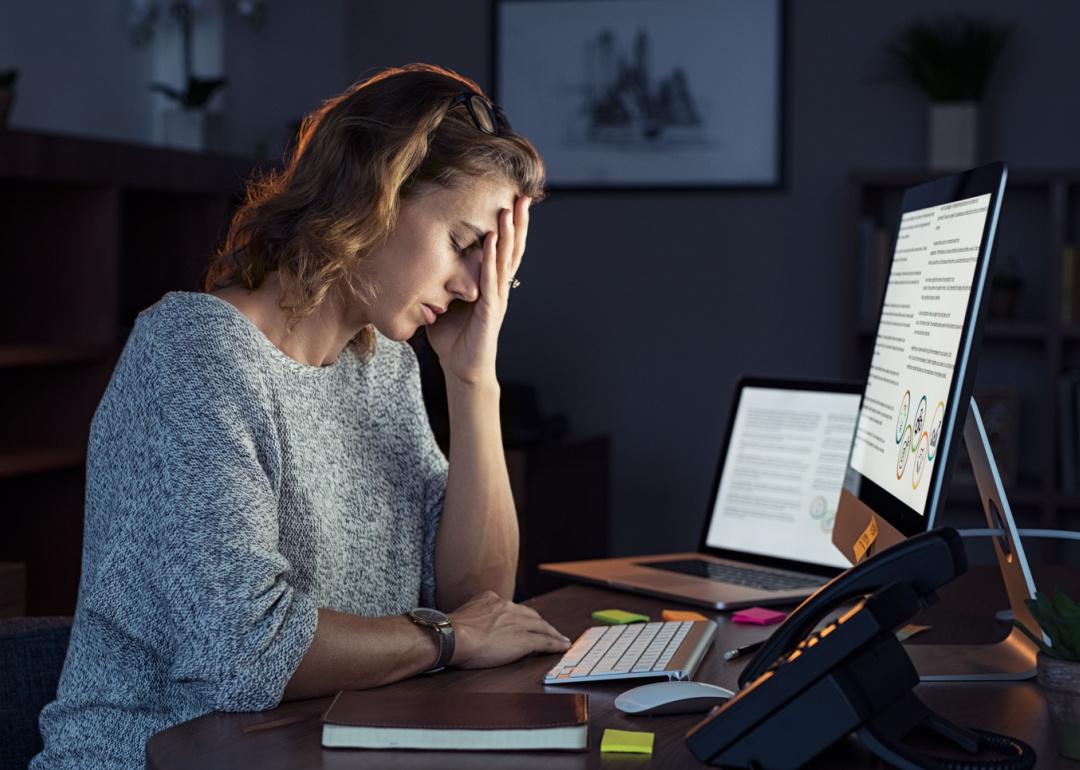 Stacker Studio
Most common causes of workplace stress
Ground Picture // Shutterstock
Most common causes of workplace stress
Each weekday, roughly 1 million adults in the U.S. miss work because of stress, according to Zippia Research. Absenteeism induced by depression and other mental health conditions costs businesses $51 billion a year, treatment amounts to an additional $26 billion, and at least 4 in 5 Americans (83%) suffer from workplace stress.
The Centers for Disease Control and Prevention states that "stress accounts for 75% of all doctor visits," which include a wide array of complaints, such as "headache, back pain, heart problems, upset stomach, stomach ulcer, sleep problems, tiredness and accidents." What's more, a 2023 American Psychological Association survey found that while 77% of American workers are "very satisfied" or "somewhat satisfied" with mental health support from their employers, 53% said their employers think the workplace is better for mental health than it actually is. 
While workplace stress can affect all workers, a 2022 report by Wysa found that people under the age of 44 were more likely to say they experienced work-related stress. A combination of stressors, magnified by the economic and public health climate under which they entered the workplace, might be to blame.
The COVID-19 pandemic prompted a shift in people's priorities and in the way they perform their daily work duties. Hybrid and remote work took over, and once companies and employees adapted to new methods (with the aid of technology), few were willing to go back to the strain that long commutes and endless office hours took on their health and families. 
The Bureau of Labor Statistics reported 3.7 million people quit their jobs in June 2023, almost 400,000 less than in the same month of the prior year. Most walk-outs happened in the Southern states, with the Midwest following far behind. Analysts cannot agree on the main causes of high job mobility rates, though polls support the idea that companies that strengthen corporate wellness programs may increase employee retention. According to Harvard Business Review and the CDC, these programs' benefits include increased engagement, higher productivity, fewer sick absences, employee longevity, and higher morale.
Citing Zippia Research data, Wysa looked at common causes of workplace stress and how workers and companies can manage them.
This story originally appeared on Wysa and was produced and distributed in partnership with Stacker Studio.