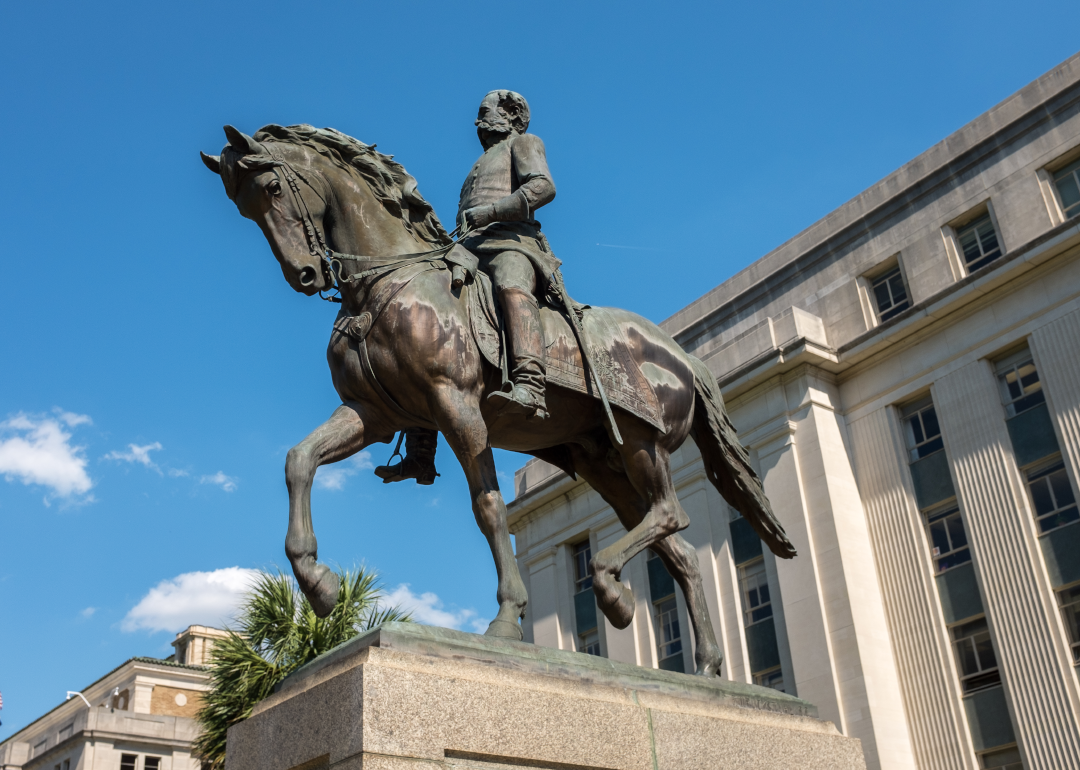 States with the most Confederate memorials
States with the most Confederate memorials
Seventy-three Confederate monuments were removed or renamed in 2021, leaving 723 such monuments standing in the United States—and even that stark number pales against the greater number of Confederate memorials that continue to dot the national landscape. The Southern Poverty Law Center's Whose Heritage? data project, which released its most recent report in February 2022, found more than 2,000 Confederate memorials still in place. This includes the aforementioned monuments, as well as parks, schools, streets, highways, and any other structure or public space that honors a Confederate figure or the whole coalition of seceded states.
Stacker analyzed the SPLC's research and ranked states according to which have the most Confederate memorials. Data was last updated Jan. 21, 2022.
Those in favor of keeping Confederate memorials in place cite the need to preserve American history when, in fact, the vast majority of these monuments were erected long after the Civil War's conclusion in 1865. The first half-dozen Confederate monuments were erected on the heels of the Civil War, but over the next four decades, six or fewer monuments went up each year. It wasn't until the turn of the century that installations surged. In 1911 alone, 50 Confederate monuments were erected around the country, coinciding with peak Jim Crow laws designed to disadvantage Blacks and perpetuate segregation.
Other surges appeared throughout the first half of the 20th century, with pronounced increases in Confederate monuments going up throughout the civil rights movement and smaller increases at the turn of the 21st century and immediately following the election of President Barack Obama in 2008.
Dozens of Confederate memorials around the U.S. were taken down on the heels of a 2015 church shooting in Charleston, South Carolina, that killed nine Black parishioners including the church's pastor. Two years later, in defiance of plans to take down a statue of Confederate Gen. Robert E. Lee in Charlottesville, Virginia, hundreds of self-described neo-Nazis and white supremacists gathered for a "Unite the Right" rally. Clashes at that rally with counter-protesters hit an apex when Alex Fields Jr. drove his car into a crowd of counter-protestors, injuring 19 people and killing one. At the end of the August event, three were dead, dozens injured, and the ongoing debate over whether Confederate monuments ought to be protected or removed remained unresolved.
The debate gained renewed fervor in 2020 following the murder of George Floyd on May 25. Protests in cities and small towns around the country included acts of civil disobedience such as covering Confederate monuments in graffiti or toppling Confederate statues and other monuments perceived as symbols of oppression and slavery. Across the United States, pressure mounted to take such monuments away and out of the public eye, with dozens of municipalities taking action to do so. In total, 157 Confederate memorials were removed throughout the country in 2020. The trend of eliminating existing testimonials to the Confederacy has continued to persist—on Dec. 12, 2022, the city of Richmond, Virginia, once the beating heart of the Confederate States, finally removed its very last Confederate monument.
Various groups stand by claims that these memorials serve as important historical markers; others argue the memorials glorify white supremacists and ignore those who were hurt, enslaved, and killed by the scourge of racism in this country. Some historians have suggested that how Germany has handled its postwar past might serve as a model for reckoning with the lingering evidence of slavery. Concentration camps serve as museums that detail the horrors that occurred therein so people never forget what happened, with nary a Hitler or SS statue to be found. Instead, statues and monuments memorialize victims who were lost as well as those who survived.
Keep reading to find out where the most Confederate monuments still stand, and to learn about recent debates over what to do with them.
You may also like: 50 famous firsts from presidential history