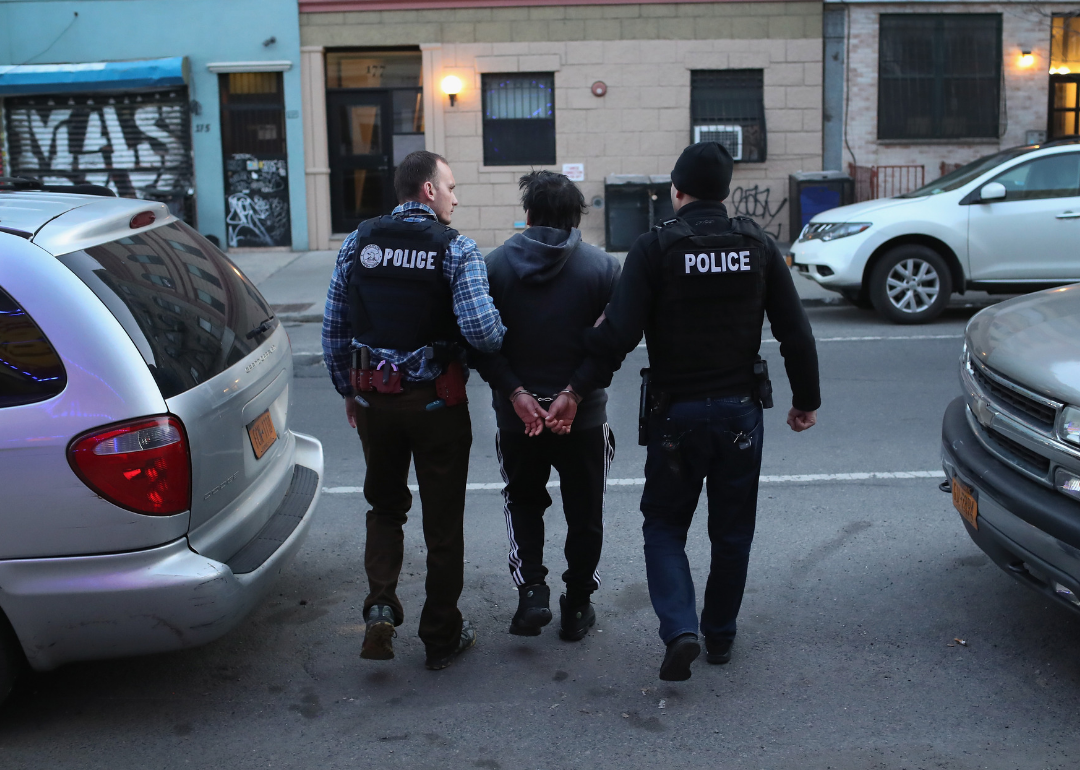 This week's news by the numbers: July 6-12, 2019
John Moore // Getty Images
This week's news by the numbers: July 6-July 12
Stacker distills news from around the world into key facts and figures. This week's takeaways include ICE raids in 10 cities, escalating tensions between Turkey and the U.S., and more. Click through to read these stories and more from this past week.
ICE raids to begin in 10 cities this weekend
Homeland security officials announced this week that ICE raids are scheduled to begin on Sunday in 10 major cities across the country.
Officials claim the raids are targeting at least 2,000 individuals, including children, currently in the country illegally who have orders of deportation. Many of those people have arrived in the U.S. recently.

Officials have also stated that this raid will include "collateral deportations"—the detainment and deportation of immigrants on the scene who may not have been in the group of 2,000 primary targets.
The cities targeted include Atlanta, Baltimore, Chicago, Denver, Houston, Los Angeles, Miami, New Orleans, New York, and San Francisco.
Up to 20 inches of rain expected during Tropical Storm Barry
As Tropical Storm Barry continues to grow out in the Gulf of Mexico, forecasters predict it will make landfall Saturday morning, bringing with it more than a foot and a half of rain.
New Orleans and Morgan City (70 miles southwest of New Orleans) are expected to be hit the hardest by tropical storm-force winds, rainfall, flooding, and storm surges that may overcome levees.
Barry will be the first hurricane of the season, reaching Category 1 level and is expected to travel north through the middle of Louisiana into Arkansas.
First shipment of Russian-made air defense missile system delivered to Turkey
A shipment of Russian-made S-400 air defense missile systems arrived in Ankara on Friday, in a move that increased tensions between the U.S. and Turkey and could further splinter relations within NATO.
The purchase, made despite the threat of imposed American sanctions, may indicate stronger ties between Russia and Turkey and poses a strategic military threat to the U.S.
The U.S. provides F-35 stealth jets and pilot training programs to Turkey, a NATO ally. NATO and U.S. officials are concerned about the ramifications of having sophisticated radar detection equipment from Russia, a non-member of NATO, and Russian engineers who would be required to set up the systems—both in Turkey's arsenal.
This move could provide Russia with an opportunity to collect intelligence on the highly advanced F-35 aircraft equipped with supersonic speed and stealth capabilities.
While Turkey and Russia support opposing sides of the war in Syria, a border country of Turkey, officials fear this purchase will further extend Russia's reach and involvement in the Middle East.
17,000 pounds of cocaine aboard narco-submarine seized by U.S. Coast Guard
A video released this week shows several U.S. Coast Guardsmen jumping onto a 40-foot narco-submarine that was carrying 17,000 pounds of cocaine worth $232 million.
The narco-submarine—a submersible built to transport drugs and funded by cartels—was seized in an operation on June 18. The submarine was spotted hundreds of miles off the coasts of Colombia and Ecuador in waters patrolled with the U.S. Coast Guard Cutter Munro.
These vessels are notoriously difficult to find and apprehend, according to Coast Guard officials, with just one or two encountered per year in a swath of ocean the size of the continental U.S.