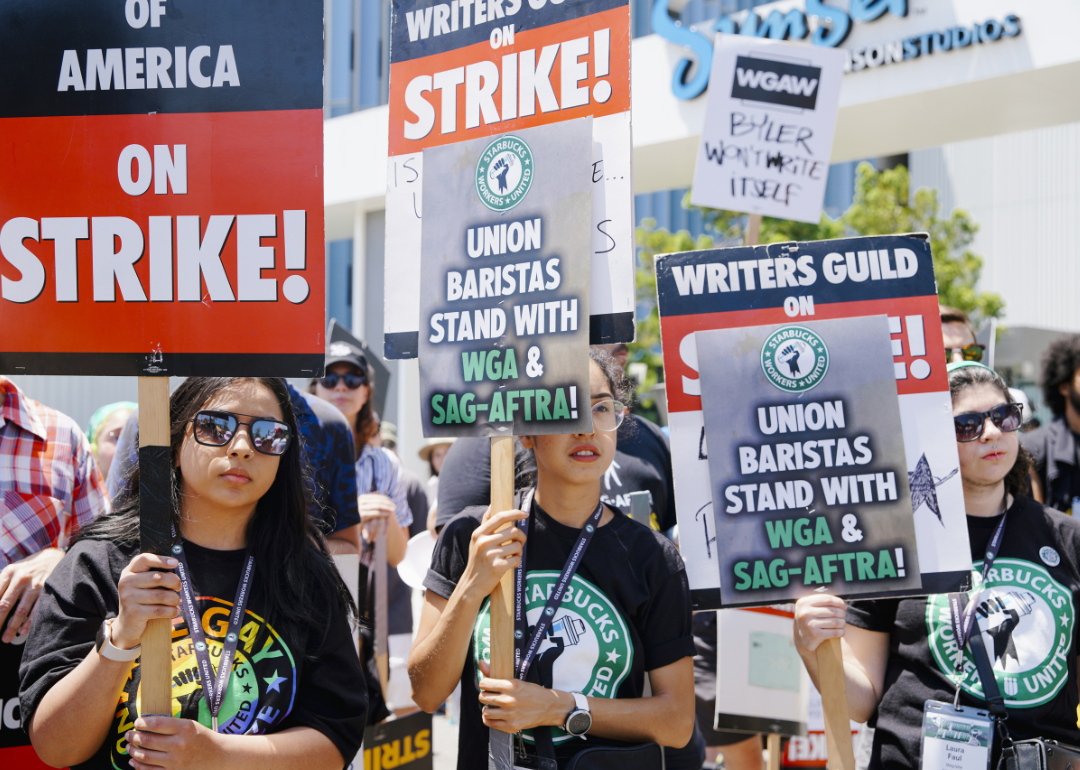 What the Hollywood strikes tell us about the state of unions in the US
Katie McTiernan/Anadolu Agency via Getty Images
What the Hollywood strikes tell us about the state of unions in the US
To hear Hollywood talk about the current moment in labor history, American workers stand on a precipice.
"We are all going to be in jeopardy of being replaced by machines and big business, who care more about Wall Street than you and your family," actress and Screen Actors Guild and American Federation of Television and Radio Artists president Fran Drescher told members of the media gathered for a SAG-AFTRA news conference in mid-July 2023.
Against the backdrop of new technology that carries the potential to eliminate jobs and wages that don't keep up with inflation, more Americans than ever find themselves sympathizing with unions. Public approval of unions reached a modern high over the past year with at least 7 in 10 Americans (71%) thinking favorably of unions compared with 68% of Americans in 2021.
The trend has been on the rise since 2010, and the increased enthusiasm for organized labor is beginning to manifest itself in newly formed unions in recent years. The number of elections held in U.S. workplaces to decide whether workers can collectively bargain with their employer rose 51% in 2022 compared to the year before, according to a Stacker analysis of National Labor Relations Board case data. Still, union membership rates nationwide are far from their golden days, and experts say a serious boost may require more than just enthusiasm.
The 160,000 workers represented by the SAG-AFTRA union voted to authorize a strike in July. The historic vote marked only the second time in history that actors and writers have gone on strike simultaneously. The Writers Guild of America, representing 11,500 TV and film writers, authorized a strike two months prior.
The reasons for the strike are disagreements between writers and actors and their big studio and network counterparts who own the distribution channels for their work. The workers warn that studios want to use workers' likeness and past writing to make artificial intelligence-generated entertainment at low cost.
Beyond Hollywood, AI is being put to work reducing costs in other industries. Today's generative AI can automate software processes and perform white-collar jobs typically performed by entry-level workers. A June 2023 Business Wire survey illustrates how the emerging technology has put the interest of workers at odds with their employers. According to software provider Qualtrics, 64% of executives surveyed described AI as "exciting," but only 39% of full-time employees surveyed felt the same way. And about as many employees as executives who are excited about AI expect job loss of some kind.