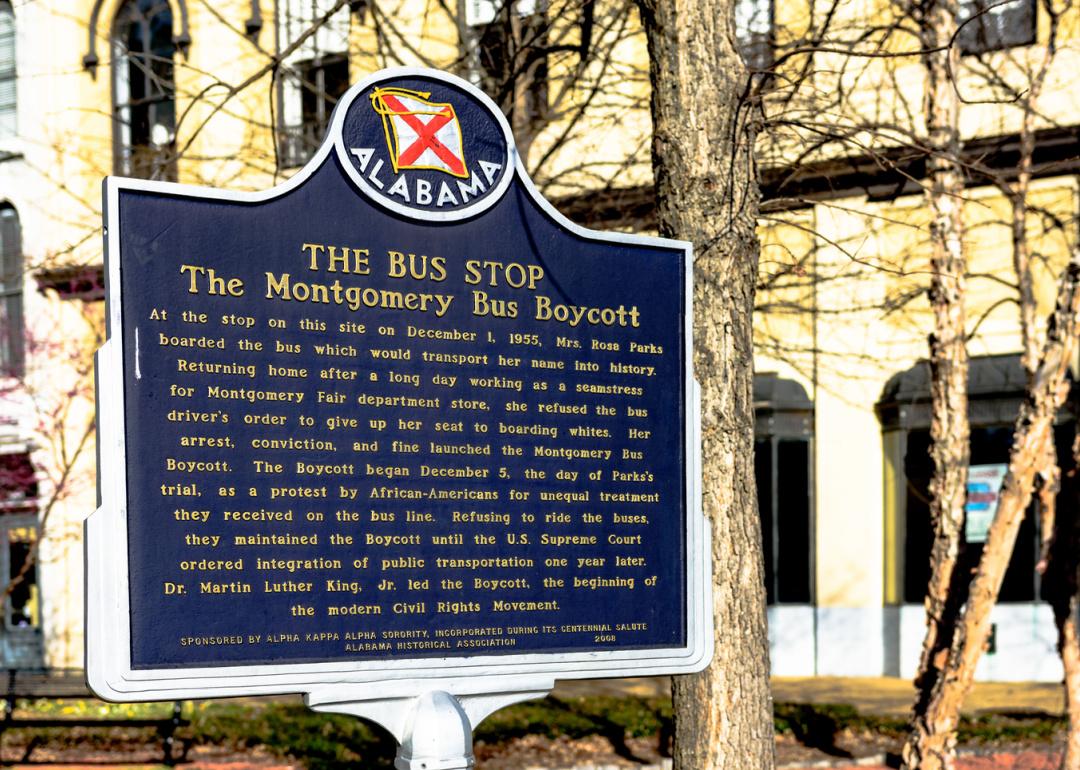 Explore historic sites commemorating Black history in North Carolina
Explore historic sites commemorating Black history in North Carolina
The legacies of influential Black Americans have not always been acknowledged, so it's not uncommon that modern-day residents may overlook the historic sites of their own cities.
While some historical Black figures in the U.S. are more well-known than others, there are in fact thousands of people dating back generations to 17th-century slavery who left traces of their visions and impacts all across the country. Whether prominent figures such as Robert Abbott, who founded one of the largest African American newspapers in the country, or more under-the-radar originators such as Obrey Wendell Hamlet, who cultivated unique vacation experiences in the Rocky Mountains, one thing's for certain: There is far more uncharted Black history in this country than charted.
Stacker identified historic sites commemorating Black history across 47 states, using the National Register of Historic Places. North Dakota, Vermont, Hawaii, and Wyoming did not have Black historic sites listed on the registry. While some states, especially in the South, are home to many sites central to the civil rights movement, Stacker listed the total sites in every state and the names of three historic sites where available. You can visit the full registry of 232 historic sites and explore the Civil Rights Trail to learn about additional locations across the U.S.
Read on to explore and learn about the historic sites celebrating Black history in your state, or read the national story here.
North Carolina by the numbers
- Sites commemorating Black history: 188 (28 with state significance, 7 with national significance)
- Bennett College Historic District (Greensboro)
- Queen Anne's Revenge (Atlantic Beach)
- Union Tavern (Milton)
Union Tavern was the historic home of Thomas Day, a freed Black cabinet maker and businessman known for his architectural woodwork. Day purchased the tavern on Main Street as his workshop in 1848 and was highly successful at a time when African Americans faced restrictions. One of Day's most recognized works was the 1847-49 expansion of the libraries and halls at the University of North Carolina.
Continue reading to see which sites commemorate Black history in other states in your area.
Georgia
- Sites commemorating Black history: 157 (57 with state significance, 13 with national significance)
- Mount Zion Baptist Church (Albany)
- Collier Heights Historic District (Atlanta)
- King, Martin Luther Jr., National Historic Site and Preservation District (Atlanta)
The historic district of Collier Heights was founded in 1948 by African Americans in Atlanta and served as a refuge for middle-class Black Americans during the 1950s and 1960s. The district consisted of mostly brick ranch houses and had been home to civil rights activists such as Martin Luther King Sr. and Ralph David Abernathy.
South Carolina
- Sites commemorating Black history: 152 (41 with state significance, 27 with national significance)
- Dr. York Bailey House (Frogmore)
- Beaufort Historic District (Beaufort)
- Camp Saxton Site (Port Royal)
The Camp Saxton Site was where the Emancipation Proclamation was widely celebrated in the South in January 1863. The Emancipation Proclamation was an executive order given by President Abraham Lincoln to free enslaved people in the nation. The Camp Saxton Site was occupied from 1862 to 1863 by the 1st South Carolina Volunteers, the first acknowledged Black unit of the United States Army during the Civil War.