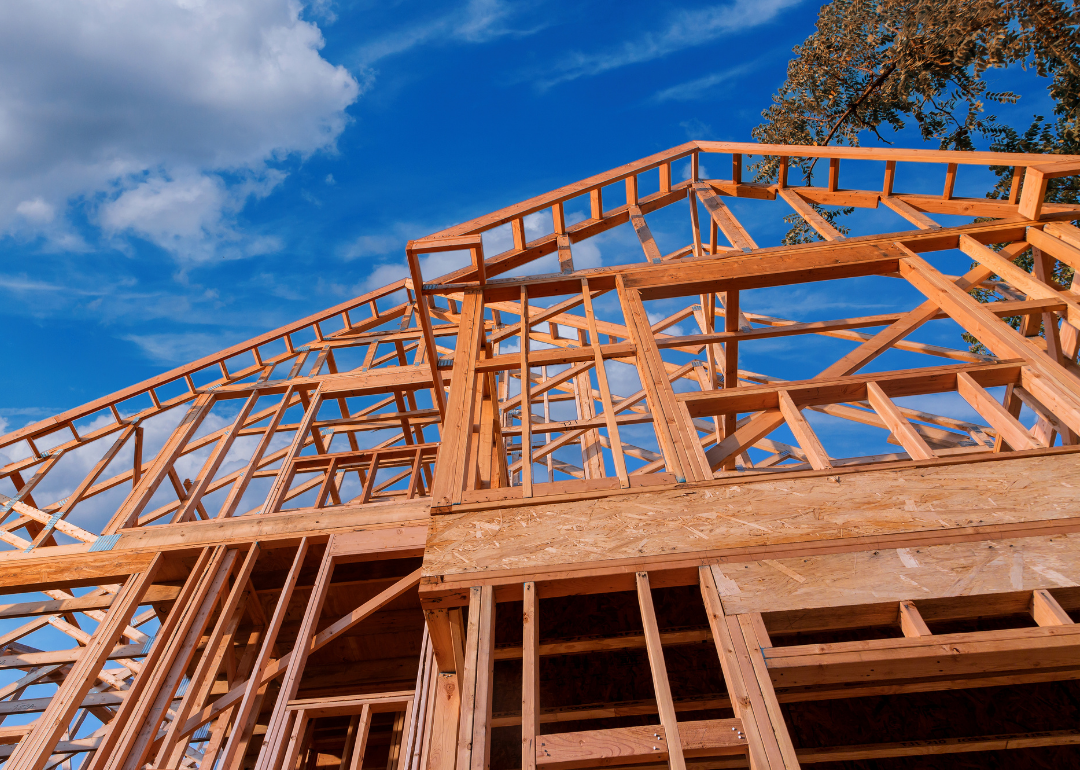 Cities with the fastest-growing home prices in Oregon
Cities with the fastest-growing home prices in Oregon
Stacker compiled a list of cities with the fastest growing home prices in Oregon using data from Zillow. Cities are ranked by the dollar change in Zillow Home Values Index for all homes from the twelve months ending September 2022. The charts in this story were created automatically using Matplotlib. Data was available for 306 cities and towns in Oregon. Home values in the top city on the list grew by $138,041 over the last 12 months.
Metros with the most cities in the top 50
#1. Newport, OR: 13
#2. Portland-Vancouver-Hillsboro, OR-WA: 11
#3. Albany-Lebanon, OR: 4
#4. Astoria, OR: 3
#4. Eugene-Springfield, OR: 3
#6. Hood River, OR: 2
#6. Roseburg, OR: 2
#8. Coos Bay, OR: 1
#8. Klamath Falls, OR: 1
#8. Prineville, OR: 1
#8. Salem, OR: 1
#8. The Dalles, OR: 1
Read on to see which cities made the list.
You may also like: Oregon is the #6 state where food stamps are used the most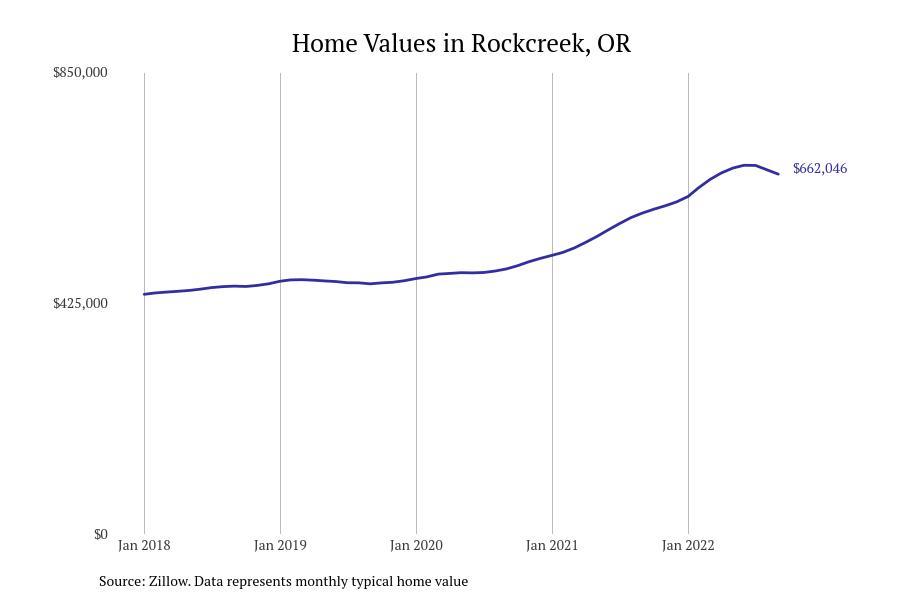 1 / 50
#50. Rockcreek
- Typical home value: $662,046
- 1-year price change: +$71,612 (+12.1%)
- 5-year price change: +$230,110 (+53.3%)
- Metro area: Portland-Vancouver-Hillsboro, OR-WA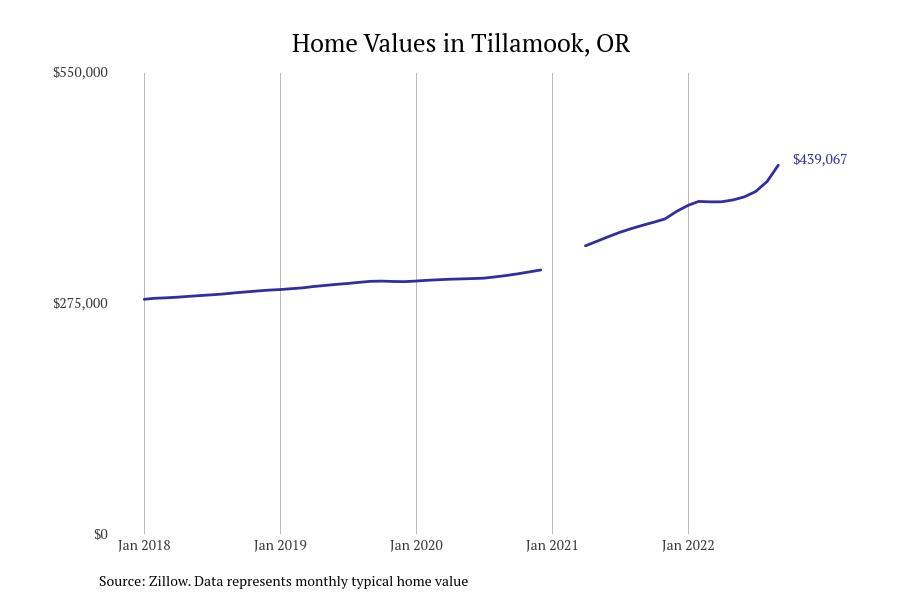 2 / 50
#49. Tillamook
- Typical home value: $439,067
- 1-year price change: +$71,625 (+19.5%)
- 5-year price change: +$164,424 (+59.9%)
- Metro area: not in a metro area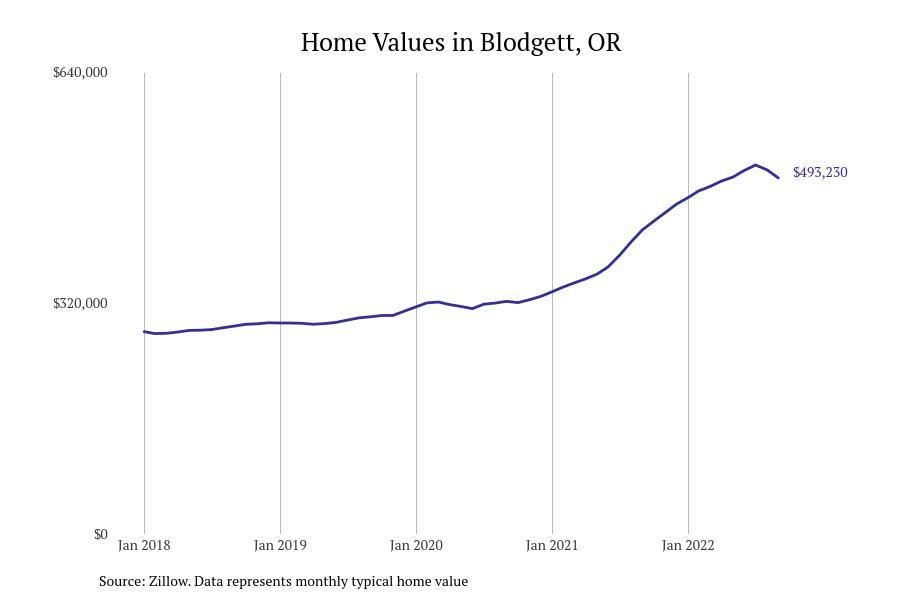 3 / 50
#48. Blodgett
- Typical home value: $493,230
- 1-year price change: +$71,944 (+17.1%)
- 5-year price change: +$218,706 (+79.7%)
- Metro area: Newport, OR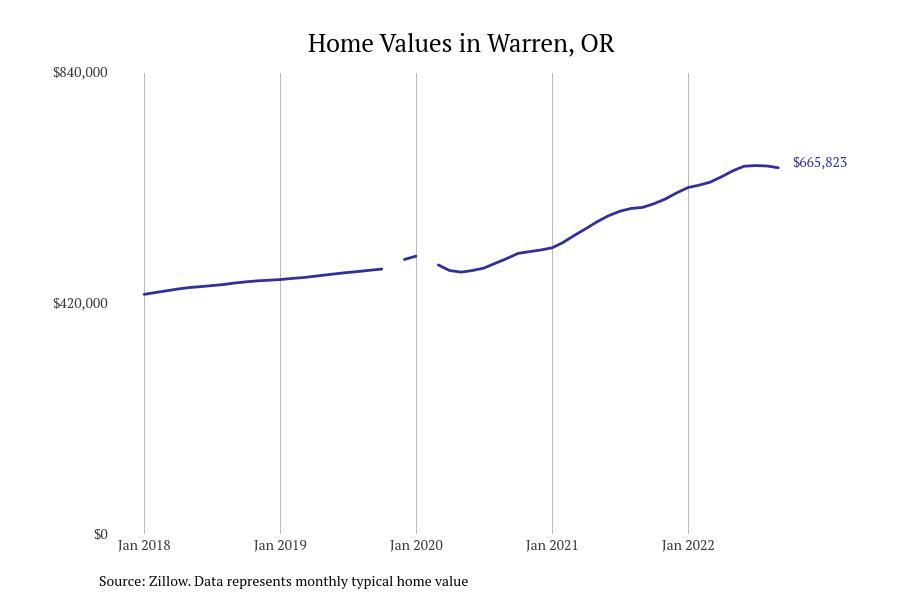 4 / 50
#47. Warren
- Typical home value: $665,823
- 1-year price change: +$72,107 (+12.1%)
- 5-year price change: +$243,255 (+57.6%)
- Metro area: Portland-Vancouver-Hillsboro, OR-WA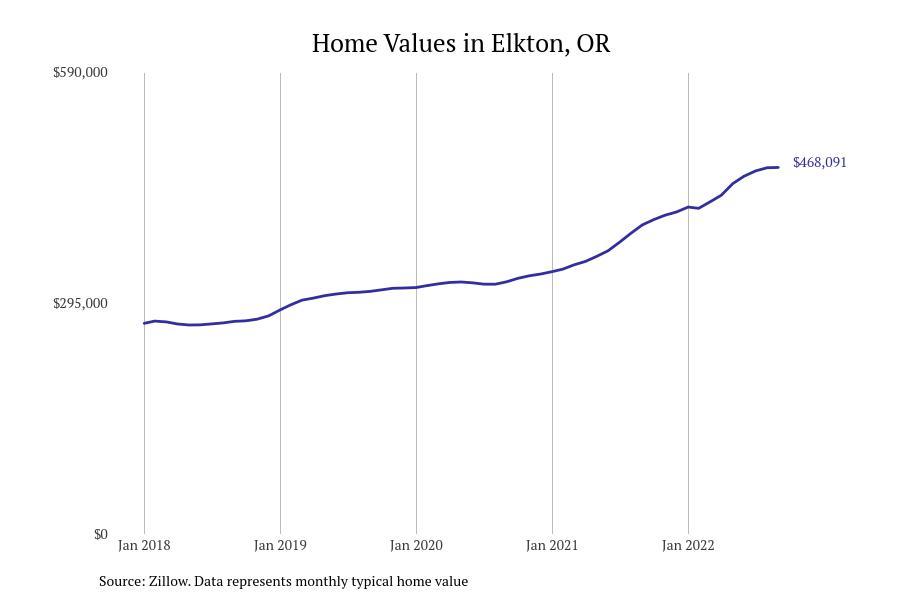 5 / 50
#46. Elkton
- Typical home value: $468,091
- 1-year price change: +$73,318 (+18.6%)
- 5-year price change: +$203,290 (+76.8%)
- Metro area: Roseburg, OR
You may also like: The Black homeownership gap in Oregon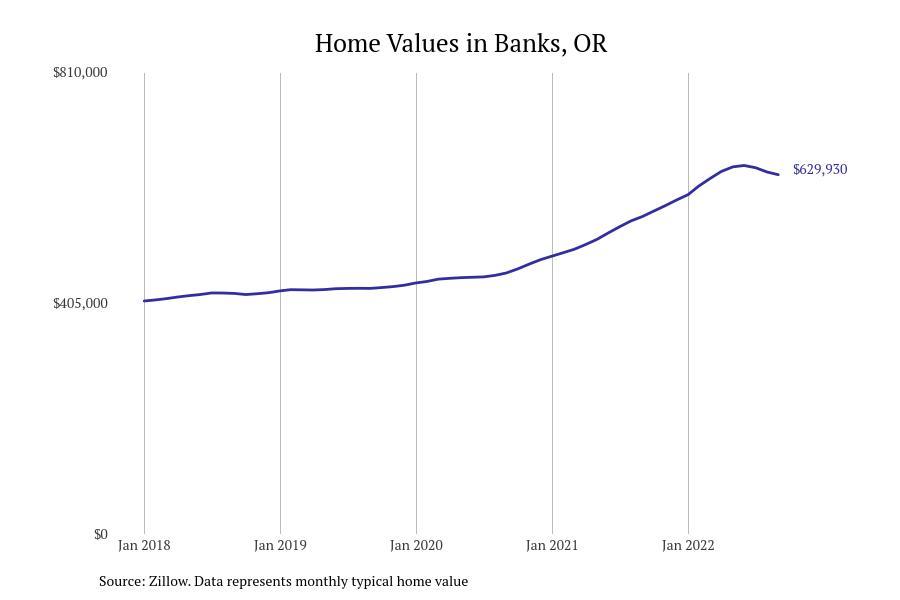 6 / 50
#45. Banks
- Typical home value: $629,930
- 1-year price change: +$73,328 (+13.2%)
- 5-year price change: +$229,450 (+57.3%)
- Metro area: Portland-Vancouver-Hillsboro, OR-WA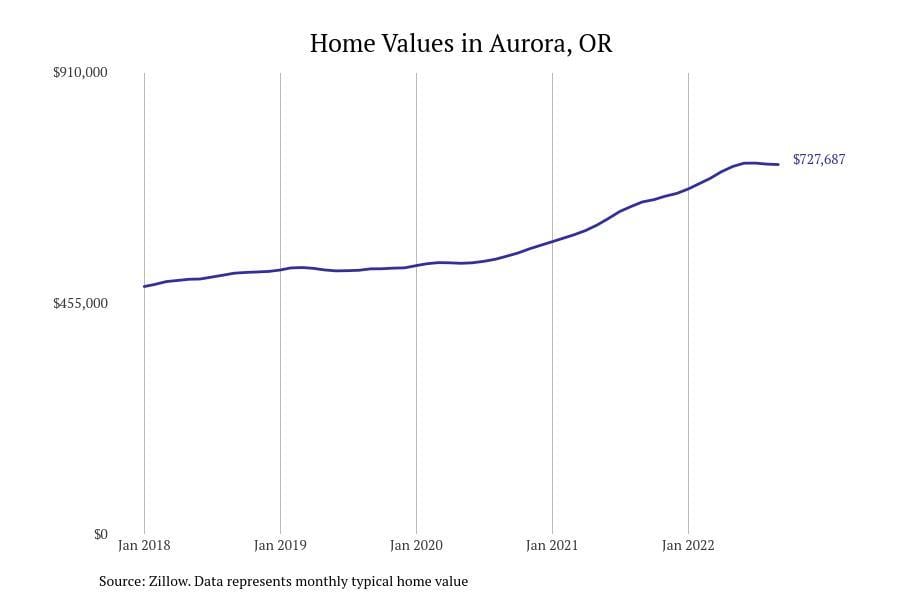 7 / 50
#44. Aurora
- Typical home value: $727,687
- 1-year price change: +$73,620 (+11.3%)
- 5-year price change: +$256,147 (+54.3%)
- Metro area: Salem, OR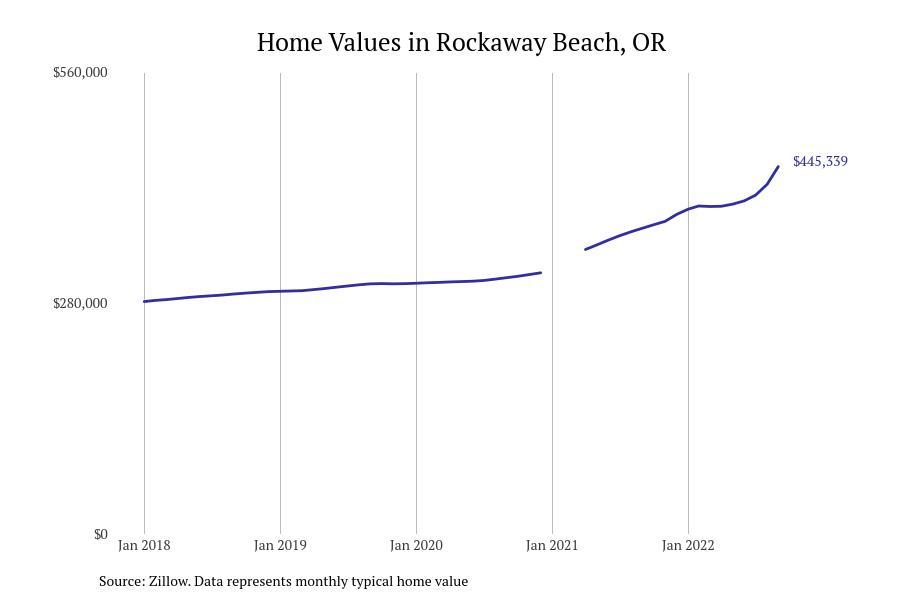 8 / 50
#43. Rockaway Beach
- Typical home value: $445,339
- 1-year price change: +$74,696 (+20.2%)
- 5-year price change: +$166,977 (+60.0%)
- Metro area: not in a metro area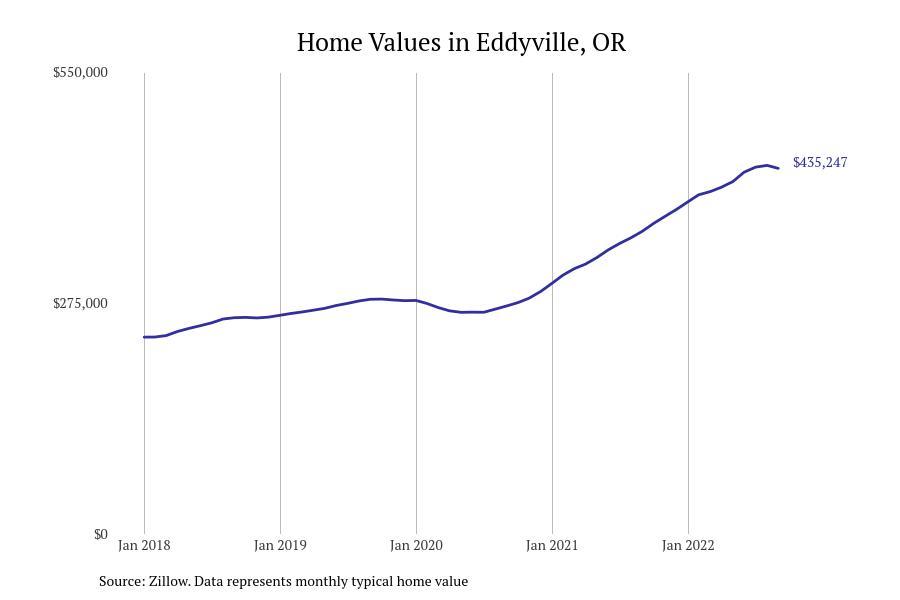 9 / 50
#42. Eddyville
- Typical home value: $435,247
- 1-year price change: +$74,829 (+20.8%)
- 5-year price change: +$204,005 (+88.2%)
- Metro area: Newport, OR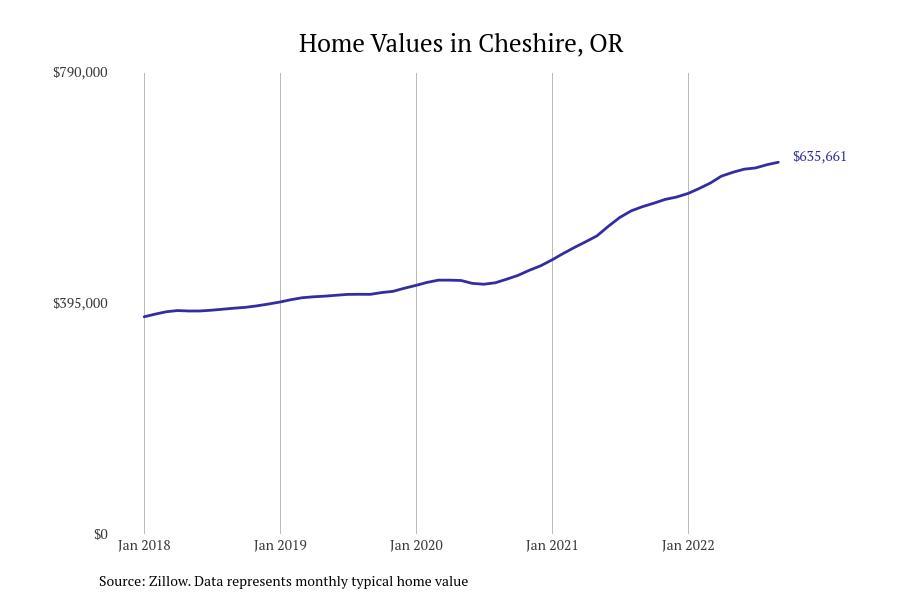 10 / 50
#41. Cheshire
- Typical home value: $635,661
- 1-year price change: +$75,982 (+13.6%)
- 5-year price change: +$270,528 (+74.1%)
- Metro area: Eugene-Springfield, OR
You may also like: Best public high schools in Oregon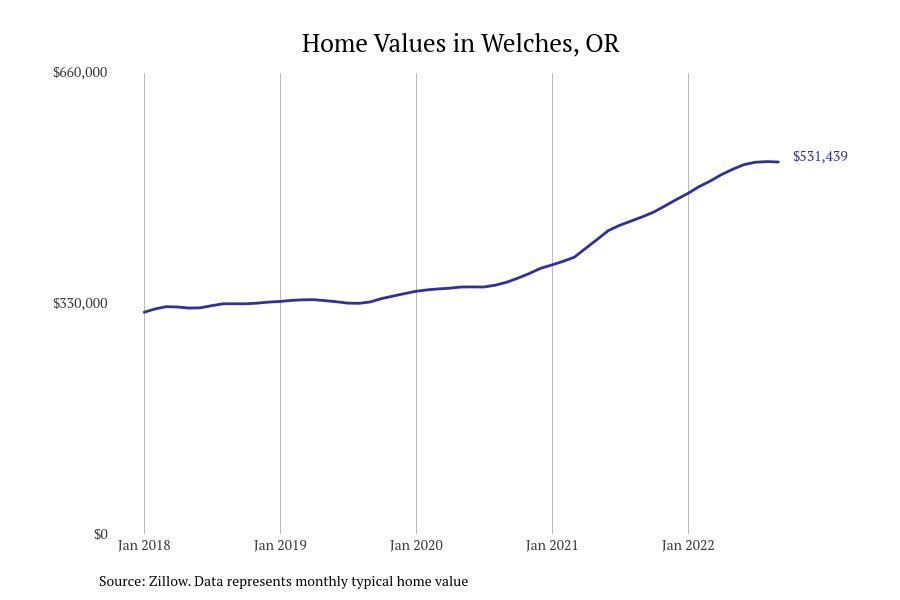 11 / 50
#40. Welches
- Typical home value: $531,439
- 1-year price change: +$78,249 (+17.3%)
- 5-year price change: +$226,927 (+74.5%)
- Metro area: Portland-Vancouver-Hillsboro, OR-WA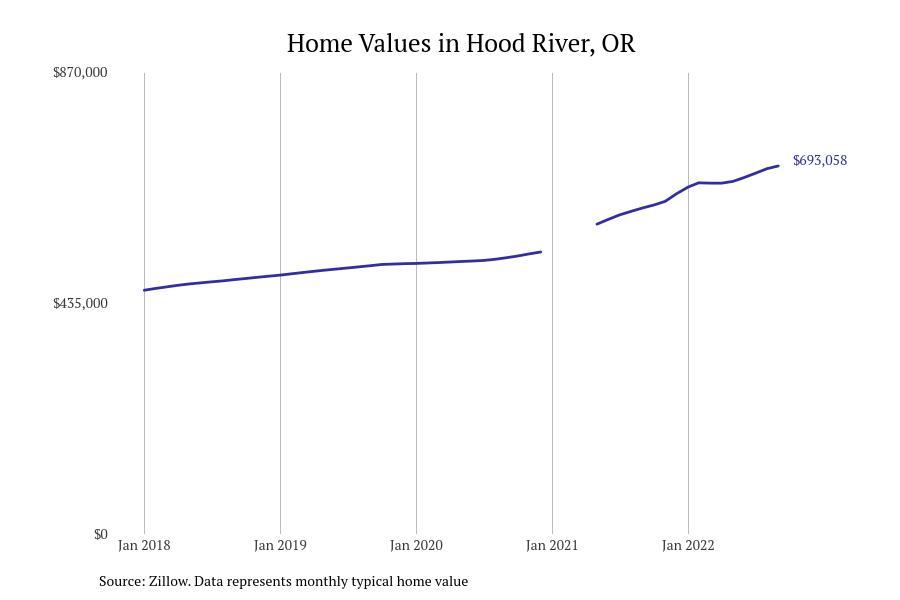 12 / 50
#39. Hood River
- Typical home value: $693,058
- 1-year price change: +$79,189 (+12.9%)
- 5-year price change: +$241,690 (+53.5%)
- Metro area: Hood River, OR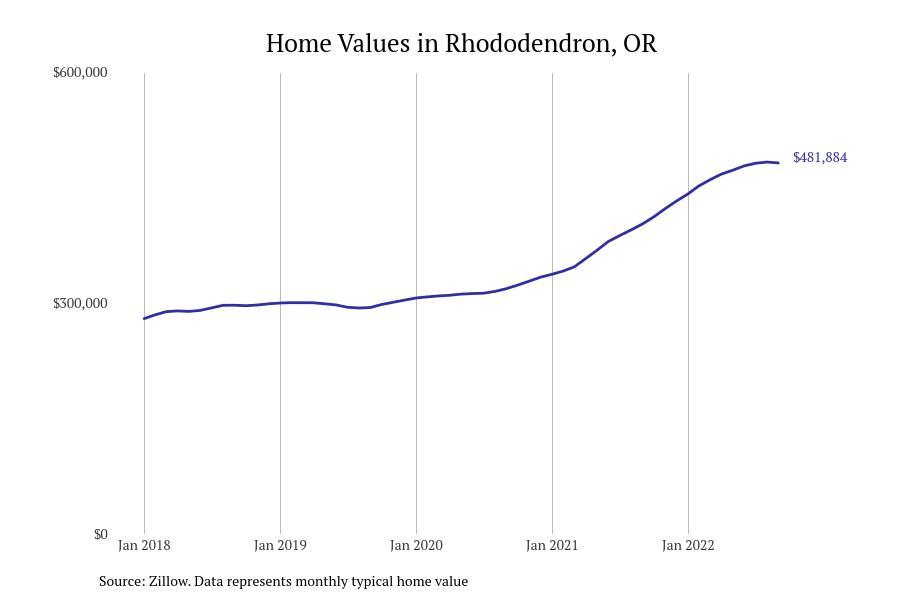 13 / 50
#38. Rhododendron
- Typical home value: $481,884
- 1-year price change: +$79,273 (+19.7%)
- 5-year price change: +$214,472 (+80.2%)
- Metro area: Portland-Vancouver-Hillsboro, OR-WA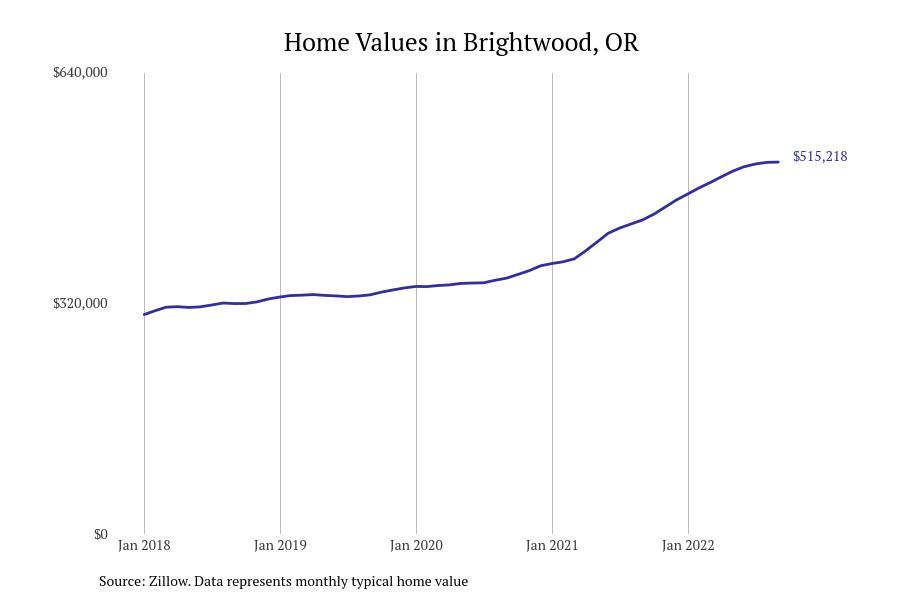 14 / 50
#37. Brightwood
- Typical home value: $515,218
- 1-year price change: +$80,241 (+18.4%)
- 5-year price change: +$223,942 (+76.9%)
- Metro area: Portland-Vancouver-Hillsboro, OR-WA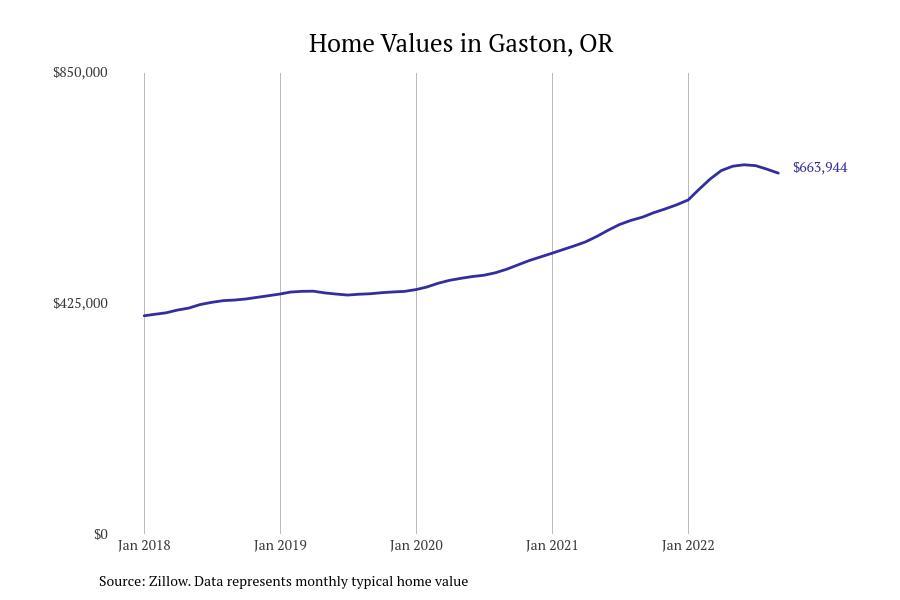 15 / 50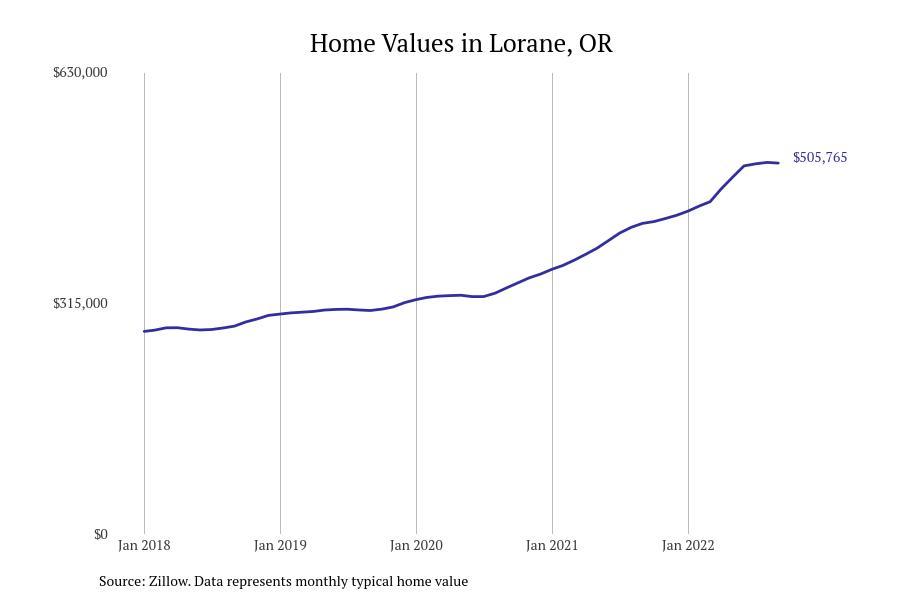 16 / 50
#35. Lorane
- Typical home value: $505,765
- 1-year price change: +$82,216 (+19.4%)
- 5-year price change: +$233,637 (+85.9%)
- Metro area: Eugene-Springfield, OR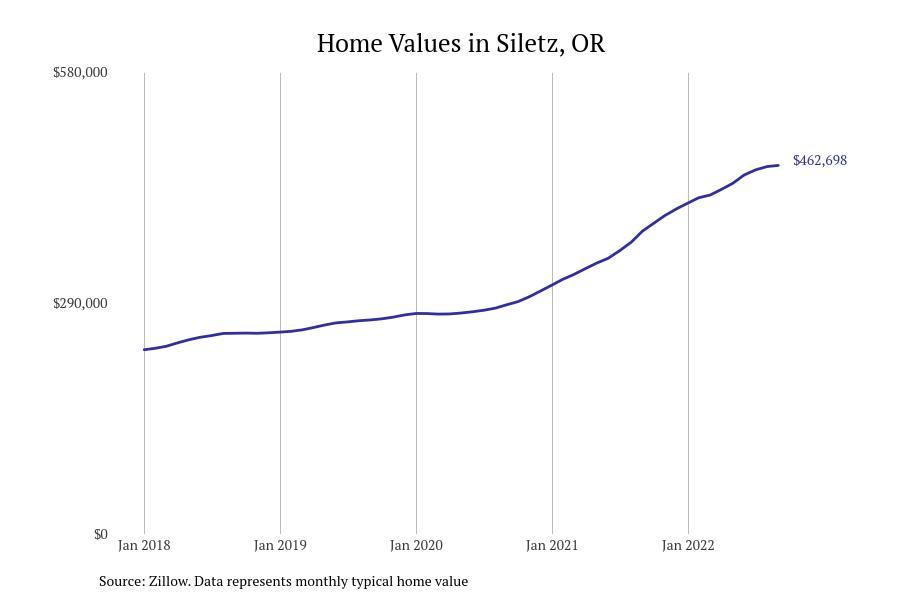 17 / 50
#34. Siletz
- Typical home value: $462,698
- 1-year price change: +$82,548 (+21.7%)
- 5-year price change: +$233,053 (+101.5%)
- Metro area: Newport, OR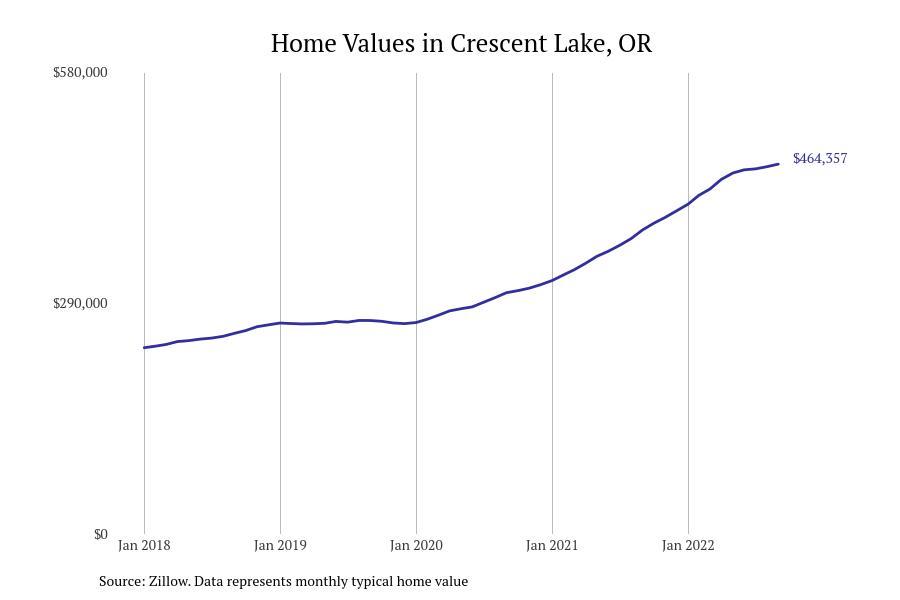 18 / 50
#33. Crescent Lake
- Typical home value: $464,357
- 1-year price change: +$82,786 (+21.7%)
- 5-year price change: +$231,712 (+99.6%)
- Metro area: Klamath Falls, OR
19 / 50
#32. Scio
- Typical home value: $597,167
- 1-year price change: +$84,136 (+16.4%)
- 5-year price change: +$260,236 (+77.2%)
- Metro area: Albany-Lebanon, OR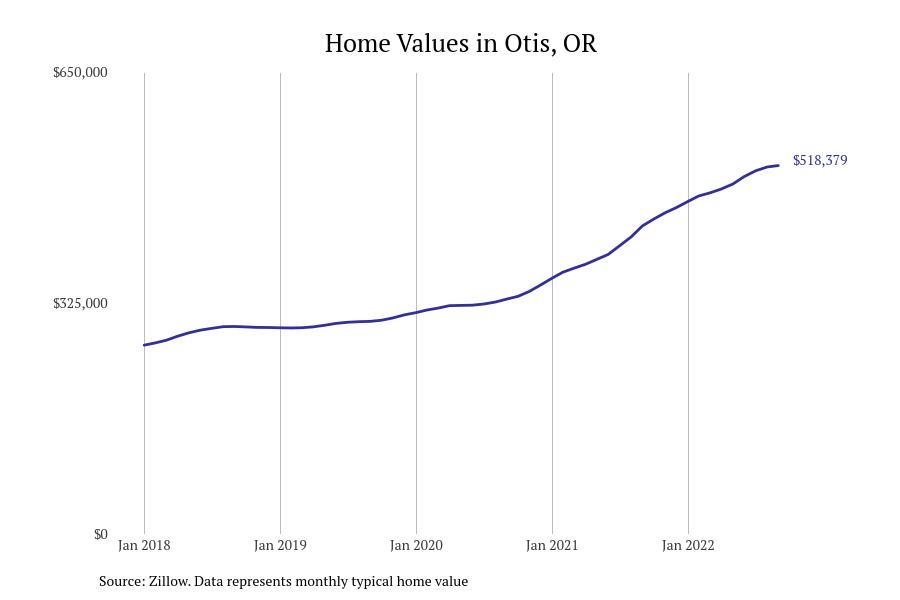 20 / 50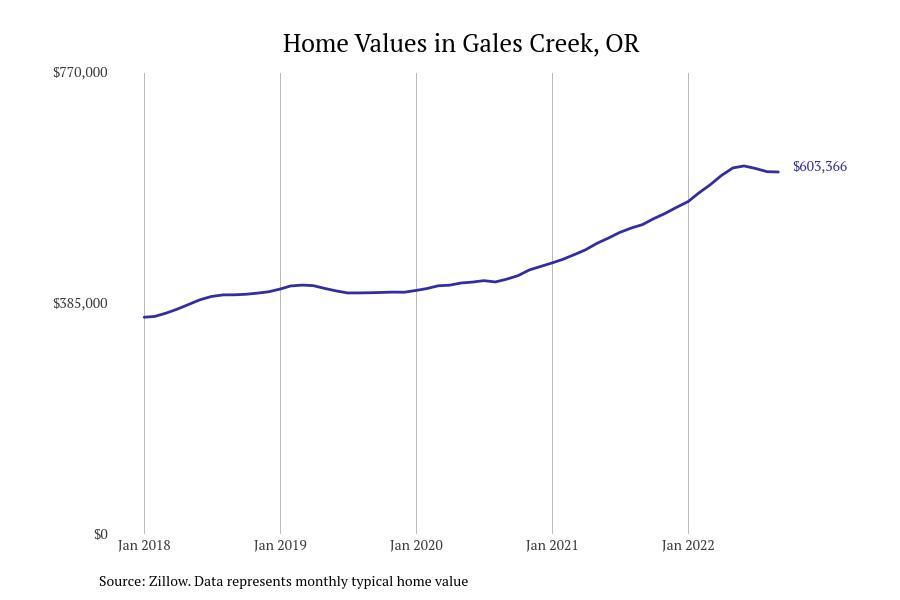 21 / 50
#30. Gales Creek
- Typical home value: $603,366
- 1-year price change: +$87,771 (+17.0%)
- 5-year price change: +$253,301 (+72.4%)
- Metro area: Portland-Vancouver-Hillsboro, OR-WA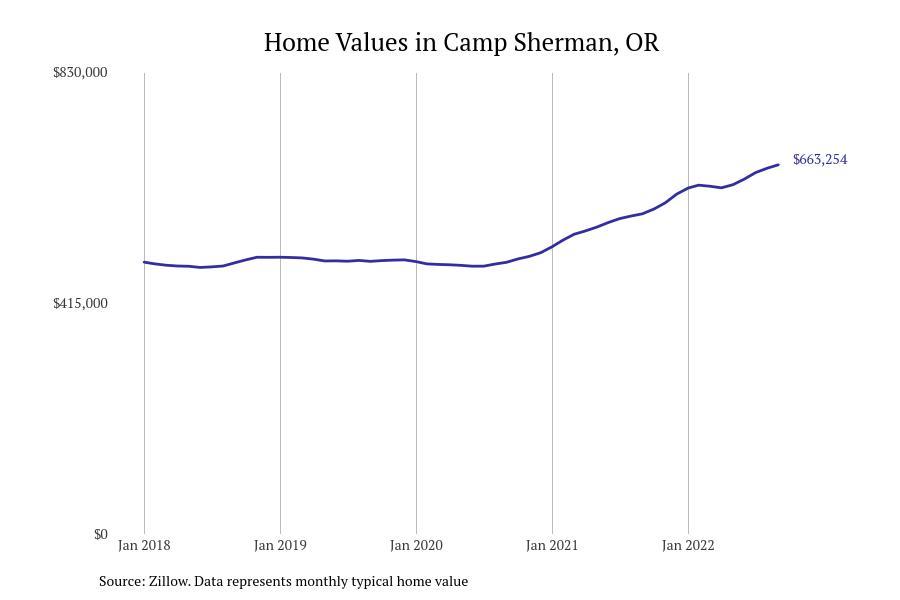 22 / 50
#29. Camp Sherman
- Typical home value: $663,254
- 1-year price change: +$88,006 (+15.3%)
- 5-year price change: +$181,419 (+37.7%)
- Metro area: not in a metro area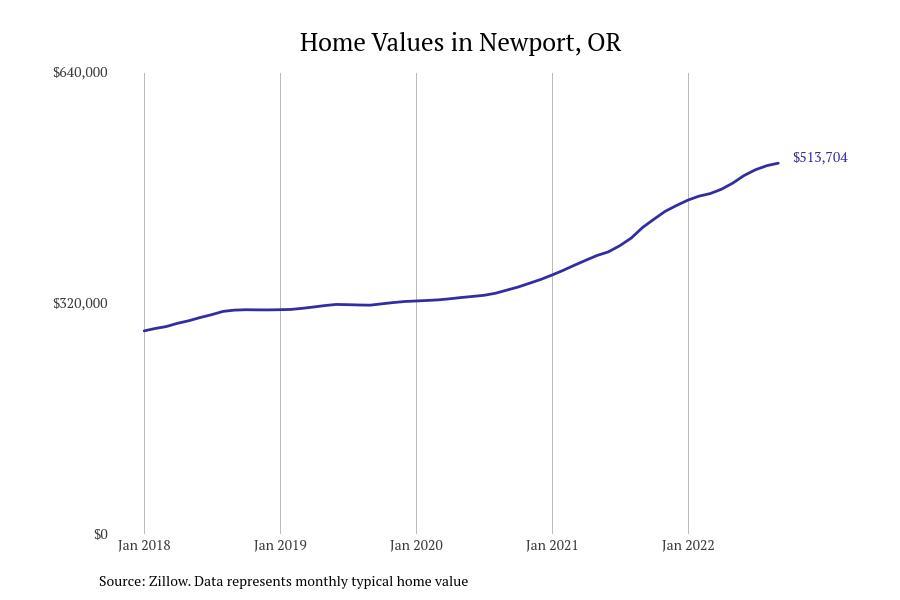 23 / 50
#28. Newport
- Typical home value: $513,704
- 1-year price change: +$89,315 (+21.0%)
- 5-year price change: +$236,374 (+85.2%)
- Metro area: Newport, OR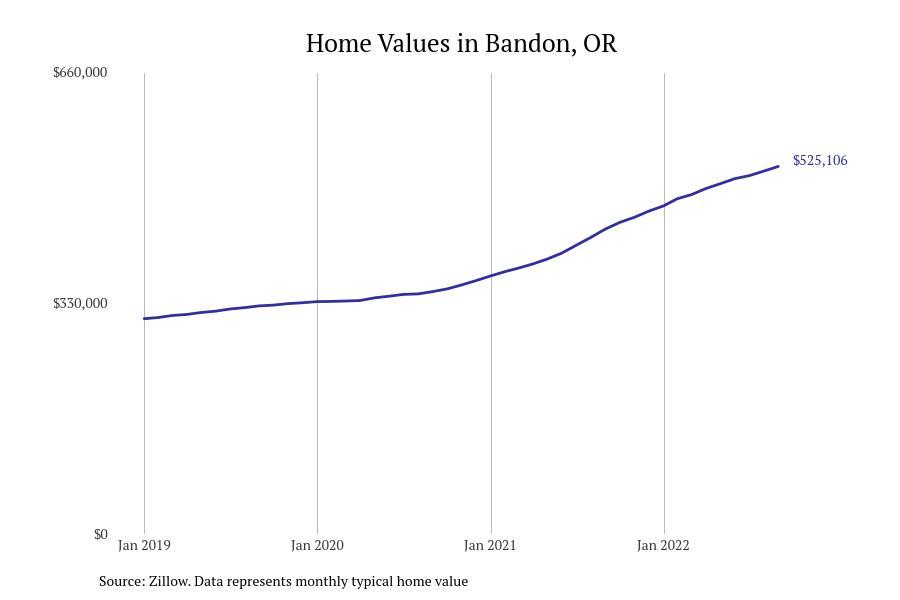 24 / 50
#27. Bandon
- Typical home value: $525,106
- 1-year price change: +$89,497 (+20.5%)
- 5-year price change: +$231,037 (+78.6%)
- Metro area: Coos Bay, OR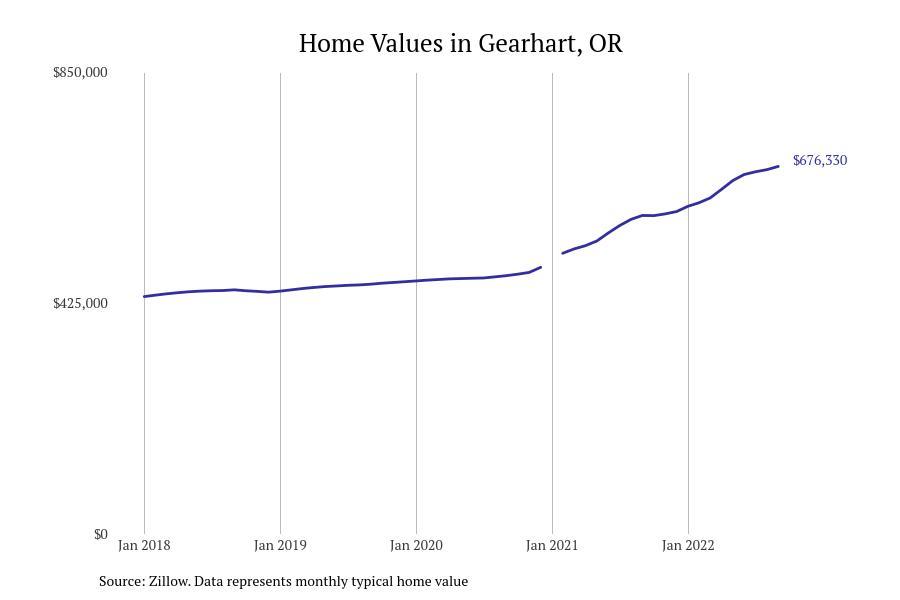 25 / 50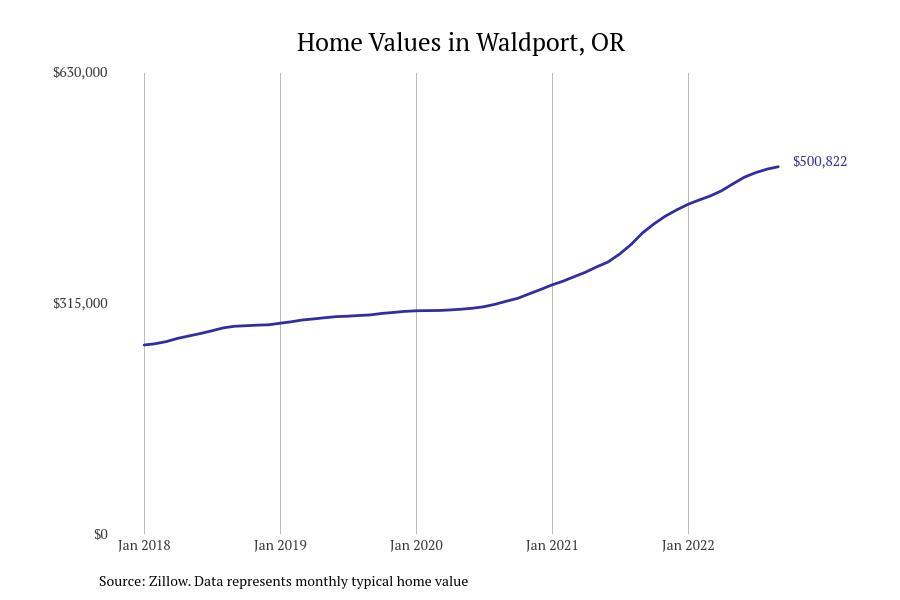 26 / 50
#25. Waldport
- Typical home value: $500,822
- 1-year price change: +$90,397 (+22.0%)
- 5-year price change: +$243,871 (+94.9%)
- Metro area: Newport, OR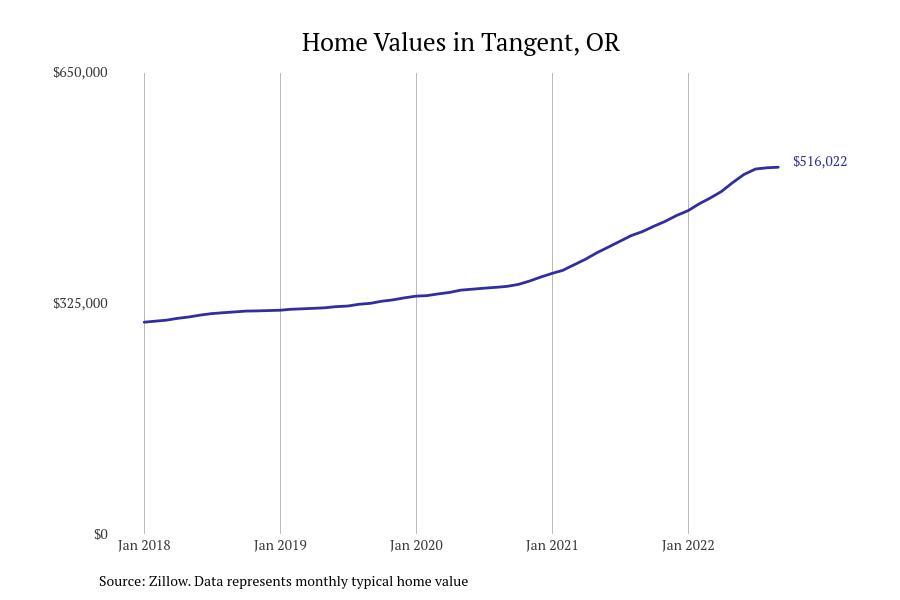 27 / 50
#24. Tangent
- Typical home value: $516,022
- 1-year price change: +$90,588 (+21.3%)
- 5-year price change: +$220,907 (+74.9%)
- Metro area: Albany-Lebanon, OR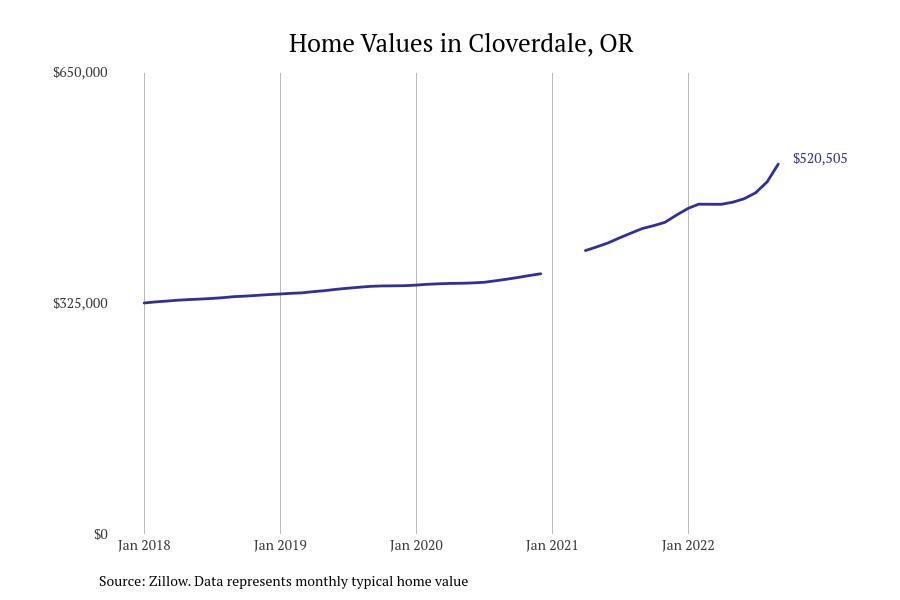 28 / 50
#23. Cloverdale
- Typical home value: $520,505
- 1-year price change: +$90,696 (+21.1%)
- 5-year price change: +$199,095 (+61.9%)
- Metro area: not in a metro area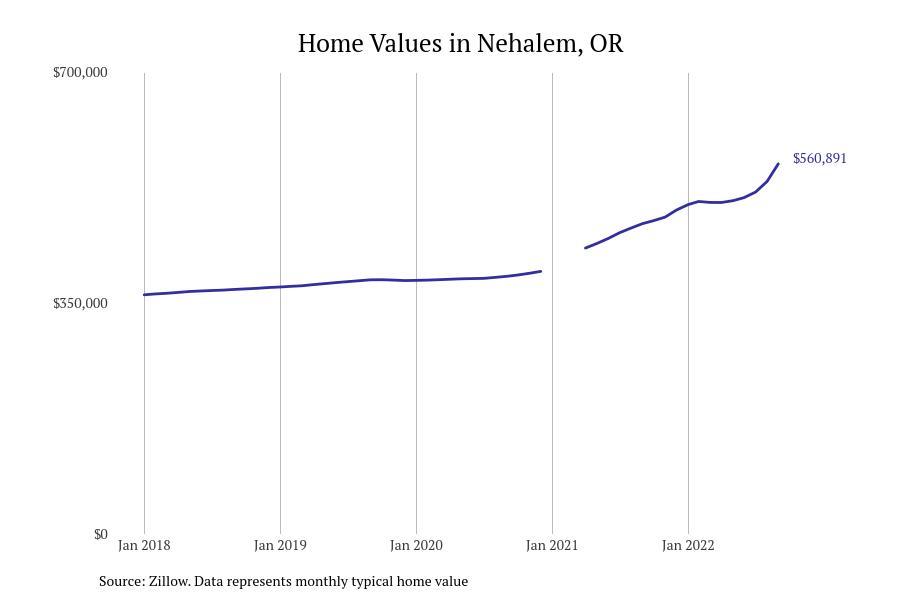 29 / 50
#22. Nehalem
- Typical home value: $560,891
- 1-year price change: +$90,720 (+19.3%)
- 5-year price change: +$203,006 (+56.7%)
- Metro area: not in a metro area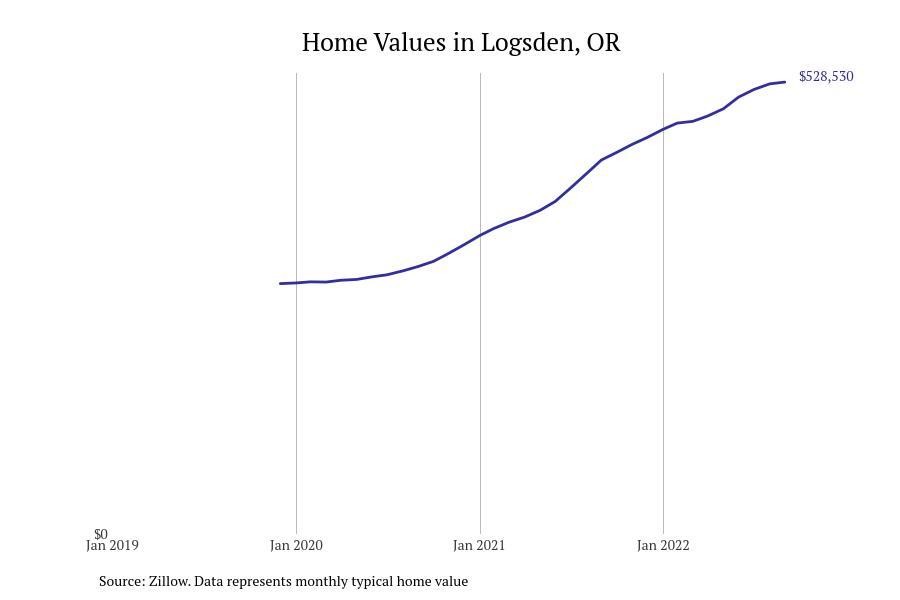 30 / 50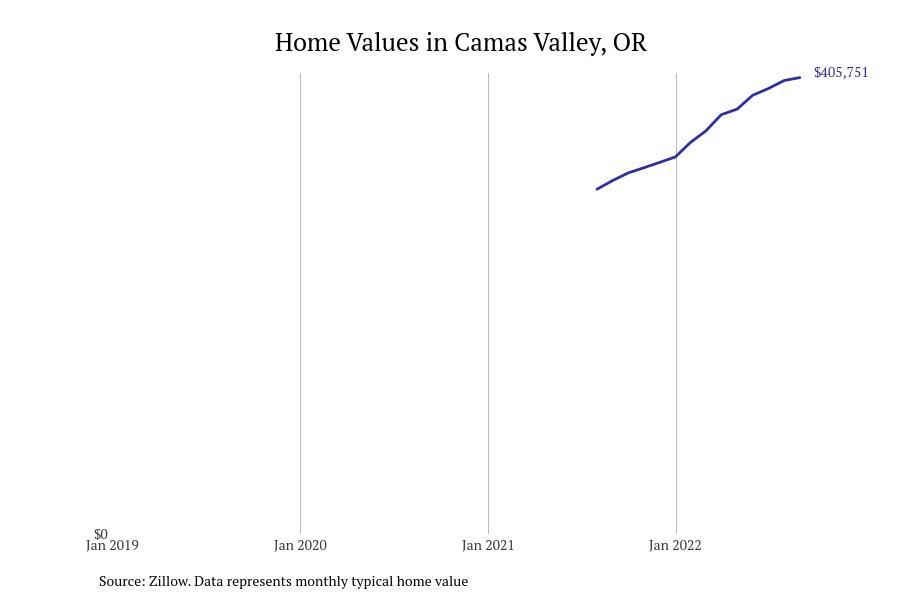 31 / 50
#20. Camas Valley
- Typical home value: $405,751
- 1-year price change: +$91,671 (+29.2%)
- 5-year price change: data not available
- Metro area: Roseburg, OR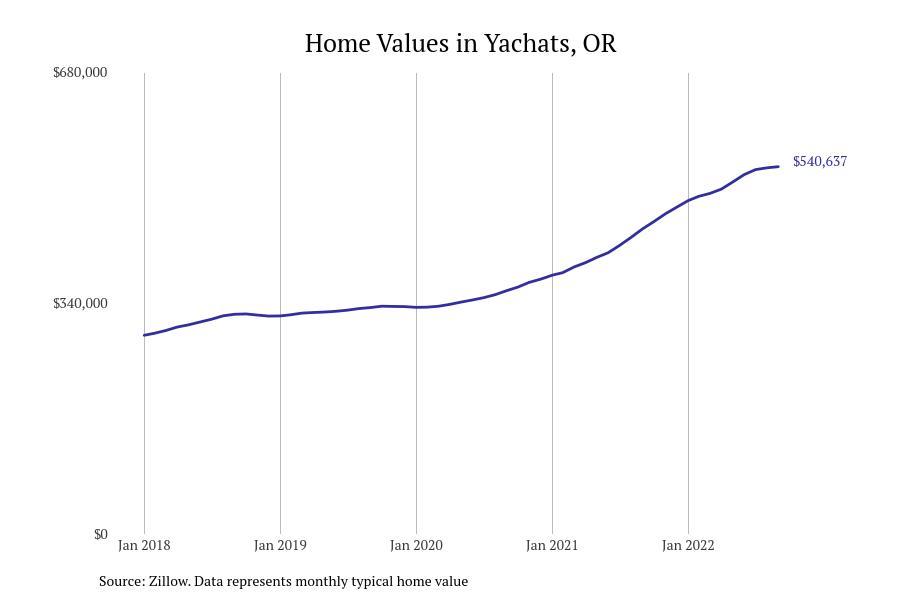 32 / 50
#19. Yachats
- Typical home value: $540,637
- 1-year price change: +$91,696 (+20.4%)
- 5-year price change: +$256,490 (+90.3%)
- Metro area: Newport, OR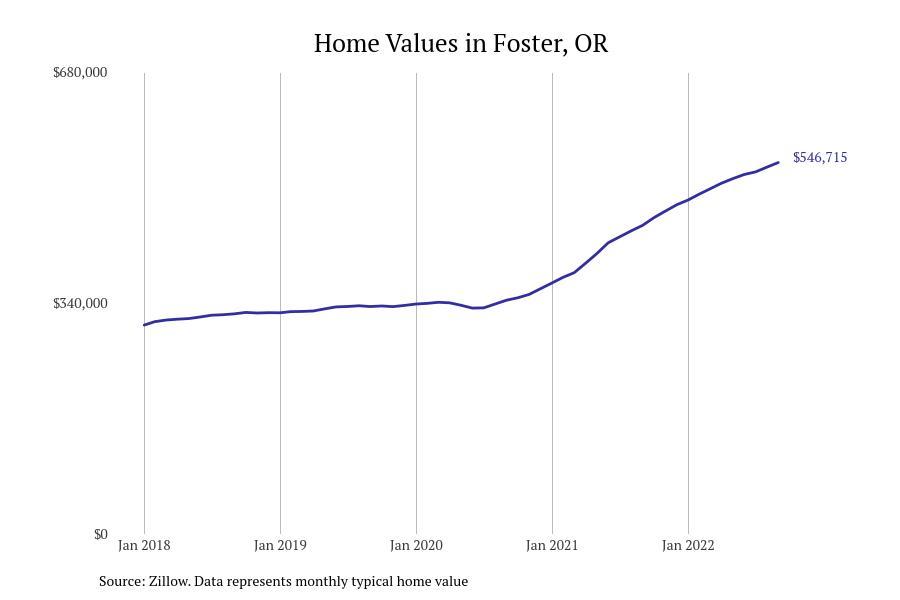 33 / 50
#18. Foster
- Typical home value: $546,715
- 1-year price change: +$92,621 (+20.4%)
- 5-year price change: +$248,330 (+83.2%)
- Metro area: Albany-Lebanon, OR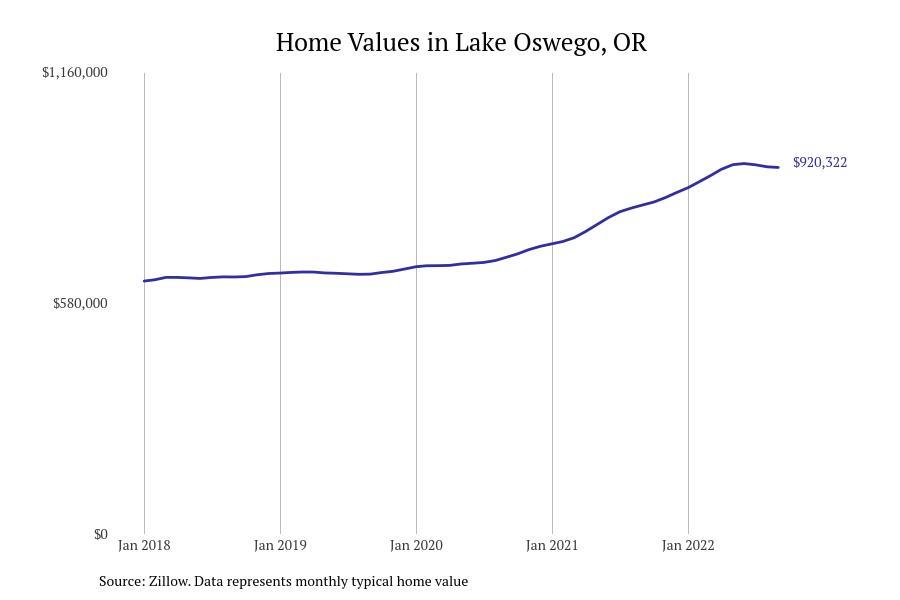 34 / 50
#17. Lake Oswego
- Typical home value: $920,322
- 1-year price change: +$94,424 (+11.4%)
- 5-year price change: +$293,781 (+46.9%)
- Metro area: Portland-Vancouver-Hillsboro, OR-WA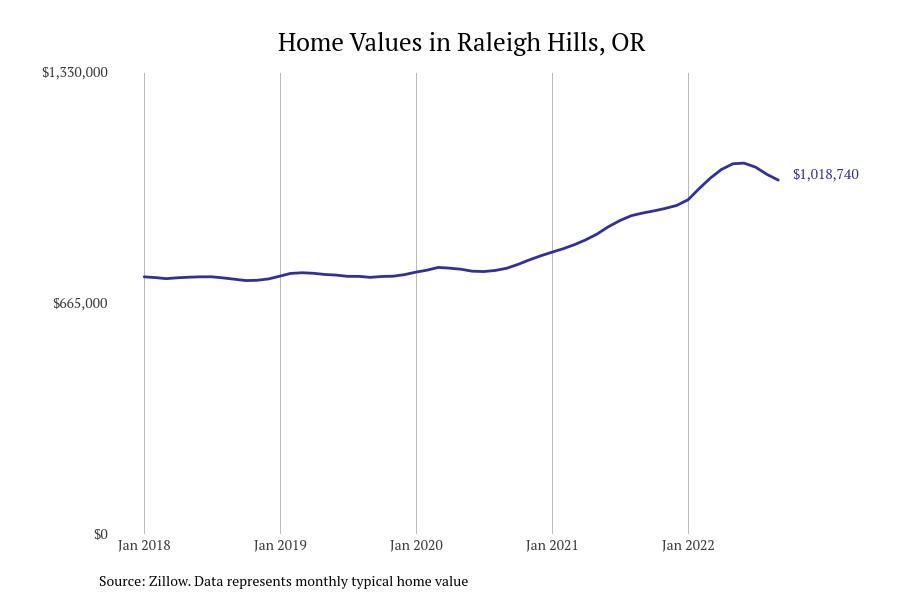 35 / 50
#16. Raleigh Hills
- Typical home value: $1,018,740
- 1-year price change: +$94,895 (+10.3%)
- 5-year price change: +$293,671 (+40.5%)
- Metro area: Portland-Vancouver-Hillsboro, OR-WA
You may also like: Best community colleges in Oregon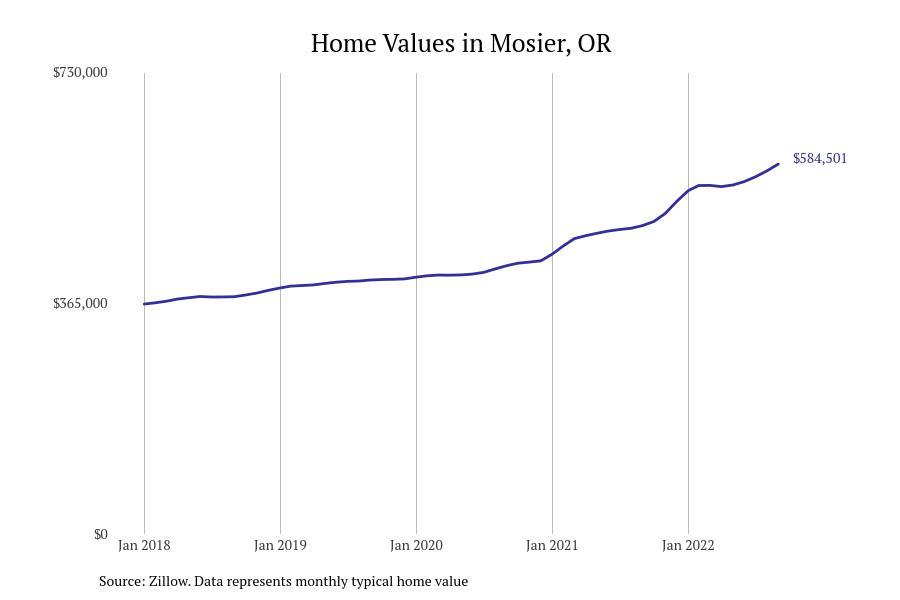 36 / 50
#15. Mosier
- Typical home value: $584,501
- 1-year price change: +$97,256 (+20.0%)
- 5-year price change: +$225,776 (+62.9%)
- Metro area: The Dalles, OR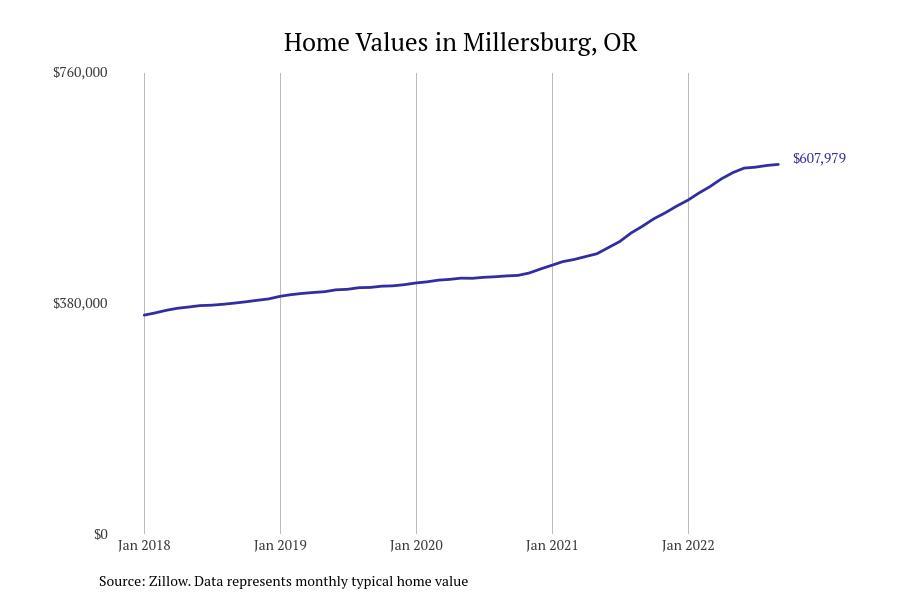 37 / 50
#14. Millersburg
- Typical home value: $607,979
- 1-year price change: +$101,737 (+20.1%)
- 5-year price change: +$250,872 (+70.3%)
- Metro area: Albany-Lebanon, OR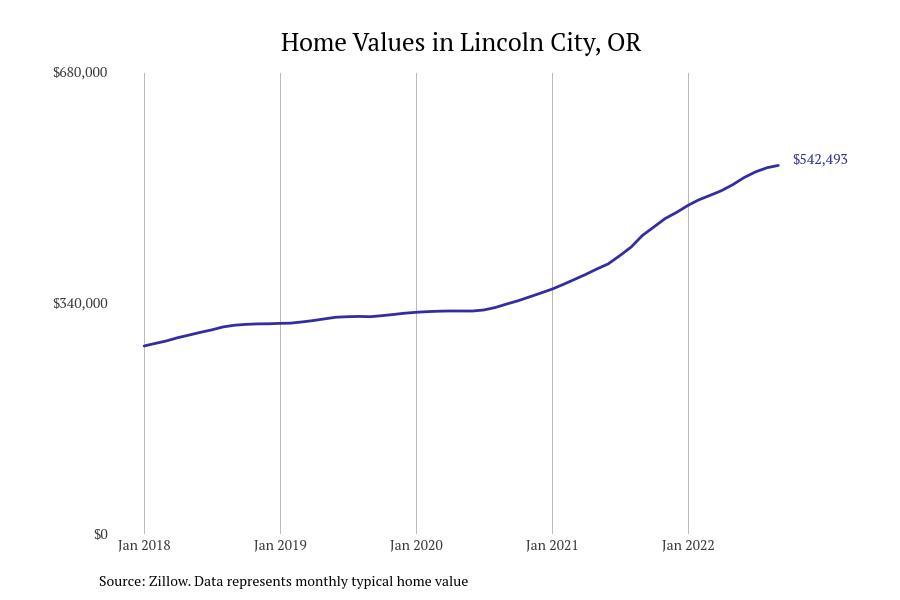 38 / 50
#13. Lincoln City
- Typical home value: $542,493
- 1-year price change: +$103,101 (+23.5%)
- 5-year price change: +$269,566 (+98.8%)
- Metro area: Newport, OR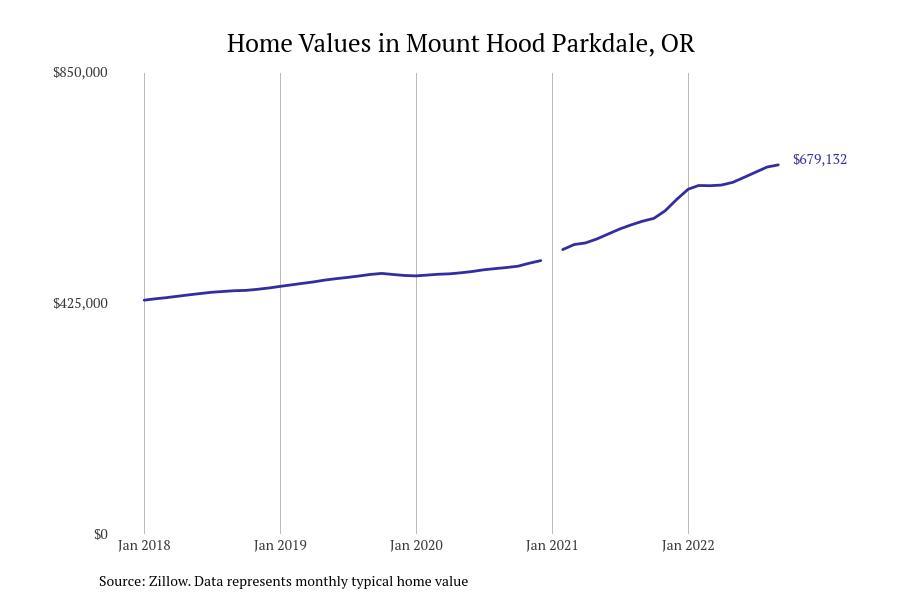 39 / 50
#12. Mount Hood Parkdale
- Typical home value: $679,132
- 1-year price change: +$103,748 (+18.0%)
- 5-year price change: +$256,214 (+60.6%)
- Metro area: Hood River, OR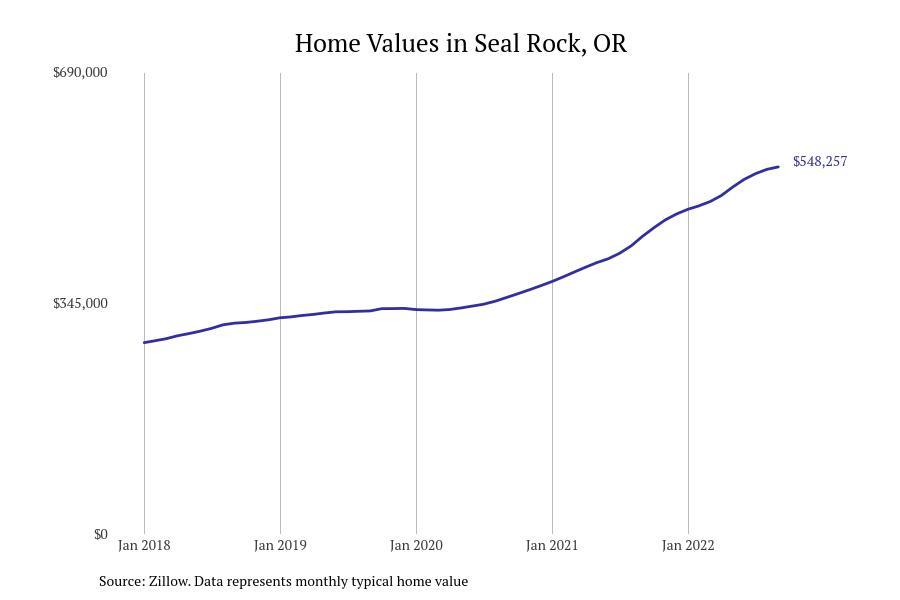 40 / 50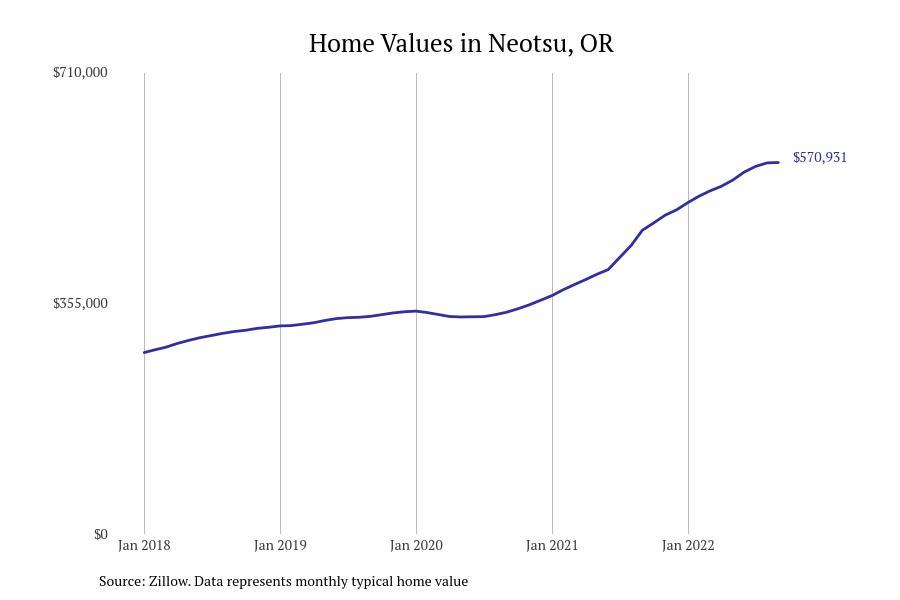 41 / 50
#10. Neotsu
- Typical home value: $570,931
- 1-year price change: +$104,067 (+22.3%)
- 5-year price change: +$312,214 (+120.7%)
- Metro area: Newport, OR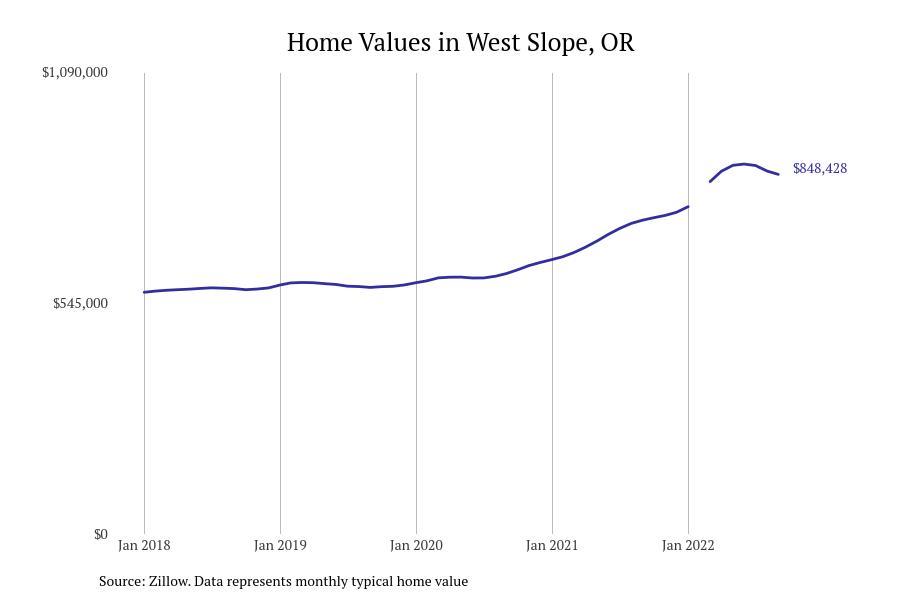 42 / 50
#9. West Slope
- Typical home value: $848,428
- 1-year price change: +$108,113 (+14.6%)
- 5-year price change: +$292,035 (+52.5%)
- Metro area: Portland-Vancouver-Hillsboro, OR-WA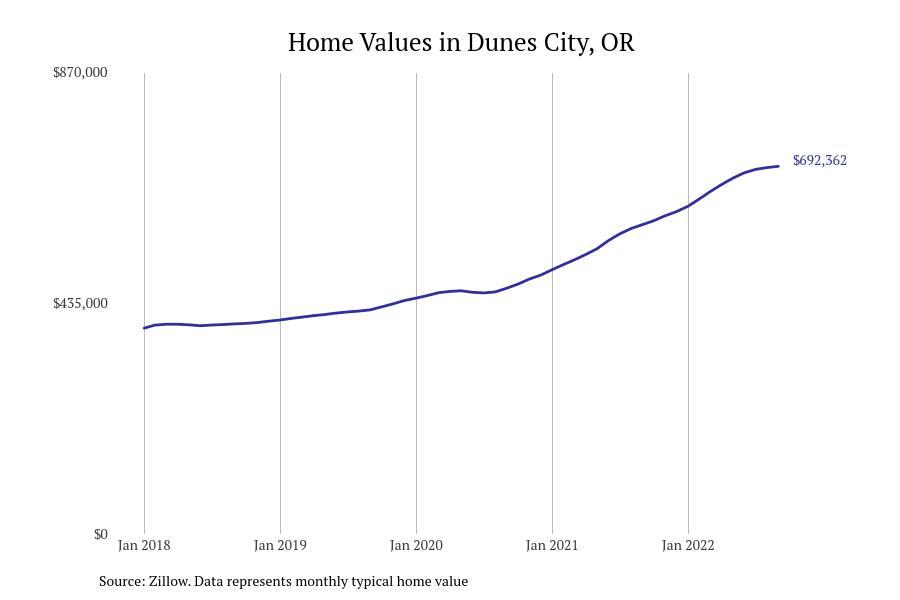 43 / 50
#8. Dunes City
- Typical home value: $692,362
- 1-year price change: +$109,873 (+18.9%)
- 5-year price change: +$321,888 (+86.9%)
- Metro area: Eugene-Springfield, OR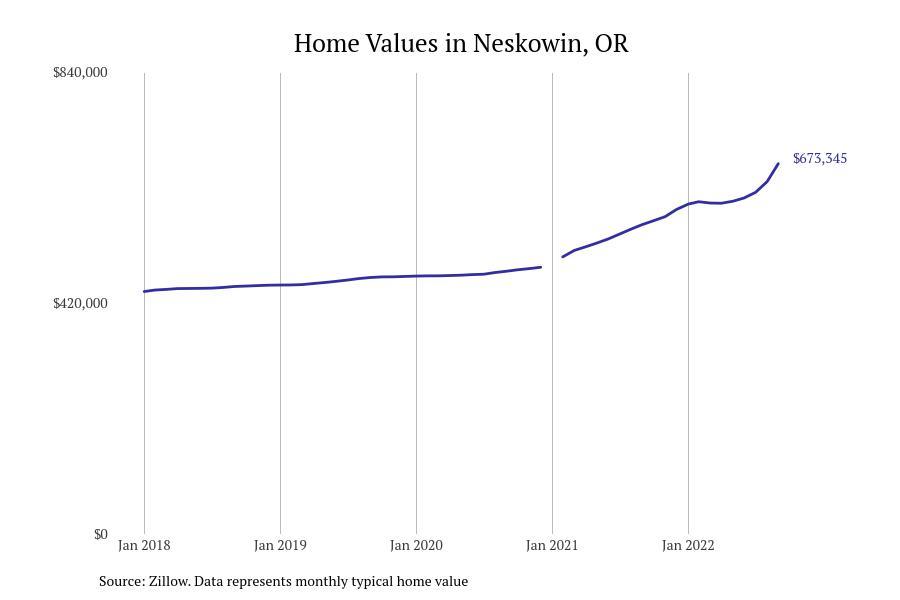 44 / 50
#7. Neskowin
- Typical home value: $673,345
- 1-year price change: +$110,669 (+19.7%)
- 5-year price change: +$239,519 (+55.2%)
- Metro area: not in a metro area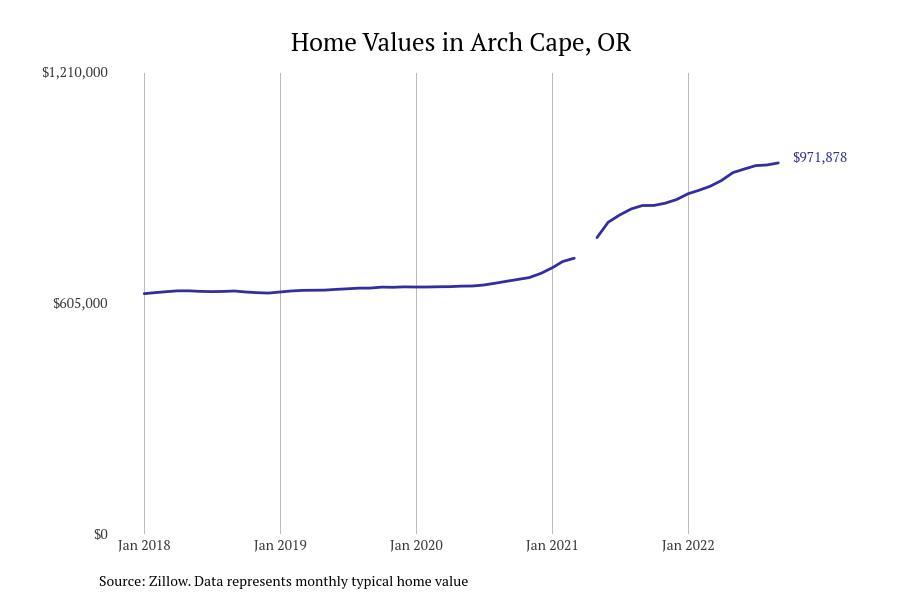 45 / 50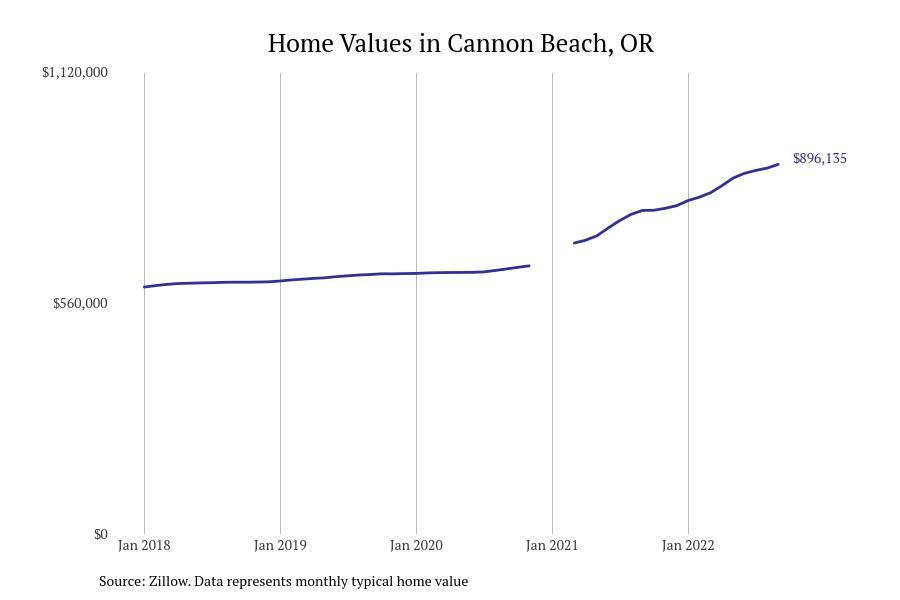 46 / 50
#5. Cannon Beach
- Typical home value: $896,135
- 1-year price change: +$111,772 (+14.3%)
- 5-year price change: +$301,274 (+50.6%)
- Metro area: Astoria, OR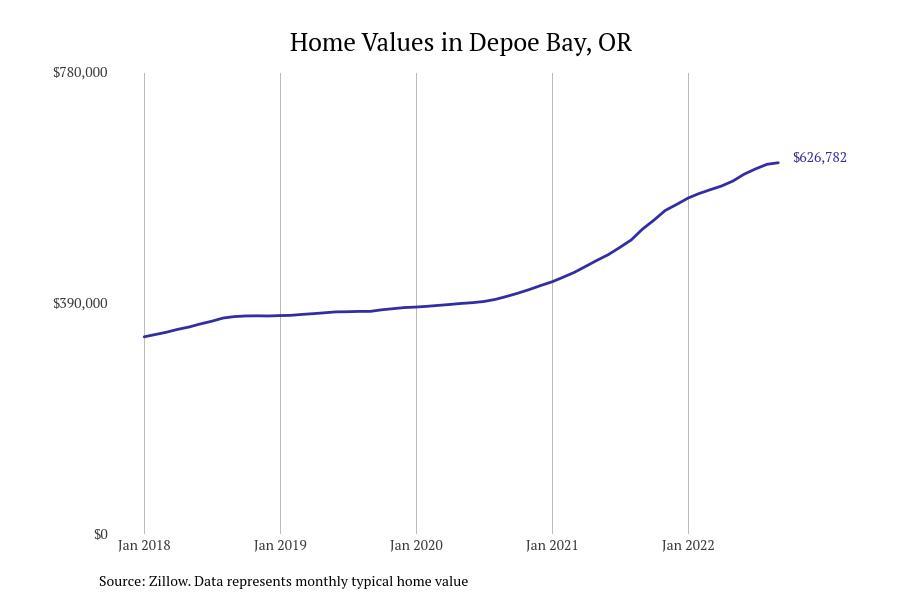 47 / 50
#4. Depoe Bay
- Typical home value: $626,782
- 1-year price change: +$112,184 (+21.8%)
- 5-year price change: +$294,961 (+88.9%)
- Metro area: Newport, OR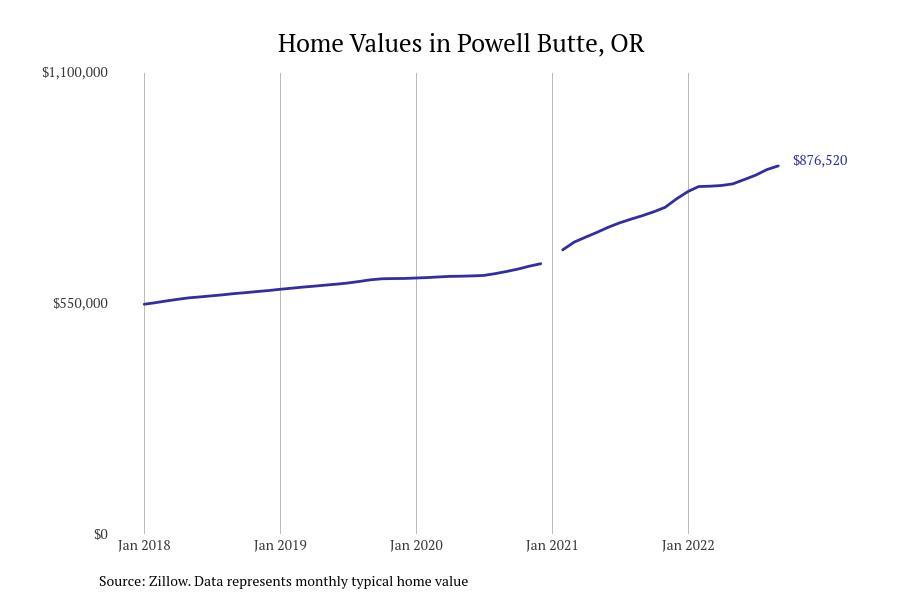 48 / 50
#3. Powell Butte
- Typical home value: $876,520
- 1-year price change: +$118,572 (+15.6%)
- 5-year price change: +$341,130 (+63.7%)
- Metro area: Prineville, OR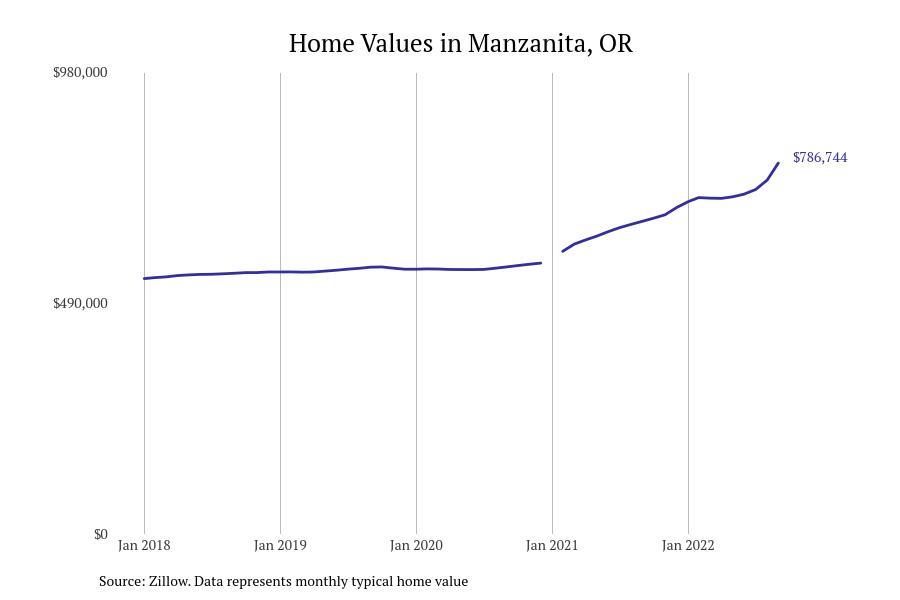 49 / 50
#2. Manzanita
- Typical home value: $786,744
- 1-year price change: +$123,413 (+18.6%)
- 5-year price change: +$243,296 (+44.8%)
- Metro area: not in a metro area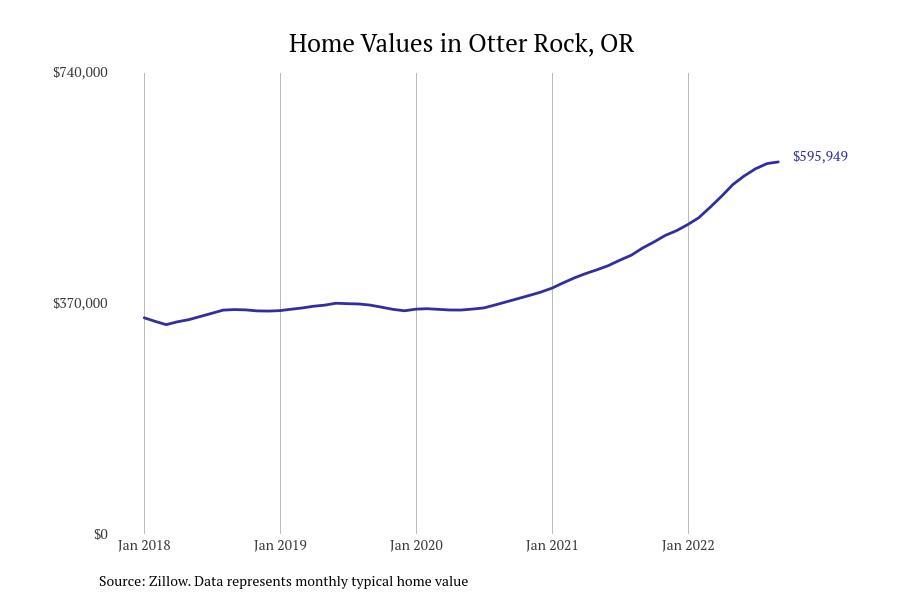 50 / 50