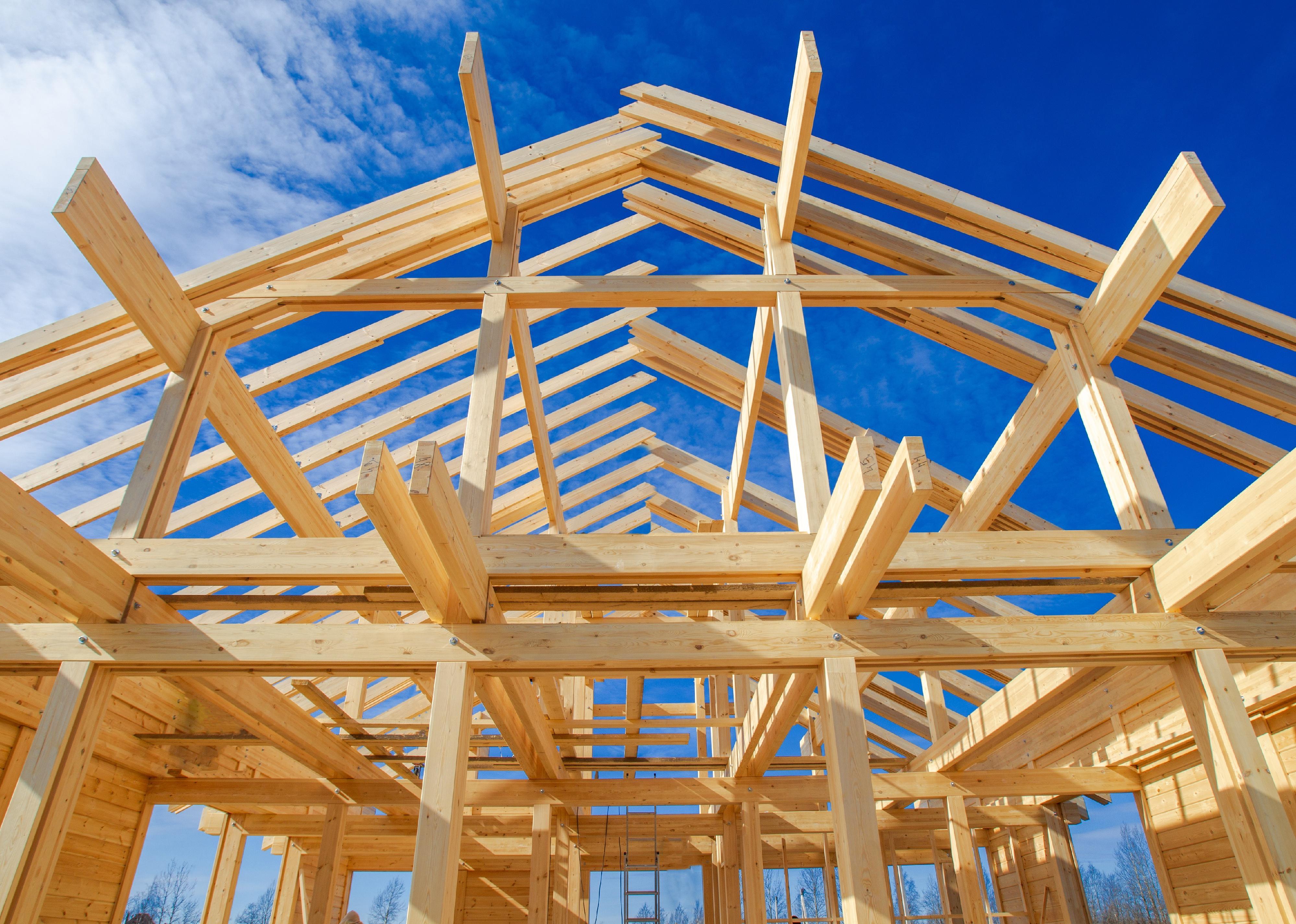 Cities with the most expensive homes in Oregon
Cities with the most expensive homes in Oregon
Stacker compiled a list of cities with the most expensive homes in Oregon using data from Zillow. Cities are ranked by the Zillow Home Values Index for all homes as of September 2022. The charts in this story were created automatically using Matplotlib. The most expensive city on the list has a typical home value of $1,018,740 which is 98% higher than the state average of $515,439.
Metros with the most cities in the top 30 in Oregon
#1. Portland-Vancouver-Hillsboro, OR-WA: 16
#2. Astoria, OR: 3
#3. Eugene-Springfield, OR: 2
#3. Hood River, OR: 2
#3. Salem, OR: 2
#6. Albany-Lebanon, OR: 1
#6. Bend, OR: 1
#6. Prineville, OR: 1
Read on to see which cities made the list.
You may also like: Portland protests ignite: A major civil rights moment in Oregon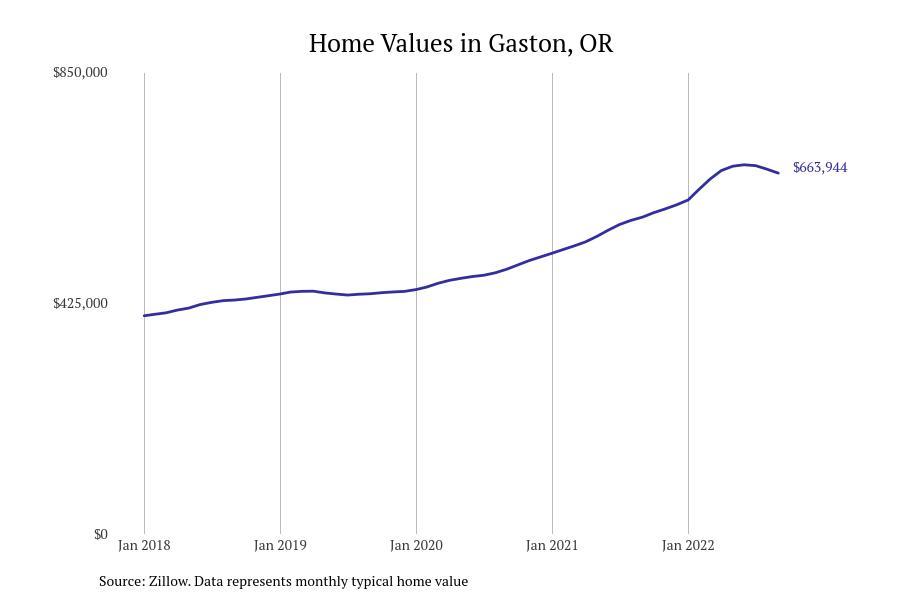 1 / 30
#30. Gaston
- Typical home value: $663,944
- 1-year price change: +13.9%
- 5-year price change: +69.1%
- Metro area: Portland-Vancouver-Hillsboro, OR-WA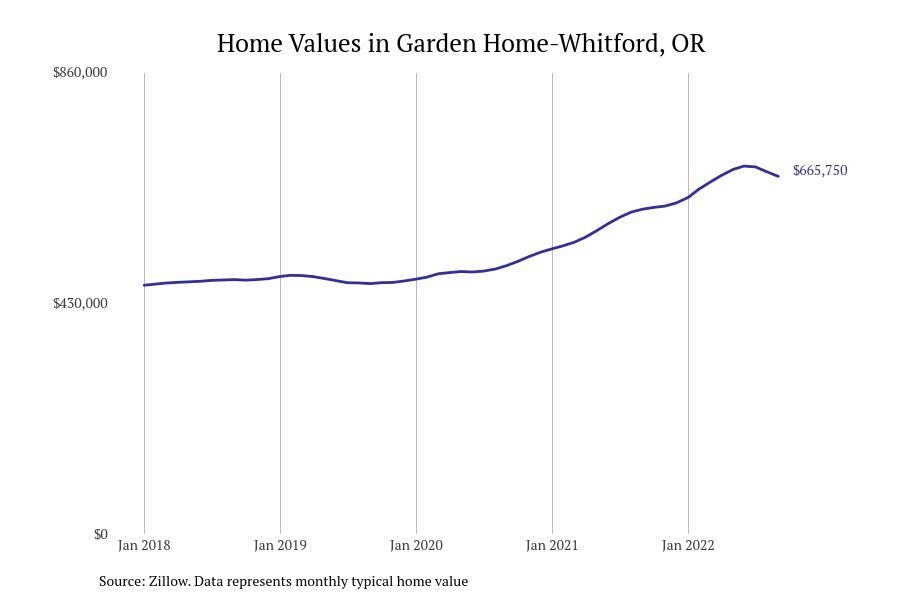 2 / 30
#29. Garden Home-Whitford
- Typical home value: $665,750
- 1-year price change: +10.1%
- 5-year price change: +47.5%
- Metro area: Portland-Vancouver-Hillsboro, OR-WA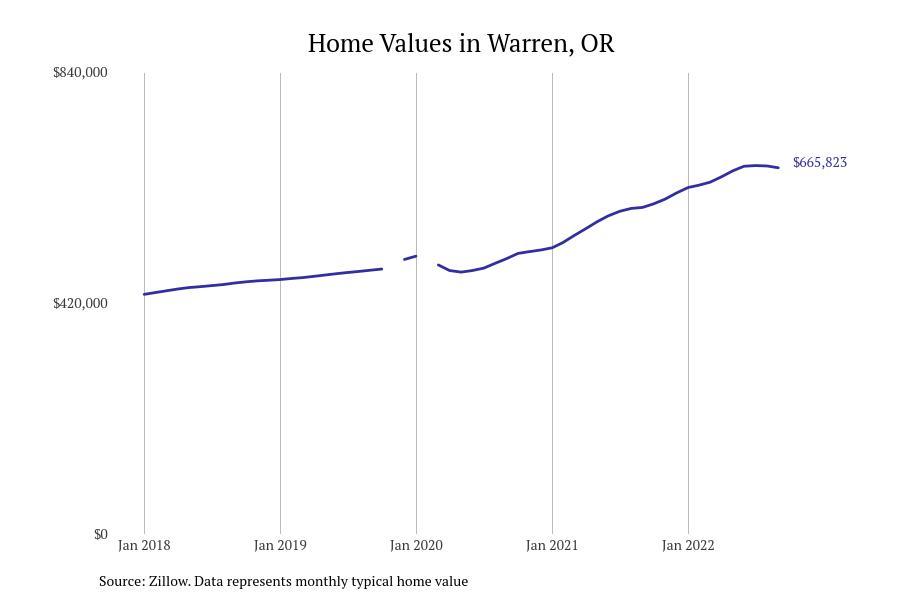 3 / 30
#28. Warren
- Typical home value: $665,823
- 1-year price change: +12.1%
- 5-year price change: +57.6%
- Metro area: Portland-Vancouver-Hillsboro, OR-WA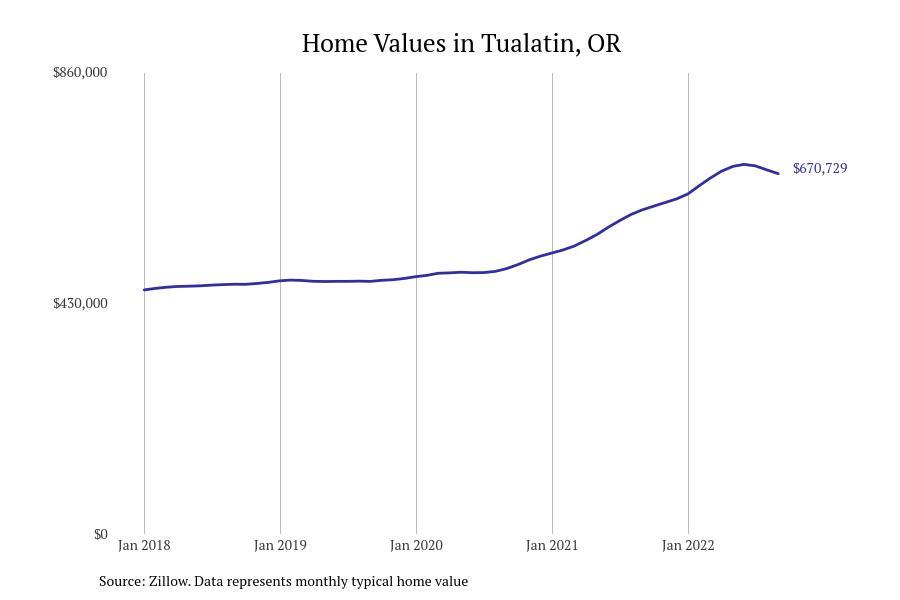 4 / 30
#27. Tualatin
- Typical home value: $670,729
- 1-year price change: +11.1%
- 5-year price change: +50.9%
- Metro area: Portland-Vancouver-Hillsboro, OR-WA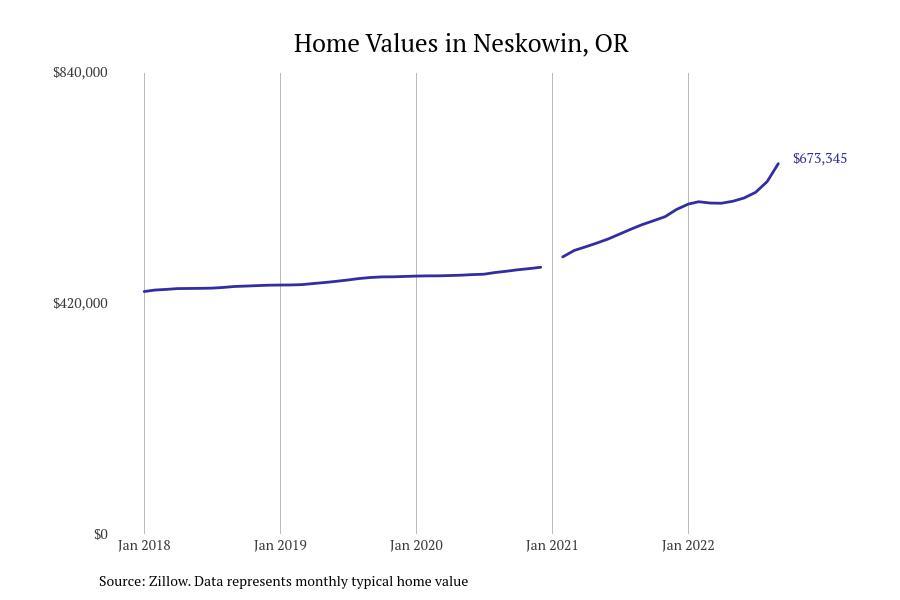 5 / 30
#26. Neskowin
- Typical home value: $673,345
- 1-year price change: +19.7%
- 5-year price change: +55.2%
- Metro area: not in a metro area
You may also like: Best places to retire in Oregon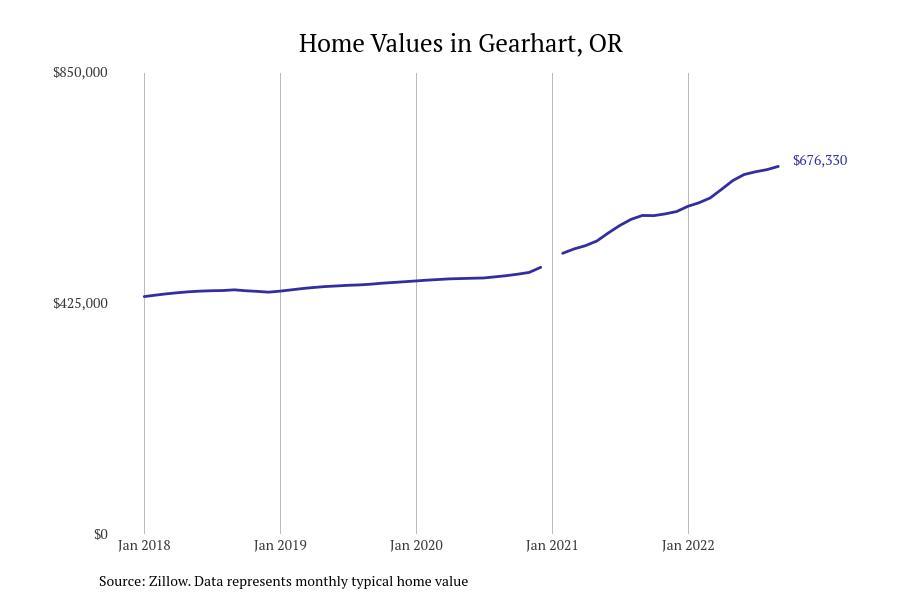 6 / 30
#25. Gearhart
- Typical home value: $676,330
- 1-year price change: +15.4%
- 5-year price change: +56.7%
- Metro area: Astoria, OR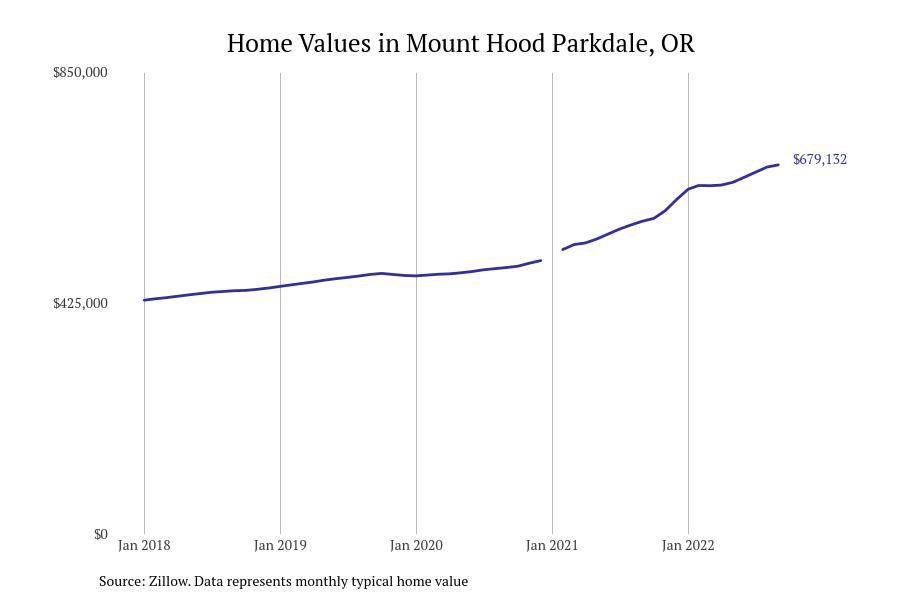 7 / 30
#24. Mount Hood Parkdale
- Typical home value: $679,132
- 1-year price change: +18.0%
- 5-year price change: +60.6%
- Metro area: Hood River, OR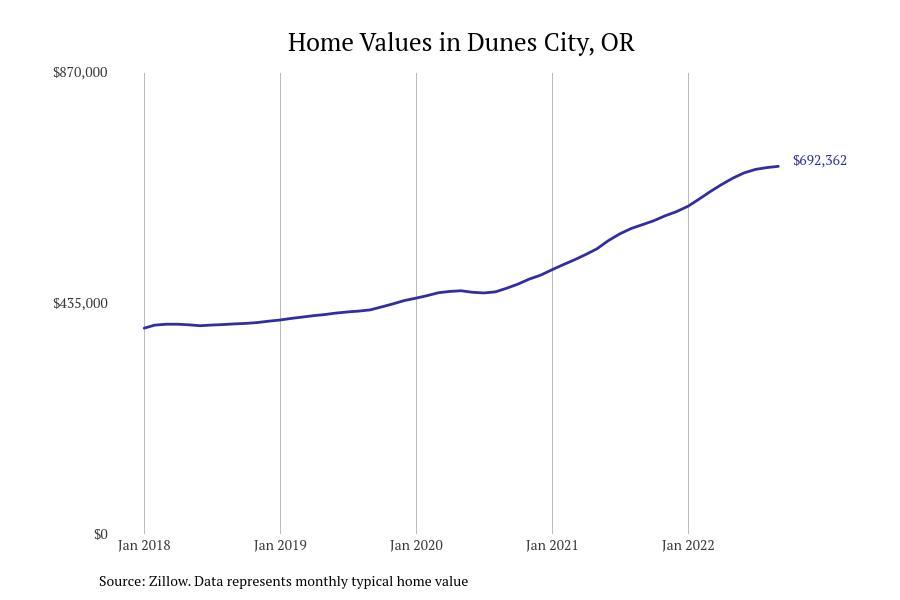 8 / 30
#23. Dunes City
- Typical home value: $692,362
- 1-year price change: +18.9%
- 5-year price change: +86.9%
- Metro area: Eugene-Springfield, OR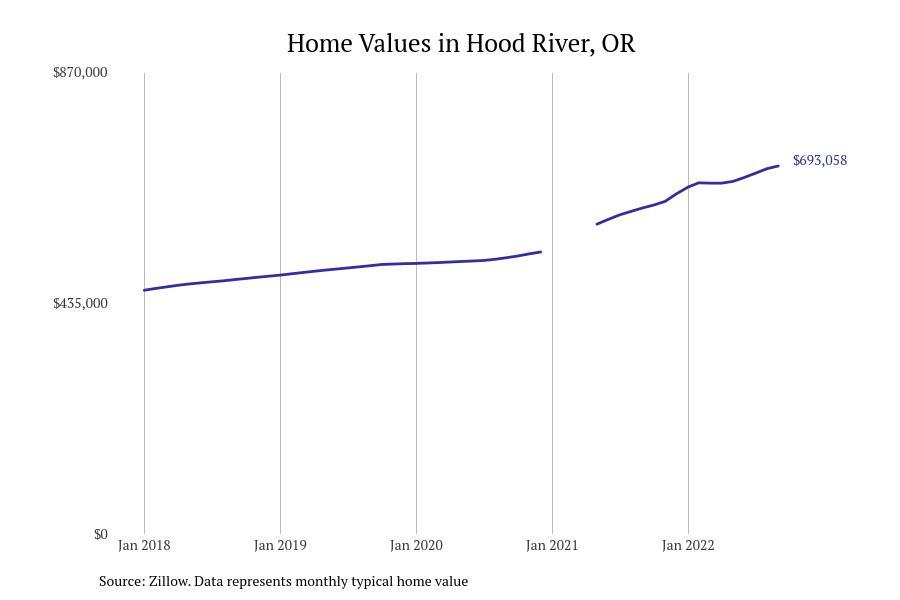 9 / 30
#22. Hood River
- Typical home value: $693,058
- 1-year price change: +12.9%
- 5-year price change: +53.5%
- Metro area: Hood River, OR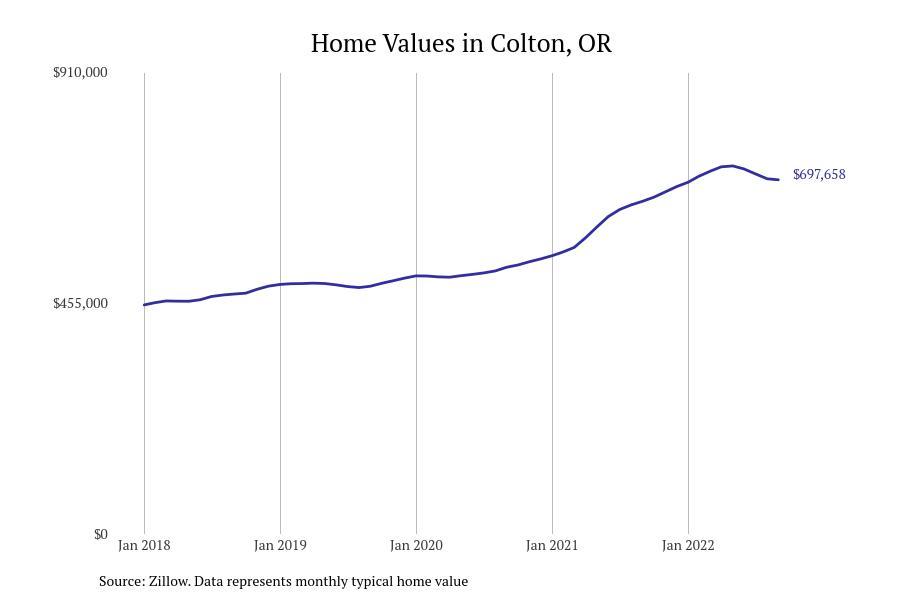 10 / 30
#21. Colton
- Typical home value: $697,658
- 1-year price change: +6.5%
- 5-year price change: +57.3%
- Metro area: Portland-Vancouver-Hillsboro, OR-WA
You may also like: Best colleges in Oregon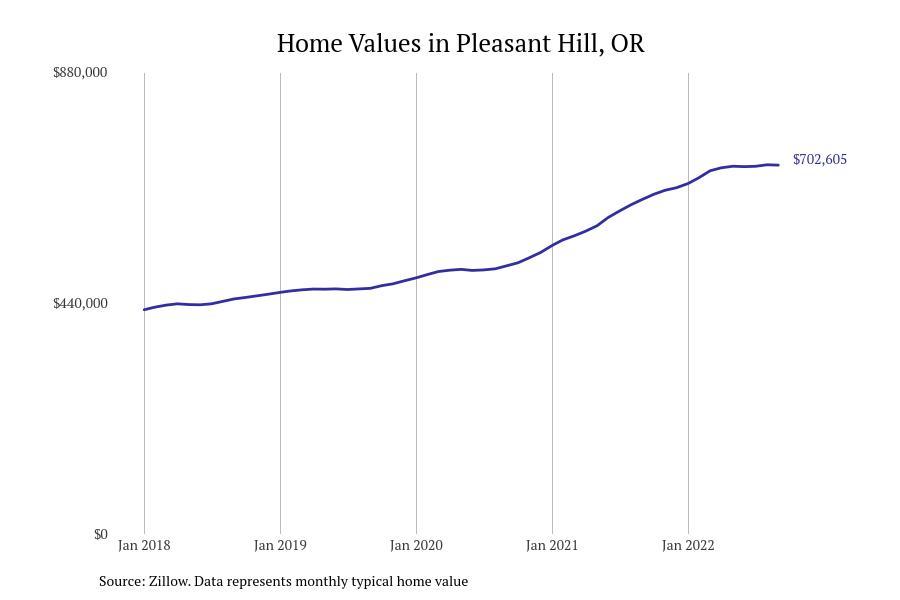 11 / 30
#20. Pleasant Hill
- Typical home value: $702,605
- 1-year price change: +10.2%
- 5-year price change: +70.9%
- Metro area: Eugene-Springfield, OR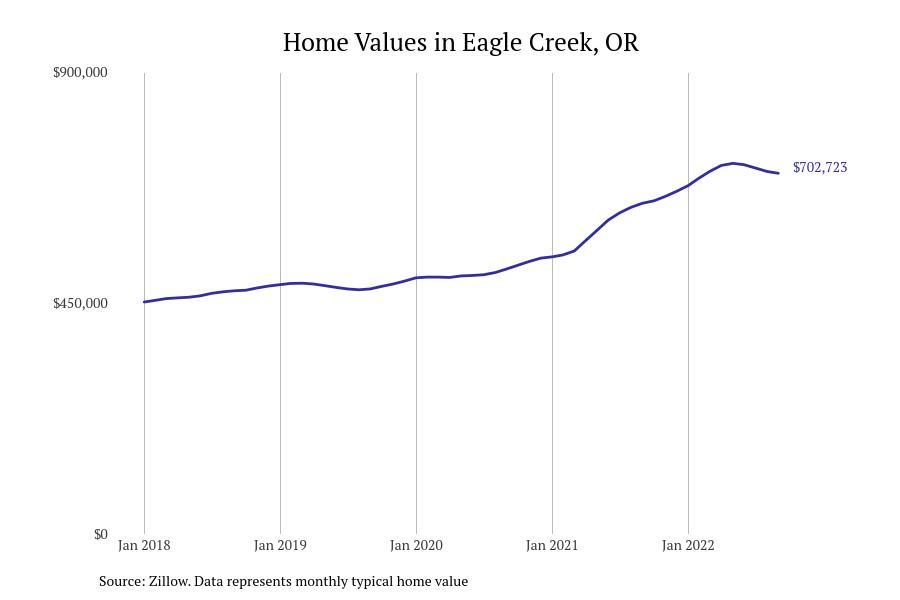 12 / 30
#19. Eagle Creek
- Typical home value: $702,723
- 1-year price change: +9.1%
- 5-year price change: +60.7%
- Metro area: Portland-Vancouver-Hillsboro, OR-WA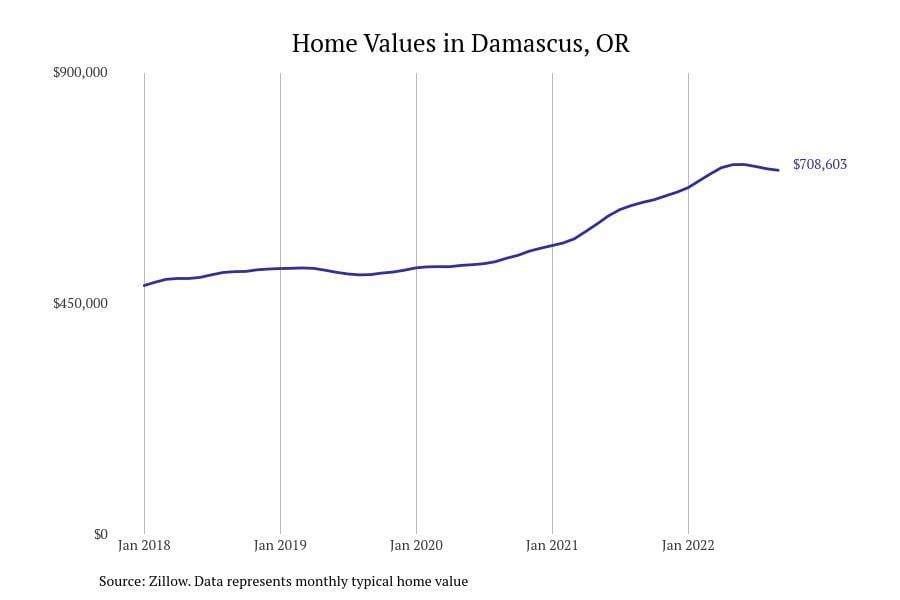 13 / 30
#18. Damascus
- Typical home value: $708,603
- 1-year price change: +9.7%
- 5-year price change: +50.6%
- Metro area: Portland-Vancouver-Hillsboro, OR-WA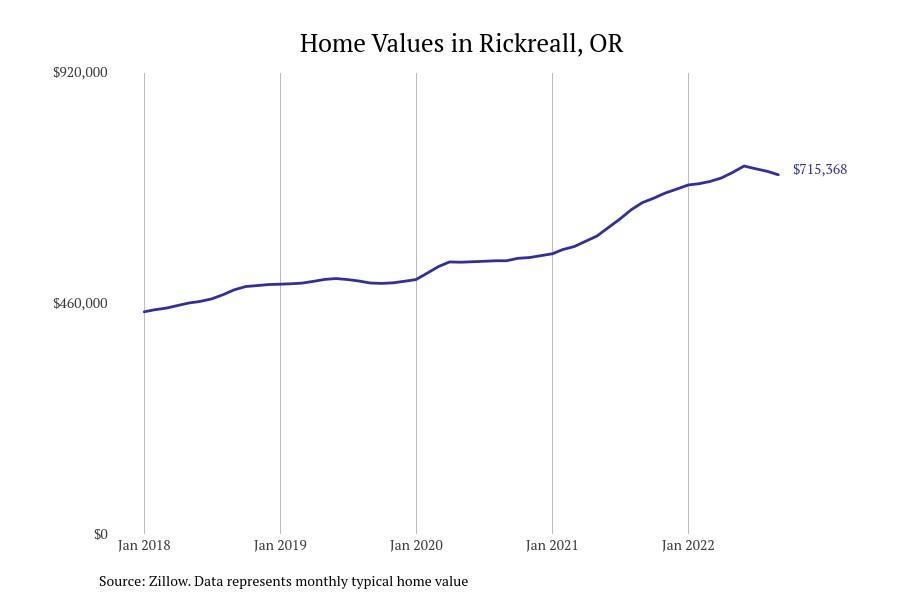 14 / 30
#17. Rickreall
- Typical home value: $715,368
- 1-year price change: +8.4%
- 5-year price change: +66.5%
- Metro area: Salem, OR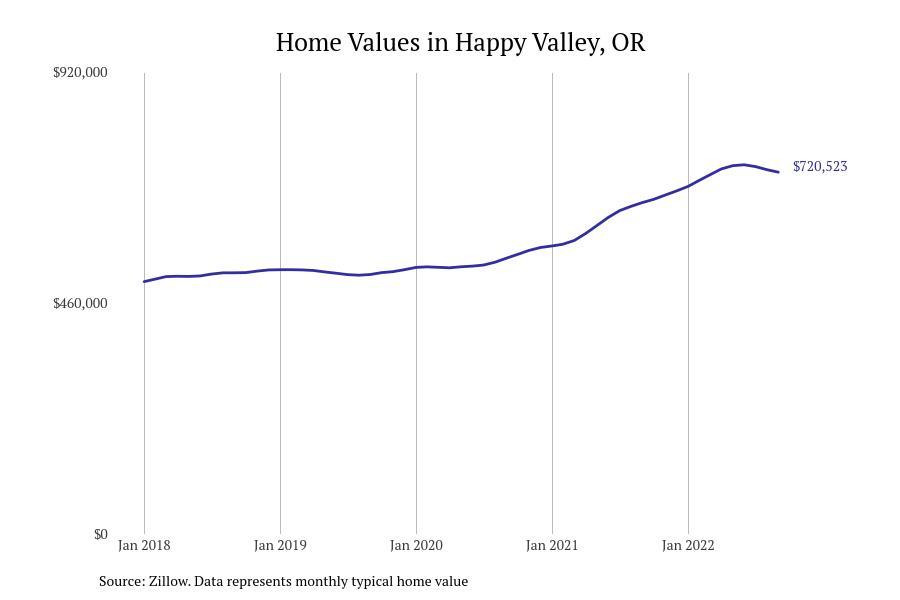 15 / 30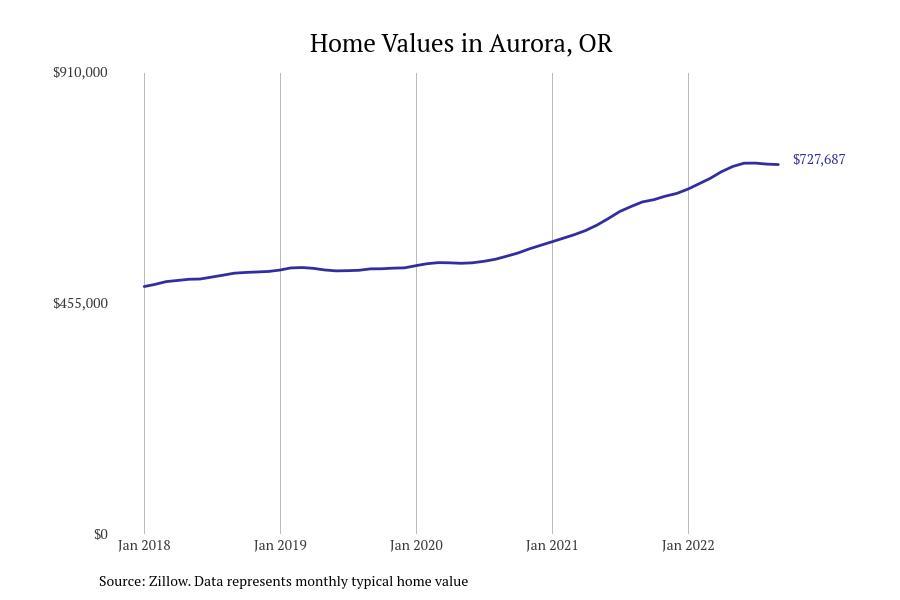 16 / 30
#15. Aurora
- Typical home value: $727,687
- 1-year price change: +11.3%
- 5-year price change: +54.3%
- Metro area: Salem, OR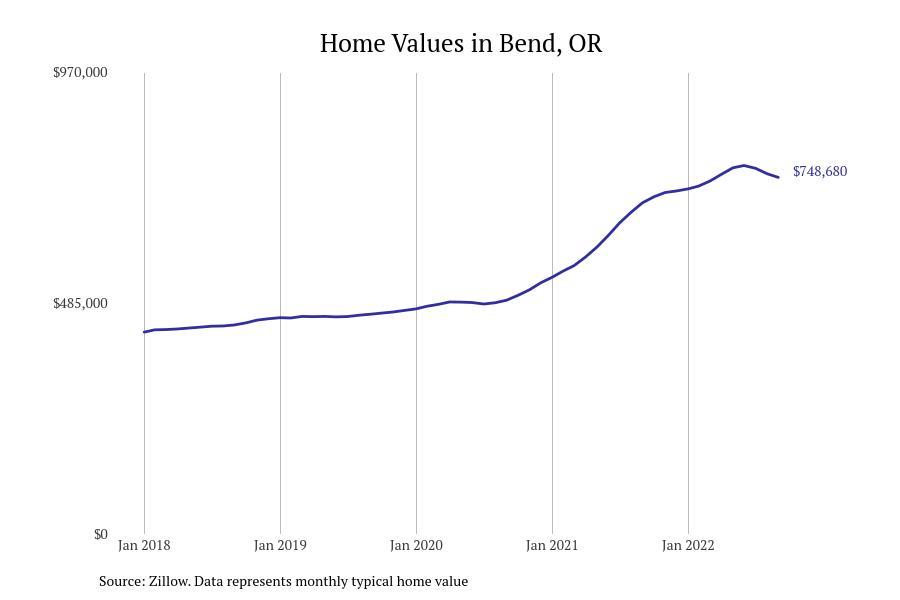 17 / 30
#14. Bend
- Typical home value: $748,680
- 1-year price change: +7.7%
- 5-year price change: +82.9%
- Metro area: Bend, OR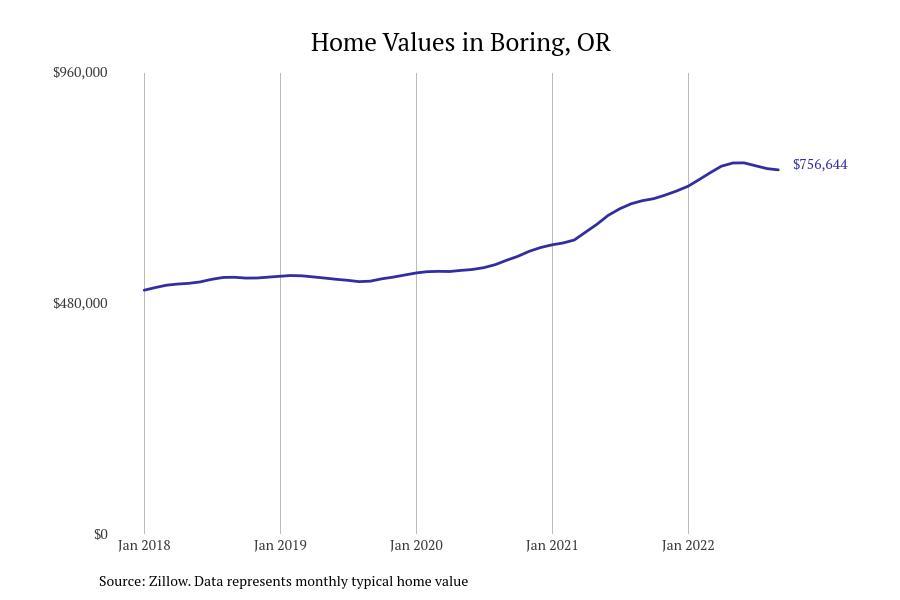 18 / 30
#13. Boring
- Typical home value: $756,644
- 1-year price change: +9.2%
- 5-year price change: +54.6%
- Metro area: Portland-Vancouver-Hillsboro, OR-WA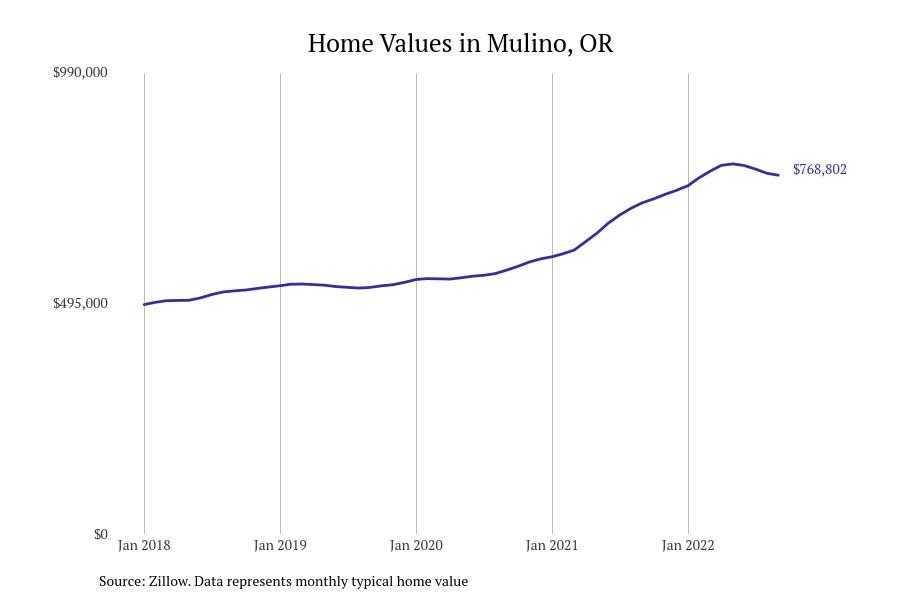 19 / 30
#12. Mulino
- Typical home value: $768,802
- 1-year price change: +8.3%
- 5-year price change: +60.5%
- Metro area: Portland-Vancouver-Hillsboro, OR-WA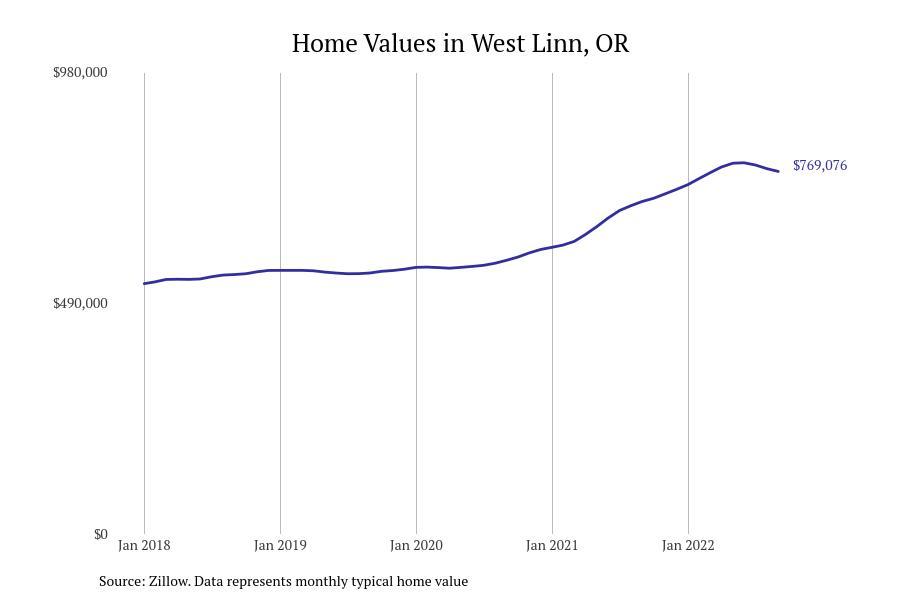 20 / 30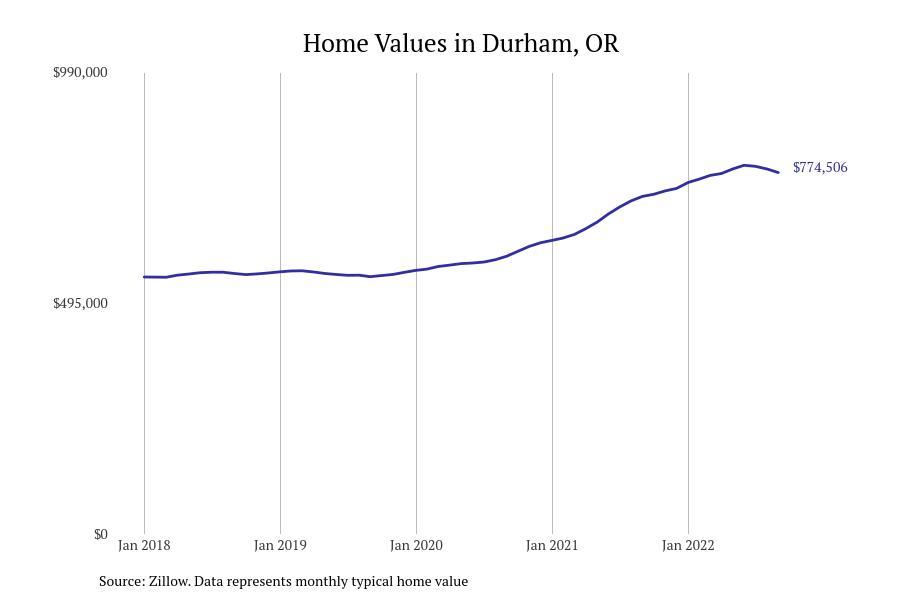 21 / 30
#10. Durham
- Typical home value: $774,506
- 1-year price change: +7.1%
- 5-year price change: +43.8%
- Metro area: Portland-Vancouver-Hillsboro, OR-WA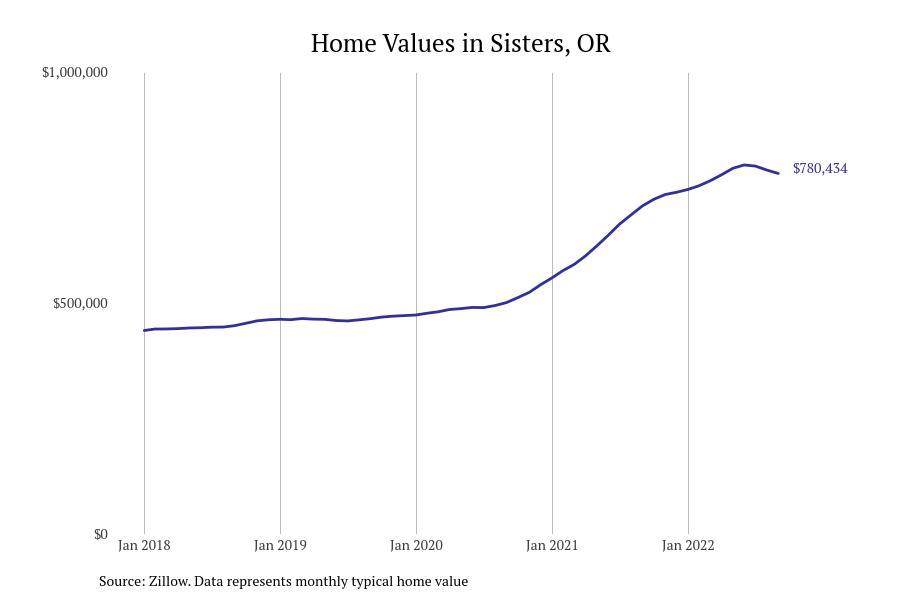 22 / 30
#9. Sisters
- Typical home value: $780,434
- 1-year price change: +9.9%
- 5-year price change: +82.6%
- Metro area: Albany-Lebanon, OR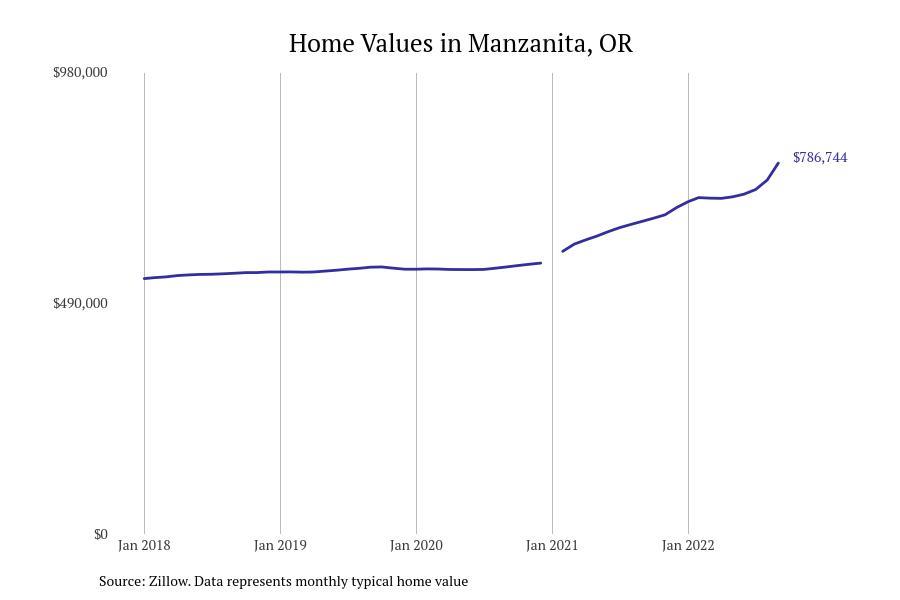 23 / 30
#8. Manzanita
- Typical home value: $786,744
- 1-year price change: +18.6%
- 5-year price change: +44.8%
- Metro area: not in a metro area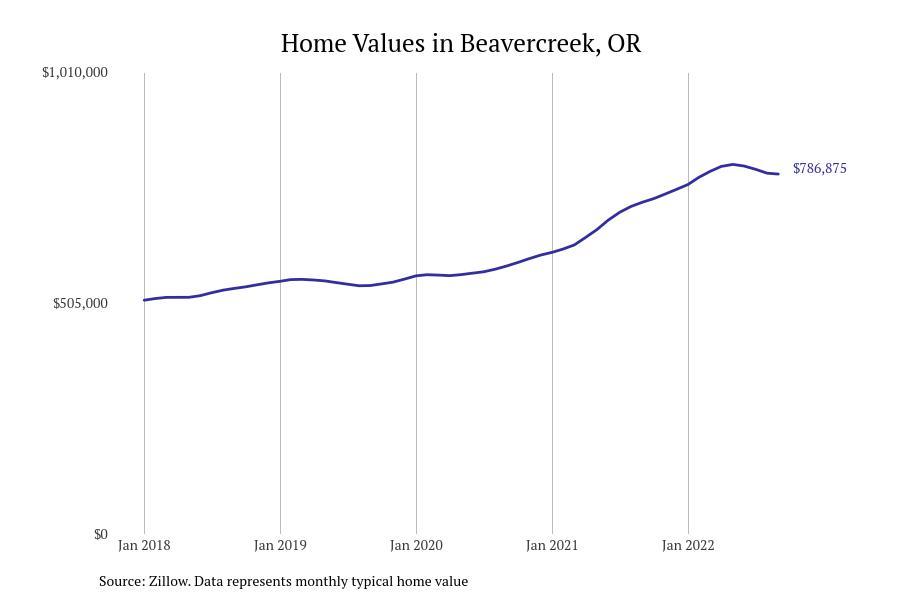 24 / 30
#7. Beavercreek
- Typical home value: $786,875
- 1-year price change: +8.5%
- 5-year price change: +58.5%
- Metro area: Portland-Vancouver-Hillsboro, OR-WA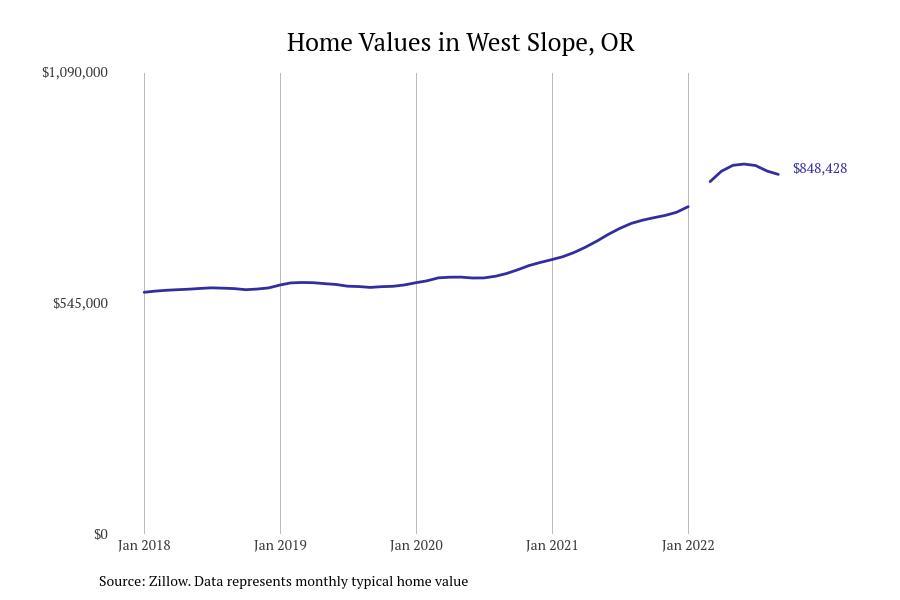 25 / 30
#6. West Slope
- Typical home value: $848,428
- 1-year price change: +14.6%
- 5-year price change: +52.5%
- Metro area: Portland-Vancouver-Hillsboro, OR-WA
You may also like: Best places to raise a family in Oregon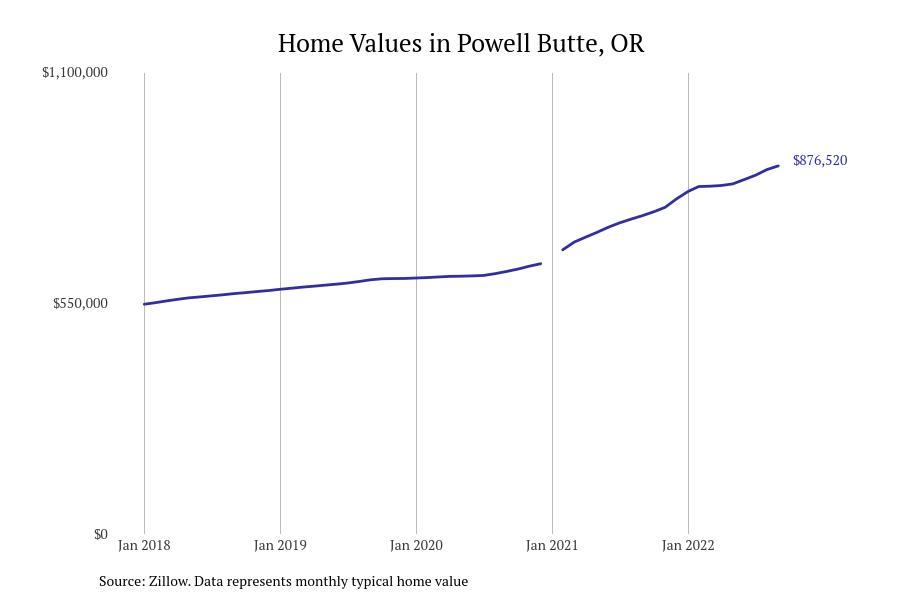 26 / 30
#5. Powell Butte
- Typical home value: $876,520
- 1-year price change: +15.6%
- 5-year price change: +63.7%
- Metro area: Prineville, OR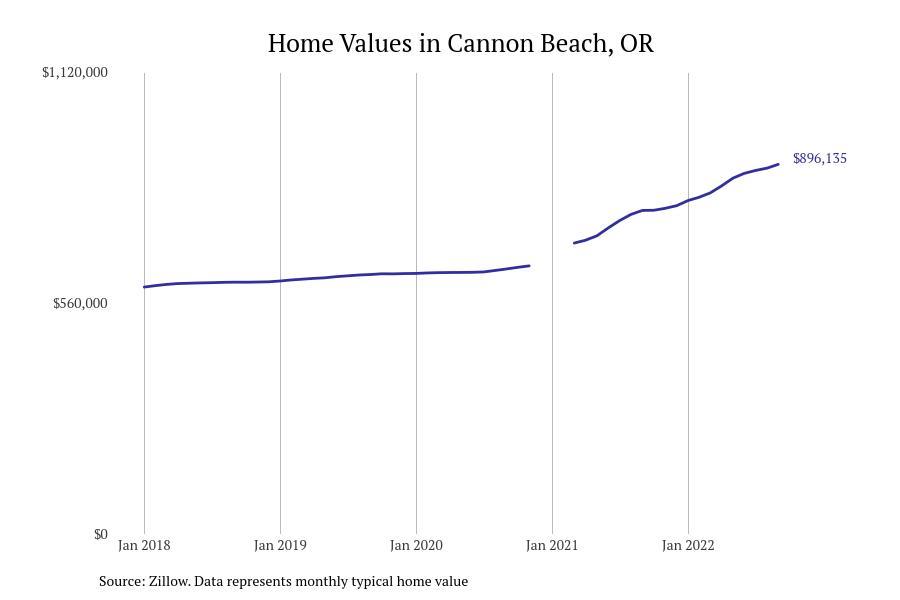 27 / 30
#4. Cannon Beach
- Typical home value: $896,135
- 1-year price change: +14.3%
- 5-year price change: +50.6%
- Metro area: Astoria, OR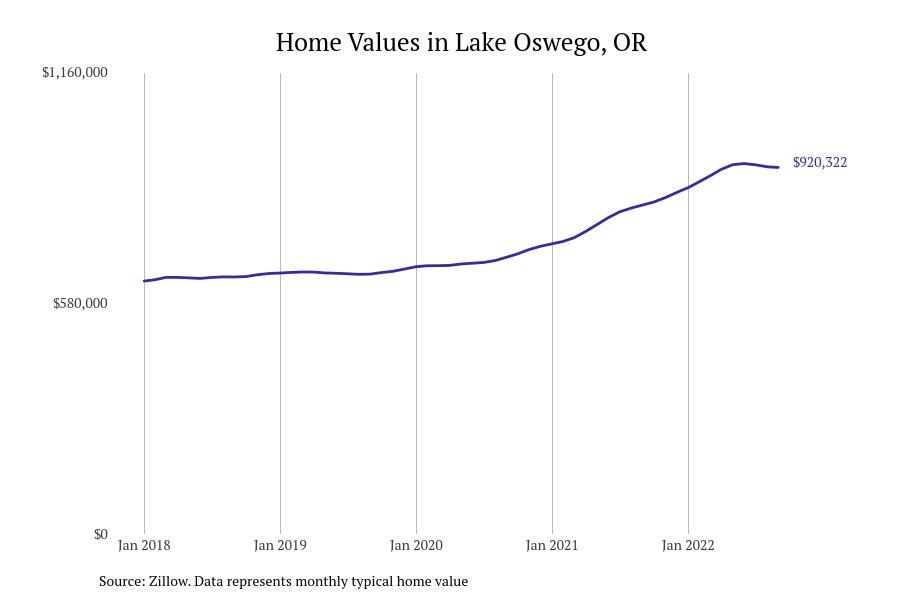 28 / 30
#3. Lake Oswego
- Typical home value: $920,322
- 1-year price change: +11.4%
- 5-year price change: +46.9%
- Metro area: Portland-Vancouver-Hillsboro, OR-WA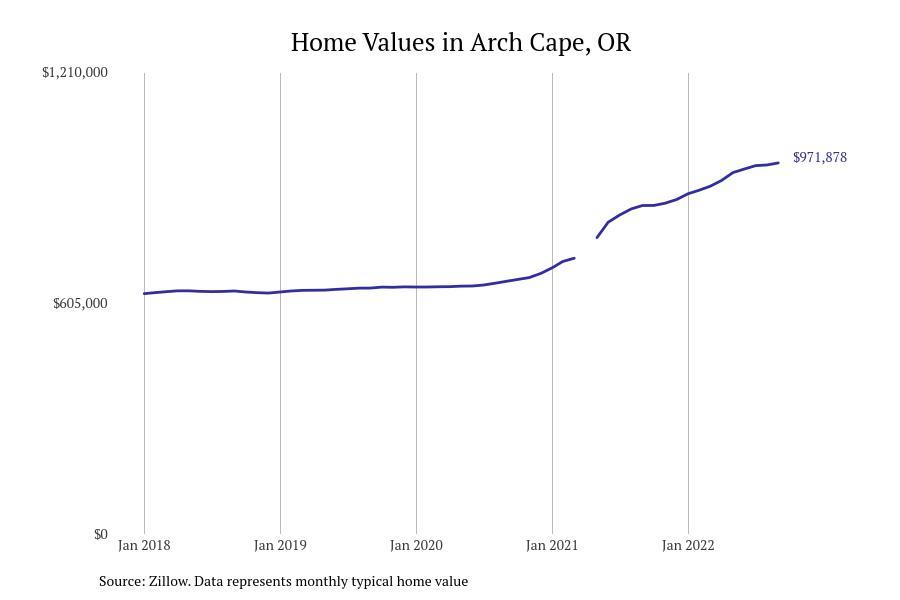 29 / 30
#2. Arch Cape
- Typical home value: $971,878
- 1-year price change: +13.0%
- 5-year price change: +54.3%
- Metro area: Astoria, OR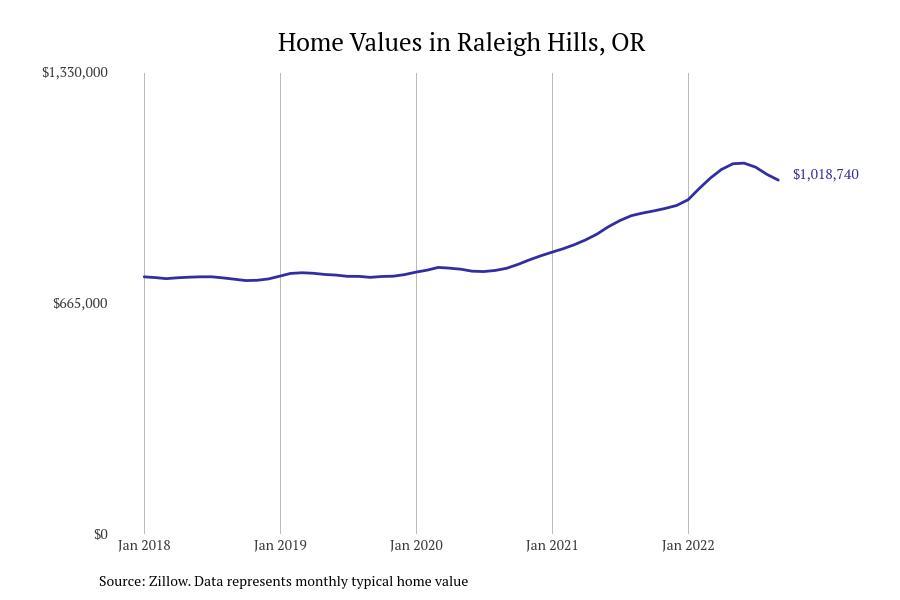 30 / 30