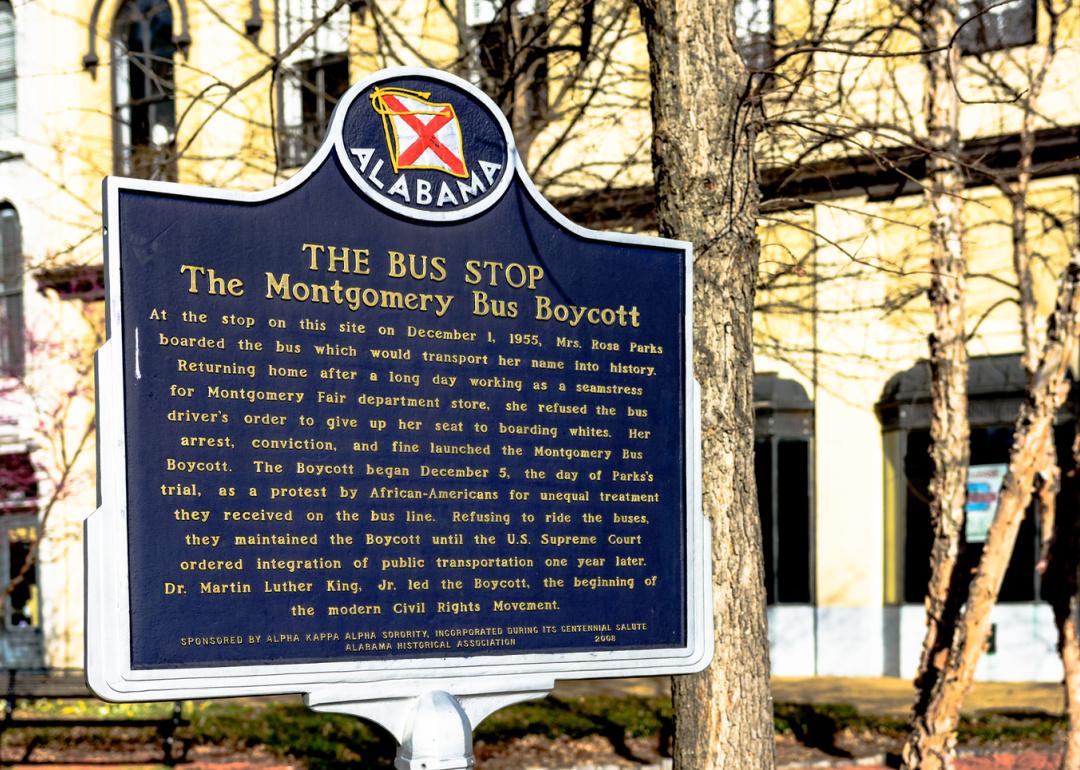 Explore historic sites commemorating Black history in Oregon
Explore historic sites commemorating Black history in Oregon
The legacies of influential Black Americans have not always been acknowledged, so it's not uncommon that modern-day residents may overlook the historic sites of their own cities.
While some historical Black figures in the U.S. are more well-known than others, there are in fact thousands of people dating back generations to 17th-century slavery who left traces of their visions and impacts all across the country. Whether prominent figures such as Robert Abbott, who founded one of the largest African American newspapers in the country, or more under-the-radar originators such as Obrey Wendell Hamlet, who cultivated unique vacation experiences in the Rocky Mountains, one thing's for certain: There is far more uncharted Black history in this country than charted.
Stacker identified historic sites commemorating Black history across 47 states, using the National Register of Historic Places. North Dakota, Vermont, Hawaii, and Wyoming did not have Black historic sites listed on the registry. While some states, especially in the South, are home to many sites central to the civil rights movement, Stacker listed the total sites in every state and the names of three historic sites where available. You can visit the full registry of 232 historic sites and explore the Civil Rights Trail to learn about additional locations across the U.S.
Read on to explore and learn about the historic sites celebrating Black history in your state, or read the national story here.
Oregon by the numbers
- Sites commemorating Black history: 9 (2 with state significance, 0 with national significance)
- Hannah and Eliza Gorman House (Corvallis)
- Vancouver Avenue First Baptist Church (Portland)
- Oregon-American Lumber Company Mill Office (Vernonia)
Hannah Gorman and her daughter, Eliza, moved to the Oregon Territory in 1844 by their enslaver, farmer John Thorpe. In 1857, Hannah purchased two lots from William Dixon, a co-founder of the city of Corvallis. Hannah and Eliza built a small house on one of the lots and just a few years later, acquired two additional lots. This was highly unusual at the time due to Oregon's exclusion laws that were approved by Oregon voters in 1857. These laws banned slavery, and while the laws were not enforced, they prohibited Black people from settling in Oregon, owning real estate, and creating contracts.
Continue reading to see which sites commemorate Black history in other states in your area.
California
- Sites commemorating Black history: 24 (3 with state significance, 2 with national significance)
- Liberty Hall (Oakland)
- Women's Building, The (San Francisco)
- Somerville Hotel (Los Angeles)
Built in 1877, Liberty Hall in Oakland was purchased by Marcus Garvey in the 1920s. Liberty Hall was where he used the building as a meeting headquarters for his fraternal organization. Since then, the building has served the West Oakland community for more than 100 years.
Idaho
- Sites commemorating Black history: 2 (0 with state significance, 0 with national significance)
- St Paul Missionary Baptist Church (Boise)
- East Side Downtown Historic District (Pocatello)
The East Side Downtown Historic District saw developments as a multiethnic neighborhood as early as the 1880s due to railroad work opportunities. Ethnic businesses were doing well but by 1940, these businesses were seen as "undesirable." After World War II, the Pocatello Housing Authority alongside the Chamber of Commerce decided to rebuild the area for commercial use.