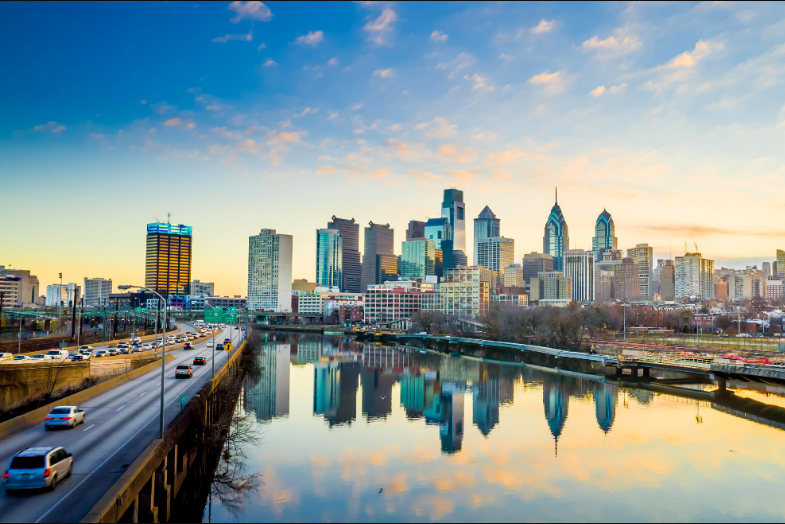 Worst commutes in Pennsylvania
Worst commutes in Pennsylvania
The average American spends nearly an hour every day in a single-occupancy vehicle getting to and from work. For those who live in big, dense cities such as New York City, Chicago, and Los Angeles, the time wasted sitting in traffic increases substantially—but which cities in your home state have the worst commutes?
Stacker has collected data from the U.S Census Bureau to determine which Pennsylvania cities spend the most time traveling to work. The data, from 2017 (the most recent available) includes commuters 16 years of age or older and only people who do not work remotely.
Counties were ranked by average commute, and any ties were broken by commuters with 60 minutes or more of one-way travel time. Whether driving or taking public transport, train delays, bumper-to-bumper traffic congestion, and unexpected construction all contribute to endless frustration and bouts of road rage all over the country.
Read on to find out the worst Pennsylvania cities to live in if you are especially susceptible to traffic-induced anger.
RELATED: Best commutes in Pennsylvania
#25. Bucks County (Southwest)
- Average one-way commute time to work: 28.9 minutes
- Workers with one-way commutes over 60 minutes: 11.8%
- Workers 16 years and over: 90,405
#24. Montgomery County (South Central)
- Average one-way commute time to work: 29.1 minutes
- Workers with one-way commutes over 60 minutes: 9.8%
- Workers 16 years and over: 87,437
#23. Montgomery County (Southeast)—Willow Grove, Horsham, and Montgomeryville
- Average one-way commute time to work: 29.1 minutes
- Workers with one-way commutes over 60 minutes: 11.5%
- Workers 16 years and over: 67,038
#22. Bucks County (Southeast)—Levittown
- Average one-way commute time to work: 29.1 minutes
- Workers with one-way commutes over 60 minutes: 12.5%
- Workers 16 years and over: 90,527
#21. Carbon and Lehigh (North) Counties
- Average one-way commute time to work: 29.2 minutes
- Workers with one-way commutes over 60 minutes: 10.1%
- Workers 16 years and over: 62,954
#20. Chester County (West Central)—Coatesville
- Average one-way commute time to work: 29.2 minutes
- Workers with one-way commutes over 60 minutes: 10.8%
- Workers 16 years and over: 77,254
#19. Philadelphia (Southeast)
- Average one-way commute time to work: 29.4 minutes
- Workers with one-way commutes over 60 minutes: 9.4%
- Workers 16 years and over: 59,129
#18. Northampton County (North)
- Average one-way commute time to work: 29.7 minutes
- Workers with one-way commutes over 60 minutes: 12.2%
- Workers 16 years and over: 73,710
#17. Bucks County (North)
- Average one-way commute time to work: 29.9 minutes
- Workers with one-way commutes over 60 minutes: 13.2%
- Workers 16 years and over: 70,481
#16. Allegheny County (South)—Bethel Park Municipality and Jefferson Hills Borough
- Average one-way commute time to work: 30.7 minutes
- Workers with one-way commutes over 60 minutes: 10.9%
- Workers 16 years and over: 56,748
#15. Montgomery County (Northwest)—Pottstown Borough
- Average one-way commute time to work: 30.9 minutes
- Workers with one-way commutes over 60 minutes: 13.2%
- Workers 16 years and over: 73,017
#14. York County (South)
- Average one-way commute time to work: 31.7 minutes
- Workers with one-way commutes over 60 minutes: 15.3%
- Workers 16 years and over: 74,023
#13. Bucks County (Central)
- Average one-way commute time to work: 31.8 minutes
- Workers with one-way commutes over 60 minutes: 15.5%
- Workers 16 years and over: 69,524
#12. Delaware County (East)—Yeadon, Darby, and Lansdowne Boroughs, and Drexel Hill
- Average one-way commute time to work: 32.1 minutes
- Workers with one-way commutes over 60 minutes: 10.9%
- Workers 16 years and over: 79,183
#11. Philadelphia (East)
- Average one-way commute time to work: 32.5 minutes
- Workers with one-way commutes over 60 minutes: 13.8%
- Workers 16 years and over: 54,132
#10. Philadelphia (Northwest)
- Average one-way commute time to work: 32.9 minutes
- Workers with one-way commutes over 60 minutes: 11.2%
- Workers 16 years and over: 65,005
#9. Philadelphia (Southwest)
- Average one-way commute time to work: 33.3 minutes
- Workers with one-way commutes over 60 minutes: 15.5%
- Workers 16 years and over: 57,545
#8. Philadelphia (far Northeast)
- Average one-way commute time to work: 33.4 minutes
- Workers with one-way commutes over 60 minutes: 16%
- Workers 16 years and over: 71,040
#7. Philadelphia (Central)
- Average one-way commute time to work: 33.9 minutes
- Workers with one-way commutes over 60 minutes: 16.4%
- Workers 16 years and over: 31,263
#6. Pike, Wayne, and Susquehanna Counties
- Average one-way commute time to work: 34.8 minutes
- Workers with one-way commutes over 60 minutes: 16.7%
- Workers 16 years and over: 63,055
#5. Philadelphia (West)
- Average one-way commute time to work: 34.8 minutes
- Workers with one-way commutes over 60 minutes: 18.5%
- Workers 16 years and over: 49,326
#4. Philadelphia (near Northeast-East)
- Average one-way commute time to work: 35.5 minutes
- Workers with one-way commutes over 60 minutes: 17.3%
- Workers 16 years and over: 52,542
#3. Philadelphia (near Northeast-West)
- Average one-way commute time to work: 35.8 minutes
- Workers with one-way commutes over 60 minutes: 16.4%
- Workers 16 years and over: 62,262
#2. Philadelphia (North)
- Average one-way commute time to work: 36.5 minutes
- Workers with one-way commutes over 60 minutes: 18.6%
- Workers 16 years and over: 63,693
#1. Monroe County
- Average one-way commute time to work: 38.6 minutes
- Workers with one-way commutes over 60 minutes: 23.9%
- Workers 16 years and over: 76,460