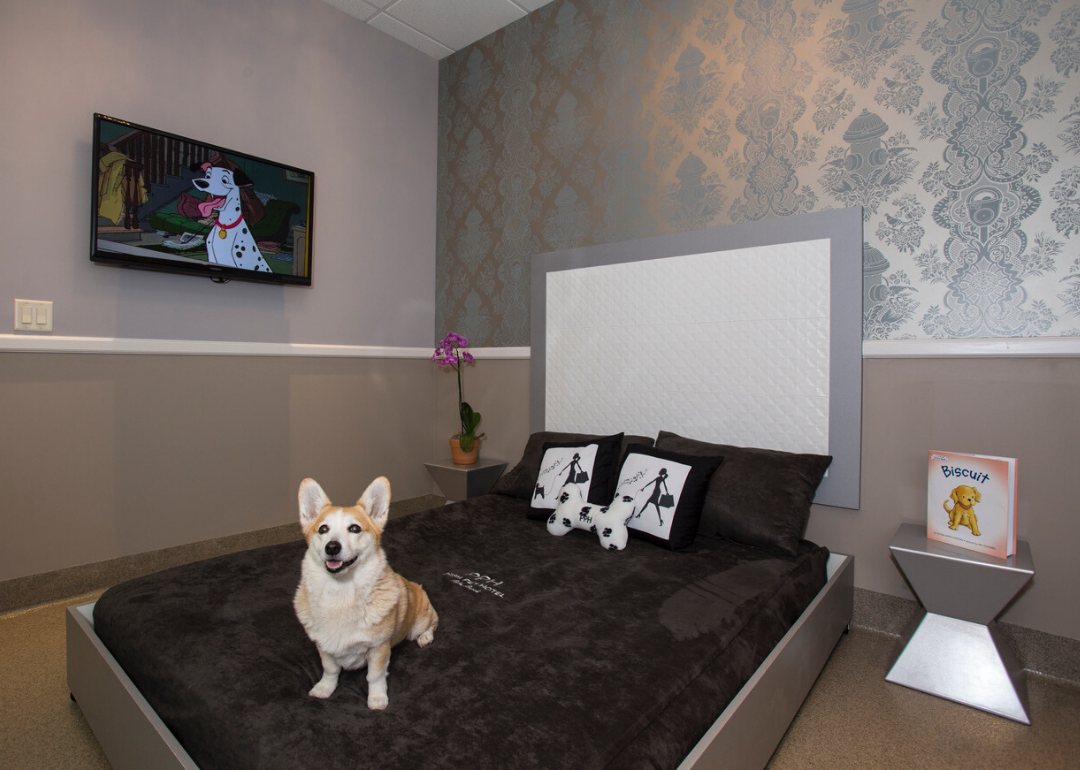 Luxurious spas just for your dog
Courtesy of Posh Pet Hotel
Luxurious spas just for your dog
Americans are obsessed with dogs. We are more likely than any other people on Earth to have dogs as pets and are lavish participants in a $70 billion pet products industry.
Of the estimated 63.4 million people with dogs in the U.S., the average owner spends a modest $73 a year on groomers and grooming supplies, according to the American Pet Products Association's 2019–2020 National Pet Owners Survey. The same survey found that $6.31 billion was spent in 2019 alone on services such as grooming, boarding, training, pet sitting, pet exercise, and pet walking. Average spending on dogs is highest among millennials, who drop about $1,285 a year on their fur babies, according to a 2018 study by TD Ameritrade. And in fact, for people younger than 30, lower income levels don't correlate with a decreased likelihood of purchasing premium dog food.
Of course, averages are just that. To find out what next-level pet care looks like, you have to take a look at the upper echelon. There, you'll find spikes in high-end dog-care services, from holistic care and dog yoga to $1,800 pet cemetery plots. But excess is perhaps most obvious in how we pamper our pets with spas, toys, and specialty grooming services. While most of us think of groomers as providing basic shampoos, trims, brushing, and nail-clipping, dog spas today offer everything from massages and dye jobs to custom fur styles and blueberry facials.
Stacker checked out some of the most luxurious dog spas in the U.S., of which there are many more than we ever expected. The spas aren't restricted to coastal city centers, either; they can be found in virtually every state and are as diverse as their clientele.
Read on to discover which spa will pick your dog up in a Bentley and where you can splurge on a "Don Draper" tie for your best friend.
You may also like: Where every U.S. president went to college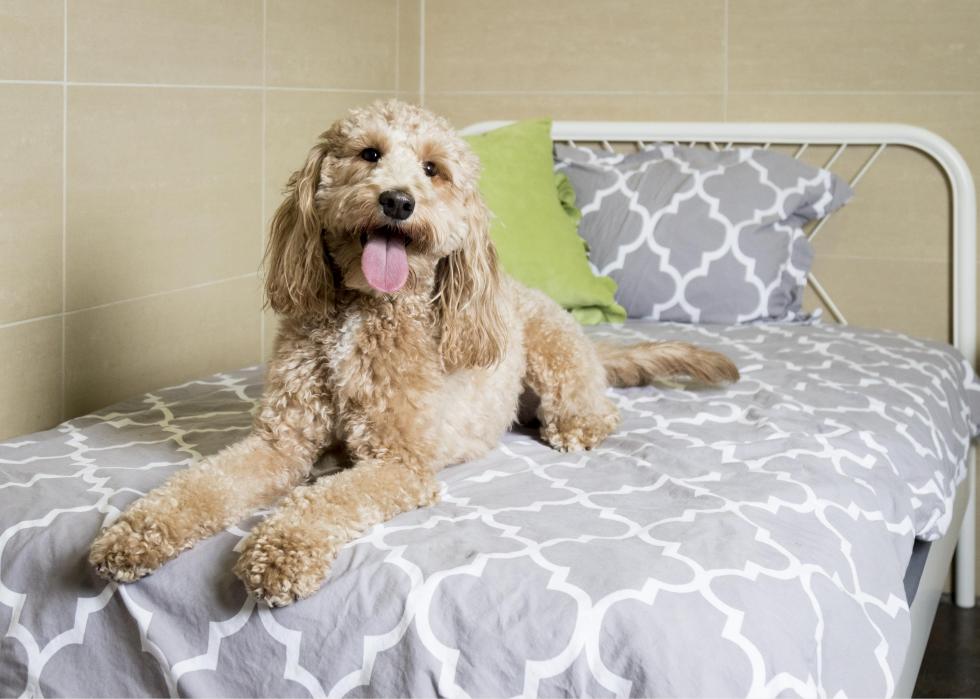 1 / 15
Pooch Hotel
Locations: 11 locations in California, Colorado, Connecticut, Illinois, Massachusetts, and Texas
The Pooch Hotel has 11 locations around the country in six states. The spa offers total care for body and fur, from jogs on the treadmill and laps in the pool to "pawdicures" and mud baths. And because the Pooch Hotel also offers lodging, don't forget to take a look at the $125-per-night Presidential Suite for your best friend that includes a television, webcam, bedside photo frame for any image you'd like, and a human-sized bed.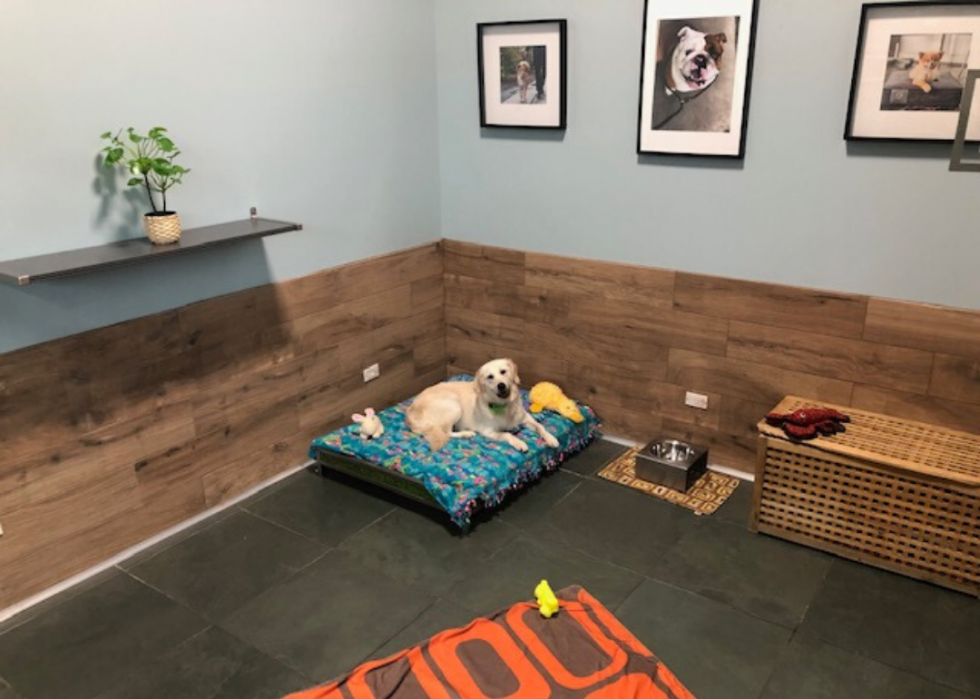 2 / 15
Courtesy of Stay Dog Hotel
Stay Dog Hotel
Location: 4130 North Rockwell St., Chicago, IL
The groomers at Chicago's Stay Dog Hotel boast, on average, seven years of experience. Services include a $12 Moroccan oil treatment and a $15-plus mud bath. If you want to use a grooming drop-off as an opportunity to head out of town for an overnight, your pup's in good hands: Just sign Rover up for an overnight in one of Stay's $90-a-night suites complete with artwork, toy chest, and views of the Chicago River.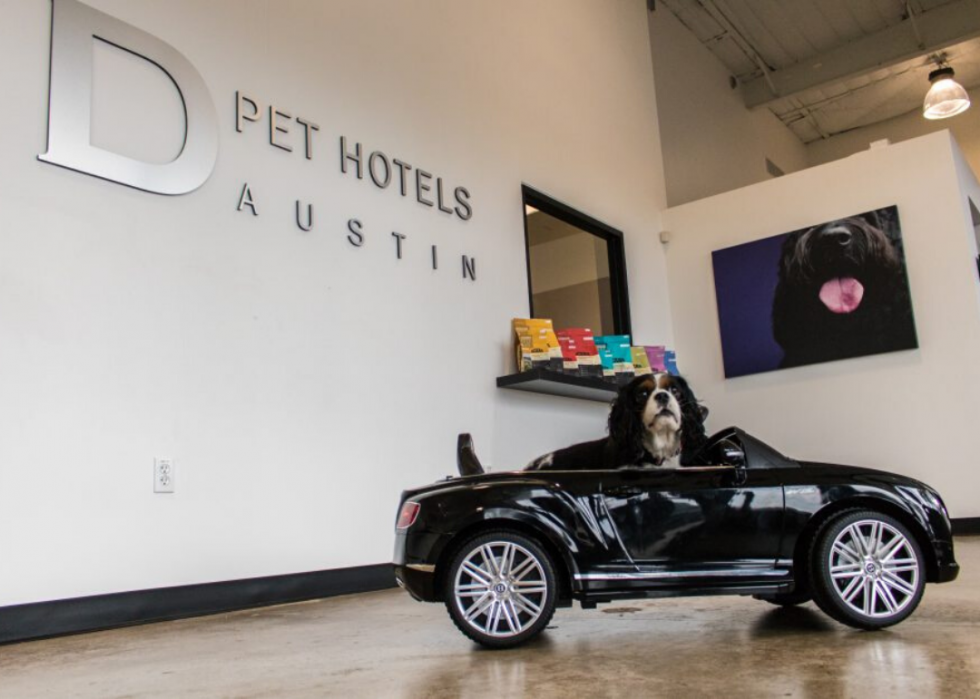 3 / 15
D Pet Hotels
Locations: Six locations in Texas, New York, Arizona, and California
D Pet Hotels is known for pampering dogs like people. Fur babies can be treated to full-body massages, bang trims, and classic shampoos. But for something extra special in spa treatments, clients need to check out D Pet Hotels' New York City location. There, in the trendy Chelsea neighborhood, dogs can be treated to the "Don Draper" tie, "Suri Cruz" bangs and bob, the "Bad Ass" mohawk, "Sorority Girl" bows, or the "Rich Bitch" top knot. If any of that isn't enough, D Hotels also offers nail appliques.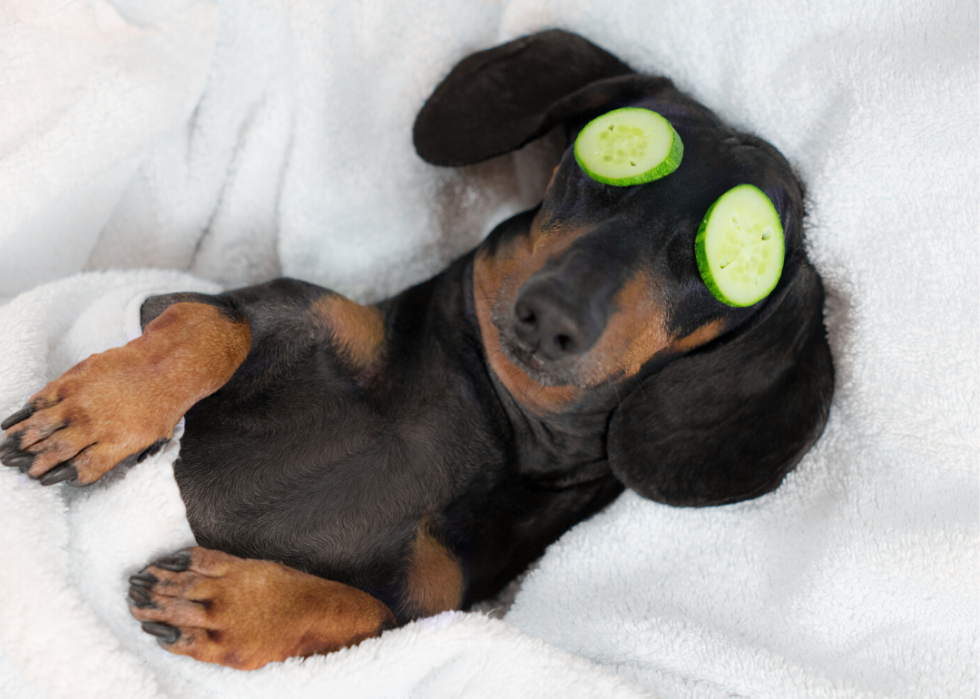 4 / 15
Olde Towne Pet Resort
Locations: Three locations in Virginia and Maryland
Olde Towne Pet Resort treats dogs to aromatherapy shampoo and conditioner treatments from $10 to $20 in a variety of scents, mud bath treatments—Flea Relief Mud, Mobility Mud, Shed Safely Mud, and Smoothing Mud—that range from $30 to $50 based on breed and weight, and $10 blueberry facials that promise to remove tear and beard stains.
[Actual spa not pictured]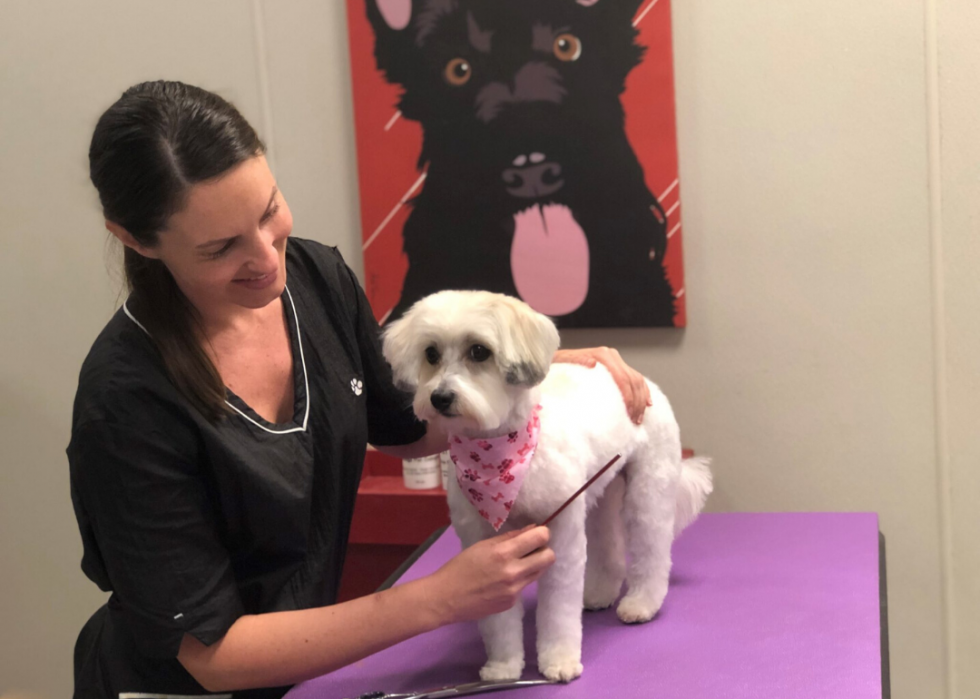 5 / 15
Courtsey of Best Friends Pet Care
Best Friends Pet Care
Locations: Multiple locations in 15 states
Best Friends Pet Care, established in 1995, reaches coast to coast, but one of its best-known locations is just outside Disney World in Lake Buena Vista, Florida. There, Best Friends' services are a go-to for Disney employees and tourists alike who demand the best for their best friends. Services at all Best Friends Pet Care locations run the gamut from shampoos and haircuts to a "Shedicure" and teeth brushing—not to mention boarding and doggy daycare.
You may also like: Most popular baby names in the 21st century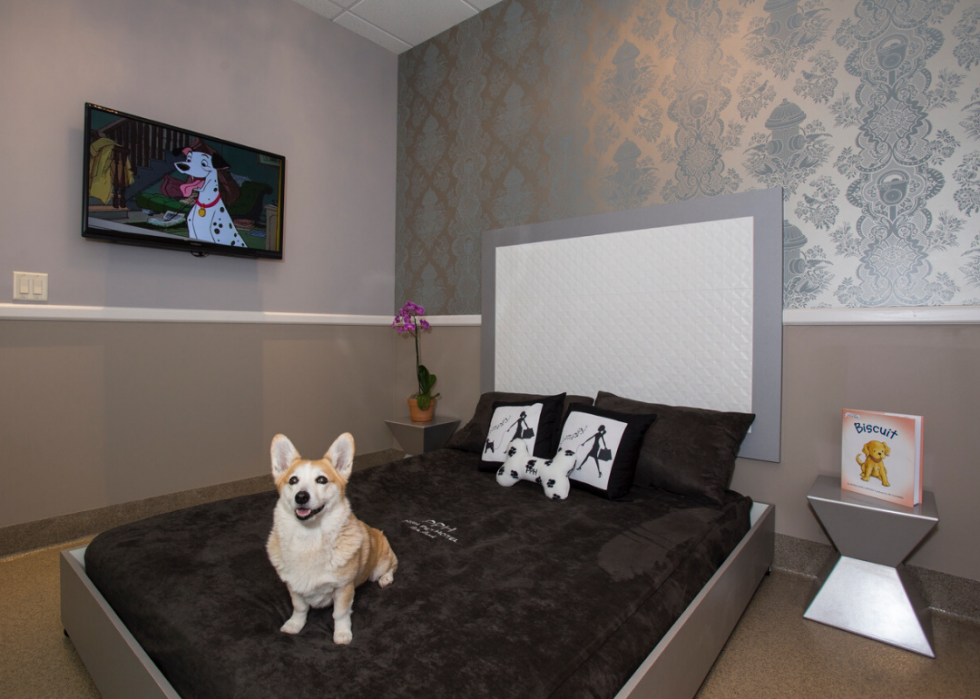 6 / 15
Courtsey of Posh Pet Hotel
Posh Pet Hotel
Location: 6710 South Dixie Highway, West Palm Beach, FL
The Posh Pet Hotel in West Palm Beach takes things to the next level with Brazilian cuts, stenciling and glitter treatments, fur dying, and aromatherapy baths. The 13,000-square-foot facility even offers pick-up and drop-off services in a Bentley or Maserati for a fee.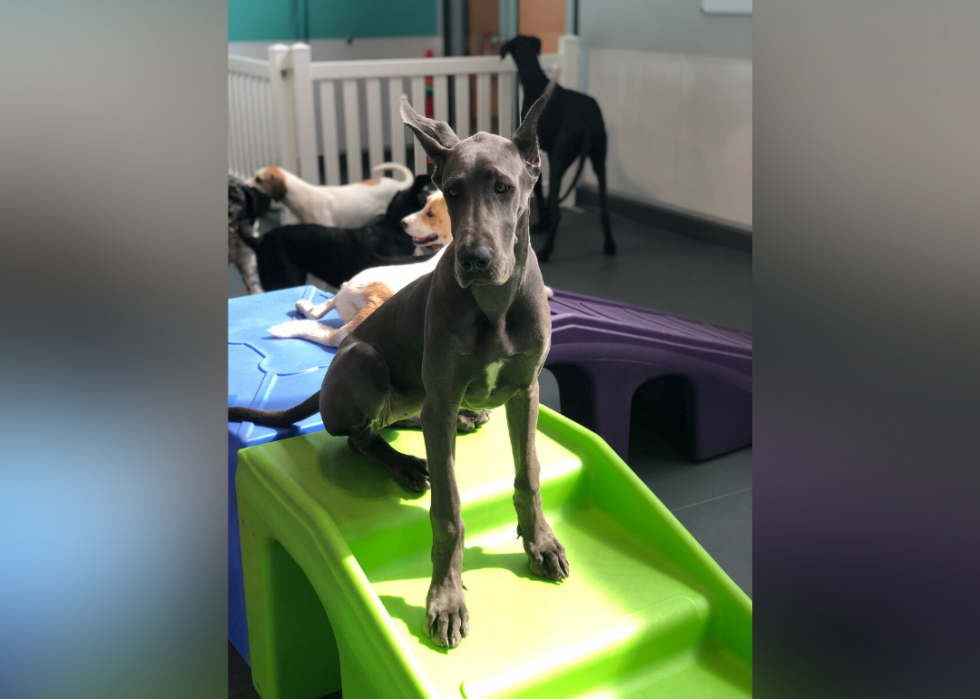 7 / 15
Courtesy of The Dog Retreat & Spa
The Dog Retreat & Spa
Location: 219 Bear Hill Rd., Waltham, MA
The Dog Retreat & Spa is a labor of love derived from 20 years of dog care by Jalene Buckner. She and her husband, Ed, opened the facility in 2018 to offer daycare and lodging for dogs and cats. The newly constructed facility is designed for pampering. Dogs can enjoy massage treatments, blueberry facials, cuts and blow-dries, and sanitary clippings.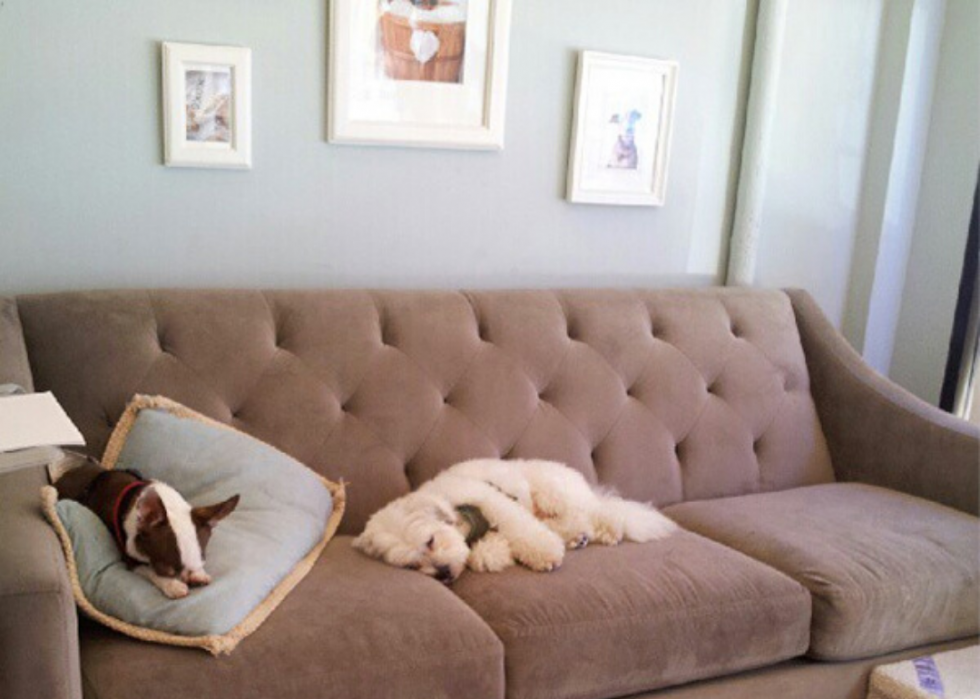 8 / 15
Courtesy of New York Dog Nanny
New York Dog Nanny
Location: 126 Lexington Ave., Second Floor, New York, NY
New York Dog Nanny offers pups a "Dead Sea Mud Mask" treatment for just $20 and an "Ayurvedic Skin Treatment" for $25. Any dogs getting a full bath or grooming treatment can stay for a day of doggy care—what New York Dog Nanny calls a "Spa Day" for another $25. Not sure if your dog is a good fit? The company offers meet-and-greets where your furry friend can take a basic temperament test.
9 / 15
Monika Wisniewska // Shutterstock
The Wags Club
Location: 11860 Mississippi Ave., Los Angeles, CA
The Wags Club gives dogs 15% off any services on their birthdays and bills itself as the "only luxury resort on the Westside with more than 12,000 square feet of indoor/outdoor play areas." Services include a range of massage services, brush-outs, "Pet-a-cures," and sanitary cuts.
[Actual spa not pictured]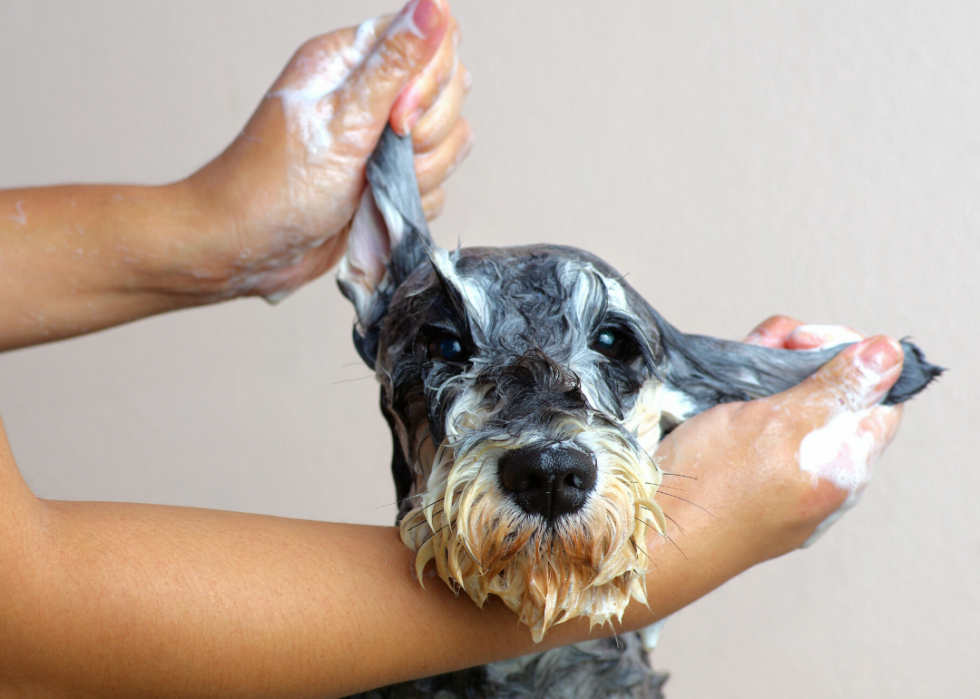 10 / 15
sattahipbeach // Shutterstock
Pussy and Pooch
Location: 564 S. Main St., Los Angeles, CA
A deluxe bath for a dog at Pussy and Pooch may run you $150, but it offers a lot of bang for your buck. Dogs getting the full treatment will come out bandana'ed and bowed after having been shampooed, conditioned, and brushed, with glands expressed and teeth brushed—not to mention getting eye, pad, and sanitary trims, ear cleaning and hair removal, a blueberry facial, nail trim and grind, and paw pad rub. Stylists can further offer consultations for haircuts and styles (and don't be shy about asking for dye jobs or doggie boots).
Since nothing's too good for your fur baby, it's also worth perusing Pussy and Pooch's spa treatments—which read like a treatment menu at a high-end human spa; from a $30 "Ultra Zen CBD Body Bliss" complete with CBD tincture to a $40 "Mud Masque."
[Actual spa not pictured]
You may also like: U.S. Air Force history from the year you were born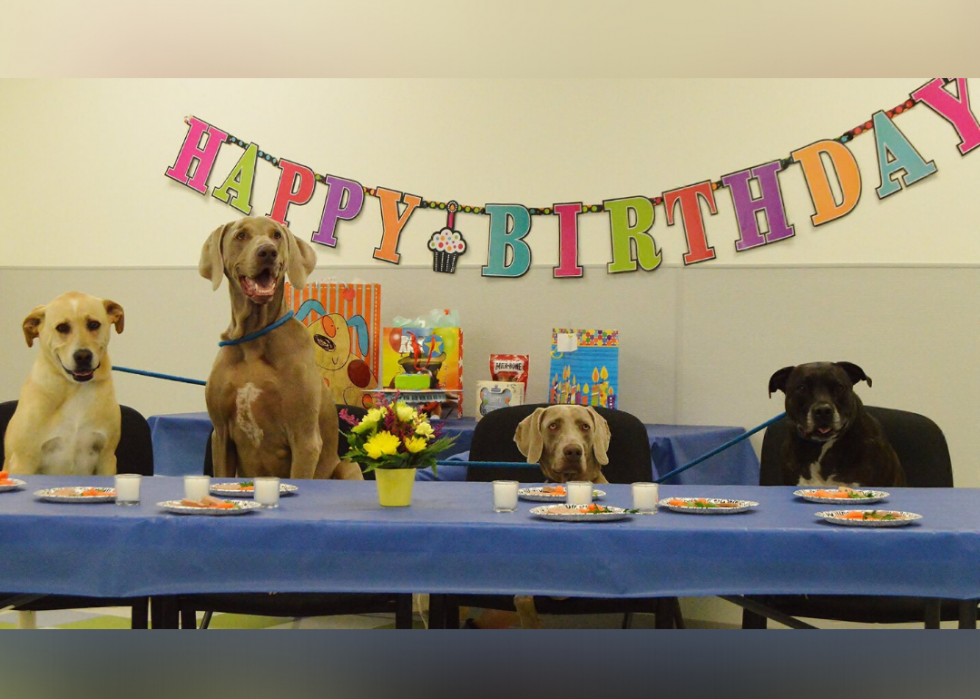 11 / 15
Courtesy of Bayside Pet Resort
Bayside Pet Resort
Locations: Three locations in Florida
Bayside Pet Resort prides itself on added amenities to make a pet's stay extra special, from skinny dips in the pool to extra belly rubs before bed. The company's grooming packages feature spa treatments like blueberry facials, feet scissoring, spa baths, and optional bandana and cologne at the end.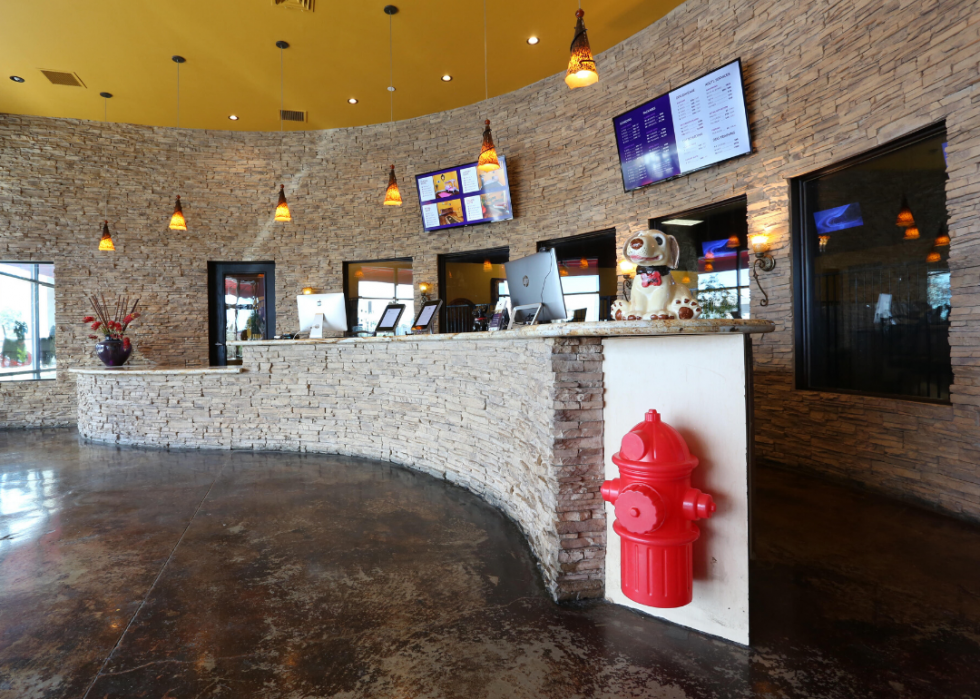 12 / 15
Courtesy of Las Vegas Dog Resort
Las Vegas Dog Resort
Location: 6810 W. Sahara Ave., Las Vegas, NV
Spa Days at the Las Vegas Dog Resort stand out for features like one-on-one nanny service, massages, and "Pawdicures" complete with paw soak, massage, buffing, and polish. If you want to go all-out, be sure to check out the body wraps, aromatherapy treatments, and vitamin baths. Have an anxious pup? Nothing to worry about here: This spa plays "calming, down-tempo music" during its five-star treatments.
13 / 15
Iryna Kalamurza // Shutterstock
The Urban Hound
Locations: 129 Malden St. and 50 Boylston St.—both in Boston, MA
All spa packages at The Urban Hound feature hydrotherapy baths, and most include blueberry facials with standard rates. But if regular grooming and spa treatments just won't do, The Urban Hound's spa further offers "Creative Grooming" options like body bling, nail polish, spiky hairdos or bell-bottoms, dye jobs, feather extensions, and glitter.
[Actual spa not pictured]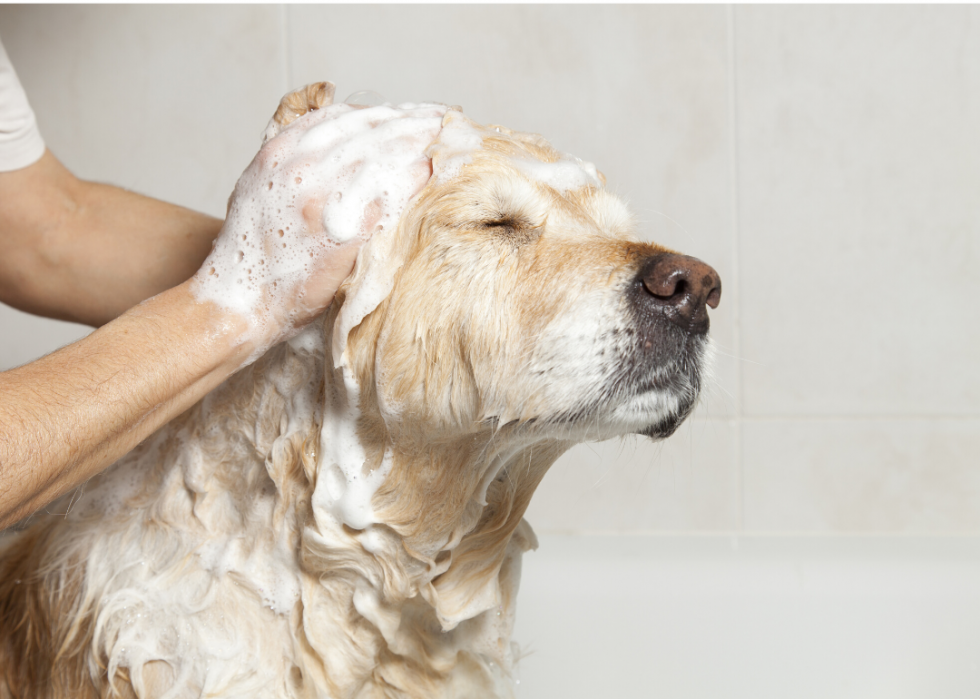 14 / 15
Whiskers Resort & Pet Spa
Location: 3100 29th St. SE, Grand Rapids, MI
Whiskers Resort & Pet Spa boasts almost 200 rooms offering lodging, doggie daycare, outdoor play areas, and full-service grooming to the Grand Rapids dog (and cat) community. The location's pet salon and spa treatments are all overseen by a certified master stylist with the International Pet Groomers Association. All "spa guests" get treated to double whirlpool hydro baths with options for scent-of-the-month shampoos, oatmeal baths, and even odor neutralization treatments for adventurous pups who can't stay out of trouble.
[Actual spa not pictured]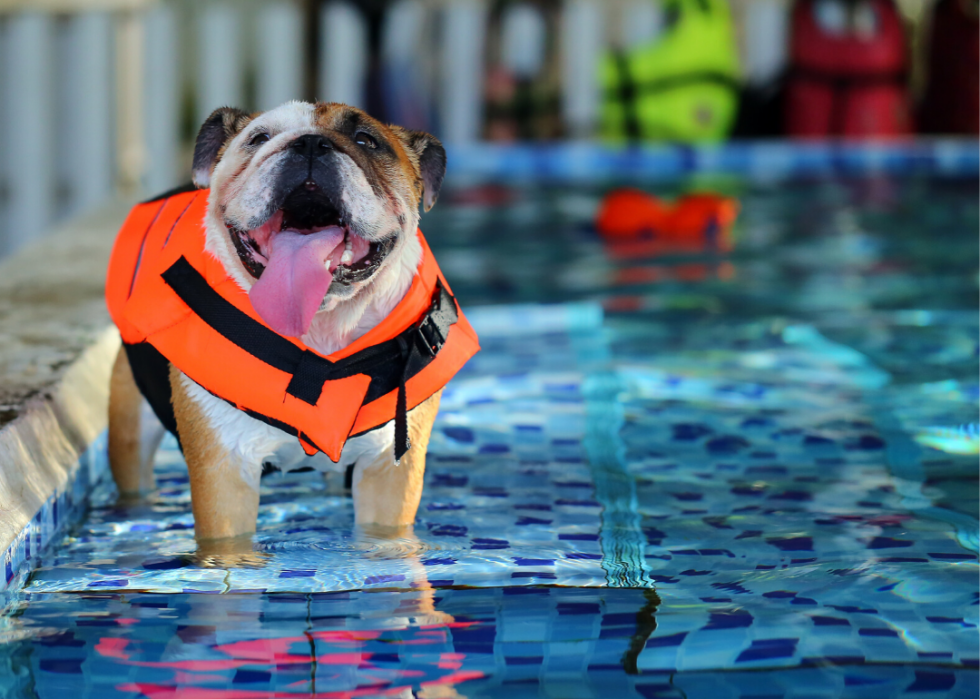 15 / 15
Wasitt Hemwarapornchai // Shutterstock
Red Dog Pet Resort & Spa
Locations: Six locations in Georgia, Massachusetts, and Ohio
Discerning pet parents can opt for fun add-ons at Red Dog Pet Resort & Spa such as "Fur Feather Extensions" for $10 and up, "Doggie Hair Dye" for $10 and up, or a "True White Whitening Shampoo Treatment" for just $7. Dogs that love to swim will get a kick out of the "Swim & Style Package," which features a bubble bath following a dip in the aquatic center's indoor, heated pool.
[Actual spa not pictured]
You may also like: What marriage was like the year you were born