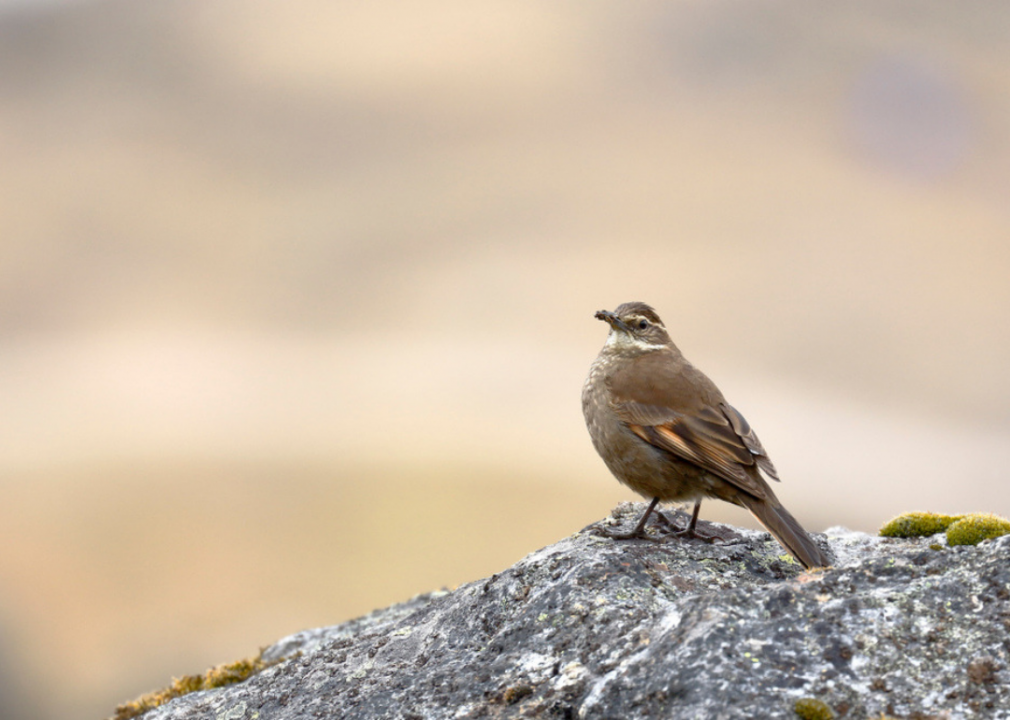 50 endangered species that only live in the Amazon rainforest
Jonathan Chancasana // Shutterstock
50 endangered species that only live in the Amazon rainforest
Calling the Amazon rainforest "the lungs of the planet" may appear melodramatic, but it holds some truth: As the largest tropical forest on Earth, the Amazon spans eight countries and 1.4 billion acres. If placed over the United States, the Amazon would stretch from western Pennsylvania to eastern California and from Canada to Mexico. The forest is one of our largest terrestrial carbon sinks, meaning its trees store carbon dioxide that would otherwise be released into the atmosphere as a greenhouse gas. 2019 reports estimate that the Amazon absorbs about 5% of all the carbon dioxide released each year.
And, this past year, these "lungs" caught fire. More than 74,000 wildfires have blazed across Brazil in the summer of 2019 alone, with about 40,000 of those fires threatening the Amazon. This is the highest rate of fires since Brazil's National Institute for Space Research began collecting such data, and an 80% increase from summer 2018.
2019's fires have been tied to Jair Bolsonaro, a climate change-denying populist and Brazil's president as of January 2019. Bolsonaro's changing policies have allowed rampant burning of land around the rainforest to clear land for agriculture; these fires spread easily to the forest itself. The three Brazilian states with the worst increase in fire in 2019 have local governments led by Bolsonaro's allies, and his government intends to prevent conservation in the rainforest, according to reporting from The Atlantic's Robinson Meyer. Bolsonaro authorized the Brazilian military to fight the fires late in August, but people around the world continue to criticize his role in the environmental catastrophe.
These fires not only pose a threat to a major source of our oxygen; they also threaten approximately one-tenth of the known species on Earth. The Amazon is home to 40,000 plants, 3,000 freshwater fish, hundreds of reptiles, thousands of birds and butterflies, and mammals such as jaguars, sloths, and Amazon river dolphins, according to the World Wildlife Foundation—and that's just the species we've discovered. The forest is also home to more than 30 million people, including hundreds of indigenous groups, many of whom protested President Bolsonaro for his policies. Meanwhile, organizations around the world such as the Rainforest Action Network, Rainforest Foundation, and Amazon Watch are continuing to work to preserve this habitat.
To explore some of the incredible life threatened by these fires, Stacker used 2020 data from the International Union for Conservation of Nature (IUCN) Red List to identify 50 endangered animal and plant species that live only in the Amazon rainforest and the surrounding Amazon basin. Each species on this list is marked by the IUCN as vulnerable, endangered, or critically endangered according to the most recent data available for that species.
Read on to learn about and see incredible photos of rare species from the white-bellied spider monkey to the yellow-spotted river turtle.
You may also like: Natural disasters linked to climate change
Glaucous macaw
- Scientific name: Anodorhynchus glaucus
- Red List status: Critically endangered
- Geographic range: Argentina, Brazil, Paraguay, Uruguay
- Threatened by: Residential & commercial development, agriculture & aquaculture, biological resource use
- Current conservation efforts: Conservation sites identified
Brumback's night monkey
- Scientific name: Aotus brumbacki
- Red List status: Vulnerable
- Geographic range: Colombia
- Threatened by: Residential & commercial development, agriculture & aquaculture, biological resource use
- Current conservation efforts: Occurs in at least one protected area, included in international legislation, subject to international management / trade controls
Nancy Ma's night monkey
- Scientific name: Aotus nancymaae
- Red List status: Vulnerable
- Geographic range: Brazil (Amazonas), Colombia, Peru
- Threatened by: Agriculture & aquaculture, biological resource use
- Current conservation efforts: Occurs in at least one protected area, included in international legislation, subject to international management / trade controls
 
Blue-throated macaw
- Scientific name: Ara glaucogularis
- Red List status: Critically endangered
- Geographic range: Bolivia
- Threatened by: Biological resource use, natural system modifications, invasive & other problematic species/genes/diseases, climate change & severe weather
- Current conservation efforts: Action recovery plan, conservation sites identified, subject to ex-situ conservation, education & awareness programs, subject to international management/trade controls
White-bellied spider monkey
- Scientific name: Ateles belzebuth
- Red List status: Endangered
- Geographic range: Brazil (Roraima, Amazonas), Colombia, Ecuador, Peru, Venezuela
- Threatened by: Residential & commercial development, agriculture & aquaculture, energy production & mining, biological resource use, natural system modifications
- Current conservation efforts: Conservation sites identified, subject to education & awareness programs, included in international legislation, subject to any international management/trade controls
Variegated spider monkey
- Scientific name: Ateles hybridus
- Red List status: Critically endangered
- Geographic range: Colombia, Venezuela
- Threatened by: Residential & commercial development, agriculture & aquaculture, transportation & service corridors, biological resource use
- Current conservation efforts: Occurs in at least one protected area, subject to ex-situ conservation
White-cheeked spider monkey
- Scientific name: Ateles marginatus
- Red List status: Endangered
- Geographic range: Brazil (Mato Grosso, Pará)
- Threatened by: Residential & commercial development, agriculture & aquaculture, transportation & service corridors, biological resource use
- Current conservation efforts: Occurs in at least one protected area, included in international legislation, subject to international management / trade controls
Guiana spider monkey
- Scientific name: Ateles paniscus
- Red List status: Vulnerable
- Geographic range: Brazil (Roraima, Amapá, Pará), French Guiana, Guyana, Suriname
- Threatened by: Agriculture & aquaculture, biological resource use
- Current conservation efforts: Occurs in at least one protected area, included in international legislation, subject to international management / trade controls
Carabaya stubfoot toad
- Scientific name: Atelopus erythropus
- Red List status: Critically endangered
- Geographic range: Bolivia
- Threatened by: Invasive & other problematic species/genes/diseases
- Current conservation efforts: Occurs in at least one protected area
Morona-Santiago stubfoot toad
- Scientific name: Atelopus halihelos
- Red List status: Critically endangered
- Geographic range: Ecuador
- Threatened by: Agriculture & aquaculture, biological resource use, invasive & other problematic species/genes/diseases
- Current conservation efforts: Occurs in at least one protected area
Quito stubfoot toad
- Scientific name: Atelopus ignescens
- Red List status: Critically endangered
- Geographic range: Ecuador
- Threatened by: Agriculture & aquaculture, natural system modifications, invasive & other problematic species/genes/diseases, climate change & severe weather
- Current conservation efforts: Subject to ex-situ conservation
Gualecenita stubfoot toad
- Scientific name: Atelopus nepiozomus
- Red List status: Endangered
- Geographic range: Ecuador
- Threatened by: Agriculture & aquaculture, invasive & other problematic species/genes/diseases
- Current conservation efforts: Occurs in at least one protected area
Pebas stubfoot toad
- Scientific name: Atelopus spumarius
- Red List status: Vulnerable
- Geographic range: Brazil, Colombia, Ecuador, French Guiana, Guyana, Peru, Suriname
- Threatened by: Residential & commercial development, agriculture & aquaculture, transportation & service corridors, biological resource use, natural system modifications, invasive non-native/alien species/diseases
- Current conservation efforts: Conservation sites identified, occurs in at least one protected area, subject to ex-situ conservation
Bolivian stubfoot toad
- Scientific name: Atelopus tricolor
- Red List status: Vulnerable
- Geographic range: Bolivia, Peru
- Threatened by: Agriculture & aquaculture, invasive and other problematic species, genes & diseases, pollution
- Current conservation efforts: Conservation sites identified, occurs in at least one protected area
Bald-headed uakari
- Scientific name: Cacajao calvus
- Red List status: Vulnerable
- Geographic range: Brazil, Peru
- Threatened by: Agriculture & aquaculture, biological resource use
- Current conservation efforts: Conservation sites identified, included in international legislation, subject to any international management / trade controls
San Martin titi monkey
- Scientific name: Callicebus oenanthe
- Red List status: Critically endangered
- Geographic range: Peru
- Threatened by: Residential & commercial development, agriculture & aquaculture, transportation & service corridors, biological resource use
- Current conservation efforts: Conservation sites identified, occurs in at least one protected area, recent education & awareness programs, included in international legislation, subject to international management / trade controls
Goeldi's monkey
- Scientific name: Callimico goeldii
- Red List status: Vulnerable
- Geographic range: Bolivia, Brazil (Amazonas, Acre, Rondônia), Colombia, Peru
- Threatened by: Agriculture & aquaculture, transportation & service corridors, biological resource use
- Current conservation efforts: Conservation sites identified, included in international legislation, subject to international management / trade controls
Ka'apor capuchin
- Scientific name: Cebus kaapori
- Red List status: Critically endangered
- Geographic range: Brazil (Maranhão, Pará)
- Threatened by: Residential & commercial development, agriculture & aquaculture, energy production & mining, transportation & service corridors, biological resource use
- Current conservation efforts: Occurs in at least one protected area, included in international legislation, subject to international management / trade controls
Amazon giant glass frog
- Scientific name: Centrolene pipilatum
- Red List status: Endangered
- Geographic range: Ecuador
- Threatened by: Agriculture & aquaculture, biological resource use, invasive & other problematic species/genes/diseases, climate change & severe weather
- Current conservation efforts: Occurs in at least one protected area
Rio Branco antbird
- Scientific name: Cercomacra carbonaria
- Red List status: Critically endangered
- Geographic range: Brazil, Guyana
- Threatened by: Agriculture & aquaculture, biological resource use, natual system modifications
- Current conservation efforts: Conservation sites identified, occurs in at least one protected area
White-nosed saki
- Scientific name: Chiropotes albinasus
- Red List status: Endangered
- Geographic range: Brazil
- Threatened by: Residential & commercial development, agriculture & aquaculture, transportation & service corridors, biological resource use
- Current conservation efforts: Conservation sites identified, included in international legislation, subject to any international management / trade controls
Black bearded saki
- Scientific name: Chiropotes satanas
- Red List status: Critically endangered
- Geographic range: Brazil
- Threatened by: Residential & commercial development, agriculture & aquaculture, biological resource use, natural system modifications
- Current conservation efforts: Occurs in at least one protected area, included in international legislation, subject to international management / trade controls
Royal cinclodes
- Scientific name: Cinclodes aricomae
- Red List status: Critically endangered
- Geographic range: Peru
- Threatened by: Agriculture & aquaculture, biological resource use, human intrusions & disturbance, natural system modifications, pollution, climate change & severe weather
- Current conservation efforts: Action recovery plan, conservation sites identified, occurs in at least one protected area
Wattled curassow
- Scientific name: Crax globulosa
- Red List status: Endangered
- Geographic range: Peru
- Threatened by: Residential & commercial development, agriculture & aquaculture, biological resource use
- Current conservation efforts: Action recovery plan, conservation sites identified, occurs in at least one protected area, subject to ex-situ conservation, subject to education & awareness programs
Belem curassow
- Scientific name: Crax pinima
- Red List status: Critically endangered
- Geographic range: Brazil
- Threatened by: Agriculture & aquaculture, biological resource use
- Current conservation efforts: Action recovery plan, conservation sites identified, occurs in at least one protected area, subject to ex-situ conservation
Orinoco crocodile
- Scientific name: Crocodylus intermedius
- Red List status: Critically endangered
- Geographic range: Colombia, Venezuela
- Threatened by: Agriculture & aquaculture, biological resource use
- Current conservation efforts: Action recovery plan, conservation sites identified, subject to ex-situ conservation, successfully reintroduced
Jocotoco antpitta
- Scientific name: Grallaria ridgelyi
- Red List status: Endangered
- Geographic range: Ecuador, Peru
- Threatened by: Residential & commercial development, agriculture & aquaculture, energy production & mining, transportation & service corridors, biological resource use
- Current conservation efforts: Conservation sites identified, occurs in at least one protected area
Golden parakeet
- Scientific name: Guaruba guarouba
- Red List status: Vulnerable
- Geographic range: Brazil
- Threatened by: Residential & commercial development, transportation & service corridors, biological resource use
- Current conservation efforts: Action recovery plan, conservation sites identified, occurs in at least one protected area, subject to ex-situ conservation, subject to international management / trade controls
Pink-throated brilliant
- Scientific name: Heliodoxa gularis
- Red List status: Vulnerable
- Geographic range: Colombia, Ecuador, Peru
- Threatened by: Agriculture & aquaculture, energy production & mining, biological resource use
- Current conservation efforts: Conservation sites identified, occurs in at least one protected area, subject to international management / trade controls
Masked antpitta
- Scientific name: Hylopezus auricularis
- Red List status: Vulnerable
- Geographic range: Bolivia
- Threatened by: Human intrusions & disturbance
- Current conservation efforts: Conservation sites identified, occurs in at least one protected area
Sky blue poison dart frog
- Scientific name: Hyloxalus azureiventris
- Red List status: Endangered
- Geographic range: Peru
- Threatened by: Residential & commercial development, agriculture & aquaculture, biological resource use
- Current conservation efforts: Occurs in at least one protected area, included in international legislation, subject to international management / trade controls
Amazon river dolphin
- Scientific name: Inia geoffrensis
- Red List status: Endangered
- Geographic range: Bolivia, Brazil, Colombia, Ecuador, Peru, Venezuela
- Threatened by: Residential & commercial development, energy production & mining, biological resource use, human intrusions & disturbnce, natural system modifications, pollution
- Current conservation efforts: Action recovery plan, conservation sites identified, occurs in at least one protected area, included in international legislation, subject to any international management / trade controls
Lagothrix lugens
- Scientific name: Lagothrix lugens
- Red List status: Critically endangered
- Geographic range: Colombia
- Threatened by: Residential & commercial development, agriculture & aquaculture, transportation & service corridors, biological resource use
- Current conservation efforts: Occurs in at least one protected area, included in international legislation, subject to international management / trade controls
Southern tiger cat
- Scientific name: Leopardus guttulus
- Red List status: Vulnerable
- Geographic range: Argentina, Brazil, Paraguay
- Threatened by: Residential & commercial development, agriculture & aquaculture, transportation & service corridors, biological resource use, natural system modifications, invasive non-native/alien species/diseases
- Current conservation efforts: Conservation sites identified, area based regional management plan, occurs in at least one protected area, recent education & awareness programs
Northern tiger cat
- Scientific name: Leopardus tigrinus
- Red List status: Vulnerable
- Geographic range: Bolivia, Brazil, Colombia, Costa Rica, Ecuador, French Guiana, Guyana, Panama, Peru, Suriname, Venezuela
- Threatened by: Residential & commercial development, agriculture & aquaculture, energy production & mining, transportation & service corridors, biological resource use, natural system modifications, invasive non-native/alien species/diseases, pollution
- Current conservation efforts: Conservation sites identified, occurs in at least one protected area, included in international legislation, subject to international management / trade controls
Brazilian merganser
- Scientific name: Mergus octosetaceus
- Red List status: Critically endangered
- Geographic range: Argentina, Brazil, Paraguay, Uruguay
- Threatened by: Agriculture & aquaculture, energy production & mining, biological resource use, human intrusions & disturbance, natural system modifications, pollution
- Current conservation efforts: Action recovery plan, conservation sites identified, occurs in at least one protected area, subject to ex-situ conservation, recent education & awareness programs
Minyobates steyermarki
- Scientific name: Minyobates steyermarki
- Red List status: Critically endangered
- Geographic range: Venezuela
- Threatened by: Energy production & mining, biological resource use, pollution
- Current conservation efforts: Occurs in at least one protected area
Santa Rosa cochran frog
- Scientific name: Nymphargus megacheirus
- Red List status: Endangered
- Geographic range: Colombia, Ecuador
- Threatened by: Residential & commercial development, agriculture & aquaculture, biological resource use, invasive non-native/alien species/diseases, pollution, climate change & severe weather
- Current conservation efforts: Conservation sites identified, occurs in at least one protected area
Horned curassow
- Scientific name: Pauxi unicornis
- Red List status: Critically endangered
- Geographic range: Bolivia
- Threatened by: Agriculture & aquaculture, energy production & mining, transportation & service corridors, biological resource use, climate change & severe weather
- Current conservation efforts: Action recovery plan, conservation sites identified, occurs in at least one protected area, recent education & awareness programs
Caquetá tití monkey
- Scientific name: Plecturocebus caquetensis
- Red List status: Critically endangered
- Geographic range: Colombia
- Threatened by: Residential & commercial development, agriculture & aquaculture, biological resource use, human intrusions & disturbance, pollution
- Current conservation efforts: None
Magdalena river turtle
- Scientific name: Podocnemis lewyana
- Red List status: Critically endangered
- Geographic range: Colombia
- Threatened by: Agriculture & aquaculture, biological resource use, natural system modifications
- Current conservation efforts: None
Yellow-spotted river turtle
- Scientific name: Podocnemis unifilis
- Red List status: Vulnerable
- Geographic range: Bolivia, Brazil, Colombia, Ecuador, French Guiana, Guyana, Peru, Suriname, Venezuela
- Threatened by: none
- Current conservation efforts: Included in international legislation, subject to international management / trade controls
Giant armadillo
- Scientific name: Priodontes maximus
- Red List status: Vulnerable
- Geographic range: Argentina, Bolivia, Brazil, Colombia, Ecuador, French Guiana, Guyana, Paraguay, Peru, Suriname, Venezuela
- Threatened by: Agriculture & aquaculture, biological resource use
- Current conservation efforts: Conservation sites identified, occurs in at least one protected area, recent education & awareness programs, included in international legislation, subject to international management / trade controls
Black-winged trumpeter
- Scientific name: Psophia obscura
- Red List status: Critically endangered
- Geographic range: Brazil
- Threatened by: Agriculture & aquaculture, biological resource use
- Current conservation efforts: Conservation sites identified, occurs in at least one protected area
Giant otter
- Scientific name: Pteronura brasiliensis
- Red List status: Endangered
- Geographic range: Bolivia, Brazil, Colombia, Ecuador, French Guiana, Guyana, Paraguay, Peru, Suriname, Venezuela
- Threatened by: Residential & commercial development, agriculture & aquaculture, energy production & mining, transportation & service corridors, biological resource use, invasive & other problematic species/genes/diseases, pollution
- Current conservation efforts: Conservation sites identified, occurs in at least one protected area, recent education & awareness programs, included in international legislation, subject to any international management / trade controls
Saguinus bicolor
- Scientific name: Saguinus bicolor
- Red List status: Endangered
- Geographic range: Brazil (Amazonas)
- Threatened by: Residential & commercial development, agriculture & aquaculture, transportation & service corridors, biological resource use, invasive & other problematic species/genes/diseases
- Current conservation efforts: Conservation sites identified, subject to ex-situ conservation, subject to recent education & awareness programs, included in international legislation, subject to any international management / trade controls
Lowland tapir
- Scientific name: Tapirus terrestris
- Red List status: Vulnerable
- Geographic range: Argentina, Bolivia, Brazil, Colombia, Ecuador, French Guiana, Guyana, Paraguay, Peru, Suriname, Venezuela
- Threatened by: Residential & commercial development, agriculture & aquaculture, biological resource use
- Current conservation efforts: Conservation sites identified, included in international legislation, subject to any international management / trade controls
Telmatobius hintoni
- Scientific name: Telmatobius hintoni
- Red List status: Vulnerable
- Geographic range: Bolivia
- Threatened by: Biological resource use, pollution
- Current conservation efforts: Conservation sites identified
Black tinamou
- Scientific name: Tinamus osgoodi
- Red List status: Vulnerable
- Geographic range: Bolivia (resident), Colombia, Peru (breeding), Ecuador (seasonal)
- Threatened by: Agriculture & aquaculture, energy production & mining, biological resource use
- Current conservation efforts: Conservation sites identified, occurs in at least one protected area
Amazonian manatee
- Scientific name: Trichechus inunguis
- Red List status: Vulnerable
- Geographic range: Brazil, Colombia, Ecuador, Peru
- Threatened by: Residential & commercial development, agriculture & aquaculture, energy production & mining, transportation & service corridors, biological resource use, human intrusions & disturbnce, natural system modifications, pollution, climate change & severe weather
- Current conservation efforts: Conservation sites identified, area based regional management plan, occurs in at least one protected area, subject to ex-situ conservation, recent education & awareness programs, included in international legislation, subject to any international management / trade controls