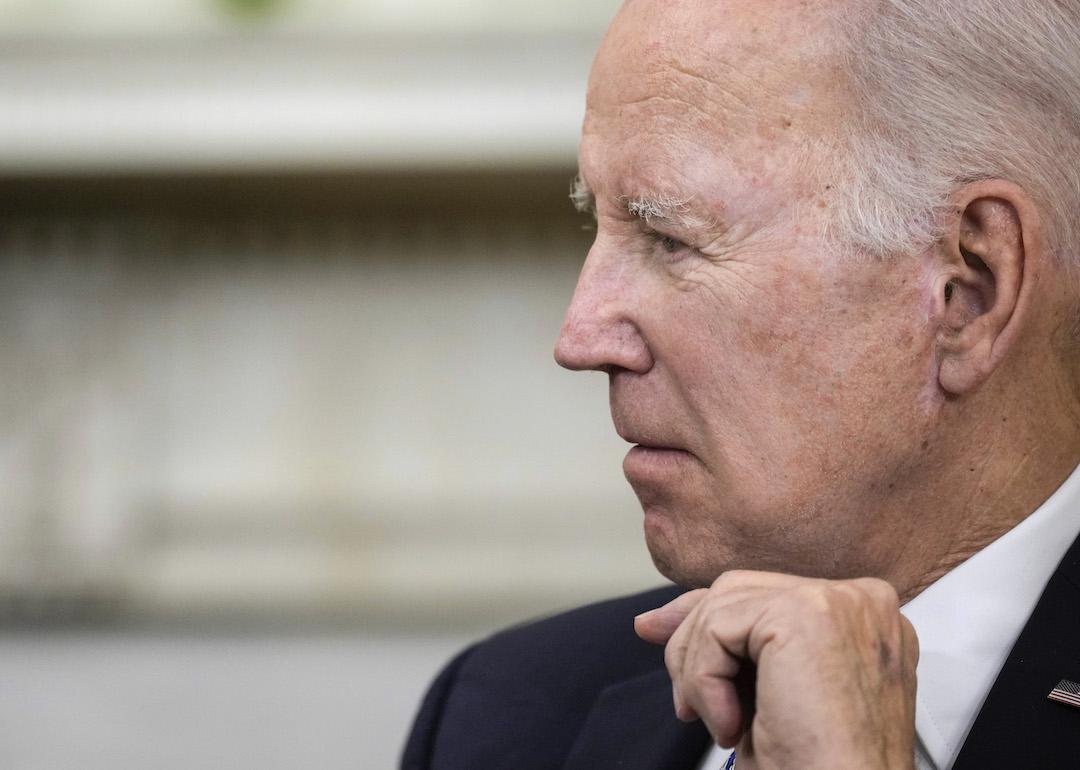 5 Biden administration decisions that mirror Trump-era policies
Drew Angerer // Getty Images
5 Biden administration decisions that mirror Trump-era policies
In early March 2023, reports surfaced that the Biden administration is considering reinstating the highly controversial Trump-era policy of migrant family detention. Though the policy has not been formally announced, its reconsideration has raised alarm bells for human rights organizations, immigrants rights advocates, and more than 100 House Democrats, who wrote a letter to the president on March 28 expressing concern and urging him not to "return to a cruel policy of the past."
If the Biden administration moves forward with its revival of the policy, it would fly in the face of President Biden's campaign promises and his own actions to put a stop to family detention early on in his presidency. In a tweet posted in June 2020, Biden condemned the practice, writing, "Children should be released from ICE detention with their parents immediately. This is pretty simple, and I can't believe I have to say it: Families belong together."
A different letter, written by the American Academy of Pediatrics to President Biden on March 16, argued that detaining children for any length of time is unsafe, and can pose "a threat to child health," and asked him to "abandon any effort" to imprison families.
This is not the first time the Biden administration has entertained—or carried out—reinstating a Trump-era policy, despite its rollback of many Trump administration decisions. Some revivals of Trump policies have not been intentional choices on the part of President Biden. For instance, Biden attempted to end President Trump's "remain in Mexico" policy when he first took office but was blocked by a lawsuit that forced the program to restart. A U.S. district judge finally lifted his injunction in August 2022, allowing the Biden administration to proceed with ending the program.
Some Trump-era policies have, however, been taken up by the Biden administration without the insistence of the courts. Certain policy experts have pointed out that some degree of continuity between administrations, however ideologically different, is standard practice, while others have remarked on inconsistencies between President Biden's stated principles and his administration's actions.
Stacker compared policy briefs, news reports, and formal decisions from the Trump and Biden administrations to see how certain policies have carried over—or been walked back and then reinstated—between the two presidencies.