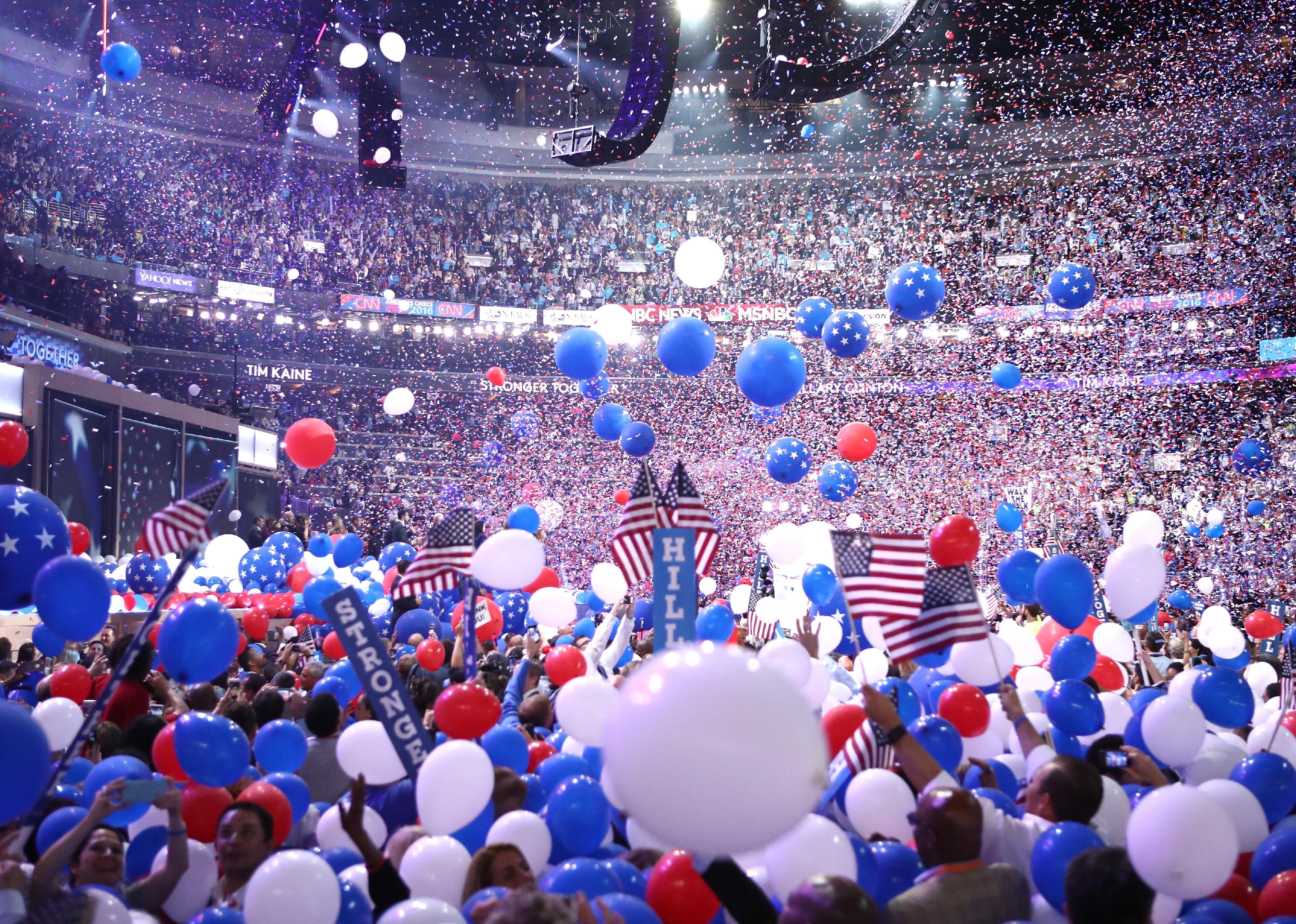 Historic moments from past political conventions
Jessica Kourkounis // Getty Images
Historic moments from past political conventions
Political conventions can seem like old-timey, corny affairs with silly hats, endless enthusiasm, and no shortage of red, white, and blue balloons and bunting. In fact, they have provided the scenes for substantial dealmaking, strategic maneuvering, fundraising, and a fair share of backstabbing. More than a few careers have begun—and ended—at political conventions.
Conventions have heralded a host of firsts, from the first Black woman to address the floor to the first woman to be nominated for the highest office. Barack Obama made his first significant appearance at a political convention as a young state senator, telling the crowd in Boston that his was an unlikely American story and that his African name meant "blessed."
These forums have given us last looks, as well. A grieving nation paid a tearful tribute to a slain president at a convention in 1964, and venerable figures like Ted Kennedy and Ronald Reagan made poignant farewells on convention stages.
Conventions have been the gatherings for setting thought-provoking goals and advocating for political change. Jesse Jackson reminded delegates that the nation was a rainbow of citizens, and Mario Cuomo reminded them that the country was like two cities, one shining and rich, the other desperate and poor. The nation's division in 1968 was televised in American homes courtesy of the violence-torn Democratic convention in Chicago. Missteps and gaffes have had their roles to play, from Jimmy Carter's fumbled words to a speech by Melania Trump that raised accusations of plagiarism.
Whether they are meetings of power brokers and big-time donors or expensive infomercials bloated with delegate breakfasts and cocktail parties, conventions are milestones that usher in a frenzied season of politicking ahead of the November general election. Candidates introduce themselves, and campaigns strive for enthusiasm and momentum.
This year, amid the coronavirus pandemic, conventions will be dramatically different affairs, held virtually and thus without the crowds, the cheers, and the pageantry. The Democratic National Convention is set for Aug. 17–20, followed by the Republican National Convention from Aug. 24–27. Some say this could mark a lasting change in conventions, which might not return to former incarnations.
Stacker took a look back at 20 historic moments from the nation's political conventions over the years, consulting academic accounts, news reports, and the memories of those who were there.