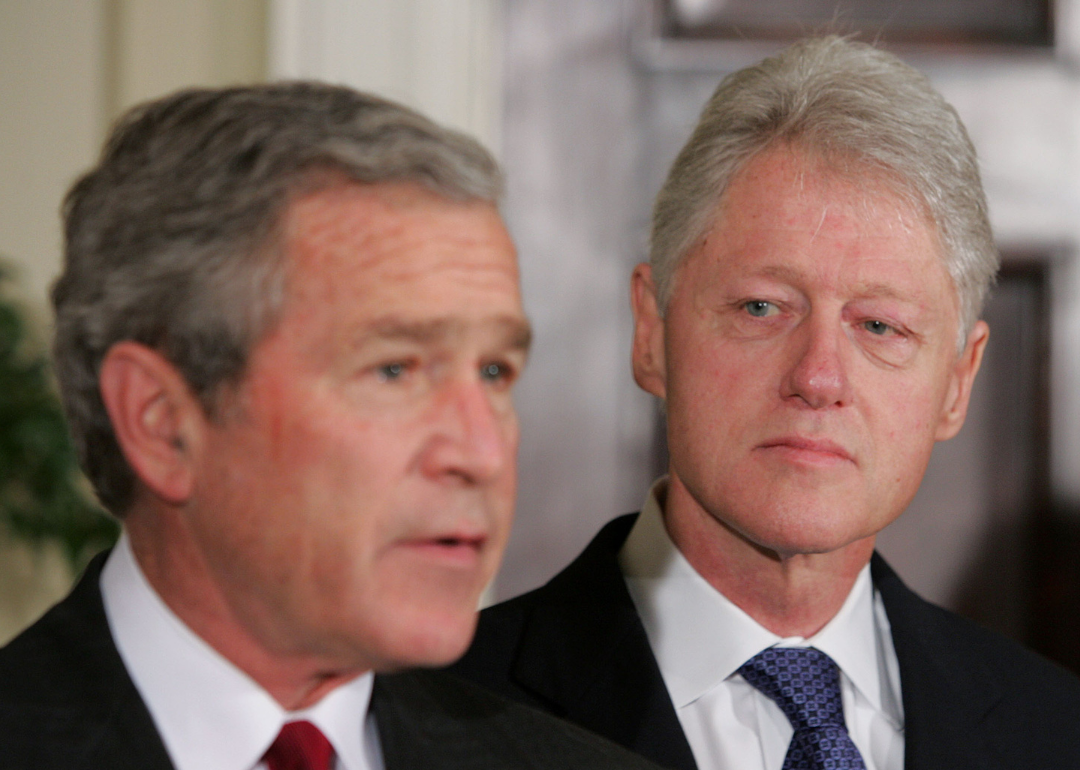 US presidents who were elected for a second term, ranked
Chip Somodevilla/Getty Images
US presidents who were elected for a second term, ranked
Forty-five men have held the title of President of the United States since George Washington took the original oath of office in 1789. Less than half were elected to a second term, while just one, Franklin Delano Roosevelt, was elected to a third (and fourth, for that matter). Roosevelt was three months into his fourth term when he died in April 1945, making him the longest-serving president in U.S. history.
When Republicans gained control of Congress during the 1946 midterm elections, they became the driving force, fueled by partisan outrage at the length of FDR's presidency, behind the passage of the 22nd Amendment in 1947. The amendment effectively limits presidents to two four-year terms. Following approval from the states, the amendment was finally ratified in 1951, midway through Harry S. Truman's first fully elected term (though he also served nearly four years prior, ascending to the presidency following FDR's death).
Reelection to America's highest office is both a demonstration of national temperament and a reflection of the social and political views of a given period in our nation's history. The fact that presidents have sought and won reelection nearly as many times as they have failed to do so speaks to the challenging nature of executive leadership and the fickle nature of American voters when it comes to the persuasive power of political campaigning.
Stacker dug through the data of C-SPAN's most recent ranking of all U.S. presidents based on a 10-point scale devised by academics to rank those chief executives who served more than one term in office. The scale from 1 "not effective" to 10 "very effective" is based on performance in 10 categories: public persuasion, crisis leadership, economic management, moral authority, international relations, administrative skills, congressional relations, ability to set an agenda, the pursuit of equal justice for all, and overall performance within the context of the times. A president's total score is the sum of all the categories (out of a possible 1,000); the scores for each category are the average score from all respondents (out of 100). In 2022, 142 respondents participated in the survey, up from 91 in 2017.
Twenty-one presidents have been elected to a second term. A "second term" means winning two elections outright or being appointed to the first term, then winning reelection. Four presidents assumed office after the sitting president died. While only 45 presidents have held office, the U.S. has seen 46 total presidencies because one commander in chief served nonconsecutive terms. Which one, you ask? Keep reading to find out and to see how each second-term president stacks up among their fellow two-termers.
You may also like: Experts rank the best US presidents of all time