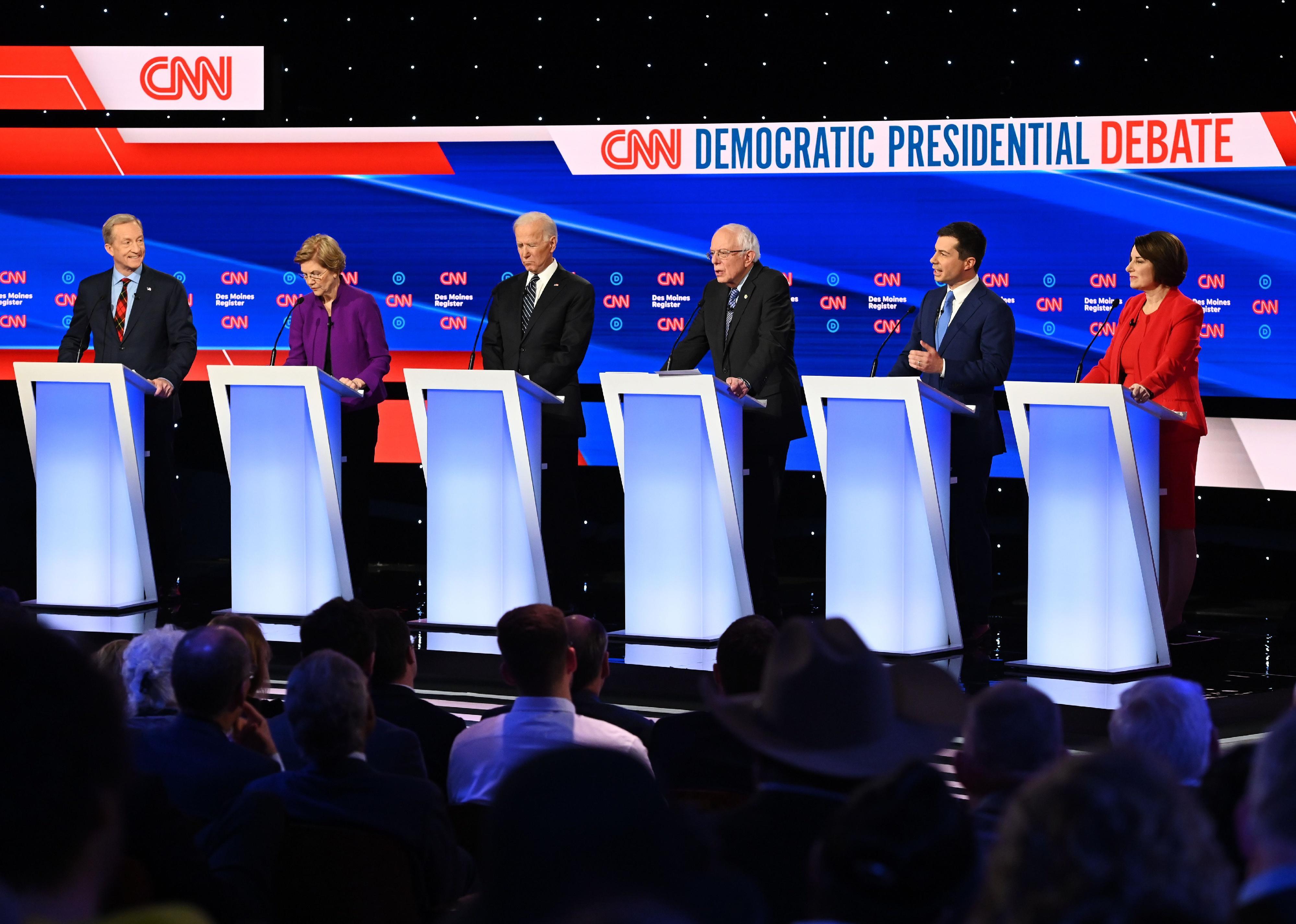 This week's election news in photos
ROBYN BECK/AFP // Getty Images
This week's election news in photos
Stacker pored over election-related news photos this week to round up some of the highlights, from Bernie Sanders' town hall and President Trump's campaign rally to a tightening Democratic field and increased election security. Keep reading to find out what's new and keep up with developments in the 2020 presidential race.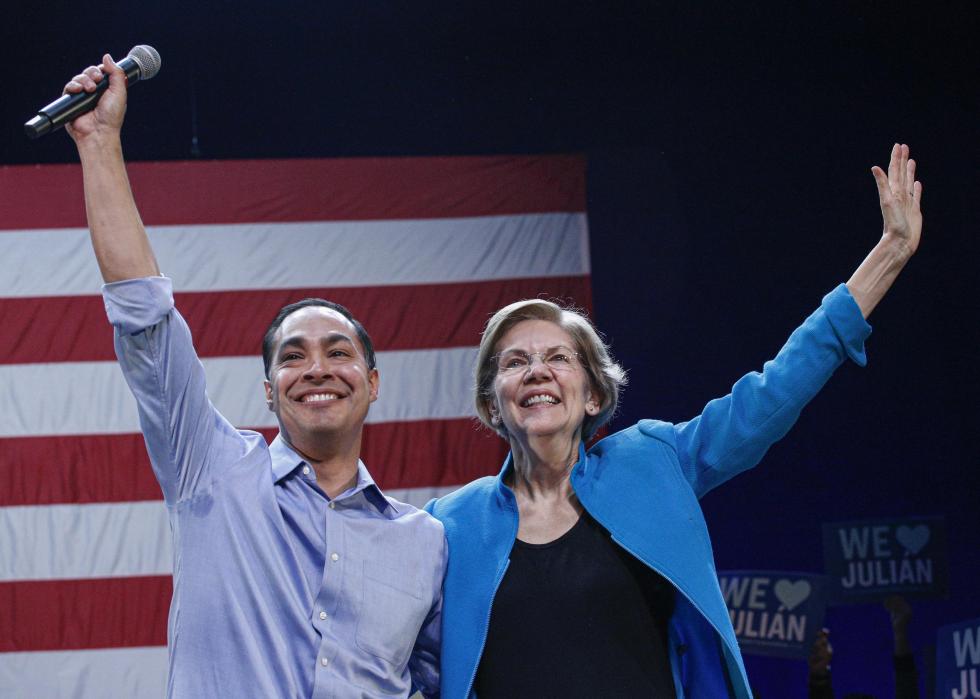 1 / 8
Kena Betancur // Getty Images
Julian Castro endorses Warren, joins her at Brooklyn rally
Former Housing and Urban Development secretary and presidential candidate Julian Castro on Jan. 6 endorsed Sen. Elizabeth Warren for president. This endorsement comes a few weeks after Castro dropped out of the race, saying, "It simply isn't our time." He joined Sen. Elizabeth Warren at her Brooklyn campaign rally the next evening and, following that, headed out on the campaign trail in support of Warren.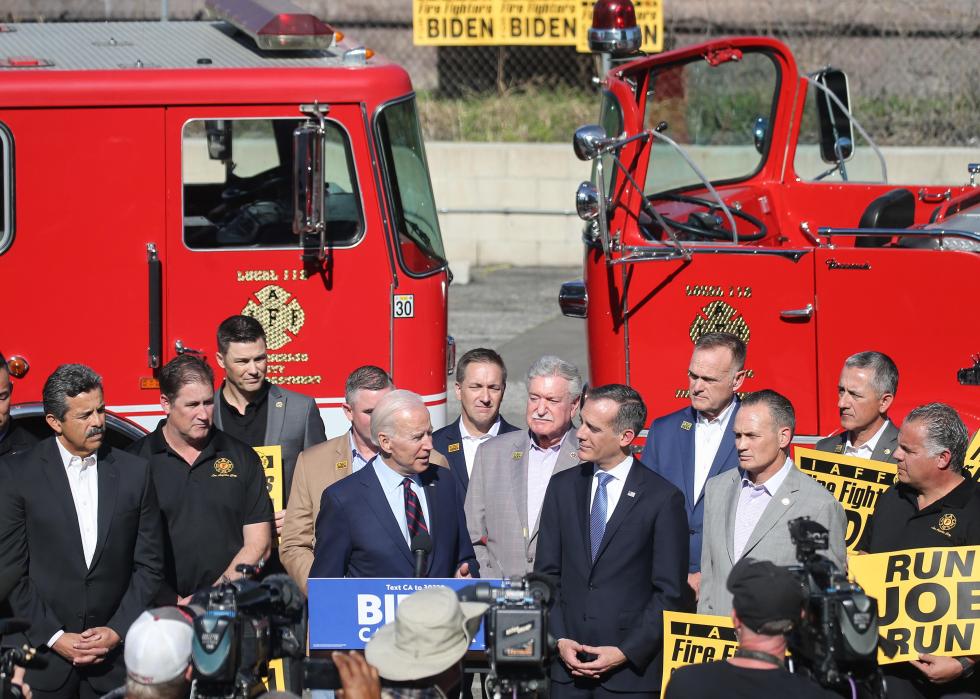 2 / 8
Mario Tama // Getty Images
Mayor Eric Garcetti endorses Biden
Los Angeles Mayor Eric Garcetti (right of center) on Jan. 9 endorsed former Vice President Joe Biden for the Democratic nomination for president. Biden and Garcetti were both present to announce the endorsement at a campaign event held with the International Association of Firefighters.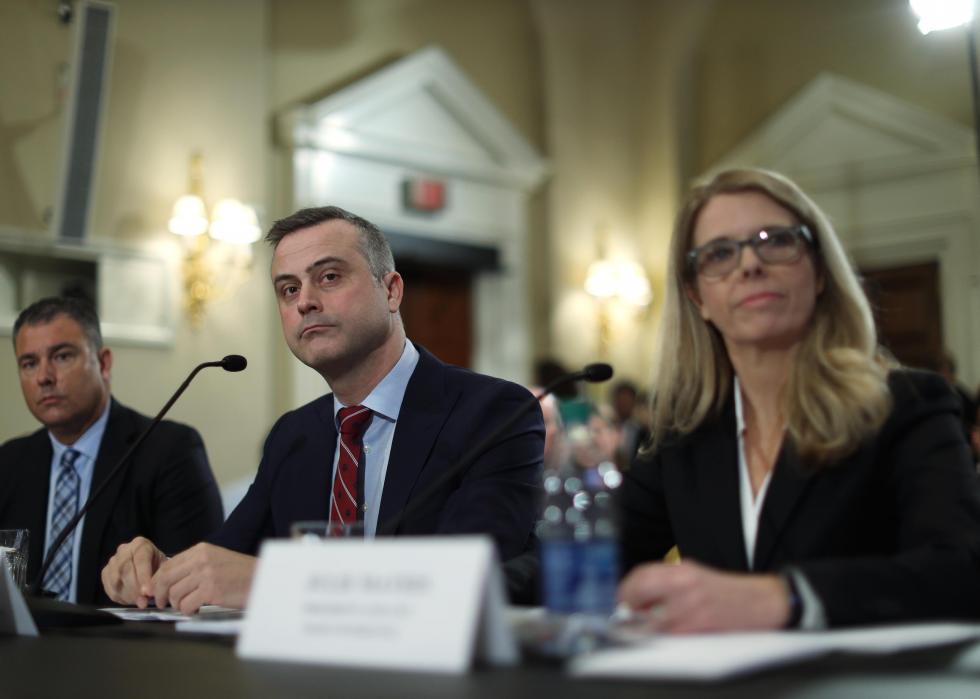 3 / 8
Alex Wong // Getty Images
Voting machine vendors testify in election security hearing
The House Administration Committee on Jan. 9 held a hearing on 2020 election security. CEOs of the country's three largest voting equipment manufacturers were brought in to testify. They are (from left): Election Systems & Software president and CEO Tom Burt; Dominion Voting Systems president and CEO John Poulos and Hart InterCivic president and CEO Julie Mathis.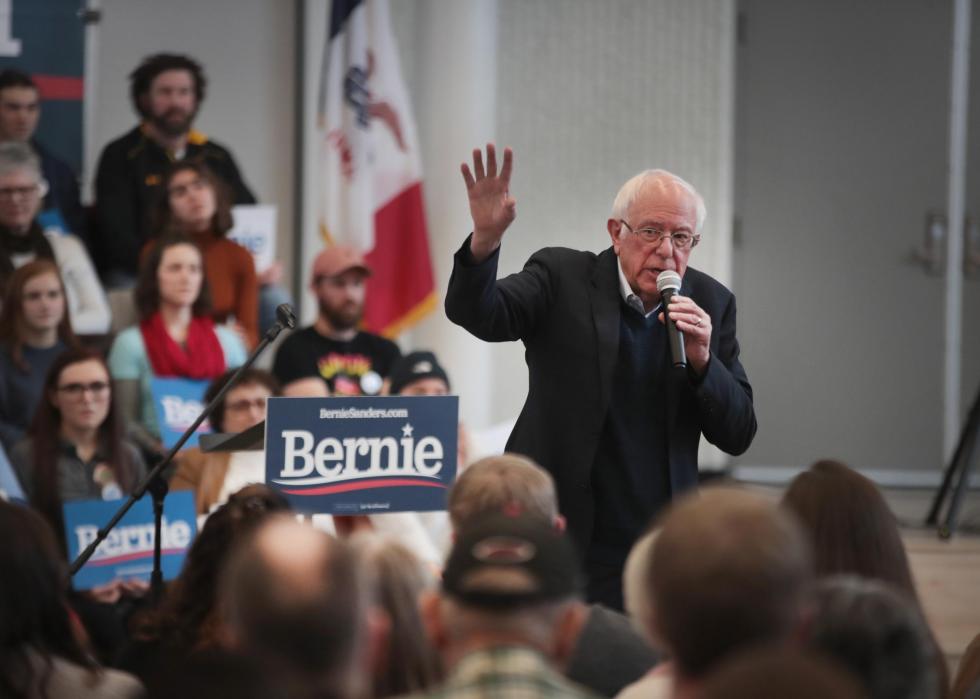 4 / 8
Scott Olson // Getty Images
Bernie Sanders holds town hall in Iowa
Democratic presidential candidate Sen. Bernie Sanders on Jan. 11 held a town hall in Newton, Iowa. Sanders and former Vice President Joe Biden are neck and neck for leading place among Democratic presidential contenders in Iowa ahead of the caucuses there in early February, according to recent polling by FiveThirtyEight.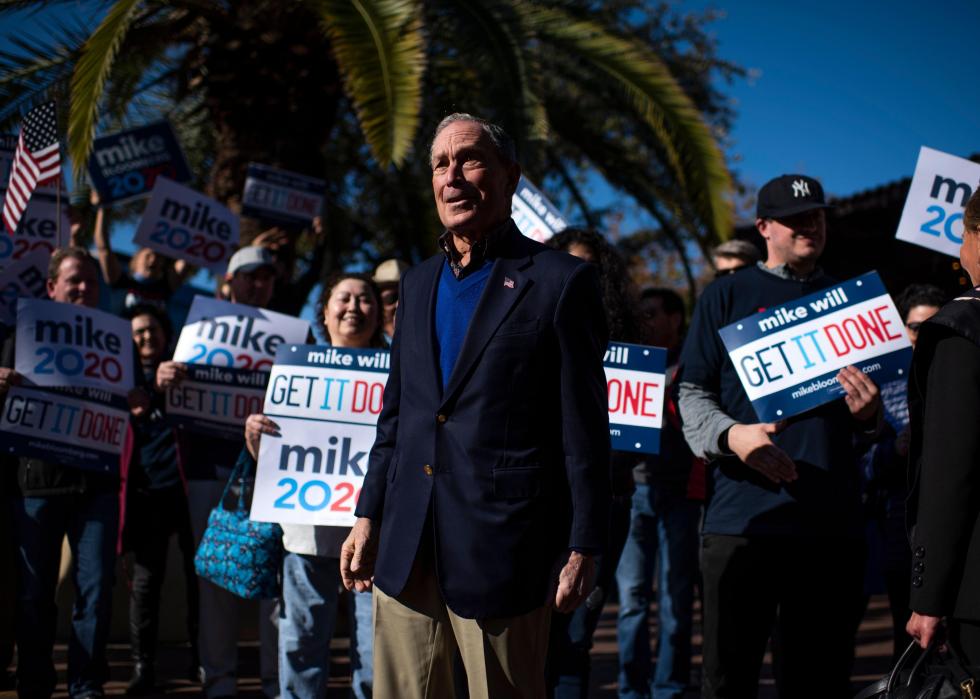 5 / 8
MARK FELIX/AFP/AFP // Getty Images
Mike Bloomberg kicks off tour
Democratic presidential candidate Mike Bloomberg on Jan. 13 kicked off his Texas bus tour in San Antonio. Bloomberg's self-financed campaign includes more than 1,000 paid staff with roughly 700 workers spread across 33 states and more than $200 million spent already on ads. By not accepting donations, Bloomberg missed the qualifying threshold of 200,000 individual donors (with 800 donors in 20 states) for Jan. 14's Democratic debate.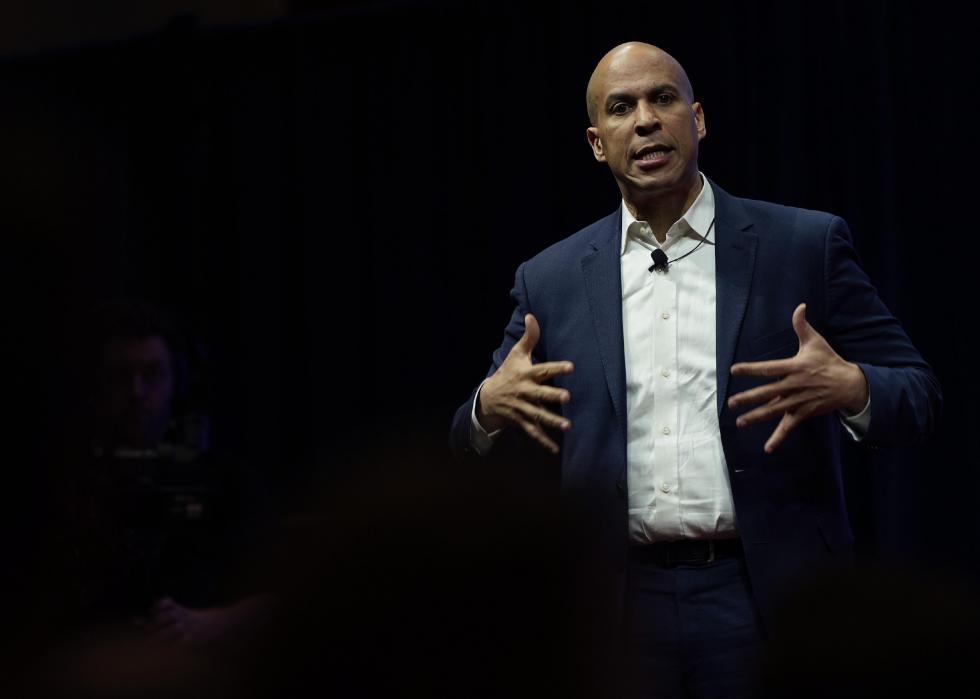 6 / 8
Win McNamee // Getty Images
Cory Booker drops out of the presidential race
Cory Booker's exit from the 2020 presidential race also marks the exit of the last presidential candidate of color. Booker was unable to qualify for the Jan. 14 Democratic debate in Iowa and cited lack of funds as his reason for suspending his campaign.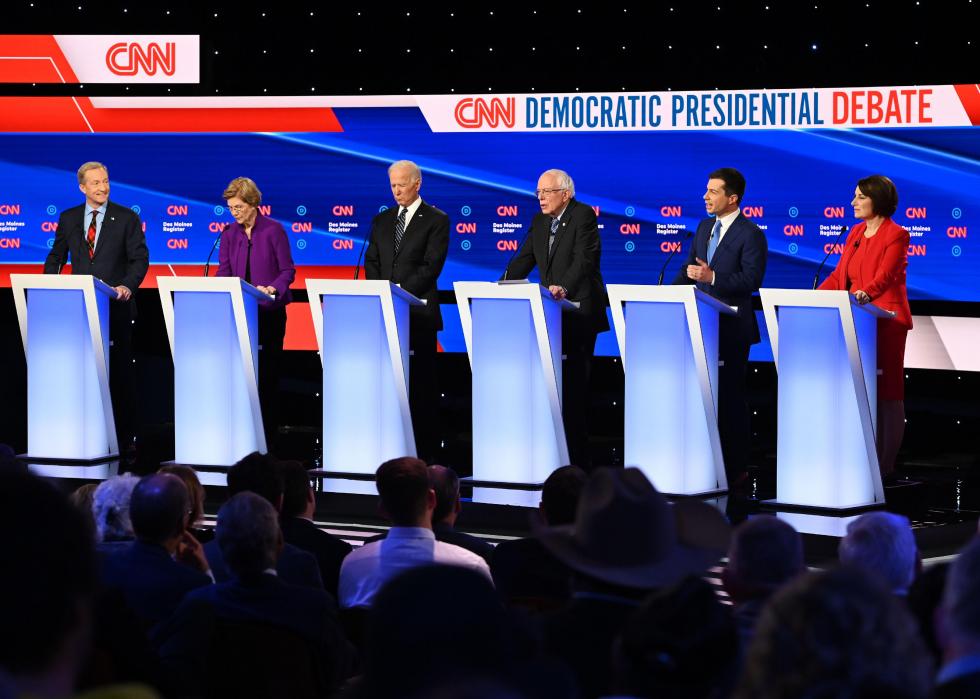 7 / 8
ROBYN BECK/AFP // Getty Images
Democratic presidential primary debate
Six candidates on Jan.14 gathered at Drake University in Des Moines, Iowa, for a presidential primary debate. During the event, Sen. Bernie Sanders (I-VT) (right) was asked about allegedly commenting to Sen. Warren (D-MA) (left) that a woman could not win the election. He denied making such a claim. Asked for her reaction, Warren responded by saying, "I disagreed. Bernie is my friend, and I am not here to try to fight with Bernie, but look, this question about whether or not a woman can be president has been raised, and it's time for us to attack it head-on, and I think the best way to talk about who can win is by looking at people's winning record. So, can a woman beat Donald Trump? Look at the men on this stage. Collectively, they have lost 10 elections. The only people on this stage who have won every single election that they've been in are the women—Amy and me."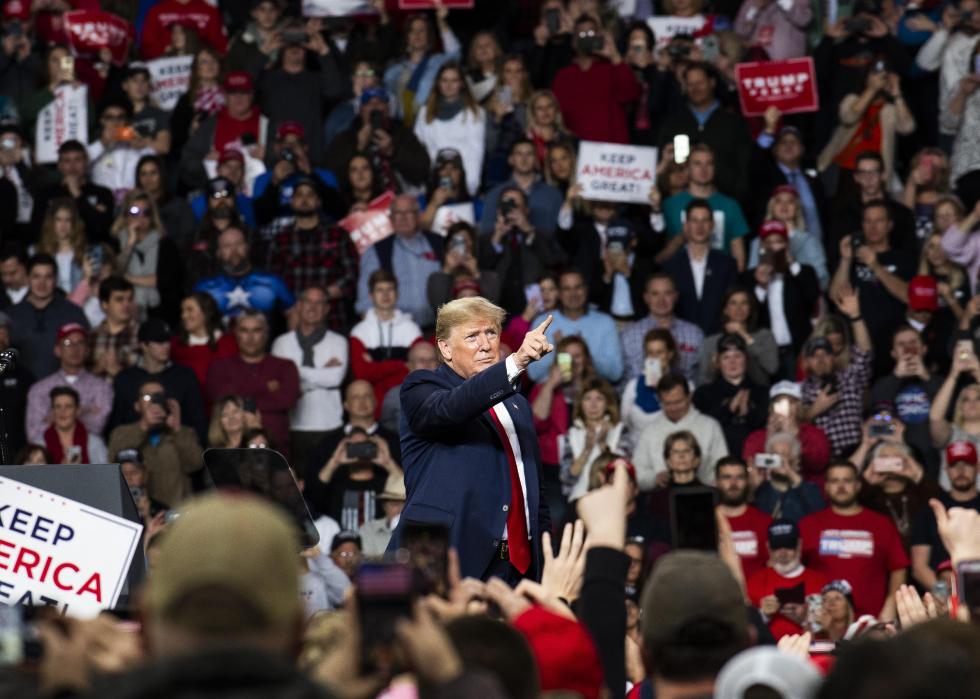 8 / 8
Brittany Greeson // Getty Images
Trump holds first 'Keep America Great' rally of 2020
While the Democrats were facing off on the debate stage, President Donald Trump on Jan. 14 held a "Keep America Great" campaign rally Toledo, Ohio. Ohio, a swing state, voted for Trump in the 2016 election. This is Trump's first rally in the election year.