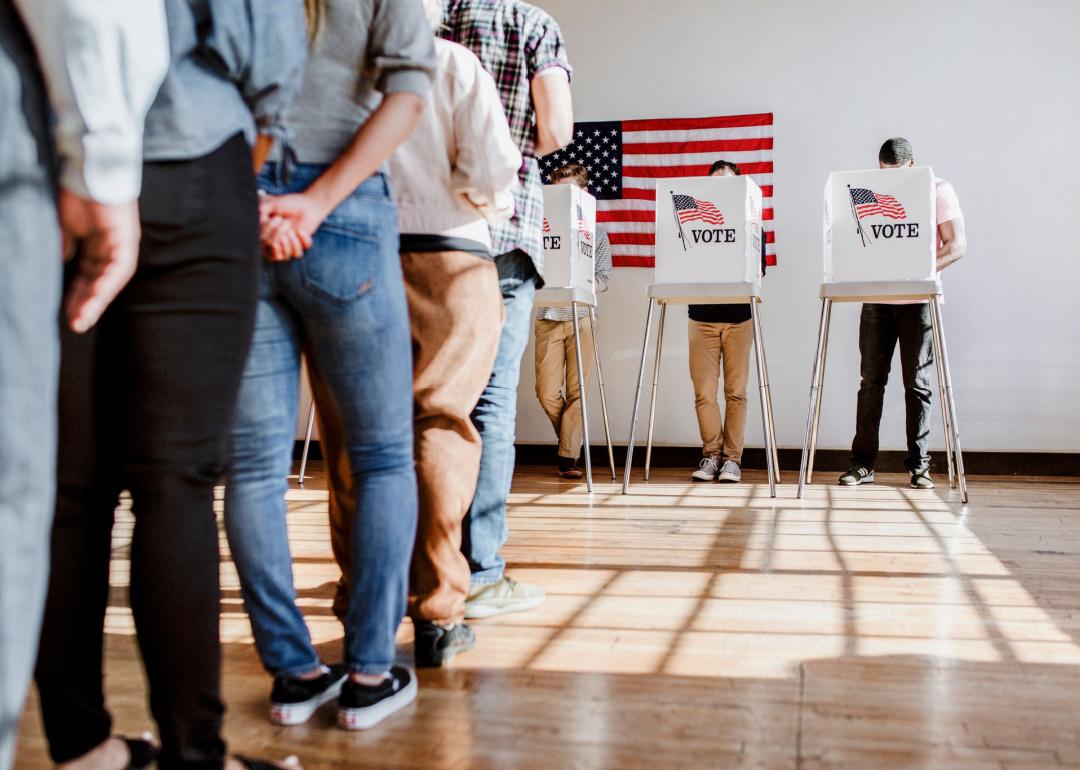 What makes people vote? What data and experts say
rawpixel.com // Shutterstock
What makes people vote? What data and experts say
As the 2022 midterm elections approach, voter turnout is becoming a topic of interest—notably because midterm elections have historically had much lower turnout than presidential elections. Despite this fact, the most recent midterm election, held in 2018, saw a higher percentage of voters hitting the polls than during any midterm since at least 1978. Voter interest in this year's elections is expected to be just as significant, if not more so, because issues such as abortion rights and inflation have atomized the American public from across the political spectrum. Stacker asked a series of experts the deceptively simple question, "Why should people vote?" and received varied, albeit complementary, views.
Jasleen Singh, counsel for the Brennan Center for Justice's Democracy Program, said, "Voting is a fundamental right in a democracy, and only when the right to vote can function at its fullest does democracy work well."
Samantha Kelty, who works to eliminate voting obstacles faced by Native Americans as a staff attorney for the Native American Rights Fund, agreed. "Participatory democracy is how we create justice and positive change for everybody without a voice," she said.
Christopher Beem, managing director of the McCourtney Institute for Democracy and associate research professor of political science at Penn State University, sees a large-scale social shift in how Americans view both their role in a democratic society and the impact of that democracy on their lives. "In the last few years, we have come to understand that democracy is hard work, that it requires a lot from all of us, and that it's fragile," Beem told Stacker. "I think that we are in a point in our history where we all need to do what we can to preserve democracy." Beem went on to say that the well-being of democracy starts with voting, but it doesn't stop there.
Singh echoed Beem's sentiment to some degree, saying that, in looking back at how political events unfolded in 2020 as well as what has transpired since then, "lawmakers' [claims of] 'stolen' elections and election irregularities have been used to justify laws that restrict voting rights." In Singh's opinion, this issue is the result of an increasing divide in the U.S., which is manifesting in it becoming easier to vote in places where it was previously relatively easy to vote, and much more difficult where difficulty was already the norm.
Programs and Outreach Director for the League of Women Voters Maggie Bush indicated that the importance of voting goes beyond simple allegiance to a political party or ideology: "Americans are worried about the economy, the safety of kids in school, reproductive rights, and the future of climate, and voting is the way to have some power over these issues."
Aside from whatever political or social issue captures or creates the zeitgeist in a given time period, are there keystone characteristics behind why people vote? Are there core human traits that are ever present or underlying motivations that goad people to action? And what are the external factors that bear the greatest and deepest influence? In short, what makes people vote?
Stacker is participating in Democracy Day, a national call to action that highlights the importance of our democracy and the struggles we currently face in protecting it. As part of our coverage of this important topic, we've interviewed the aforementioned experts and compiled data from multiple sources—including FiveThirtyEight's Voting Laws Tracker and an analysis by the American Psychological Association—to create a list of the top motivations behind people's participation in the electoral process.
You may also like: Here's how much legislation in each state restricts or protects trans youth