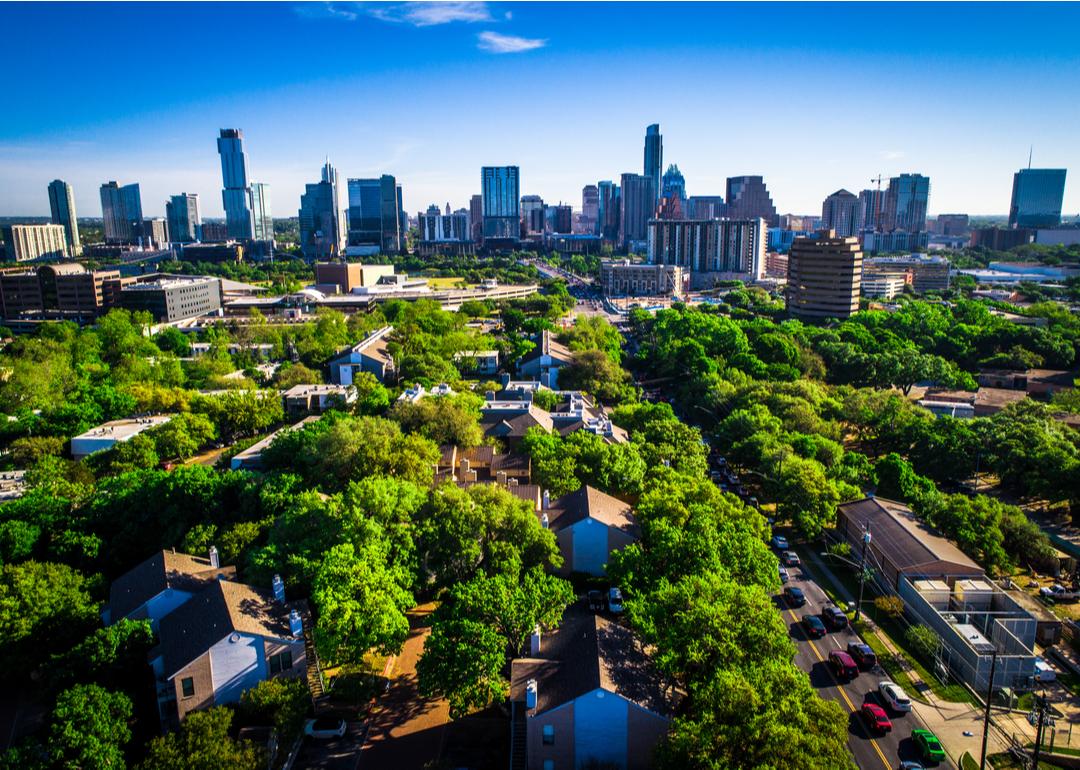 Stacker Studio
10 metro areas with growing real estate markets
Roschetzky Photography // Shutterstock
10 metro areas with growing real estate markets
Bidding wars. Over-asking offers. Cash buyers. Eager investors. Inventory shortages. If there's one part of the economy that has been completely upended by the pandemic, it's the housing market.
Cities like San Francisco and New York have always been well out of reach for the average homebuyer. As tech and business hubs, these cities are a big draw for high earners attracted to the employment opportunities and unique lifestyles these places can offer. In turn, housing inventory has always been limited in these cities, pushing the prices to a premium. Even before the COVID-19 pandemic, it wasn't unusual for home prices in the more desirable parts of New York City to start at the million- or multimillion-dollar mark, making them well out of reach for most people.
But while real estate markets in cities like these have always been relatively inaccessible to low- and moderate-income buyers, there were other markets across the nation where homes were affordable before the pandemic took hold. Homes in cities like Cleveland, Ohio, or Boise, Idaho, were still well within the realm of possibility for low- and moderate-income buyers—as were homes in many rural or suburban areas.
That all changed when the pandemic buying frenzy took hold, though. As investors and buyers swarmed markets across the nation, home prices began to skyrocket, and housing shortages became commonplace. During the height of the buying frenzy, it was hardly surprising to hear that average home prices in a rural Tennessee town or a small Texas suburb had doubled—adding yet another affordability hurdle for buyers.
While demand has since begun to cool off in some markets, that's certainly not the case for every market. Many metro areas across the nation are still seeing rampant real estate market growth—even as mortgage rates start to slowly tick upward. But what metro areas have seen the most real estate growth over the past six months—and what exactly is driving it?
Fund That Flip analyzed data from Zillow and the Bureau of Labor Statistics to determine 10 metros where real estate markets have been growing. While there is not an exact formula to rank real estate market growth, there are several factors homebuyers, sellers, and investors look at to determine the health of a housing market. These factors include growing home values; a high sale-to-list ratio, which is when the sales price of a home is close to the initial listing price for it; how fast homes are being sold; and economic factors such as business growth and unemployment rates.
For this story, Fund That Flip listed 10 cities that show healthy metrics for six-month growth in home values at 10% or higher, a high sale-to-list ratio at 85% or higher, and a low unemployment rate at under 5%. Additional statistics on housing inventory and the median days a house is on the market until its sale is pending are also included. All data is from September 2021, the most recent data available.
This story originally appeared on Fund That Flip and was produced and distributed in partnership with Stacker Studio.