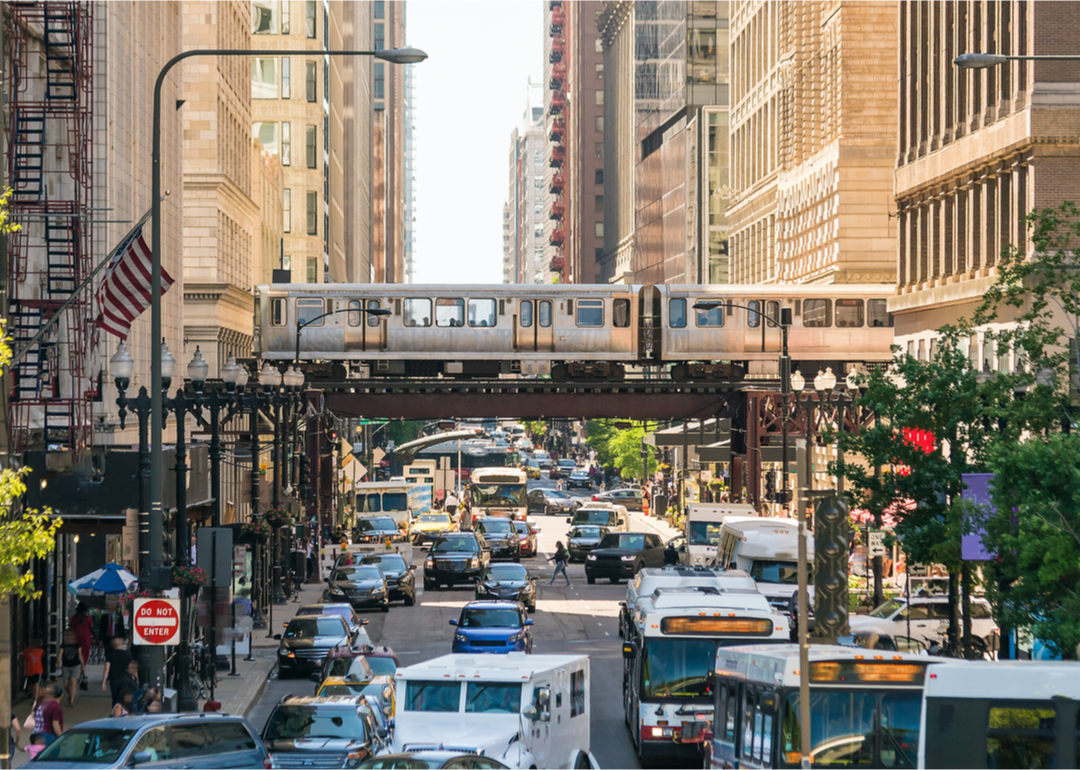 The 50 hardest working cities in America
The 50 hardest working cities in America
All work and no play probably means Jack lives in San Francisco … or Jersey City. Or Washington, D.C. At least, that's what someone who lives in one of those cities is liable to believe. While the majority of Americans reported that hard work and resiliency are the most important factors for success in 2016, a poll taken in 2017 revealed that 74% of Americans believe lack of opportunities, not hard work, contribute to income inequality.
How is hard work defined, and where can it be found? Stacker used data from WalletHub to put together a list of cities with the hardest working residents. WalletHub calculated a "Total Score" to measure how hardworking a city is by taking into account both direct work factors like average hours worked per week and employment rate (weighted 80%) and indirect work factors such as commute time and average volunteer hours amongst residents (weighted 20%). More on that methodology can be found here.
 It should be noted that WalletHub looked only at the most populated cities when compiling this data; as such, there are many smaller metro areas likely deserving on a place on this list. Read on to find out if San Franciscans are as hardworking as they claim.
#50. Jacksonville, FL
Hard-working index: 52.18
Direct' work factors rank: #46
Indirect' work factors rank: #93


 
#49. San Bernardino, CA
Hard-working index: 52.57
Direct' work factors rank: #44
Indirect' work factors rank: #81


 
#48. Mesa, AZ
Hard-working index: 52.70
Direct' work factors rank: #54
Indirect' work factors rank: #52


 
#47. Orlando, FL
Hard-working index: 52.88
Direct' work factors rank: #41
Indirect' work factors rank: #97


 
#46. Phoenix, AZ
Hard-working index: 53.52
Direct' work factors rank: #52
Indirect' work factors rank: #39


 
#45. San Diego, CA
Hard-working index: 53.74
Direct' work factors rank: #57
Indirect' work factors rank: #16


 
#44. Santa Ana, CA
Hard-working index: 53.97
Direct' work factors rank: #34
Indirect' work factors rank: #106


 
#43. Virginia Beach, VA
Hard-working index: 54.26
Direct' work factors rank: #49
Indirect' work factors rank: #24


 
#42. Honolulu, HI
Hard-working index: 54.26
Direct' work factors rank: #37
Indirect' work factors rank: #80


 
#41. Miami, FL
Hard-working index: 54.55
Direct' work factors rank: #31
Indirect' work factors rank: #107


 
#40. Minneapolis, MN
Hard-working index: 55.24
Direct' work factors rank: #47
Indirect' work factors rank: #15


 
#39. St. Petersburg, FL
Hard-working index: 55.68
Direct' work factors rank: #39
Indirect' work factors rank: #46


 
#38. Tampa, FL
Hard-working index: 55.78
Direct' work factors rank: #40
Indirect' work factors rank: #40


 
#37. St. Paul, MN
Hard-working index: 55.80
Direct' work factors rank: #42
Indirect' work factors rank: #18


 
#36. Manchester, NH
Hard-working index: 55.95
Direct' work factors rank: #45
Indirect' work factors rank: #14


 
#35. San Antonio, TX
Hard-working index: 56.07
Direct' work factors rank: #36
Indirect' work factors rank: #61


 
#34. Irving, TX
Hard-working index: 56.67
Direct' work factors rank: #38
Indirect' work factors rank: #20


 
#33. Houston, TX
Hard-working index: 57.08
Direct' work factors rank: #28
Indirect' work factors rank: #86


 
#32. Glendale, AZ
Hard-working index: 57.36
Direct' work factors rank: #35
Indirect' work factors rank: #47


 
#31. Nashville, TN
Hard-working index: 57.44
Direct' work factors rank: #29
Indirect' work factors rank: #73


 
#30. Irvine, CA
Hard-working index: 57.85
Direct' work factors rank: #23
Indirect' work factors rank: #94


 
#29. Portland, OR
Hard-working index: 58.05
Direct' work factors rank: #33
Indirect' work factors rank: #42


 
#28. Chesapeake, VA
Hard-working index: 58.32
Direct' work factors rank: #32
Indirect' work factors rank: #53


 
#27. Seattle, WA
Hard-working index: 59.00
Direct' work factors rank: #30
Indirect' work factors rank: #41


 
#26. Austin, TX
Hard-working index: 59.63
Direct' work factors rank: #26
Indirect' work factors rank: #56


 
#25. Chula Vista, CA
Hard-working index: 60.34
Direct' work factors rank: #27
Indirect' work factors rank: #22


 
#24. Gilbert, AZ
Hard-working index: 60.36
Direct' work factors rank: #25
Indirect' work factors rank: #29


 
#23. Dallas, TX
Hard-working index: 60.82
Direct' work factors rank: #24
Indirect' work factors rank: #28


 
#22. Riverside, CA
Hard-working index: 60.90
Direct' work factors rank: #18
Indirect' work factors rank: #78


 
#21. Anaheim, CA
Hard-working index: 61.19
Direct' work factors rank: #16
Indirect' work factors rank: #105


 
#20. Fort Worth, TX
Hard-working index: 61.43
Direct' work factors rank: #20
Indirect' work factors rank: #34


 
#19. Denver, CO
Hard-working index: 61.44
Direct' work factors rank: #22
Indirect' work factors rank: #19


 
#18. Arlington, TX
Hard-working index: 61.54
Direct' work factors rank: #19
Indirect' work factors rank: #43


 
#17. Plano, TX
Hard-working index: 61.68
Direct' work factors rank: #21
Indirect' work factors rank: #20


 
#16. Long Beach, CA
Hard-working index: 63.46
Direct' work factors rank: #10
Indirect' work factors rank: #101


 
#15. Baltimore, MD
Hard-working index: 63.71
Direct' work factors rank: #17
Indirect' work factors rank: #59


 
#14. Philadelphia, PA
Hard-working index: 64.32
Direct' work factors rank: #15
Indirect' work factors rank: #50


 
#13. Garland, TX
Hard-working index: 64.94
Direct' work factors rank: #14
Indirect' work factors rank: #45


 
#12. Los Angeles, CA
Hard-working index: 64.99
Direct' work factors rank: #8
Indirect' work factors rank: #104


 
#11. San Jose, CA
Hard-working index: 65.13
Direct' work factors rank: #13
Indirect' work factors rank: #48


 
#10. Chicago, IL
Hard-working index: 65.20
Direct' work factors rank: #12
Indirect' work factors rank: #65


 
#9. Newark, NJ
Hard-working index: 67.02
Direct' work factors rank: #11
Indirect' work factors rank: #23


 
#8. Aurora, CO
Hard-working index: 68.56
Direct' work factors rank: #9
Indirect' work factors rank: #32


 
#7. Boston, MA
Hard-working index: 68.64
Direct' work factors rank: #6
Indirect' work factors rank: #74


 
#6. Oakland, CA
Hard-working index: 70.56
Direct' work factors rank: #4
Indirect' work factors rank: #68


 
#5. New York, NY
Hard-working index: 71.88
Direct' work factors rank: #5
Indirect' work factors rank: #35


 
#4. Washington, DC
Hard-working index: 74.06
Direct' work factors rank: #7
Indirect' work factors rank: #2


 
#3. Jersey City, NJ
Hard-working index: 74.14
Direct' work factors rank: #3
Indirect' work factors rank: #11


 
#2. Fremont, CA
Hard-working index: 78.28
Direct' work factors rank: #1
Indirect' work factors rank: #55


 
#1. San Francisco, CA
Hard-working index: 78.52
Direct' work factors rank: #2
Indirect' work factors rank: #31