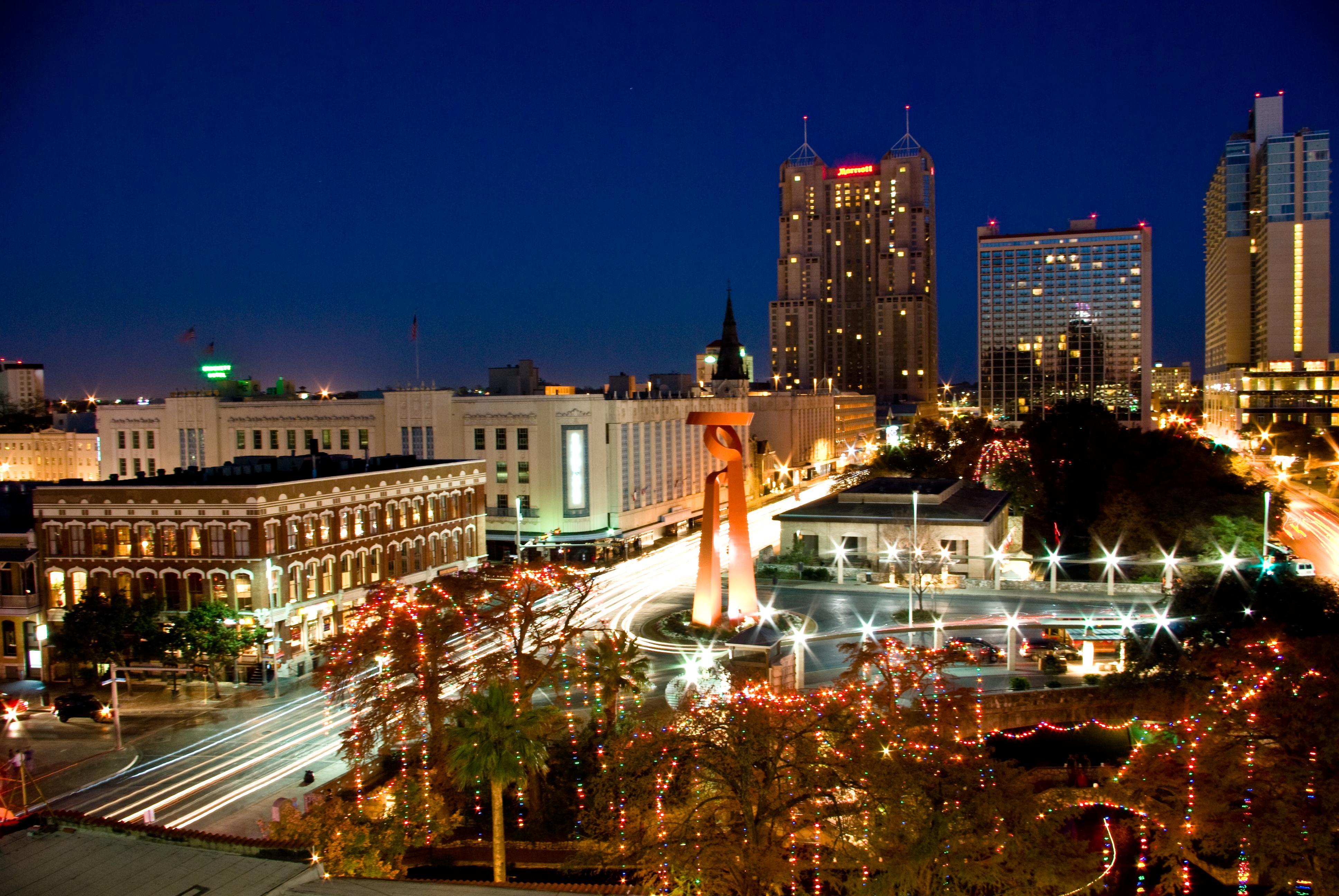 50 most congested cities in America
Corey Leopold // Wikimedia Commons
50 most congested cities in America
Not only does the word "traffic" make most people cringe, but the actual consequences of the word often compound, making traffic a hard thing to escape. During rush hour, many commuters slow down the traffic stream due to street capacity and overall infrastructure issues.
Traffic congestion has many negative impacts that harm consumers. Congestion causes delays, wasted fuel that increases air pollution, spillover traffic into side streets, and higher chances of getting into an accident. Many cities are accruing more interest in urban design and trying to fix traffic congestion through grid plans, zoning laws, and transit-oriented development. However, it will be a while before we see massive reductions in congestion.
Using data from INRIX, a traffic data analytics firm, Stacker analyzed the top 50 most congested cities in the United States for 2018. INRIX incorporates factors such as hours spent in congestion, time spent in traffic during peak hours, and the cost of congestion per driver in its ranking.
RELATED: Most trafficked roads in every state
#50. St Louis, MO
International rank: #200
Hours lost in congestion: 46
Cost of congestion per driver: $638
Inner city travel time: 4 min.
Inner city last mile speed: 15 mph
#49. Kansas City, MO
International rank: #198
Hours lost in congestion: 47
Cost of congestion per driver: $659
Inner city travel time: 3 min.
Inner city last mile speed: 19 mph
#48. Durham, NC
International rank: #197
Hours lost in congestion: 55
Cost of congestion per driver: $764
Inner city travel time: 5 min.
Inner city last mile speed: 13 mph
#47. Tucson, AZ
International rank: #196
Hours lost in congestion: 52
Cost of congestion per driver: $731
Inner city travel time: 3 min.
Inner city last mile speed: 23 mph
#46. Oklahoma City, OK
International rank: #195
Hours lost in congestion: 51
Cost of congestion per driver: $716
Inner city travel time: 4 min.
Inner city last mile speed: 14 mph
#45. Louisville, KY
International rank: #194
Hours lost in congestion: 53
Cost of congestion per driver: $734
Inner city travel time: 5 min.
Inner city last mile speed: 13 mph
#44. Albuquerque, NM
International rank: #192
Hours lost in congestion: 57
Cost of congestion per driver: $792
Inner city travel time: 4 min.
Inner city last mile speed: 16 mph
#43. Norfolk, VA
International rank: #189
Hours lost in congestion: 56
Cost of congestion per driver: $781
Inner city travel time: 4 min.
Inner city last mile speed: 15 mph
#42. Raleigh, NC
International rank: #187
Hours lost in congestion: 57
Cost of congestion per driver: $799
Inner city travel time: 3 min.
Inner city last mile speed: 20 mph
#41. Corpus Christi, TX
International rank: #185
Hours lost in congestion: 66
Cost of congestion per driver: $928
Inner city travel time: 3 min.
Inner city last mile speed: 19 mph
#40. San Diego, CA
International rank: #184
Hours lost in congestion: 56
Cost of congestion per driver: $781
Inner city travel time: 4 min.
Inner city last mile speed: 15 mph
#39. Jacksonville, FL
International rank: #179
Hours lost in congestion: 60
Cost of congestion per driver: $840
Inner city travel time: 3 min.
Inner city last mile speed: 17 mph
#38. Indianapolis, IN
International rank: #177
Hours lost in congestion: 59
Cost of congestion per driver: $826
Inner city travel time: 5 min.
Inner city last mile speed: 13 mph
#37. Milwaukee, WI
International rank: #171
Hours lost in congestion: 61
Cost of congestion per driver: $846
Inner city travel time: 4 min.
Inner city last mile speed: 17 mph
#36. Cincinnati, OH
International rank: #169
Hours lost in congestion: 60
Cost of congestion per driver: $834
Inner city travel time: 4 min.
Inner city last mile speed: 16 mph
#35. Madison, WI
International rank: #164
Hours lost in congestion: 67
Cost of congestion per driver: $939
Inner city travel time: 4 min.
Inner city last mile speed: 14 mph
#34. San Antonio, TX
International rank: #163
Hours lost in congestion: 60
Cost of congestion per driver: $832
Inner city travel time: 4 min.
Inner city last mile speed: 17 mph
#33. El Paso, TX
International rank: #162
Hours lost in congestion: 66
Cost of congestion per driver: $916
Inner city travel time: 4 min.
Inner city last mile speed: 13 mph
#32. Cleveland, OH
International rank: #161
Hours lost in congestion: 62
Cost of congestion per driver: $869
Inner city travel time: 4 min.
Inner city last mile speed: 15 mph
#31. Las Vegas, NV
International rank: #160
Hours lost in congestion: 63
Cost of congestion per driver: $883
Inner city travel time: 4 min.
Inner city last mile speed: 16 mph
#30. Sacramento, CA
International rank: #156
Hours lost in congestion: 69
Cost of congestion per driver: $957
Inner city travel time: 4 min.
Inner city last mile speed: 15 mph
#29. Buffalo, NY
International rank: #151
Hours lost in congestion: 72
Cost of congestion per driver: $1,009
Inner city travel time: 6 min.
Inner city last mile speed: 11 mph
#28. Lexington, KY
International rank: #148
Hours lost in congestion: 79
Cost of congestion per driver: $1,108
Inner city travel time: 4 min.
Inner city last mile speed: 14 mph
#27. Detroit, MI
International rank: #146
Hours lost in congestion: 66
Cost of congestion per driver: $926
Inner city travel time: 3 min.
Inner city last mile speed: 18 mph
#26. New Orleans, LA
International rank: #137
Hours lost in congestion: 73
Cost of congestion per driver: $1,023
Inner city travel time: 5 min.
Inner city last mile speed: 12 mph
#25. Columbus, OH
International rank: #135
Hours lost in congestion: 71
Cost of congestion per driver: $990
Inner city travel time: 4 min.
Inner city last mile speed: 14 mph
#24. Minneapolis, MN
International rank: #132
Hours lost in congestion: 70
Cost of congestion per driver: $971
Inner city travel time: 4 min.
Inner city last mile speed: 14 mph
#23. Orlando, FL
International rank: #127
Hours lost in congestion: 74
Cost of congestion per driver: $1,037
Inner city travel time: 4 min.
Inner city last mile speed: 15 mph
#22. Phoenix, AZ
International rank: #125
Hours lost in congestion: 73
Cost of congestion per driver: $1,013
Inner city travel time: 4 min.
Inner city last mile speed: 17 mph
#21. Dallas, TX
International rank: #122
Hours lost in congestion: 76
Cost of congestion per driver: $1,065
Inner city travel time: 4 min.
Inner city last mile speed: 17 mph
#20. Nashville, TN
International rank: #114
Hours lost in congestion: 87
Cost of congestion per driver: $1,221
Inner city travel time: 4 min.
Inner city last mile speed: 16 mph
#19. Denver, CO
International rank: #112
Hours lost in congestion: 83
Cost of congestion per driver: $1,152
Inner city travel time: 5 min.
Inner city last mile speed: 13 mph
#18. Honolulu, HI
International rank: #111
Hours lost in congestion: 92
Cost of congestion per driver: $1,282
Inner city travel time: 5 min.
Inner city last mile speed: 12 mph
#17. Tampa, FL
International rank: #107
Hours lost in congestion: 87
Cost of congestion per driver: $1,216
Inner city travel time: 5 min.
Inner city last mile speed: 13 mph
#16. Charlotte, NC
International rank: #91
Hours lost in congestion: 95
Cost of congestion per driver: $1,332
Inner city travel time: 5 min.
Inner city last mile speed: 12 mph
#15. Baltimore, MD
International rank: #88
Hours lost in congestion: 94
Cost of congestion per driver: $1,315
Inner city travel time: 6 min.
Inner city last mile speed: 10 mph
#14. Austin, TX
International rank: #84
Hours lost in congestion: 104
Cost of congestion per driver: $1,452
Inner city travel time: 5 min.
Inner city last mile speed: 13 mph
#13. Houston, TX
International rank: #77
Hours lost in congestion: 98
Cost of congestion per driver: $1,365
Inner city travel time: 4 min.
Inner city last mile speed: 15 mph
#12. Miami, FL
International rank: #73
Hours lost in congestion: 105
Cost of congestion per driver: $1,470
Inner city travel time: 5 min.
Inner city last mile speed: 12 mph
#11. Atlanta, GA
International rank: #71
Hours lost in congestion: 108
Cost of congestion per driver: $1,505
Inner city travel time: 4 min.
Inner city last mile speed: 14 mph
#10. Portland, OR
International rank: #70
Hours lost in congestion: 116
Cost of congestion per driver: $1,625
Inner city travel time: 5 min.
Inner city last mile speed: 13 mph
#9. Philadelphia, PA
International rank: #69
Hours lost in congestion: 112
Cost of congestion per driver: $1,568
Inner city travel time: 6 min.
Inner city last mile speed: 10 mph
#8. San Francisco, CA
International rank: #65
Hours lost in congestion: 116
Cost of congestion per driver: $1,624
Inner city travel time: 6 min.
Inner city last mile speed: 10 mph
#7. Pittsburgh, PA
International rank: #59
Hours lost in congestion: 127
Cost of congestion per driver: $1,776
Inner city travel time: 5 min.
Inner city last mile speed: 13 mph
#6. Seattle, WA
International rank: #58
Hours lost in congestion: 138
Cost of congestion per driver: $932
Inner city travel time: 6 min.
Inner city last mile speed: 10 mph
#5. Los Angeles, CA
International rank: #47
Hours lost in congestion: 128
Cost of congestion per driver: $1,788
Inner city travel time: 4 min.
Inner city last mile speed: 14 mph
#4. New York City, NY
International rank: #40
Hours lost in congestion: 133
Cost of congestion per driver: $1,859
Inner city travel time: 7 min.
Inner city last mile speed: 9 mph
#3. Chicago, IL
International rank: #23
Hours lost in congestion: 138
Cost of congestion per driver: $1,920
Inner city travel time: 5 min.
Inner city last mile speed: 12 mph
#2. Washington, DC
International rank: #19
Hours lost in congestion: 155
Cost of congestion per driver: $2,161
Inner city travel time: 5 min.
Inner city last mile speed: 11 mph
#1. Boston, MA
International rank: #8
Hours lost in congestion: 164
Cost of congestion per driver: $2,291
Inner city travel time: 6 min.
Inner city last mile speed: 11 mph