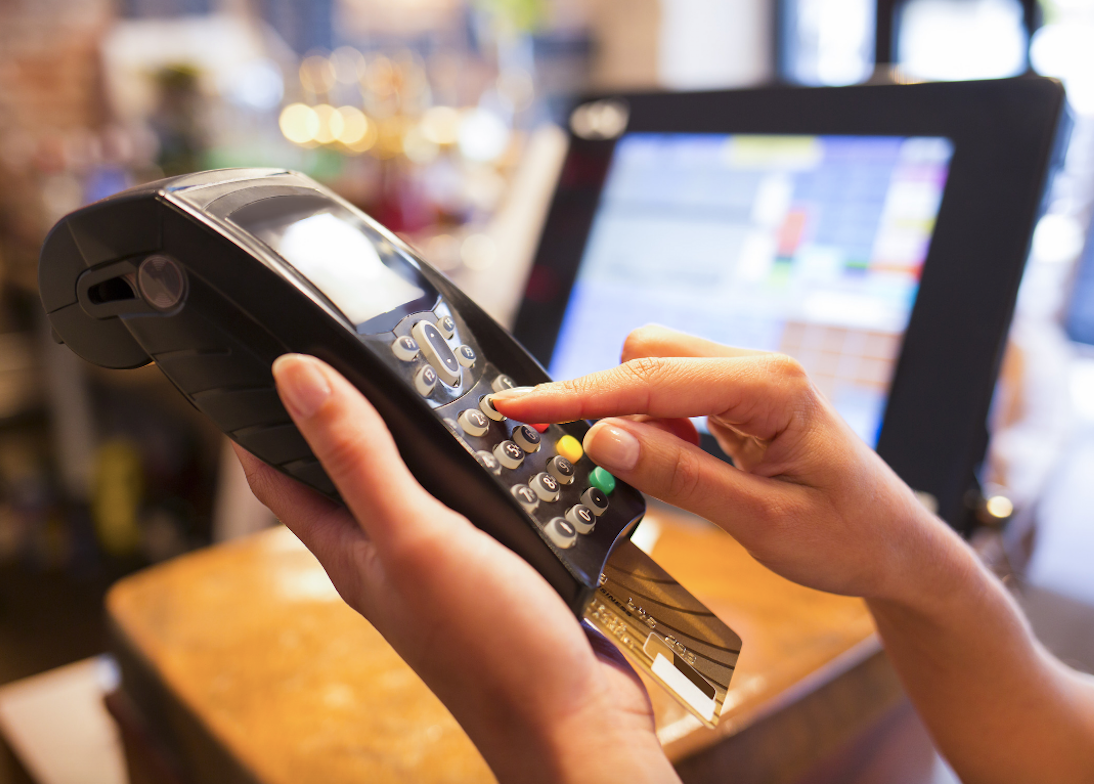 Cities with the most and least credit card debt in every state
Cities with the most and least credit card debt in every state
On its surface, the fact Americans paid down more than $38 billion in credit card debt during the first quarter of 2019 sounds like a good thing. Paying down debt like that represents a reduction in the amount owed by contributing partial payments toward the balance.
In reality, that number—$38 billion—is 6% lower than the first quarter of 2018; meaning there has been an overall increase of $70 billion in net debt for 2019. For every year of this decade, Americans have started the year off by paying down debt (when things like holiday bonuses and tax refunds come in), but spend the next three quarters borrowing more and more. Though right now the total credit card debt is under the $1 trillion mark—yes, that's 1 million millions—that's likely to change by the end of the year.
Of course, some areas are more prone to borrowing money than others, namely urban ones; in fact, there are 109 cities where the credit card debt per household is less than the national average. That leaves 2,453 with above-average credit card debt (25 of which owe more than $20,000 per household). Credit card debt in this country is nearing a crisis; the total level of debt is higher than at any point in 2008, during the financial crisis that represents the country's former peak of debt.
If you're saddled with credit card debt, there are solid steps you can take to relieve the burden. First of all, choose an approach: snowball or avalanche. In both approaches, you should pay the minimum amount of every debt except one that you pay more on. For the snowball method, pay off the smallest debts first; you'll build up the motivation to tackle larger and larger debts until they're all paid off. For the avalanche method, pay off the debt with the highest interest rate first, then when that's done the second-highest, and so on. You'll end up paying less money overall in interest this way. Don't forget to keep a modest emergency fund in case of unexpected occurrences: a car breaking down, a sudden job loss, or an injury not covered by insurance.
To figure out what credit card debt looks like in every state, Stacker consulted WalletHub's June 2019 study of Federal Reserve and TransUnion data on consumer finances to rank the cities in each state where households have the highest and lowest credit card debt in the first quarter (January, February, and March) of 2019.
You may also like: How the richest person in every state made their fortune
1 / 50
Sharon Phelan Evans // Wikimedia Commons
Alabama
- City with the most debt: Vestavia Hills
--- Household credit card debt: $16,010
--- Household credit card paydown: $615
--- Percentile: 89
- City with the least debt: Sylacauga
--- Household credit card debt: $8,731
--- Household credit card paydown: $335
--- Percentile: 6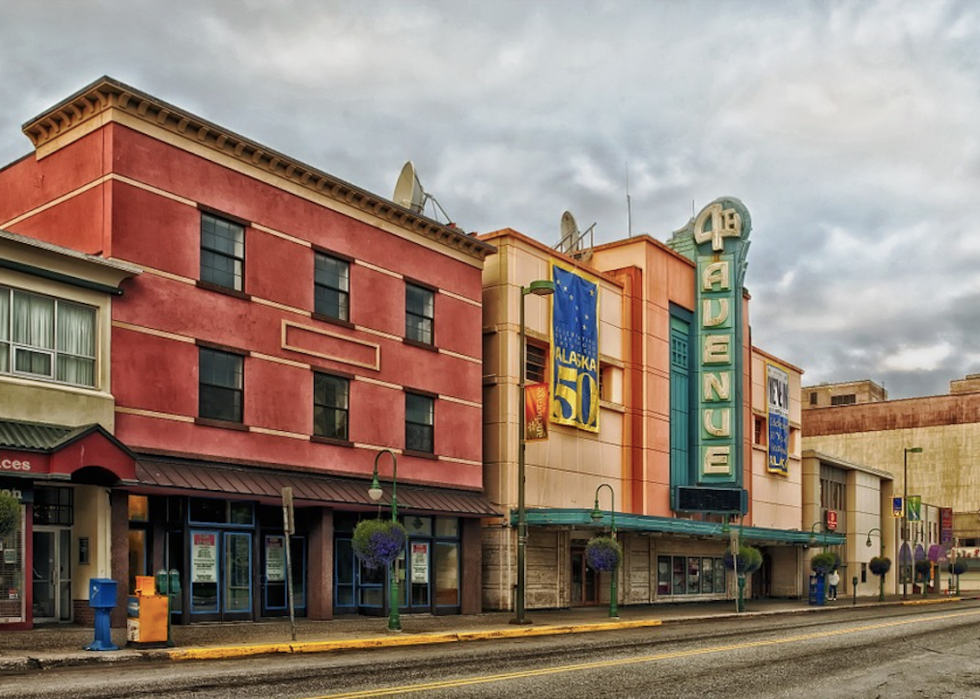 2 / 50
Alaska
- City with the most debt: Palmer
--- Household credit card debt: $21,173
--- Household credit card paydown: $813
--- Percentile: 99
- City with the least debt: Anchorage
--- Household credit card debt: $16,106
--- Household credit card paydown: $619
--- Percentile: 90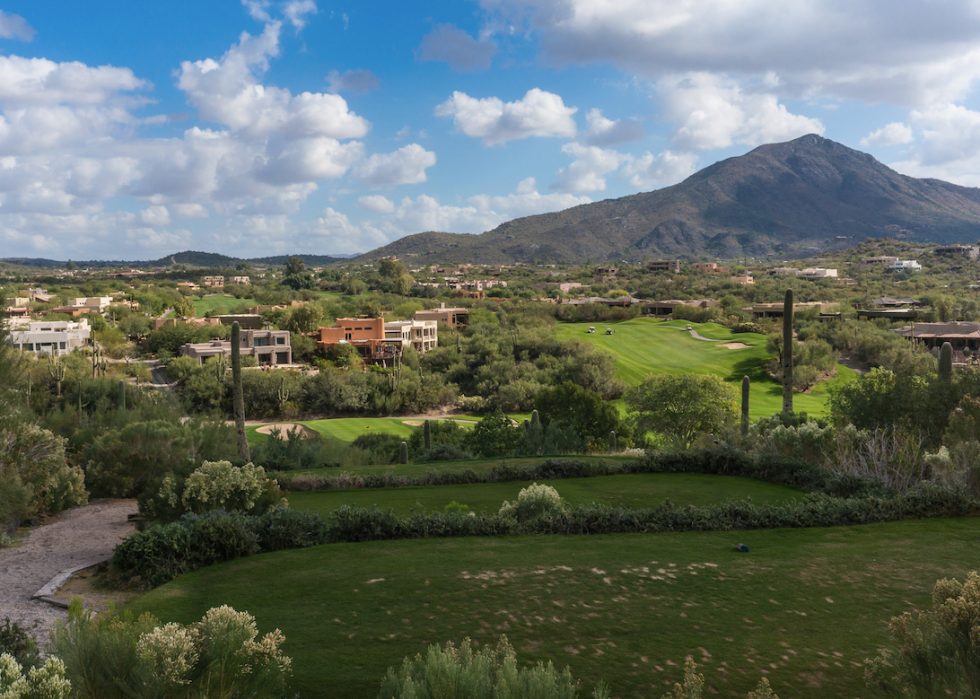 3 / 50
Arizona
- City with the most debt: Cave Creek
--- Household credit card debt: $16,918
--- Household credit card paydown: $650
--- Percentile: 92
- City with the least debt: Sun City West
--- Household credit card debt: $7,150
--- Household credit card paydown: $275
--- Percentile: 1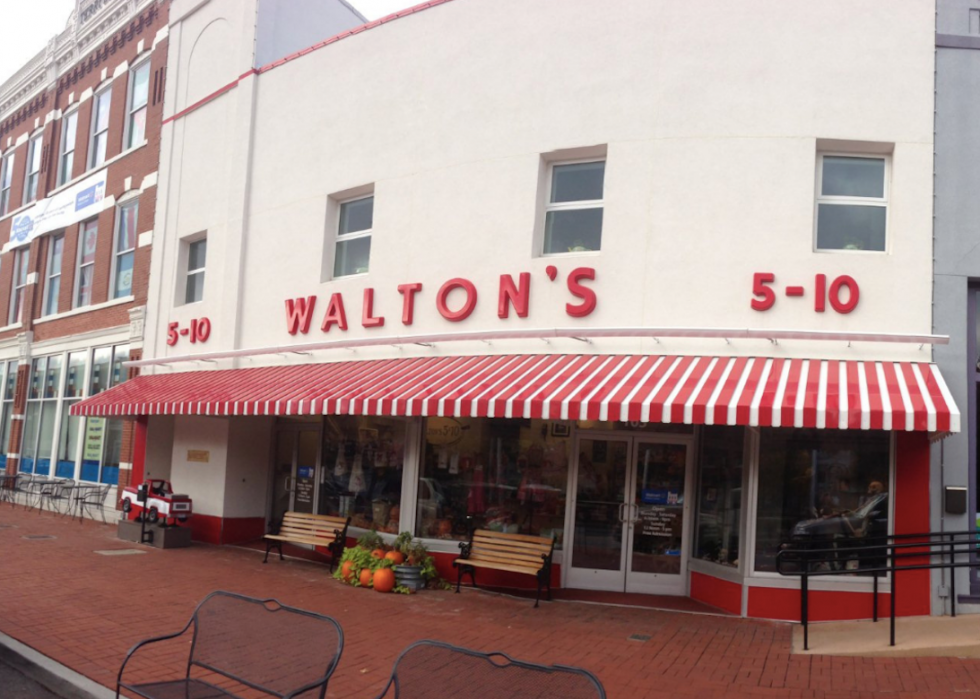 4 / 50
Arkansas
- City with the most debt: Bentonville
--- Household credit card debt: $13,478
--- Household credit card paydown: $518
--- Percentile: 72
- City with the least debt: Harrison
--- Household credit card debt: $7,829
--- Household credit card paydown: $301
--- Percentile: 2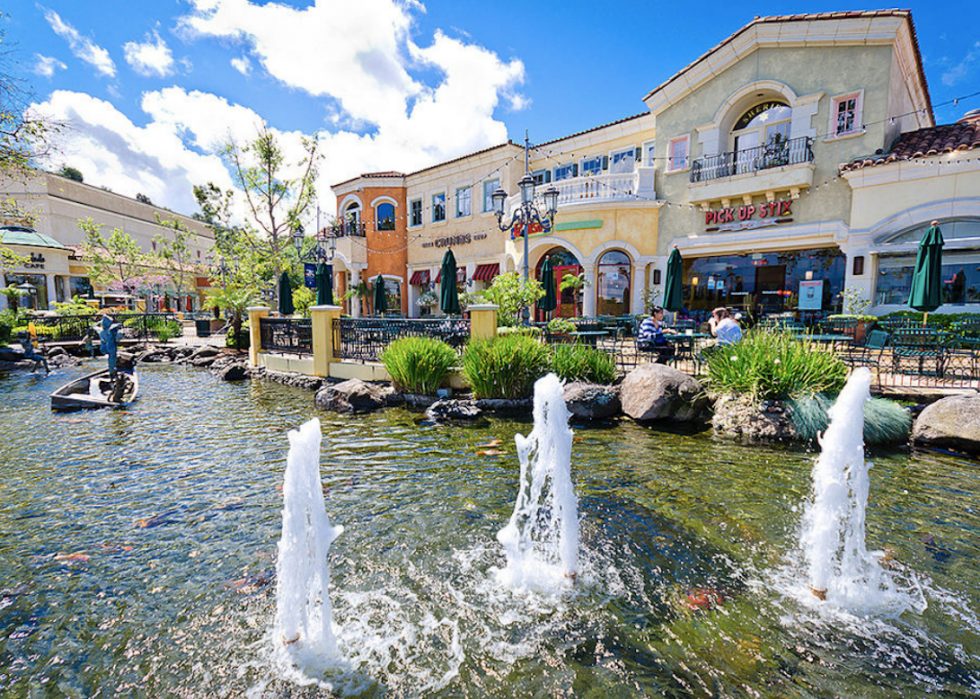 5 / 50
Tomharlyu // Wikimedia Commons
California
- City with the most debt: Calabasas
--- Household credit card debt: $24,331
--- Household credit card paydown: $934
--- Percentile: 99
- City with the least debt: Laguna Woods
--- Household credit card debt: $5,819
--- Household credit card paydown: $223
--- Percentile: 1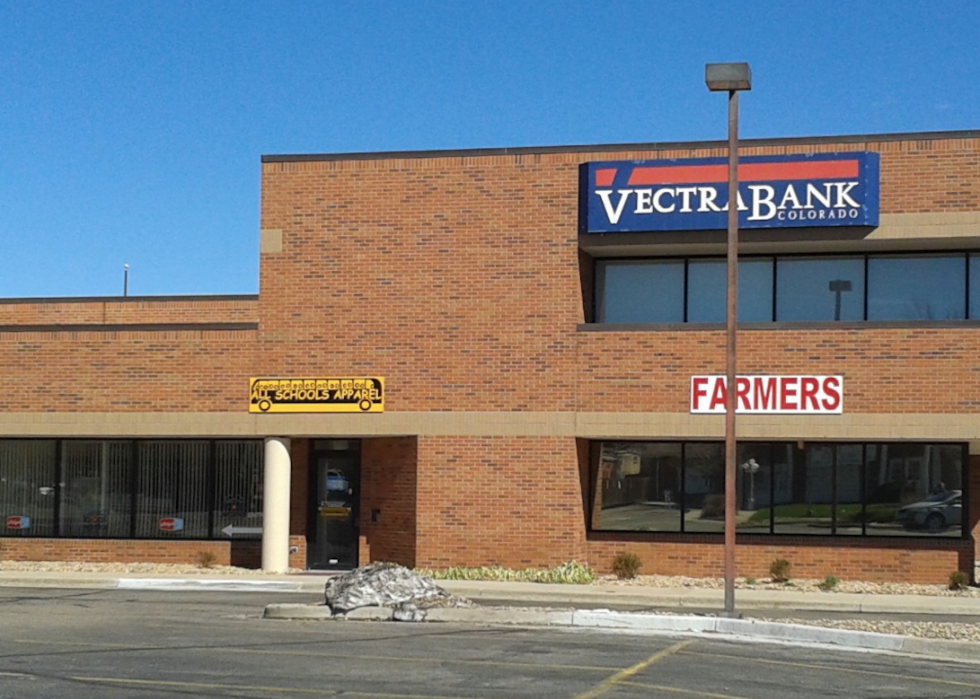 6 / 50
Xnatedawgx // Wikimedia Commons
Colorado
- City with the most debt: Monument
--- Household credit card debt: $18,544
--- Household credit card paydown: $712
--- Percentile: 97
- City with the least debt: Wheat Ridge
--- Household credit card debt: $9,733
--- Household credit card paydown: $374
--- Percentile: 19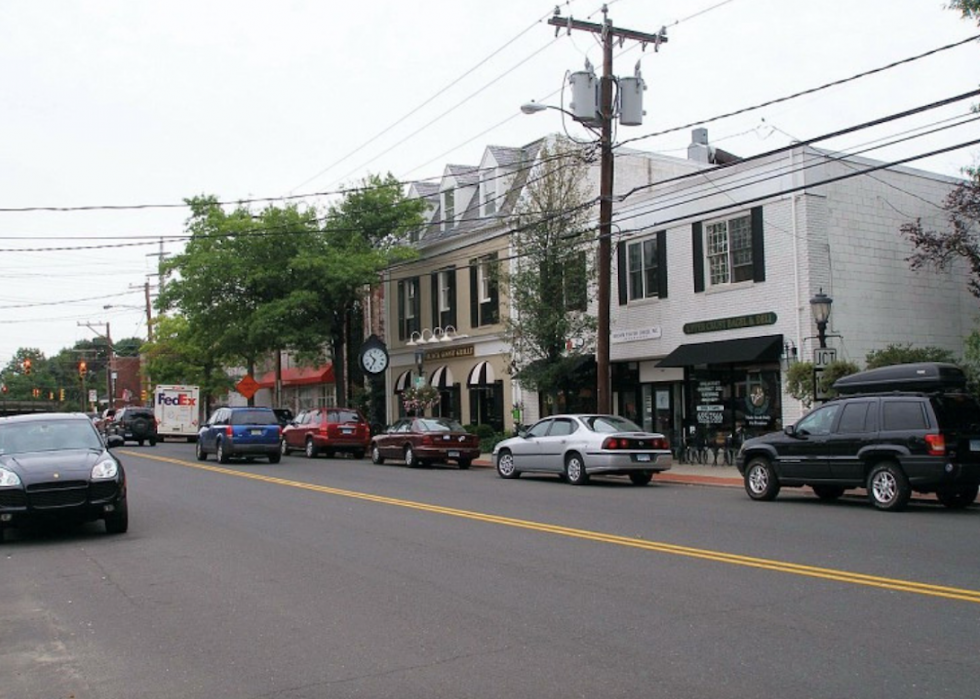 7 / 50
Jerry Dougherty // Wikimedia Commons
Connecticut
- City with the most debt: Darien
--- Household credit card debt: $27,652
--- Household credit card paydown: $1,062
--- Percentile: 99
- City with the least debt: New Britain
--- Household credit card debt: $8,379
--- Household credit card paydown: $322
--- Percentile: 4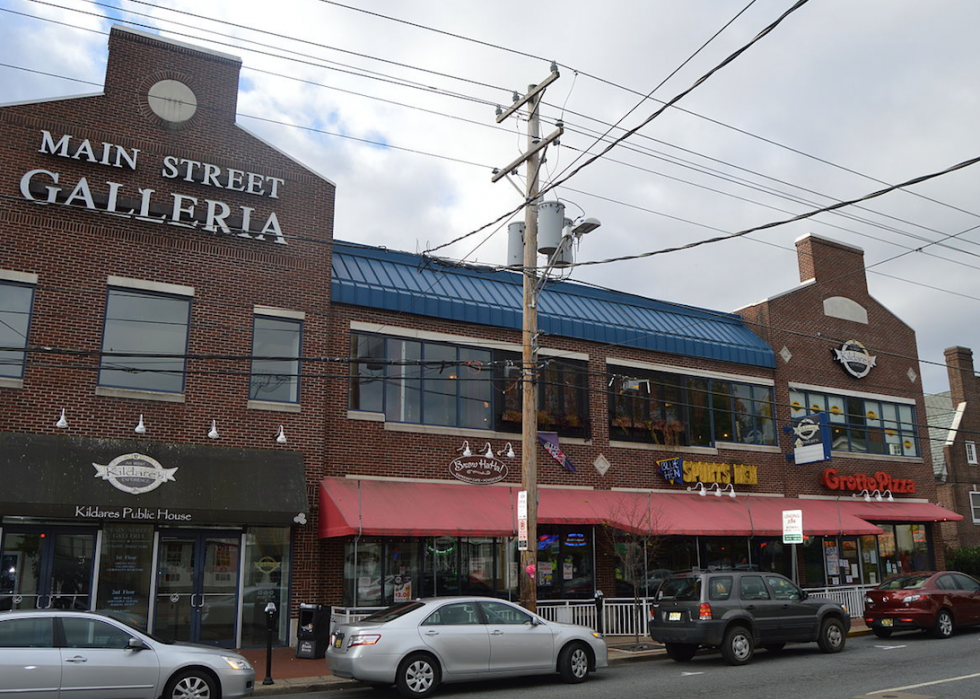 8 / 50
yttend // Wikimedia Commons
Delaware
- City with the most debt: Newark
--- Household credit card debt: $16,384
--- Household credit card paydown: $629
--- Percentile: 91
- City with the least debt: Seaford
--- Household credit card debt: $9,365
--- Household credit card paydown: $360
--- Percentile: 14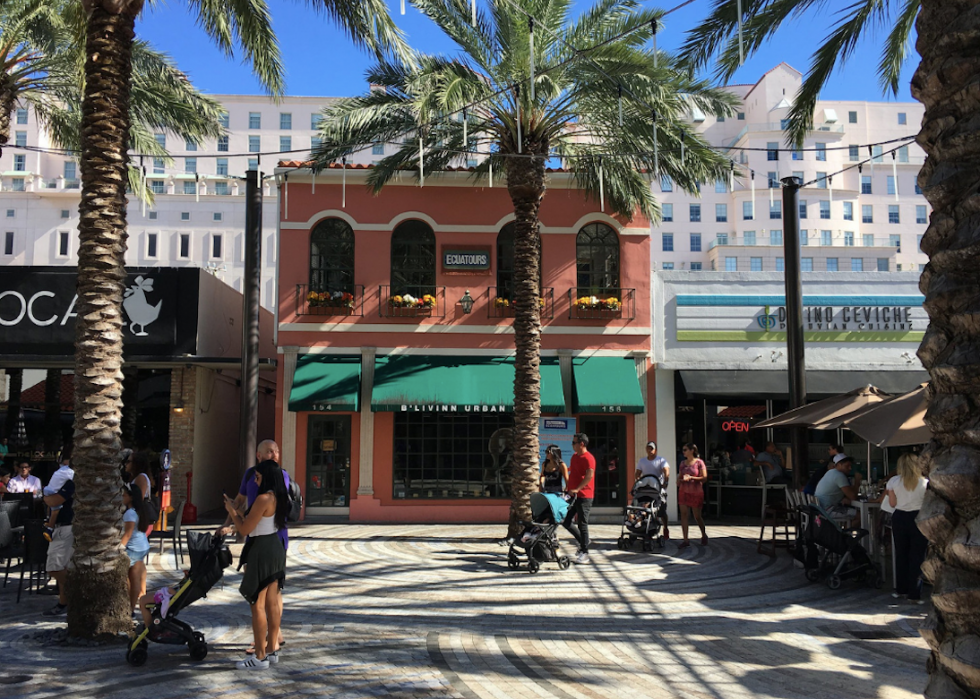 9 / 50
Florida
- City with the most debt: Coral Gables
--- Household credit card debt: $23,212
--- Household credit card paydown: $891
--- Percentile: 99
- City with the least debt: Sun City Center
--- Household credit card debt: $6,140
--- Household credit card paydown: $236
--- Percentile: 1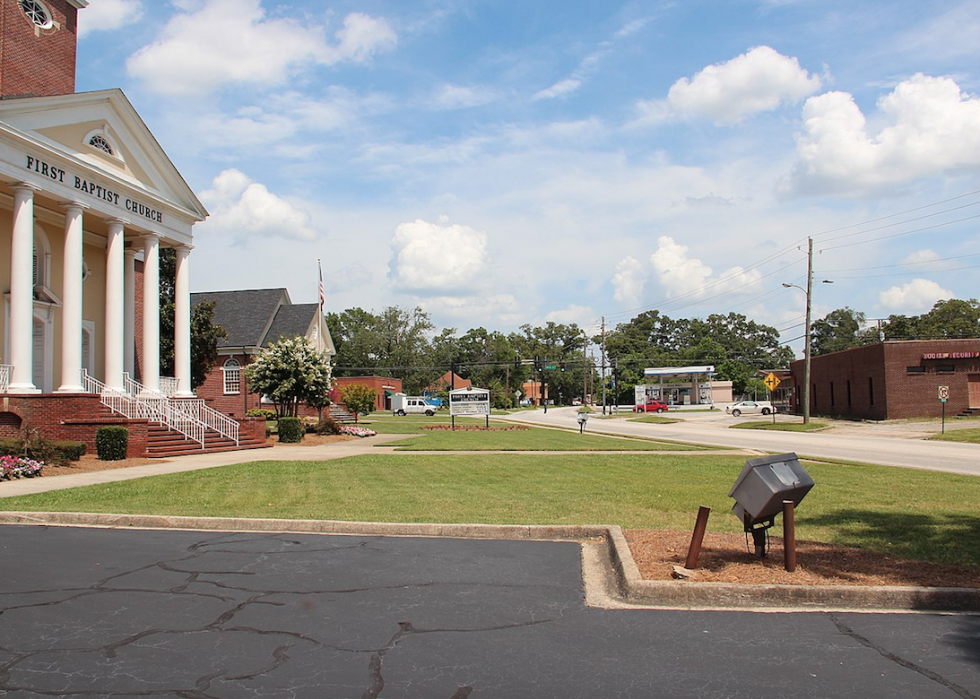 10 / 50
Thomson M // Wikimedia Commons
Georgia
- City with the most debt: Evans
--- Household credit card debt: $18,076
--- Household credit card paydown: $694
--- Percentile: 96
- City with the least debt: Forest Park
--- Household credit card debt: $6,576
--- Household credit card paydown: $253
--- Percentile: 1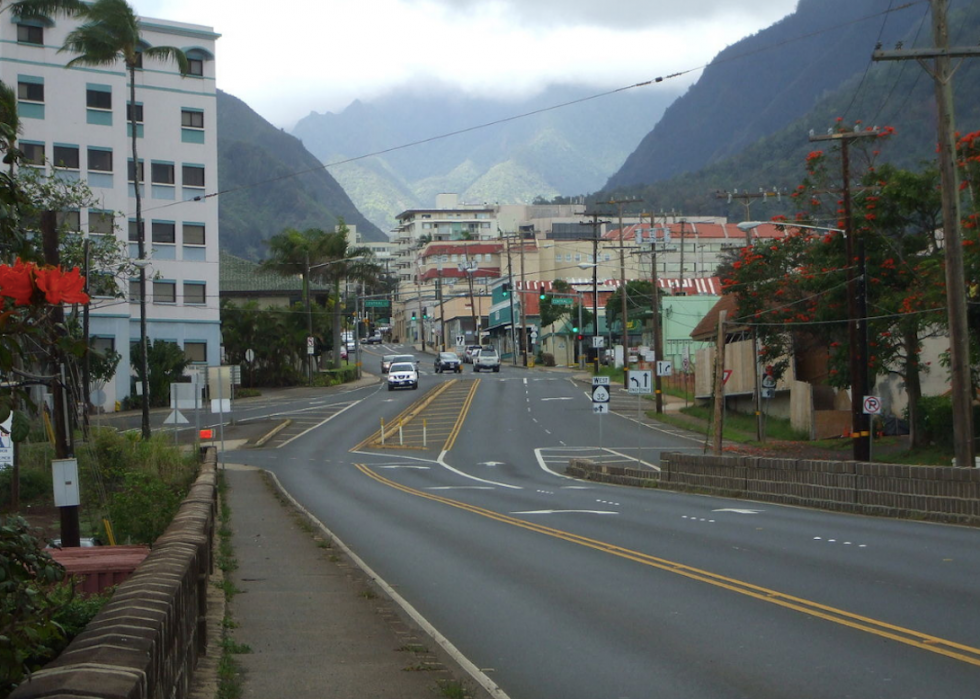 11 / 50
293.xx.xxx.xx // Wikimedia Commons
Hawaii
- City with the most debt: Ewa Beach
--- Household credit card debt: $28,981
--- Household credit card paydown: $1,113
--- Percentile: 99
- City with the least debt: Wailuku
--- Household credit card debt: $13,081
--- Household credit card paydown: $502
--- Percentile: 68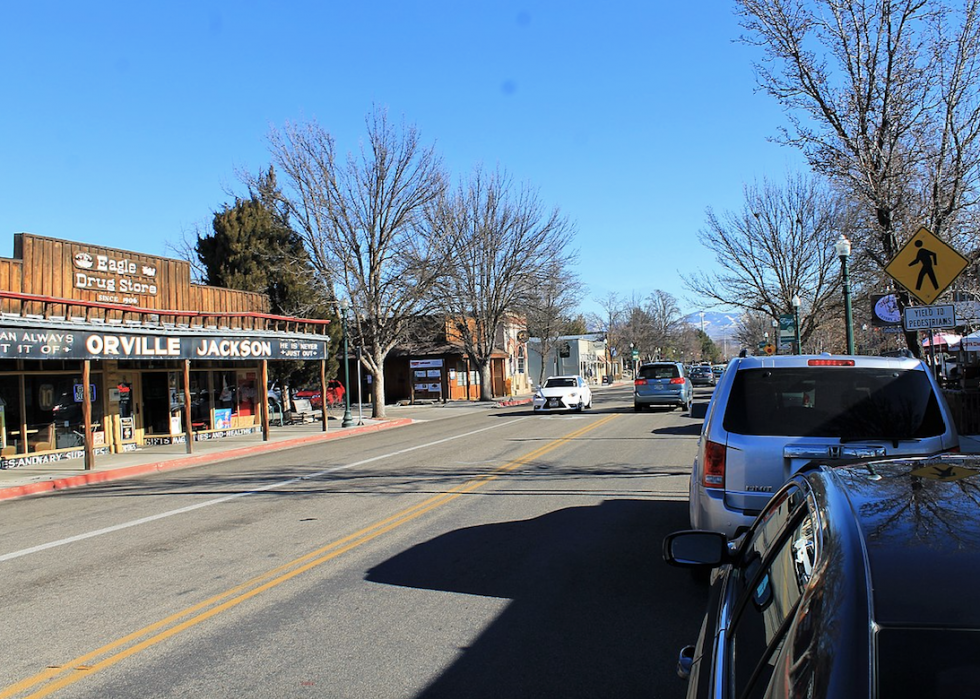 12 / 50
Rickmouser45 // Wikimedia Commons
Idaho
- City with the most debt: Eagle
--- Household credit card debt: $16,004
--- Household credit card paydown: $615
--- Percentile: 89
- City with the least debt: Twin Falls
--- Household credit card debt: $9,534
--- Household credit card paydown: $366
--- Percentile: 16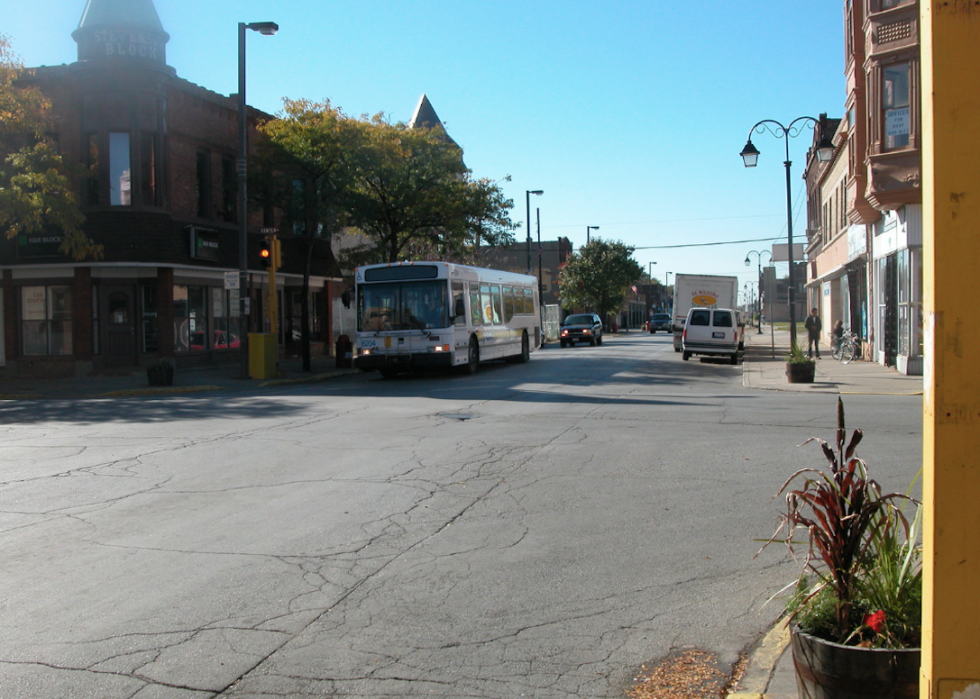 13 / 50
Illinois
- City with the most debt: Lake Forest
--- Household credit card debt: $26,021
--- Household credit card paydown: $999
--- Percentile: 99
- City with the least debt: Harvey
--- Household credit card debt: $7,167
--- Household credit card paydown: $275
--- Percentile: 1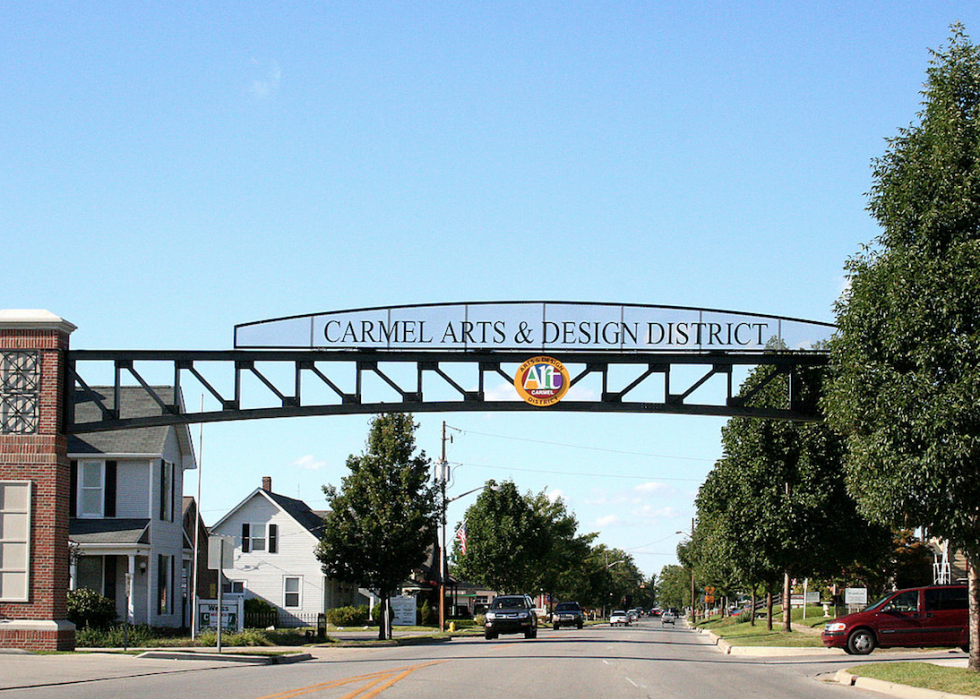 14 / 50
Tysto // Wikimedia Commons
Indiana
- City with the most debt: Carmel
--- Household credit card debt: $14,913
--- Household credit card paydown: $573
--- Percentile: 83
- City with the least debt: Greensburg
--- Household credit card debt: $7,220
--- Household credit card paydown: $277
--- Percentile: 1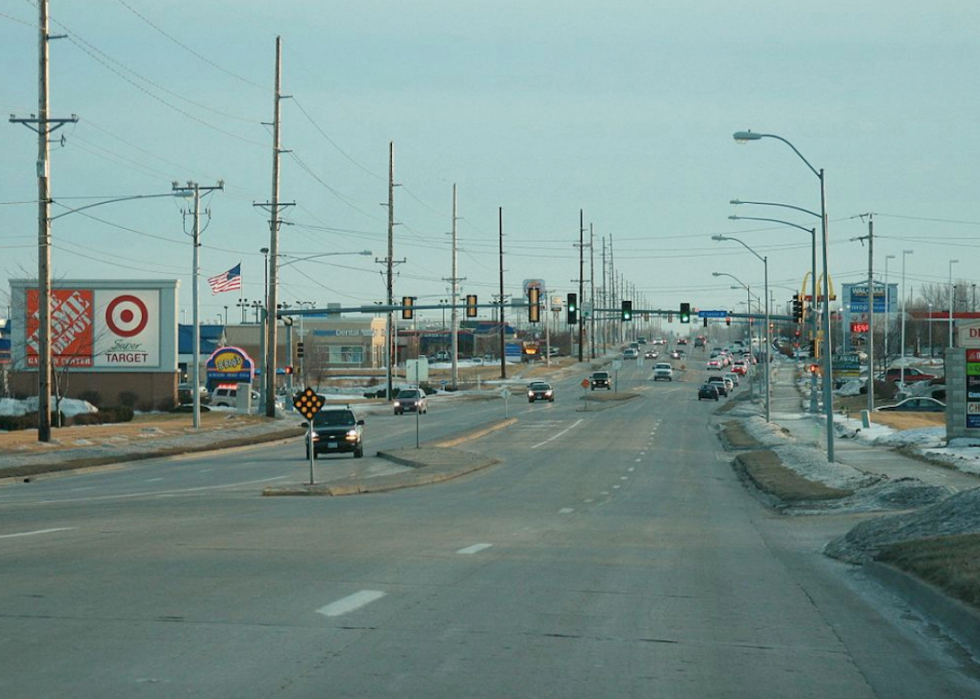 15 / 50
Ashton B Crew // Wikimedia Commons
Iowa
- City with the most debt: Ankeny
--- Household credit card debt: $11,262
--- Household credit card paydown: $432
--- Percentile: 42
- City with the least debt: Mason City
--- Household credit card debt: $7,884
--- Household credit card paydown: $303
--- Percentile: 2
16 / 50
Kansas
- City with the most debt: Leawood
--- Household credit card debt: $18,008
--- Household credit card paydown: $692
--- Percentile: 96
- City with the least debt: Salina
--- Household credit card debt: $8,593
--- Household credit card paydown: $330
--- Percentile: 5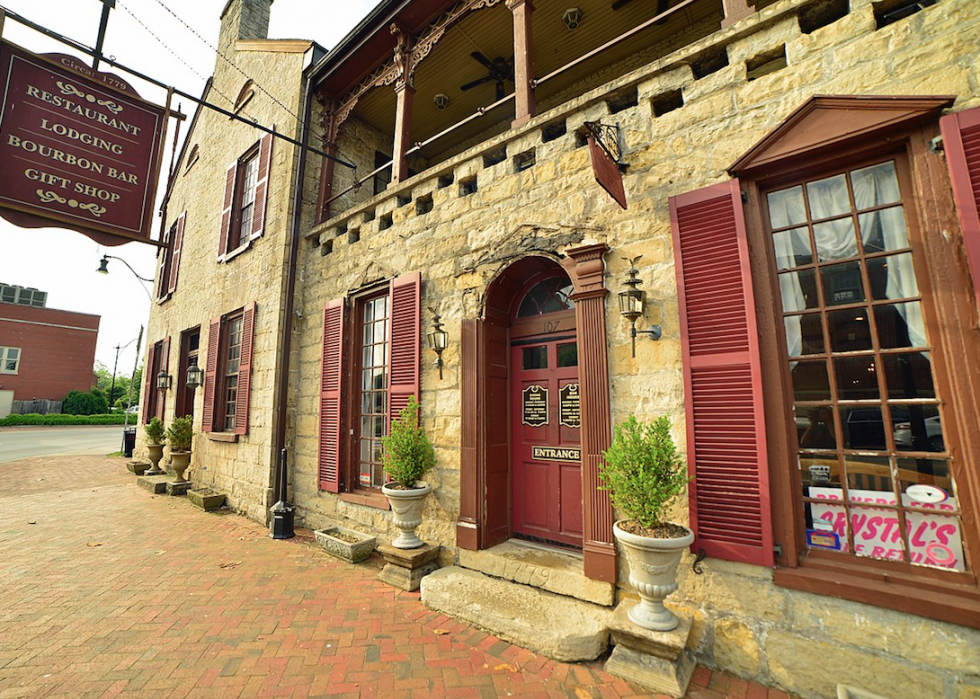 17 / 50
Patrick Baehl de Lescure // Wikimedia Commons
Kentucky
- City with the most debt: Independence
--- Household credit card debt: $13,167
--- Household credit card paydown: $506
--- Percentile: 69
- City with the least debt: Bardstown
--- Household credit card debt: $7,314
--- Household credit card paydown: $281
--- Percentile: 1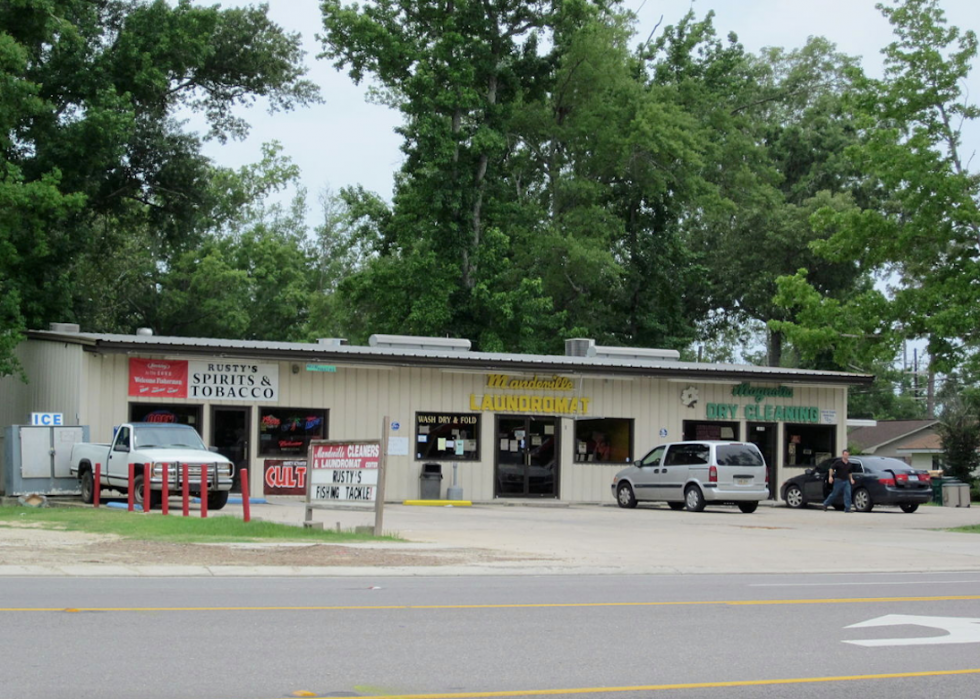 18 / 50
Infrogmation of New Orleans // Wikimedia Commons
Louisiana
- City with the most debt: Mandeville
--- Household credit card debt: $14,836
--- Household credit card paydown: $570
--- Percentile: 83
- City with the least debt: Bastrop
--- Household credit card debt: $6,771
--- Household credit card paydown: $260
--- Percentile: 1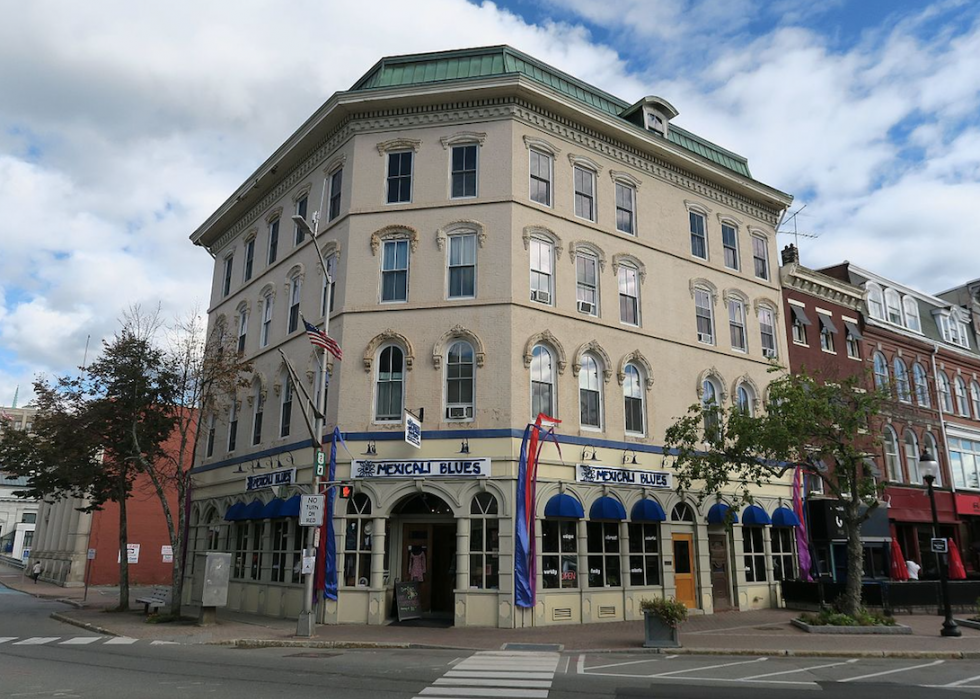 19 / 50
John Phelan // Wikimedia Commons
Maine
- City with the most debt: Bangor
--- Household credit card debt: $10,894
--- Household credit card paydown: $418
--- Percentile: 36
- City with the least debt: Lewiston
--- Household credit card debt: $9,018
--- Household credit card paydown: $346
--- Percentile: 9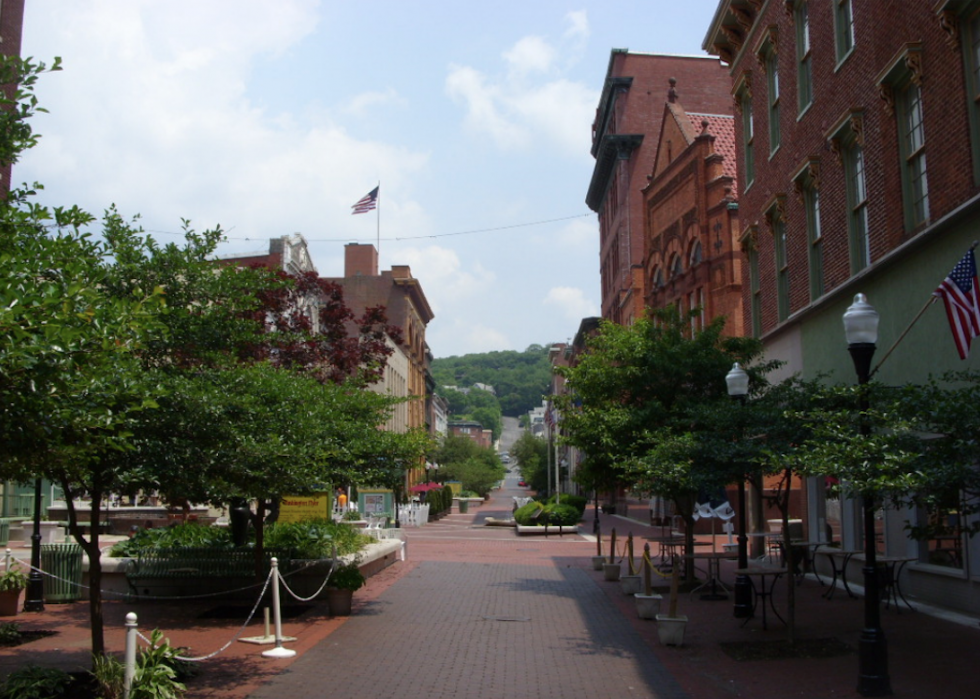 20 / 50
Maryland
- City with the most debt: Potomac
--- Household credit card debt: $20,277
--- Household credit card paydown: $779
--- Percentile: 99
- City with the least debt: Cumberland
--- Household credit card debt: $9,032
--- Household credit card paydown: $347
--- Percentile: 10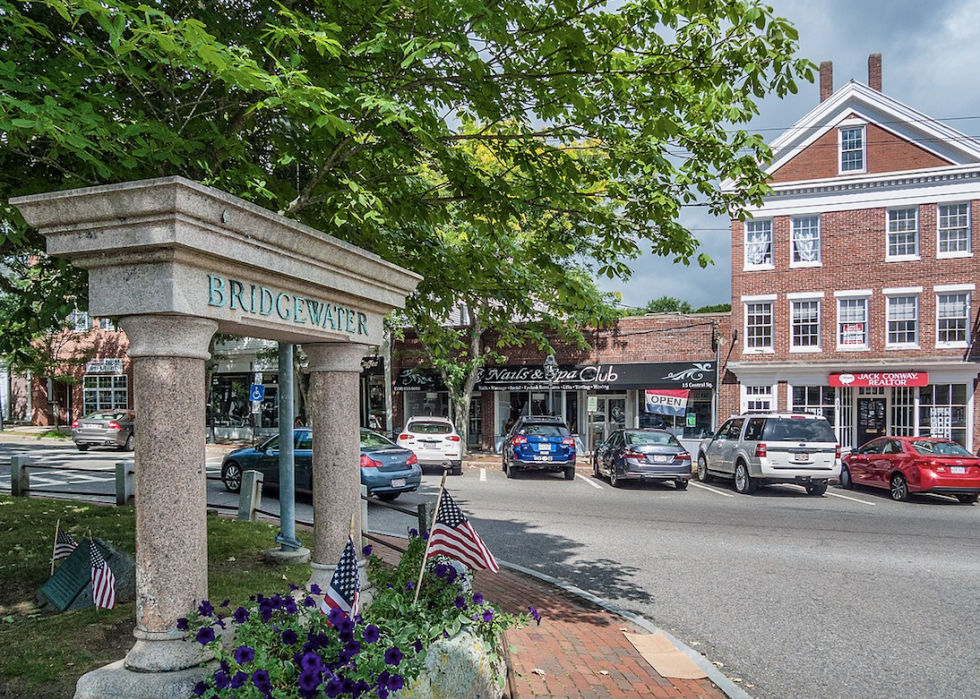 21 / 50
Kenneth C. Zirkel // Wikimedia Commons
Massachusetts
- City with the most debt: Bridgewater
--- Household credit card debt: $19,264
--- Household credit card paydown: $740
--- Percentile: 98
- City with the least debt: New Bedford
--- Household credit card debt: $7,675
--- Household credit card paydown: $295
--- Percentile: 1
22 / 50
Jimmy Emerson, DVM // Flickr
Michigan
- City with the most debt: Bloomfield Hills
--- Household credit card debt: $19,896
--- Household credit card paydown: $764
--- Percentile: 98
- City with the least debt: Benton Harbor
--- Household credit card debt: $6,853
--- Household credit card paydown: $263
--- Percentile: 1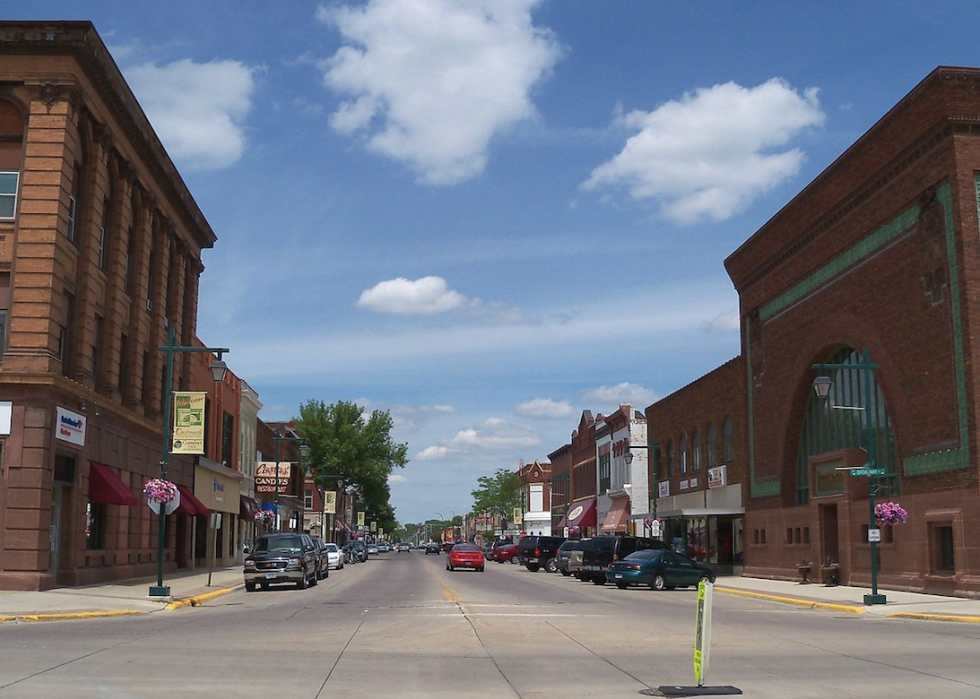 23 / 50
Jon Platek // Wikimedia Commons
Minnesota
- City with the most debt: Prior Lake
--- Household credit card debt: $14,436
--- Household credit card paydown: $554
--- Percentile: 80
- City with the least debt: Owatonna
--- Household credit card debt: $8,218
--- Household credit card paydown: $316
--- Percentile: 3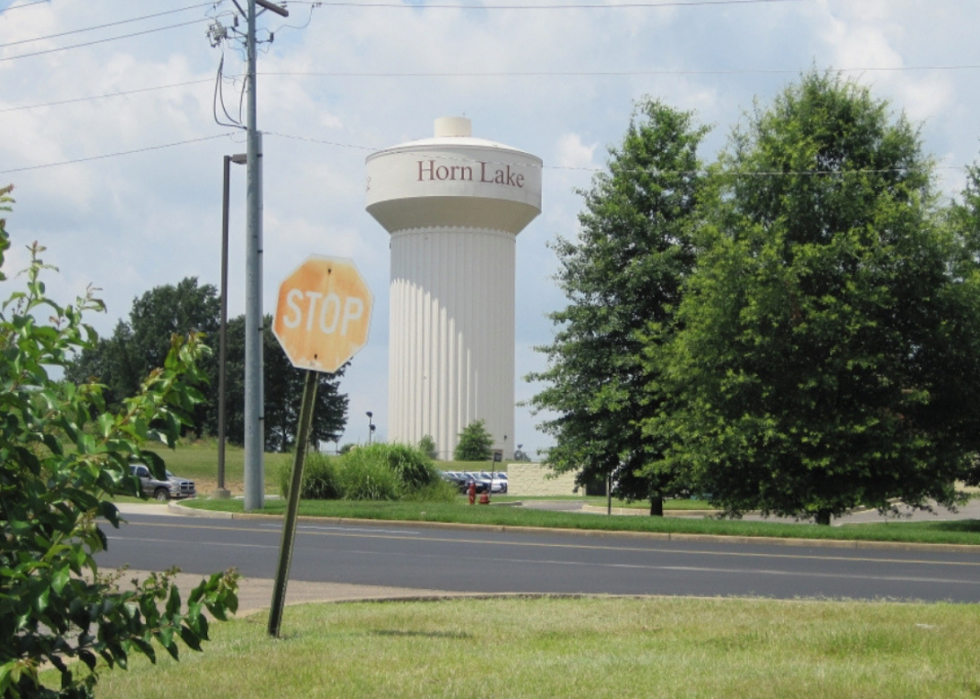 24 / 50
Thomas R Machnitzki // Wikimedia Commons
Mississippi
- City with the most debt: Madison
--- Household credit card debt: $14,728
--- Household credit card paydown: $566
--- Percentile: 82
- City with the least debt: Horn Lake
--- Household credit card debt: $7,583
--- Household credit card paydown: $291
--- Percentile: 1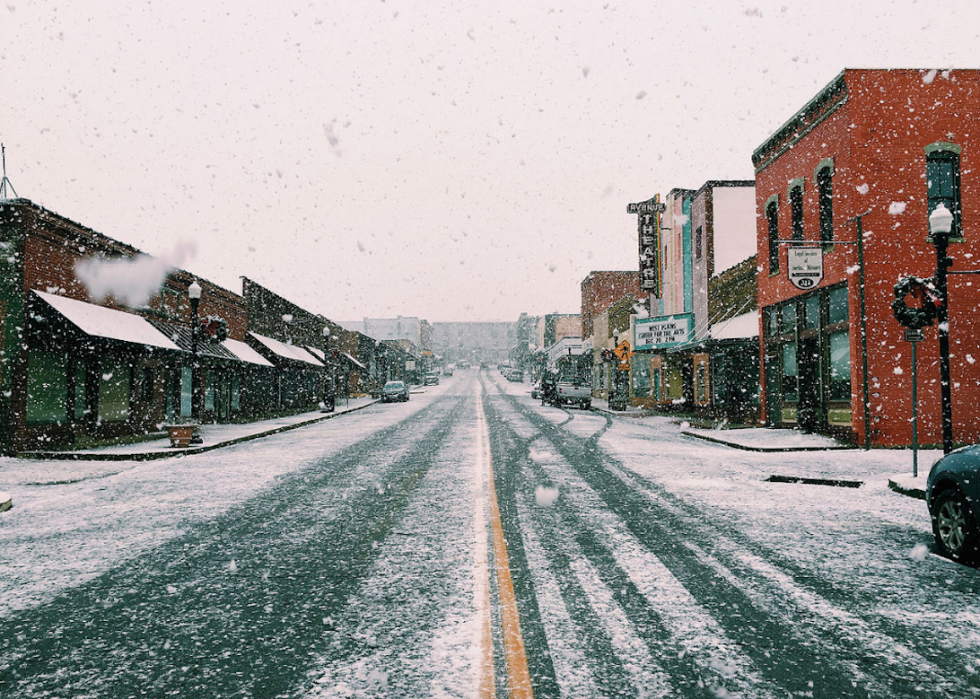 25 / 50
Truett Ray // Wikimedia Commons
Missouri
- City with the most debt: Chesterfield
--- Household credit card debt: $14,518
--- Household credit card paydown: $558
--- Percentile: 81
- City with the least debt: West Plains
--- Household credit card debt: $7,922
--- Household credit card paydown: $304
--- Percentile: 2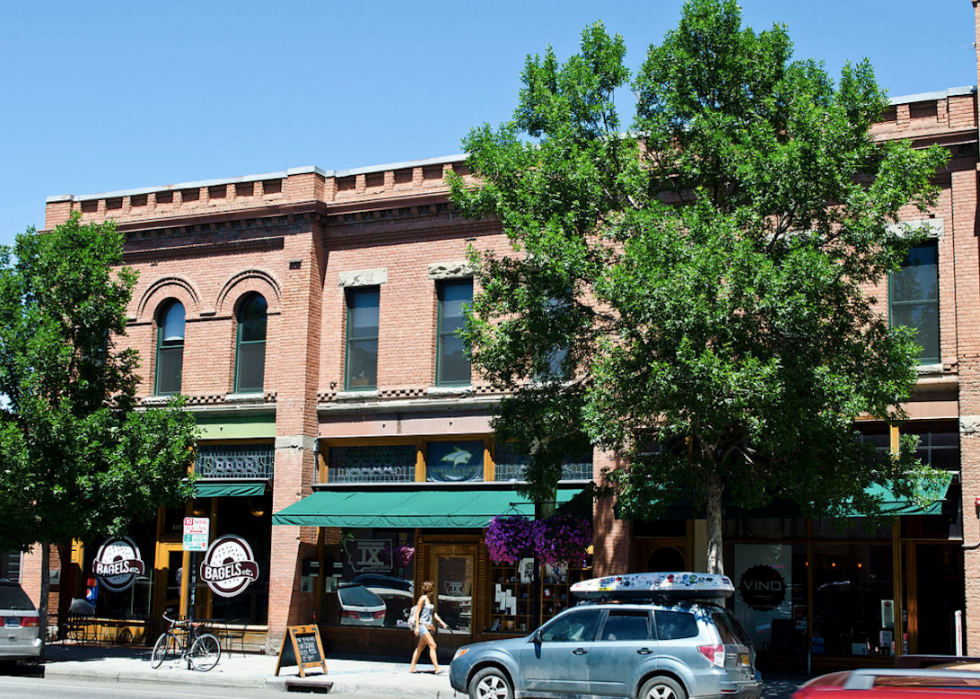 26 / 50
Tim Evanson // Wikimedia Commons
Montana
- City with the most debt: Bozeman
--- Household credit card debt: $12,092
--- Household credit card paydown: $464
--- Percentile: 55
- City with the least debt: Saddle Butte
--- Household credit card debt: $8,861
--- Household credit card paydown: $340
--- Percentile: 8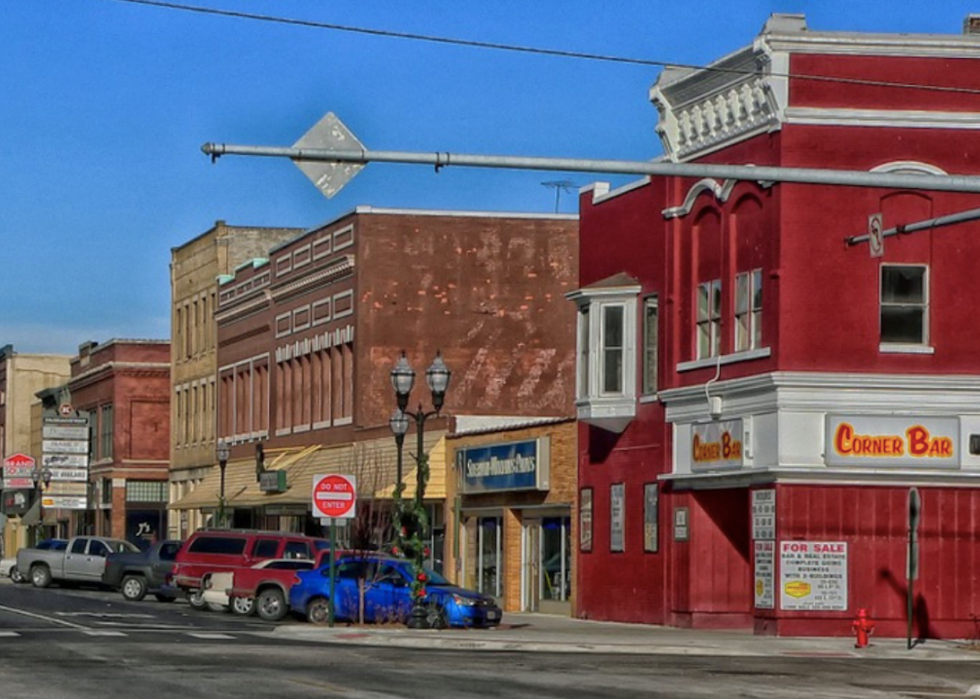 27 / 50
Nebraska
- City with the most debt: Bellevue
--- Household credit card debt: $12,570
--- Household credit card paydown: $483
--- Percentile: 62
- City with the least debt: Fremont
--- Household credit card debt: $7,728
--- Household credit card paydown: $297
--- Percentile: 1
28 / 50
Nevada
- City with the most debt: Henderson
--- Household credit card debt: $13,803
--- Household credit card paydown: $530
--- Percentile: 75
- City with the least debt: Fallon
--- Household credit card debt: $9,913
--- Household credit card paydown: $381
--- Percentile: 22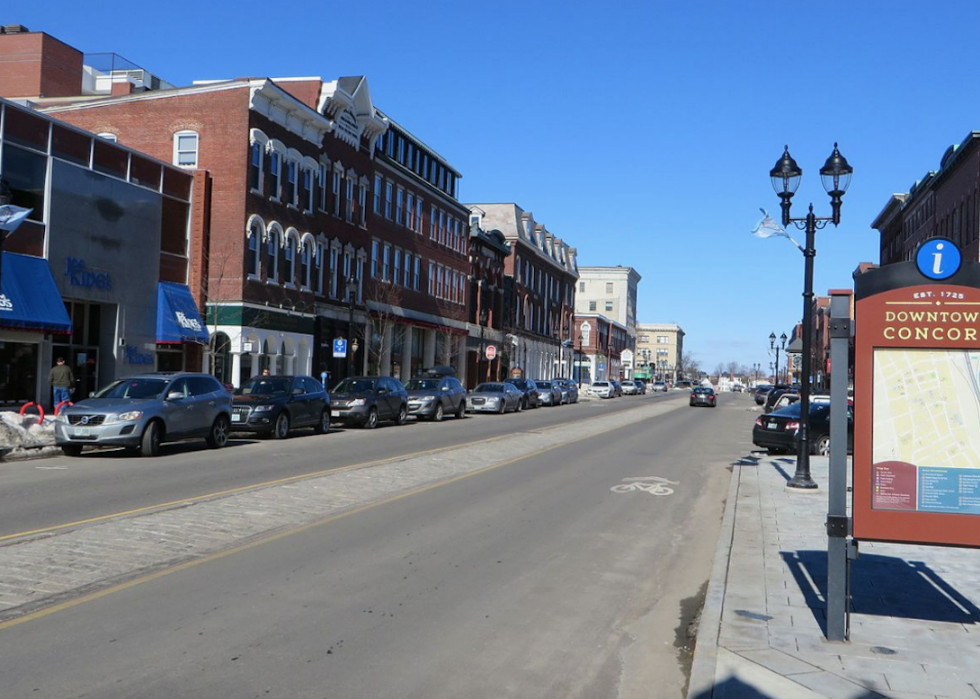 29 / 50
Ken Gallager // Wikimedia Commons
New Hampshire
- City with the most debt: Londonderry
--- Household credit card debt: $15,540
--- Household credit card paydown: $597
--- Percentile: 87
- City with the least debt: Concord
--- Household credit card debt: $10,034
--- Household credit card paydown: $385
--- Percentile: 23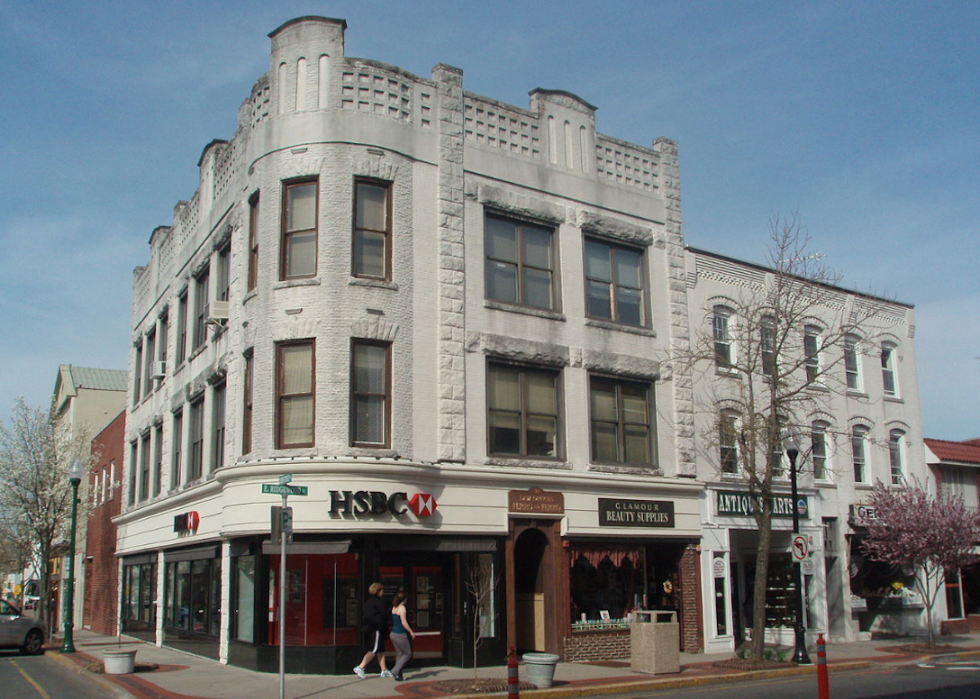 30 / 50
Alexisrael // Wikimedia Commons
New Jersey
- City with the most debt: Ridgewood
--- Household credit card debt: $20,857
--- Household credit card paydown: $801
--- Percentile: 99
- City with the least debt: Camden
--- Household credit card debt: $6,680
--- Household credit card paydown: $257
--- Percentile: 1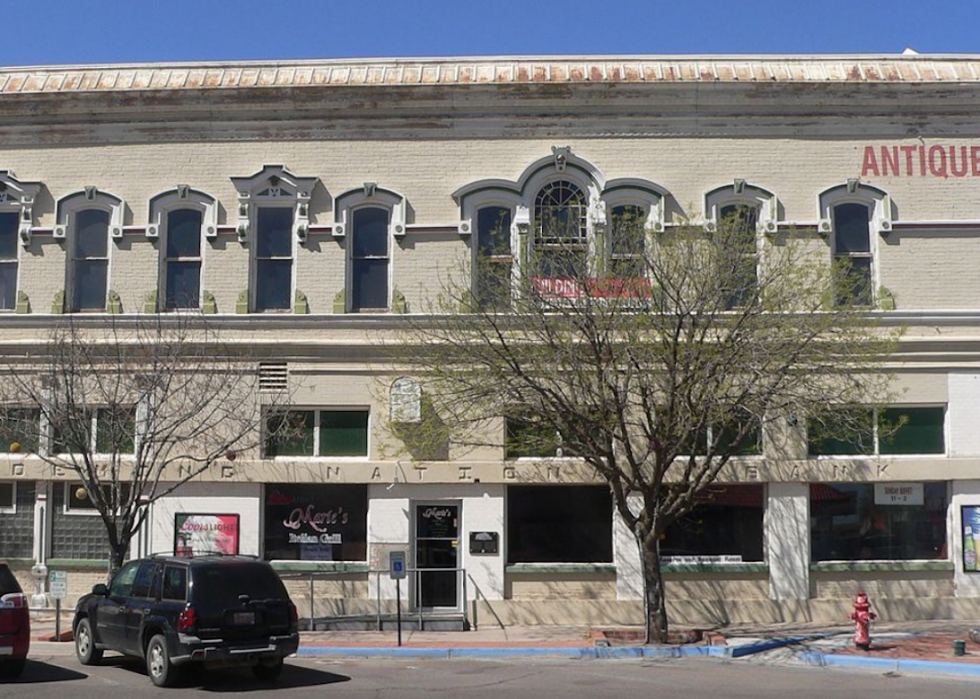 31 / 50
Ammodramus // Wikimedia Commons
New Mexico
- City with the most debt: Rio Rancho
--- Household credit card debt: $13,906
--- Household credit card paydown: $534
--- Percentile: 76
- City with the least debt: Deming
--- Household credit card debt: $8,690
--- Household credit card paydown: $334
--- Percentile: 6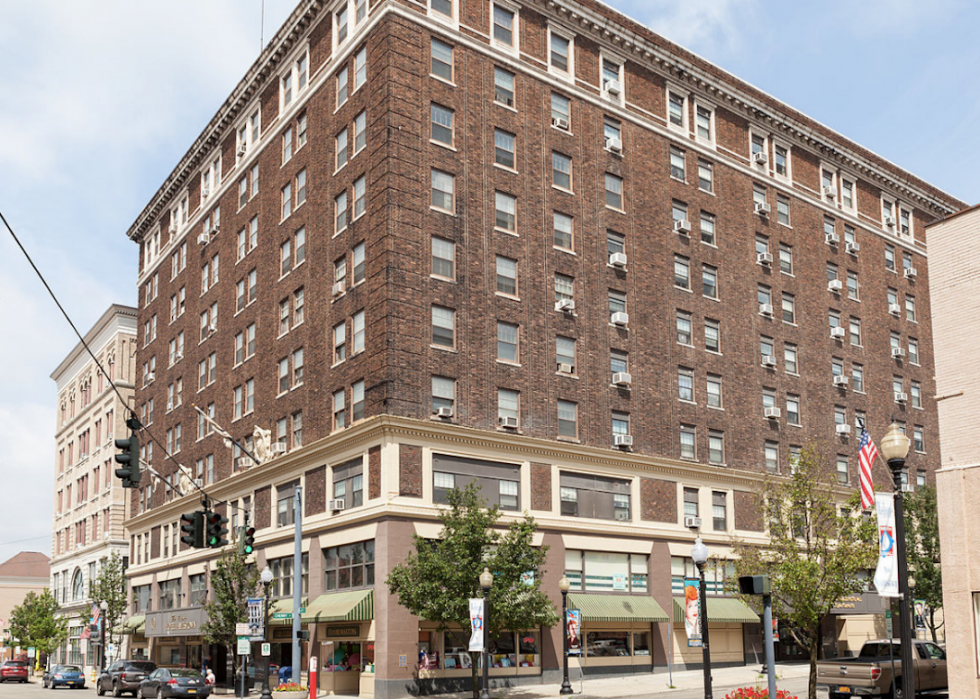 32 / 50
Generic1139 // Wikimedia Commons
New York
- City with the most debt: Dix Hills
--- Household credit card debt: $27,585
--- Household credit card paydown: $1,059
--- Percentile: 99
- City with the least debt: Jamestown
--- Household credit card debt: $8,135
--- Household credit card paydown: $312
--- Percentile: 3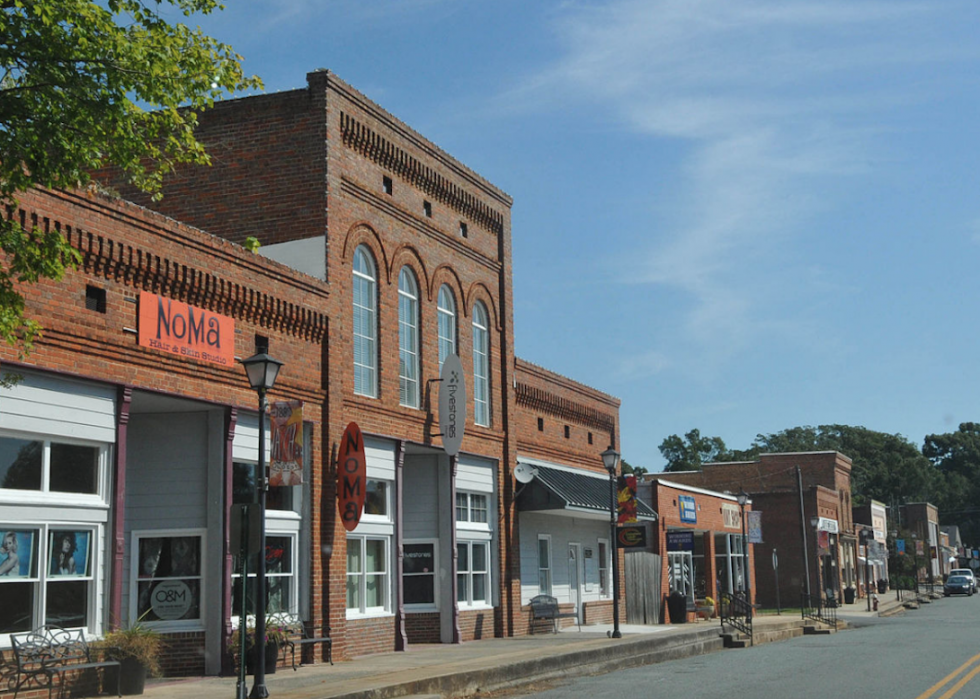 33 / 50
Jerrye & Roy Klotz, MD // Wikimedia Commons
North Carolina
- City with the most debt: Waxhaw
--- Household credit card debt: $19,241
--- Household credit card paydown: $739
--- Percentile: 98
- City with the least debt: Hendersonville
--- Household credit card debt: $7,746
--- Household credit card paydown: $297
--- Percentile: 2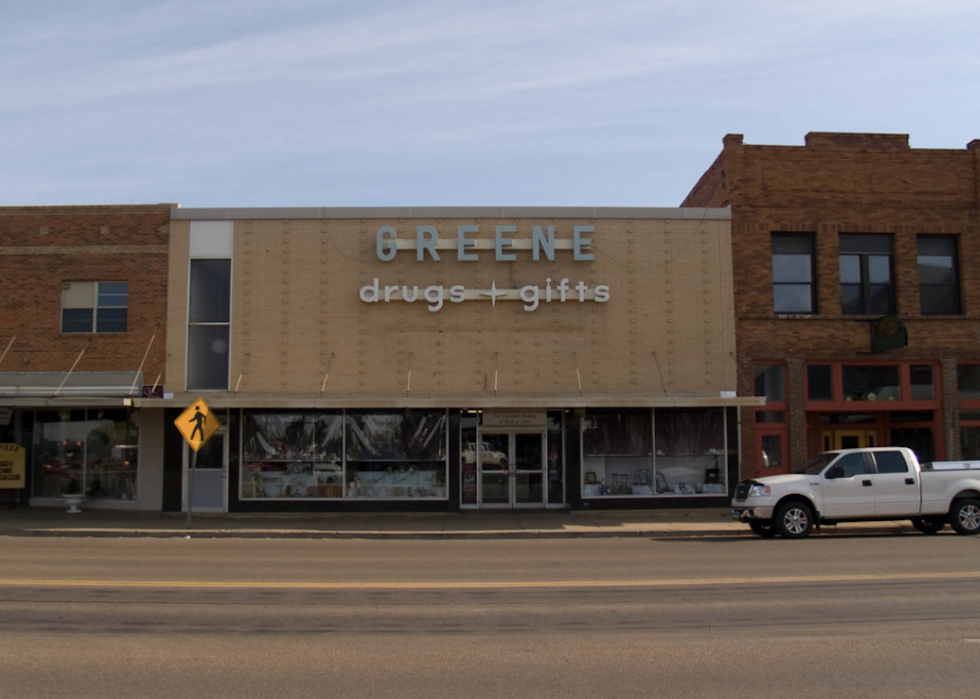 34 / 50
North Dakota
- City with the most debt: Dickinson
--- Household credit card debt: $10,991
--- Household credit card paydown: $422
--- Percentile: 38
- City with the least debt: Mandan
--- Household credit card debt: $9,228
--- Household credit card paydown: $354
--- Percentile: 12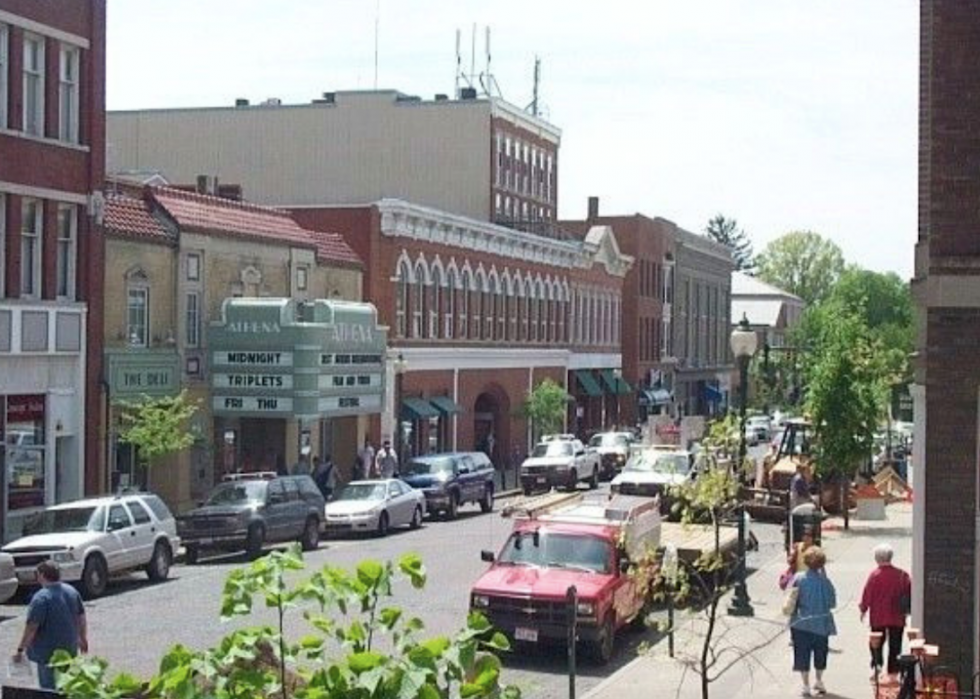 35 / 50
OHIO fan // Wikimedia Commons
Ohio
- City with the most debt: Athens
--- Household credit card debt: $17,753
--- Household credit card paydown: $682
--- Percentile: 95
- City with the least debt: Greenville
--- Household credit card debt: $6,664
--- Household credit card paydown: $256
--- Percentile: 1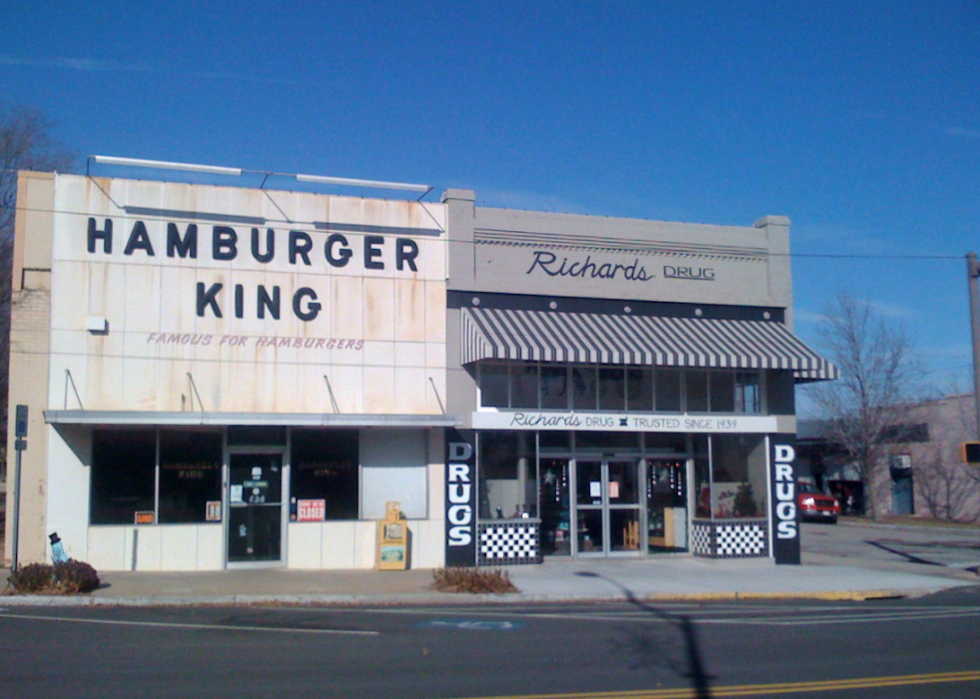 36 / 50
Oklahoma
- City with the most debt: Edmond
--- Household credit card debt: $15,604
--- Household credit card paydown: $599
--- Percentile: 87
- City with the least debt: Shawnee
--- Household credit card debt: $10,193
--- Household credit card paydown: $391
--- Percentile: 26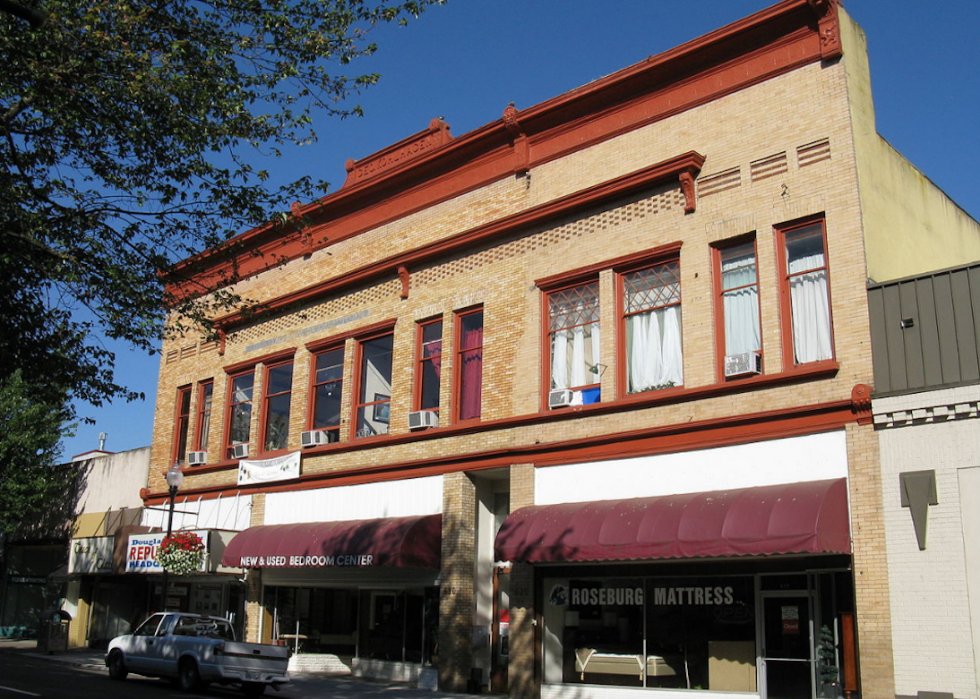 37 / 50
publichall // Wikimedia Commons
Oregon
- City with the most debt: West Linn
--- Household credit card debt: $15,867
--- Household credit card paydown: $609
--- Percentile: 89
- City with the least debt: Roseburg
--- Household credit card debt: $8,629
--- Household credit card paydown: $331
--- Percentile: 6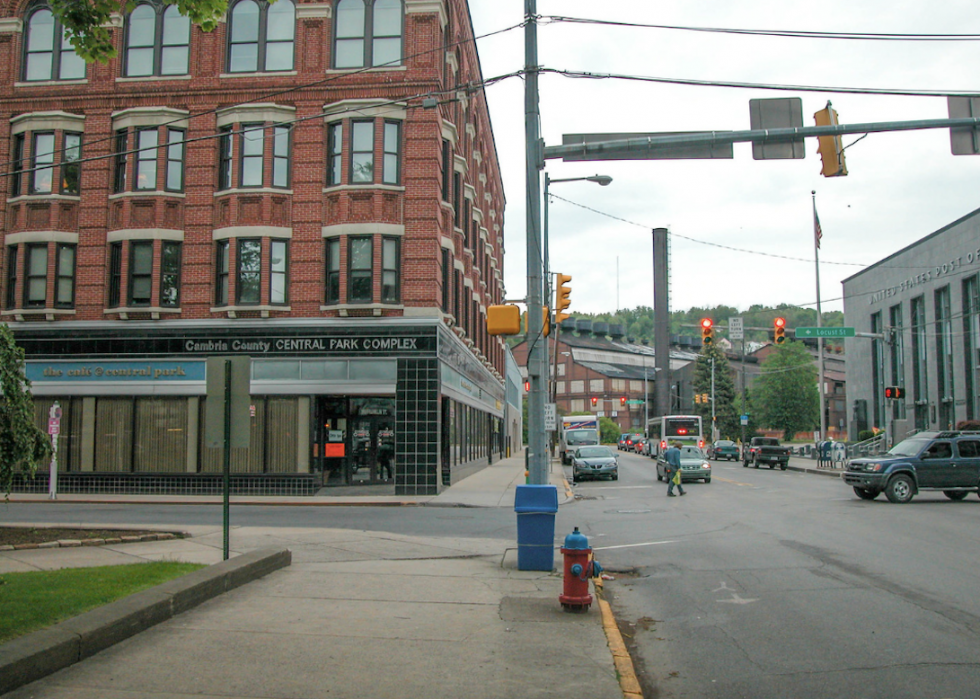 38 / 50
Pennsylvania
- City with the most debt: Collegeville
--- Household credit card debt: $24,680
--- Household credit card paydown: $948
--- Percentile: 99
- City with the least debt: Johnstown
--- Household credit card debt: $7,587
--- Household credit card paydown: $291
--- Percentile: 1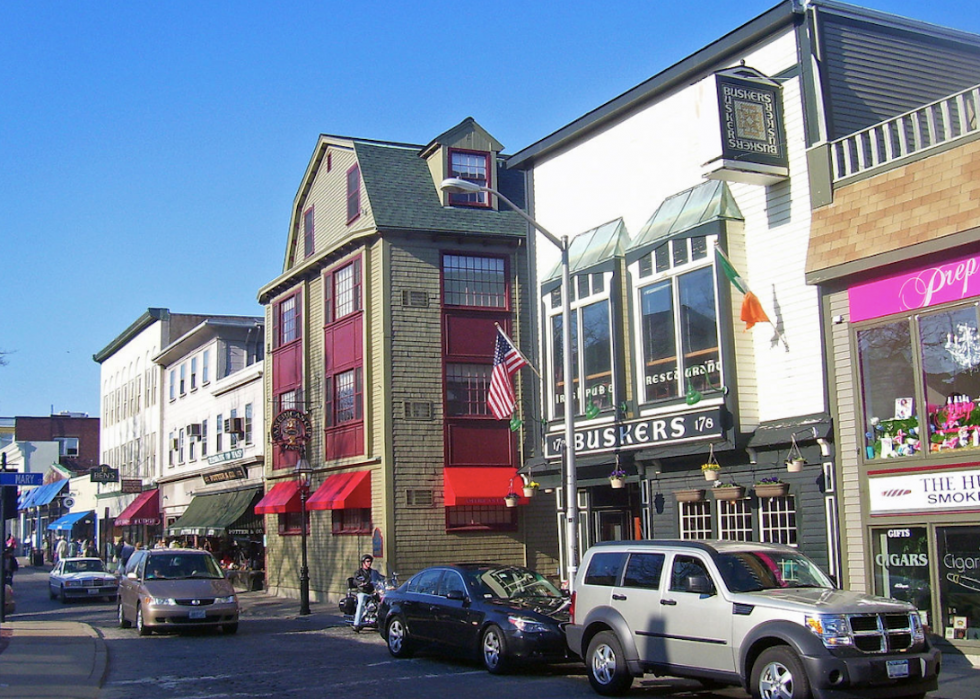 39 / 50
Daniel Case // Wikimedia Commons
Rhode Island
- City with the most debt: Newport
--- Household credit card debt: $13,744
--- Household credit card paydown: $528
--- Percentile: 75
- City with the least debt: Woonsocket
--- Household credit card debt: $8,686
--- Household credit card paydown: $334
--- Percentile: 6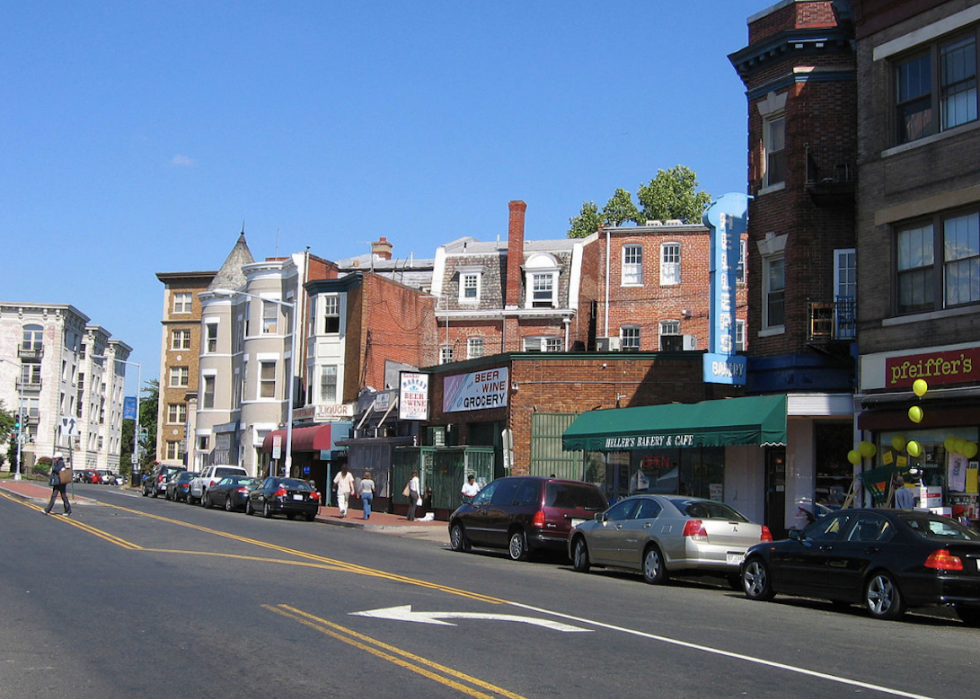 40 / 50
Kmf164 // Wikimedia Commons
South Carolina
- City with the most debt: Mount Pleasant
--- Household credit card debt: $15,338
--- Household credit card paydown: $589
--- Percentile: 86
- City with the least debt: Darlington
--- Household credit card debt: $5,304
--- Household credit card paydown: $204
--- Percentile: 1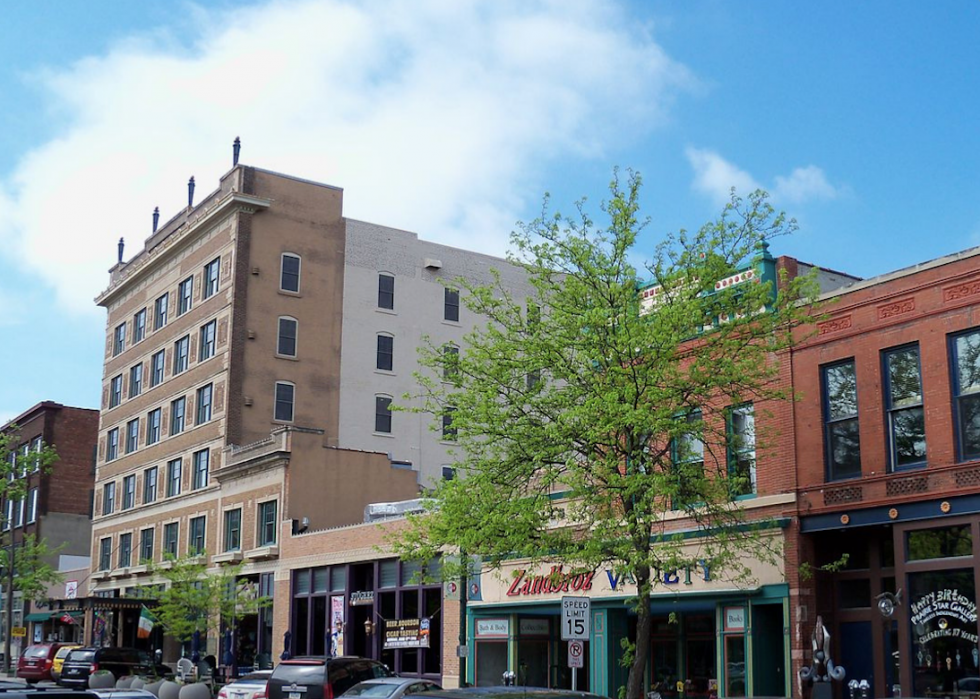 41 / 50
AlexiusHoratius // Wikimedia Commons
South Dakota
- City with the most debt: Sioux Falls
--- Household credit card debt: $10,384
--- Household credit card paydown: $399
--- Percentile: 29
- City with the least debt: Watertown
--- Household credit card debt: $8,887
--- Household credit card paydown: $341
--- Percentile: 8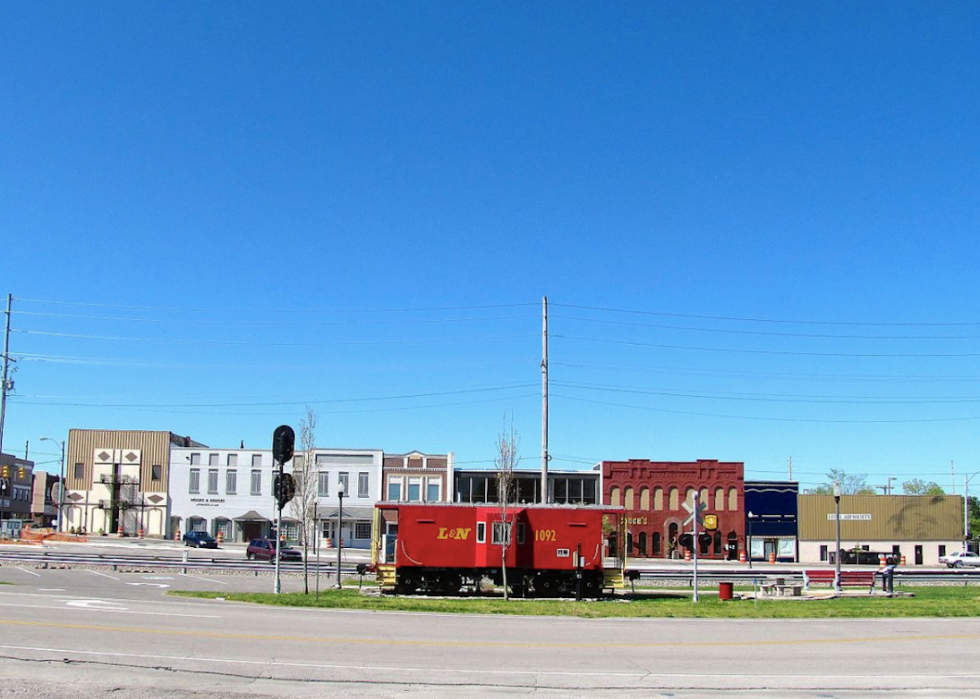 42 / 50
Brian Stansberry // Wikimedia Commons
Tennessee
- City with the most debt: Brentwood
--- Household credit card debt: $19,046
--- Household credit card paydown: $731
--- Percentile: 97
- City with the least debt: Tullahoma
--- Household credit card debt: $7,508
--- Household credit card paydown: $288
--- Percentile: 1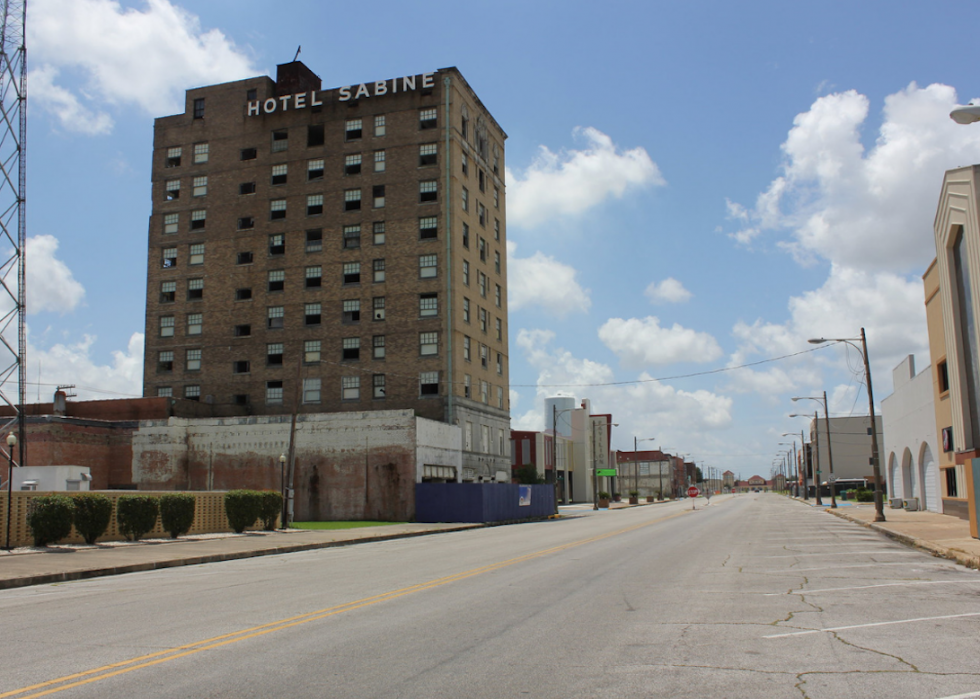 43 / 50
Nicolas Henderson // Flickr
Texas
- City with the most debt: Southlake
--- Household credit card debt: $24,906
--- Household credit card paydown: $956
--- Percentile: 99
- City with the least debt: Port Arthur
--- Household credit card debt: $7,401
--- Household credit card paydown: $284
--- Percentile: 1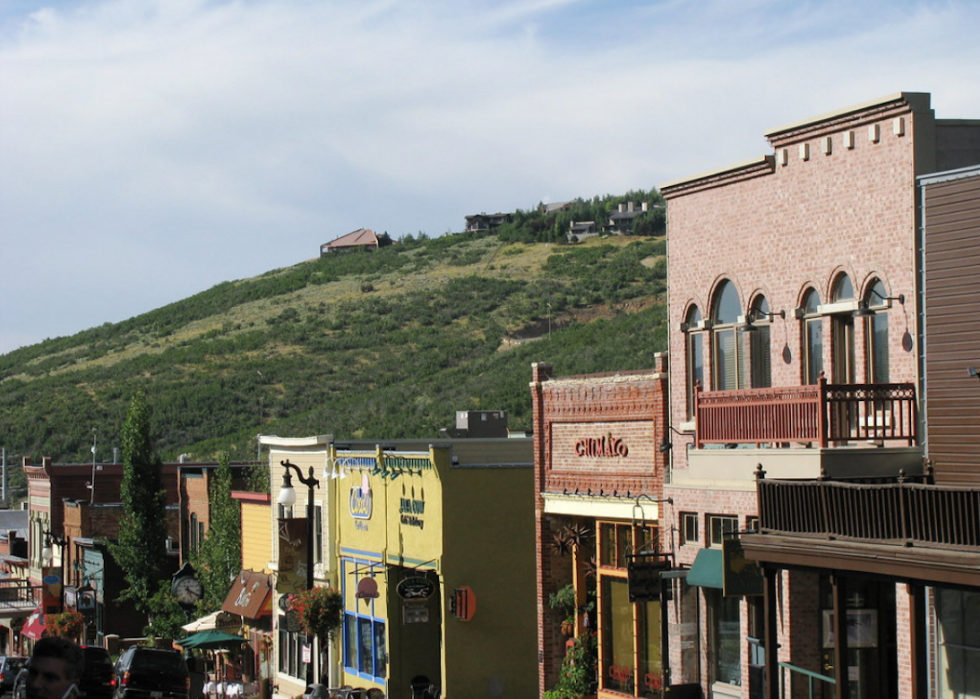 44 / 50
Utah
- City with the most debt: Park City
--- Household credit card debt: $19,414
--- Household credit card paydown: $746
--- Percentile: 98
- City with the least debt: Midvale
--- Household credit card debt: $8,762
--- Household credit card paydown: $336
--- Percentile: 7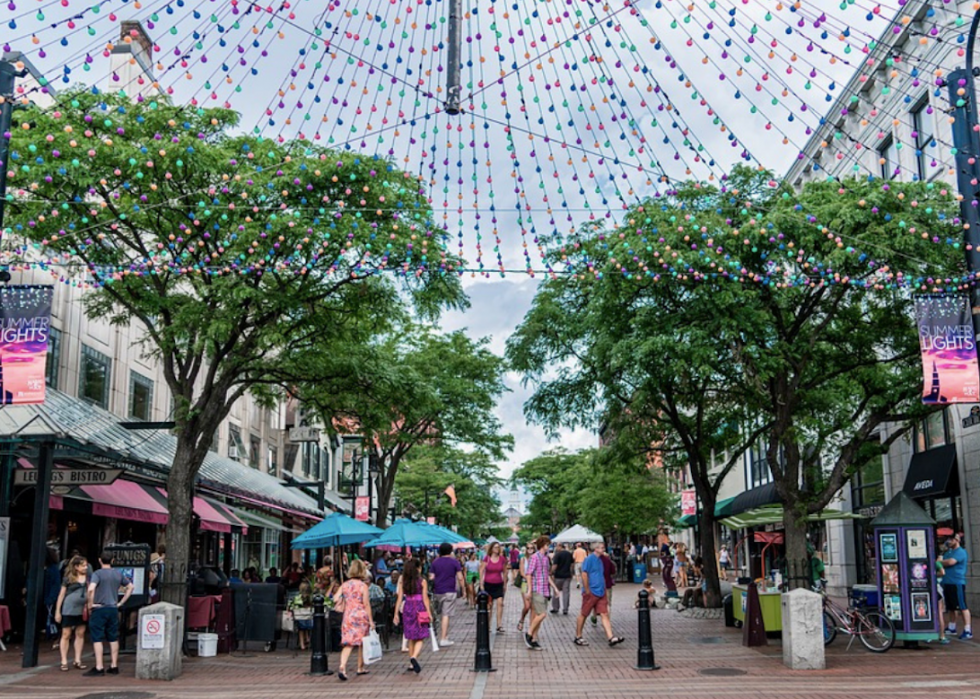 45 / 50
Vermont
- City with the most debt: Burlington
--- Household credit card debt: $10,480
--- Household credit card paydown: $402
--- Percentile: 30
- City with the least debt: Rutland
--- Household credit card debt: $9,840
--- Household credit card paydown: $378
--- Percentile: 20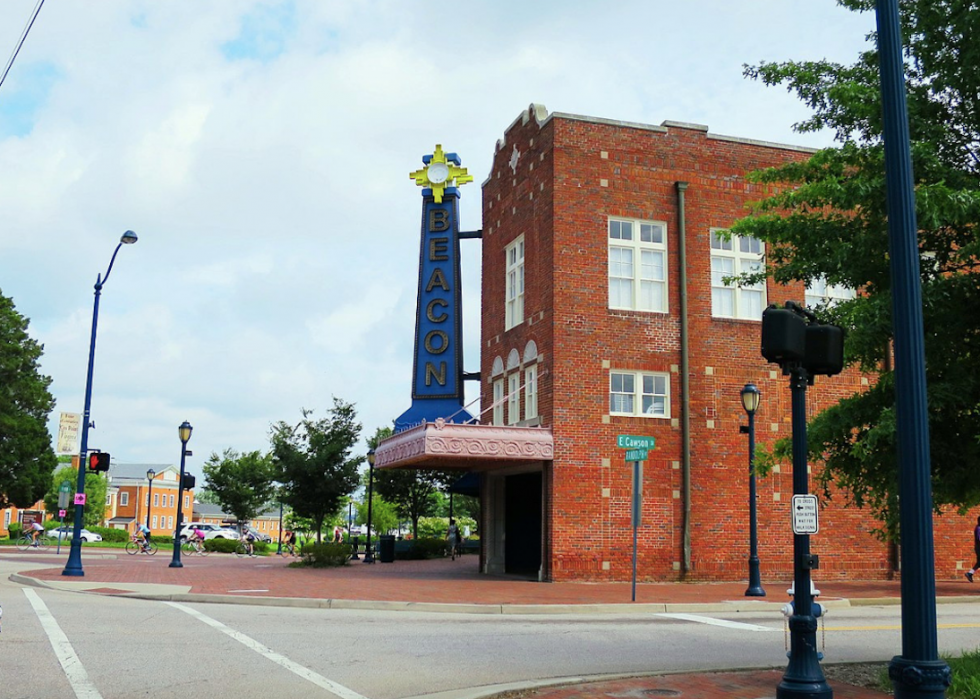 46 / 50
Art Anderson // Wikimedia Commons
Virginia
- City with the most debt: McLean
--- Household credit card debt: $21,756
--- Household credit card paydown: $835
--- Percentile: 99
- City with the least debt: Hopewell
--- Household credit card debt: $7,602
--- Household credit card paydown: $292
--- Percentile: 1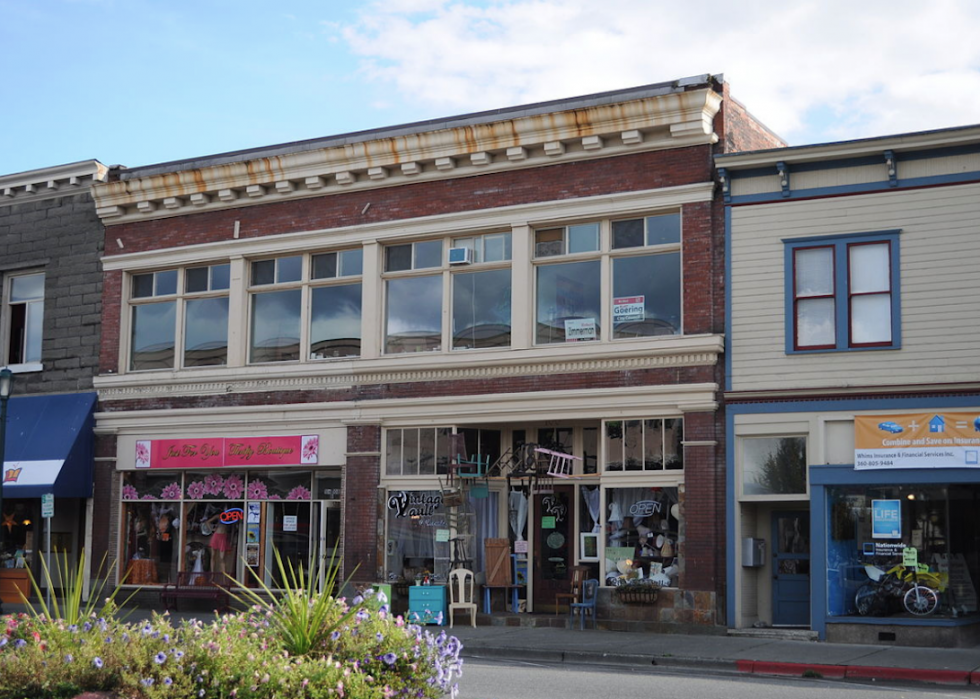 47 / 50
Joe Mabel // Wikimedia Commons
Washington
- City with the most debt: Monroe
--- Household credit card debt: $17,605
--- Household credit card paydown: $676
--- Percentile: 95
- City with the least debt: Sequim
--- Household credit card debt: $8,295
--- Household credit card paydown: $319
--- Percentile: 4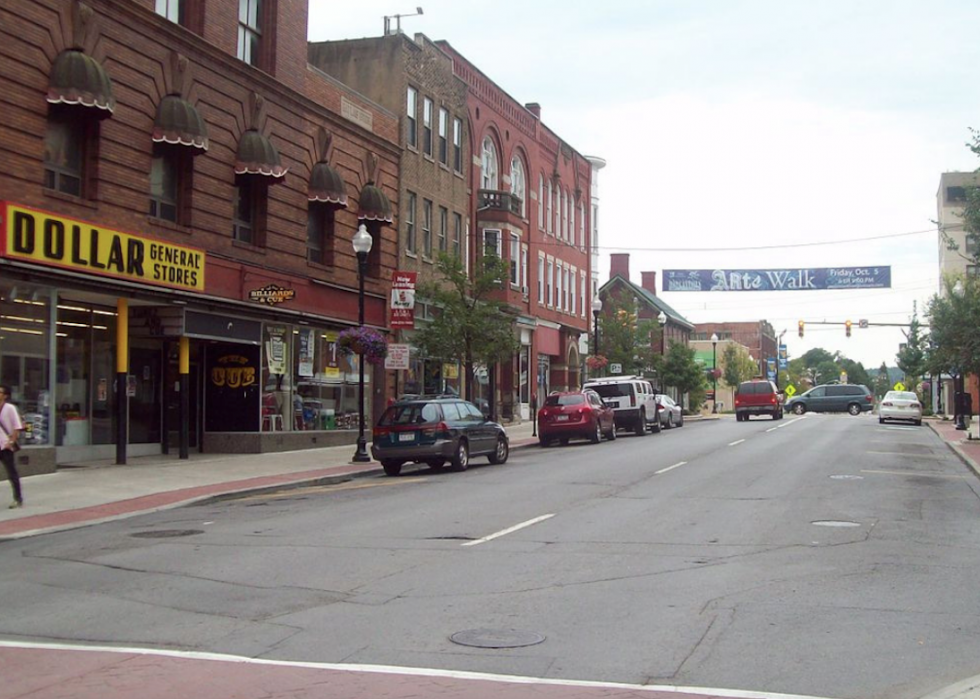 48 / 50
Stryker33 // Wikimedia Commons
West Virginia
- City with the most debt: Morgantown
--- Household credit card debt: $14,634
--- Household credit card paydown: $562
--- Percentile: 82
- City with the least debt: Princeton
--- Household credit card debt: $8,189
--- Household credit card paydown: $314
--- Percentile: 3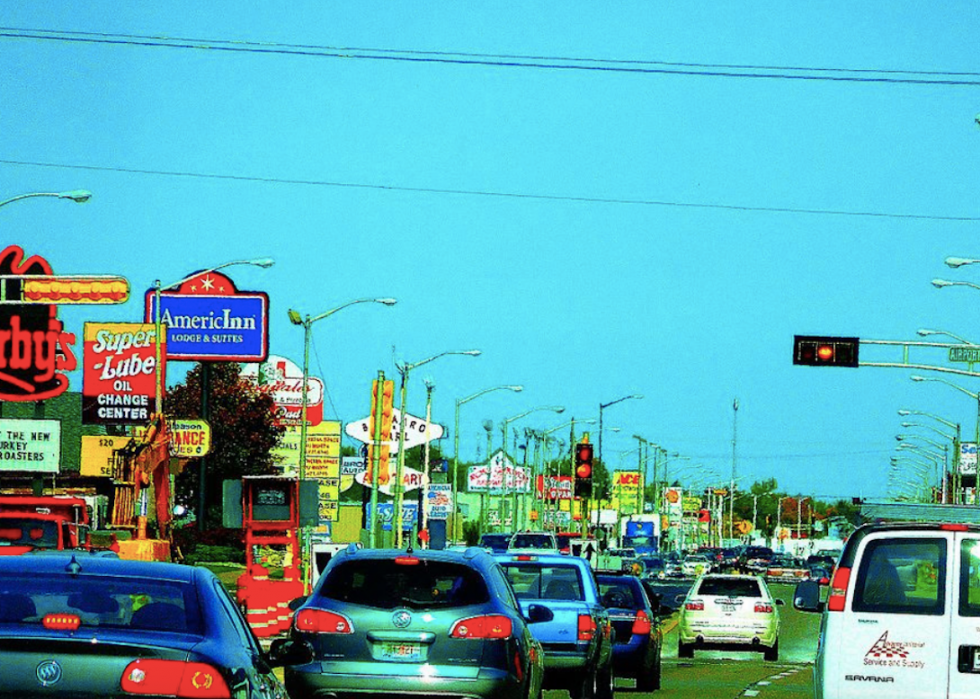 49 / 50
Corey Coyle // Wikimedia Commons
Wisconsin
- City with the most debt: Mequon
--- Household credit card debt: $15,999
--- Household credit card paydown: $614
--- Percentile: 89
- City with the least debt: Wisconsin Rapids
--- Household credit card debt: $7,191
--- Household credit card paydown: $276
--- Percentile: 1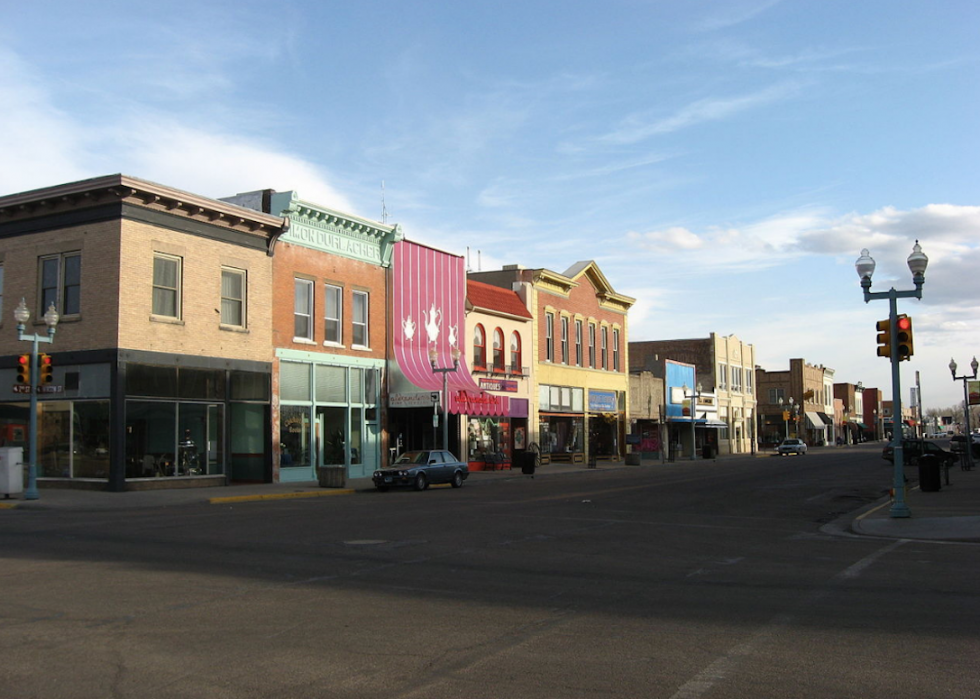 50 / 50
Nyttend // Wikimedia Commons
Wyoming
- City with the most debt: Laramie
--- Household credit card debt: $11,674
--- Household credit card paydown: $448
--- Percentile: 48
- City with the least debt: Casper
--- Household credit card debt: $10,235
--- Household credit card paydown: $393
--- Percentile: 26