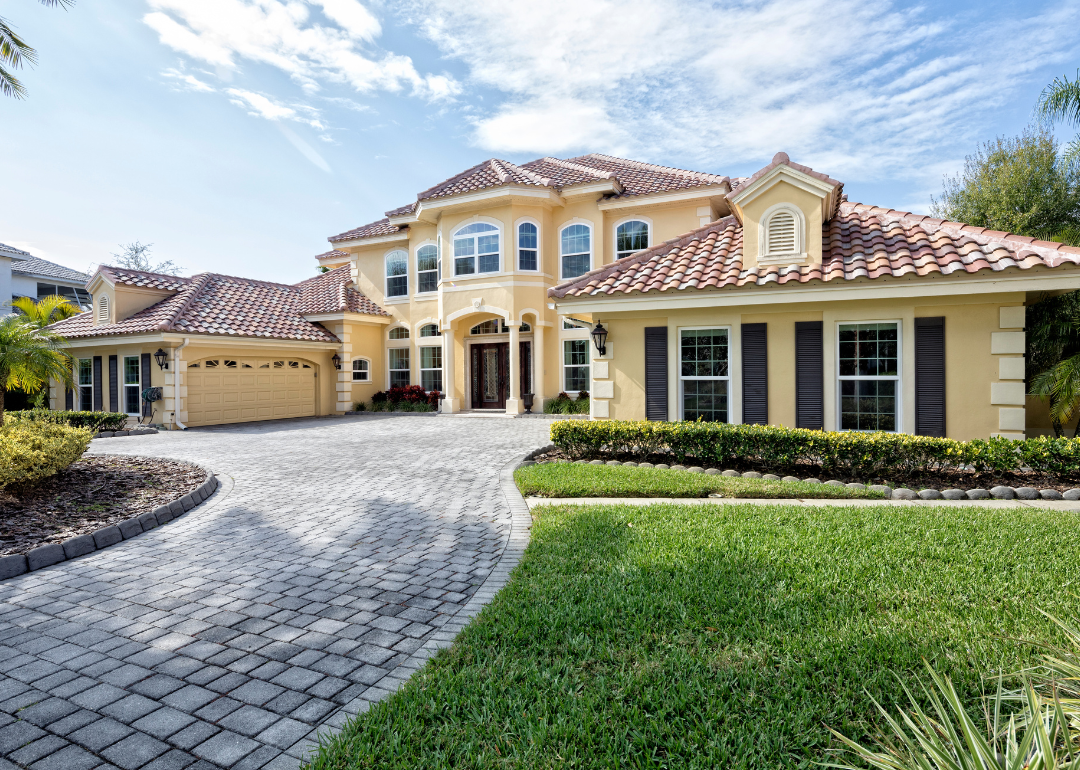 Stacker Connect
Most $1 million+ mortgages are in these California and New York cities
Most $1 million+ mortgages are in these California and New York cities
By now, most prospective homeowners know how expensive it has become to finance a home. The typical 30-year conventional mortgage rate is 7.50% in November 2023, according to Freddie Mac data, 4 percentage points higher than just two years ago. And along with higher rates, home prices are still climbing as housing supply remains constrained.
According to Experian data of communities with 200 or more mortgages as of June 2023, there are 26 cities where the average consumer mortgage balance exceeds $1 million. In this analysis, Experian takes a look at where they are and what this means for consumers.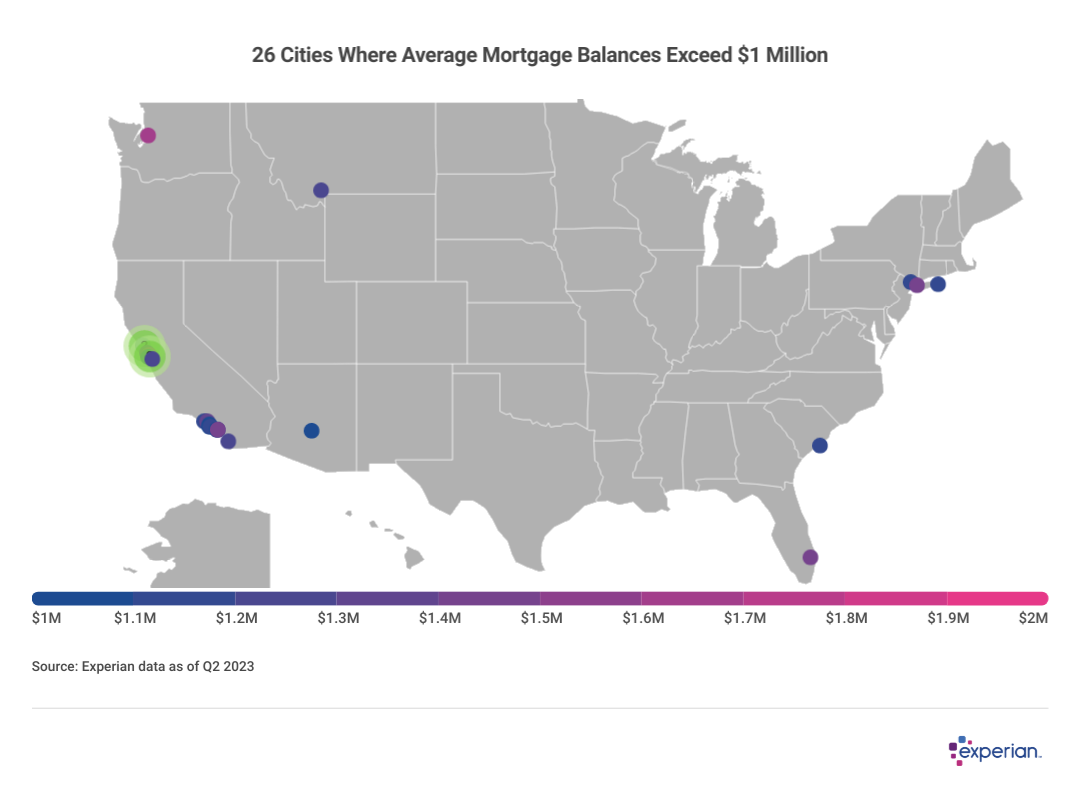 1 / 2
Most high-dollar mortgages concentrated in a few California counties
More than two-thirds of the cities with million-dollar mortgages are in California, while the remaining eight are scattered among Arizona, Florida, Montana, New Jersey, New York and South Carolina.
The California cities with seven-figure mortgage balances aren't in the Inland Empire or Central Valley. Except for the San Diego suburb of Rancho Santa Fe, they're all in either the Greater Los Angeles or Greater San Francisco metros.
Expensive home prices in California are nothing new. Housing supply hasn't kept pace with the state's population growth for decades, a phenomenon that impacts virtually every residential real estate market in the country today.
Nonetheless, in California the problem is probably the most acute. One example: In September 2023, there were 43,687 homes listed for sale, according to the National Association of Realtors―in a state with more than 13 million households. To make a comparison, the state of Florida has about 8 million households, and there were more than 90,000 homes on the market there in September.
Indeed, not only in California but in many of the metros where Experian identified million-dollar mortgages as the norm, many residents have since moved out of the area altogether, drawn to metros with at least somewhat more housing supply and somewhat more affordable homes. Experian looked at this trend earlier in 2023.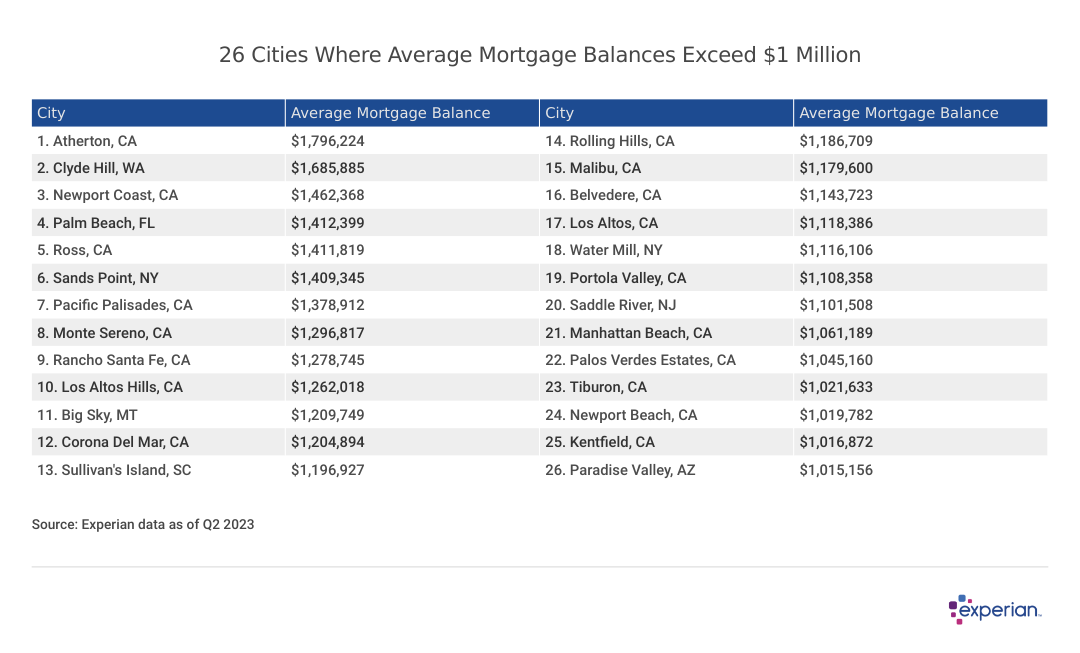 2 / 2
$1 million+ mortgages: Welcome to Jumboland
Most of the mortgages topping $1 million aren't conventional mortgages, if only because of the home price tags. Except for a small handful of high-cost counties where the conventional loan limit is $1,089,300, the largest conventional (or conforming) mortgage banks are allowed to offer in most of the continental U.S. is $726,200 in 2023.
In the 26 cities where the average mortgage balance is currently over $1 million, these limits suggest that many of the homebuyers in these million-dollar mortgage cities used jumbo mortgages to finance their homes.
Jumbo mortgages are for home loans that exceed the conventional mortgage limit. These loans, unlike most mortgages, aren't packaged for sale to Fannie Mae and Freddie Mac, the government-sponsored enterprises that buy most home mortgages in the U.S. Instead, banks usually keep these loans on their own books, and employ different underwriting standards—often stricter—than they might for conventional loans.
Rates for jumbo mortgages also vary from smaller conforming mortgages. Currently, the average jumbo mortgage rate is even higher than the 7.50% average for conforming mortgages, exceeding 8% in October 2023. But earlier this decade, jumbo rates were slightly lower than conforming loans.
High-dollar mortgages: A view from the top
Whether or not crossing the $1 million home price threshold is an achievement depends on your perspective: On one hand, properties underwritten for mortgages of $1 million or more are quite likely impressive and feature-rich.
On the other hand, making payments on a million-dollar mortgage isn't within the means of most Americans. Based on an APR of 8%, a 30-year jumbo mortgage for $1 million would mean a monthly mortgage payment of nearly $7,400. That doesn't even include the taxes, insurance and other maintenance costs that go into home ownership.
Mortgage rates and, by extension, monthly payments, have climbed significantly for all borrowers no matter how much home they're trying to finance. As the tip of the iceberg, the number of cities and counties where $1 million mortgages are more normalized could be a trend to watch.
Meanwhile, expect the threshold for conforming mortgages to increase as well. According to data compiled by HSH Associates, a residential real estate observer, conforming loan limits for single-family homes have increased for seven consecutive years, from $417,000 in 2016 to $726,200 today. It's a huge assumption (pardon the pun) but at this rate, by 2028 a million-dollar mortgage won't even be considered a jumbo mortgage anywhere in the U.S.
Methodology: The analysis results provided are based on an Experian-created statistically relevant aggregate sampling of our consumer credit database that may include use of the FICO Score 8 version. Different sampling parameters may generate different findings compared with other similar analysis. Analyzed credit data did not contain personal identification information. Metro areas group counties and cities into specific geographic areas for population censuses and compilations of related statistical data.
This story was produced by Experian and reviewed and distributed by Stacker Media.