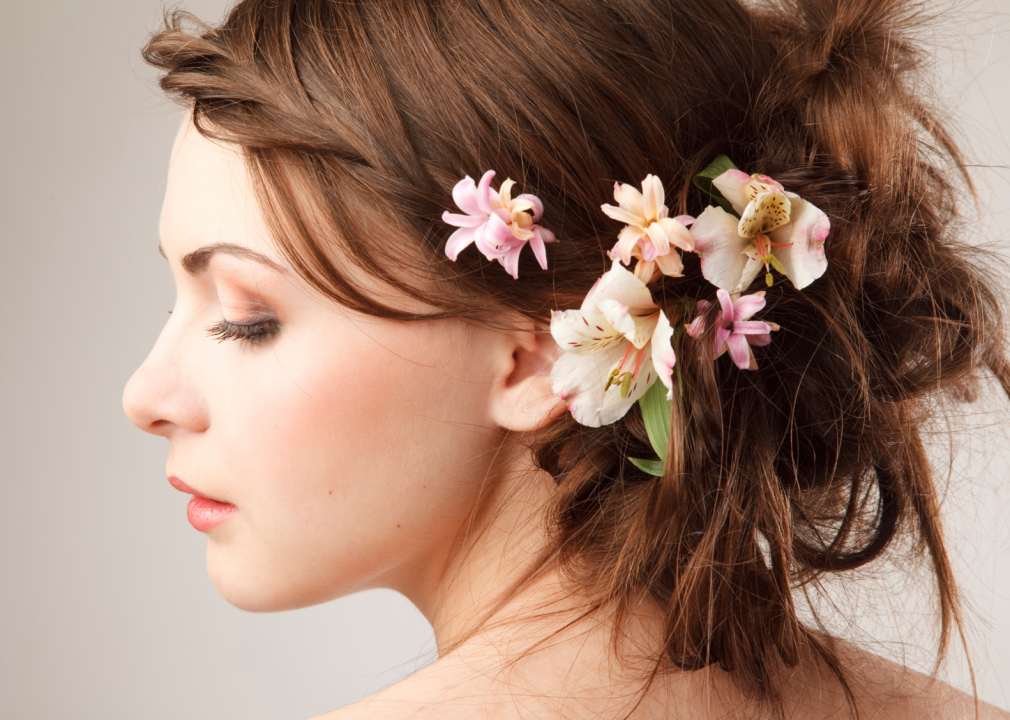 Popular hairstyles through the decades
Anna Furman // Shutterstock
Trendy hair fads from the last 100 years
From the afro to the Rachel, hairstyles are often the quickest way to determine where (or when) you are. Throughout history, hair has played an important role in everything from politics to gender to social status. As cultures evolve and change, so too do the ways people choose to express themselves—and new hairstyles are often the harbinger of progress. Even today, certain hairstyles represent continued calls for equality (like students being sent home for wearing extensions or a New Jersey wrestler being forced to cut his dreadlocks before competing).
Short or long, curly or straight—the world's seen them all come and go. Here, we've compiled a gallery of 30 trendy haircut fads from the last century, from cornrows and curtain bangs to crimps and perms. The trends are spread out as evenly as possible across eras, genders, and cultures in order to represent the true diversity of haircuts and 'dos. The fads may apply to entire haircut styles, like the faux hawk, or serve as details to another look, like frosted tips. As we approach some of the most pronounced styles from that last century, we'll also be looking into where the fad originated—whether from a celebrity, group of people, or cultural event—as well as any notable people who wore the look, how long it lasted, and whether it's come back as so many fads do.
Read on to learn more about the history of how folks have worn their crowning glory, as well as what it meant to society.
You may also like: Famous dances from the last 100 years
Pixie cut
This closely cropped style can be traced back to the first recorded short haircut in history. The Titus cut became popular in the 18th century during the Reign of Terror in France. It was considered a symbolic representation of the haircut bestowed upon victims of the guillotine right before execution. Children of doomed aristocrats (including women) adopted the cut, which caught on and became a trend.
In the 1960s, the cut was reborn as the pixie, a sleek style for those following mod fashion (a la model and muse Twiggy). Mia Farrow solidified the look as a 1960s staple on the big screen with "Rosemary's Baby." Of course, no talk of the pixie cut would be complete without discussing Princess Diana. Her tiered pixie combined the volume craze of the '80s with the minimalism of the '90s.
Cornrows
Although they originated in Africa in 3000 B.C. (at the earliest), cornrows have maintained their status as a chic hairstyle for black people of any gender. Celebrities like Cicely Tyson and Nina Simone rocked them in the '60s and '70s. Recently, Beyonce sparked a trend for cornrows thanks to her album "Lemonade," leading a wider fascination with "lemonade braids."
The style has courted controversy when worn by people who are not black, such as actress Bo Derek in the 1979 movie "10." Most recently, Kim Kardashian West was accused of cultural appropriation when she photographed herself wearing cornrows and dubbed them "Bo Derek braids."
Crew cut
This short haircut for men was consistently popular in the 1930s among athletes, thanks to its lack of movement and nice cooling effect. But the haircut took on new significance in the 1940s when more men came home with short cuts from military service. Steve McQueen brought this hypermasculine look to the big screen.
Long hair for men
The 1960s saw a wave of young men growing out their hair, sometimes referring to it as their "freak flag." David Bowie publicly spoke out in 1964 about the desire to wear the easy hairstyle without being harassed with statements such as, "Can I carry your handbag?"
Long hair on men persists to this day. And while it's unlikely that anyone is harassing the local barista about his man bun, certain groups like Sikh men and Native Americans still have to fight for their right to wear their hair long.
Faux hawk
David Beckham brought this tousled, not-quite-short cut for men to the early 2000s. Edgy enough for Jack Osbourne but mellow enough for Ewan McGregor, this easy style tapped the "metrosexual" spirit of men's grooming at the time.
Afro
Considered a political statement in the 1960s and a declaration of self-love in the 1990s, the afro highlighted the beauty of natural black hair. Tease it out or keep it tight—the afro has proven itself timeless.
Shag
The '90s were an interesting time for hair, and Kurt Cobain's trademark shag was the height of men's chic. Allegedly, the frayed ends were due to Kurt washing his hair with soap instead of shampoo.
The Rachel
Jennifer Aniston's famous haircut (created by celebrity stylist Chris McMillan) was a must-have look in the 1990s. The "piecey bangs" and layers can't hide the fact that it's a refined adaptation of a shag. Maybe Kurt Cobain would have been at home in Central Perk?
Fade
You may think of the Fresh Prince of Bel-Air when talking about this angular '80s cut. But the style was actually made popular by supermodel Grace Jones in 1980. In the 2010s, the fade came back as a fierce throwback style that also signaled healthy natural hair. Jennifer Hudson and Leslie Jones both sported the haircut, paying tribute to the eternally chic Grace Jones.
Ducktail
This slicked, pomade-heavy style innate to the "greaser" look was invented in the 1940s by a barber looking to create a style that resembled the backside of a duck. The popular style was especially beloved by pachucos, young Latino men of the 1930s who prided themselves on looking sharp.
Undercut
Salt-N-Pepa delivered a fresh take on the buzzed-under look, thanks to a perm accident. The look had fallen out of fashion since the 1930s—and Skrillex wasn't yet around to show the indie rockers how to do it.
Teased layers
Brigitte Bardot roared onto the screen in 1952, and hair was never the same. Italian-style teased layers became the it-hairstyle for women who weren't afraid of a little scandal. This may have even been the predecessor for Farrah Fawcett's iconic waves.
Bob
It may not be so scandalous today for a woman to bob her hair, but it was for Louise Brooks and other "new women" of the 1920s. Mary Garden published an entire essay about the divisive hair trend back in the day, tying it to the newfound freedom women were experiencing at that moment in history.
Dreadlocks (Locs)
This hairstyle is tied back to ancient Indian gurus, as well as Rastafarianism due to its resemblance to the mane of a lion. Is it no wonder, then, that Bob Marley popularized the look in the 1970s? The trend was solidified by Whoopi Goldberg and continues to be rocked by stars like Kelela and Zendaya.
Mop top
The Beatles brought this style to the U.S. from across the pond in the 1960s, breaking the trend of shorter hairstyles for men. The hairstyle was allegedly inspired by a German art student the band had befriended while playing in Hamburg.
Beehive
Invented by Margaret Vinci Heldt in 1960, the beehive hairdo correlated directly with the invention of modern hairspray. This sculpted, feminine look was adopted by diva superstars like Dusty Springfield and Aretha Franklin. But the queen of the modern beehive is undoubtedly Amy Winehouse, who caused a resurgence in the style's popularity in the 2000s.
Finger waves
Finger waves were an edgier take on flapper curls back in the 1920s, made popular by cabaret diva Josephine Baker. But the short, wavy hairstyle has seen a comeback in the 2010s, thanks to style influencers like Ruth Negga and Solange Knowles.
Flower garnishes
Billie Holiday and Frida Kahlo were the mothers of flower garnishes—Frida in particular used native Mexican blooms. This trend has experienced a resurgence thanks to music festival culture, notably Lana Del Ray's flower crown, and simple adornment styles.
Baby bangs
The history of bangs themselves is long and varied. But Bettie Page and Audrey Hepburn started the super-short bang trend in the 1950s. The retro trend (also tied to the riot grrrl music scene) made a major comeback in 2018, seen on many young celebrities like actress Bella Thorne.
Bouffant
Several figures can likely lay claim to inventing the poofy bouffant (including Brigette Bardot with her slick headbands). But the definite queen is Jackie Kennedy, who popularized a modern voluminous bouffant that still pleased shiny hair holdovers from the 1950s.
Gibson Girl tease
The Gibson girl was the emblem of femininity in the 1900s, not least because of her teased, voluminous hair. The style capitalized upon the newly invented bobby pin, though it eventually fell out of fashion in favor of lower maintenance short styles. Nicole Polizzi (a.k.a. Snooki of "Jersey Shore" fame) unknowingly brought back a style that tributes the Gibson Girl tease with her bumped hair of the mid-2000s.
Buzzcuts for women
You can thank 1980s entrepreneur and fitness guru Susan Powter for bringing the buzzcut for women into the mainstream. The buzzcut is often associated with female rebellion, whether it's against imaginary fascism or paparazzi. 
Curtain bangs
Leonardo DiCaprio brought this style to the forefront with his dreamboat role in "Titanic." It's mellowed out since the 1990s and become less ubiquitous. But it's made its way into standard men's hair advice, so perhaps it hasn't fully disappeared?
French twist
Made famous by Hitchcock films "The Birds" and "Vertigo," French twists modernized the bun hairstyle for women with chic minimalism. It may be making a comeback in the 2010s, thanks to Kate Moss and newly minted royal Meghan Markle.
Jheri curls
Jheri curls were the it-hairstyle for a time thanks to influencers like Ice Cube and athlete Deion Sanders sporting the 'do. Invented by hair entrepreneur Jheri Redding, the style's constant need for upkeep led to it becoming somewhat of a status symbol. But don't worry—it was always a love/hate relationship.
Crimped hair
Reportedly invented to create a signature hairstyle for Barbra Streisand, hair crimpers became ubiquitous throughout the 1980s and 1990s thanks to trendy musicians like Madonna. But despite its intentionally artificial look, crimping is starting to reemerge as a trend. As always, we can look to Beyonce for trend confirmation.
Straight and shiny
Ali McGraw's stick straight locks influenced an entire generation of hair fans, who perhaps sought an alternative to the high-maintenance curls that had come before. But it also resonated in the 1990s, namely through singer Aaliyah's sleek hip hop style (and famous eye-covering bangs).
Pompadour
The pompadour may have been named for a woman, but men from Elvis Presley onward made it popular in the 1950s. James Brown made it his signature look. Today, it's a favorite of rockabilly fans. 
Perms
Permanent hair curling has been around since the turn of the century. The expansion of at-home perm brands (such as Tony) opened up perms for the average person looking for a little body. Stars like Jennifer Beals in "Flashdance" (whose curls were actually natural) made this the it-hairstyle of the 1980s.
Blonde bombshells
Jean Harlow rocked the 1930s with her unearthly short golden locks. The trend continued in the 1950s with Marilyn Monroe, Jayne Mansfield, and several others. The latest incarnations of this trend (that seems to take a new shape every generation) appear on stars like Charlize Theron and Scarlett Johansson.