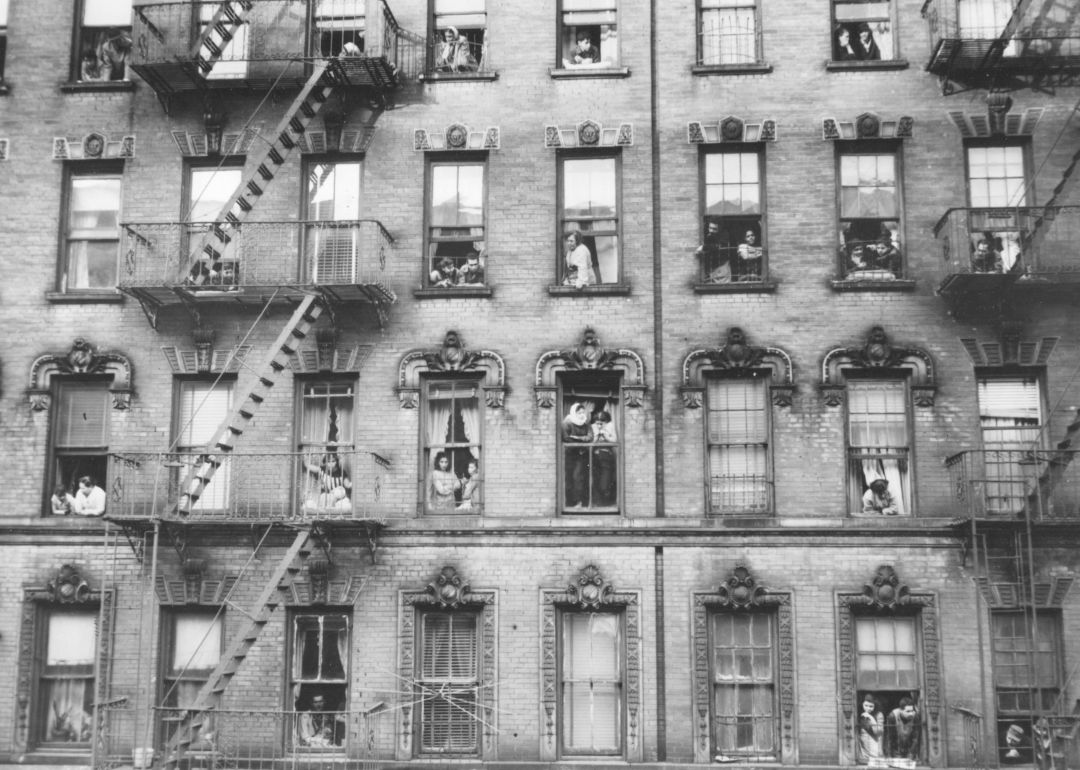 What 50 American cities looked like 100 years ago
Photoquest // Getty Images
What 50 American cities looked like 100 years ago
American cities are in constant flux. Buildings go up as others are demolished, new businesses open and close, and roads, sidewalks, bridges, and tunnels receive regular upgrades. Meanwhile, advancements in technology can be seen all over cityscapes—from LED bulletin boards and solar-powered street lights to sleek public transit systems.
To take a look at just how much has changed in U.S. cities in the last century, Stacker found 50 images of metropolitan centers around the country from 100 years ago. From popular beaches to New York City's Times Square, scroll through the gallery to see just how drastically your favorite city has changed.
Atlanta, Georgia
Automobile and pedestrian traffic at Five Points intersection in Atlanta. The famous intersection serves as the exact center of town for the locals and was the starting point when the city began mapping street addresses.
Atlantic City, New Jersey
Three people pose for a beachside photo in Atlantic City in 1920.
Baltimore, Maryland
An aerial view of the post office and City Hall in downtown Baltimore circa 1910.
Boston, Massachusetts
A view of Milk Street in Boston circa 1915.
Buffalo, New York
An aerial view of Buffalo's Shelton Square with St. Paul's Episcopal Cathedral and the Prudential Building in 1915.
Camden, New Jersey
Cars cross the Delaware River (Ben Franklin) Bridge into Philadelphia from Camden in 1926.
Cheyenne, Wyoming
A western parade scene in Cheyenne dated 1910.
Chicago, Illinois
A view looking north along Chicago's Michigan Avenue shows the Wrigley Building (left) and the Tribune Tower (right) in 1925.
Cincinnati, Ohio
The Cincinnati chapter of the League of Women Voters stands in front of a board showing voter registration.
Cleveland, Ohio
A view of the shopping arcade in Cleveland circa 1915.
Dallas, Texas
Two young newsboys on the streets of Dallas photographed by Lewis Wickes Hine in 1913.
Denver, Colorado
A Denver map with a birdseye view from South Broadway, showing Harlem, Jacksons Broadway Heights, and the surrounding area circa 1907.
Des Moines, Iowa
A trolley car shares Sixth Avenue with automobiles and horse-drawn wagons in Des Moines, Iowa, in 1910.
Detroit, Michigan
Workers in the Ford Automobile Plant leave their shift and wait for Woodward Avenue trolley cars in Highland Park in 1924.
Duluth, Minnesota
Three men at a grocery store at the corner of Lake Avenue and Superior Street in Duluth, Minnesota.
Eugene, Oregon
The city of Eugene looking south from Skinner's Butte.
Galveston, Texas
An aerial view of the Galveston beaches and seawall.
Hartford, Connecticut
The State Bank building on Main Street in Hartford.
Hoboken, New Jersey
A jitney bus and trolley car share the street with pedestrians in Hoboken.
Houston, Texas
Main Street looking north from Walker Avenue showing a section of the city's business district.
Indianapolis, Indiana
A view of the Ayres Building in Indianapolis.
Jersey City, New Jersey
Girls play a game of jacks in Jersey City's Zabriskie Park dated 1922.
Las Vegas, Nevada
The business section of Las Vegas circa 1910.
Little Rock, Arkansas
Street and storefronts in Little Rock, Arkansas.
Los Angeles, California
The view north on Western Avenue from Wilshire Boulevard in Los Angeles in 1924.
Miami, Florida
A view of Miami from Biscayne Bay photographed in November 1925.
Milwaukee, Wisconsin
A postcard view of the river from Sycamore Street in Milwaukee.
Minneapolis, Minnesota
The Flour Milling District of Minneapolis and Stone Arch Bridge in 1920.
Montpelier, Vermont
An F.W. Woolworth Store in Montpelier circa 1910.
New Orleans, Louisiana
A view of Royal Street in the French Quarter of New Orleans in 1915.
New York, New York
High-angle view looking north of crowds waiting at Times Square for the results of the 1919 World Series.
Newark, New Jersey
Inhabitants of a tenement house look out their windows in Newark, New Jersey, circa 1910.
Niagara Falls, New York
An illuminated street at night in Niagara Falls in 1910.
Oklahoma City, Oklahoma
A blind man and his young guide cross the street in Oklahoma City, dated 1917.
Paterson, New Jersey
A lithograph showing Paterson Iron Works circa 1910.
Philadelphia, Pennsylvania
A view of Philadelphia's Market Street, west from 12th Street circa 1910.
Pittsburgh, Pennsylvania
An aerial view of The Point in Pittsburgh shows the 1915 Manchester Bridge.
St. Louis, Missouri
Young swimmers take a class at the Mullanphy Pool at 11th Street in St. Louis.
Saint Paul, Minnesota
Cars parked along Seventh Street in Saint Paul circa 1918.
Salem, Massachusetts
A wall of local advertisements in the recital hall of a school in Salem.
San Antonio, Texas
A postcard view of Houston Street in San Antonio in 1914.
San Diego, California
Vacuum cleaner salesmen line up in front of the Burton Electric store in San Diego circa 1921.
San Francisco, California
A view of Market Street from Powell looking toward the ferry in San Francisco.
Savannah, Georgia
Looking east on Savannah's Broughton Street circa 1910.
Seattle, Washington
Looking up Pike Street from First Avenue in 1930.
Sioux City, Iowa
Steam-powered equipment workers in Sioux City circa 1910.
Spokane, Washington
The view looking east on Riverside Avenue from the Review Building on the principal business street of Spokane.
Springfield, Massachusetts
A Springfield, Massachusetts, postcard showing the Wason Manufacturing Company factory.
Syracuse, New York
Two women clean up the streets during a city-wide anti-spitting campaign in Syracuse circa 1900.
Washington DC
Crowds gather at the Lincoln Memorial for the dedication ceremony in 1922.