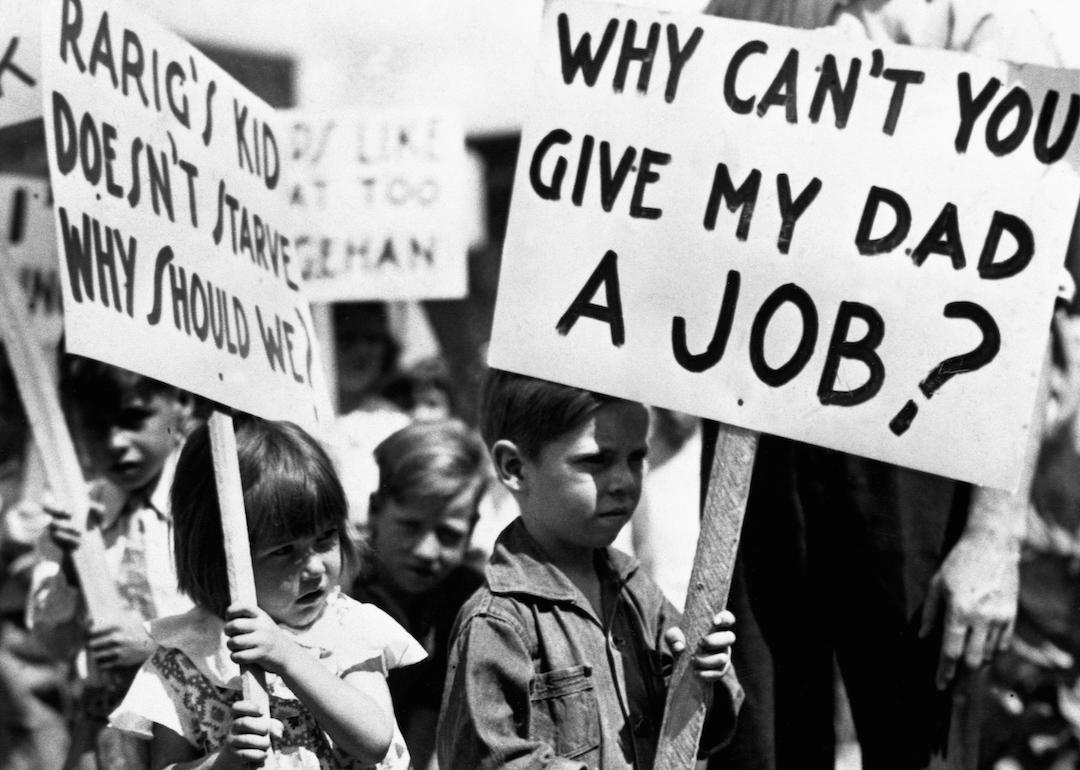 What America looked like during the Great Depression
Minnesota Historical Society/CORBIS/Corbis via Getty Images
What America looked like during the Great Depression
The Great Depression can be traced back to the devastating stock market crash of October 1929. Although the U.S. economy expanded exponentially in the period after World War I and the New York Stock Exchange surged, heedless speculation was all too common, putting many Americans at risk.
There were signs during the summer of 1929 that economic expansion was slowing. Consumer debt and unemployment rose, while wages remained low and production declined. In one week in October, tens of millions of shares were traded on the stock market as investors panicked, rendering millions of shares worthless. Investors who had borrowed money also saw their investments completely wiped out.
Financial stress continued to worsen from 1929 to 1933. U.S. industrial production declined by 47%, and unemployment is thought to have exceeded 20% at its peak. In comparison, during the Great Recession of 2007 to 2009, unemployment peaked at just under 10%. When President Franklin D. Roosevelt took office in 1933, he signed the New Deal into law, which created several programs aimed at spurring economic recovery and employing the jobless, like the Works Progress Administration and the Tennessee Valley Authority.
The American money supply also increased drastically, rising by almost 42% between 1933 and 1937, thanks to an influx of gold in the U.S., but also partly because of growing political tensions in Europe that precipitated World War II. Low interest rates also made credit more available and encouraged borrowing.
Stacker compiled a collection of 50 incredible images showcasing what life was like during the Great Depression. Using several historical and archival websites, the following slides help understand the stories behind the images, and how the Great Depression affected the lives of millions of Americans.
Read on for a glimpse into how Americans persevered during one of the most difficult decades in history.
You may also like: Space discoveries from the year you were born