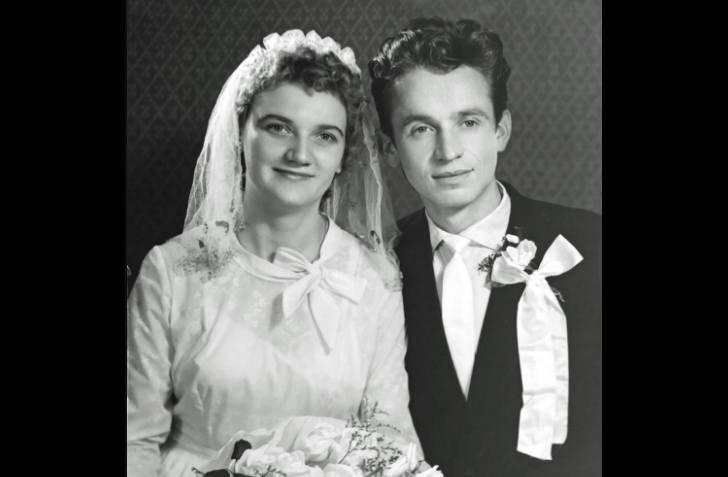 What marriage rates were the year you were born
Brzostowska // Shutterstock
What marriage rates were the year you were born
It may seem more people than ever are getting married. In 1967, interracial marriage was legalized at the federal level; in 2015, same-sex marriage achieved the same victory. If you're a late-20s-something professional, the seven wedding invitations on your fridge certainly imply more marriages than ever are happening.
The data tells a different story.
Marriage rates in the United States are on the decline. They've actually been sinking for decades, although there's been a slight plateau in the last few years as the marriage rate stagnates at 6.8%, the lowest in recorded history. Marriage used to be an inevitability, but increasingly attitudes towards marriage reflect skepticism about its longevity and relative importance. If nothing else, people are putting it off: Pew reports that 20% of 18-29 year olds were married in 2010, compared with 59% in 1960.
Youthful disdain is not married to matrimony. More young adults now return home after college and buy houses and cars later in life than their parents did. Financial instability could be a contributing factor: college is more expensive than ever, and many report feeling the job market is especially bleak. Another factor could be the increase in divorce rates in the last two decades of the 20th-century, meaning a large portion of traditional marrying age Americans have grown up in split households.
Diving deep into how marriage rates have trended over the years, Stacker compiled data from CDC's National Center for Health Statistics (NCHS) gathered by Randal Olson, as well as national marriage and divorce rates from 2000-2016 and Statista data about the national marriage rates from 1990-2016. The marriage rate was taken by dividing the overall population of the United States in a specific year by the number of marriages that occurred that year.
So how much exactly have marriage rates changed over time? Read on to see the marriage rate in the year you were born, from 1920 to 2016.
1920
Population: 106,461,000
Number of Marriages: 1,274,000
Marriage rate per 1000 total population: 12.0%
1921
Population: 108,538,000
Number of Marriages: 1,164,000
Marriage rate per 1000 total population: 10.7%
1922
Population: 110,049,000
Number of Marriages: 1,134,000
Marriage rate per 1000 total population: 10.3%
1923
Population: 111,947,000
Number of Marriages: 1,230,000
Marriage rate per 1000 total population: 11.0%
1924
Population: 114,109,000
Number of Marriages: 1,185,000
Marriage rate per 1000 total population: 10.4%
1925
Population: 115,829,000
Number of Marriages: 1,188,000
Marriage rate per 1000 total population: 10.3%
1926
Population: 117,397,000
Number of Marriages: 1,203,000
Marriage rate per 1000 total population: 10.2%
1927
Population: 119,035,000
Number of Marriages: 1,201,000
Marriage rate per 1000 total population: 10.1%
1928
Population: 120,509,000
Number of Marriages: 1,182,000
Marriage rate per 1000 total population: 9.8%
1929
Population: 121,878,000
Number of Marriages: 1,233,000
Marriage rate per 1000 total population: 10.1%
1930
Population: 123,188,000
Number of Marriages: 1,127,000
Marriage rate per 1000 total population: 9.1%
1931
Population: 124,149,000
Number of Marriages: 1,061,000
Marriage rate per 1000 total population: 8.5%
1932
Population: 124,949,000
Number of Marriages: 982,000
Marriage rate per 1000 total population: 7.9%
1933
Population: 125,690,000
Number of Marriages: 1,098,000
Marriage rate per 1000 total population: 8.7%
1934
Population: 126,485,000
Number of Marriages: 1,302,000
Marriage rate per 1000 total population: 10.3%
1935
Population: 127,362,000
Number of Marriages: 1,327,000
Marriage rate per 1000 total population: 10.4%
1936
Population: 128,181,000
Number of Marriages: 1,369,000
Marriage rate per 1000 total population: 10.7%
1937
Population: 128,961,000
Number of Marriages: 1,451,000
Marriage rate per 1000 total population: 11.3%
1938
Population: 129,969,000
Number of Marriages: 1,331,000
Marriage rate per 1000 total population: 10.2%
1939

Population: 131,028,000
Number of Marriages: 1,404,000
Marriage rate per 1000 total population: 10.7%
1940
Population: 132,122,000
Number of Marriages: 1,596,000
Marriage rate per 1000 total population: 12.1%
1941
Population: 133,402,000
Number of Marriages: 1,696,000
Marriage rate per 1000 total population: 12.7%
1942
Population: 134,860,000
Number of Marriages: 1,772,000
Marriage rate per 1000 total population: 13.1%
1943
Population: 136,739,000
Number of Marriages: 1,577,000
Marriage rate per 1000 total population: 11.5%
1944
Population: 138,397,000
Number of Marriages: 1,452,000
Marriage rate per 1000 total population: 10.5%
1945
Population: 139,928,000
Number of Marriages: 1,613,000
Marriage rate per 1000 total population: 11.5%
1946
Population: 141,389,000
Number of Marriages: 2,291,000
Marriage rate per 1000 total population: 16.2%
1947
Population: 144,126,000
Number of Marriages: 1,992,000
Marriage rate per 1000 total population: 13.8%
1948
Population: 146,631,000
Number of Marriages: 1,811,000
Marriage rate per 1000 total population: 12.4%
1949
Population: 149,188,000
Number of Marriages: 1,580,000
Marriage rate per 1000 total population: 10.6%
1950
Population: 151,684,000
Number of Marriages: 1,667,000
Marriage rate per 1000 total population: 11.0%
1951
Population: 154,287,000
Number of Marriages: 1,595,000
Marriage rate per 1000 total population: 10.3%
1952
Population: 156,954,000
Number of Marriages: 1,539,000
Marriage rate per 1000 total population: 9.8%
1953
Population: 159,565,000
Number of Marriages: 1,546,000
Marriage rate per 1000 total population: 9.7%
1954
Population: 162,391,000
Number of Marriages: 1,490,000
Marriage rate per 1000 total population: 9.2%
1955
Population: 165,275,000
Number of Marriages: 1,531,000
Marriage rate per 1000 total population: 9.3%
1956
Population: 168,221,000
Number of Marriages: 1,585,000
Marriage rate per 1000 total population: 9.4%
1957
Population: 171,274,000
Number of Marriages: 1,518,000
Marriage rate per 1000 total population: 8.9%
1958
Population: 174,141,000
Number of Marriages: 1,451,000
Marriage rate per 1000 total population: 8.3%
1959
Population: 177,130,000
Number of Marriages: 1,494,000
Marriage rate per 1000 total population: 8.4%
1960
Population: 180,760,000
Number of Marriages: 1,523,000
Marriage rate per 1000 total population: 8.4%
1961
Population: 180,760,000
Number of Marriages: 1,523,000
Marriage rate per 1000 total population: 8.4%
1962
Population: 180,760,000
Number of Marriages: 1,523,000
Marriage rate per 1000 total population: 8.4%
1963
Population: 180,760,000
Number of Marriages: 1,523,000
Marriage rate per 1000 total population: 8.4%
1964
Population: 180,760,000
Number of Marriages: 1,523,000
Marriage rate per 1000 total population: 8.4%
1965
Population: 180,760,000
Number of Marriages: 1,523,000
Marriage rate per 1000 total population: 8.4%
1966
Population: 180,760,000
Number of Marriages: 1,523,000
Marriage rate per 1000 total population: 8.4%
1967
Population: 180,760,000
Number of Marriages: 1,523,000
Marriage rate per 1000 total population: 8.4%
1968
Population: 180,760,000
Number of Marriages: 1,523,000
Marriage rate per 1000 total population: 8.4%
1969
Population: 180,760,000
Number of Marriages: 1,523,000
Marriage rate per 1000 total population: 8.4%
1970
Population: 180,760,000
Number of Marriages: 1,523,000
Marriage rate per 1000 total population: 8.4%
1971
Population: 180,760,000
Number of Marriages: 1,523,000
Marriage rate per 1000 total population: 8.4%
1972
Population: 180,760,000
Number of Marriages: 1,523,000
Marriage rate per 1000 total population: 8.4%
1973
Population: 180,760,000
Number of Marriages: 1,523,000
Marriage rate per 1000 total population: 8.4%
1974
Population: 180,760,000
Number of Marriages: 1,523,000
Marriage rate per 1000 total population: 8.4%
1975
Population: 180,760,000
Number of Marriages: 1,523,000
Marriage rate per 1000 total population: 8.4%
1976
Population: 180,760,000
Number of Marriages: 1,523,000
Marriage rate per 1000 total population: 8.4%
1977
Population: 180,760,000
Number of Marriages: 1,523,000
Marriage rate per 1000 total population: 8.4%
1978
Population: 180,760,000
Number of Marriages: 1,523,000
Marriage rate per 1000 total population: 8.4%
1979
Population: 180,760,000
Number of Marriages: 1,523,000
Marriage rate per 1000 total population: 8.4%
1980
Population: 180,760,000
Number of Marriages: 1,523,000
Marriage rate per 1000 total population: 8.4%
1981
Population: 180,760,000
Number of Marriages: 1,523,000
Marriage rate per 1000 total population: 8.4%
1982
Population: 180,760,000
Number of Marriages: 1,523,000
Marriage rate per 1000 total population: 8.4%
1983
Population: 180,760,000
Number of Marriages: 1,523,000
Marriage rate per 1000 total population: 8.4%
1984
Population: 180,760,000
Number of Marriages: 1,523,000
Marriage rate per 1000 total population: 8.4%
1985
Population: 180,760,000
Number of Marriages: 1,523,000
Marriage rate per 1000 total population: 8.4%
1986
Population: 180,760,000
Number of Marriages: 1,523,000
Marriage rate per 1000 total population: 8.4%
1987
Population: 180,760,000
Number of Marriages: 1,523,000
Marriage rate per 1000 total population: 8.4%
1988
Population: 180,760,000
Number of Marriages: 1,523,000
Marriage rate per 1000 total population: 8.4%
1989
Population: 180,760,000
Number of Marriages: 1,523,000
Marriage rate per 1000 total population: 8.4%
1990
Population: 180,760,000
Number of Marriages: 1,523,000
Marriage rate per 1000 total population: 8.4%
1991
Population: 180,760,000
Number of Marriages: 1,523,000
Marriage rate per 1000 total population: 8.4%
1992
Population: 180,760,000
Number of Marriages: 1,523,000
Marriage rate per 1000 total population: 8.4%
1993
Population: 180,760,000
Number of Marriages: 1,523,000
Marriage rate per 1000 total population: 8.4%
1994
Population: 180,760,000
Number of Marriages: 1,523,000
Marriage rate per 1000 total population: 8.4%
1995
Population: 180,760,000
Number of Marriages: 1,523,000
Marriage rate per 1000 total population: 8.4%
1996
Population: 180,760,000
Number of Marriages: 1,523,000
Marriage rate per 1000 total population: 8.4%
1997
Population: 180,760,000
Number of Marriages: 1,523,000
Marriage rate per 1000 total population: 8.4%
1998
Population: 180,760,000
Number of Marriages: 1,523,000
Marriage rate per 1000 total population: 8.4%
1999
Population: 180,760,000
Number of Marriages: 1,523,000
Marriage rate per 1000 total population: 8.4%
2000
Population: 180,760,000
Number of Marriages: 1,523,000
Marriage rate per 1000 total population: 8.4%
2001
Population: 180,760,000
Number of Marriages: 1,523,000
Marriage rate per 1000 total population: 8.4%
2002
Population: 180,760,000
Number of Marriages: 1,523,000
Marriage rate per 1000 total population: 8.4%
2003
Population: 180,760,000
Number of Marriages: 1,523,000
Marriage rate per 1000 total population: 8.4%
2004
Population: 180,760,000
Number of Marriages: 1,523,000
Marriage rate per 1000 total population: 8.4%
2005
Population: 180,760,000
Number of Marriages: 1,523,000
Marriage rate per 1000 total population: 8.4%
2006
Population: 180,760,000
Number of Marriages: 1,523,000
Marriage rate per 1000 total population: 8.4%
2007
Population: 180,760,000
Number of Marriages: 1,523,000
Marriage rate per 1000 total population: 8.4%
2008
Population: 180,760,000
Number of Marriages: 1,523,000
Marriage rate per 1000 total population: 8.4%
2009
Population: 180,760,000
Number of Marriages: 1,523,000
Marriage rate per 1000 total population: 8.4%
2010
Population: 180,760,000
Number of Marriages: 1,523,000
Marriage rate per 1000 total population: 8.4%
2011
Population: 180,760,000
Number of Marriages: 1,523,000
Marriage rate per 1000 total population: 8.4%
2012
Population: 180,760,000
Number of Marriages: 1,523,000
Marriage rate per 1000 total population: 8.4%
2013
Population: 180,760,000
Number of Marriages: 1,523,000
Marriage rate per 1000 total population: 8.4%
2014
Population: 180,760,000
Number of Marriages: 1,523,000
Marriage rate per 1000 total population: 8.4%
2015
Population: 180,760,000
Number of Marriages: 1,523,000
Marriage rate per 1000 total population: 8.4%
2016
Population: 180,760,000
Number of Marriages: 1,523,000
Marriage rate per 1000 total population: 8.4%